We all have used Microsoft Office at some point in our lives. Some of us continue to use MS Office as it has become an essential component of our daily lives – whether it be for personal or enterprise use. But since the Office suite is not free (officially), it has become hard to edit documents, spreadsheets and create interactive presentations without having to spend money.
Fortunately, there are various free and open-source alternatives available for Microsoft Office. Among these is "ONLYOFFICE", a great application which includes three of the most widely used editors –
ONLYOFFICE Document Editor
ONLYOFFICE Spreadsheet Editor
ONLYOFFICE Presentation Editor
The editors allow you to create, edit, save and export text, spreadsheet and presentation documents.
In this review, we are going to take a look at each of these apps.
How to Download ONLYOFFICE
To download the desktop version of ONLYOFFICE, visit https://www.onlyoffice.com/download-desktop.aspx and choose the version that is appropriate to your machine.
ONLYOFFICE is available for Windows, macOS, and even Linux. There's also a portable version available to download which you can keep on a pen drive. Once you have downloaded ONLYOFFICE, install it by going through the wizard.
Supported Platforms
Windows
Current Version: 5.5.1
Release Date: 4/9/2020 File Size: 167 MB
Platforms: Windows 10, 8.1, 8, 7 (64-bit)
Linux
Current Version: 5.5.1
Release Date: 4/9/2020 File Size: 170 MB
Platforms: Debian-based Linux distribution (64-bit)
Mac OS
Current Version: 5.5.1
Release Date: 4/9/2020 File Size: 202 MB
Platforms: Mac OS 10.11 or higher
Portable Version
Current Version: 5.5.1
Release Date: 4/22/2020 File Size: 248 MB
Platforms: Linux distribution (64-bit)
Using ONLYOFFICE Desktop Editors
We ran ONLYOFFICE on a Windows 10 PC. ONLYOFFICE Desktop Editors is a standalone application which contains the document, spreadsheet and presentation editors within itself. The user interface is quite simple and familiar. If you have been using MS Office Suite, you will have no problem using ONLYOFFICE.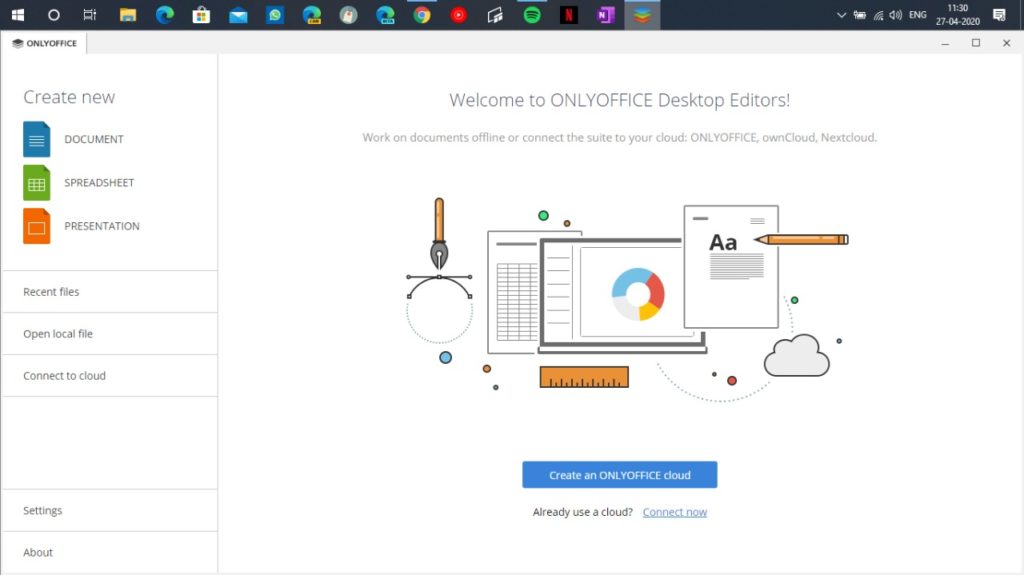 Document Editor
ONLYOFFICE's Document Editor resembles a lot to Microsoft Office. It is super simple to understand, even if you are a newbie. Clicking on the "Document" under Create New will open the Document editor as a window within the application, just like a browser.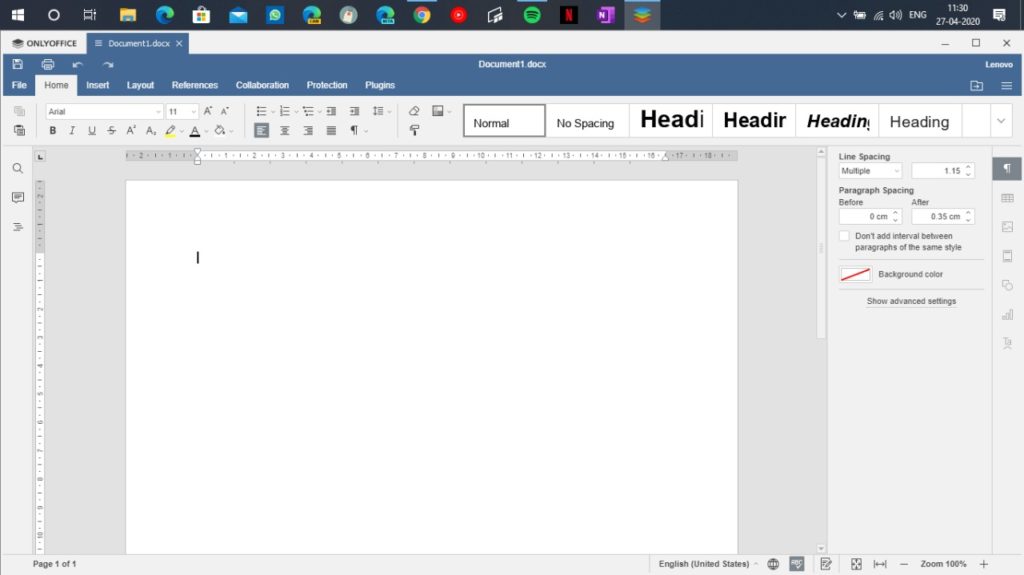 In the Home section, you'll find your usual editing elements. There is an option to change the font, font size, and about everything you would want to expect from a document editor. It can be easily used to put together simple flyers and newsletters as well as all the usual invoices, letters, essays, and other basic things done on a document editor.
One thing we really liked about the ONLYOFFICE Document Editor is the Collaboration panel. It is super easy to track multiple edits from multiple users in a document, with a smooth workflow and use colored labels so that you know who is doing what. It is quite easy to quickly hide annotations and comments as well if your screen is getting overly cluttered and disrupting your workflow.
---
Protect Your Online Privacy With Surfshark
[The VPN that we use here at Tech Arrival]
---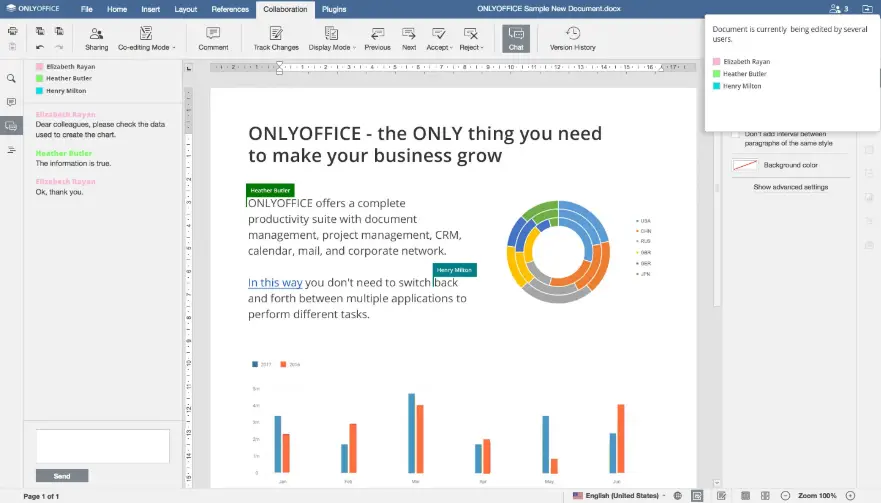 From the inherent management of citations, sources, and footnotes, to a greater number of options for formatting tables and even some basic image editing features, ONLYOFFICE Document Editor is packed with tools and tricks to help you get your documents looking their best. 
So our basic verdict comes to this – ONLYOFFICE Document Editor perhaps is packed with every feature you could ever need in a document editor, and it does an impressive job of putting all that together in an intuitive and familiar interface as well.
Spreadsheet Editor
Next up we have the ONLYOFFICE Spreadsheet Editor. This is perhaps not a beginner-friendly application has none can master conditional formatting and pivot tables instantly. But if you are someone who has been using Microsoft's Excel for years and is familiar with the layout, you will find ONLYOFFICE Spreadsheet editor super easy to use.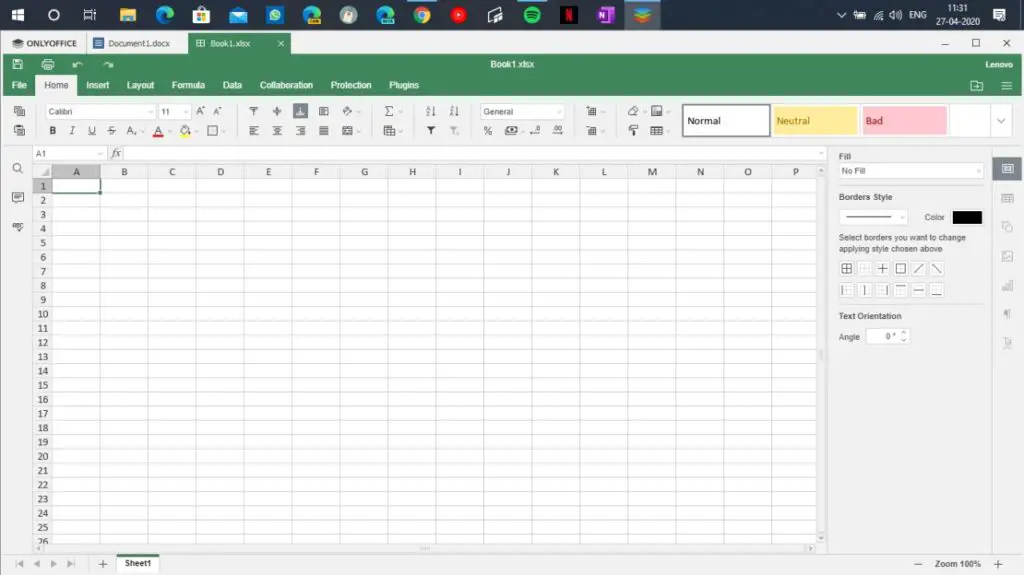 Despite the highly complex nature of the application itself, the interface is very neat and tidy. The color, icons, drop-down menus, and dialog boxes all are put into good use keeping productivity in mind.
In the Formula section, one can easily look up for formulae that can be used in the spreadsheet editor. All the basic charts and sheets are handles quite well, even if they get eventually bigger and bigger. You can easily put together rows and columns of data, then add associated charts, and have it all looking very professional in minutes and you don't even have to be a professional to do all of this.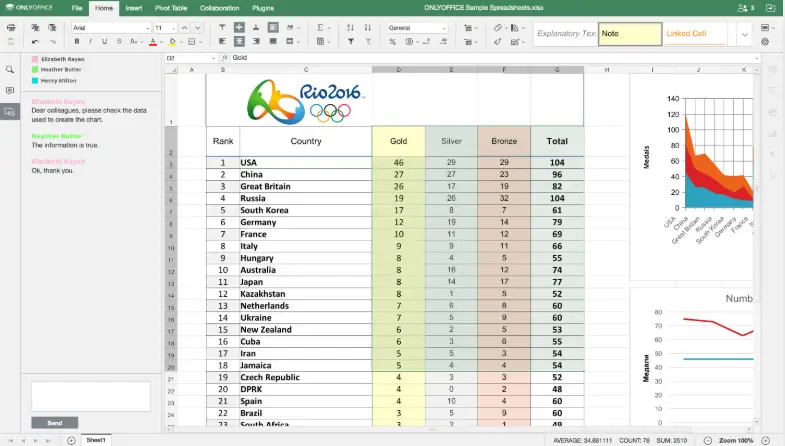 There's support for collaboration in Spreadsheet Editor as well if that's something you'd be using during your workflow. Speaking about collaborations, there are a number of things you can do with that panel.
Individual and Group Rights
Share your documents with an individual or a whole team providing them with different permission levels. Public sharing is also available.
Different Co-editing Modes
You can co-author documents choosing one of the co-editing modes: Fast to display all the changes right after input, or Strict to see co-authors' changes only when they save them.
Tracking Changes
You can more control over your documents with the review mode. You can track your collaborators' changes and reject or accept them when needed.
Version History
Keep track of all the changes to your document, check who made these changes, and when. Recover a previous version if necessary.
Document Comparison
Easily compare two documents to see the differences with revision marks. Accept or reject changes one by one or all at once. Merge the changes and save them as a new version of the compared document.
---
Protect Your Online Privacy With Surfshark
[The VPN that we use here at Tech Arrival]
---
Efficient Communication
Leave comments for co-authors and tag them. Communicate in real-time using the built-in chat.
All of these makes ONLYOFFICE's Spreadsheet editor a fast, reliable and powerful application to handle all of your spreadsheets.
Presentation Editor
Lastly, we have the Presentation Editor to create visually appealing presentations. The application is an excellent tool for presenters when they're in the act of delivering a presentation. You get most of the tool you would expect out form the presentation creator application, but its the little things that make the difference.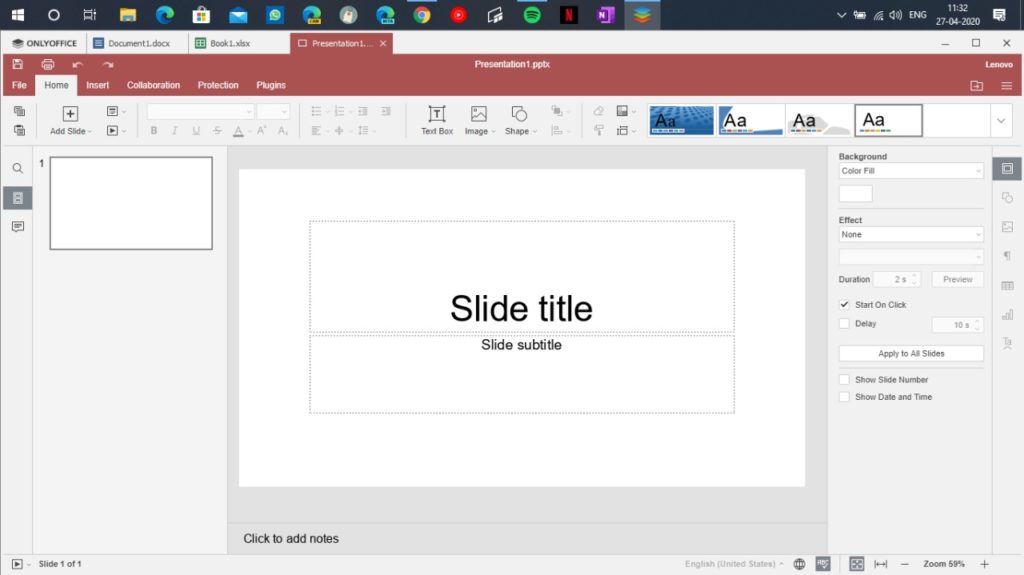 Among such little things are the enhanced guidelines for when you're adding an object or an image to your slides. It lets you snap multiple objects so that they are evenly spaced or the same size, or both. Arrows and lines make sure the objects are correctly placed, and you merely click to make them stay there. The application also lets you nudge objects quickly by holding down the arrow key, or slowly by tapping it instead.
One thing, however, which we deeply missed from Microsoft PowerPoint is the lack of transition effects. There is absolutely no sort of effects when you change from one slide to another, which makes it pretty basic for a presentation editor. Other than that there's support for adding images, YouTube videos, shapes, text arts, and links to websites as well. Overall though, ONLYOFFICE could have done better when it came to this particular editor.
Final Words
Now that you have seen what all of these three applications have to offer individually, let us tell you some common aspects which are shared by all the three of them. All of the editors support various plugins. There's a photo editor built right inside these apps, you can add a YouTube video to your documents or presentations, convert PDFs into word documents using OCR, translate into multiple languages, email your documents or presentations, and more. There's also a separate "Protection" section in all three applications which essentially lets you encrypt your documents and presentations before storing and sending them to anyone.
ONLYOFFICE is also available for the cloud but it is not free. But you do get a 180-day free trial when you sign up for it. ONLYOFFICE Enterprise is also available for organizations looking to replace Microsoft Office as their sole editing software. ONLYOFFICE not only has a desktop and cloud version, they even have mobile apps for Android and iOS which makes it a great choice for those looking to get a free alternative to Microsoft Office.
ONLYOFFICE also supports working on cloud not only in ONLYOFFICE Cloud but also in Nextcloud and ownCloud. This makes it easier for organizations that are already existing on these cloud platforms and are looking for a smooth transition.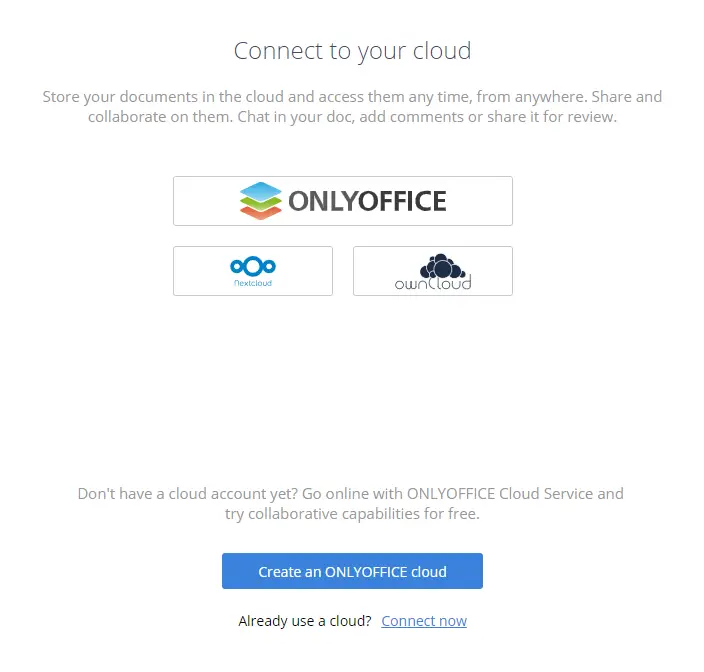 Our Verdict
If you don't heavily rely on MS Office and just need some light document editing, spreadsheets, and presentations, ONLYOFFICE is perhaps the best free application for you. It has most of the elements of MS Office and has a familiar user interface with similar commands on all the three applications. ONLYOFFICE is super lightweight and fast when it comes to editing anything on it. The commands feel snappy enough to make you feel that you are going to finish your workload earlier than expected. The application doesn't hog your resources and also features recovery of documents in case things go south and you close the editor by accident.
Try ONLYOFFICE for free and let us know if it helps you boost productivity, or becomes a free MS Office replacement. Comment down below your favorite features and also share things you created using ONLYOFFICE as well.