Apple Music is one of the most widely used music streaming services in the world. It has over 60 Million active users around the globe and the numbers are adding up as you're reading this. If you have an Apple Music subscription, you know you can listen to it on your iPhone, Android, Computer, and Mac.
But if you want to use your Apple Music library on your other devices, or share it with your friends who don't have Apple Music, you might want to remove the DRM protection. Removing DRM protection ensures that you can keep your songs forever, even after unsubscribing to Apple Music.
Here's when the UkeySoft Apple Music Converter comes into the spotlight. The software is perhaps the best Apple Music converter we've ever used. Here's what the application offers.
Features
Remove Apple Music DRM and convert them to DRM-free MP3, M4A, etc.
Remove DRM protection from iTunes purchased M4P songs.
Unlock DRM from iTunes M4B audiobooks and even Audible AA/AAX audiobooks.
Convert Apple Music songs with all ID3 tags, metadata kept.
Convert Apple Music Songs with 100% lossless quality.
Extract Audio from iTunes Movies, TV Shows or Music Videos.
M4V to MP3: convert M4V into common audio formats including MP3, AC3, FLAC, etc.
Keep all Apple Music songs playable after you unsubscribe
How to Use UkeySoft Apple Music Converter
For getting started, you first have to download the UkeySoft Apple Music Converter on your Mac or PC.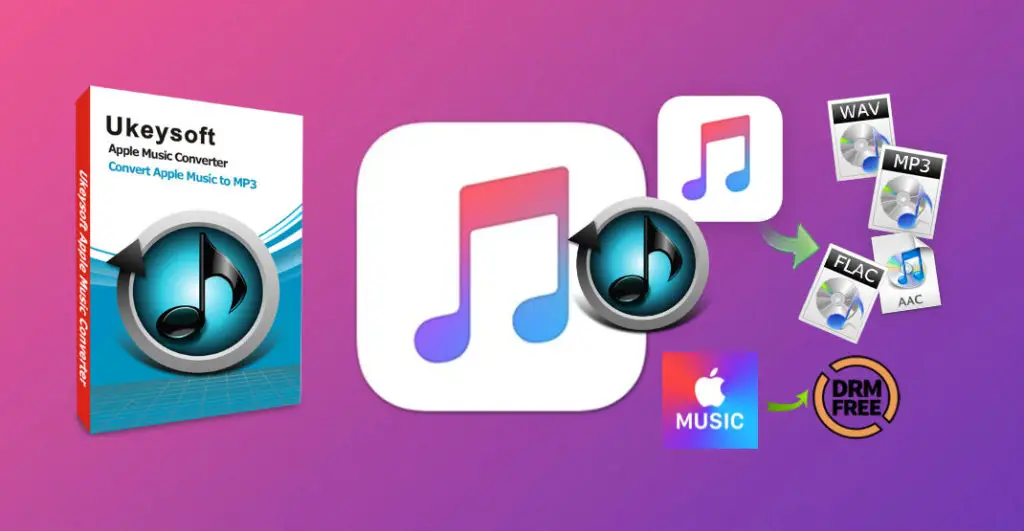 We are showing you the steps for Mac but the steps are very similar for Windows as well.
Installing UkeySoft Apple Music Converter on Mac
Once the file gets downloaded, double click on it and follow the steps on the screen to finish the installation. Now, click the icon to run it and register. You can use to the application without registration as well (for free), but you can only convert the first 3 minutes of your audio.
To register, you can go to the menu bar and click on "Buy Now" to buy the license code, so that you can unlock the restrictions.
Removing DRM Protection and Converting Music
Make sure you have installed the latest version of iTunes. If not, update it. Then, run the UkeySoft Apple Music Converter. iTunes will launch at the same time.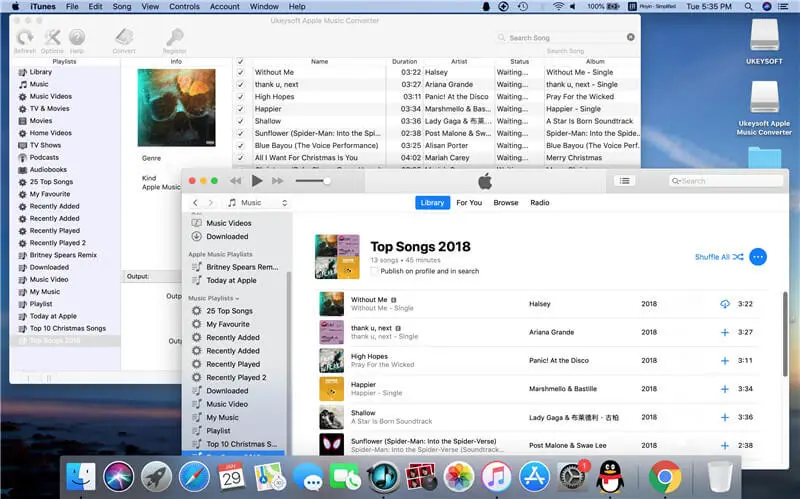 Your entire library will be listed in the application's left panel. You can select the songs, videos, podcasts and anything you'd like to convert from here.
After you click on the "Library" or "Music" tabs, you will see all iTunes music on the main screen, including Apple Music songs. Select the songs in your library you want to convert by ticking the checkbox. If you only remember the name of songs, artists and albums, you can use the "Search" bar to quickly find the music files you need and select it. This is helpful if you want to select songs which aren't in your library already.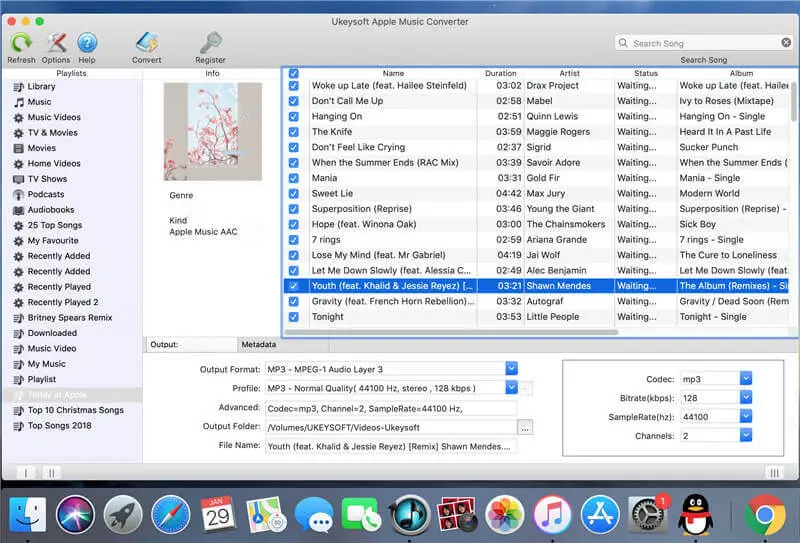 Now enter the output format of the songs you'd like to convert. It will show you 8 types of convertible formats including MP3, M4A, AC3, AIFF, AU, FLAC, M4R, and MKA. You can even customize the metadata like title, artist, album artist, album, genre, and artwork of your converted songs over here.
Other Settings
Profile: You can select the audio quality from low, normal, high or set bitrate, sample rate according to your needs using the Profile option.
Advanced: You can even change or customize the parameters of the output audio files such as codec, bit rate, sample rate, channel, etc.
---
Protect Your Online Privacy With Surfshark
[The VPN that we use here at Tech Arrival]
---
Output Folder: Using this option, you can select where you want to save all your songs. If not, the songs will be saved in the default folder.
Once you have followed all the above steps, just click on "Convert" to start the DRM removal conversion. The time taken for conversion will depend upon the size and number of songs. If you have a lot of songs, sit back and enjoy a cup of coffee while your favorite songs are getting ready! Once the process is finished, click on "Open Output File" and all your selected songs are now available in your selected format.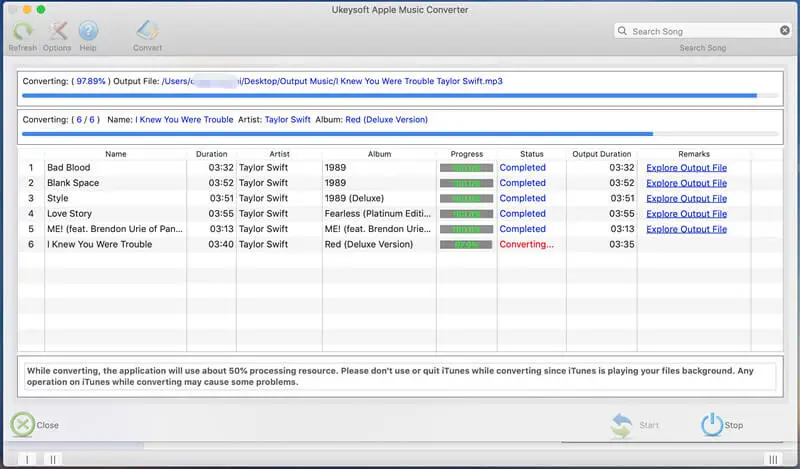 Note – Make sure you are not using iTunes during the conversion process. This will ensure that the converting process isn't interrupted.
Converting iTunes/Audible AudioBooks to DRM-free Formats
If you listen to AudioBooks or Podcasts and you wish to convert them into DRM free format as well, you can easily do so using the UkeySoft Apple Music Converter. Here are the steps for converting –
Just like before, make sure you have got the latest version of iTunes installed. If not, please update it.
Now you have to import your AudioBooks and other M4B, AA/AAX files, and Podcasts to the iTunes library. If you're on Windows, click File > Add File to manually import your M4B/AA/AAX audiobooks to iTunes library, or use Audible Download Manager and set your Audible content to automatically import into iTunes. For Mac users, downloaded AudioBooks will be in the AudioBooks section by default.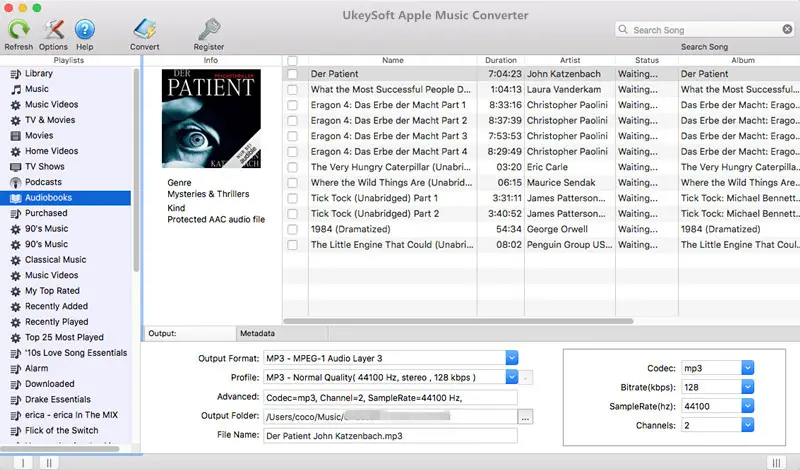 To add Podcasts, go to the iTunes store and add the Podcasts you'd want to convert into your iTunes library if not already present.
Now launch UkeySoft Apple Music Converter. Both the application and iTunes will be launched simultaneously. On the left pane, you'll see your collection of AudioBooks and Podcasts under the "Audiobooks" category. You can choose which ones you'd like to convert here. You can also search for particular titles using the search box. Tick the checkbox beside "Name" if you want to convert all files in your library.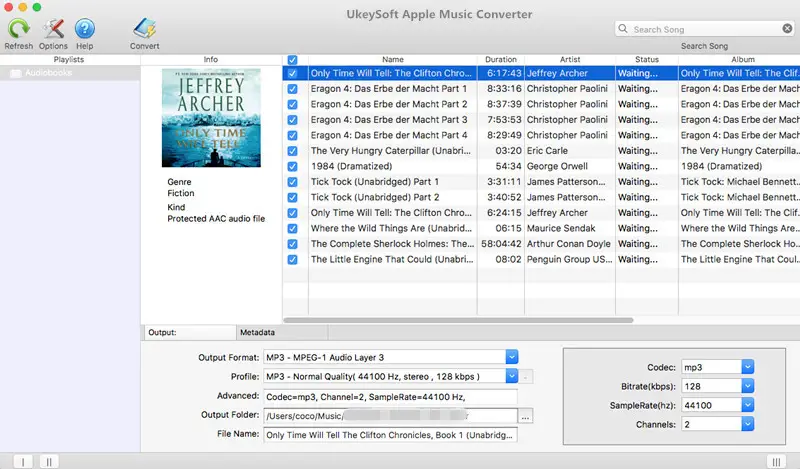 Now select the format you want your AudioBooks and Podcasts to be in under "Output Settings" > "Output Format". You can choose from MP3, M4A, FLAC, AC3, AU, MKA, M4R and AIFF. We recommend converting to MP3 as it is a widely supported format. Just like before, you can also customize bitrate and audio channels here.
Once you've set the output format and the folder, click on "Convert" to begin the conversion process. Make sure you're not using iTunes to play other songs during this process.
Extracting Audio from Music Videos
If you have got many music videos in your iTunes library, you can extract the audio and convert it to MP3 or any audio format.
As always, add and download your Music videos or any other movies or TV shows you would want to extract audio from, to the iTunes library.
Run UkeySoft Apple Music Converter. Just like before, iTunes will also open at the same time.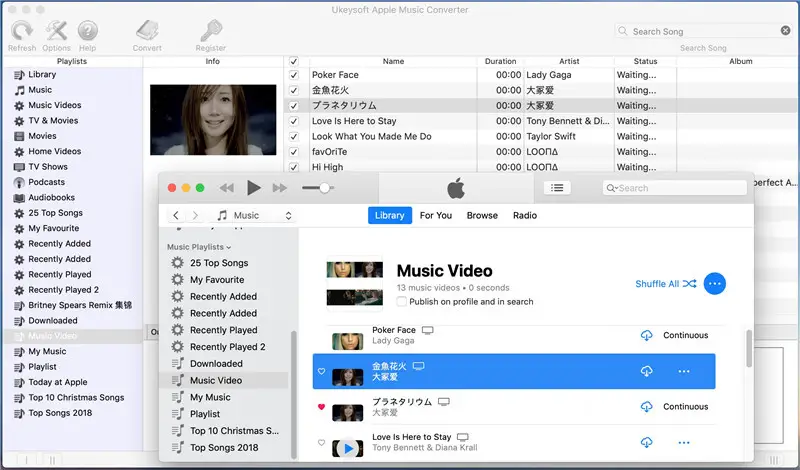 Select the iTunes music and other videos you want to convert. Use the search box to search for particular items.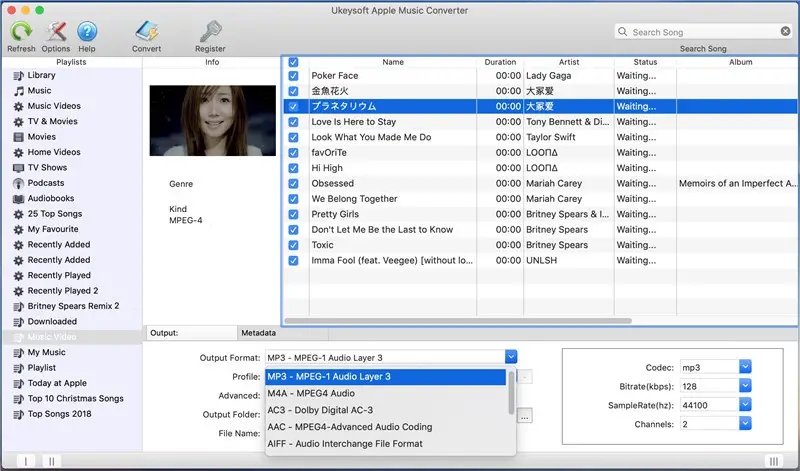 Now select the audio format you would like to convert in. Choose from MP3, M4A, FLAC, AC3, AU, MKA, M4R and AIFF. You can also go to Options > General or Advance option to rename or sort your output music files. Using this option, you can customize Codec, Bitrate, SampleRate, and Channels as well.
Click on "Export Output File" to initiate the conversion process. Sit back and relax. And don't forget to make sure you're not using or playing anything on iTunes so that the conversion process doesn't get interrupted.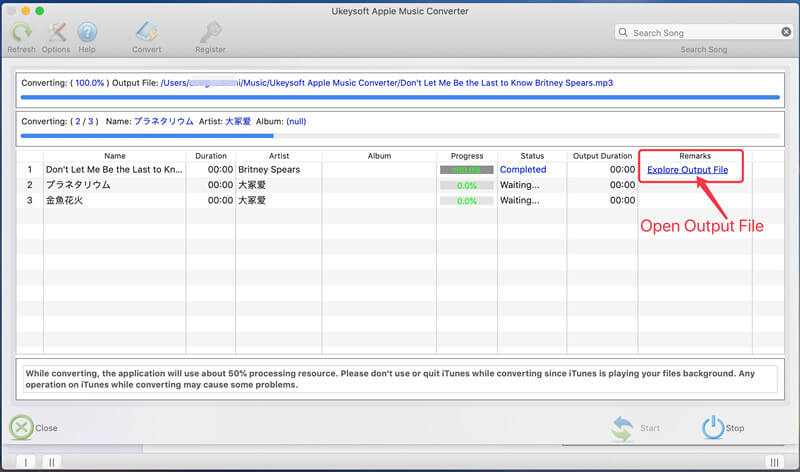 Manually Activating UkeySoft Apple Music Converter
You can use the free version of the application but that restricts you to just 3 minutes of audio. This is why purchasing and registering is recommended.
To register, launch the application and click on the "Register" button. Now, enter the registration code. You will get the registration code in your email inbox once you have successfully purchased the software.
After entering the code, click the drop-down button next to the activation button, click "Activate Manually".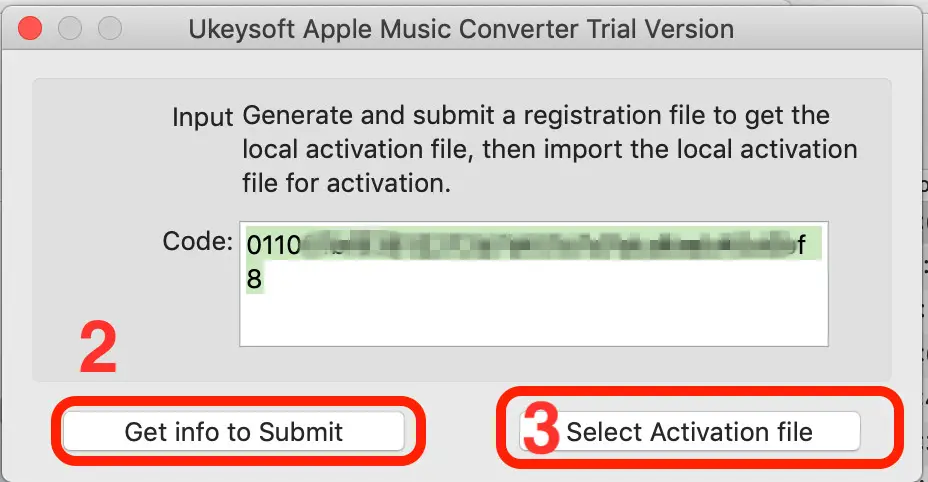 Click on "Get Info to Submit" button which will appear in the next window. Send the file to support@ukeysoft.com. UkeySoft support will then send you an activation file. Once you have received it, click on "Select Activation file" to complete the offline registration.
Great. You have successfully registered and activated UkeySoft Apple Music Converter.
Pricing
The UkeySoft Apple Music Converter is available at $39.95 which is $10 off the usual $49.95. This makes you eligible for future updates for free and is valid for a lifetime. You can use it on 1 PC/Mac. There is also a family license available for $79.95 in which you can use the software application on up to 5 PCs/Macs.
Final Verdict
UkeySoft's Apple Music Converter is a great tool for converting Apple Music and iTunes library into other formats to play to other devices. You can get a free Apple Music trial of 3 months and then convert as many songs as you like using the application. The application also has a very intuitive and user-friendly interface.
The major downside to the app is that it can only convert audio and not videos. So if you're looking to convert your purchased iTunes Movies or Videos, you can just extract the audio out of it and not the video. The good thing, however, is the number of formats available. Well of course MP3 is the universally supported audio format. But if you want other formats such as M4A, FLAC, AC3, you have the option to do so.