Video is an essential part of a content marketing strategy. Whether you like it or not, web content is taking a turn towards video. A survey revealed that almost 50 percent of marketers are adding YouTube and Facebook channels for video distribution. To give an idea one-third of online activity is spent watching videos and accounts for more than 80% of all internet traffic by 2019.
If you are a newbie to video editing and do not have much hands-on experience in a video studio you don't have to worry. In this article, we will be reviewing Filmora9 video editor and showing you how this video editing tool will help you to churn out professional-level video content- regardless of your amount of experience. With this tool, you will be ahead of the curve in the video content generating market.
Wondershare Filmora9 
Wondershare is a well-known name in the Mac community. Wondershare Filmora9 is a video editing software service that is built for people who want to invest very less time understanding the basic functionalities of video editing software and want to focus more on creating and editing videos. The software with support for 4K resolution can be used by a beginner, novice, and casual users. Regardless of the skill level the end result will look and sound fantastic. It is very affordable and is equipped with both video and audio tools providing users a platform to apply effects or style and customization to their videos.
Despite lacking in some advanced features, it has everything you need to create high-quality videos. The main window of the interface provides complete control of the project where you can edit it in a timeline. Users can add a total of 100 videos and 100 audio editing tracks which is more than enough for any project. This a great move by the company since earlier versions of Filmora only offered a single editing track.
The latest release of Filmora version 9 also misses out the storyboard mode. It feels odd since storyboard mode is useful in making quick projects. Even without it, everyone can learn to use Wondershare Filmora9. The interface and workflow are easier compared to other video editing programs in the market. It will take only a few minutes to learn to navigate around the software on your own while other programs can take hours.
In case you are thinking about why you should go for this tool, the answer is simply because it is better. To sum it up, Filmora9 allows you to edit professional-grade videos with minimal effort, has 4K editing support, enhance videos with pre-defined stunning effects and support for almost any video format, instantly uploading to social media and many more. We will be explaining the features of the software in detail in the next section.
Features
One of the best functionalities of Wondershare Filmora9 is that it allows users to add overlays, animation, and elements such as GIFs, images, music, and texts on their videos that help them to create wonderful stories. If you want, you can also add a voiceover to your video with this tool. It comes with tools that enable you to crop footage, increase or decrease the size, applying tilt-shift which is blurring parts of the video and focusing on one, video adjusting settings like rotating or flipping and removing noises.
Another mentionable feature is the text editing tool with which users can edit texts such as making them bold, italic, font style, and style. It comes pre-loaded with customization but you can use your own customization like selecting the color fill option and adding a border or shadow. The software is also known for its Power tool which allows users to change some aspects of a video like applying tilt-shift. The Mosaic option allows the user to blur specific parts of the video and adjust the percentage.
Like other video editing software, it has its own shortcomings. The software's development is geared towards the common user, so it misses out some of the advanced tools. For example, you cannot import 360-degree video, tracking moving objects, or configure the audio for surround sound. You can create a DVD but cannot enter a menu in the disc. It also lacks a separate action cam module, which was available in the previous updates. But you can still cut the large action camera footage by using the Import with Instant Cutter Tool feature and perform effects like fisheye correction, manipulating speed, stabilize, freeze frame but a detailed module is desirable.
What's new on Wondershare Filmora9
The latest version of Filmora9 allows you to organize your media up to 100 full video tracks and 100 audio tracks and create compositing effects. You can apply filters, transitions, and other effects to any track. The Import and Render is now done at high speeds.  The videos can be previewed with more clarity and captured in high-resolution still frames.
---
Protect Your Online Privacy With Surfshark
[The VPN that we use here at Tech Arrival]
---
There is a Chroma-key (green-screen) that can be accessed by simply double clicking on the clip after putting it on the timeline. The stabilization has been upgraded to smooth out shaky footage. There is a reduction in the resolution of video preview for a smoother editing experience without affecting quality. There is also the option of PC/Mac Cross- Compatibility.
The tool now edits audio cues with more visible audio waveforms. You can adjust the volume of an audio clip within the timeline, using keyframing to make multiple adjustments within one click.  The tracking form can also choose from small, normal and big. The video-clips or any image can now be flipped, rotated scaled and moved within the preview window.
A Hands-On Guide
In this step-by-step tutorial, we will be giving you a guide on how to edit videos using Wondershare Filmora9. At this point, I have assumed that you have downloaded and running the latest version of the software in PC, which may be activated or trial one. If you haven't, you can get it by going to this link.
Launch Wondershare Filmora9 by clicking on the desktop icon. You will see the software's welcome screen asking to create a New Project or Open Project.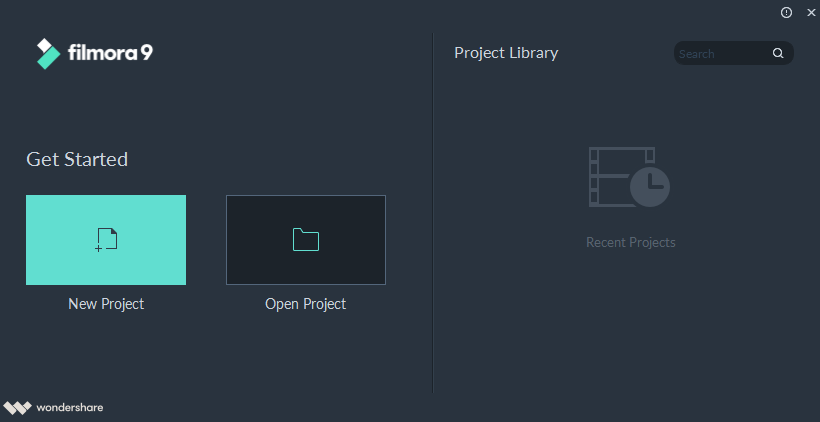 Select New Project and wait for the software to load. Once you gain access to the Filmora9 video editor, click Project Settings option and select the aspect ratio as per your requirement.
In the upper left corner, click the Import button and select the Import Media Files option. Navigate the location in your hard drive where the video to be edited is stored. After selecting, click Import. In the menu, you will see the Import with Instant Cutter Tool which is used to trim 4K and other large video files like video footage shot with action cameras fast.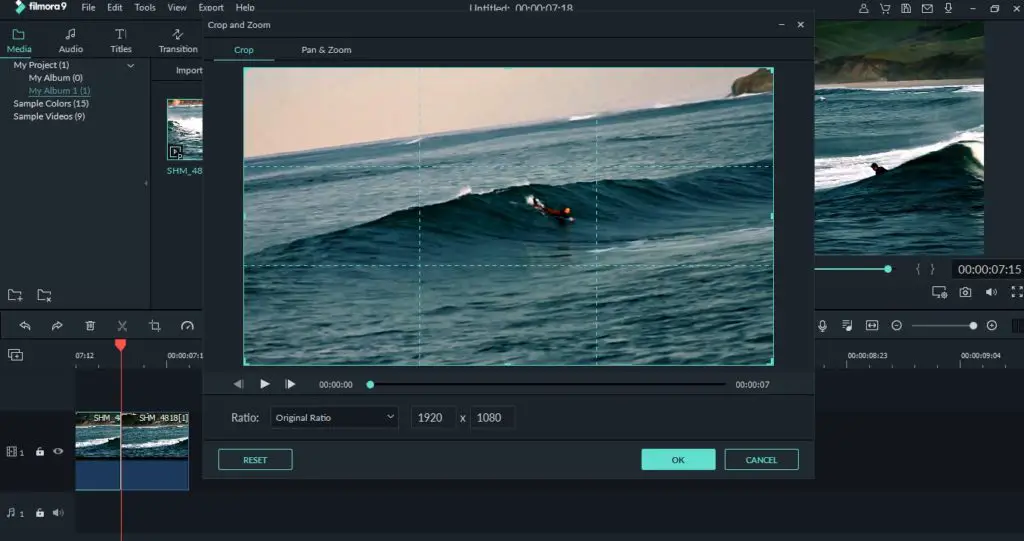 Here the editing starts. You can cut or trim your videos or drag them from Media Tab and drop them into the timeline. You can add as many video clips you want but each one will be placed one after another and you have to drag them in order to rearrange them. To cut place the playhead in the exact same position where the part of the video you want to cut starts and then do the same on the other end. Press Play or hit Spacebar to start previewing the clips added to the timeline. You can also use the Trim feature to cut out unwanted frames at the beginning or end of the clip.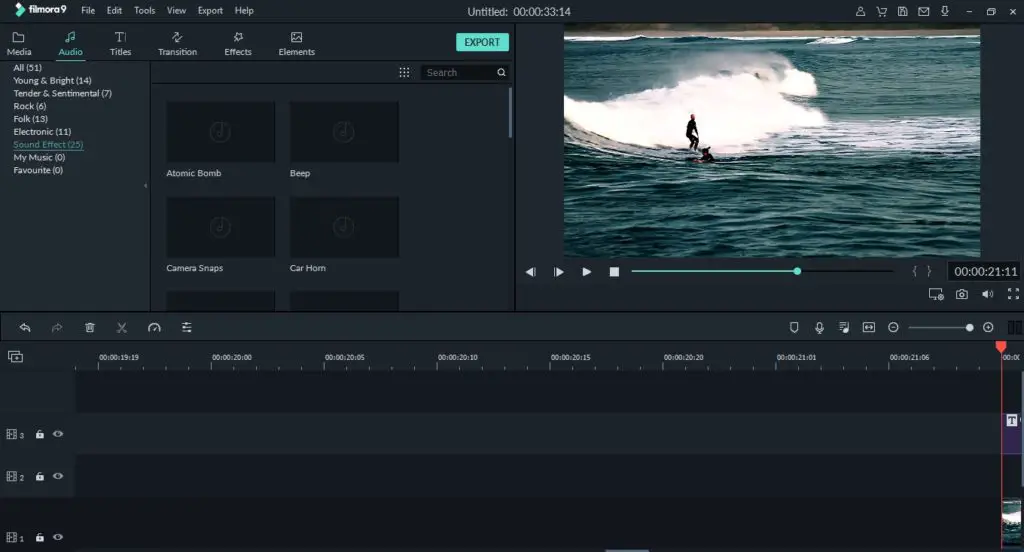 After cutting and trimming, you can add the various visual effects Filmora9 offers. Click on the Text/Credit icon to add opening titles, end-credits, or subtitles to a video. There is a vast collection of text templates to use for a wide range of purposes.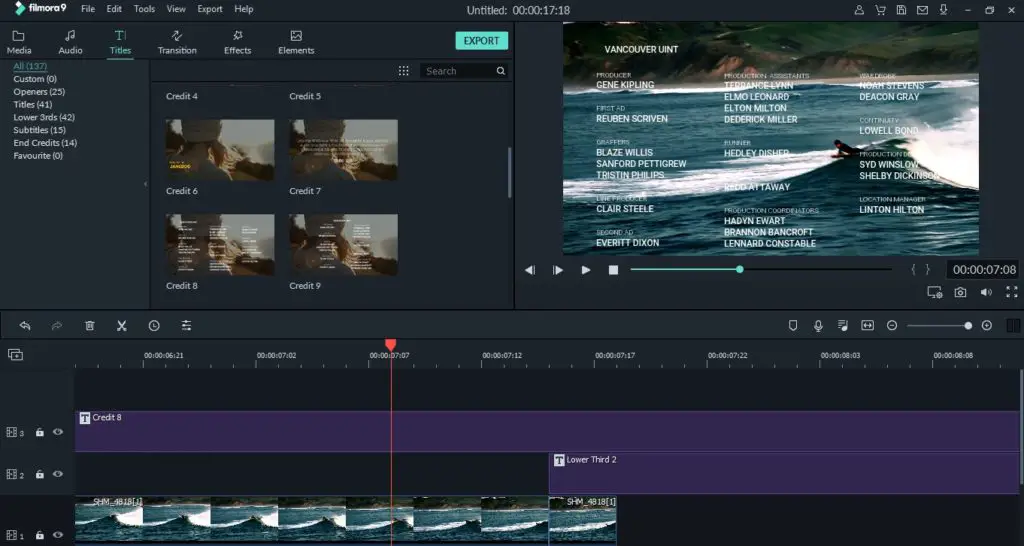 Transition icon allows you to access hundreds of transition options. It is located next to the Text/ Credit icon in the editor's toolbar.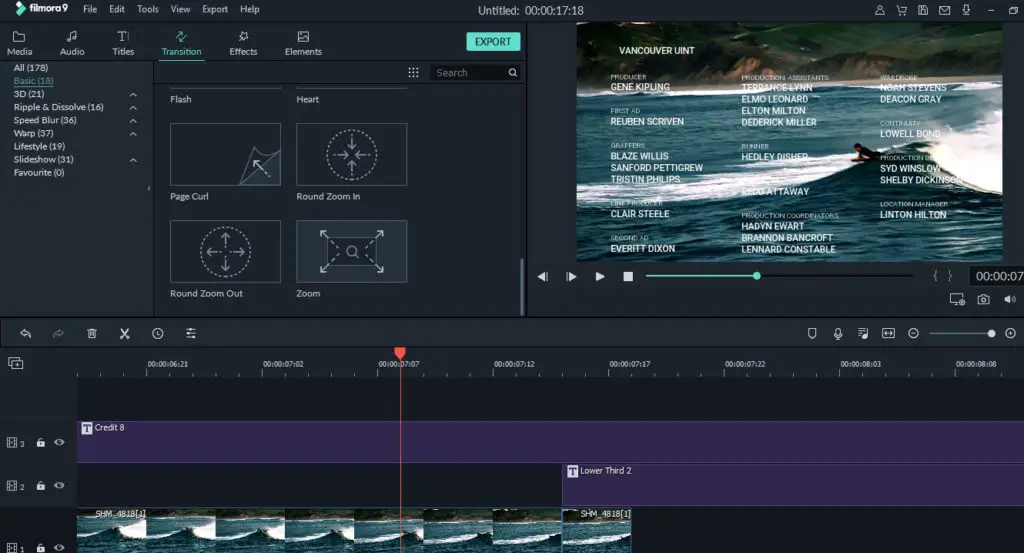 The Effects icon allows you to apply several hundred filters and overlays on your videos to look more vivid. You just have to click the icon, select the filter, and use drag and drop wherever you want to in the timeline. There is an in-built Advanced Color Tuning option that enables you to use color correction presets or 3D LUTs in your videos.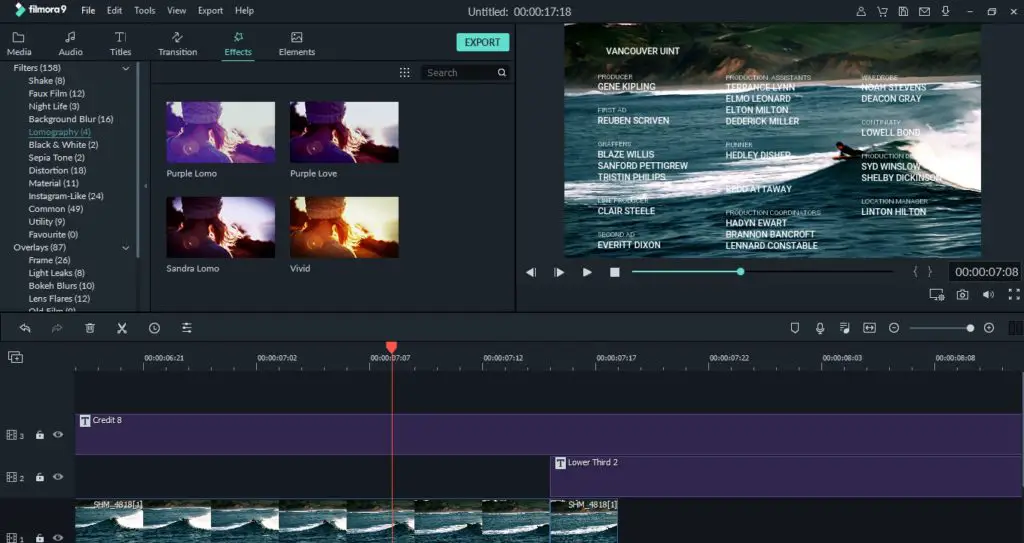 After making absolutely sure that there is nothing more to be added, click on the Export button. Select your requirements like Format in the output window and click Export.
Technical Details
Devices Supported
Windows
Mac
iPhone/iPad
Android
Web-based
Language Supported
Pricing model
One-time payment
Annual Subscription
Quote-based
Deployment
Conclusion
Filmora9 offers several pricing schemes for the needs of different users. There is also a Free Trial for those who are still in doubt. In case you need to know how to use Filmora9, you can check their YouTube channel as well. To evaluate that people and companies buying that are satisfied with their product, the company has created the behavior-based Customer Satisfaction Algorithm to gather customer review, comments, and social media data. With this information at hand, you will likely have enough information to make an informed buying decision that you won't regret.