With today's connected world, business ties are forged more in virtual space rather than in a boardroom. Many brands have at least one online presence while most are active on multiple platforms. If your business is struggling in the online world, this article might turn out to be helpful to you.
Social networking platforms like Facebook, Twitter, Instagram, and Snapchat are the new tool for conducting business, advertising and interacting with like-minded people. The amount of work needed to be done on multiple platforms may overwhelm company executives. Fortunately, a number of third-party apps exist to enhance the features and make social media marketing more intuitive and productive. Not only they will save time but they will help you get an edge over your competitors.
There are a number of social media tools out there that are designed for beginners as well as the advanced users. Usually, three factors determine the efficiency of a social media management tool- publishing and RSS interaction, analytics report and social interaction. They will help you in managing multiple social media profiles from one page, track analytics, run contests and more.
Also read: 11 Best Free Twitter Unfollow Tools to Unfollow Non-followers
In this article, we will be rounding up a list of the 11 best social media marketing tools that are ranked from top to bottom.
List of Best Social Media Management Tools
1. Buffer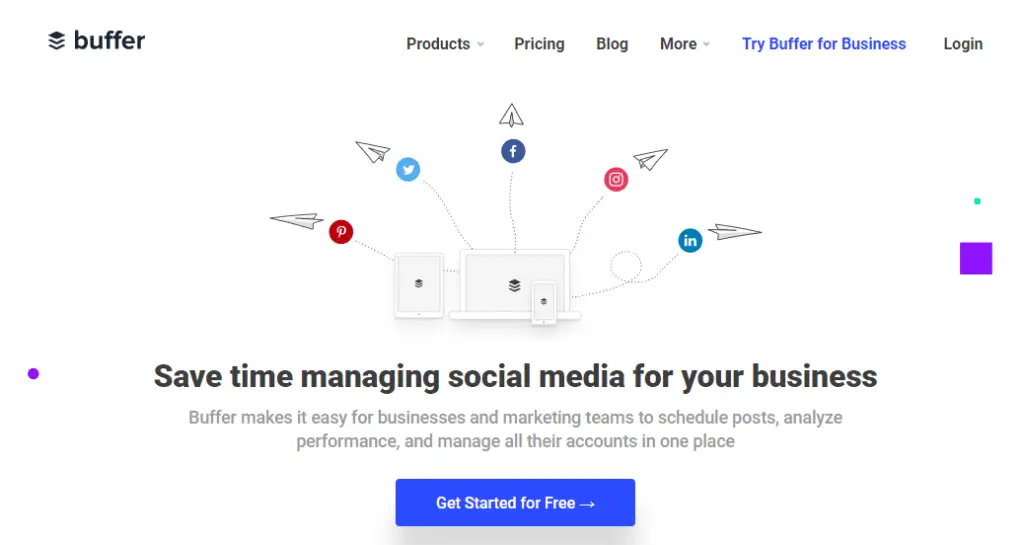 Buffer is a powerful app that takes your social media posts and engagement to the next level. It comes with several useful features like photo editing, publishing with a queue, detailed data analytics, engagement and group collaboration. This social media management platform integrates with several third-party extensions and popular social media platforms like Facebook, Twitter, Instagram, Pinterest, Google+ and LinkedIn.
Buffer has basic publishing features like scheduling and adding posts to a queue and also have the RSS feed to publish posts from blogs. It has also added a new product called Reply which only supports Facebook, Twitter, and Instagram comments and is a bit expensive. However, it lacks the influencer feature that some of the other social media marketing tools offer.
2. Hootsuite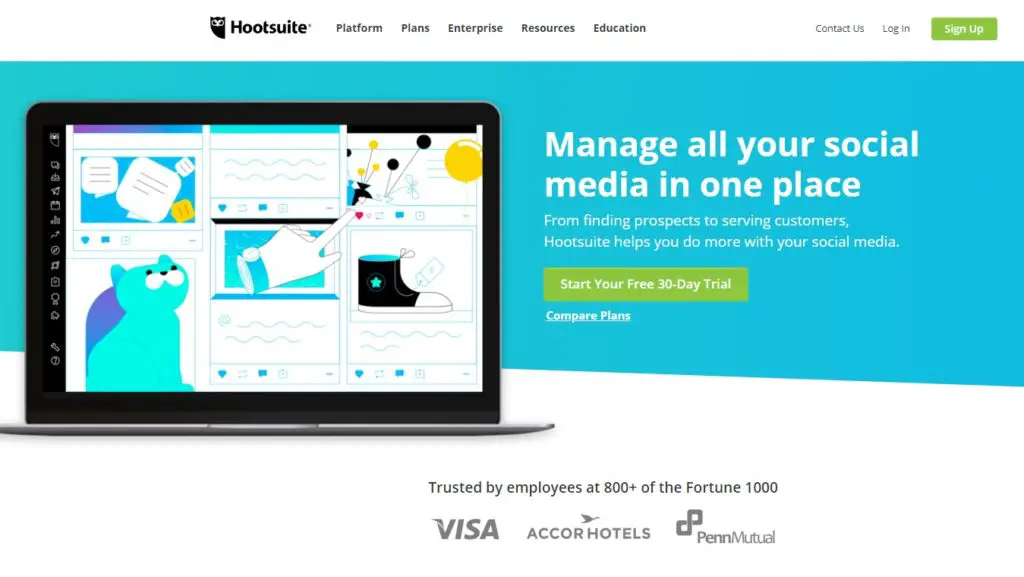 Hootsuite social media management tool is one of the oldest having been around since 2008. It makes finding, scheduling, managing and reporting on social media platforms easy. It comes with a handful of content features like content curation, organization, scheduling, and RSS integration.
Hootsuite has bulk scheduling with which you can upload several posts at a time but lacks the Auto Post feature that recycles content. This social media management platform allows you to create social sweepstakes or contests on the social media platform.  There is no Social Inbox feature or anything like it, so you have to manually engage with each follower. It has basic team features along with post-approval and custom branded URLs but lacks the influencer feature.
3. Sendible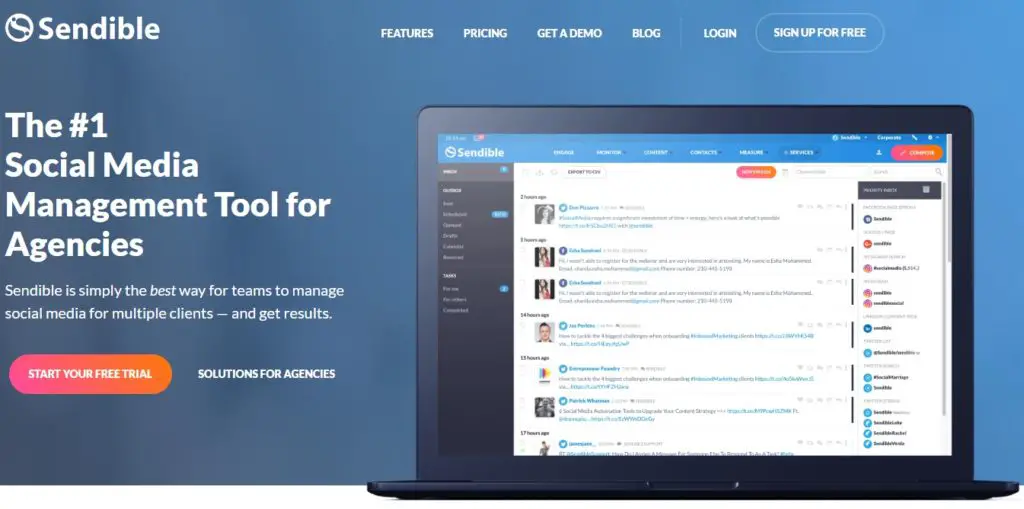 If you are a team managing social media for different clients, Sendible is the tool you are searching for. It has a Smart Queue feature that helps to put your posts in repeat. It comes with a smart recommendation system that recommends the top posts for you.
Sendible has the Social Inbox feature and group collaboration features. It features social listening features that are helpful in monitoring different keywords said about their brand. However, It lacks an influential search feature but comes with a CRM that allows you to treat your social interactions and the people you interact with like leads. It shows the entire conversation history with detailed information about them. This social media management tool has a separate dashboard for each client along with a white label solution.
4. Agora Pulse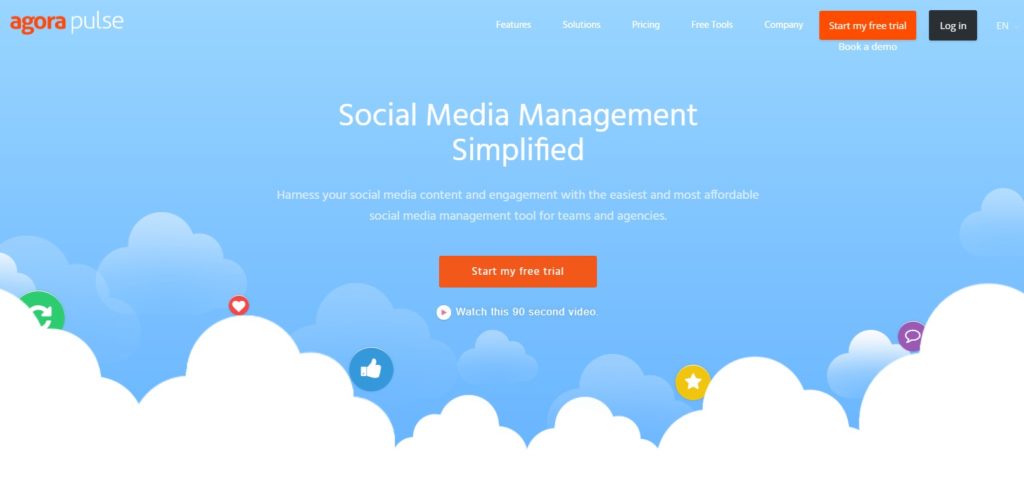 Agora Pulse is a feature heavy social media management tool. It has some handy features like social engagement, publishing, listening, reports and group collaboration.
Agora Pulse comes with an Auto Post feature that allows you to queue evergreen posts. You can further put labels on your content allowing you to easily retrieve and analyze each post. It features the Social Inbox feature where you can interact with every followers and message from a single place. Moreover, there are social monitoring and keyword searching features.
It misses out the influential search feature but has the basic group sharing features along with content approval from clients and the ability to assign messages to clients. It supports Facebook, Twitter, Instagram, Google+, LinkedIn and YouTube.
5. Sprout Social
Sprout Social has its beginnings in 2009 and bear similarity to HootSuite in the sense that it combines a variety of social media tools. It comes with monitoring, scheduling, detailed analytics, the whole package.
It has all the basic publishing features along with a few more customized ones like individual statistics on each post and post-approval. But it lacks the Auto Post with queues feature. The Social Inbox is available along with social monitoring and keyword searching features that will help you keep an eye on your brand. It misses out the influential search feature but has the basic group collaboration features.
It's a bit on the expensive side and lacks YouTube and other visual platforms. It supports Facebook, Twitter, Instagram, Google+ and LinkedIn.
6. Edgar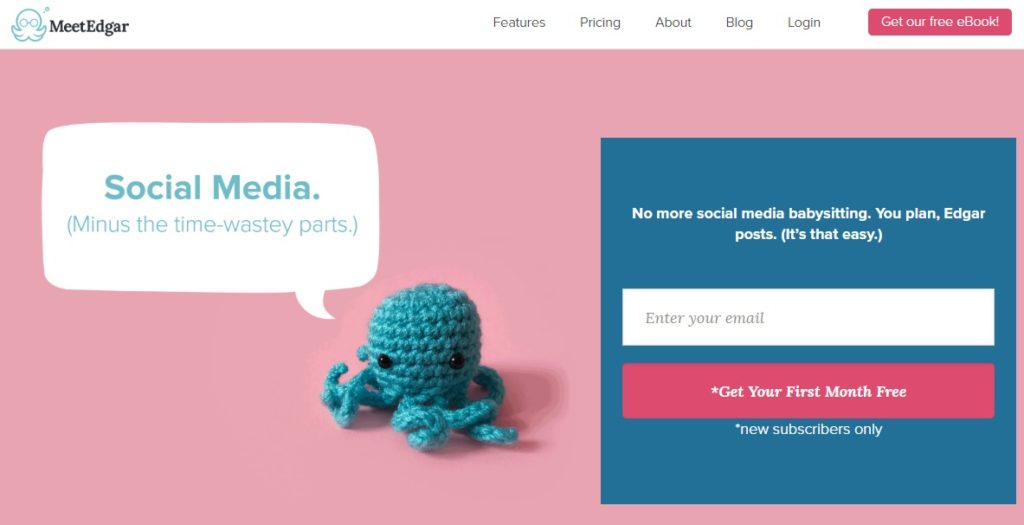 Scheduling content tools carry a special place in this list. Edgar specializes in scheduling content and manages to do it in a unique way. It goes on to group all of your content into categories and adds time slots into them. The tool then fills up these slots with content and publishes them.
Edgar (previously known as Meet Edger) focuses on publishing automation and takes it to another level. Instead of using one time updates, it just reshares certain posts over time, eliminating the need for a long list of posts. It comes with RSS feature but lacks any type of social engagement or social monitoring features. It also misses out any influencer feature and doesn't have any client management support category.
7. eClincher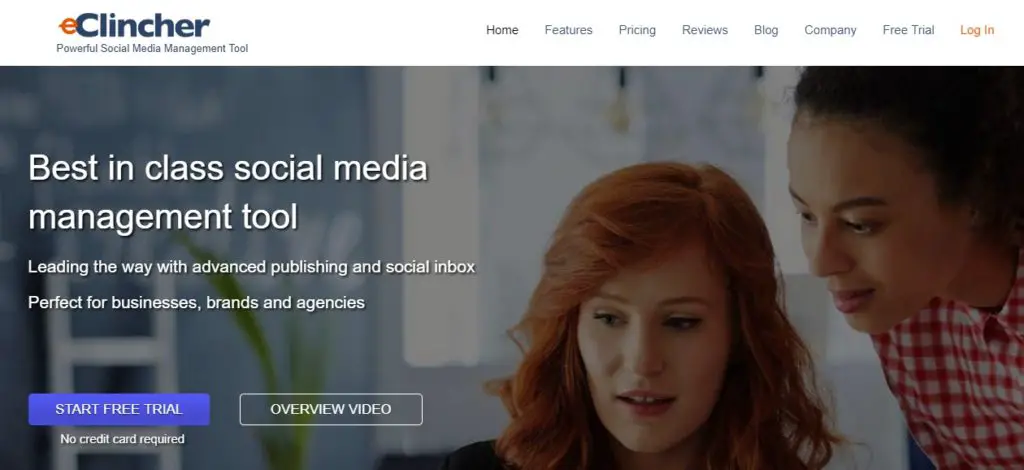 eClincher is an easy-to-use tool that has all the essential features a social media management tool should have along with some unique ones like auto-posting with smart queues social inbox, RSS feed integration and auto posting, custom detailed analytics report, Canva integration, URL shorteners and much more.
The Auto Post feature allows you to automatically publish hundreds of post for the next X number of months. There is RSS integration and also can search for influencers on Twitter by topic, ranking, and location and interacting with them.
It offers fully customized white label analytics reports, the inbox workflow for groups. It supports Facebook, Twitter Instagram Business, Google+, Google My Business, LinkedIn, Pinterest, YouTube, and Google Analytics.
8. Social Pilot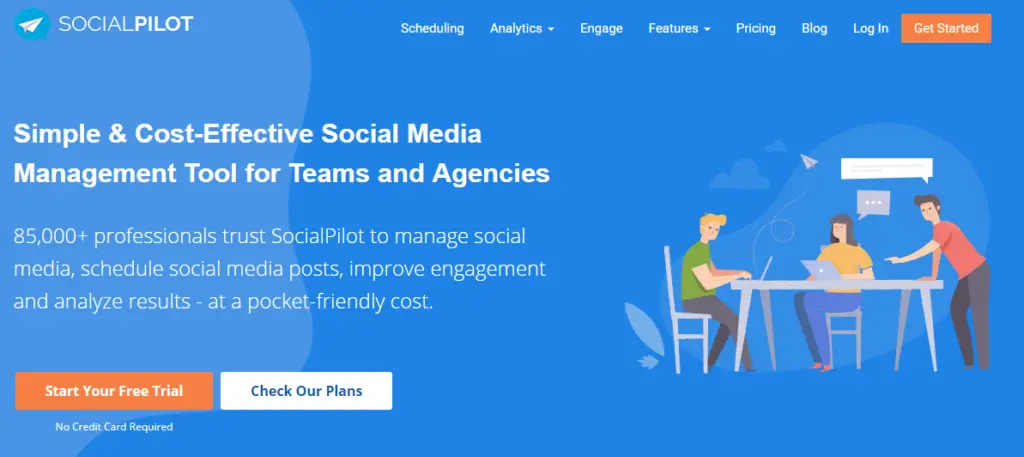 Like the name suggests, the platforms allows may feature from its dashboard. It has all the basic scheduling features but lacks the Auto Post or Smart Queues. It does come with RSS integration and auto-publishing.
Social Pilot doesn't have the Social Inbox feature or other social monitoring features. It has the content feeds that allows you to browse different content and get ideas but no interaction with other social media enthusiast. There is no influencer feature.
You can connect with your clients in social media without needing their credentials. It includes post-approval and separate client dashboards. It supports Facebook, Twitter, Instagram, Google+, LinkedIn, Pinterest, VK and Tumblr.
9. BuzzSumo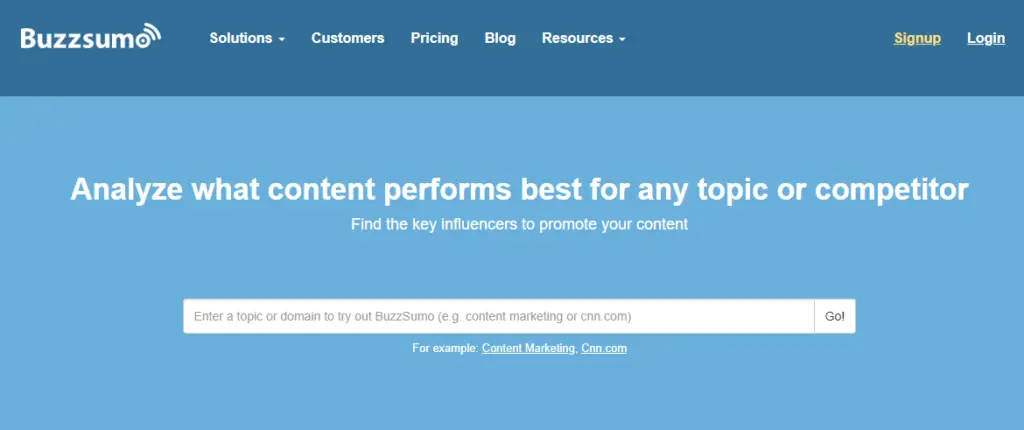 Though social media is generating so much traffic from marketing teams and consumers alike, it would be helpful to markets to see how much traffic certain topics and content are generating without being drowned in piles of data. This is where BuzzSumo steps in and lets you do with its data analytics feature with minimum hassle.
What BuzzSumo essentially does is that it takes in several worlds and returns a list of relevant links on the internet and social media. This help marketing teams to adapt their marketing strategy according to the content. BuzzSumo is one of the best tools available for Content Research and also lets you take a peek at your competitor's content.
10. Crello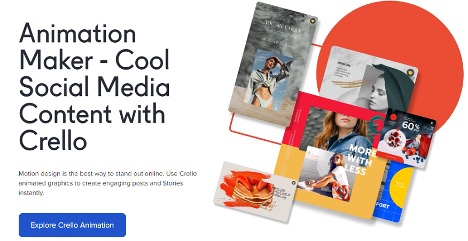 Crello is the #1 choice for newbies and professional graphic designers to create visuals for business and marketing needs. A massive library of trendy, pre-designed templates serves to help with designing social media posts, marketing ads, business correspondence, and print materials (flyers, brochures, calendars, postcards, and more.)
How Crello works: All you need to do is sign up and create a free account in Crello. Now you'll have access to all the templates and a user-friendly online editor to customize those templates to your needs. Editing instruments are many, including such extra features as animating your designs and adding video or audio files to them.
11. Canva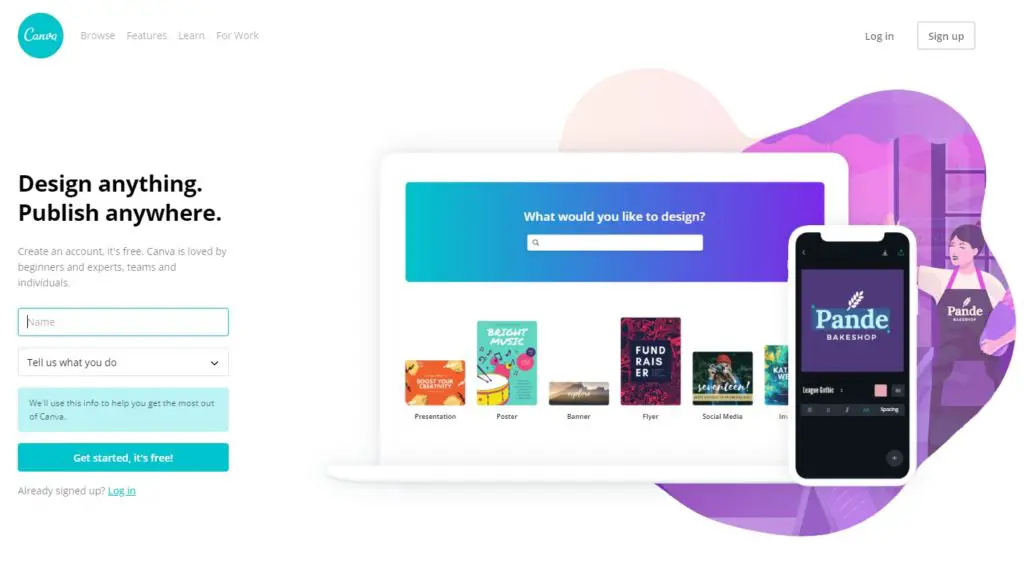 Words are no longer the primary means of content. Photos and Videos usually generate more views and likes on popular platforms like Facebook, Instagram, and Snapchat. Similarly, beautiful visuals and graphics matter for gaining attention and increase brand visibility.
Canva has a number of design tools along with tutorials, templates and more that allows users to make almost anything they can conceive. With this tool, marketing teams with not so much experience can generate high-quality content and gather a large following.
Canva is incredibly easy to use with a drag-and-drop design tool. The thousands of layout templates available help you in designing everything from presentations to social media creative and much more. If you want to try it out, there is a free plan to test.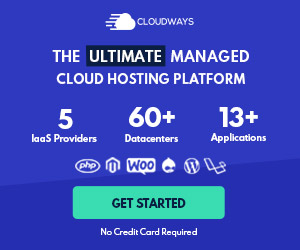 Final Words
So here is the final list of the top 11 best social media marketing tools for your brand/business. Consumers expect the best experience from the brands and with these tools, you will able to create an effective strategy relative to your needs and goals. These tools can be the difference between your mediocre and high-quality content.
The market is filled with lots of tool from free to paid. Don't let them overwhelm you and adapt to the flow. Brands with a good capacity of adapting and including new tools in their marketing stack are most successful in the social media platforms and keeping ahead of the competition.