Every time we see a YouTube video which we really like, we want to save it. This happens a lot when we are listening to music on YouTube. There are literally hundreds of playlists on YouTube which you'd want to save for later. And the best way you can do it is by downloading 4K Video Downloader for free!
The 4K video downloader is a free tool for Windows, Mac, and Linux which lets you download any video not only on YouTube but on other websites as well. The free tool lets you download in any resolution you like, which of course includes 4K and 360-degree videos with even subtitles if that's what you like.
Also read: 10 Best Free YouTube Downloaders
Product Name
4K Video Downloader
Supported Platforms
Windows, MacOS, Linux
Unique Features
Downloads YouTube videos, playlists, channels, and subtitles
Compatible with several video services
Supports 3D and 360-degree videos
Wide range of video and audio formats
Direct transfer to iTunes.
Price
Freeware; $15.00 (1 license); $20 (Bundle).
Platforms Supported
4K Video Downloader is compatible with Windows, macOS, and Linux. Unfortunately, it is not available on mobile platforms.
| | | |
| --- | --- | --- |
| Operating System | Compatible Versions | Download File Size |
| Windows | 32-bit and 64-bit versions. | 31.3 MB – 41.9 MB |
| MacOS | 10.11 and later. | 28.9 MB |
| Ubuntu Linux | 64bit versions. | 33.5 MB |
The app is pretty lightweight and doesn't need too much CPU power. The premium version of this app receives regular updates. These not only fix bugs but also bring new features and improvements quite often. This is yet another good reason to go for its premium plan, as they don't have expiration dates – so you can easily keep the application updated at all times.
Features
The 4K Video Downloader helps you download videos from any site you want without hassle. In addition to downloading videos, you can even download video playlists. Furthermore, you can convert videos into various file formats.
You can even change the video into an audio file. 4K Video Downloader makes it easy to convert music videos into formats that you can use on audio devices such as MP3 players. In terms of video, it can convert downloaded videos into MP4, FLV, MKV or 3GP format. When converting audio files, it can turn videos into M4A, MP3 or OGG format.
When downloading any media, you have a lot of video quality options. As the name suggests, you can download videos in 4K quality. However, it also supports video quality up to 8K. Want a smaller, more compressed video file? No problem. 4K Video Downloader also allows you to download videos in low, high and standard definition.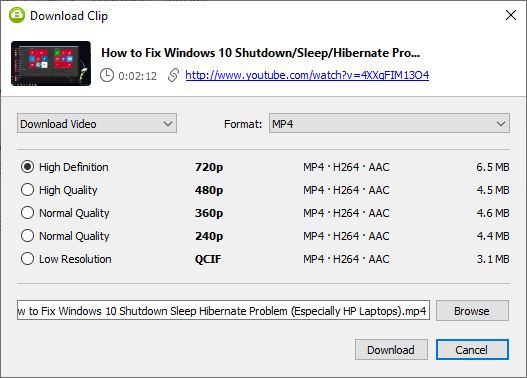 The program doesn't stop there. You can download full playlists and videos with subtitles if you want. The free version allows downloading playlists for up to 24 videos. The premium version of 4K Video Downloader lets you subscribe to channels.
Whenever that channel you're subscribed to posts a new video, it will automatically download that video to wherever you choose. You can get the premium version of the software for 3 computers from which you get access to future updates and unlimited video downloads in playlists.
---
Protect Your Online Privacy With Surfshark
[The VPN that we use here at Tech Arrival]
---
User Experience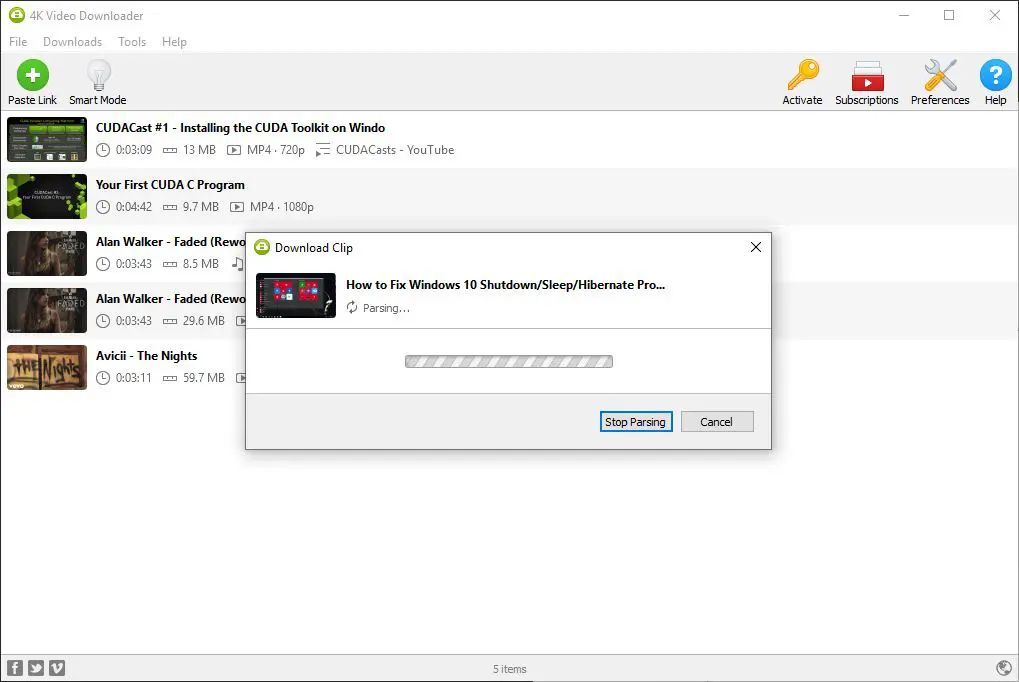 Downloading a video or playlist on 4K Video Downloader is super easy. All you have to do is copy the video or playlist link and paste it inside the application. Then you can set your video quality and file format to whatever you want.
Once you download the app from the official website, the process is pretty straightforward. The upper portion has 5 options -two on the top left and three on the top right. Let's walk through what each option does.
Paste Link – After you copy any link from YouTube or other supporting websites, click the Paste Link option and paste your link.
Smart Mode – Smart Mode helps you to speed some things up when it comes to downloading videos. By enabling this option, you can set the preferred format and quality, choose whether to include subtitles and decide where to download the files. This way, you won't have to pick the settings each time you download something.
Subscriptions – This option is on the top right corner of the app. You can 'subscribe' to YouTube channels within 4K Video Downloader, which will then download videos as soon as they appear on the selected channels. This is done by copying the URL of the chosen channel, and the application will recognize it automatically.
Preferences – Preferences is where you can set how the application behaves. You can optimize intensity, set up a proxy and much more by clicking on this option.
Help – This is the final option which takes you to the official website of 4K Video Downloader. Here, you can find different resources, talk to customer care, etc.
On top of it, the application also has a menu bar where you can add a batch of URL, pause/stop downloads, check for updates, and review different kinds of help-related resources.
Performance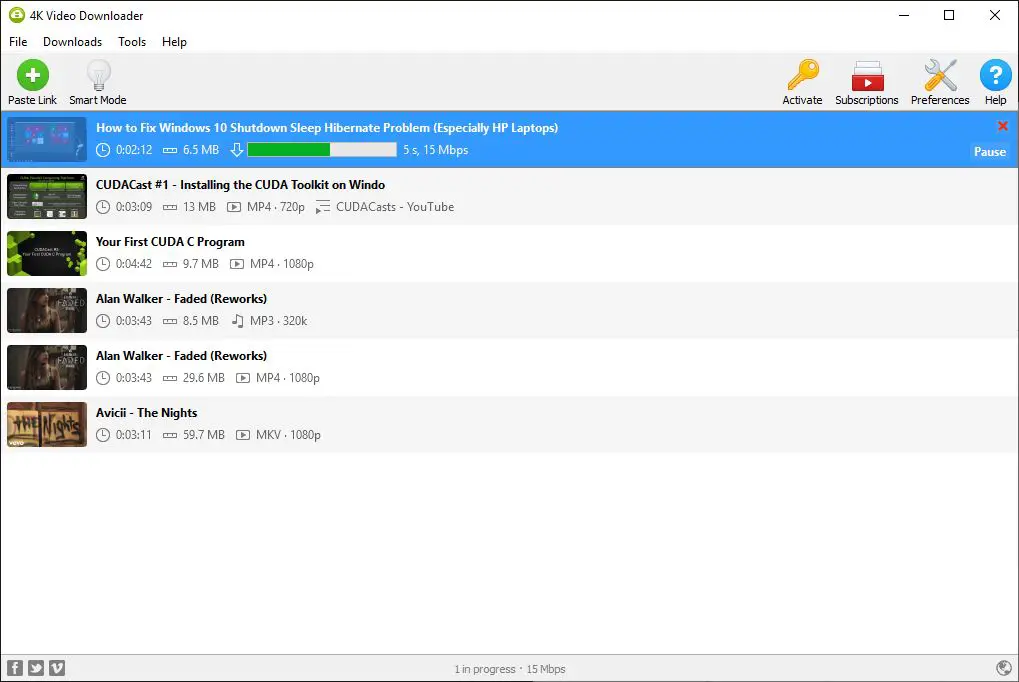 As we earlier said, 4K Video Downloader is a really fast and lightweight app. When we talk about performance, there are two things we consider. First is the speed of processing the video and converting the files into the chosen format. The second is the speed of actually downloading the video.
the 4K Video Downloader excels in both. In fact, the processing only takes a few seconds irrespective of the format. And also, there are no restrictions on how fast you can download files. That means you can utilize the full potential of your internet connection.
How to Download an Entire Playlist
Using 4K Video Downloader is very easy to use. You can download an entire playlist by following these simple steps.
Firstly, select the YouTube video you want to download. Once you do so, copy the entire URL of the chosen video (you can select it and press CTRL + C). Make sure to have 4K Video Downloader enabled in the background.
Now, open the application, which should automatically recognize the URL that you copied. Click on the 'Paste Link' button in the top-left corner to initialize the procedure.
After a few moments, you'll be presented with a series of options. You can choose to download the video or just to extract its audio. Depending on what you select, you need to pick the preferred format on the left side of the screen.
In case your video is a part of a playlist, press 'Download Playlist' in order to download the whole playlist.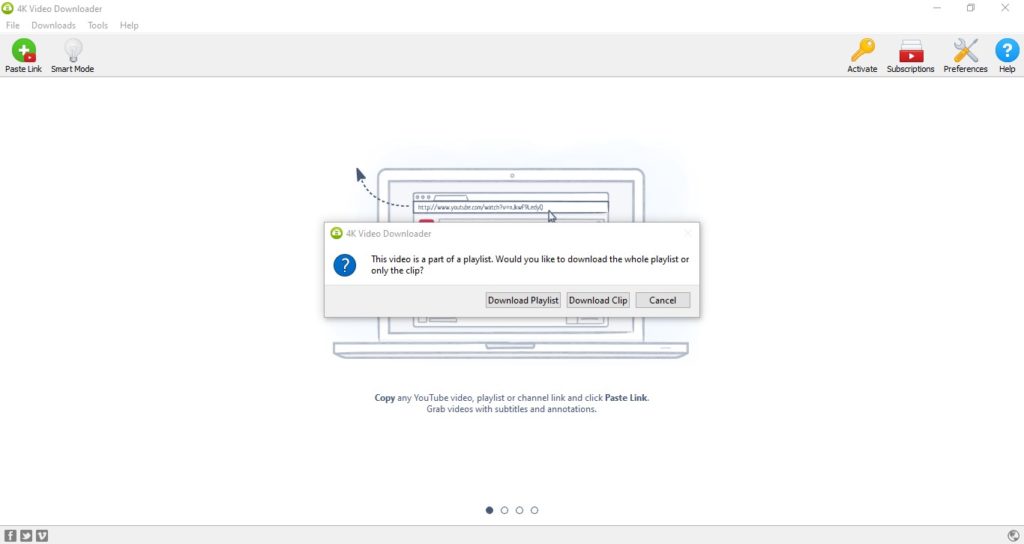 And finally, choose the resolution. You can go all the way up to 8K. Also, don't forget to choose where to save the file once it downloads.
---
Protect Your Online Privacy With Surfshark
[The VPN that we use here at Tech Arrival]
---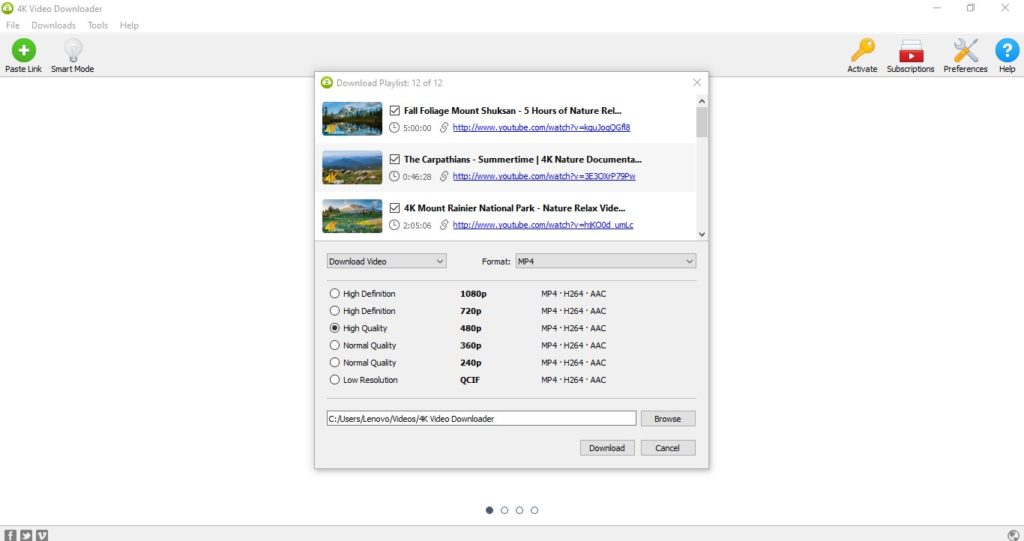 Once you're happy with the chosen settings, confirm your decision. This is when you'll be taken to the Home Screen of 4K Video Downloader where you'll get to track the download progress.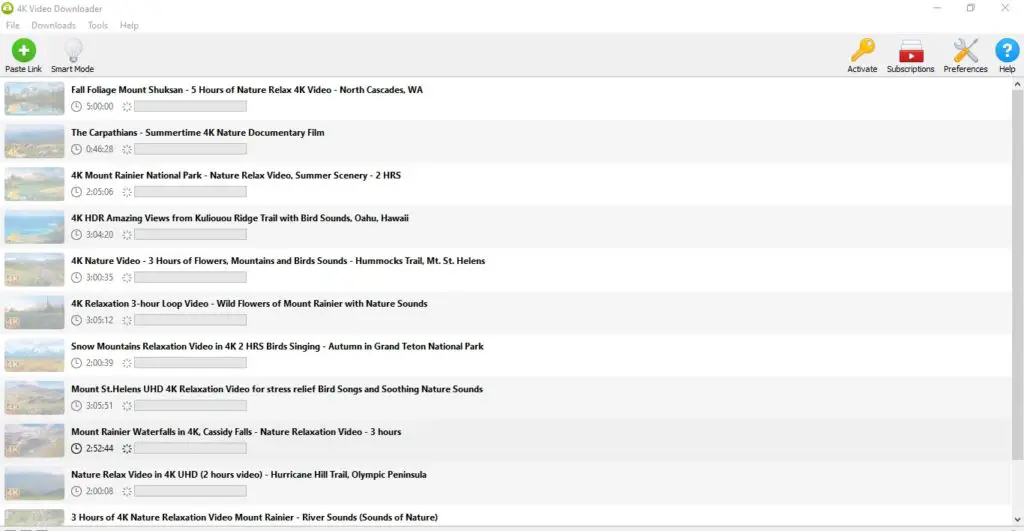 Great! Your video will now be downloaded to your selected destination.
Resources
4K Video Downloader's website is filled with resources. It has got nicely written tutorials, frequently asked questions, videos, and plenty more.
Providing such an extensive list of resources is a really good job. We highly praise the company for doing so. These are no just short tutorials that barely scratch the surface. Instead, you can use the company's support page to truly learn about 4K videos and how to get the most out of this application.
There's also an email address where you can reach the company personally and expect a fast response, which is usually under 48 hours.
Pricing
Although 4K Video Downloader comes for free, you can but its lifetime license for premium features. There are two types of license you can buy as of now –
Standalone License ($15) – This unlocks all the features of the application and lets you use it with no limitations. It is available for just $15 and lasts a lifetime. You can use this license on up to 3 computers.
Bundle License ($20) – Along with the premium features, the Bundle License lets you use additional features on this application. Additional features include downloading Instagram Photos and Videos, etc.
Verdict
4K Video Downloader is an awesome application if you always wanted to download music playlists and other videos in full resolution. The application is super fast and doesn't restrict downloading speeds which are quite common in similar apps. The ability to download videos of up to 8K resolution for free is a really great feature.
This is the best downloading software we have ever tested and it does its job very well. We highly recommend 4K Video Downloader!