Depositphotos, one of the leading stock photography agencies in a joint collaboration with other foremost companies like 500px, Image Source, Stockfood, MintImages, Westend61, etc.  released the Focused Collection in February 2018. This offspring of DepositPhotos is a diverse interactive platform which contains more than 400000 unique images to help users find lucrative content appropriate for any situation as convenient prices.
What is Focused Collection?
With the motto "Stock images – made and selected with care", Focused Collection invites authors of excellent images and willing customers who appreciate art. It is a modern global marketplace for original premium images which have never been previously exhibited on any other stock photography sites.  According to Vadim Nekai, the CMO of DepositPhotos, "Our dedicated team behind the Focused Collection hand-picked the most outstanding and candid images by talented photographers from around the world…With this unique collection, we are empowering brands and media to build visual communications that stand out and evoke an emotional response." Thus, Focused Collection is truly a platform to be reckoned with an exclusive library of authentic royalty-free images to serve the requirements of individuals, editors, websites, advertising agencies and corporate clients.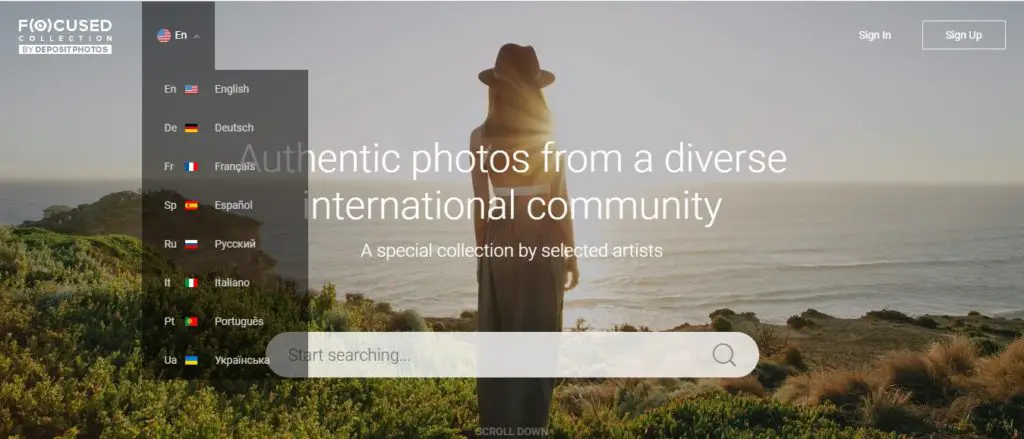 The base page of the website is designed attractively and all features are noted there. All features such as caption of the image, Terms of Use, License Agreements are provided in eight languages (English, German, French, Spanish, Russian, Italian, Portuguese and Ukrainian) for easy access by their diverse customer base.
Features
Focused Collection provides users with an exclusive catalog of images that are unavailable on other stock photography sites.
Focused Collection has a creative team that delivers image selection services as per the customer's preference:

The user can change Image orientation by choosing in horizontal, vertical or square orientations according to his requirement.

There is an option to include or exclude people from the pictures you seek.
There is a diverse collection of images to choose from within 30 different categories, such as abstract, animals, architecture and building, beauty and fashion, cities, celebrities, education, interiors, miscellaneous, people, professions, science, technology, and several others. This helps users to purchase images specifically according to their needs.
You can choose an image with the predominant color of your choice. With 17 available colors, you can select the perfect images according to your request.

You can personalize your search by filtering the pictures appropriate for editorial purposes. These files are offered at a relatively lesser cost and possess a limited license and can only be used for online articles, newspapers, blogs, etc.

There is an option for safe search.

It also has an option to see the recent pictures. A technologically-savvy and qualified team dedicate their work to organize the latest images in this reservoir of photographs.

Focused Collection provides exclusive and extended rights to specific contents to clients.
This site offers the users to download photographs without watermarks
All simple licenses and legal guarantees are explained and provided to customers.
Though the price structure is slightly higher than their stock photography sites, Focused Collection delivers excellent images which are worth buying. Their prices start from $49 and increase based on the selected image size.
How to Use Focused Collection?
Focused Collection is very user-friendly and easy to use. The User is able to simply sign up free of cost using his email and password, following which an immediate confirmation message would be sent to the registered email address.  

Thereafter, the user's payment options and card details would be enquired by the site.  
After successful creation of the user account, the user can scroll through the various categories of photographs or filter out the types of photographs he requires quite easily using the site. He can choose the picture of his liking, select the size and orientation of preference and then pay for it.
Pricing & Plans
Images from the Focused Collection fall under 3 different price ranges depending on their size and individual licenses.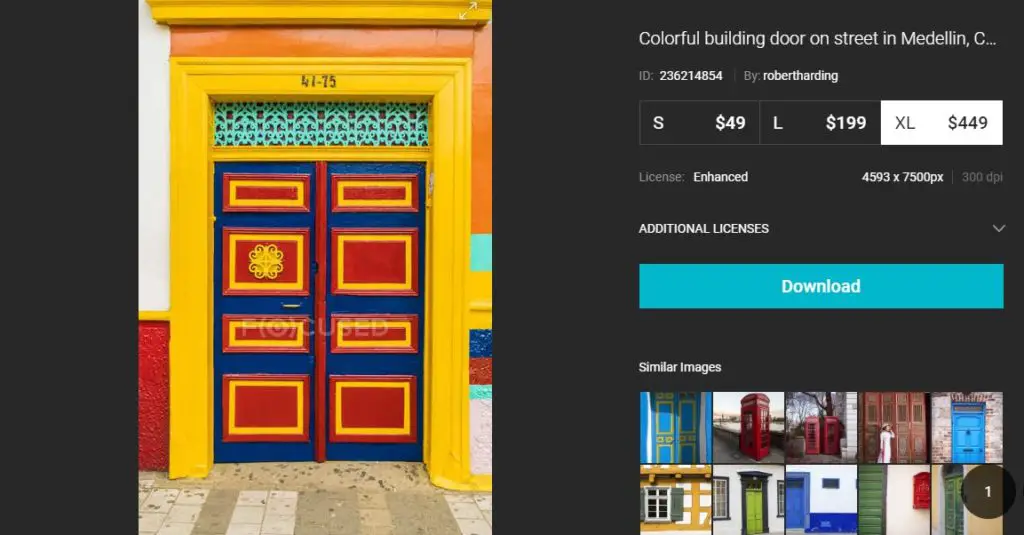 The small size (1067 x 1600 px) is under standard license and is valued at $49.
The large size (1733 x 2600 px), also under standard license is priced at $199.
The Extra Large (XL) size with dimensions of 3456 x 5184 px is available under the Enhances license. The additional license includes unlimited print and multi-seat free of charge and additional legal warranty at the rate of$100 and the product can be resold and distributed at $200.
Moreover, the payment procedure can be carried out only by means of a card, for example, Visa, MasterCard, JCB, Discover, and American Express cards. 
In today's business world, everyone is in a race to produce better and more attractive content with unique photographs. Aiming to provide exceptional and rare pieces to needy customers, Focused Collection solves the tedious task of finding original royalty-free images. Its easy-to-use user interface and a wide variety of high-quality photographs give the user a diverse selection of visual content to choose from.