YouTube has been around for a long time now. The online video library has gained popularity over the years. It has become the go-to place for watching videos of all kinds. It is content-rich, and many people prefer it so much that there is no turning back for them. The video site is the second largest search engine in the world. Chances are you will find so much helpful stuff there.
Have you ever wanted to listen to your favorite songs or watch any of your favorite YouTube videos offline? Well, whether it's to save data on your phone or get a better music experience on your laptop, converting YouTube videos to MP3 is a breeze these days. In this article, we'll walk you through converting YouTube videos and give you some handy tips and tricks along the way.
Why Do People Use Youtube to MP3 Converters
If you've ever tried to download a YouTube video, you may have noticed that it's not possible to download and save the video in MP3 format. That's because the videos on YouTube are protected by a Digital Rights Management (DRM) system. DRM is a set of access and copy-restriction technologies for controlling the use and distribution of digital media. It's not something that is widely used on YouTube, but it's still in use.
There are many reasons why people convert YouTube to MP3. For instance, you might be looking for a way to convert YouTube videos that you can't watch because of geographical restrictions, or maybe you want to download your favorite YouTube video as an MP3 so that you can listen to it offline on mobile devices; or perhaps you want to keep them safe in case you lose your internet connection; or you want to convert them to MP3 format to store them in your music library. Whatever your reasons are, it's pretty easy to convert YouTube to MP3.
Common Questions Related to YouTube Videos to MP3
Legality – Is Converting YouTube Video to MP3 Safe?
Converting YouTube videos into MP3s has been a controversial topic for a long time – yet there are still countless people who use this method to get hold of popular songs and music without actually paying for them.
There are several legal issues to take into consideration when converting YouTube videos to MP3. One such issue is copyright infringement. If you use a video's Audio without the copyright holder's permission, there is a good chance that you will be violating their rights and breaking the law.
Legality is the key. If you're just listening to music for your enjoyment, it's a grey area. But if you distribute MP3s on a file-sharing site or even sell them, that's a no-no.
Advantages & Disadvantages of Using Online Converters vs Offline Ones?
There are two ways to convert your video files. You can use an online service or offline software. Each has its advantages and disadvantages, which you should know before making a decision.
Online converters have several advantages over offline ones. One advantage is that they are available whenever you need them. Another is that you don't have to install anything on your computer. Moreover, you can access most online converters from any device with an internet connection, including smartphones and tablets.
The biggest disadvantage of using online services for this purpose is the lack of control over the final result.
Can you Convert the Whole Playlist to MP3?
It totally depends on the converter you are using. For example, most Online Converter will only allow you to convert and download one video at a time: however, there are many which pack the feature to download the entire playlist at once. This feature is very common in software-based Youtube to MP3 Converters.
---
Protect Your Online Privacy With Surfshark
[The VPN that we use here at Tech Arrival]
---
Any Other Formats apart from MP3 You Can Convert to for Audio. Are they Better?
That's really the only way to go. Converting videos is one thing, but converting them to the right format for Audio is another. It's always a good idea to keep the highest quality you can get. Some formats are designed for playability, while others are designed for storage efficiency.
The answer will depend on what you're looking for. While MP3s are a popular format, it is not the only one for Audio. So perhaps a better question is to ask what other formats can you convert a YouTube video into? There are many different ones that you can choose from, but the most common ones are AAC, FLAC, M4A, or AAC.
MP3 files are smaller in size than other formats like WAV, AAC, and FLAC. This is because the audio data is compressed to reduce its size without reducing sound quality. If you want quality sound, then it's best to be an MP3.
Converting YouTube Videos to MP3 Using GoMP3
In the digital age, we often rely on YouTube for music or video entertainment. Converting YouTube Videos to MP3 can seem like a daunting task, but it's easier than you think!
Go-MP3 YouTube to MP3 converter is a free web app that lets you download any song from YouTube in just a few simple steps. Let's see how it is done. We have covered top YouTube to MP3 Converters, so you can check that out if you want to use alternatives.
First, look for the Youtube Video you want to download.
From the Address Bar, copy the Video URL.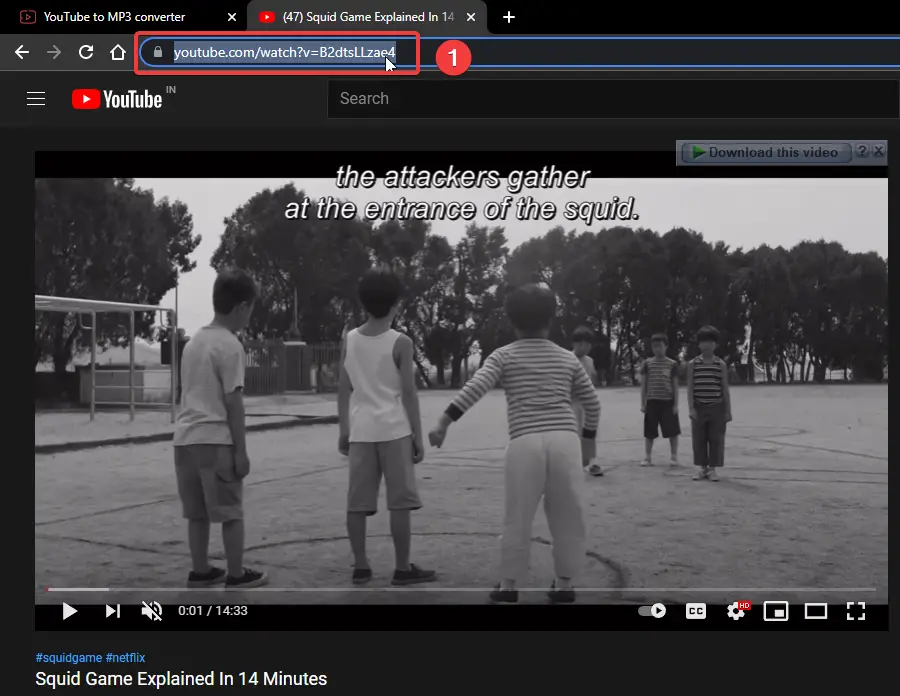 Then, visit the Go-MP3 YouTube to MP3 converter Website. 
Now Paste the Video URL you copied earlier in the bar that says "Paste a Youtube Video URL," then click on the Search button.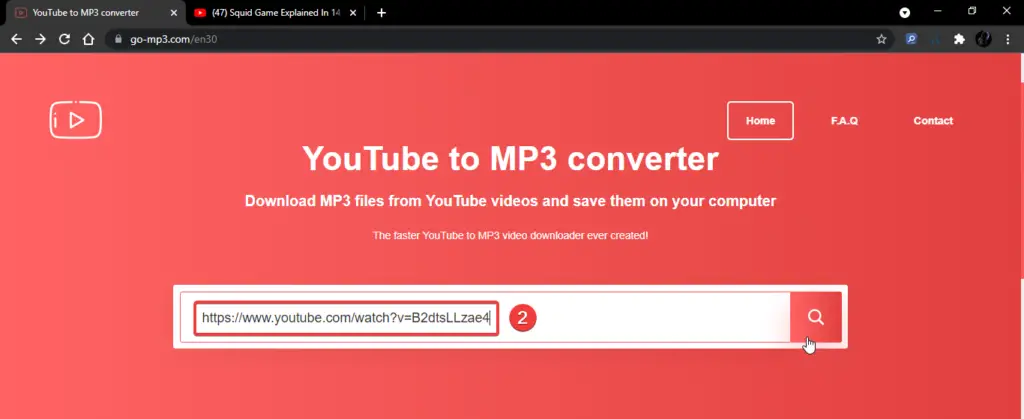 It will show you the Video name and Audio format. Now click on the Red Button that says "Download the MP3 file".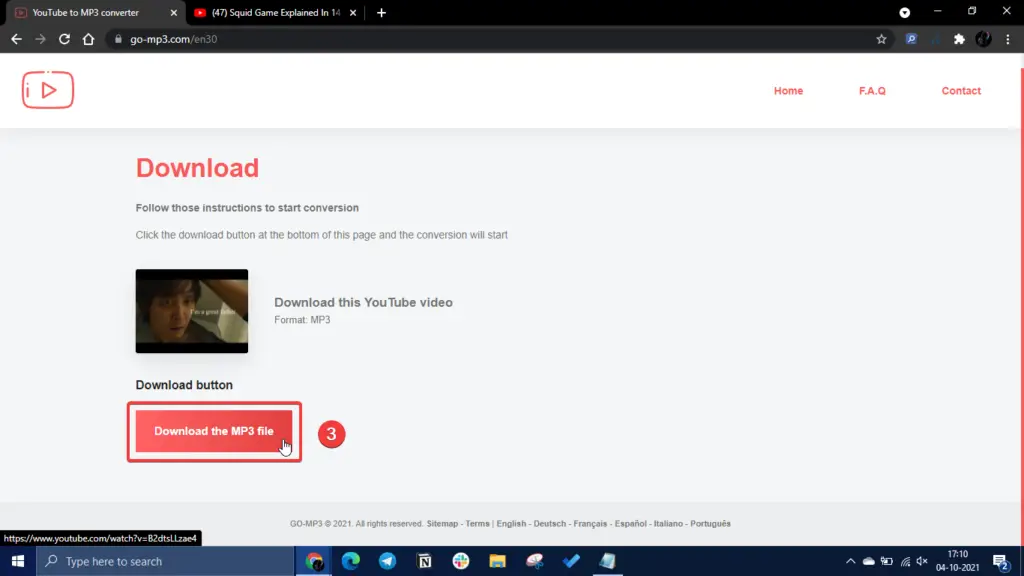 Now Wait for few seconds, and the website will convert the Youtube video into MP3 format in the background. Once it is done, a popup will appear, prompting you to download the MP3 file. Click on the Download button.
That's it. The MP3 file will be downloaded in your Downloads directory. The size of MP3 will depend on the length of the Youtube video you are trying to save.
What is the Quality of Audio after Conversion?
The most important thing to know is that the higher the bitrate, the better sound quality you get. 320kbps sounds better than 256kbps, which in turn sounds better than 128kbps. When you choose a bitrate for your audio files, you should generally go with 256kbps or higher. It's pretty clear that 320 kbps is the standard we should be aiming for.
Rest assured that you are not losing on the quality of Audio after converting them from Youtube. Go-Mp3 converts the Youtube video into the best possible quality of MP3. The Audio is encoded in 320 kbps at 16 bits.
Conclusion
YouTube is the best place for music lovers to listen to their favorite songs. The only problem with this site is that you can't download your favorite song from there.
Go-MP3 is one of the easiest tools to use for converting videos to music. With their simple step-by-step process, you can simply copy and paste the link to your favorite video on YouTube, press convert, and download your audio file in minutes.
---
Protect Your Online Privacy With Surfshark
[The VPN that we use here at Tech Arrival]
---
If you have any questions or need help with anything else, please let us know by commenting below. We would be happy to assist you further.