If you want to access, control, or fix another computer from your Mac, you need the remote desktop software for Mac.
A remote desktop app is developed to give you access to another computer remotely. These apps come in handy when working with colleagues from home, resolving customer issues, or performing other tasks.
Luckily, there are plenty of remote desktop apps available for Mac. We have shortlisted a list of reliable apps that you can get for your macOS.
Also read: TeamViewer Alternatives: 10 Best Remote Desktop Software
List of Best Remote Desktop Apps for Mac
1. Microsoft Remote Desktop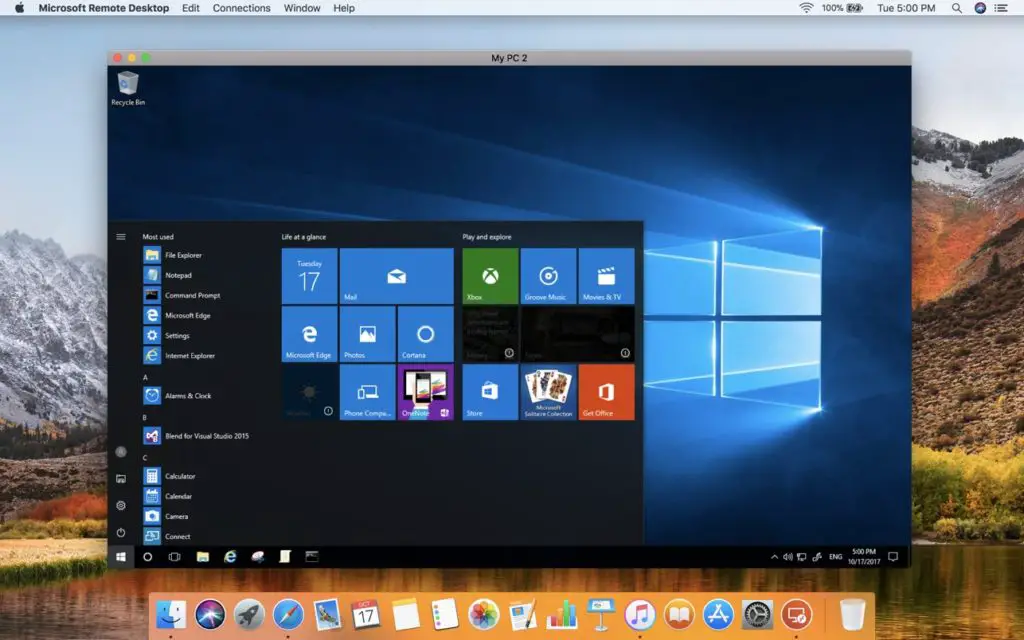 This remote desktop app is not just compatible with Mac but also with Windows, iOS, and Android. With the help of this app, you can easily access files, apps, and network resources on another PC even when you are not physically present there. All you have to do is keep the applications open on your office PC, and you can access them easily from your home. The best thing is that Microsoft Remote Desktop is free to use.
2. Zoho Assist
The next best option we have is Zoho Assist, a cloud-based remote desktop app designed for customer servicing. Using this app, you can connect to customers from a distance. This is a simple, cloud-based application that is both secure and easy to use. The best part is that it ensures privacy and safety. It comes with a seamless interface that makes it easier for users to use the app. It offers many plans and features that make it ideal for mid and small-sized businesses.
3. AnyDesk
AnyDesk is an efficient remote desktop app that is suitable for companies of all sizes. It is packed with smart features like file transfer, remote printing, and more. This app can compress and transfer image data to give you a swift user experience. The good thing is that it has both paid and free versions. The paid version is better than the free one.
4. TeamViewer
TeamViewer is one of the most popular remote desk apps you will find for Mac. You can use this app on Windows as well as mobile devices. This app allows you to access your data from servers. You can also establish a mobile-to-mobile connection with this app. From chatting to taking screenshots, you can do it all with the help of TeamViewer.
5. LogMeIn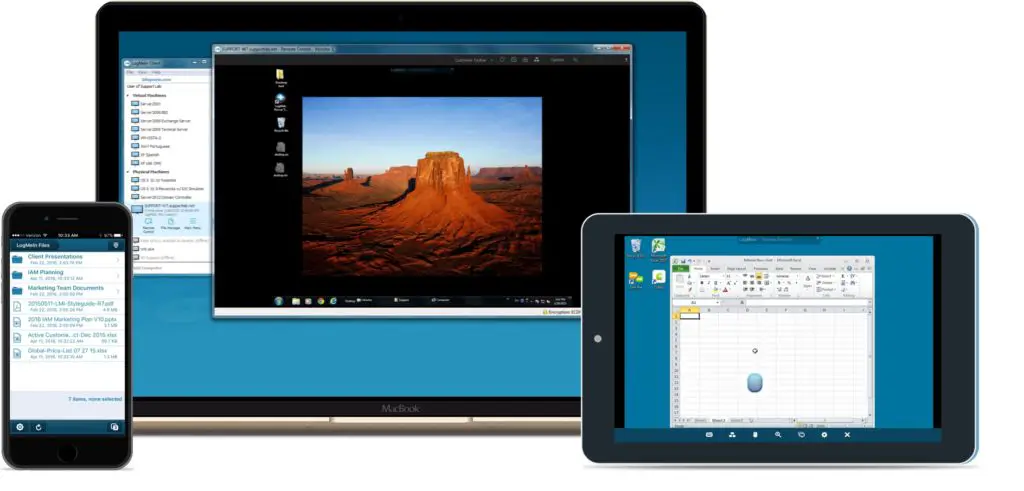 LogMeIn is one of the best remote desktop apps you will find. It provides a seamless solution for all your work needs. With the help of this app, you can communicate and collaborate with teams of all sizes. LogMeIn offers different plans, so you can pick the one as per your budget. It gives you complimentary access to LastPass, a widely used password manager tool.
6. Splashtop
If you want a user-friendly remote desktop app, then this could be the best choice for you. This app is best suited for gaming needs. This is because it can stream sounds, 3D graphics, and videos across devices. To take advantage of the remote access features, you will need to get the paid version. As far as the free version is concerned, it is only useful for local use.
---
Protect Your Online Privacy With Surfshark
[The VPN that we use here at Tech Arrival]
---
7. VNC Connect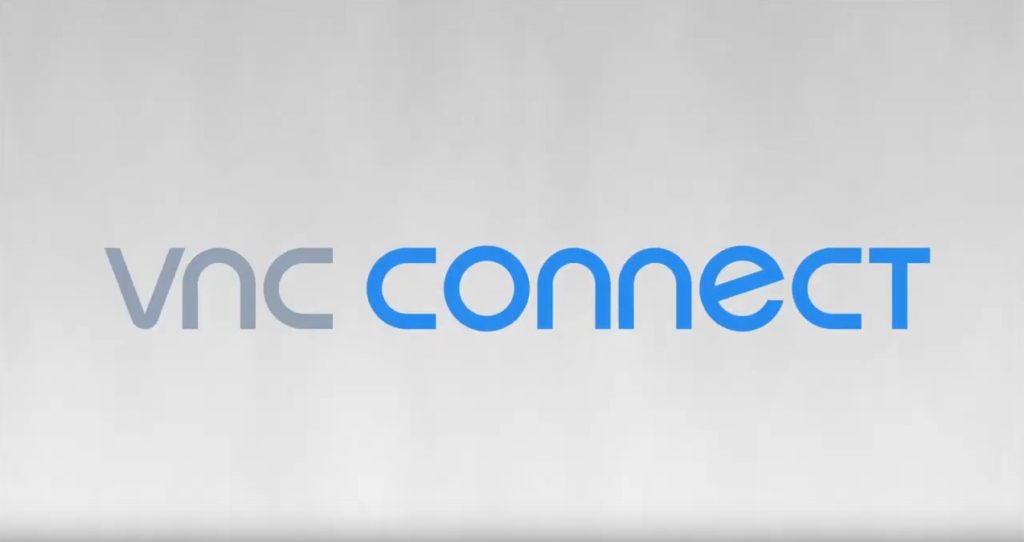 VNC Connect is designed for secure remote access and support. This is a widely used remote desktop app for Mac. It is a fully encrypted, remote desktop app that is trusted by over 250 million people. Compared to many other apps, it is fast and easy to use. It offers multiple plans, so you can choose the plan that is most suitable for you. It also offers multi-platform support and dual connectivity.
8. Remote PC

If you want to work from home and access another desktop remotely, Remote PC is the best app. It allows you to effortlessly manage your files, print document, and transfer data, even from a mapped driver. Another notable feature is the secure screen sharing for tablets and mobiles. Besides Mac, it is also compatible with Linux and Windows platforms.
9. Jump Desktop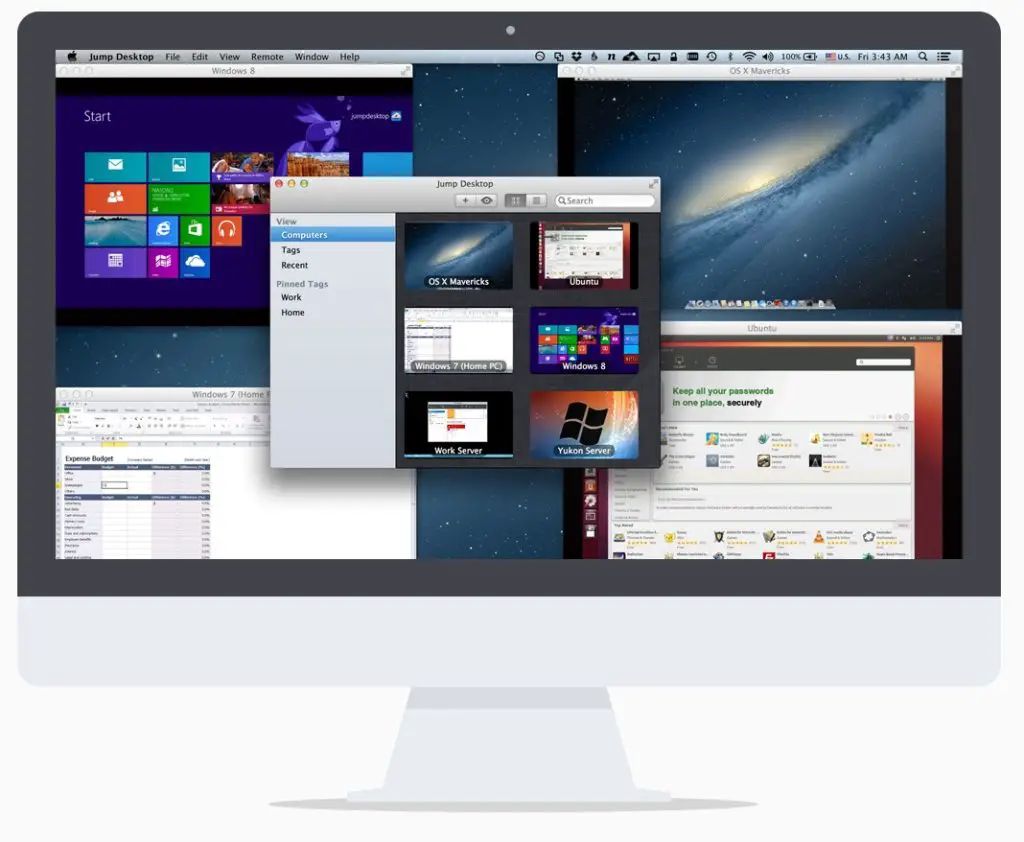 Next up, we have Jump Desktop, which is compatible with remote PC and virtual network computing. The good thing about this app is that it also supports next-generation remote desktop protocol known as Fluid Remote Desktop. To increase productivity, the app allows you to use your Mac keyboard shortcuts on your Windows PC. Out of all the features, collaborative screen sharing is probably the best one.
10. GoToMyPC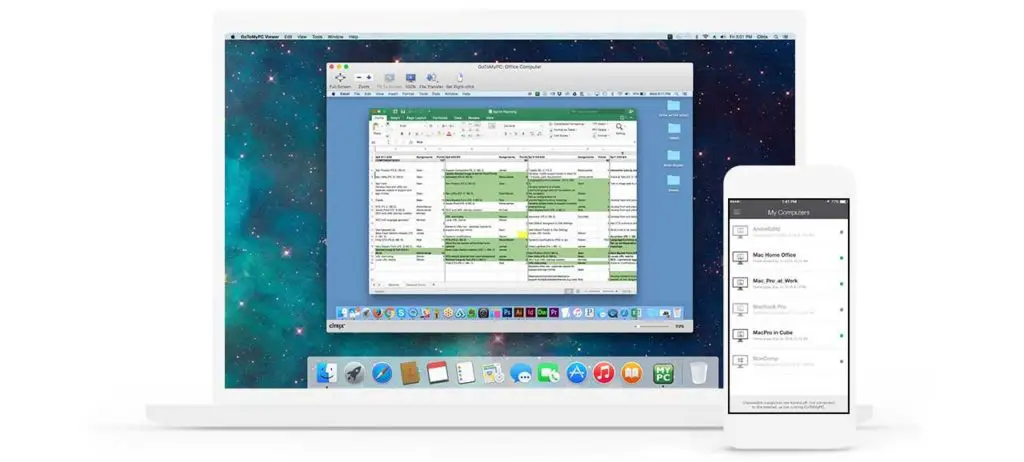 With the help of GoToMyPC, you can easily transfer all your files and data between connected computers. If you have all your files stored on a remote PC, you can access those files using this app. It comes with multi-monitor support that allows you to view full displays of all the connected computers. 
11. NoMachine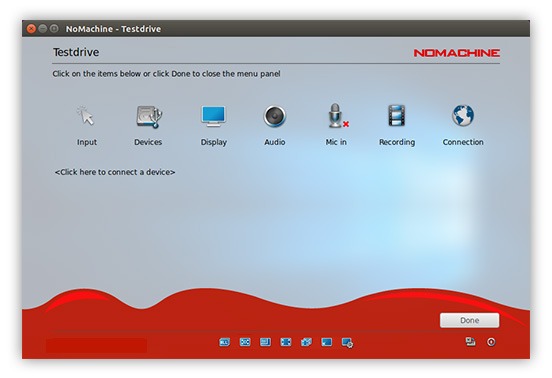 This slick remote desktop app is all you need to meet your work needs. Unlike other apps, it is easy to set up and requires no manual configuration. The setup wizard provides you a detailed guide to complete the connection process. It provides a fast and stable connection. If you face issues using the app, then you can get your problems solved at the help forum.
12. Chrome Remote Desktop
Lastly, we have Chrome Remote Desktop. This is yet another popular remote desktop apps you can use for your Mac device. Besides that, it is also compatible with iOS. This app enables you to access computers remotely. Best of all, you can use this app for free.
Having a secure and reliable remote desktop app allows you to access another computer remotely. Anyone looking for the best remote desktop app for Mac can choose from these apps. They have the best of features you need.
Also read: How to Install TeamViewer on Raspberry Pi
Frequently Asked Questions (FAQs)
What is a Remote Desktop Needed for?
A Remote desktop app allows a "client" computer to connect to a "host" computer from a remote location. It allows users to manage files and transfer data between the connected computers.
Is Remote Desktop Necessary?
IT organizations and tech people use remote desktop software for an easy work experience. With the help of these apps, they can fix issues remotely and thus, eliminating the need for physical intervention.
What is the Best Free Remote Desktop Software for Mac?
There is plenty of remote desktop software available for Mac. But if you are looking for free ones, you should use Chrome Remote Desktop, TeamViewer, and LogMeIn.
---
Protect Your Online Privacy With Surfshark
[The VPN that we use here at Tech Arrival]
---
Which Remote Access App is Best for Mac?
Zoho Assist is one of the best remote desktop software available for Mac users. It provides both unattended remote access and remote support for Macs and PCs. It is a comprehensive remote access tool that can access or control another device.
Is Chrome Remote Desktop Good?
Chrome Remote Desktop is known for its excellent performance and accessibility. It is a multi-platform tool that is supported by Mac, Linux, and Windows.
Can you use TeamViewer from Mobile to Mobile?
Yes, you can connect to TeamViewer from mobile to mobile. It is supported by both iOS and Android platforms.
How to Tell if someone is Using TeamViewer?
To find out if someone is using TeamViewer, click on Extras and then go to Open Logfiles. In the same folder, you should be able to locate a file called connections_incoming.txt. This folder should contain the information you are looking for.
Is Zoho Assist Free?
No, Zoho Assist is not a free remote access tool. However, it does provide a 15-day free trial.