Remote desktop access software is a convenient tool. It allows us to access one PC from another and commit important tasks remotely.
When the Remote Desktop first came out, the process was not smooth. But with time, developers worked hard to make the process efficient.
TeamViewer is one of the most renowned remote desktop software. It's equipped with an extensive set of features and functionalities. However, unlike every other software out there, TeamViewer has its fair share of drawbacks. 
For example, it has a free version available but for limited use, and you have to pay a hefty amount for extensive business purposes. 
So, it's only normal for people to look for alternatives. There are several alternatives available in the market which are highly efficient, even surpassing TeamViewer. Let's have a look at the list of the best TeamViewer alternatives.
Also read: How to Install TeamViewer on Raspberry Pi
List of Best TeamViewer Alternatives
1. AnyDesk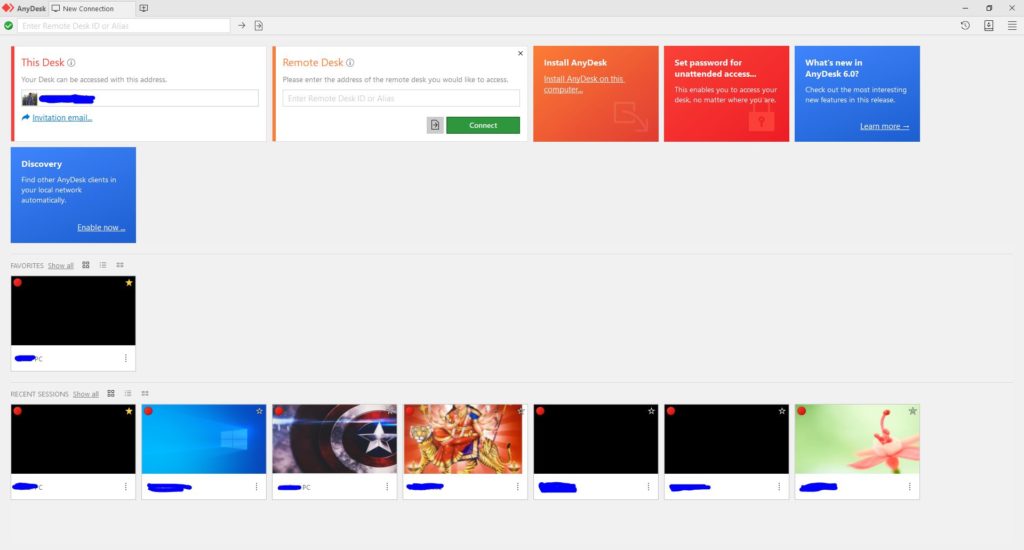 AnyDesk is our first choice as it is a perfect remote access solution for a secure and fast connection. Do you want to hide what you are performing on the remote side? Just turn on the Privacy Mode in the settings and turn off the monitor on the remote side. AnyDesk supports almost all platforms that you can think of.
Similar to TeamViewer, the best thing about AnyDesk is its speed. AnyDesk allows screen sharing at 60FPS. Hence, all your actions will be performed immediately on the remote device.
AnyDesk uses banking-standard TLS 1.2 technology along with RSA 2048 asymmetric encryption. That means, no need to worry about security issues. AnyDesk also provides a built-in address book that maintains all the connections and contacts and helps users look at their remote's online status. 
Either install it on-premise or can also be hosted on the cloud. AnyDesk offers a Free-Trial, and the paid version starts at $10.99 per month.  
---
Protect Your Online Privacy With Surfshark
[The VPN that we use here at Tech Arrival]
---
Why AnyDesk? 
AnyDesk is known for its high speed. You can enjoy the smooth 60FPS experience, and it is super easy to use.
Pros
Low Latency and Smooth Experience
No Restrictions In Free Versions
Stable and Clear Video Quality
Cons
Two Factor Authentication Missing
2. LogMeIn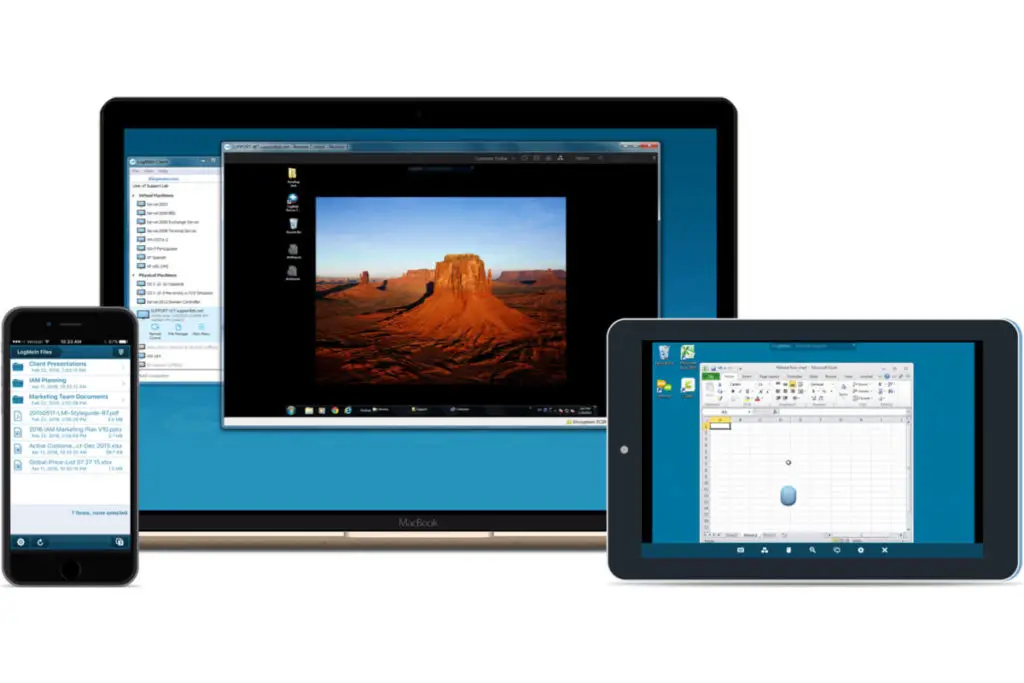 LogMeIn is well known for its remarkable feature where along with accessing the computer, you can store, share, and collaborate on files easily. It is a powerful remote support solution for all platforms. 
You can drag and drop the files from your system without worrying about the file size. A 1TB free cloud storage helps to share files with anyone without any hassle.
Highly secure and backed with 24/7 live support, LogMeIn ensures to provide a premier remote assistance experience. 
Small and Medium businesses that mainly work with people located outside the state or country can be benefited from LogMeIn. A free trial is available, and the price range starts from $30 per month. 
LogMeIn offers other features like remote file transfers, remote printing, multi-monitor display, etc. 
Why LogMeIn?
LogMeIn is most suitable for remote device management. As it has all the features like remote printing and remote file transferring, this app is ideal for those working remotely. 
Pros
Drag and Drop file transfer
Sessions Recording
Cons
Slightly Costlier 
Advanced features are hard to stimulate for less tech-savvy individuals
3. Ammyy Admin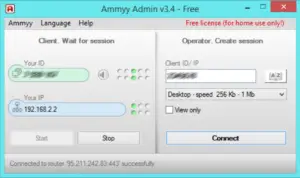 With Ammyy Admin, you can access remote machines from any computer connected to the Internet. It can also be used for free voice communication over the Internet & for transferring files. 
All you have to do is to download a tiny Ammyy Admin Exe file, run it and enter a computer ID to which you want to connect to. It is a free tool for non-commercial use, and the paid version starts with $33.90. 
---
Protect Your Online Privacy With Surfshark
[The VPN that we use here at Tech Arrival]
---
Why Ammyy Admin?
It takes just a few seconds to get downloaded, and no installation is required. It is one of the quickest ways to connect to a remote PC.
Pros
Free Version Available
The app does not require installation
Cons
Customer Support is not perfect
4. Splashtop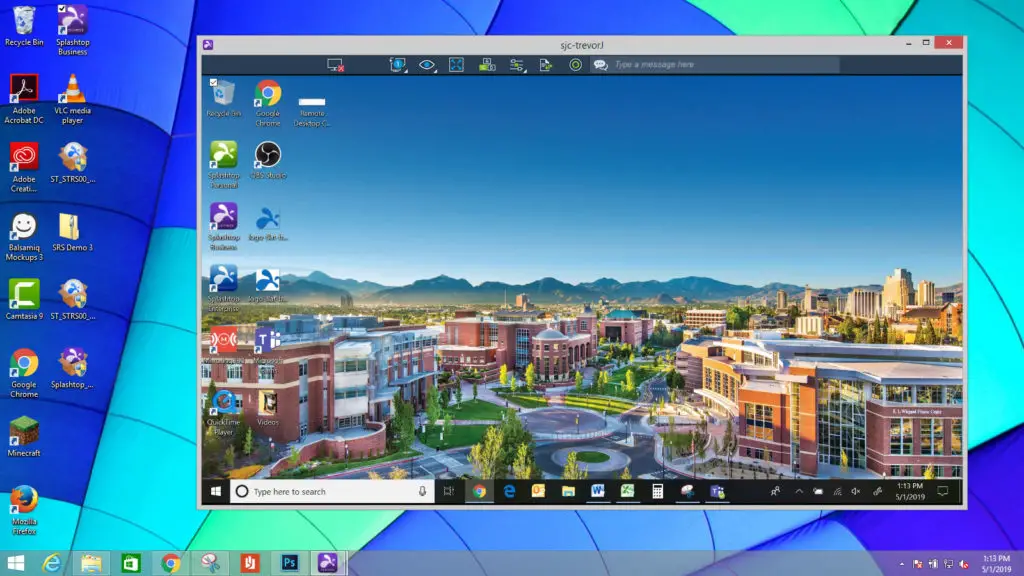 Splashtop offers an array of remote control solutions for IT businesses and personal uses. It supports Windows, macOS, Android, iOS, and is packed with powerful features. 
It includes the ability to access the client's computer without installation and incorporates an intuitive, user-friendly interface. It also offers file transfer facilities depending on the plan you are choosing. 
Backed with powerful security settings also includes intrusion detection and defense mechanisms. It further offers ticket submission and chats support for all its users. Splashtop comes with a free trial version. The paid version of Splashtop starts from $60 per year.
Splashtop offers other features: drag-and-drop file transfers, Splashtop Classroom account for education purposes only, etc. 
Why Splashtop?
Splashtop is a budget-friendly yet an enterprise-friendly alternative to TeamViewer. If you are finding a reliable app with powerful features, then opt for Splashtop. 
Pros
Affordable
Easier and User-Friendly Interface
Includes Chat and Screen Recording
5. TightVNC
TightVNC is free and easy to install application available for all popular operating systems. It's open-source software. TightVNC is famous for its high performance on low bandwidth connections. TightVNC is the lightweight remote access software that runs smoothly in the background and is perfect for small- or medium-sized businesses looking to access a Windows computer remotely. 
TightVNC can be installed on the PC within seconds. It has a classic style windows interface with several configurations. GlavSoft is working upon the security issues that TightVNC often lacks. 
This app is available under the GNU General Public License Version 2, which means it is free for personal and commercial use.
---
Protect Your Online Privacy With Surfshark
[The VPN that we use here at Tech Arrival]
---
Why TightVNC?
If you are looking for a free app for commercial use, opt for TightVNC is the most advanced free remote desktop package specially designed for commercial use. 
Pros
Free for personal and commercial use
Lightweight yet powerful features
Cons
UI seems a little outdated
6. Parallels Access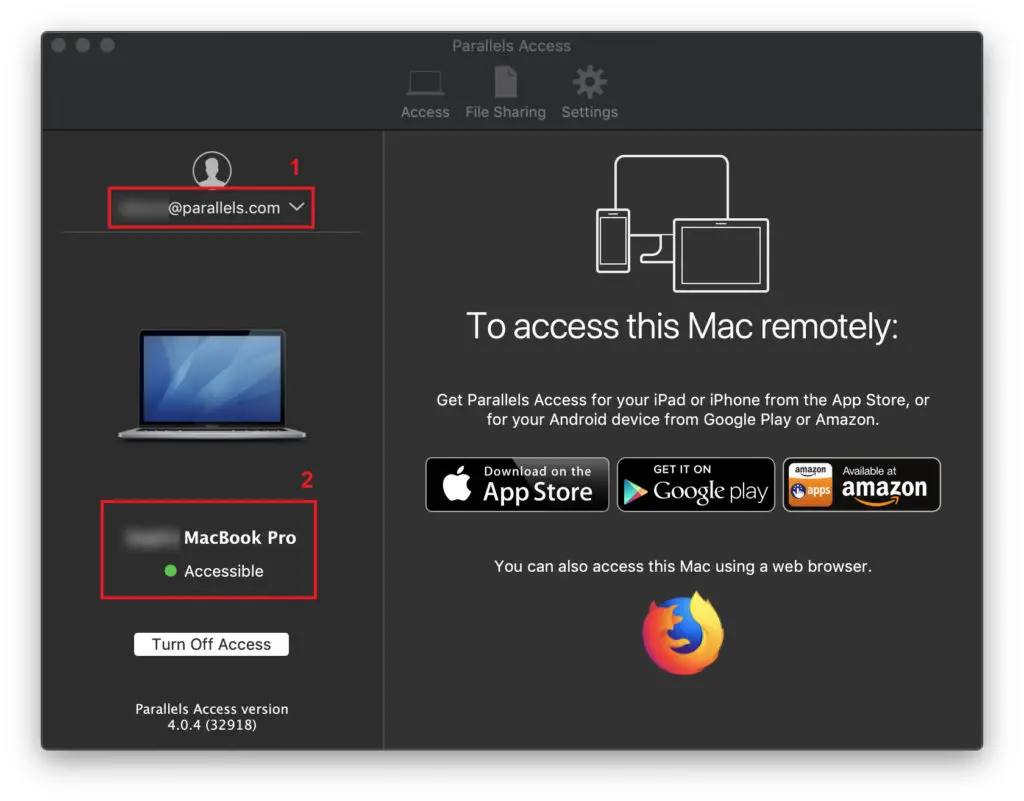 Parallel Access provides one of the simplest and reliable remote access to almost all platforms. It provides a Lock'n'go feature for copying, selecting, and pasting text. Also, there is an option to manage your files and access them in the cloud. 
Parallels Access allows you to use gestures like swipe, scroll, pinch to zoom for several applications. You will not face any problem with the simple interface while running those applications, even on your mobile phones.  
It also gives the most promising mobile viewing experience. The app is protected with SSL and 256-bit AES encryptions. A free trial period is available with the plans, and the paid version has three different plans for mobile devices and computers. Mobile plans start at $19.99 per year; you can connect up to 5-computers with it. You also get 24/7 support with it.
Why Parallels Access?
Choose Parallels Access for its brilliant mobile experience. With just a tap you can open applications from your PC to mobile devices.
Pros
Easy access from iOS and Android devices
Cost-effective pricing
Cons
RAM consumption maybe a little higher
7. NoMachine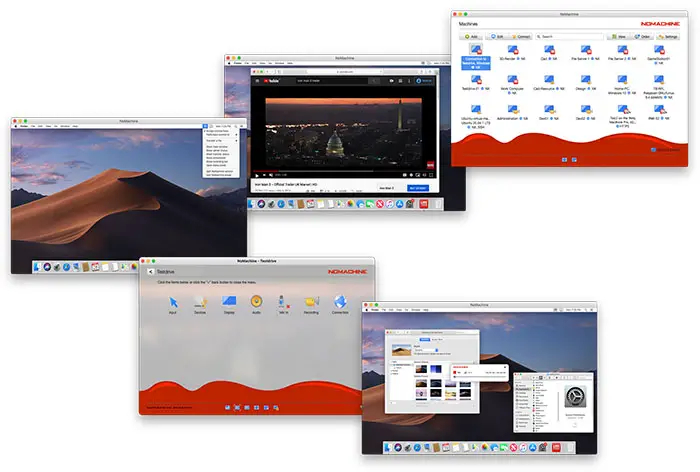 NoMachine uses NX technology to provide the fastest and highest quality remote desktop experiences to all the users. It is also secured with SSL to prevent data breaches. Two-factor authentication is also available for reducing the risk of unauthorized entry. This application offers only in-person support to paying subscribers.
It works on all the major platforms like Windows, macOS, Linux, Android, and iOS. There are no ads or restrictions to annoy you. Whether it's for personal use or a commercial one, this app is a great choice. NoMachine is free for non-commercial uses. However, the paid version starts from $44.50 per year. 
Why NoMachine?
NoMachine is perfect for personal use and with nominal charges for commercial use.   
---
Protect Your Online Privacy With Surfshark
[The VPN that we use here at Tech Arrival]
---
Pros
Free for personal use
Multi-platform support with smooth performance and least lagging issues
Cons
Limited Access on Web Version
8. RemotePC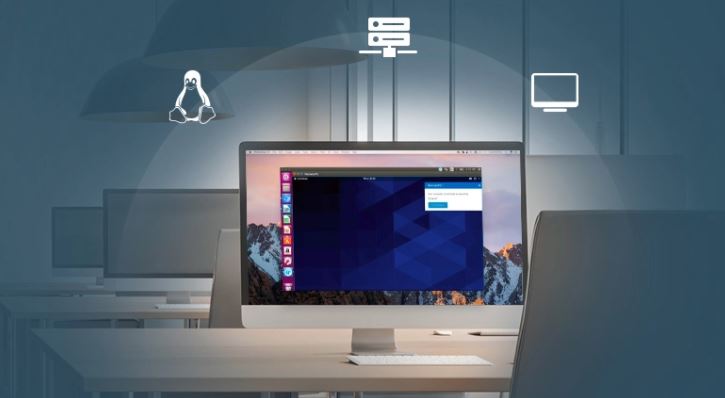 Yes, RemotePC does not have so many features as compared to TeamViewer. But when it comes to a reliable remote desktop solution for business use, RemotePC is the best option. It runs on Windows, Mac, Androids, and iOS devices. 
No matter where you are, RemotePC can access your files and programs with an easy-to-use interface. It allows you to chat with one another, even during the session. 
You are also allowed to record sessions in a video file. It is implementing TLS v1.2/AES-256 encryption for remote computer access. 
Contact the user-support through 24/7 chat and email. RemotePC offers a free trial period, and the paid version starts from $59/ year. 
Why RemotePC?
It is by far the easiest remote PC access software that is specially developed for business. 
Pros
Offers helpdesk plan
Great performance with low impact on system resources
Cons
Improvements in mobile apps required
9. Chrome Remote Desktop
Chrome Remote Desktop can be the right choice for security-oriented individuals as it is end-to-end encrypted, and it's a genuinely cross-platform software. It's highly suited for personal use and small commercial purposes.
It provides a streamlined experience and helps you to avoid almost all sorts of common issues of remote access. 
The Remote Support option comes in handy since it provides a one-time code to the desktop users to troubleshoots any issues. It is ideal for IT professionals.
Unlike other applications, Chrome Remote Desktop is a Chrome extension. You can find it on the Chrome Web Store and install it on the computer you want to access. The responsiveness of this software depends on your internet speed. 
The experience is smooth, and the screens look almost identical. Yes, it has its shortcomings, but considering Chrome Remote Desktop is free to use, it can be neglected.
---
Protect Your Online Privacy With Surfshark
[The VPN that we use here at Tech Arrival]
---
Why Chrome Remote Desktop?
The two primary reasons for Chrome Remote Desktop are the end-to-end encryption for added security, and it is entirely free.
Pros
Free
Multi-platform support
Cons
No built-in chat option
Multi-monitor support is flawed
10. Windows Remote Desktop
Windows Remote Desktop is one of the most commonly used remote desktops for personal and business use. 
You can get access to almost all the platforms with the Windows Remote Desktop app. It is most compatible with Windows 8/10. Apart from this, the app also supports iOS and Android.  
It also gives you the ability to store files on the remote computer to share documents with other PCs. Windows provide powerful tools with higher authentication levels that automatically verify any network before connecting with the system. 
However, you need that device to be running the Pro or Enterprise version of Windows only for using Windows Remote Desktop. It has a built-in Windows service that runs on the Remote Desktop Protocol and is therefore completely free to use. 
Why Windows Remote Desktop?
For the ones searching for a remote desktop solution for Windows, go for Windows Remote Desktop. Although it supports all the other platforms, this one works seamlessly on Windows only.
Pros
Immediate access to remote files
It can have custom resolutions or screen setups
Cons
The app lacks advanced configuration 
Signs out users automatically during remote connections
The Bottom Line
So that was our top 10 list of best TeamViewer alternatives that you can use. 
If you want an absolute alternative, there's no competition with AnyDesk. The free version is marvelous for personal use, and just by paying a little amount, it's all ready for extensive commercial purposes. 
However, a budget-friendly option would be Parallels Access, and you don't have to compromise much either. Now, for those looking for a free alternative for personal use, Chrome Remote Desktop has no comparison.
---
Protect Your Online Privacy With Surfshark
[The VPN that we use here at Tech Arrival]
---
Technologies should always be used according to your needs. Select the best one that suits your daily requirements. Determine your priority and choose accordingly.