Unlike wallpapers, theme changes the entire user interface of Windows. Since the days of Windows XP, people love to customize their PC with various themes and wallpapers. It's been over five years since Windows 10/11 launched, and there are some great themes available for users to try on.
Check out our picks for the Best Windows Themes and SkinPacks. 
However, make sure you're done with the following checklist first before installing any theme.
Make sure to download and install UltraUXThemePatcher and restart your PC once. It modifies your system files and keeps a backup of your original system files. If you face any issues, you can undo all the changes and restore the previous files by uninstalling them.
Some of the themes on the list will require you to install Ribbon Disabler. It disables ribbon in the File Explorer and preserves Paint, and Wordpad working and modifies the explorer frame.
When you download a theme, copy the file and paste it here: "C:/Windows/Resources/Themes." Then, right-click on your home screen, click on Personalize, select and apply your downloaded theme.
Also read: How to Remove Microsoft Account from Windows
List of Best Windows 10/11 Themes and SkinPacks
1. Ubuntu Skin Pack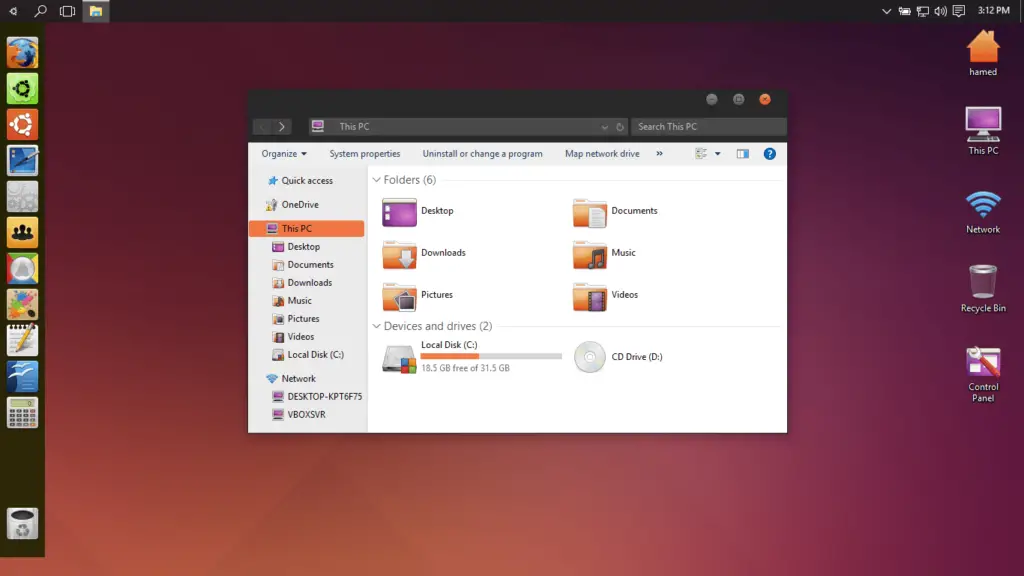 Ubuntu is an operating system widely known for its cloud computing and its extensive combinations of personalized designs. Its skin pack gives the flexibility to enjoy this versatile customizer's features on your Windows. Customize your notification sounds, popup styles, and fonts to workspaces and desktop visuals with the Ubuntu skin pack.
Compatible with all versions of Windows, this theme pack gives you Ubuntu-styled icons, wallpapers, login screen, and even the loading animations. Change the dock bar's position, add shortcuts, or customize the mouse gestures and keyboard shortcuts. The Cube feature can be used to rotate your desktop screen, which looks cool, and you can run various applications on each side. It's lightweight, and you can also install third-party apps with it like browsers and toolbars. 
However, the Ubuntu skin pack tries to install some unnecessary apps. So, you have to deny permissions to that.
Why Choose this Theme?
Neat and lightweight OS theme; compatible with all versions of Win10
Cube feature for enhancing the outlook and feel
Extensive customization options yet free to download
2. macOS Skin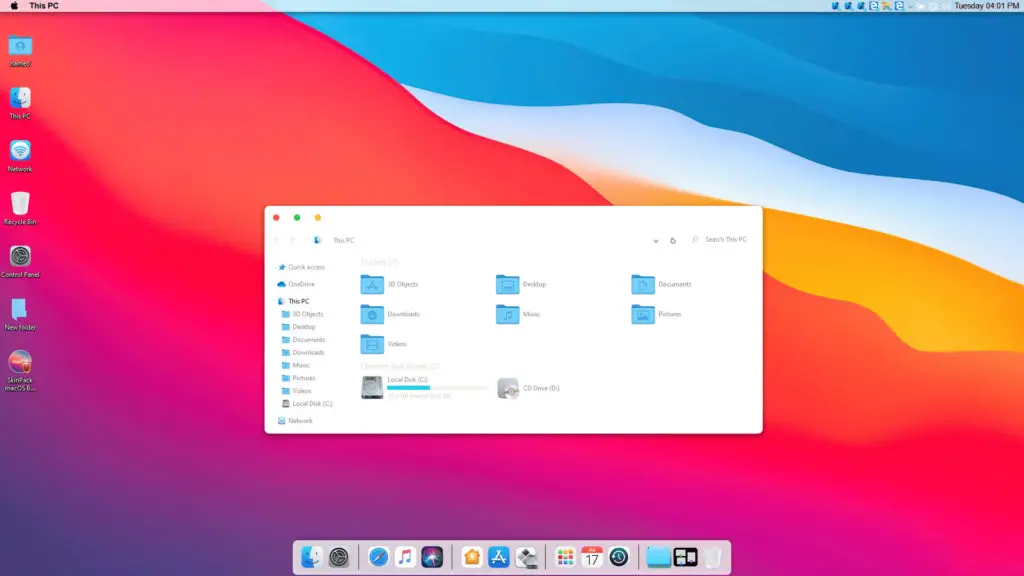 There are thousands of users fascinated with the MacBook and the macOS. If you're one of them, macOS skin is for you. It gives you about 80% features similar to macOS, which is quite impressive since this theme is available for free to use and download.
The app drawer is similar to macOS. You can choose between two themes; one with Command Bar and the other one without Command Bar. Even though it's far from the native feel, it does come with Mac's signature borderless design. 
You can also customize the screen corner activation mode, the font style, and even the dock and the taskbar. The dock will contain some shortcuts and some applications like the web browser, media player, and recycle bin. Overall, it ensures a good user experience.
---
Protect Your Online Privacy With Surfshark
[The VPN that we use here at Tech Arrival]
---
Why Choose this Theme?
Look, feel, and usability of macOS; especially meant for mac lovers
Decent customization options; free to use
3. Silk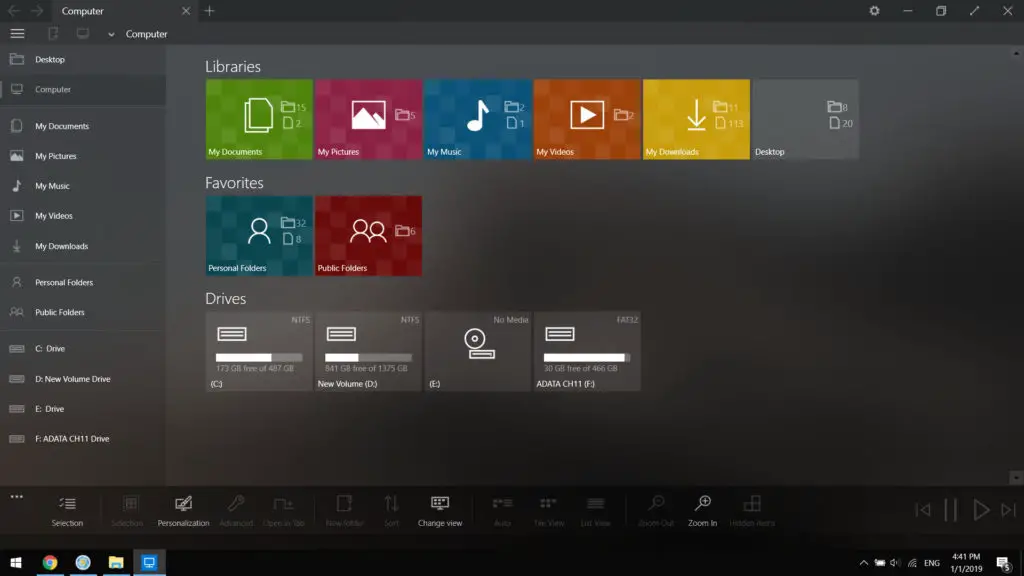 Note: We have replace Silk with Dark SkinPack
Silk is on the list of every top 10 recommendation for best Windows themes for over a decade now. Silk offers beautiful skins for Windows that can completely transform the look of your PC. With tons of color customizations, Silk enhances your native windows look into a minimal Notebook.
Silk offers various color schemes to choose from, beautiful wallpapers, and full control to customize the appearance. The reason people prefer this theme so much because it's lightweight and can easily run smoothly on even the lowest configurations. 
The Lite version of Silk is free to download, but for using it to its full extent, you have to buy the full version for $3.99.
Why Choose this Theme?
Bright and smooth color schemes; gives a native notebook alike appearance to your PC
Compatible with PCs with the lowest configuration
4. Flattastic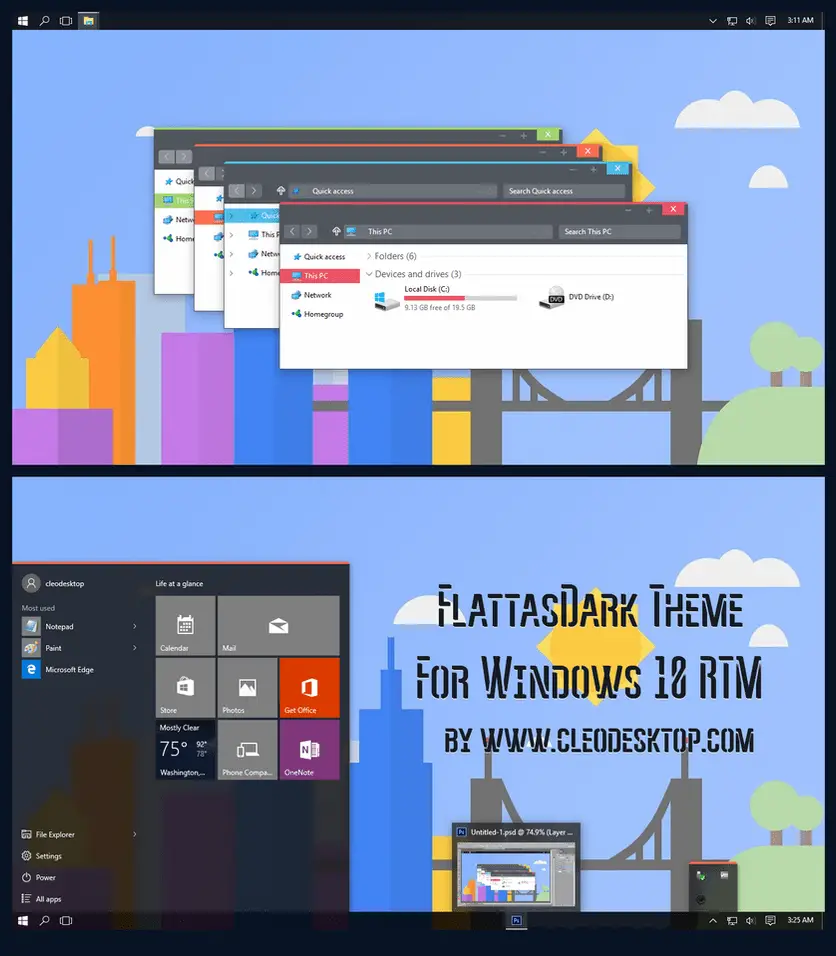 This one is our favorite. Flattastic one of the most elegant and beautiful looking Windows themes out there. It offers a minimalistic makeover for your PC with multiple customization options on your hand. 
The reason our team loves Flattastic the most is that it comes with a 2-in-one option. You get 8 versions of Flattastic Light theme and 8 versions of a Flattastic Dark theme. Switch anytime, depending on your mood; no need to go for another skin pack!
Flattastic entirely flattens the UI of your Windows and gives a modern look to it. The menu bar and the taskbar get a transparent look with aesthetic color with this theme pack. There are 4 icon packs available in 4 different colors. 
Flattastic is free to download and use.
Why Choose this Theme?
Visually stunning, great color aesthetics and free to use
Consist of both Dark and Light themes
5. Aero Glass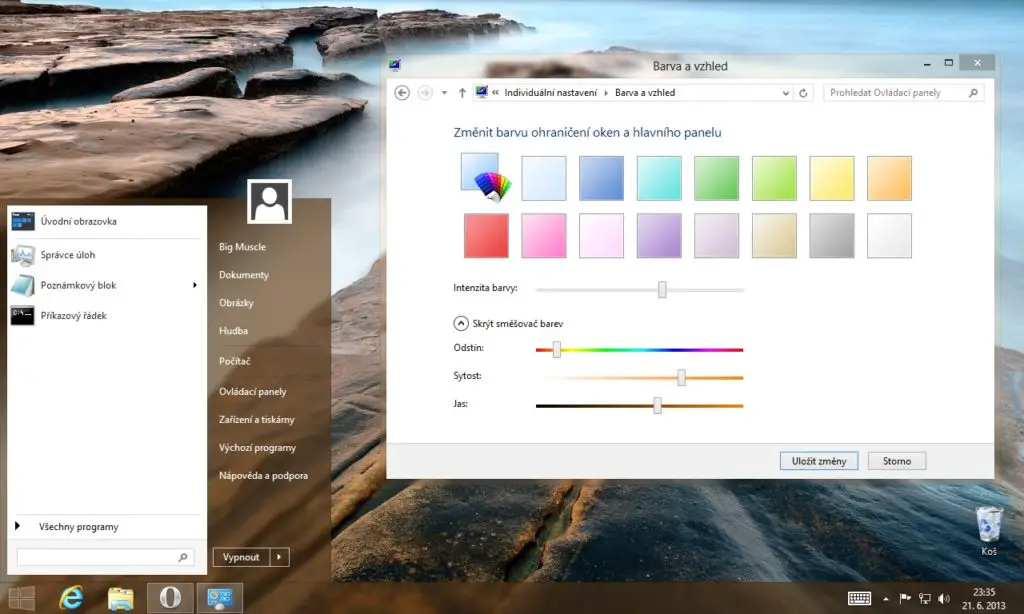 Give your Windows 10/11 a perfect native look with a cool glassy interface. Aero Glass is a popular Windows skin among users since it comes with various customization factors that most of the themes seem to lack. The transparent design gives your PC a unique appeal to it as it replaces some of the opaque elements and objects on Windows.
Every feature controlled with DWM API is supported with Aero Glass, which means you can customize even the taskbar or the Start menu, giving it a blur effect. Change the entire look of your windows borders, allow window shadow, caption glow effect. 
Also read: 15 Awesome Screensavers for Windows 10/11
---
Protect Your Online Privacy With Surfshark
[The VPN that we use here at Tech Arrival]
---
There's an option to change the appearance of the caption buttons, and you can use the rounded borders. Overall, this theme is lightweight, looks great, and doesn't create redundant objects to slow your PC down.
Why Choose this Theme?
Fully transparent native look; preferred by specific users who love transparent and blur effects
Lots of appearance customizations available
6. Simplify 10 & Simplify 10 Dark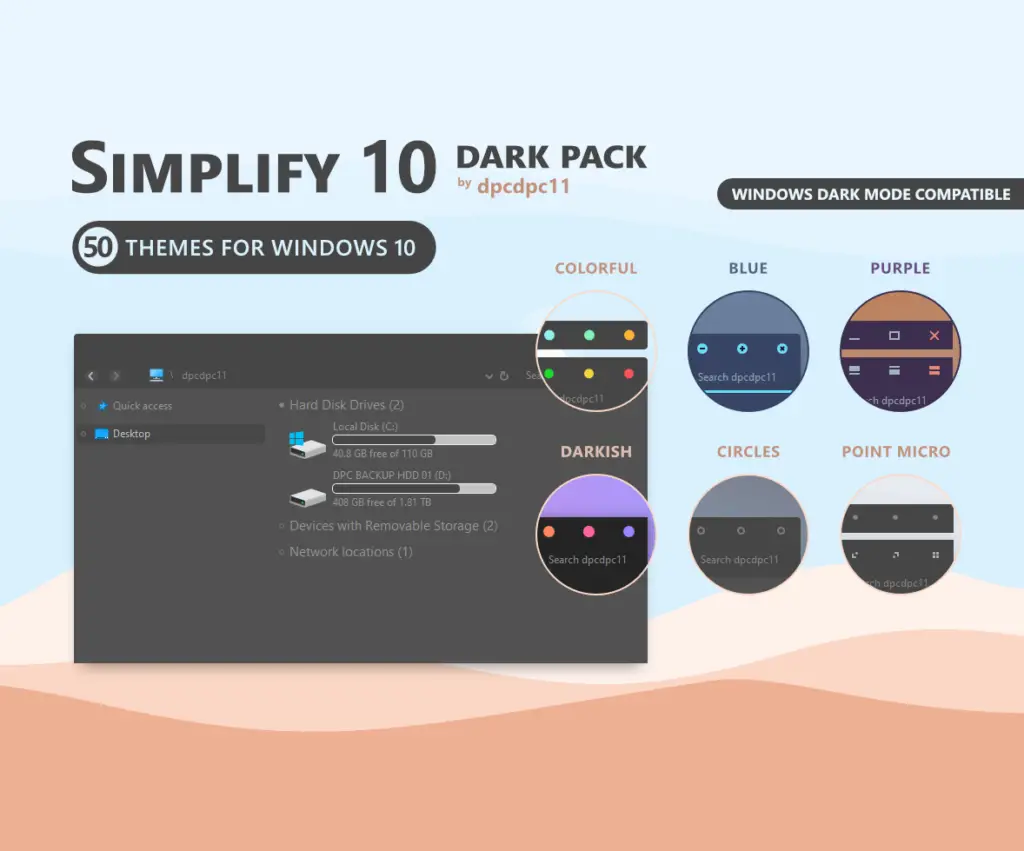 Simplify 10 does exactly what its name suggests – make things simple and give you probably the cleanest version of Windows 10/11. This one can be an excellent option for those who prefer to keep their desktop clean and organized. 
The normal Simplify 10 theme offers about 20 elegant yet minimalistic themes to choose from to give your PC a complete makeover. While on the other hand, the Dark option comes with 56 themes in total.
Both the skin packs offer HiDPi ready up to 250% scaling for all its themes to fit any screen size you have. Comes in various color patterns. You'll have Font options to choose from along with icon sizes. The Dark theme pack offers 6 core themes, which come with multiple variations. 
However, Simplify icon packs are not free to use. You'll have to buy them for $5.99. Most users prefer the dark mode due to its versatility. Both themes get premium support from the developer.
Why Choose this Theme?
Beautiful, elegant, and minimalistic
Suitable for all screen sizes; supports HiDPi, scaling up to 250%
Requires one-time payment but offers great usability, customization, and developer support
7. StartIsBack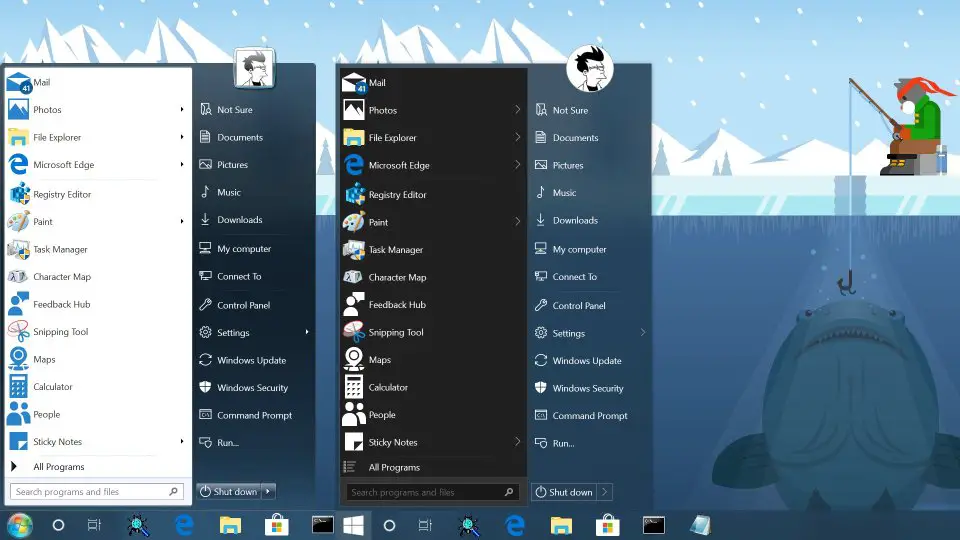 Do you find the Classic Start Menu of Windows 7 fascinating and easier to navigate than the Windows 10? Then, you can surely go for StartIsBack. You can customize the start menu just the way you like and completely clutter-free. StartIsBack is a fully-native and lightweight theme.
You'll find the search, drag&drop, pinned and recently used apps, and every customizable setting available for Windows 7 on StartIsBack. There are features like drop shadow, Modern blur, and immersive context menus for the start menu, along with a fully dynamic DPI aware start menu and configuration app. 
The round user avatar and modern glyph icon enhance the theme's overall look—the premium version range between $3.99 to $9.99. 
However, the free version works great since it has no popup ads, and you get a 30-days free trial.
Why Choose this Theme?
Lightweight, customizable and fully-native; reduces OS resource usage
It's feature-packed, and the freemium version doesn't contain ads
8. Arc X
If you are fond of the black and white color accents, Arc X will impress you. Yes, it doesn't let you make any drastic changes to your windows and panels, but it does give them a simplistic and elegant design. The overall color scheme resembles the Linux system, which is preferable for many.
You'll find the windows' header to be dark while the side panel and work area will remain white. The rounded corners add a modern touch to them. HiDPi support is there for larger screens. You'll have several graphics customizations like the icon pack collection. 
---
Protect Your Online Privacy With Surfshark
[The VPN that we use here at Tech Arrival]
---
There is an extension in the archive where you'll find high-quality wallpapers to use. A dark and light mode for the menu is available.
Why Choose this Theme?
Suitable for all screen sizes due to HiDPi support
Both light and dark mode available for menu
Customizable icon pack available
9. Vanilla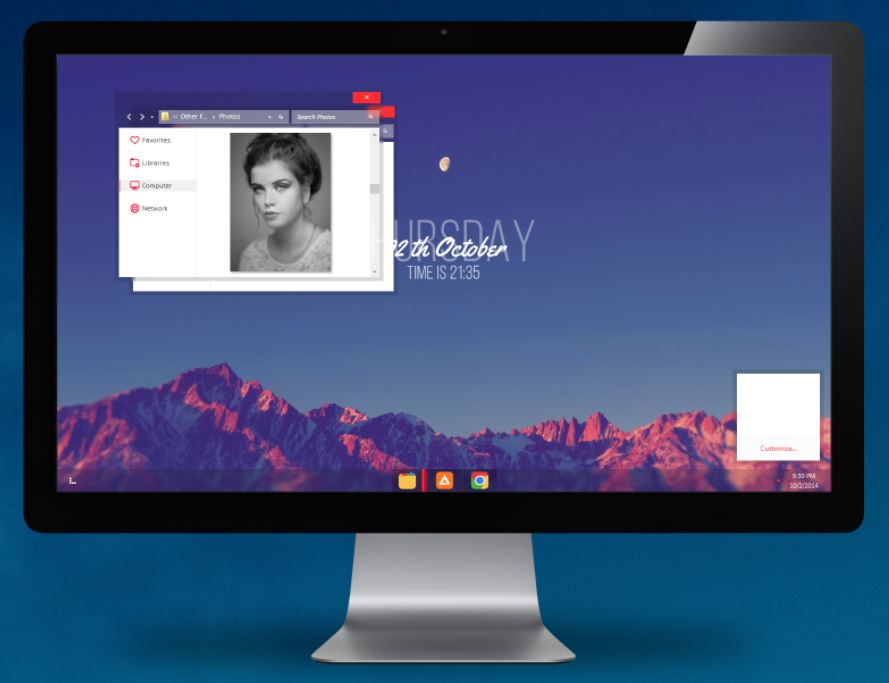 Note: We have replaced Vanilla with CLEAN
Another clean and elegant theme for Windows 10. Vanilla comes with a borderless design that makes it look similar to an online cloud service. The design is simple, subtle, and quite appealing for those who prefer clutter-free UI.
Even though vanilla doesn't come with many customization options, it does a commendable job changing your PC interface's look. It gives a crisp and bright overall aspect of the screen, which might not require too many changes. 
Vanilla has a collection of 11 beautiful HD nature wallpapers, and it's free to use!
Why Choose this Theme?
Simple, clutter-free, and looks elegant
Preferable for people looking for cloud lookalike interface; free to use
10. XP Themes Final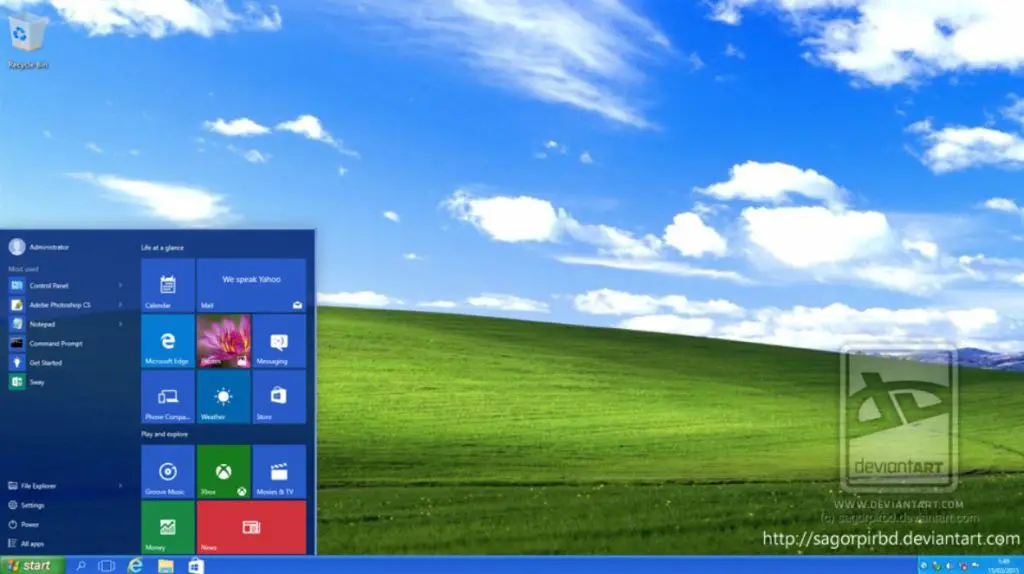 XP Themes Final is on the list because users still miss the classic look of Windows XP and prefer it. This theme brings that UI-UX back to your Windows PC, along with some of the classic customs.
This theme is compatible with all versions of Windows 10. It comes with 5 different themes; XP Luna, XP Metallic, XP Olive, XP Royale, and XP Zune. It's clutter-free, and you will also find all the original wallpapers of Windows XP to bring back memories. 
Not highly customizable, but you'll have a few add-ons like XP Styles Pack or StartisBack Plus, to begin with.
Why Choose this Theme?
It is only meant for users who specifically want the Windows XP style. Not suited for heavy customization and usability.
The Verdict
All of the best Windows 10 themes mentioned above are used and preferred by many, including us. Each one has something to put on the table, but the best one for you depends entirely on your preferences.
For example, we prefer Flattastic the most due to its aesthetics and the dark and light theme combination. However, Ubuntu SkinPack is overall the best considering the look, feel, and usability. Some might think the premium version of StartIsBack deserves to be on the top. 
So, choose the one that will complement your requirement the best.
---
Protect Your Online Privacy With Surfshark
[The VPN that we use here at Tech Arrival]
---
Also read: 11 Best ePub Readers for Windows & macOS