While browsing for things to listen to online, we came across Audials Play which had excellent reviews on both the Google Play Store and the App Store. They also have a Windows app that connects with the Android app. If you are one of those who still feel the essence of radio and talk shows, you will love Audials Play. In this post, we will take a deep look into what the app offers and is it worth your install. Let us first check out the Android app and then the PC one.
Also read: 5 Best Music Apps for Android & iOS
Audials Play for Android Review
The moment you open the app, it takes you to its "Home" interface that suggests you radio stations to get started while prompting you to sign in or create an account.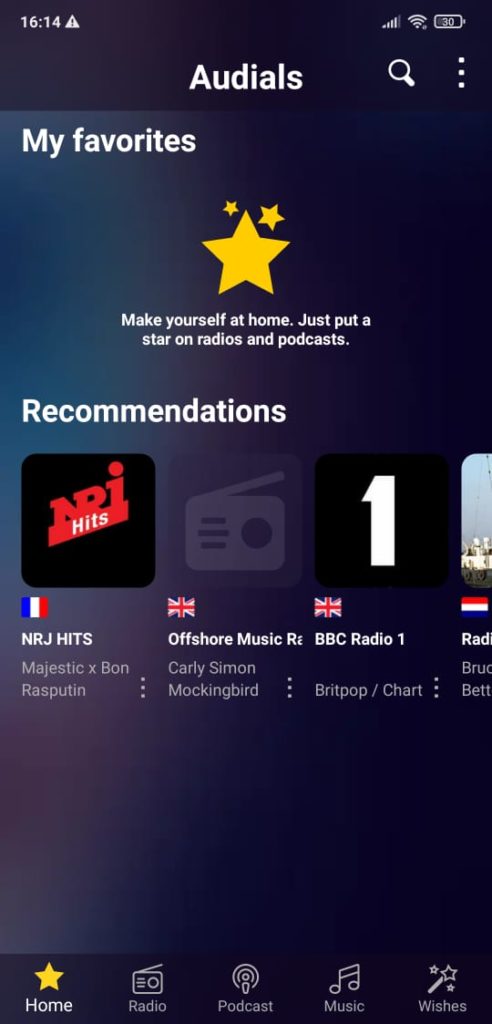 Creating an account will link your favorites and other options with your account so that you can sync it with other devices and keep them saved. The Web Sync feature allows you to pick up where you left from any of your devices, whether it be your smartphone or desktop, and continue with the music or podcast.
Apart from Home, there are Radio, Podcasts, Music, and Wishes sections. Let's take a look at each of them one by one.
Radio
Since its inception, Audials has been focused on bringing back the golden days of radio. With traditional radio, you could only listen to the local radio stations. Audials Play lets you listen to local stations as well as international radio stations too. With the help of the internet radio, you can virtually visit most countries and listen to their radio stations for free!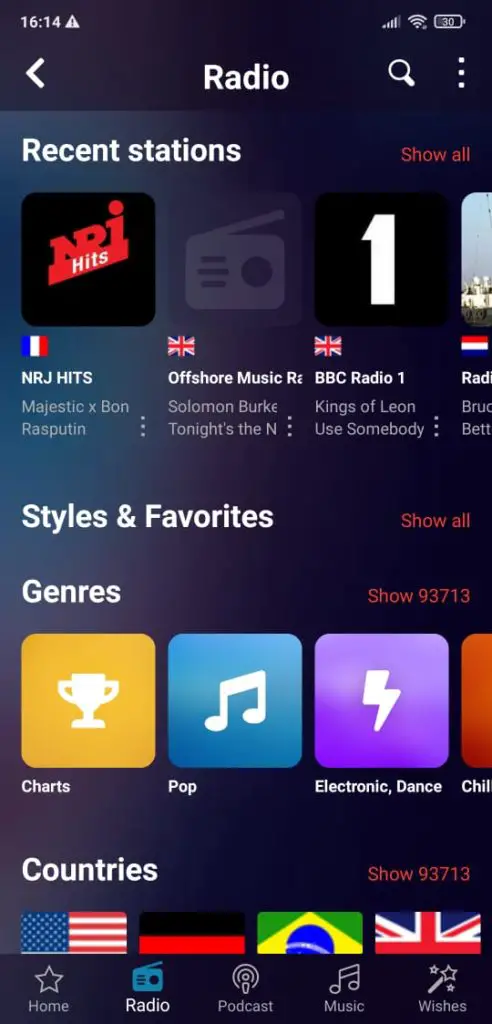 The radio section is categorized into Styles & Favorites, Genres, Countries, Local, Broadcast Stations, Top Hits Now on Air, Top Artists, and Suggestions. You will also find your recently visited stations on the top as well. Audials says that it has more than 100,000 radio stations from across the world, so you always have something to listen to.
Most of these radio stations have a description of what song is being played right now, or perhaps which talk show is being broadcasted. You can also use the search function to search for particular songs, and the app will then provide you results of stations playing that song.
Podcasts
Podcasts are essentially "talk shows" that used to be on the radio but are now replaced with episodes. Podcasts are generally across many apps simultaneously that help them get dispersed.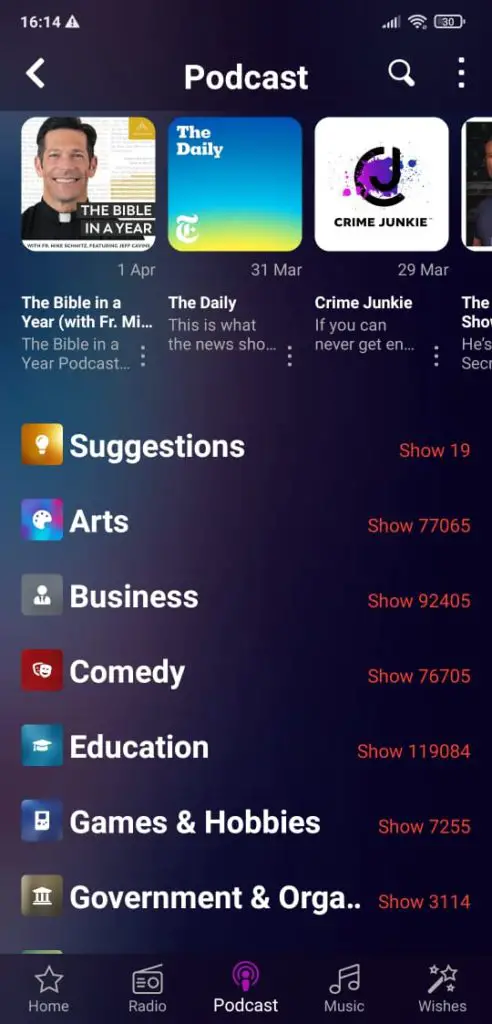 You can listen to more than 260,000 podcasts that are categorized into Arts, Business, Comedy, Education, Games & Hobbies, Government and Organizations, Health, Kids & Family, Miscellaneous, Music, News & Politics, Religion & Spirituality, Science & Medicine, Society & Culture, Sports & Recreation, Technology, TV & Fan, and even languages!
Music/Library
The Music section includes all the songs you have on your device or the ones you have recorded. You can record any song, radio show, or podcast that is being broadcasted. You can also schedule your recordings for a time duration of your choice. They will get sorted according to genre, artist, and album. If you have connected your account with the computer application, you can also see the music saved on your computer.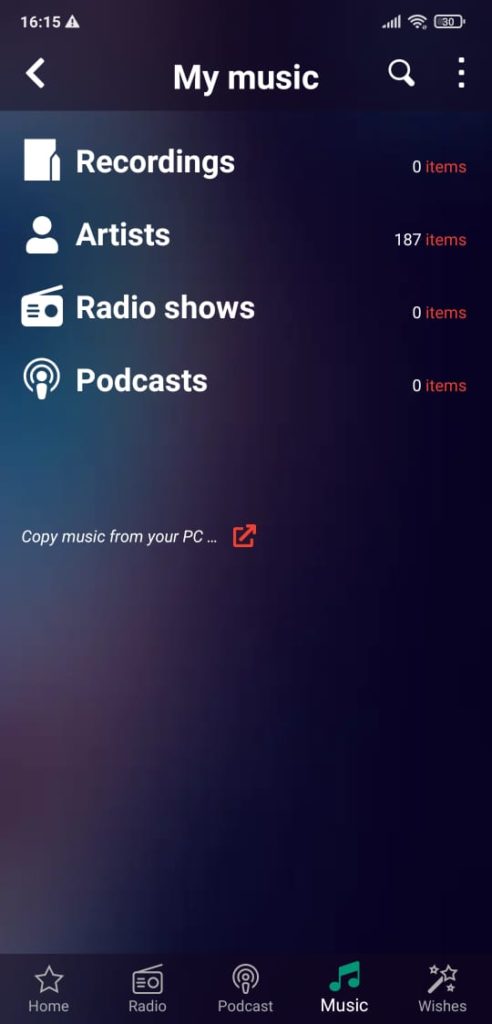 Recording songs on Audials Play is super convenient. The application identifies the music and lists them separately with proper metadata without the radio jockey's commentary.
Audials Play on Android also lets you wake up to music. You can head over to settings and choose Audials Play as your alarm clock.
The last section is the Wishes section using which you can "wish" for any song you want, and the app will tell you which radio stations are playing that song.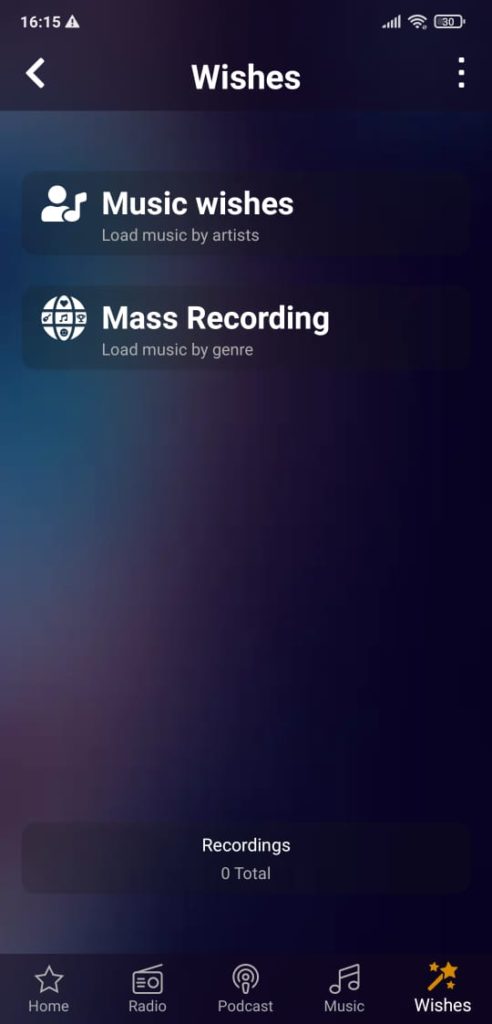 Audials could perhaps improve the user interface and make it less clumsy. But it definitely is ahead in terms of features when compares to other radio apps. Overall, we were honestly surprised with the number of features Audials Play has, and we definitely recommend you to give it a shot if you are a radio enthusiast.
Audials Play for Desktop Review
The desktop application provides almost the same experience as the mobile app. The user interface on this one too is a little bit clumsy that could overwhelm users. But once you get familiar with it, you will realize that it is one of the most feature-rich applications you can get on your computer.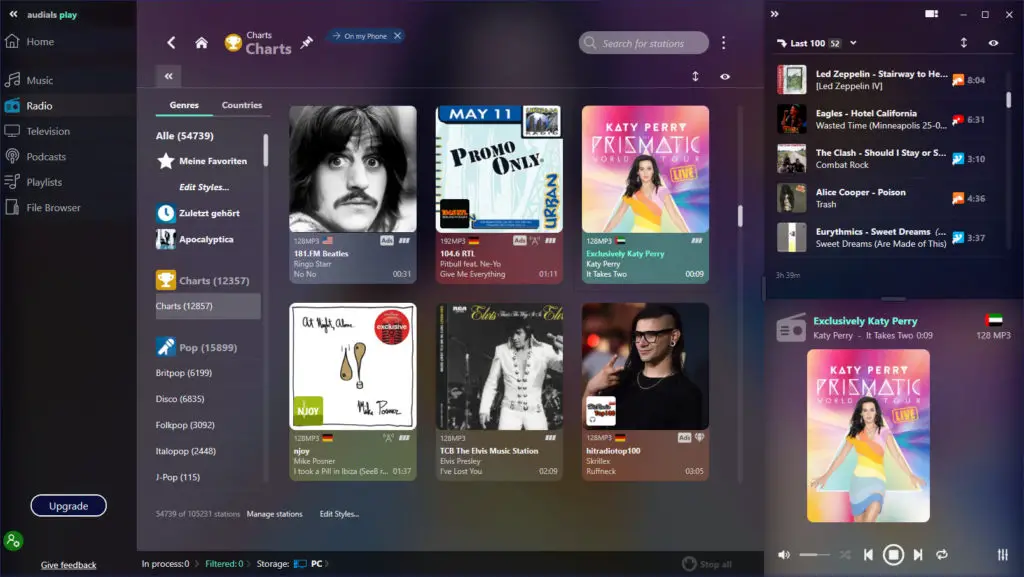 Music
The Music section syncs its charts with music on YouTube by default. However, you can import your own songs from Spotify, Amazon Music, or pretty much any other music app you have. You can also browse and set up folders that have music and videos since Audials Play can also serve as a media manager app.
The app allows you to import public playlists from any music platform as well. To do so, click on "Top Charts" and then select "Import playlists from Spotify, YouTube" and paste the link of the playlist.
The Music section is further divided into Charts, Playlists & Compilations, Related Artists, Music Zoom and News. The Music Zoom option lets you explore different music genres by panning and zooming across a map of music.
Radio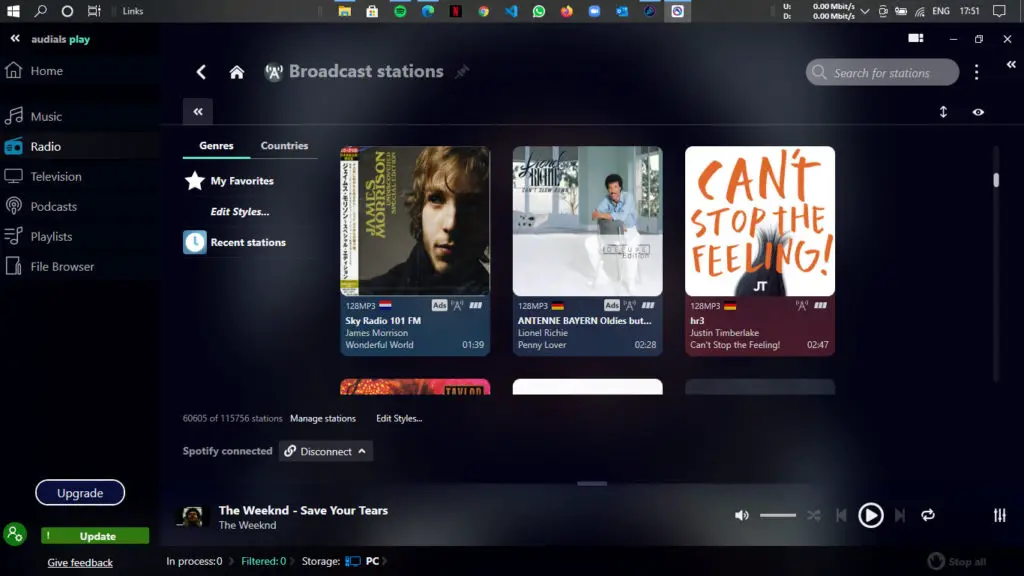 Just like the Android version, the desktop version too features radio stations from across the world. They are categorized according to various genres and countries. In the default view, some of the radio stations are sponsored ones on the top. However, you can sort them by popularity, station name, detection rate, or bit rate. You can also search for your favorite stations or by song name on the top right section of the application.
Television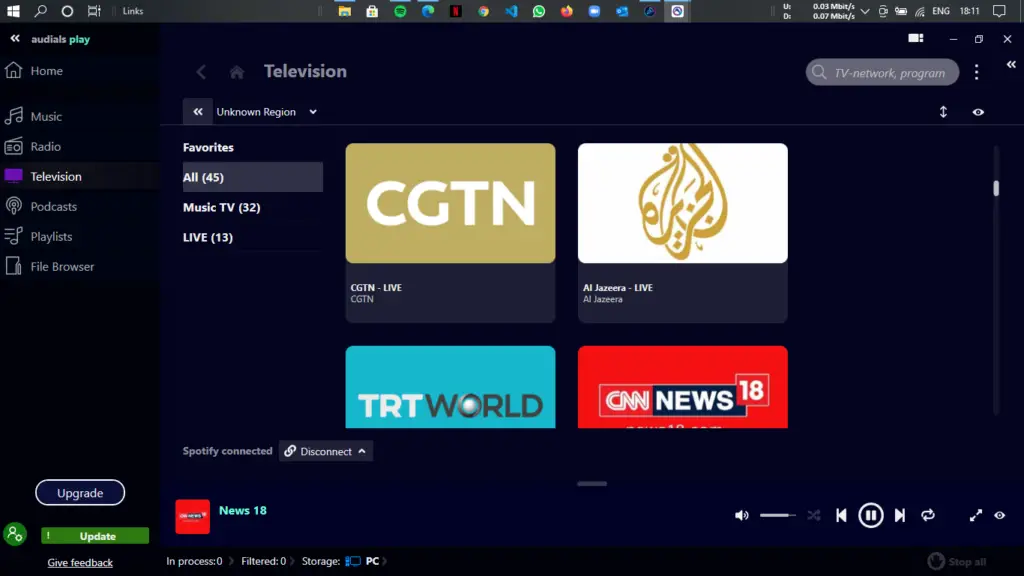 The Television feature on Audials Play is not exactly what we expected it to be. It just features a live feed of audio from some major international news and music channels, which too are quite limited. You can actually get more variety and even local channels from the radio section instead of the television one.
Podcasts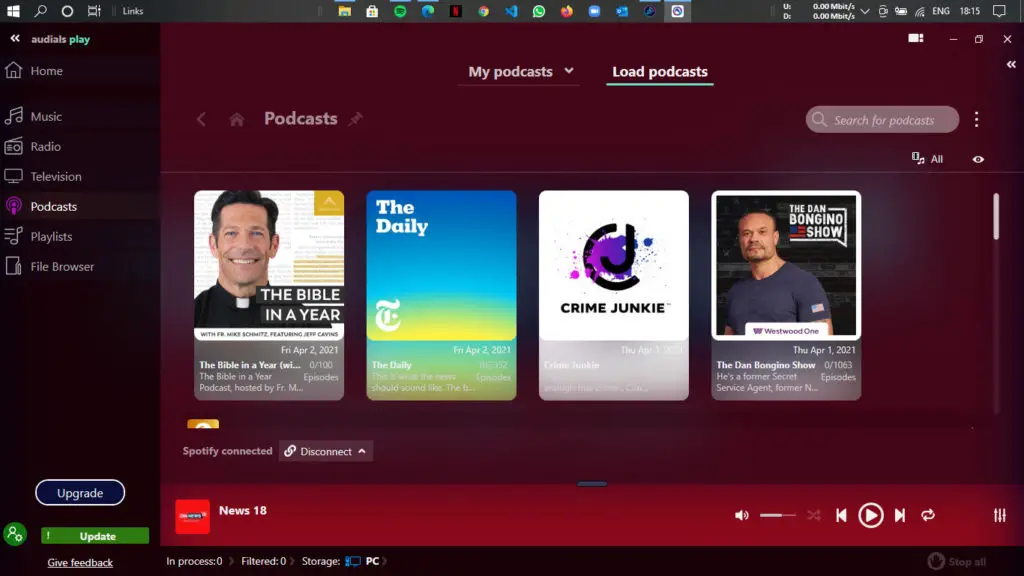 The podcasts section works the same as the Android app. You will find podcasts categorized into Arts, Business, Comedy, Education, Games & Hobbies, Government and Organizations, Health, Kids & Family, Miscellaneous, Music, News & Politics, Religion & Spirituality, Science & Medicine, Society & Culture, Sports & Recreation, Technology, TV & Fan, and even languages!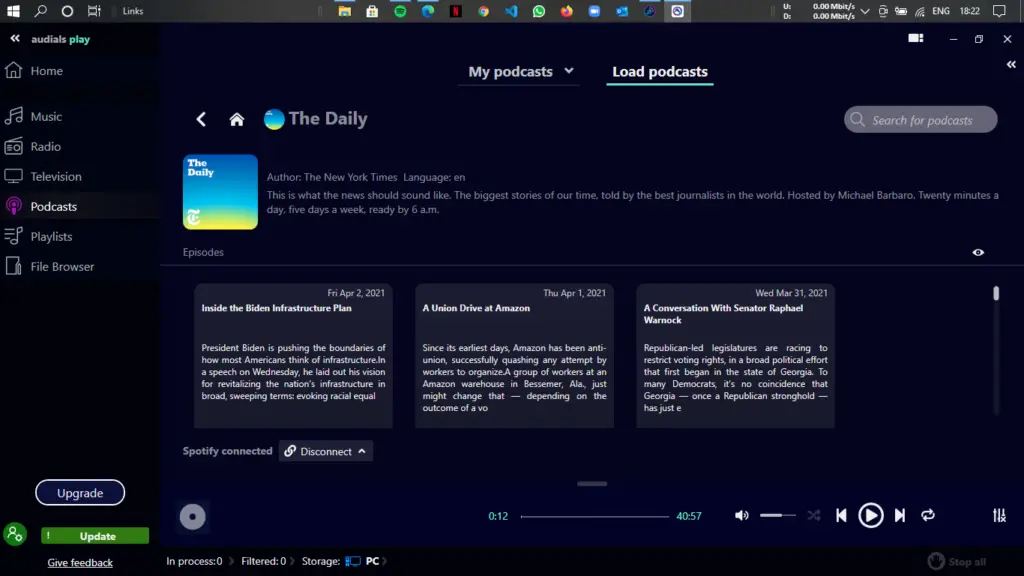 You also have the ability to download podcasts and save them and keep track of what episode you are on. The application also offers a nice description of what each episode offers, which will help you take a sneak peek at what you are getting into.
Playlists and File Browser
The Playlists section allows you to create a playlist by dropping off songs from the player. It also keeps track of the last 100, 1000, and 10,000 you have played. You can add, create and customize playlists and also edit their metadata according to your own tastes.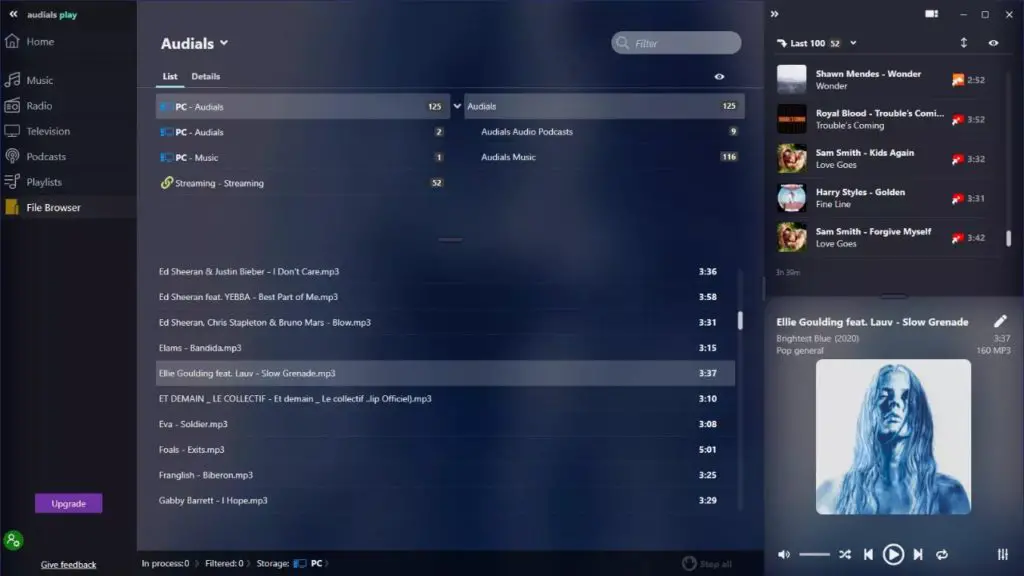 The File Browser allows you to add folders from your PC where your music, videos, or podcasts might be stored. Once added, you can play them on your computer as well as your Android phone, which will stream from the media stored on your computer.
Also read: 8 Best Free Live TV Apps for Android & iOS
Putting it All Together
Audials Play is a great free app for people who are passionate about radio and podcasts. The desktop integration with the mobile app is icing on the cake, which lets you pick up where you left off and WLAN streaming. The app provides access to radio stations and podcasts from all over the world for free and also lets you record them and save them in your library.
Overall, Audials Play is a really good application and definitely deserves the hype. The software is available for iOS, Android, and Windows platforms.