Google Play Store consists of lots of apps. Some of them are splendid and quite useful, and most of them are of low quality. So we had taken out an objective to select some of the best apps for Android and created a list for it. You will also be interested in check out our previous article where we have listed the best Android apps that are not on play store.
If you are an Android geek and enthusiast, you will probably like all the apps we have listed. They will surely add some value and make your everyday tasks a lot easier. Unlike other best apps, these all available on Google Play Store, so you can get regular updates. This will cover a broad range of apps. So, let's get started towards the list of our 17 best android apps:
List of Best Apps for Android Every Geek Must Have
1. Feedly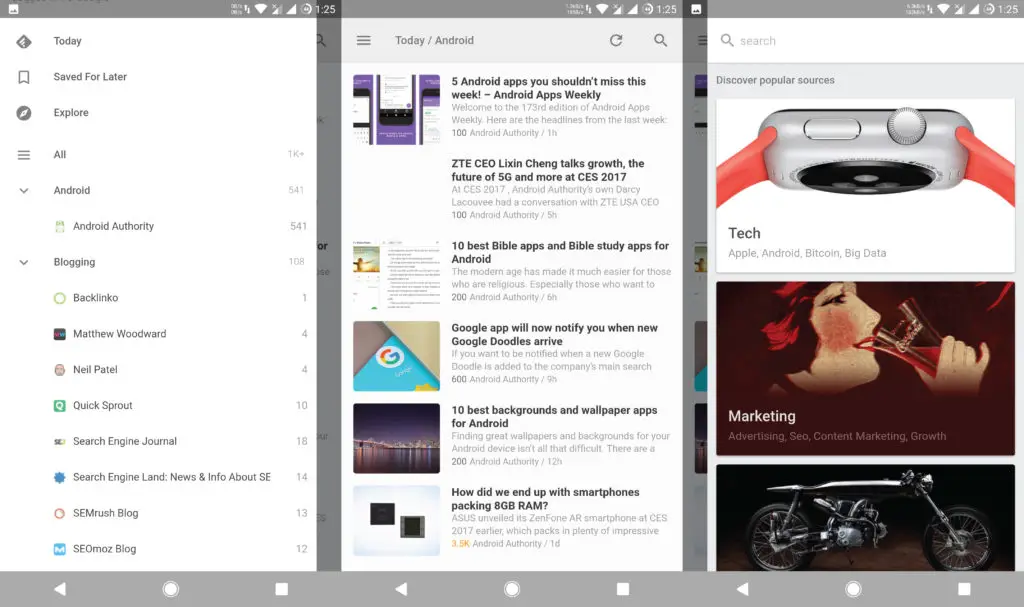 You might already have heard about this app. If not then install it right away! Feedly will help you manage all the blogs and website that you read at a single place. You will also be able to categorize everything here. As you can see in the screenshot above. I have place Android Authority under Android category. Sites like Backlinko, QuickSprout under Blogging category.
By installing this app, you won't have to install an individual app for every website and also won't have to check out manually if a new article is posted. Google Newsstand is similar to Feedly, but it does not as expandable features as Feedly.
Also read: 20 Android Apps Every Blogger Should Have
For reading an article you will just have to tap on it, and it will be opened in Feedly itself with the minimalistic interface to make reading it easier. Several integrations like Pocket, Instapaper will help you to save and synchronize your favorite articles across various devices. Various sharing options are also included. These features list keeps going on and on. So let's wrap it up.
Oh, wait! If you want to explore other blogs related to a particular field, then you can use the Explore section to do so. As you know, the universe is infinite, and you can always use some best thing you found. :D
An investment in knowledge always pays the best interest – Ben Franklin
2. Pocket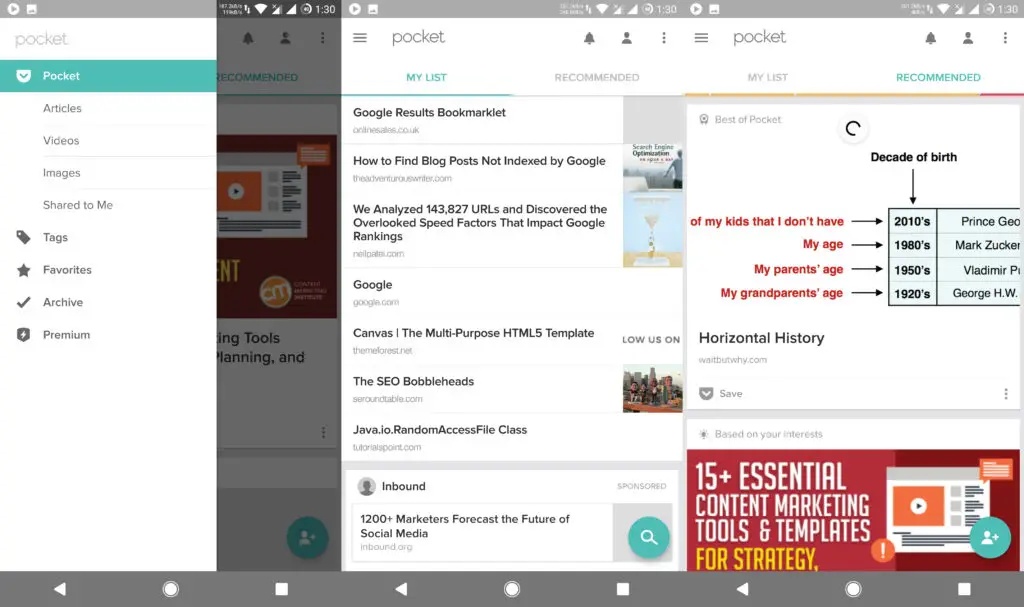 As we have already mention Pocket in the features of Feedly. You might be wondering, what the heck is Pocket? It is a service which will help you save your favorite URLs (Kind of like bookmarking). But don't even compare it to any other bookmarking app that you have found.
We will tell you why. Here in Pocket, you can synchronize everything across multiple devices. For example, you have saved a URL on your Android device. You can easily access it by logging in on your computer or iOS device. Browsers like Google Chrome, Mozilla Firefox, can have its extension installed to make the process much easier.
---
Protect Your Online Privacy With Surfshark
[The VPN that we use here at Tech Arrival]
---
You can also save the URLs and tag them to find a collection of similar URLs. You can also share them with your friends. If you are using a mobile device, it can automatically save all the URLs for offline reading so that you will be able to read it anytime, even without an internet connection.
It can also suggest your content based on the type of URL you save frequently. If you still think that these are not enough features, then you can buy its premium subscription which will provide much more features.
3. Google Chrome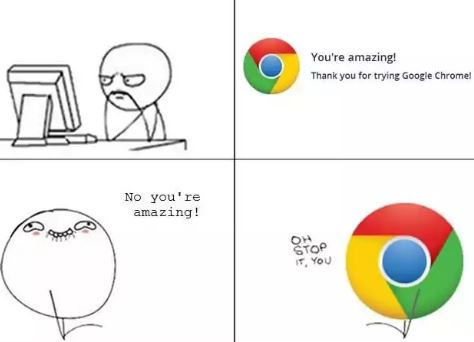 It's almost impossible that you haven't heard of it yet! Probably you will know it from it's memes like: 
Hehe! Now kidding aside. This is the best browser app that you can install on your Android device. Nowadays, most of the Android device has Google Chrome preinstalled. But in a recent study, we have found out that people still use UC Browser, Mozilla Firefox, Opera Mini, etc. We are not saying that they are not great, but Chrome has something to offers that no one else can.
It will give you an immense web browsing experience from your Android device. If you have logged in into your Google Account, then you can synchronize your history, passwords, payment info and many other things. This will help you manage your browsing at a single place. You might also have heard that it eats out a large amount of RAM. That is right, but this makes your experience smooth and snappier, and it does come with its cost.
One of the other benefits of using Google Chrome is that it is made by Google and developers there are always into doing something new and amazing. You will notice that frequently the app will get updated and with new features. So, what you need more than this!
4. IP Tools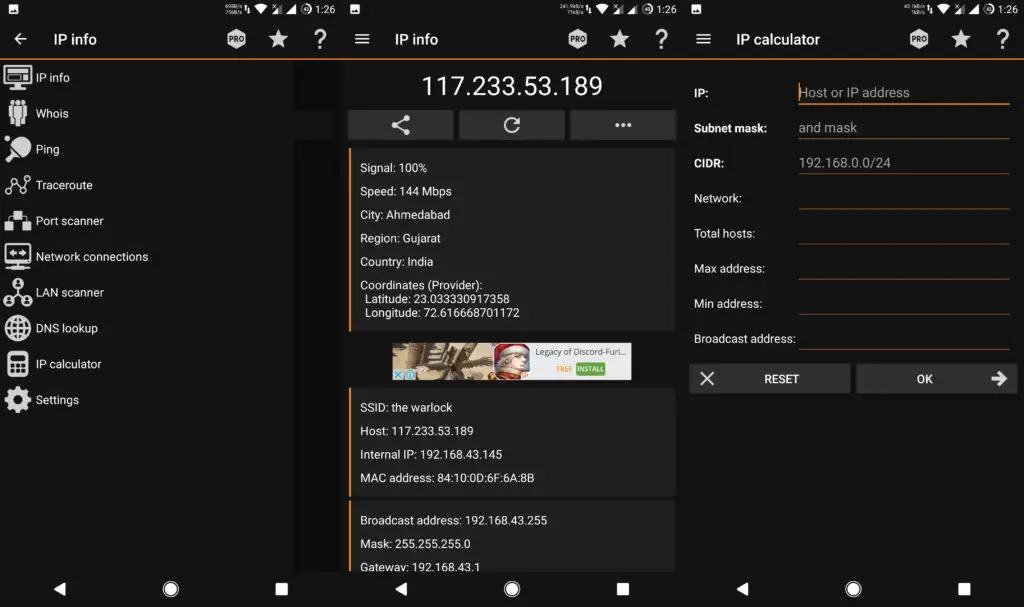 If you are as geeky as we thought you might probably know what we are up to from the screenshot above. Using IP Tools, you can find your network connection info with public IP, private IP, MAC Address, approximate location (Latitude and Longitude) as per the global IP database, gateway and much more. There are several other features, so let's make a list:
IPInfo (Already Discussed Above)
Whois Search – You can find information about a domain as per the whois database. i.e. Name of the owner, address, contact number and other info.
Ping – You can test whether the IP or domain can be pinged from your network along with it's response time.
Traceroute – It will tell you the path that the packet has to travel to reach the desired IP/Host from your network.
Port Scanner- It will find the open ports on the IP you want or Host.
LAN Scanner- Will show you the info of devices on your local network.
DNS Lookup – It will help you find the DNS setting for a domain name.
IP Calculator- If you are designing a network, you know what it is :P. This probably will help you in getting your homework done in college :D
5. MoneyView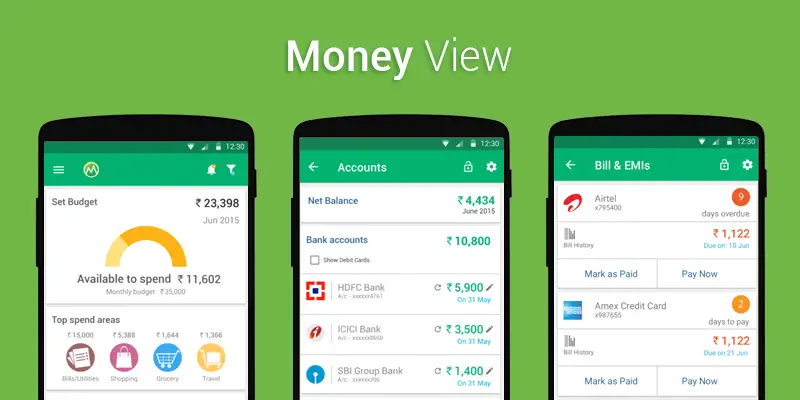 Ever wondered why are you always running out of money? Well, this is the best app for money management that we were able to find. MoneyView will automatically detect your SMS and classify your spendings as well as the balance of different bank account.
---
Protect Your Online Privacy With Surfshark
[The VPN that we use here at Tech Arrival]
---
You can also set billing reminders and manually can also add cash spendings and various other things. Another thing about this app is that it doesn't synchronize your data to the internet. It is an offline app hence it has no security issues.
You can classify your spendings across lots of categories available. If you are used to going out in a group, then this app will help you split the expenses among the group, so you don't have to calculate and remind anyone. However, some features are only available in India.
It has an option called green account which will let you save your money for the future purpose. You can also add reimbursement money. It will also help you file your income tax return. For security reasons, if you do not want anyone to see your total bank balance when you open the app. Then you can set it to only show when covered by the proximity sensor.
For Indian Users, it will also show the available working ATMs in the neighborhood.
Do not save what is left after spending, but spend what is left after saving – Warren Buffet
6. Solid Explorer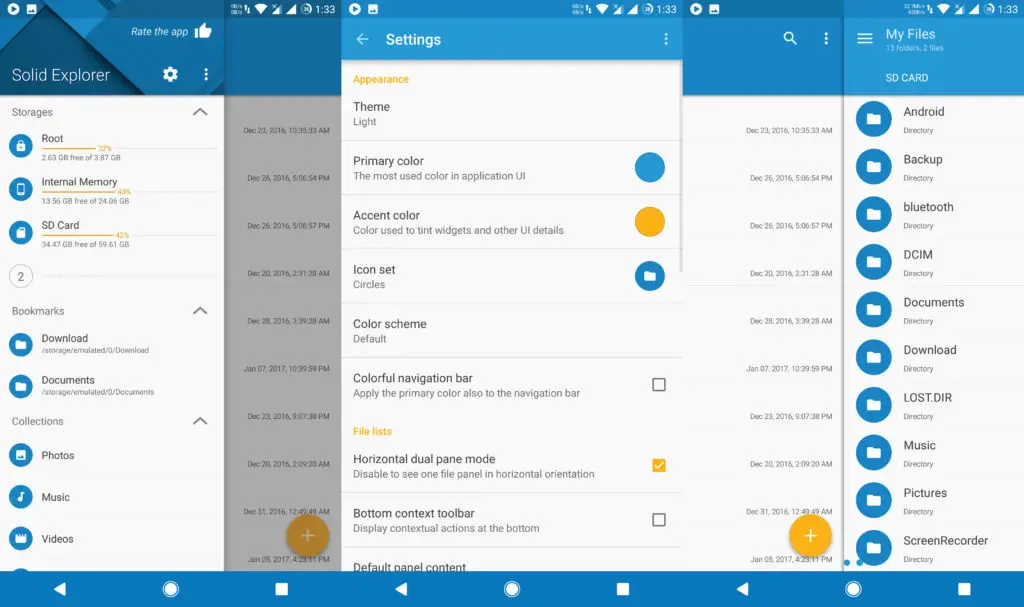 It is quite similar to MiXplorer that we discussed in the previous article. However, Solid Explorer will provide you a wealth of experience. You can do lots of tasks very easily that's why we chose it over the ES File Explorer.
You can have multiple tabs to access the locations that you use frequently quickly. If you have root access, then you can also browse the root directory of your Android device. You will also be able to sort things in photos, music, videos, etc. categories. We consider the most useful feature is that you can access several remote storages like Google Drive, Mediafire, FTP, SFTP, etc. right through this app without any additional add-ons.
You can also add an addon of Solid Explorer which will allow your Android device to act as an FTP server to transfer files remotely across the network. The minimalistic interface is quite addicting. However, Solid Explorer is a paid app after the trial is over. Tell us what do you think about it.
7. Poweramp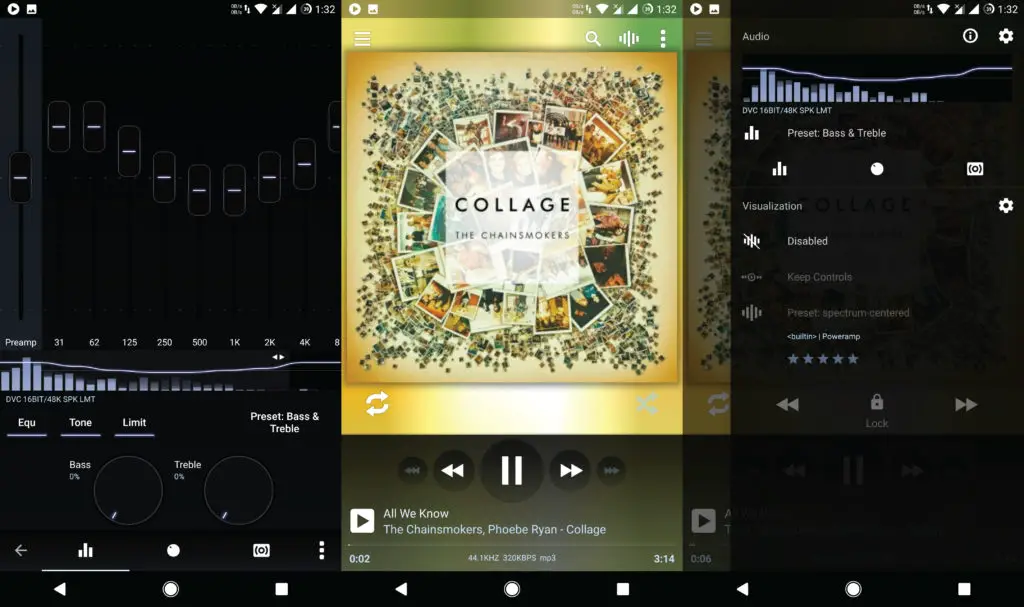 This is the music player that is topping the charts since the beginning. If you are a music enthusiast, this is the best app that you can get for your Android device. It provides a broad range of equalizer customization with inbuilt presets.
You can also edit the meta info of your music like an artist, album, title, etc. right from the music player. Also, you will be able to customize and download the album art right through the app. Customized Poweramp lock screen is just awesome. So what more do you need in a music player!
---
Protect Your Online Privacy With Surfshark
[The VPN that we use here at Tech Arrival]
---
Where words fail, music speaks
8. JuiceSSH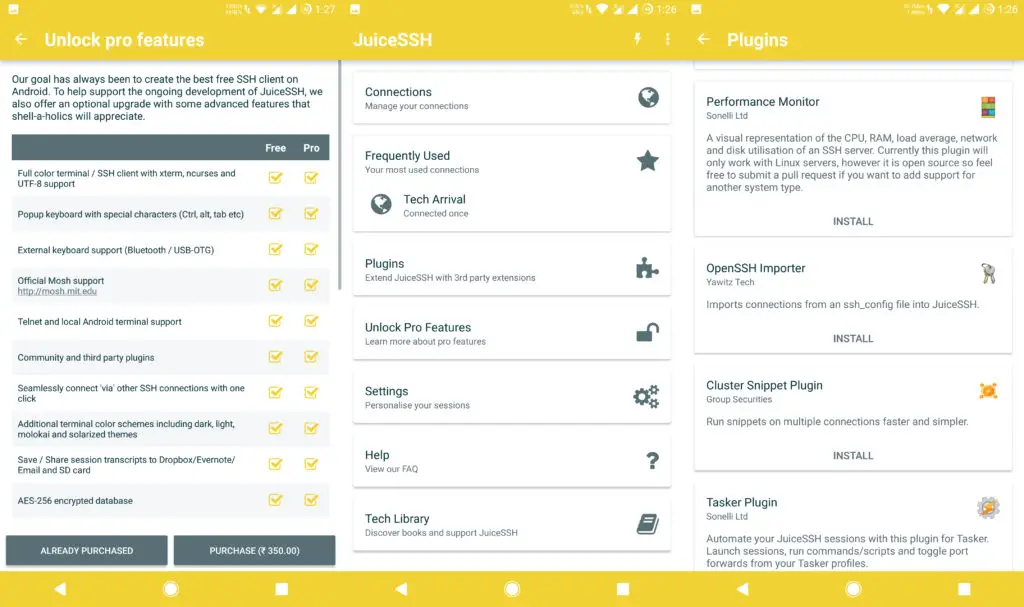 If you know, the term SSH (Secure Shell) then believe us you need this app. If you are working with remote system access like that of connecting to a remote server, raspberry pi or anything like that, you can not directly connect to them via SSH using this app. You can perform anything that you were able to perform using your computer.
Also read: What is Internet of Things?
However some features are limited to the free version of the app, but the premium version will unlock a lot of cool features. You can also install plugins to extend the scope of the application.
9. Office Lens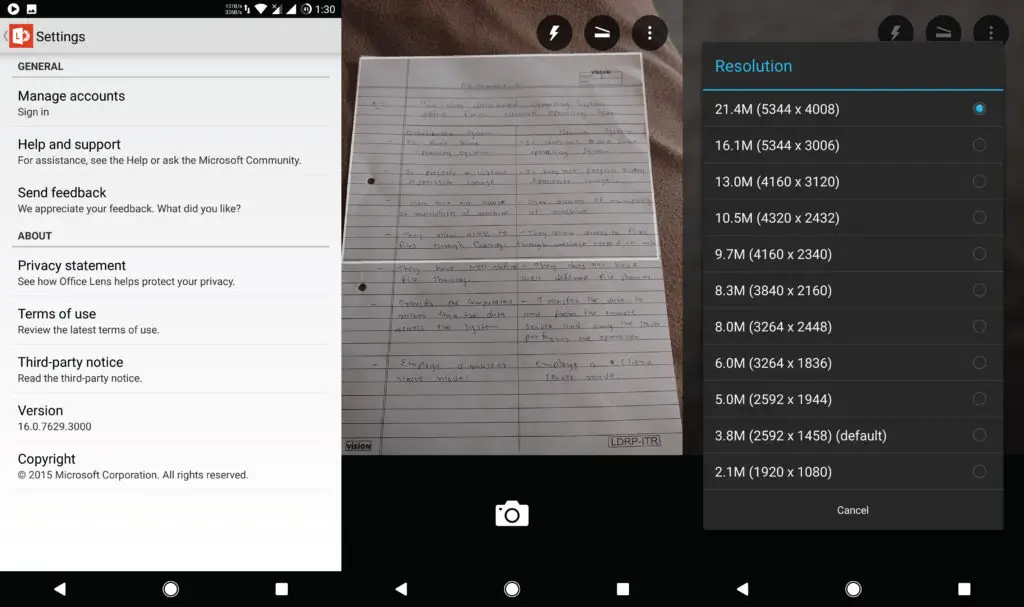 From the name you can depict that this is probably from the Microsoft. Well yes, it is a quite handy app that will help your device to be a portable document scanner. The quality of the photo will purely depend upon the quality of your device's camera.
When you put any document in front of the camera, then this app will create an imaginary border to show the area that it thinks of as a document. You can edit this border after capturing the photo. If will automatically adjust any angles, tilt of the image. This will make the picture look like it was scanned from a scanner.
You also have the option to log in to the Microsoft account which will let you upload the scanned document right to one drive and several other features.
Record keeping is important. Document everything you do.
10. MX Player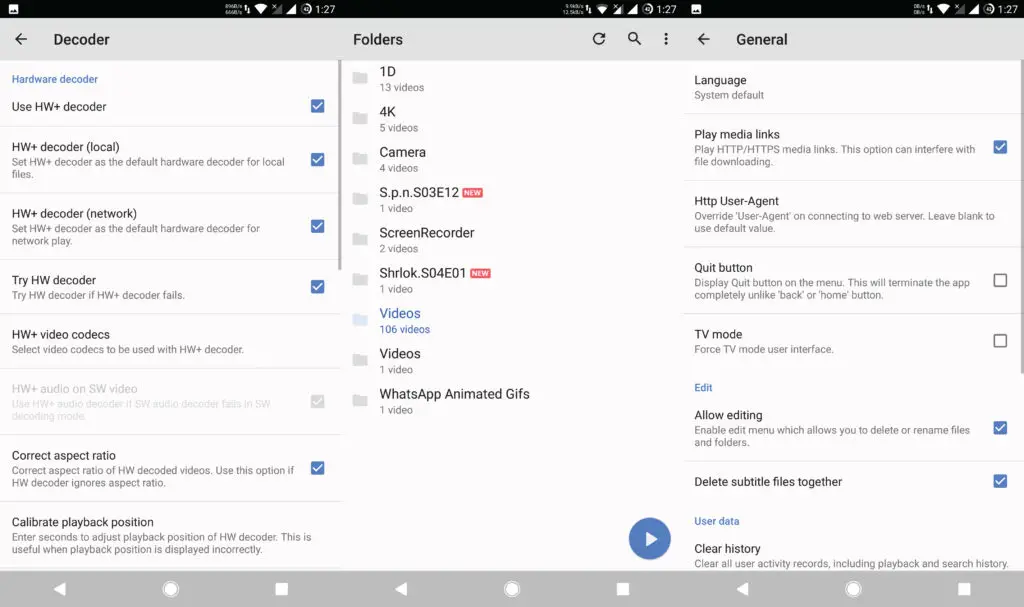 There is a 99.9% chance that you have heard of this app. But we thought it is worth mentioning. It is the best video play app for Android that you can find. However, the free version does not support the AC3 format. You will have to buy a pro version for that. However, there is a workaround for that which we will discuss later.
Whether you are watching your favorite TV episode or your favorite movie you can directly download subtitles from the app, thanks to the OpenSubtitles integration with MX Player. The gestures of controlling brightness, volume, screen size make it so easier to prefer it over any other app.
---
Protect Your Online Privacy With Surfshark
[The VPN that we use here at Tech Arrival]
---
Additionally, it also supports SW, HW, and HW+ acceleration. You can also play videos in the background and can also use it as a music player if you want to. You might just to need to tweak settings a bit. There are no alternatives that we found to this app, but the close competitor is VLC Media Player.
11. StumbleUpon (Now Mix)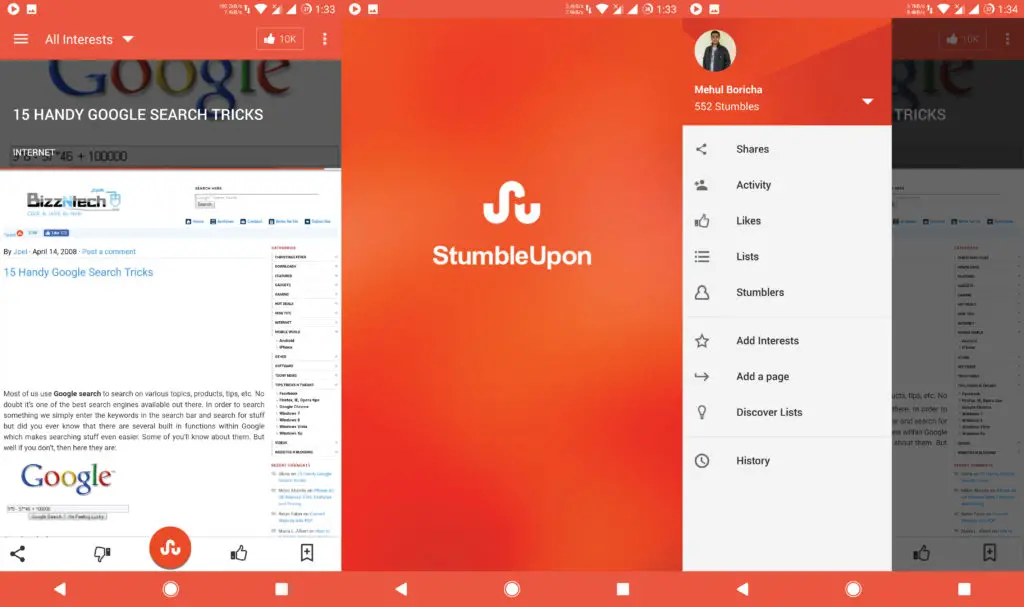 Ever wondered what to do when you have nothing to do? That sentence was annoying although :P. StumbleUpon will help you find interesting articles randomly across the internet as per the topics and interests you have selected.
This app will help you explore entirely new territory in your desired niche. You also have options to like it, share it, add it to list and much more. You can also follow other stumblers and find interesting stuff on their profile.
If you have a blog or you want to share some URL, you can do so here. It is a good way to drive traffic to your website or blog. We hope that this will help you to know about new ideas that you didn't know and to gain more knowledge.
12. Authenticator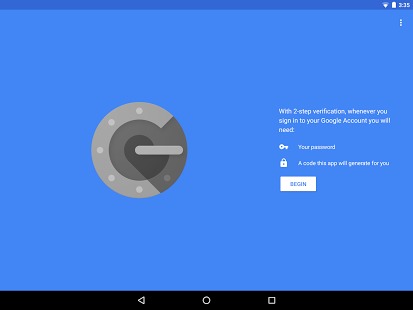 If you want to keep intruders and hackers out of your accounts, then this is the app for you. This app will be used for 2-factor authentication purpose. However not every website support google authenticator. We use it for securing out accounts on Google and some other services like Gmail and stuff.
You will just simply have to scan the QR code provided. After that, every minute a random six-digit number will be generated which can be used to login to your account after entering the correct password. The process may sound complicated, but it's very easy once you start using it.
An additional layer of security doesn't hurt, does it?
Think of the Internet as a public place. Don't leave your details lying around
13. TVShow Time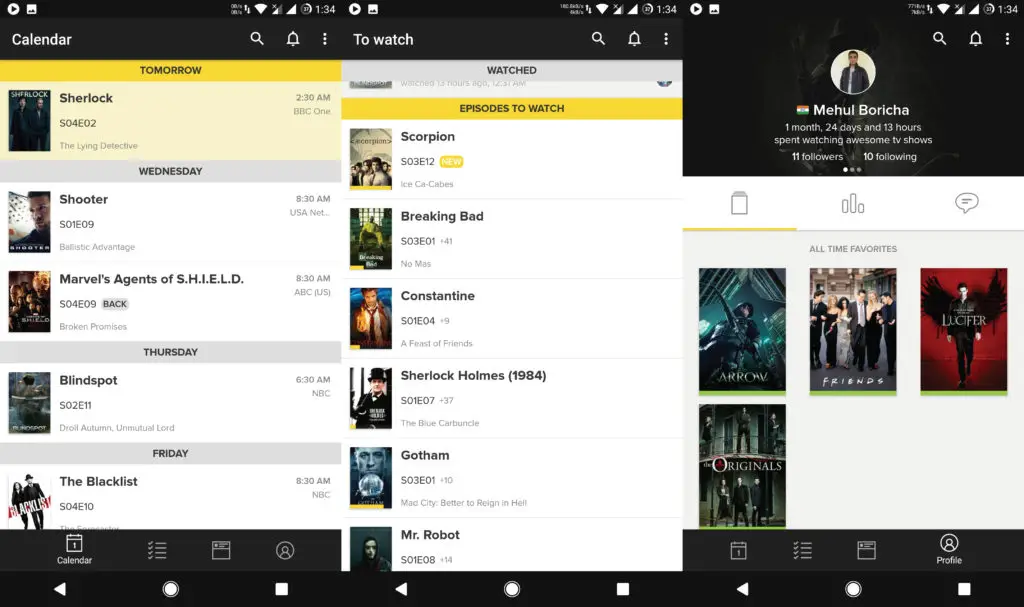 When you are a TV Series addict, it's almost impossible to keep track of them. Several apps will help you manage TV Show schedules, but TVShow time is the best among them.
---
Protect Your Online Privacy With Surfshark
[The VPN that we use here at Tech Arrival]
---
You can add TVShows that you watch and select the episode that you have already watched. From the next time, it will remind you when the next episode is coming. In the profile section, you can find the total number of days you have spent watching TV Series. You can follow other peoples and compare your profile to them.
You can also select your best character from the TV Show and comment your views on the show. There are other interesting stuff that you can do with this app. There is also a premium version of the app available which will add some more features to it.
14. Relay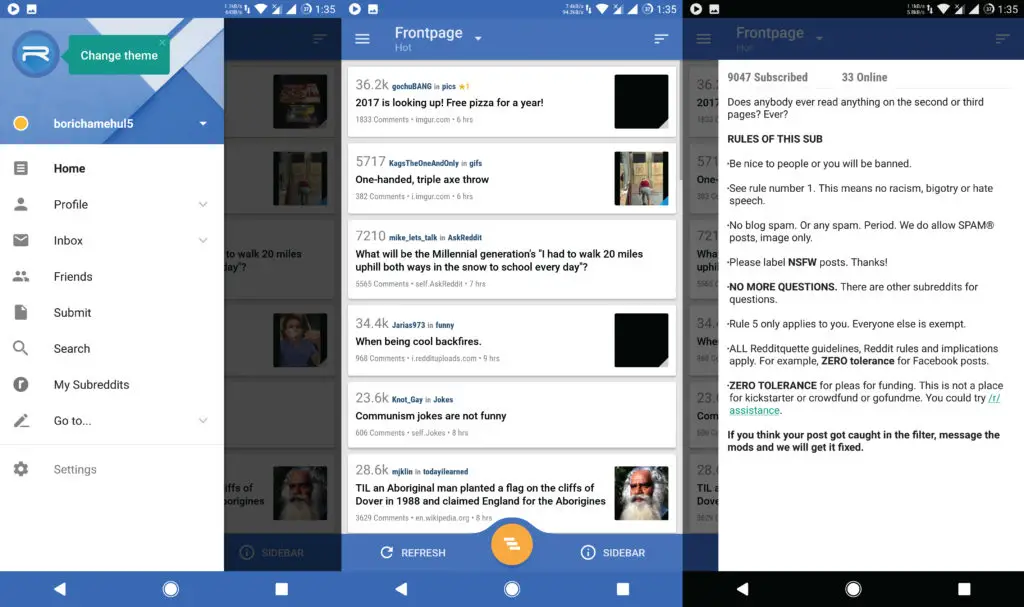 You already may know about Reddit(Frontpage of the internet). It is quite a useful app and contains the most trending topics on its homepage. It is quite attractive while using on the desktop. However, it's Android app is not that useful and exciting. So there is an app called Relay which will provide an easy to use attractive interface to surf the Reddit.
All the features that are available on the desktop are available here. There is also a premium version of the app available. Let us know what you think about this app.
15. WordWeb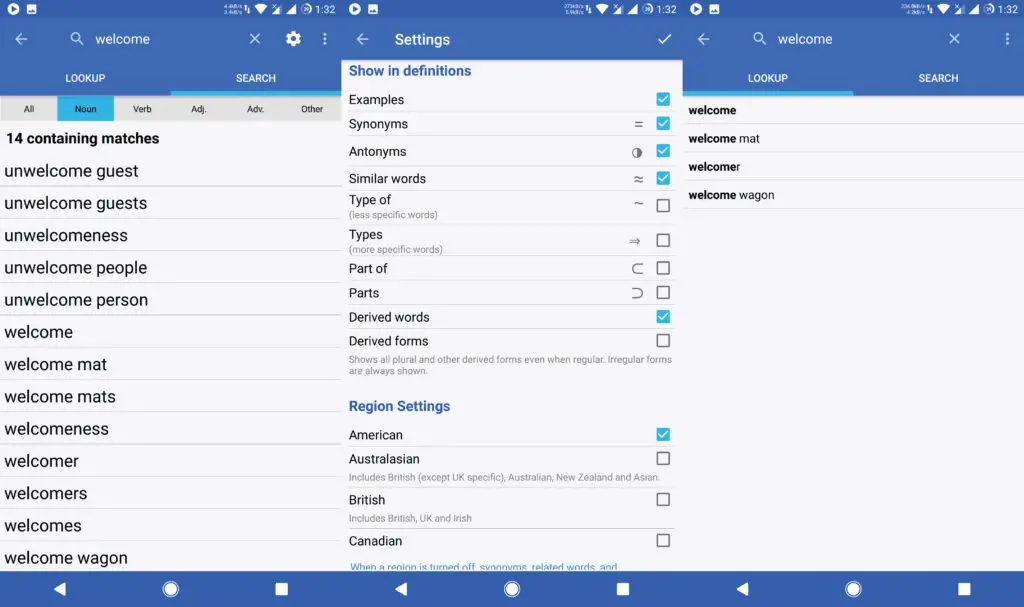 Nowadays, you can find almost anything on Google. But when you are offline and want to search for some words then WordWeb is the best dictionary app that you can find on the play store. You can find synonyms, antonyms, phrases and much more. It's quite a large app so make sure you have enough data available in your subscription plan to download it. :P
16. Quora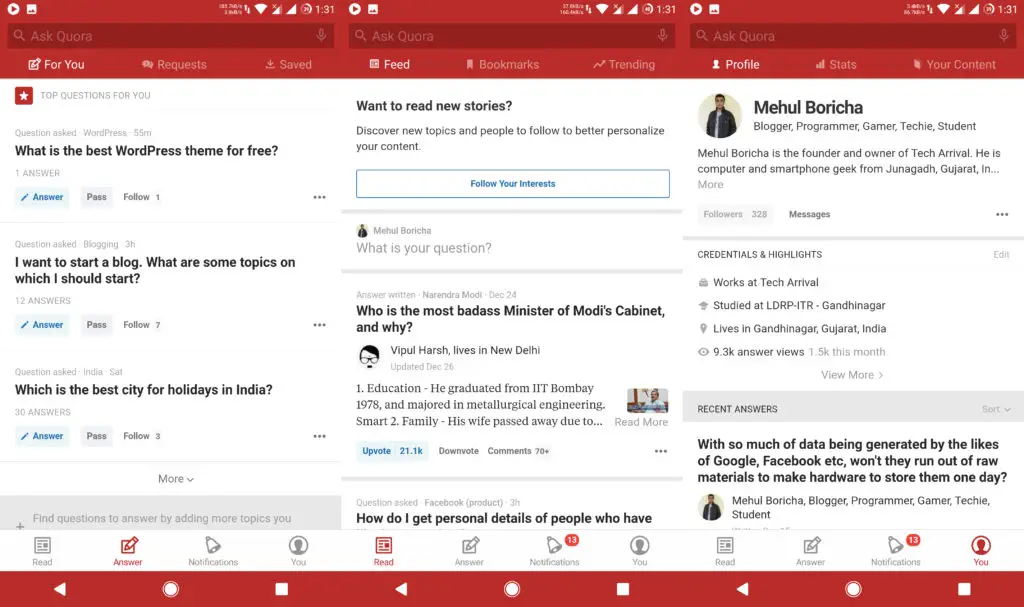 Quora is a place where you can find the almost answer to any question related to any topic. If you have any question, then you can ask the community or if you know the answer to any asked questions then you can answer them. It is a perfect place to help other peoples and improve your knowledge of doing so.
You can also grow your contacts with people worldwide. You can learn how they think and their perspective on different things. You can also find trending question-answers, and you will be able to learn a lot from these apps.
Power is gained by sharing knowledge, not hoarding it
---
Protect Your Online Privacy With Surfshark
[The VPN that we use here at Tech Arrival]
---
17. WordPress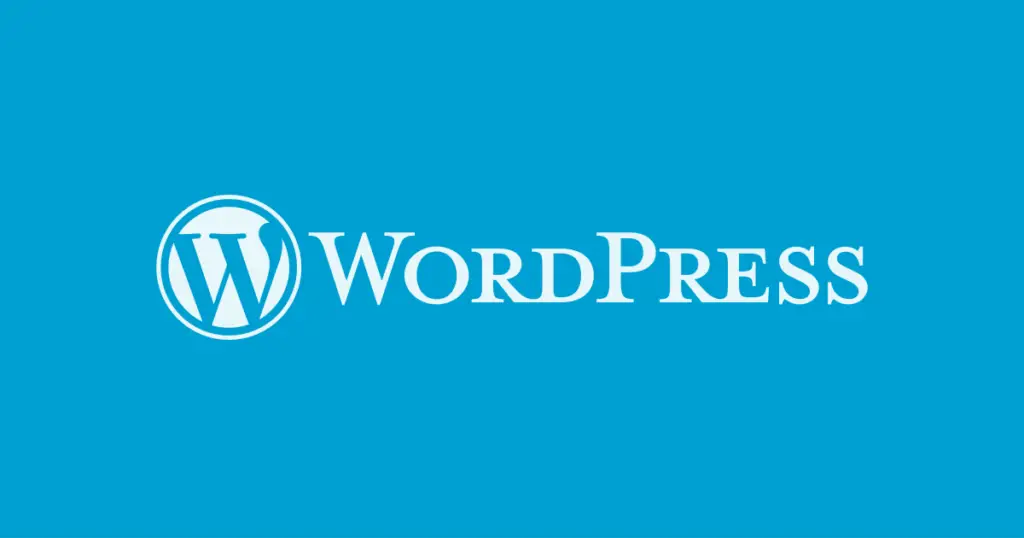 If you have a WordPress blog, you can easily manage posts, pages, stats, comment and almost anything using this app. If not then you can discover and follow other useful WordPress blog. Then the latest articles from the blogs you follow will come in the feed, where you will be able to read them.
You can also add a self-hosted WordPress blog here with Jetpack integration. You may also select to receive push notifications for important events.
So that was our handpicked list of 17 best apps for android every geek must have this year. If you think you know an app that should be on the list, let us know. We'll be glad to add it to our list. Also share your experience with these apps in the comment section below.