Although many users prefer to use Windows 7, Windows 10 also became popular in a matter of days. Microsoft managed to make a big improvement, as well as added many features for users. However, the question of picking the right browser for Windows is still a problem for some. Today, we are going to review browsers that fit the latest Windows version the best.
Also read: 9 Best Chromium Based Browsers You Should Try
List Best Web Browsers for Windows Users
1. Google Chrome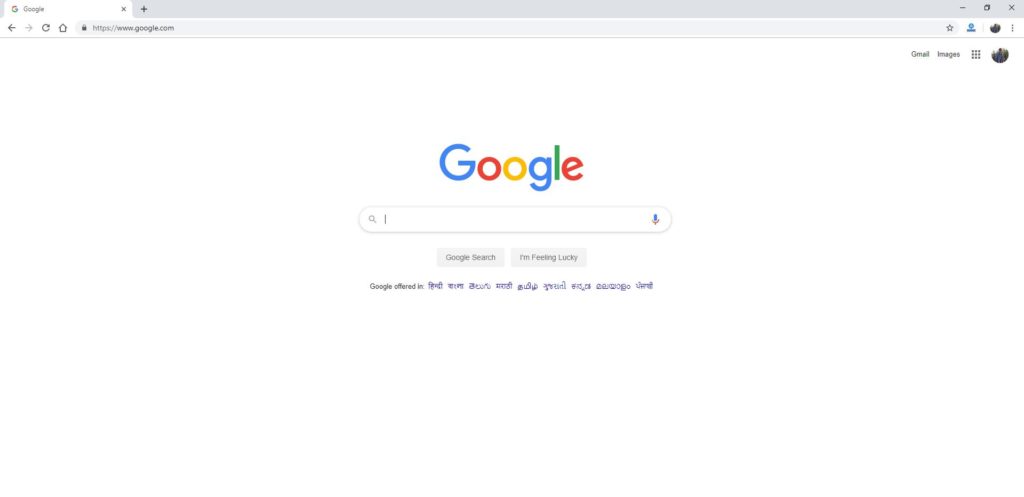 Google Chrome is again leading among browsers. It is quite powerful and efficient, just perfect for modern computer owners. Almost 56% of users prefer it to Chrome. And the number of fans is growing every month.
Advantages of Google Chrome
Speed: This is perhaps the main reason why users give their preference to him. Google Chrome is the leader in speed among competitors. Also, Chrome has the ability to preload the page, thereby speeding up even higher.
An Intuitive Interface: The interface is thought out "to the smallest detail." There is nothing superfluous, the principle is implemented: "open and work." Chrome was one of the first to implement the ability to access quickly. The address bar works in conjunction with the search engine selected in the settings, which saves the user a few more seconds.
Stability: In my memory, only a couple of times, Chrome stopped work and reported a failure, and even that was caused by viruses on the computer. Such reliability of work is provided by the separation of processes: if one of them is stopped, the others still work.
Security: Google Chrome has its regularly updated base of malicious resources, and the browser requires additional confirmation to download executable files.
Incognito Mode: Especially true for those who do not want to leave traces of visiting certain sites, and there is no time to clean history and cookies.
Task Manager: A very handy feature that we regularly use. It can be found in the Advanced Tools menu. Using such a tool, you can track which tab or extension requires a lot of resources and complete the process to get rid of "brakes."
Extensions: For Google Chrome, there is a huge amount of various free plugins, extensions, and themes. Accordingly, you can make your browser assembly, which will meet exactly your needs.
Disadvantages of Google Chrome
The main disadvantage of Google Chrome is its "weight." If you have an old computer with very modest productive resources, it is better to stop using Chrome and consider other browser options. The minimum amount of RAM for the correct operation of Chrome should be 2 GB. There are other negative features of this browser, but they are unlikely to be interesting for the average user. Download Google Chrome for Windows 10 and test all the benefits of the most famous browser in the world.
2. Opera Browser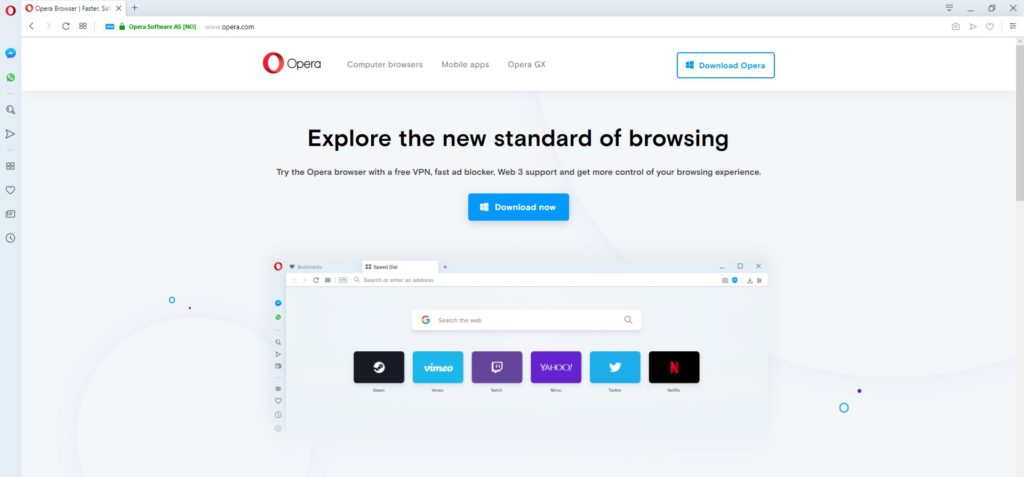 One of the oldest browsers, which recently began to revive. The heyday of his popularity was in times of the limited and slow Internet. But now the Opera has its own "trick," which none of the competitors have. We will talk about it below.
To be honest, we recommend everyone to have in reserve another installed browser. As an excellent alternative (and sometimes complete replacement) of the Google Chrome discussed above.
Advantages of Opera
Built-in VPN: In the era of many restrictions, there is nothing better than a browser with a free built-in VPN server. With it, you can easily go to banned sites, or be able to watch movies that are blocked in your country at the request of the copyright holder. It is because of this incredibly useful feature that we use Opera constantly.
Speed: There is a magical function Opera Turbo, which allows you to increase the speed of loading sites significantly. Also, Opera is perfectly optimized to work on slow computers with weak technical characteristics, thus becoming an excellent alternative to Google Chrome.
Saving: It is very important for owners of the Internet with restrictions on the amount of traffic. Opera not only increases the speed of loading pages but also significantly reduces the amount of received and transmitted traffic.
Express Bookmarks Bar: Not an innovation, of course, but still a very handy feature of this browser. There are also hotkeys for instant access to browser controls directly from the keyboard.
Extensions: Like Google Chrome, Opera boasts a large number (more than 1000+) of various extensions and themes.
Built-in Adblocking: In other browsers, blocking infinite ad blocks and intrusive pop-up windows is implemented using third-party plugins. Opera developers have foreseen this moment and embedded ad blocking in the browser itself. With this, the speed of work increases three times! If necessary, this feature can be disabled in the settings.
Power saving mode: Opera allows you to save up to 50% of the battery of the tablet or laptop.
Disadvantages of Opera
Security: According to the results of some tests and studies, Opera's browser is not safe; it often does not see a potentially dangerous site and does not save you from scammers. Therefore, you use it at your own risk.
3. Microsoft Edge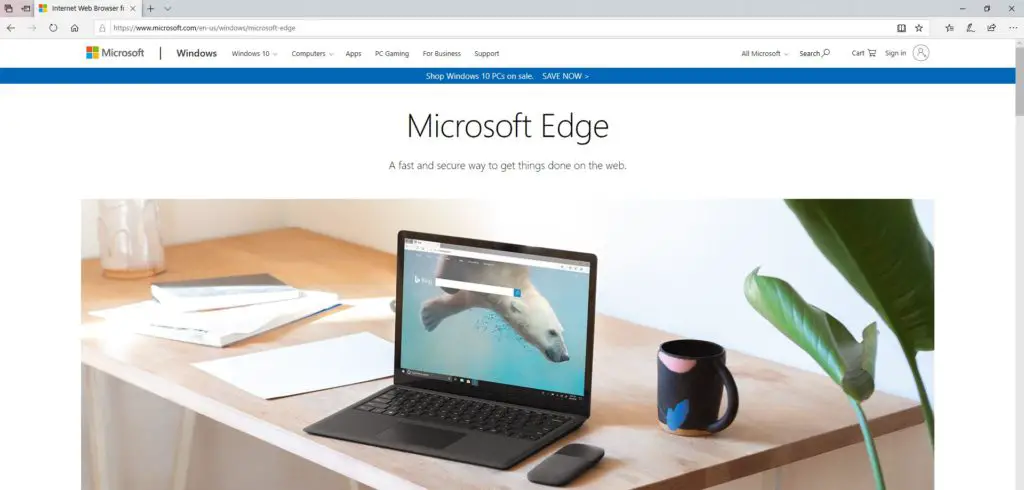 The youngest of modern browsers was launched by Microsoft in March 2015. This browser has replaced the hated by many Internet Explorer (which is quite strange, because according to statistics, IE is the safest browser!).
Advantages of Microsoft Edge
Full Integration with Windows 10: This is perhaps the most powerful feature of Edge. It works as a full-fledged application and uses all the features of the most modern operating system.
Security: Edge took over from his "big brother" IE the most strengths, including safe surfing on the network.
Speed: By speed, we can put it in third place after Google Chrome and Opera, but still, its performance is very good. The browser is not annoying; the pages open quickly and load in a couple of seconds.
Reading mode: We most often use this function on mobile devices, but it may be useful to someone in the PC version.
Voice Assistant Cortana: Honestly, we have not used it yet, but according to rumors, it is significantly inferior to "Okay, Google" and Siri.
Notes: In Microsoft Edge implemented the function of handwriting and creating notes.
Disadvantages of Microsoft Edge
Only Windows 10: This browser is available only to owners of the latest version of the Windows operating system.
Sometimes It Works Slow: When you enter a page URL (or make a transition), a tab opens, and the user sees a white screen before the page is fully loaded.
Incorrect Display: The browser is quite new, and some of the old sites in it "float."
Also read: 11 Best PC Cleaner Softwares for Windows 10
Conclusion
Of course, the browser's choice is always a personal matter. Many users may prefer another browser, such as Mozilla, Tor, or UC Browser. This review may help you to understand the advantages and disadvantages of top browsers if you can't decide what to install.