Managing your finances is one of the most important things in life. But sometimes, it can feel a bit overwhelming.
If you are stressed out about your finances, don't worry, you are not the only one. Keeping track of all the expenses and income is not an easy thing. Paying bills, building savings, clearing your debts, and maintaining an emergency fund are many things to take care of.
But you can make everything much easier with the help of a budgeting app. Most of the budgeting apps are available on Android as well as iPhone (iOS). A good budgeting app will help you understand your income and also help control your expenses. You can connect budgeting apps to your credit cards and bank accounts to download transactions automatically.
Also read: 11 Best Online Investment Platforms & Apps
If you are looking for an affordable budgeting app, you are in the right place. We have handpicked the best budgeting apps for you.
List of Best Budgeting Apps for Android & iPhone
1. Money Manager Expense & Budget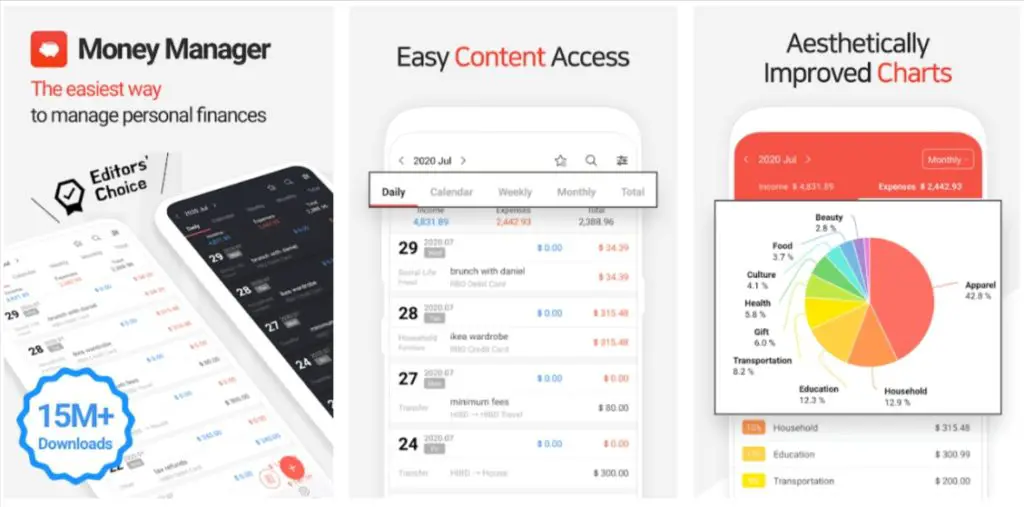 Money Manager is one of the best financial planning and expense tracking app available for Android & iPhone users. It is a simple app with a lot of useful features. This app makes managing personal finances easier than ever before. With the help of this app, you can easily record your business and personal financial transactions, review your financial data, generate expense reports, and manage your assets. It also has a credit/debit card management function. You can use this feature by simply connecting the app to your credit/debit card. It also offers the backup function that helps you to backup data in an Excel file.
2. AndroMoney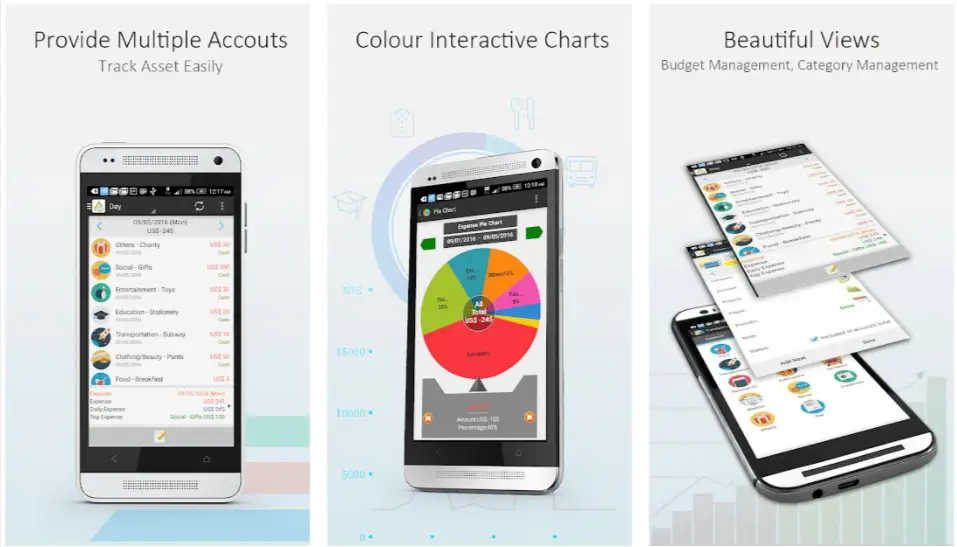 If you want a mobile-friendly budgeting app, then AndroMoney is the best choice for you. It is a personal finance tool that is designed to help you manage your wealth better. The intuitive interface makes the app easier to use. It offers useful features like daily accounting, generating detailed reports, and managing categories. Unlike other budgeting apps, it supports multiple accounts, account transfer, and account balance. It also offers cloud storage, so you can back up all your data. With password protection, you can keep your financial data private.
3. Mint
With Mint, you get to manage your finances in a new way. It helps you reach your financial goals with custom budgets and personalized insights. Once you get the app installed, you can use this app to track all your expenses. Not just that, but you can also view your monthly bills, increase savings, create budgets, and develop stronger financial habits. The best thing is that Mint is a free money manager and financial tracker app that meets all your financial management needs.
4. Wallet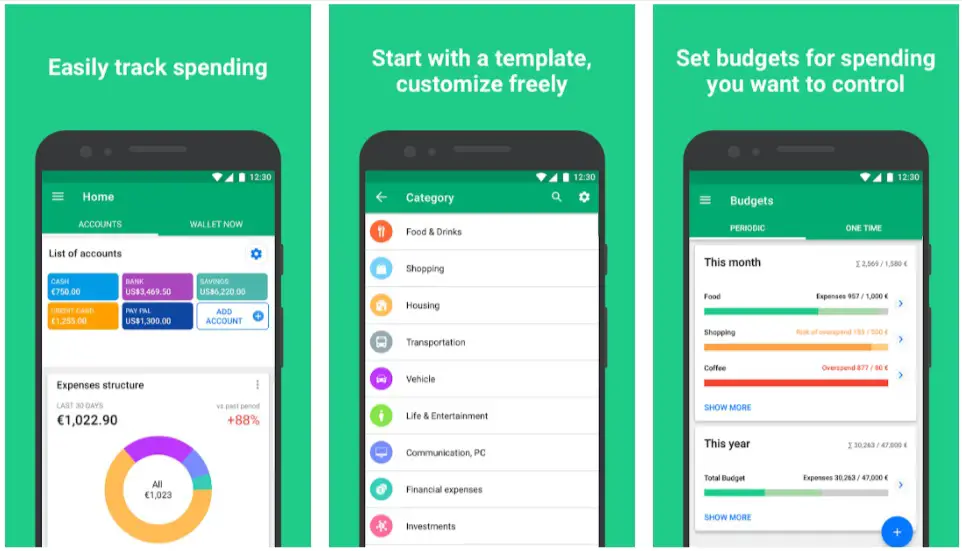 Wallet is one of the leading personal finance manager apps in the market. If you want to grow your savings, then Wallet can help you achieve your goals quickly. With Wallet, you can track your daily expenses, get weekly reports, manage debt, and track bills with ease. Using a money management app like Wallet is much better than using notebooks and spreadsheets. That's because it is easy and convenient to use. Some of the unique features of Wallet are automatic bank updates, insightful reports, manual updates, and sharing selected accounts.
5. Monefy
If you want an easy way to manage your budget, then get Monefy to help you out. It is a simple financial organizer and tracker app with all the essential features you need. It helps you record your spending in a day to keep track of your finances better. Tracking bills, daily purchases, and everything else become much quicker with Monefy. You can also synchronize your data using your Dropbox or Google Drive account. 
---
Protect Your Online Privacy With Surfshark
[The VPN that we use here at Tech Arrival]
---
6. Money Manager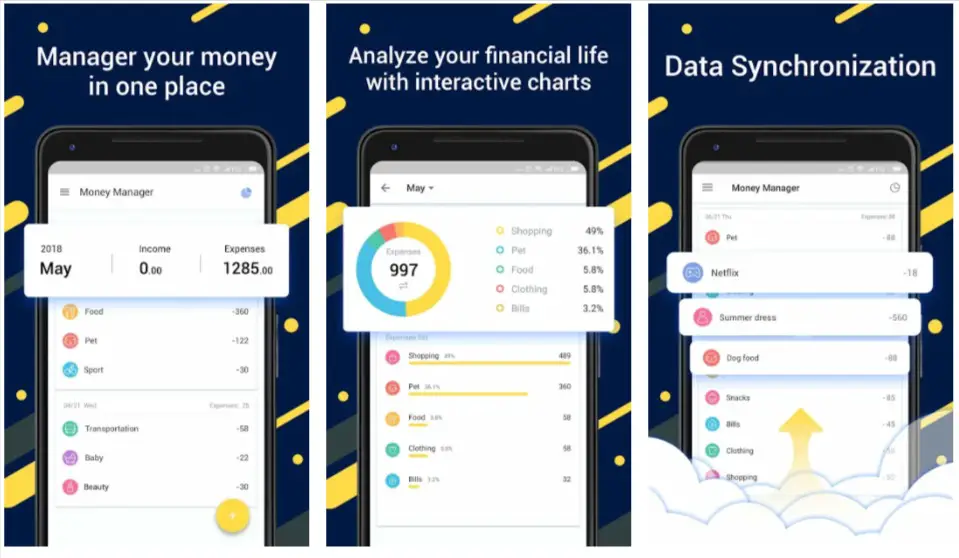 Next up, we have a Money Manager that is built to track financial activities efficiently. It features a simple design that makes it straightforward and lightweight. If you want an easy-to-use financial manager app, then this could be the right choice for you. It takes just a few clicks to record your expenses in the app. With this app, you can store all your financial details in one place. Money Manager helps you to understand where your money comes and goes with the visualized expense and income reports. It also supports multiple languages such as English, Japanese, Korean, Chinese, etc. 
7. My Finances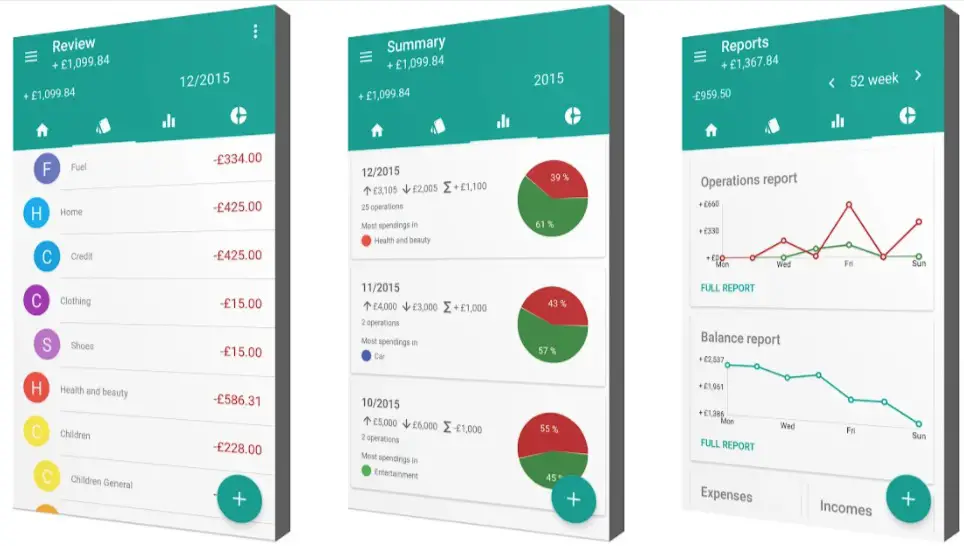 My Finances make the perfect tool to keep track of all your expenses. With the help of this app, you can control and manage your budget better. This is a home budget management app with selected functions that will help you save more money. You can also use this app to analyze your expenses more precisely. It features an attractive and intuitive interface that makes it easier to use it. With just a few clicks, you can record your income or expense, check the current balance, and much more. It also supports multiple accounts.
8. My Budget Book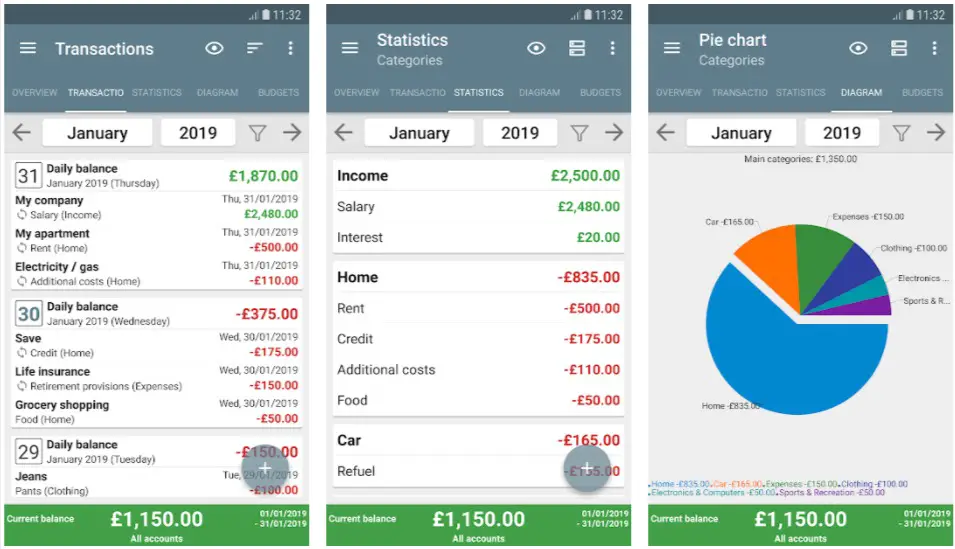 If you are in search of an app to manage your budget effectively, then My Budget Book could be the one for you. It allows for easy recording of your expenses and income. It offers recurring and individual transaction features so that you can track and forecast your balances. It also offers graphs and charts to help you visualize your financial condition. Another interesting feature is the budget mode that allows you to set goals or limits over custom periods. To keep your data protected, it has password protection.
9. GoodBudget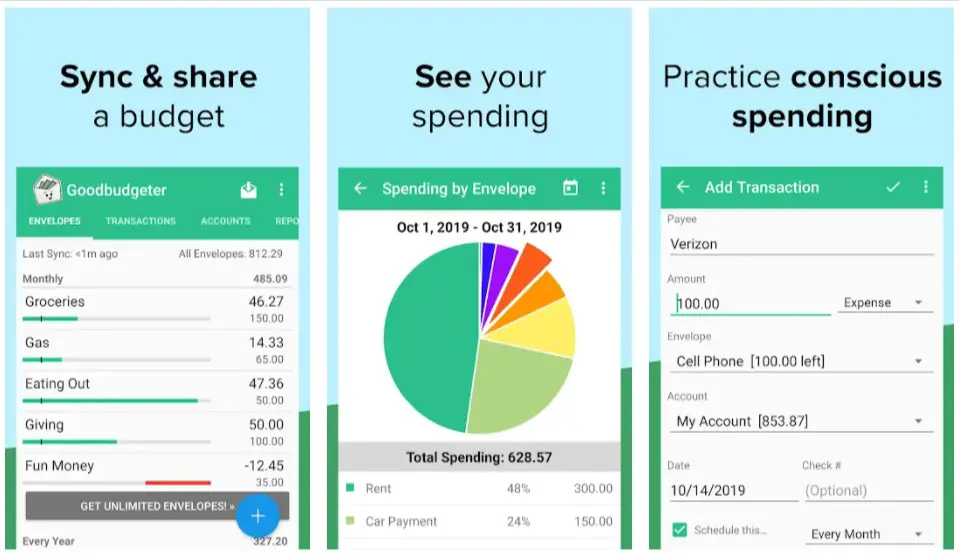 The next best budget app we have is the Goodbudget. This is a widely used expense tracker and money manager app. It is one of the best home budget planning tools you will find in the market. It makes managing personal finance easier. It is a user-friendly app with real-time tracking. The good thing is it can sync across Android, iPhone, and the web. This allows you to share your budget with your partners and help everyone stay on the same page. It also offers automatic data backup to Goodbudget's website.
10. Personal Capital
The next best budgeting app we have is called Personal Capital. With the help of this app, you can easily keep a check on all your investments, finances, and retirement. This is the only money manager app you will need as it has all the important features you need. It allows you to manage all your accounts in one place. Along with that, it also offers many interactive cash flow tools that help you see your total income and expenses across all of your accounts. Not just that, but you can use this app to track your investments as well.
11. EveryDollar
If you are not happy with the way your budget planning is going, you can use EveryDollar for help. This app helps you to create the perfect budget plan for yourself. You can create a custom monthly budget to save money, build wealth, and more. This app is so good that personal finance experts even recommend it. It offers a free trial, so you can check whether the app is worth your time. You can also use this app to set reminders to pay your monthly bills.
12. YNAB
With YNAB, you can gain total control of your money. You can use this app to build your wealth and grow your savings. One of the good things about this app is that it lets you connect all your accounts in one place. It also allows you to track your finances in real-time. It allows you to create an easy-to-visualize plan to help clear all your debt for good. If you ever get stuck while using this app, you can get personalized support anytime via email or live chat.
13. Yolt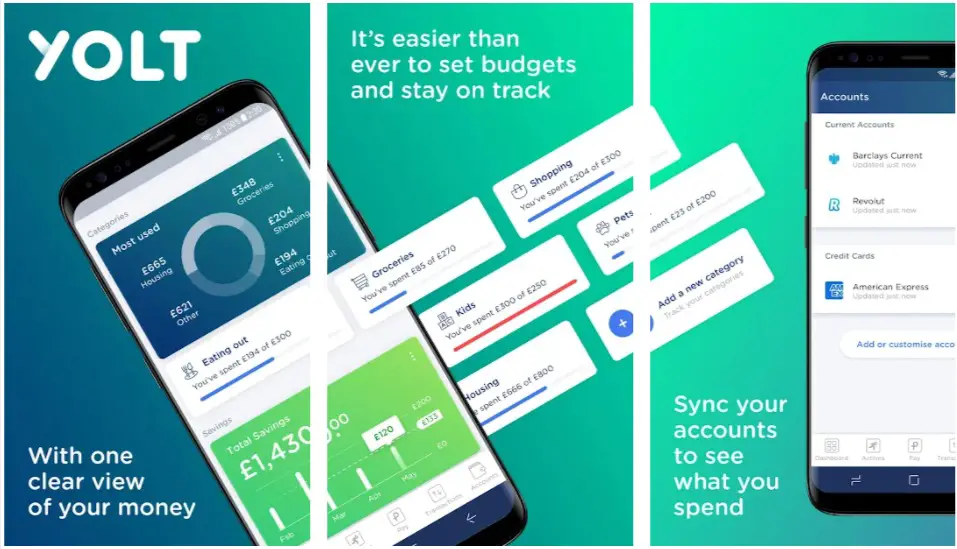 If you want a simple money manager app, then try Yolt. It will help you keep track of all your finances with ease. It is an app with bank-level security. It gives you deep insights into your finances, so you know where you stand. It offers a 360-degree view for convenient use. Unlike other money manager apps, this one can be easily connected to your bank accounts, credit cards, pensions, saving pots, and investments. You can use this app to plan your upcoming bills, so your budget is better. 
14. Emma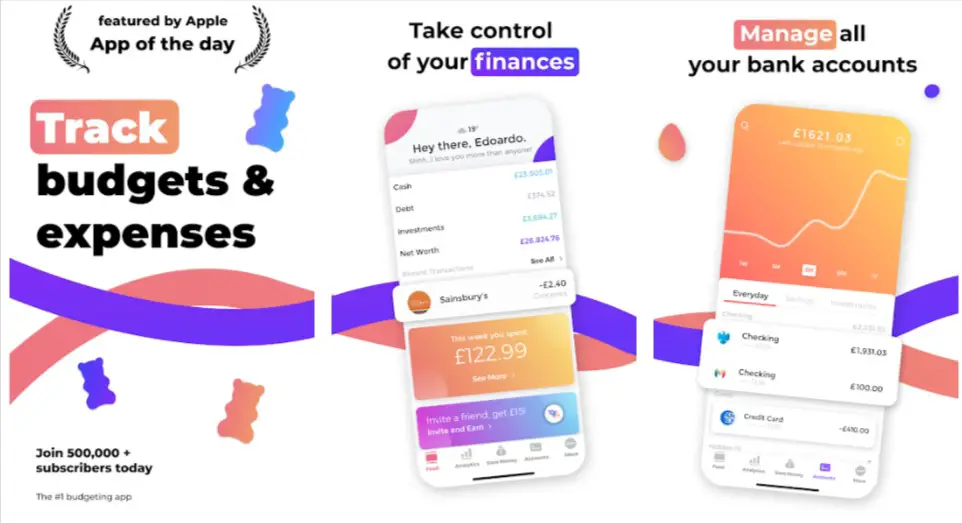 If you need a free finance manager app, then Emma could be the best choice for you. You can connect it to your bank accounts and receive advanced insights into your spending. This is a highly secure budgeting app that helps you save a little bit every day. It allows you to your spending by category, avoids overdrafts, and manages bills & subscriptions. With the help of this powerful money management app, making budget plans much easier. It also notifies you when you get paid every month. This is the ultimate budget tracker to take control of your finances. 
15. Honeydue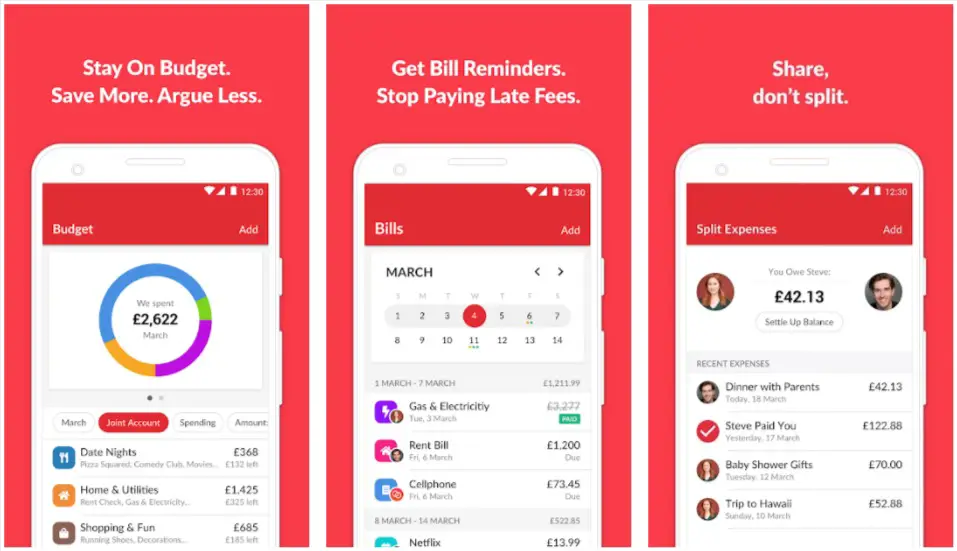 Honeydue is the best personal finance application for couples. It allows you to track your bank balances, bills, and spending together. With the help of this app, you can develop good money habits with your partner. It has recently included the Joint Banking option for modern couples. Each of you can have your account number and debit card, and a shared balance. You can also include your custom categories for your convenience. It can automatically categorize all your spending, so you don't have to. For security, your data is encrypted in storage and transit.
16. PocketGuard
Lastly, we have the PocketGuard, a free budgeting app for people who want to save more. If you are serious about your finances, then you will find this app useful. It is made simple by smart algorithms that make budgeting easier. Besides budgeting, it also allows provides various reports to help you see personal finances from different angles. The bill tracker feature helps you to pay your bills hassle-free. It offers bank-level security, so you can use this app without any worries.
---
Protect Your Online Privacy With Surfshark
[The VPN that we use here at Tech Arrival]
---
All the budgeting apps mentioned in the post are rated highly by users. These are the best and most trusted budgeting tools out there. You can select any of these apps to make your budgeting easier.
Also read: 8 Ways to Manage Your Money Better using Technology
Frequently Asked Questions (FAQs)
Why do you need a Budgeting App?
A budgeting app can help you create a custom budget for every month. With the help of these apps, you can track and manage your finances better. You can use a budgeting app to monitor your income and expenses.
What are the Best Budgeting Apps?
The best budgeting apps available in the market are Mint, Money Manager, and AndroMoney. These apps provide a high level of security and have all the budgeting features you want.
What is the Safest Budgeting App?
You will find many budgeting apps in the market. But if you want the safest one, then Personal Capital makes a great choice. It offers bank-level security, so you can use the app tension-free.
What is the Catch to Using the Mint App?
The catch is that you have to provide your credentials every time to use the app. It is a read-only service, which means you cannot transfer money back and forth between accounts.