In today's time, every salesperson should have the ability to stay informed on the go. This is made possible with CRM (Customer Relationship Management) apps. 
While no CRM mobile app can replicate the full experience of a computer CRM software, few CRM apps for iPad and iPhone do a great job. These apps are packed with important features and are also easy to use.
If you are looking for efficient CRM apps for your iPhone/iPad, you are in the right place. We have handpicked some of the best CRM apps that you can use on your iOS & iPad OS device.
Also read: 13 Best Invoice Apps For iPhone & iPad
List of Best CRM Apps for iPhone & iPad
1. Salesforce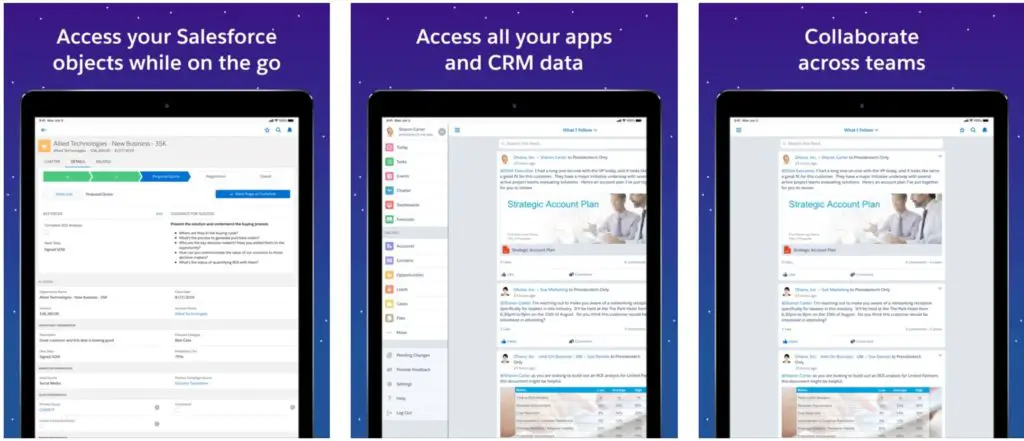 With a 4.7 star rating, this is one of the best CRM apps you will use. Users are already impressed with the computer app, and the mobile version is equally good. The app allows users to leverage AI insights to make well-informed decisions. With the Salesforce app, you can now access your entire business. The mobile version of the app includes all your favorite Lightning Apps. It also includes the navigation bar that makes it easier to get to the apps that you use the most.
2. HubSpot

With HubSpot's mobile sales CRM, you can run your business from any place you want. It helps you manage your contacts, tasks, emails, meetings, and notes from your phone. With the help of this app, you can increase your productivity. It lets you see upcoming tasks, meetings, and reminders associated with your sales deals. It also allows you to access your business contacts, deals, and notes even when you are offline.
3. Zendesk Sell
This is a sales productivity app that blends intelligence and usability to give you an excellent mobile sales experience. Zendesk Sell sales app provides a lot of productivity features like email templates with view notifications, communication tracking, geo-location, and mobile reporting. Unlike other apps, this one is fast and secure and gives you complete pipeline visibility of your team. 
4. Zoho CRM – Sales & Marketing
Zoho CRM is trusted and used by more than 150,000 businesses in over 180 countries. With the help of this app, you can engage better with customers, draw more leads, and expand your revenue by closing more deals. Features like call, email search, check-in, and notifications help increase sales productivity. The app has an interactive interface and also provides offline access.
5. Contacts Journal CRM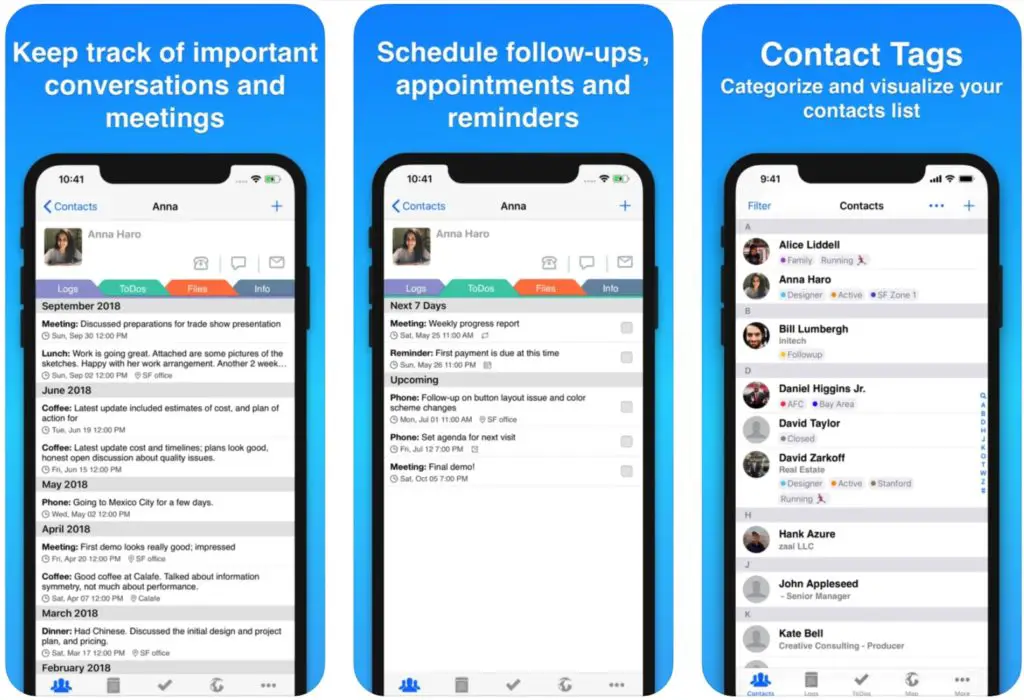 Contacts Journal CRM helps you to completely transform your professional and personal relationships. You can use this app to keep track of conversations for each contact, set reminders for future meetings, create custom fields to expand your contacts' profile, and much more. This is a highly efficient app with a lot of useful features. It also has an intuitive and easy-to-use interface.
6. Microsoft Dynamics 365 

Microsoft Dynamics 365 is one of the best CRM apps. It provides an important business solution for busy professionals and helps them engage with customers while being productive at work. It can help you prepare for future appointments, tasks, and attachments. It also provides tools for managing data and updating records both online and offline. You can also use the app to track progress for key performance indicators using visual charts.
---
Protect Your Online Privacy With Surfshark
[The VPN that we use here at Tech Arrival]
---
7. Nimble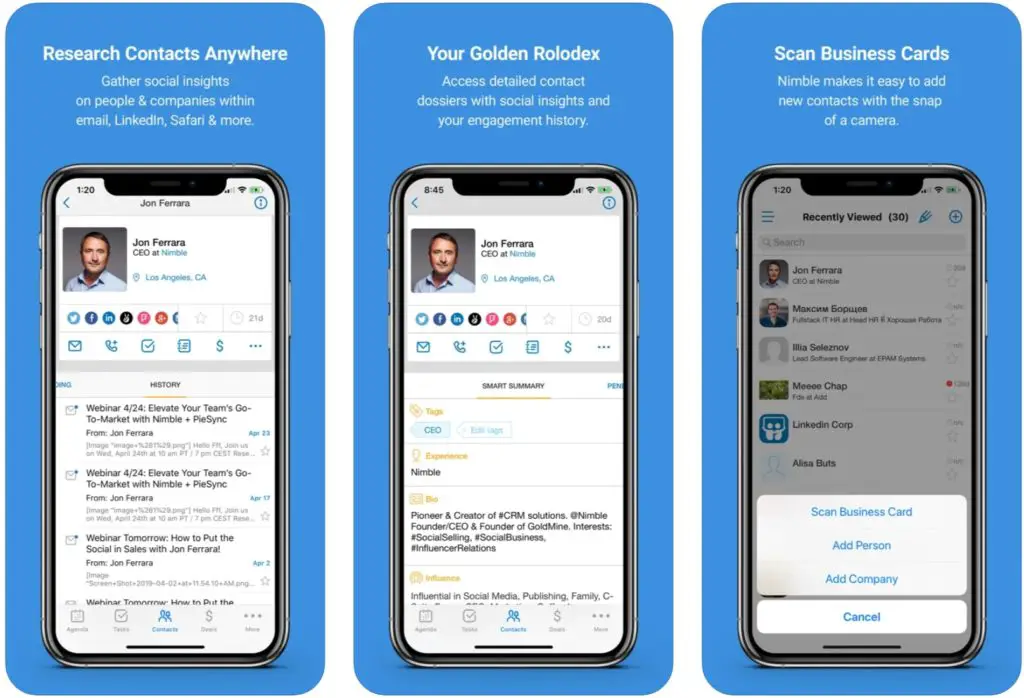 Next up, we have Nimble, which takes contacts from your email, address book, and contacts, and combines them with your entire Nimble database. It also enables you to follow up on conversations and be more productive on the go. It comes with plenty of features that help you research contacts and companies from LinkedIn, email, contacts, and Safari/Chrome. It can also sync email and Twitter conversations directly to your mobile contact records. With the help of multiple pipeline managers, you can manage opportunities such as sales, business development, or marketing.
8. Salesforce Inbox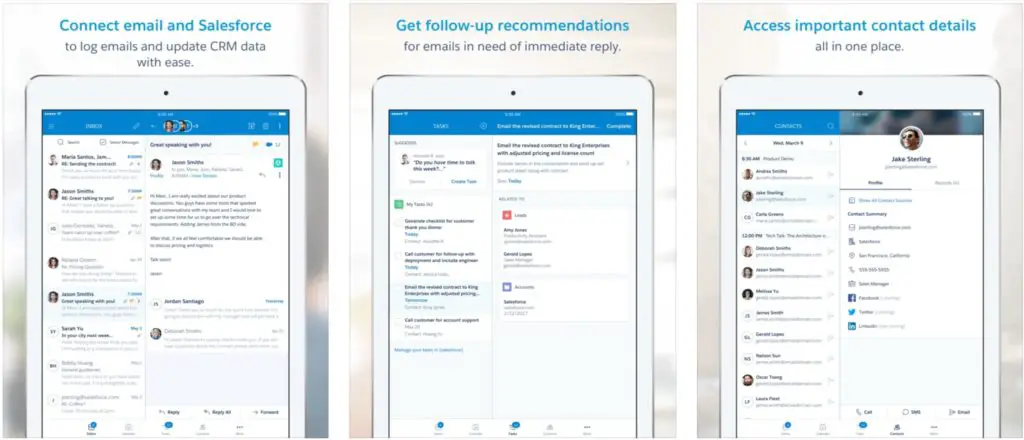 Salesforce Inbox brings calendar, email, and the best CRM together in one app. It uses artificial intelligence to help you sell smarter. The app also provides focused context for today's events and recommends follow-up actions so that you never miss out on important opportunities. The best thing about this app is that it can automate time-consuming administrative tasks to boost sales productivity.
9. Insightly CRM
Insightly CRM is a leading cloud-based application designed for businesses of all sizes. This app is trusted and used by more than 1.5 million users in 200+ countries worldwide. It helps businesses grow by managing customer interactions, sales opportunities, leads, and projects. The Insightly platform is customizable, flexible, and accessible via mobile app and web browser. The good thing is that the app is free and works in tandem with the Insightly CRM web application.
10. Salesmate: Sales CRM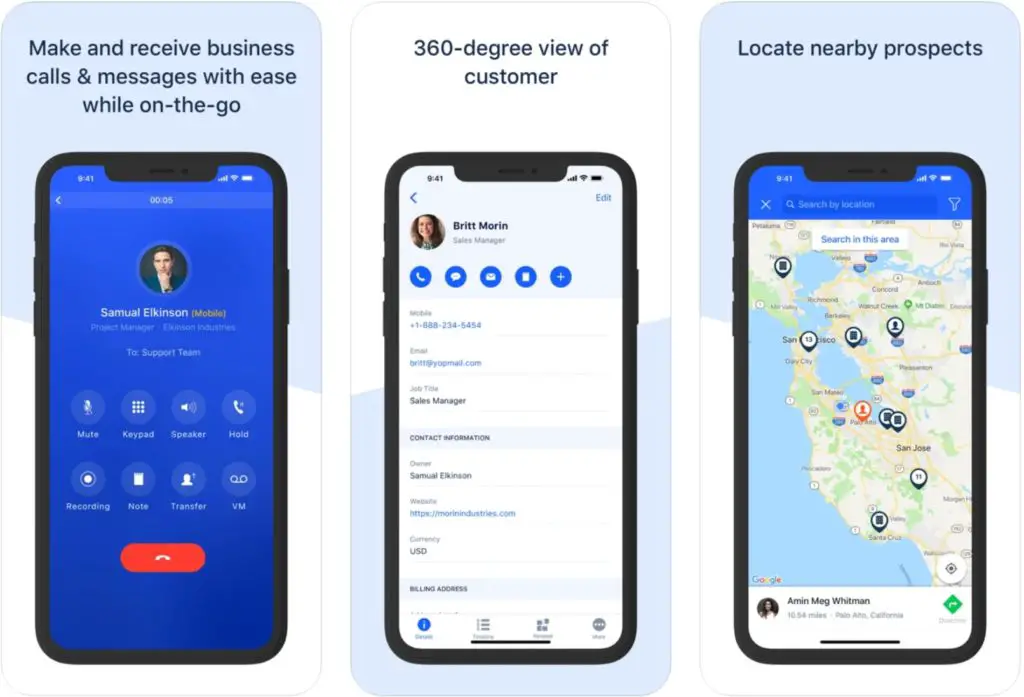 If you are looking for a mobile CRM app for small and mid-sized businesses, then Salesmate CRM could be the best choice for you. With this app, you can gain control over your sales results by channeling your focusing only on the contacts that are important for business growth. This is an efficient app that helps you manage your sales process and sales pipeline with ease. It also lets you connect with your visitors in real-time with the live chat feature.
11. OnePageCRM: Mobile Sales CRM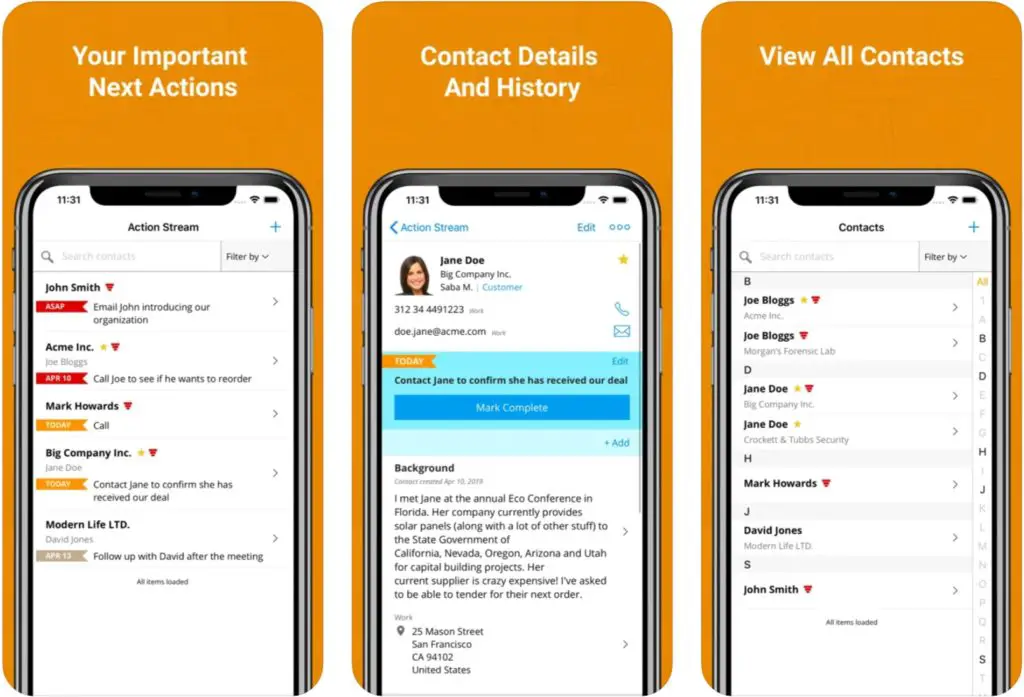 This is one of the best CRM apps for small businesses. With this app on your iPhone, you can harness the benefits of your CRM wherever you go. Send an email, log calls and notes, set Next Actions, and do much more with a single app. It has many other features like contact management and calls management that makes this app stand out among its peers.
12. Pipedrive – Sales CRM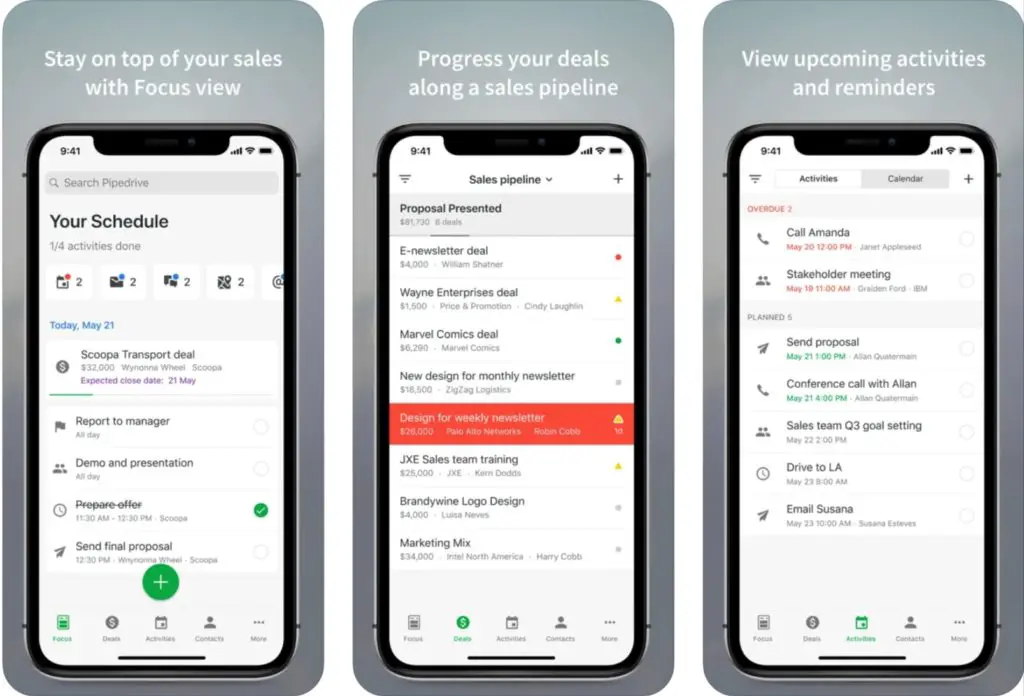 This is yet another reliable CRM app you can get for your iOS device. With the help of this app, you can stay on top of the sales pipeline. It is a powerful sales CRM app developed for small teams. It not only helps you focus on the right contacts but also gives you more control over your sales results. With Pipedrive CRM, you can access your deal history, contacts, and to-do's, create tasks and take meeting notes from anyplace you want.
13. Nutshell – Small Business CRM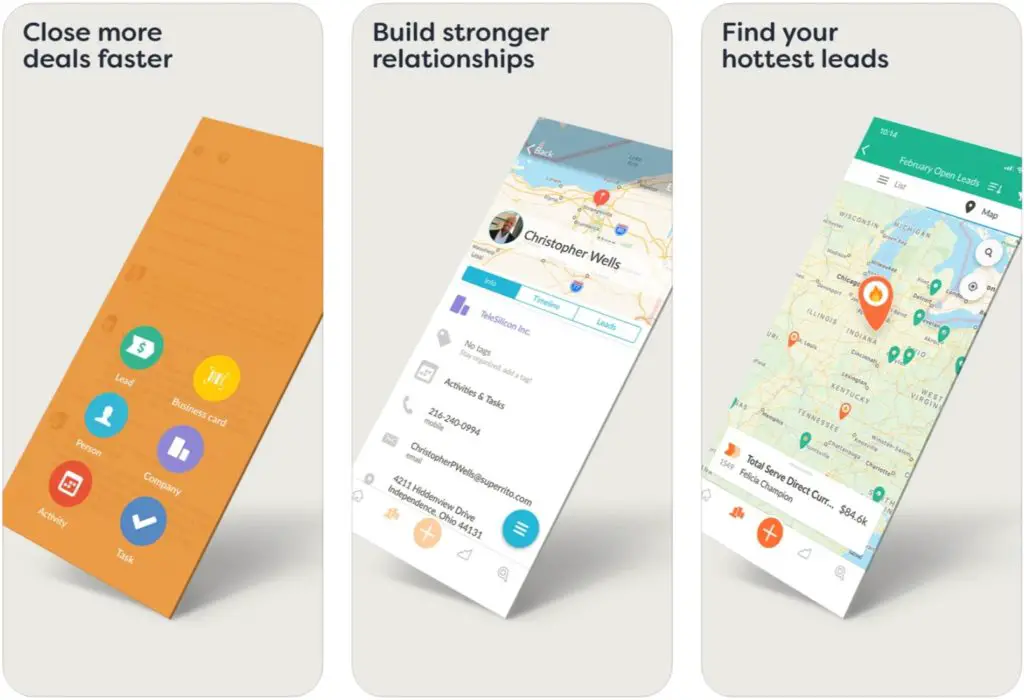 Nutshell is a powerful CRM and sales automation platform that helps you win more deals. This is an award-winning app with the best features that are needed to meet your sales needs. It helps you focus on the most important opportunities, so you can always stay on top of the sales. It sends you alerts for anything that needs your attention.
14. Contactually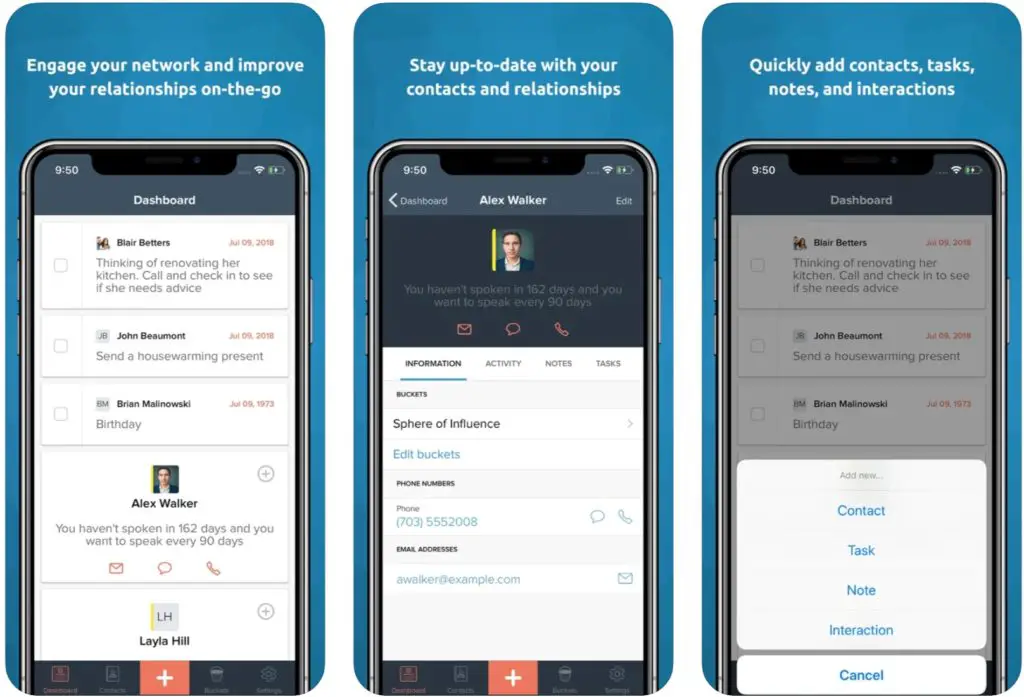 Contactually has everything that is needed to grow your business. This is a reliable app that helps you to engage with customers from the palm of your hand. With the help of this app, you can build your networking on the go. It allows you to log meetings, notes, and interactions, to keep your database and outreach efforts up-to-date. It also helps you focus on follow-ups and personal interactions with your most important contacts.
15. Capsule CRM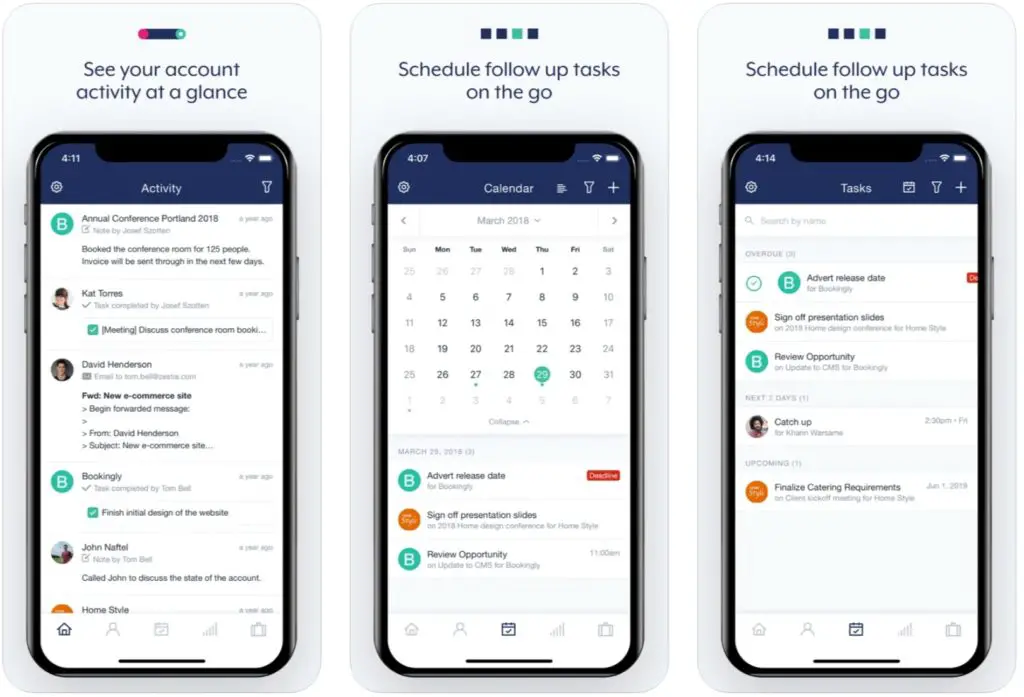 Lastly, we have Capsule CRM that allows you access to your contacts, tasks, opportunities, and more. This is an easy-to-use CRM app that helps you keep track of the people and companies you do business with. It is packed with several useful features. Like it allows you to access or update your data even when you are offline. It lets you see the latest activity from your co-workers and much more.
Mobile CRM apps for iPhone and iPad are nothing less than a savior for someone working in the sales department. It helps you stay informed and updated about work on the go.
Also read: 16 Best Budgeting Apps for Android & iPhone
---
Protect Your Online Privacy With Surfshark
[The VPN that we use here at Tech Arrival]
---
Frequently Asked Questions (FAQs)
What is a Mobile CRM App?
A mobile CRM app is a CRM solution that can be accessed from a mobile device. It allows you to access information about your customers in real-time, even when you are not present in the office.
What are the Best CRM Apps for iOS?
Some of the best CRM apps for iOS are HubSpot, Zendesk Sell, and Insightly CRM.
Why is Mobile CRM Important?
Mobile CRM is important because it helps you track client transactions, dealings, and communications, with the enterprise. It enables you to get the work done with your handheld devices on the go.
What does a CRM App Do?
A CRM app helps you to store customer contact information, record service issues, identify sales opportunities and manage marketing campaigns, all in one single app. It makes information about every customer interaction available to every employee in your company who might need it.
Is Capsule CRM Good?
Capsule CRM is a great CRM solution for small to medium-sized businesses. It is not only easy to use but is also packed with many useful features you could need. Also, it has both paid and free versions available.
What does Contacts Journal CRM App Do?
Contacts Journal CRM app helps you to manage your relationships with your network of clients and contacts. This app is available on both iOS and Mac.
Why is HubSpot CRM worth Paying For?
HubSpot is one of the best CRM apps because of two main reasons. First, the free edition of the app is way better than most paid CRMs on the market. Second, it makes a great choice for just about every business out there.
Does Insightly CRM have a Free Version?
Yes, Insightly CRM offers a free version. But to get the most out of the app, you should get the paid ones.