After cryptocurrency, we have crypto ad networks. Even though these ad networks are similar to Google AdSense, they are different. 
The thing about crypto ad networks is that it allows you to advertise different crypto services and generate revenue when visitors view them. These networks support only blockchain-based websites and businesses.
If you own a blockchain-oriented business, you should try crypto ad networks to run efficient ad campaigns. You need to monetize your content with crypto ad networks to draw desired traffic to your crypto service. For maximum benefit, you must also have a proper strategy in place. 
Before everything else, you must look for the best crypto ad networks. Luckily for you, we have got a list of options ready.
Also read: 11 Best Online Investment Platforms & Apps
List of Best Crypto Ad Networks
1. Coinzilla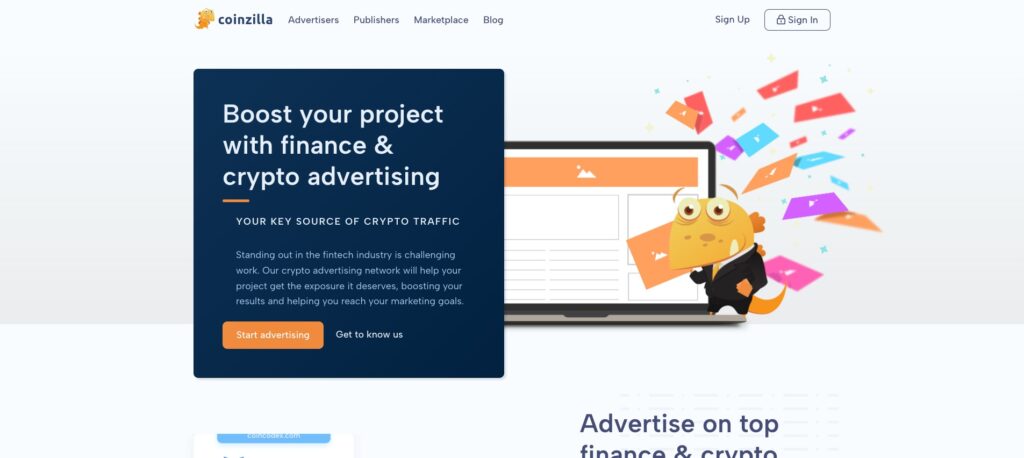 Founded in 2016, Coinzilla is one of the best options. It offers CPC and CPM ads in the form of pop-under ads, floating banners, and standard banners. The good thing is you can fund your ads with both Ethereum and Bitcoin.
However, you should be warned that Coinzilla requirements are strict. They only accept businesses and websites with high engagement rates. Interestingly, they have a referral program that helps you to earn 10% deposits. 
2. CoinTraffic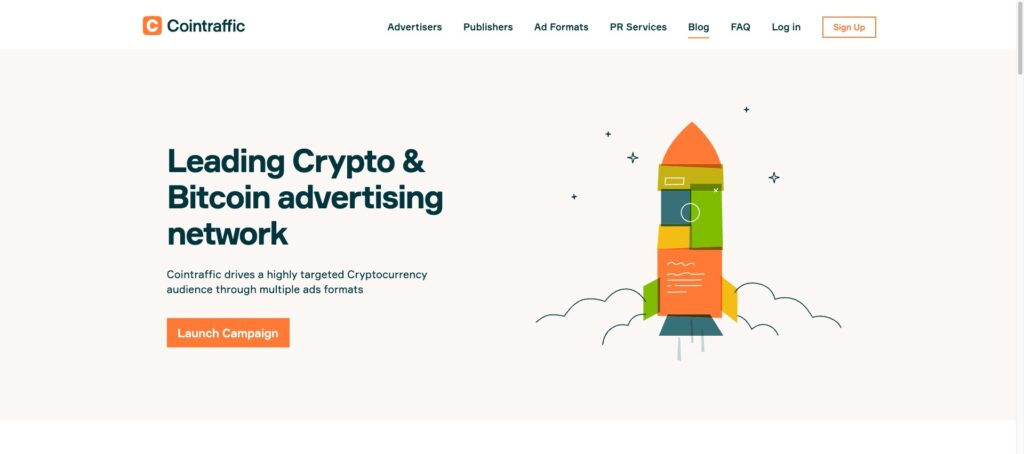 CoinTraffic came into existence in 2014. It is popular because it offers various ad format options such as custom ads, pop-under ads, and captions. This platform is ideal for users looking for CPM-type ad campaigns.
It is a user-friendly platform with an easy payment verification method. It processes payments within 24 hours and has 25 euros as the minimum withdrawal limit. However, they are very picky when it comes to approving advertisers. It offers excellent customer support with a fast response time.
3. CoinAD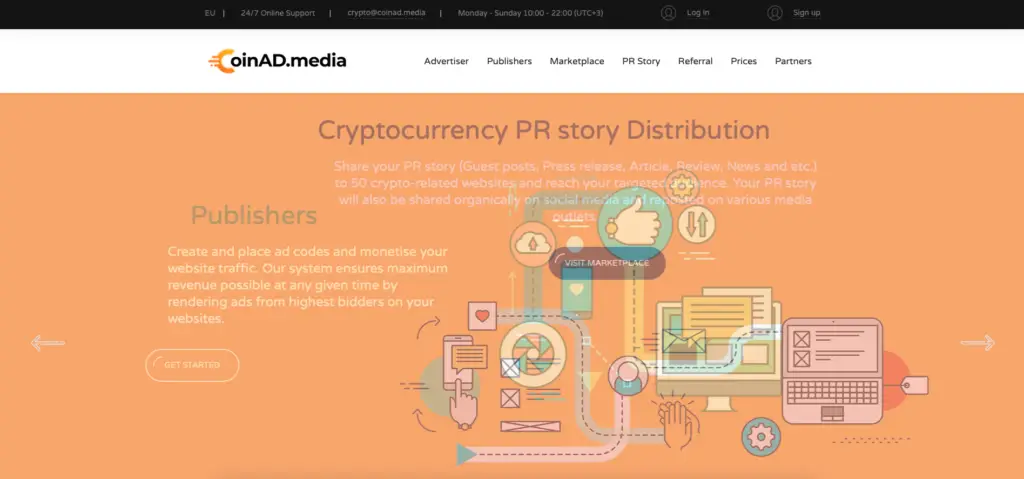 Next in the line, we have CoinAD. The difference between CoinAD and other ad networks is that they only accept new publishers by invitation. Not just that, but they also have strict requirements. For reasons like this, many websites are unable to join it.
---
Protect Your Online Privacy With Surfshark
[The VPN that we use here at Tech Arrival]
---
This platform is ideal for identified websites. If you are lucky enough to get invited to the platform, you will enjoy all its benefits. Most importantly, it will help you to earn more money than other crypto ad networks. The goal is to provide quality sites to advertisers.
4. Bitmedia.io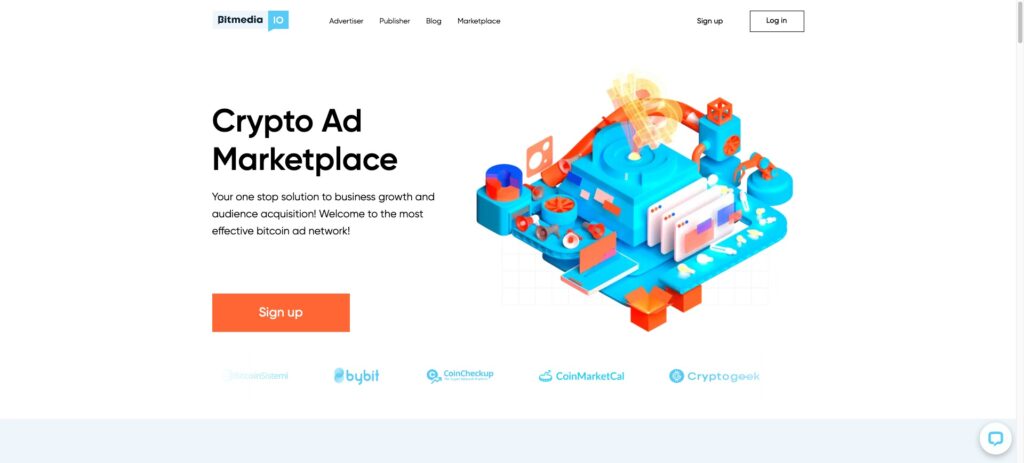 Bitmedia.io is another popular ad network among blockchain businesses. It provides them with a relevant audience and helps them generate more revenue. It offers a variety of target options, including timing, device, frequency, and geo-location.
However, it has stringent requirements. Every seller trying to join this platform needs to complete the verification process. For your information, it supports both CPM and CPC ad models. The supported currency of the platform is Bitcoin.
5. CryptoAds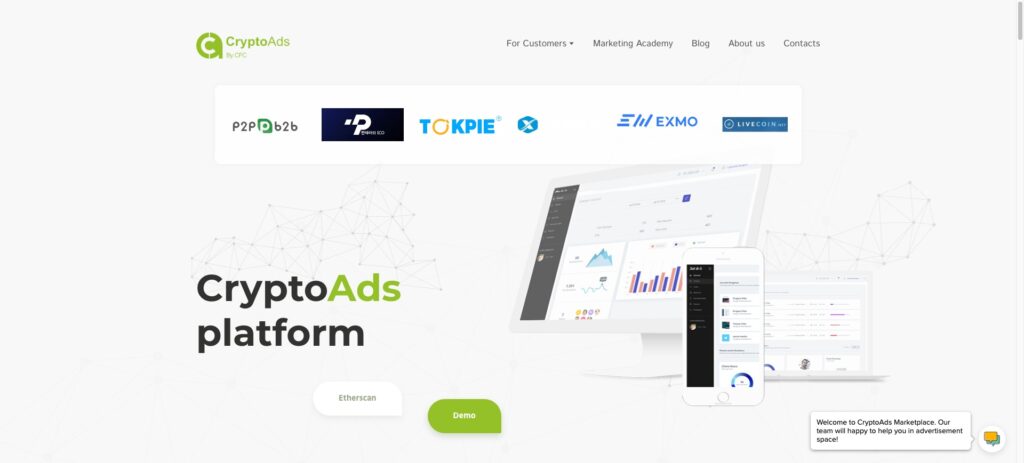 If you want an ad network to promote your blockchain-based business, CryptoAds could be an excellent option. It offers new ways to promote your GameFi app and other crypto projects. It helps you to reach a wider audience and get more traffic.
It is a premium ad network designed to help clients attract the right users. Unlike many other ad networks, this one is easy to use. The good thing is you can join it even without a deposit.
6. Push.House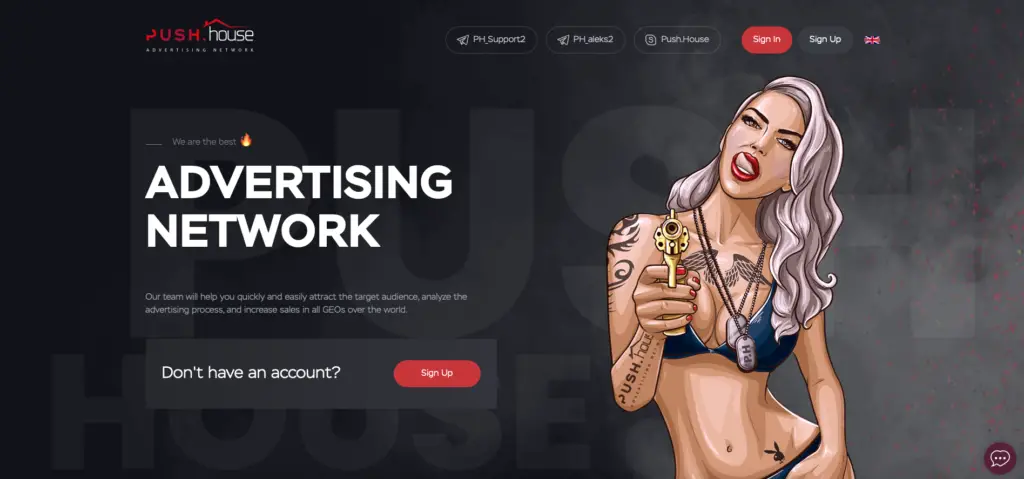 If you are looking for a CPC ad network, consider Push.House. It's one of the best ad networks that could solve all your problems. With the help of this platform, you can monetize the incoming traffic on your site. Besides CPC, you can also use other ad formats to boost your sales and revenue.
To get started, you need to first open an account. The dashboard makes your task easier and has everything you need. They also have an affiliate program that will help you to boost your revenue further. Push.House is subscribed to by more than 500 million people. Their giant network can help you boost your sales like never before.
7. Varanida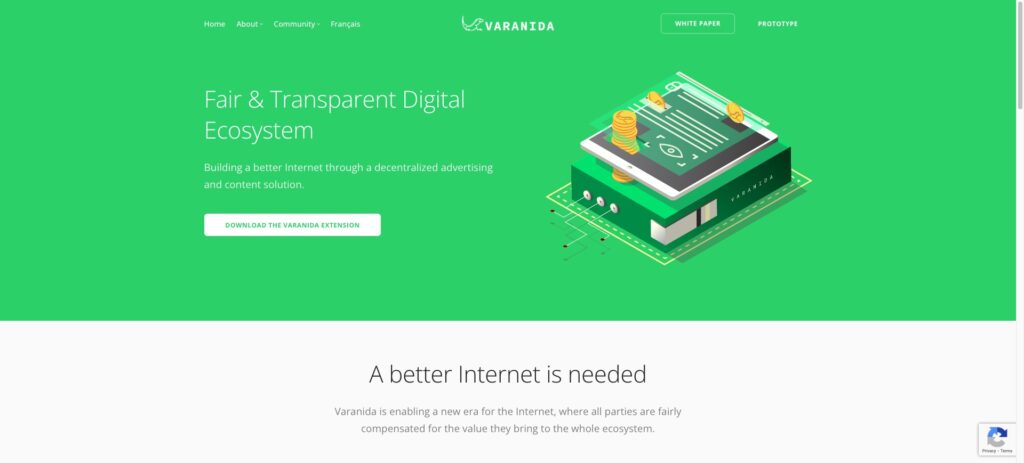 Varanida is a France-based ad network that focuses on improving the way online ads work. It uses blockchain technology to be the low-commission party. The unique thing about Varanida is that it pays users to watch ads voluntarily.
Many users prefer Varanida because they offer high commission rates. They keep only 1% of commissions while the rest is given to clients. With the help of this platform, you can create a verified ad protocol. It has an efficient anti-fraud system to keep the platform safe.
8. DOT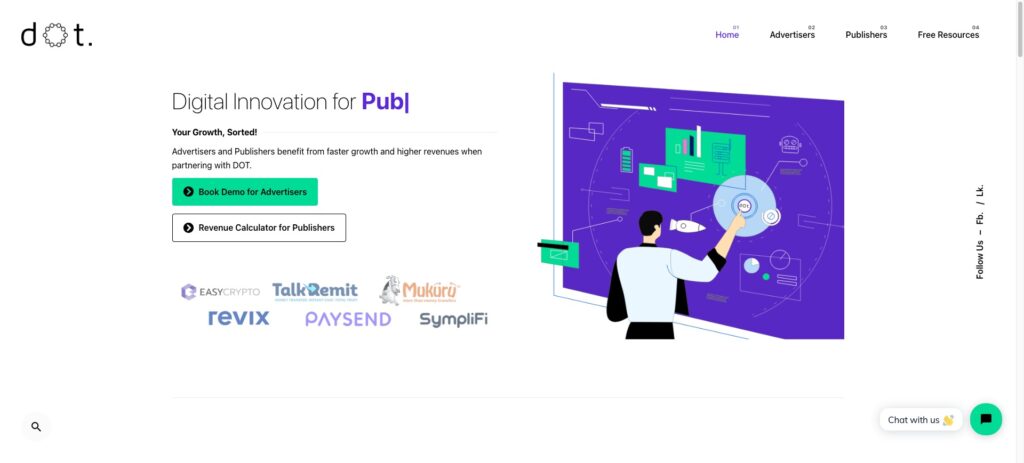 DOT is one of the top UK-based ad networks out there. By choosing this platform, advertisers can gain access to over 150 blockchain websites, podcasts, and investor content. Not just that, but it will also help advertisers to attract the desired audience with geo-targeting and viewer profiling.
It supports ads of varying sizes. You also get several content marketing tools for press releases and sponsored articles. These tools can work with various ad strategies. Best of all, it lets advertisers hyperlink their links from Adjust, AppsFlyer, and others for tracking.
---
Protect Your Online Privacy With Surfshark
[The VPN that we use here at Tech Arrival]
---
9. A-Ads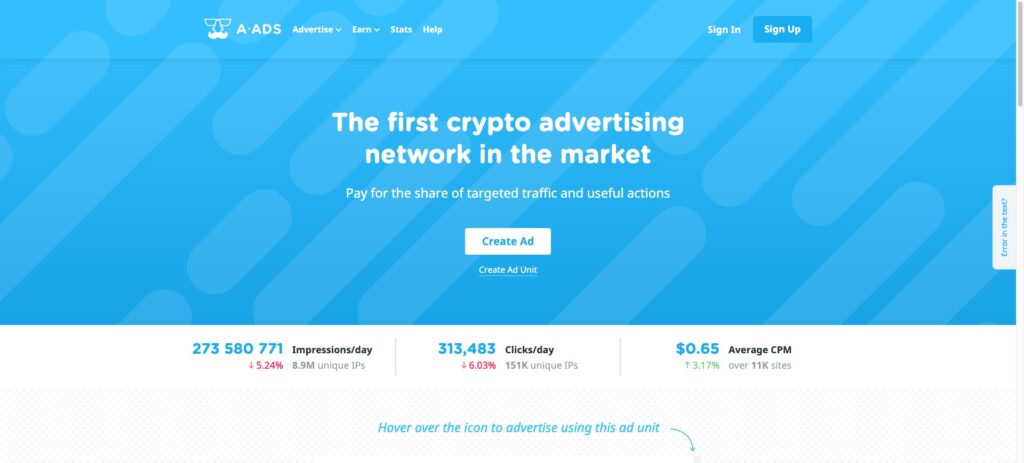 This is one of the oldest and most trusted crypto ad networks you can choose. Unlike other platforms, it doesn't require you to provide your data. However, it does have a sign-up page. Just sign in with a Bitcoin address, and you will be good to go.
Users like this platform because they make timely payments. It gives them a withdrawal option to a Bitcoin address or A-Ads account. In case of confusion, you can contact their customer support service. The minimum withdrawal limit is 0.001 BTC.
Crypto ad networks support ad campaigns related to Bitcoins and other fiat currencies on blockchain-based websites. You should try it if you are down to generate some extra income. You can choose any of the mentioned ad networks depending on your requirements.
Also read: eToro Review: Best Discount Broker Out There?
Frequently Asked Questions (FAQs)
What is a Crypto Ad Network?
Crypto ad networks support crypto-related projects. They accept only websites and businesses that are blockchain-oriented.
Where to put Crypto Ads?
There are plenty of crypto ad networks to put crypto ads. Some of the most reliable ones are CoinZilla, DOT, A-Ads, and Bitmedia.
Can Crypto Ads Run on Instagram?
The crypto company will need a regulatory license to run crypto ads on Instagram. After acquiring the license, they can run crypto ads on Instagram and Facebook.
Is Promoting Cryptocurrency Legal?
You can advertise wallets and exchanges if you are a crypto advertiser and meet the required criteria. However, ads for Defi trading protocols, initial coin offerings, or promoting the trade, sale, or purchase of cryptocurrencies are not allowed.
Is CoinZilla Legit?
Coinzilla is a reputable tool for crypto-related projects. It is a budget-friendly platform that helps businesses with a small marketing budget.
Why Use a Crypto Ad Network?
With the right crypto ad network, you can run efficient ad campaigns using banner ads and native ads through this type of network. It will also help you draw high-quality traffic toward your crypto projects and generate revenue.
How is Cryptocurrency Helping the Market?
Cryptocurrency allows people to trade freely across borders. It creates a level of economic equality.
---
Protect Your Online Privacy With Surfshark
[The VPN that we use here at Tech Arrival]
---
What is the Best Cryptocurrency Ad Network?
CoinZilla is one of the best crypto ad networks. It offers both CPM and CPC ad formats.
How to Advertise Crypto Products?
You can advertise your crypto products through crypto ad networks, social media, podcasts, interviews, etc.
What is NFT in Cryptocurrency?
NFT is short for non-fungible tokens. It is a cryptographic asset on a blockchain. It has metadata and a unique identification code that distinguishes them. They cannot be exchanged or traded at equivalency.
Are Mellow Ads Safe?
Mellow Ads is a safe ad network. It will help you to reach out to consumers by using bitcoin.