Like most other social media platforms, Facebook allows you to create temporary posts called Stories. As you already know, stories last only 24 hours, and after that, it's gone forever. Since Facebook stories are temporary, you might want to capture them by taking screenshots.
Now the question is whether Facebook notifies you when someone takes a screenshot of your stories or posts. Some social media apps like Snapchat send screenshot alerts to the user as a privacy measure. Let's find out if Facebook has this option.
Also read: Top 11 Best Video Sharing Sites You Should Use
Does Facebook Tell You When Someone Screenshots Your Story or Posts?
The answer is no! Facebook doesn't have a screenshot policy yet. Anyone with an account can take screenshots of stories or posts without the permission or consent of the maker.
Users can take screenshots from both mobile devices and PCs. Unlike Snapchat, Facebook has not introduced the screenshot alert feature as a privacy measure.
The lack of screenshot alerts is a big privacy concern for users. A massive community of users can visit and see each other's profiles. They can even take screenshots of their stories and posts without permission. This gives rise to many different issues, as the person taking the screenshot can misuse your pictures. The fact that Facebook doesn't have a screenshot notification feature means you will never know the culprit.
Users want Facebook to add a similar feature to Snapchat to let them know the list of people taking screenshots of their posts and stories. It's already 2022, and Facebook hasn't solved this problem yet.
As for Facebook Messenger, it does notify you when someone takes a screenshot of your disappearing text. The "vanishing" feature on messenger removes messages after a set time. However, users can still take screenshots of the message before it is gone. The new alert feature informs you if the person you are talking to has taken a screenshot of your text. This feature is available on both iOS and Android devices.
We expect Facebook to soon incorporate a screenshot alert feature for privacy and safety reasons.
How to Screenshot Facebook Stories or Posts?
Taking screenshots of Facebook stories or posts is simple. You just need to follow the same steps while screenshotting other things on your phone.
---
Protect Your Online Privacy With Surfshark
[The VPN that we use here at Tech Arrival]
---
Press the volume down and power buttons together on Android to capture a screenshot. Some new Android models allow you to take screenshots by moving three fingers vertically across the screen.
Press the power and volume up keys together to capture a screenshot on an iPhone or iOS device.
If you are using a Windows PC, just press the "print screen" key on the keyboard, and you are done. As for Mac users, they need to press all three "command+shift+3" buttons together.
The Solution
If you don't want people outside your friend list or community to take a screenshot of your posts and stories, you should change the privacy settings of your Facebook account. Doing so allows you to make your posts and stories visible only to selected users. This will stop other people from seeing or screenshotting your posts.
Facebook has also added a "profile lock" option. This is an added layer of security to protect your profile from strangers.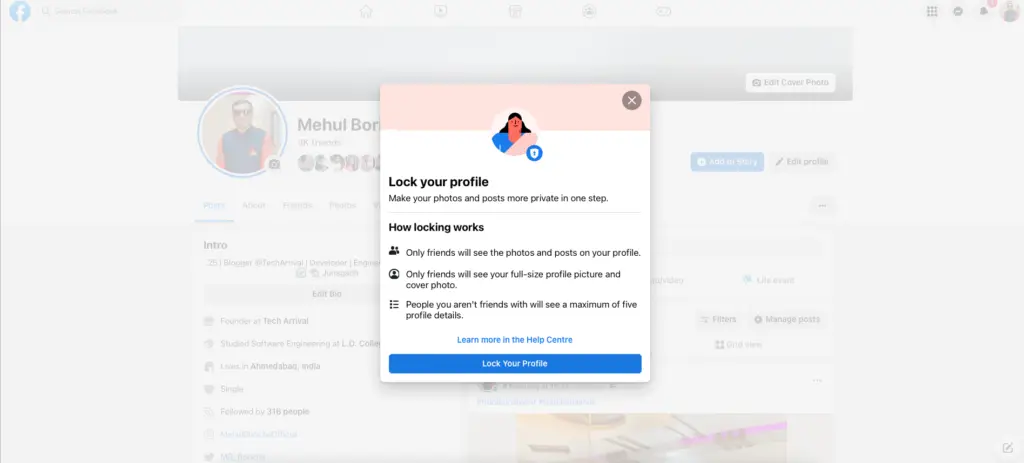 With the increasing number of privacy issues on Facebook, the need for the screenshot alert is evident. It will inform you if it detects someone capturing screenshots of your posts or stories. Many other social media apps have this feature. Now it's time for Facebook to act on it.
Also read: 11 Best Facebook Alternatives to Protect Your Privacy
Frequently Asked Questions (FAQs)
Does Facebook Inform If Someone Screenshots a Photo?
Unfortunately, Facebook doesn't have this feature yet. It allows you to take screenshots, but it doesn't notify you about it.
Can Someone Screenshot your Facebook Profile Picture?
Users can take a screenshot of each other's Facebook profile pictures without permission. There's nothing you can do to stop it. Worst of all, it doesn't even notify you.
Can You Take Screenshots on Facebook using your Phone?
You can capture screenshots on Facebook from both Android and iOS devices.