Even though Facebook is likely one of the most popular social media platforms, it has raised concerns in the users' minds for constant security breaches and issues with the seamless flow of data on the platform.
Many users have now been looking for some good and highly functional alternatives for Facebook. In case you are looking for ways to diversify your social media outreach, there are a few good options that you can look into.
Let's take a look at some of the best Facebook alternatives you can download to protect your privacy.
Also read: 11 Best WhatsApp Alternatives You Can Use
List of Top Facebook Alternatives
1. MeWe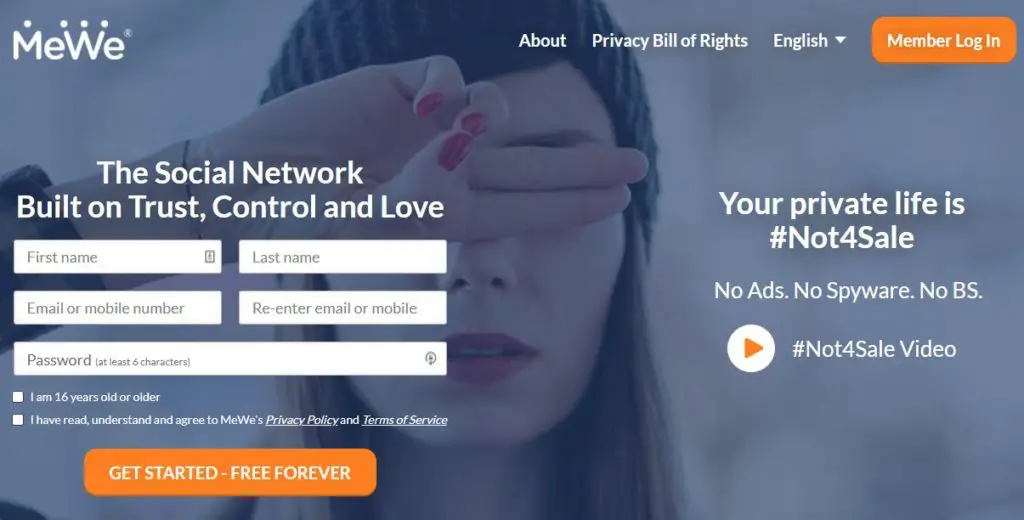 With over 8 million users on this platform, it has 2.8 million active users that make it easier for you to scroll through the website to find the best people to connect with. If you are likely comparing platforms based on just numbers, MeWe is likely one of the best alternatives. With so many active users on the platform, it has a self-sustainable operation model, preventing the risks of data leaking or invasion of privacy of the users. It has several similar features to Facebook, including groups, private chats, tagging, and even cloud storage if that interests you.
2. Mastodon
Not many people know of this platform; Mastodon is likely one of the best alternatives to Facebook but quite an underrated platform. It is one of the best open-source federated websites that prioritizes the privacy and security of its users. Even though it is marketed as an alternative to Facebook, it has a more similar layout to Twitter, especially with the word limit you can share with your network. Some of the platform instances are public, while some are private, so you can swerve through the needs accordingly.
3. Vero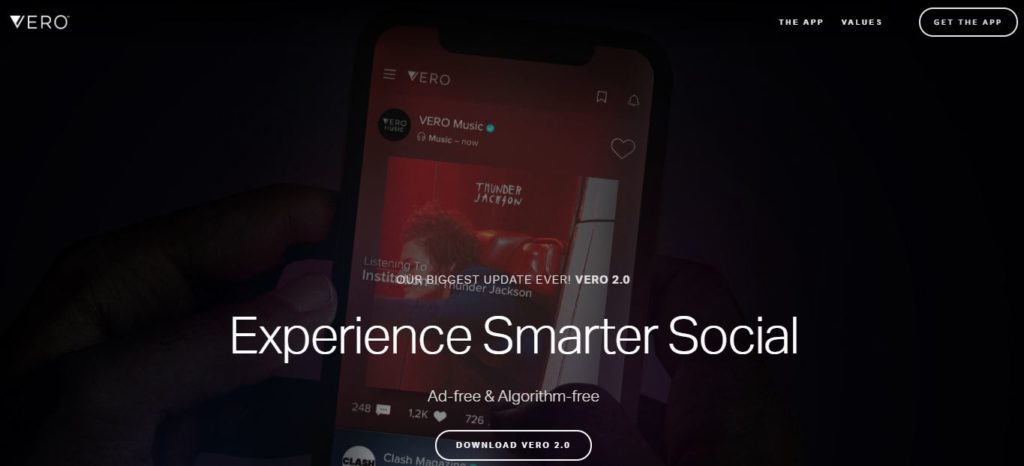 If you want to prioritize your user experience and privacy above anything else, even when it comes to paying a subscription fee, Vero is likely the best option available. It doesn't have any ads on the platform, making it a better option for you to keep an eye out for. You do need to pay a specific amount per month. It doesn't access any of your data or information if you disapprove of it, which gives all the controls in the users' hands. Unlike Facebook, this app uses your data to make you more mindful of how much time you spend on the platform. 
4. Diaspora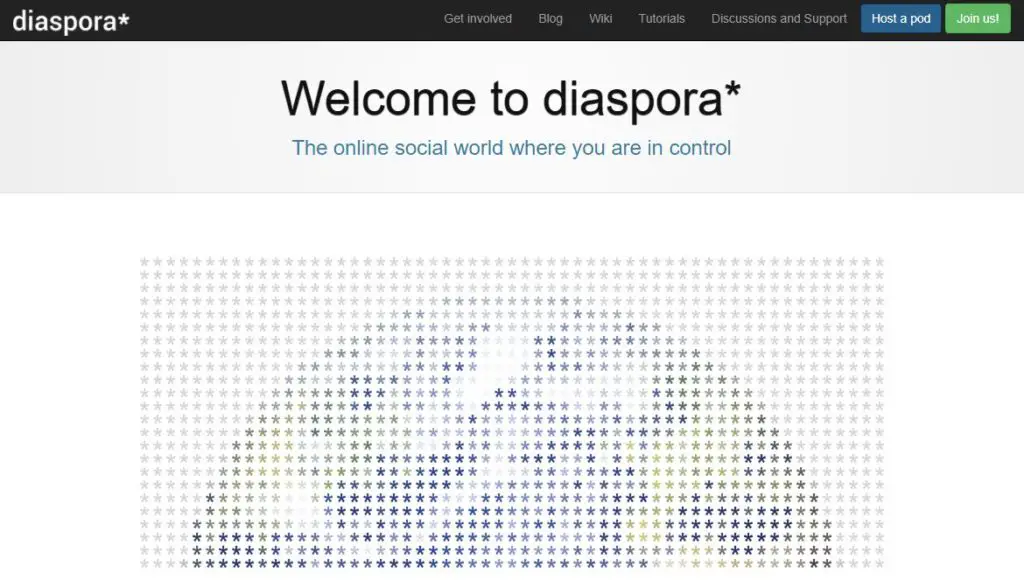 As the name suggests, Diaspora is another popular platform that works on three principles of decentralization, privacy, and freedom. It ensures that the data accounted for by the platform isn't accessed by any third-party servers, thus keeping all your information safe and secure from prying eyes. Another unique thing about this platform is that it doesn't require the users to use their own identity, so you don't have to worry about interacting with unwanted users. It also keeps all the data protected without any hassle.
5. Nextdoor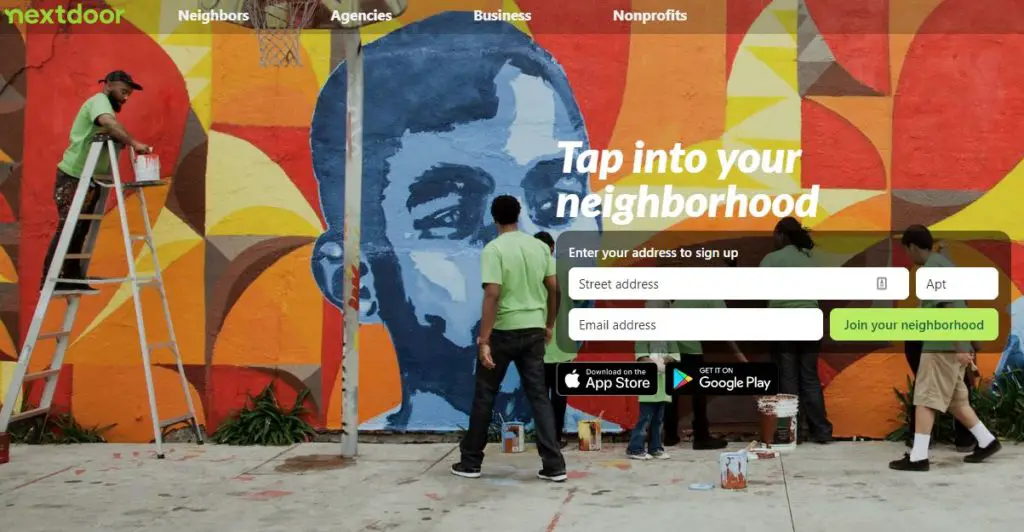 This has a unique user interface and objective. Just like the name suggests, this platform works in helping you keep tabs on the local community. It is available on Android and iOS platforms, helping you mingle with your neighbors or even put up an ad for things you want to sell. More than a social media platform, it serves as a utility platform that helps you find answers to all the queries in your neighborhood. Want a babysitter for the night? You will have recommendations right into your inbox. That's how simple everything is. The best thing about this platform is that the developers verify the user's location, ensuring that outsiders don't get into the circles' string.
6. Minds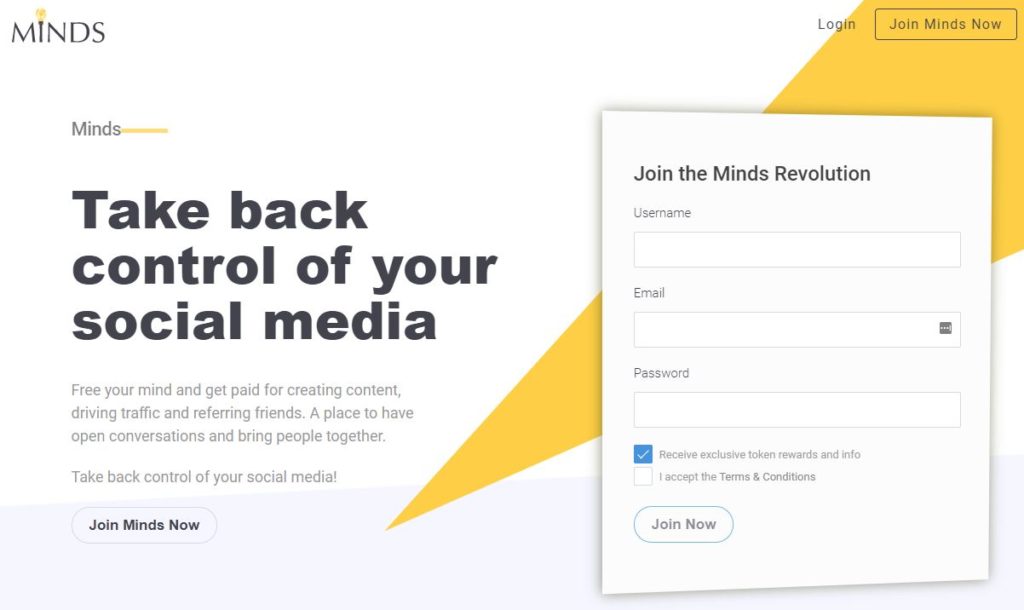 Another popular alternative to Facebook that you wouldn't regret downloading is Minds. It is available for Android and iOS platform and is an open-source and privacy-oriented platform. It attracts over 1.25 million active users every month to keep up with strangers on the internet that you can connect with. It also accepts Ethereum-based tokens that enable the creators to run a digital economy and even ask its users to answer questions about the platform's moderations. It has a node-based system, making the navigation a lot more seamless.
---
Protect Your Online Privacy With Surfshark
[The VPN that we use here at Tech Arrival]
---
7. Raftr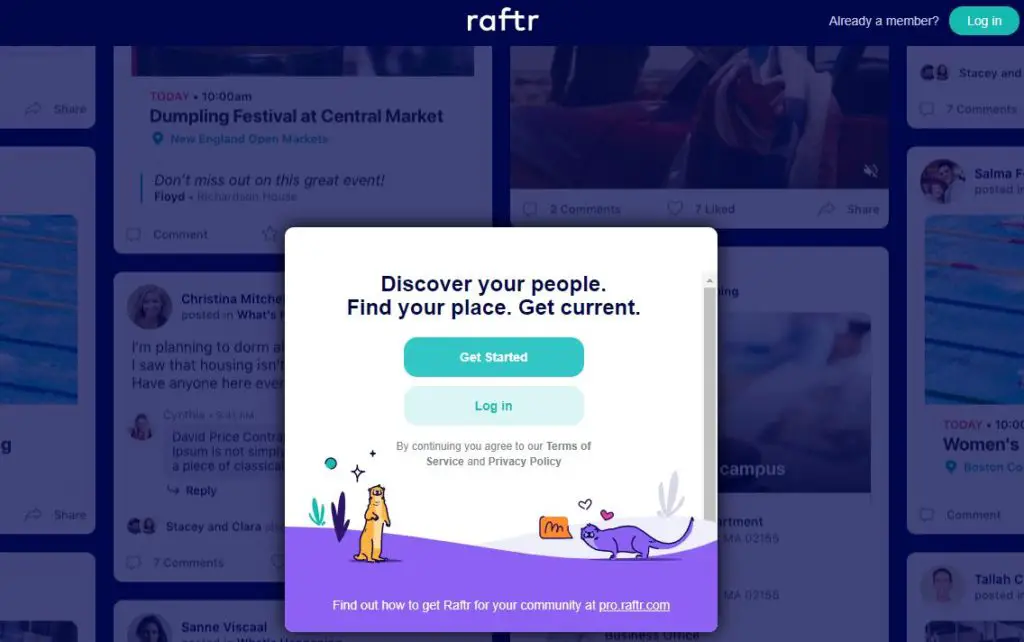 As weird as the platform's name is, Raftr is likely one of the best alternatives for Facebook that you wouldn't regret spending your time on. The platform is marketed in a way to find new people and then connect with them. It is Facebook at an initial stage, which means that you can connect with people from your college or your surroundings that you likely wouldn't meet or talk to otherwise. 
8. Ello
It is not necessarily a complete alternative to Facebook but hosts a closely-knit community of artists and creative people who share similar interests. The platform doesn't host any kinds of ads or interruptions, making it easier for you to share pictures, drawings, and other forms of art that you otherwise wouldn't find the right platform for. The platform is a lot similar to the layout of Instagram, wherein the interaction is based more on the pictures than the texts and statuses. It also allows users to sell their art without any hassle.
9. Sociall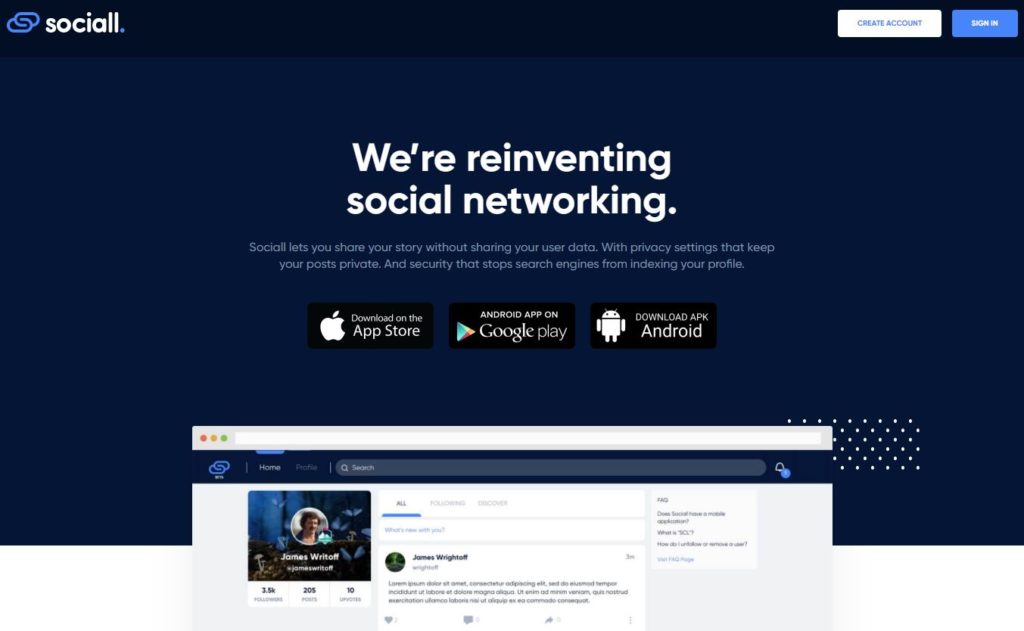 If there's one platform that mimics the platform of Facebook, it is Sociall. It is a blockchain-based social network that currently works as the beta version and will likely evolve to a better version pretty soon. It has a list of similar features to Facebook, including the statuses and posts. One unique feature of this platform is that it hosts a Facebook migration tool that enables the users to migrate their information from Facebook along with the newsfeed, so you don't have to worry about setting everything up from scratch.
10. WT.Social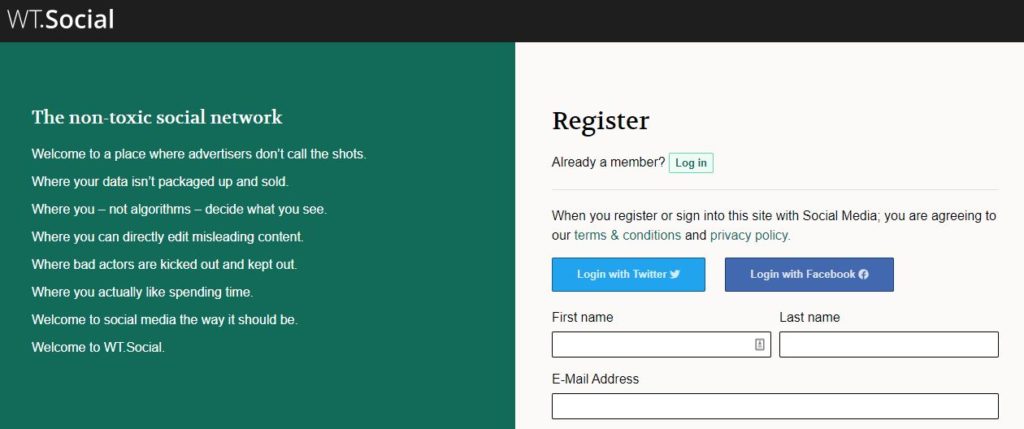 Another underrated alternative to Facebook that not many people talk about is WT.Social. You can enroll in this platform to have fun, meet new people, and share your thoughts. It was founded by the co-author of Wikipedia, Jimmy Wales, so you need not question the platform's authenticity. The developers of the platform ensure that your data is never collected, stored, or shared. The platform lags any specific theme or algorithms, so even the ads aren't curated as per your likings or history. The platform reduces the spread of misinformation, which is often a problem on Facebook.
11. Yubo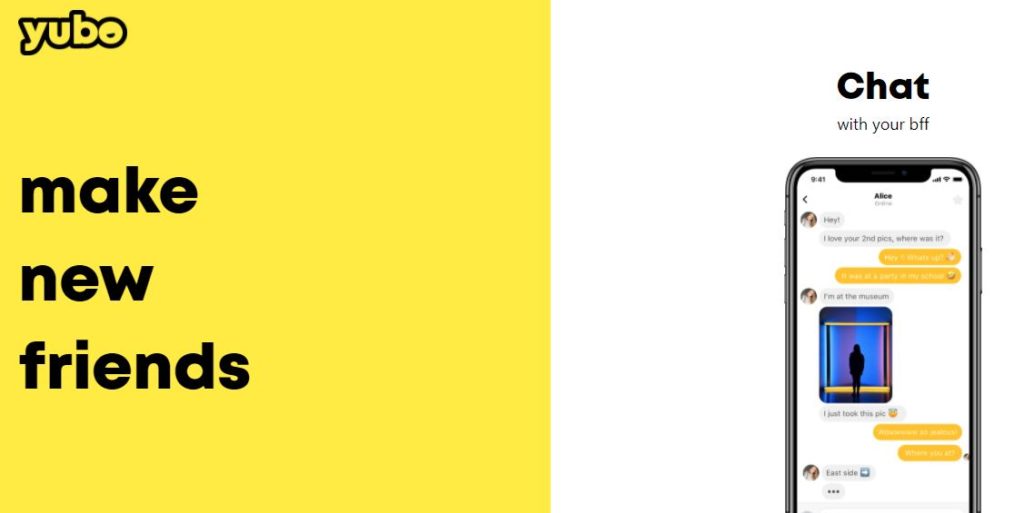 Last but not least, on the list is Yubo. This is another platform that is marketed as a social marketing platform that lets you meet new people and network with them. It is one of those few platforms that don't track your data, thereby not providing you with similar ads every few seconds. More than sharing posts, statuses, and pictures, the platform is targeted towards live streaming. It allows users to conduct live streaming sessions with an unlimited number of viewers. If you are wondering about the target audience, it targets people between the age of 13-25 years old.
With so many new social media networks popping up now and then, it isn't surprising that many people have now been looking for some Facebook alternatives, primarily because of the range of threats that the platform has imposed to the user's privacy and safety recently.
Also read: 11 Best Free Twitter Unfollow Tools
Frequently Asked Questions (FAQs)
Are these Facebook alternatives safe?
Yes, despite any further knowledge, these platforms are entirely safe for use and don't impose any risks of damage to your privacy or data that you share on the platform. If you are skeptical, you can read through the platforms' online reviews to get a better idea of things before you invest your time or money on the same platform.
Are all these Facebook alternatives available globally?
The majority of the alternatives that we have mentioned above are available globally. Only a few platforms by Nextdoor are location specific, but then again, you can access them once they become available worldwide.
Are all these Facebook alternatives free?
Except for Vero (Free for Now), all the remaining platforms are free and don't cost you anything in excess. So, if you are looking for some free platforms, these are likely some of the best options you can look into.
Is Facebook losing its popularity?
Despite its scandals, reports show that Facebook has grown continuously even during the pandemic.
---
Protect Your Online Privacy With Surfshark
[The VPN that we use here at Tech Arrival]
---
Why should you avoid Facebook?
Facebook collects a lot of information about you and use them for advertising. That's all well and good at an extent but recent scandals shows that how dangerous it can be.
What Social Media network is best for privacy?
As the saying goes, "If You're Not Paying For It, You Become The Product", we recommend a social media network that will charge some sort of fee instead of free. If they remain free forever, they will need the money to run it, and where will it come from? Donations seem well and good, but they are not consistent, and a good business cannot rely on it forever. Here in the list, we mentioned Vero, which is currently free but is planning on a subscription model shortly.