With WhatsApp changing their privacy policy, it has created a huge rift among users. People are concerned about their privacy and the security of their data.
According to the new WhatsApp privacy policy, the instant messaging app will be sharing user's data with its parent company Facebook. As expected, users are not happy with the decision. 
Even Tesla's founder, Elon Musk, commented on the same and recommended people to use Signal. He took to his Twitter account to post "Use Signal." Since then, Signal has enjoyed a huge number of downloads.
If you are also looking for the best WhatsApp alternatives, you are in the right place.
Also read: 11 Best Facebook Alternatives to Protect Your Privacy
List of Top WhatsApp Alternatives
1. Signal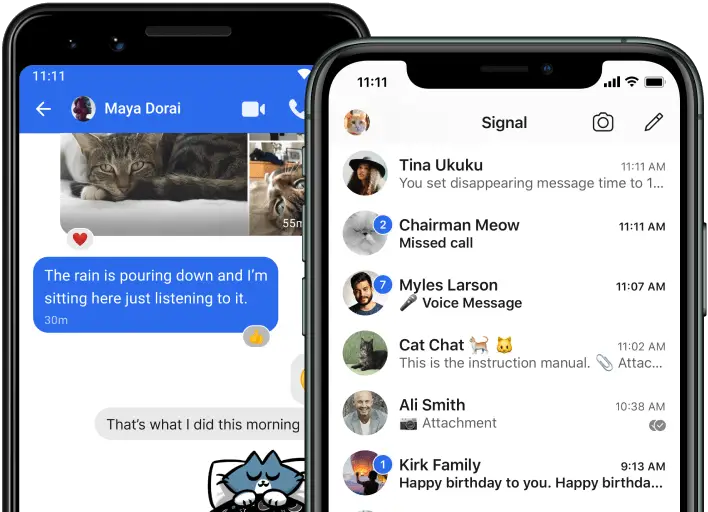 Signal is currently making a lot of headlines after Elon Musk recommended it. In case you didn't know, the founder of WhatsApp developed Signal after they left the company. The app was launched in 2010, a decade later, it is enjoying its new phase of popularity due to the ongoing WhatsApp privacy issue.
Signal is a highly secure chatting app. It ensures a high level of privacy and security to users. The app offers many unique features that make it a great option to use. One of the best features is that you can set a timer for messages to be deleted.
It also has a lot of similarities to WhatsApp. For instance, it allows you to send text messages, share files, create groups, and make voice or video calls. You can use the app on both your smartphone and PC.
Features
High Level of Privacy & Security
Timer for messages
2. Threema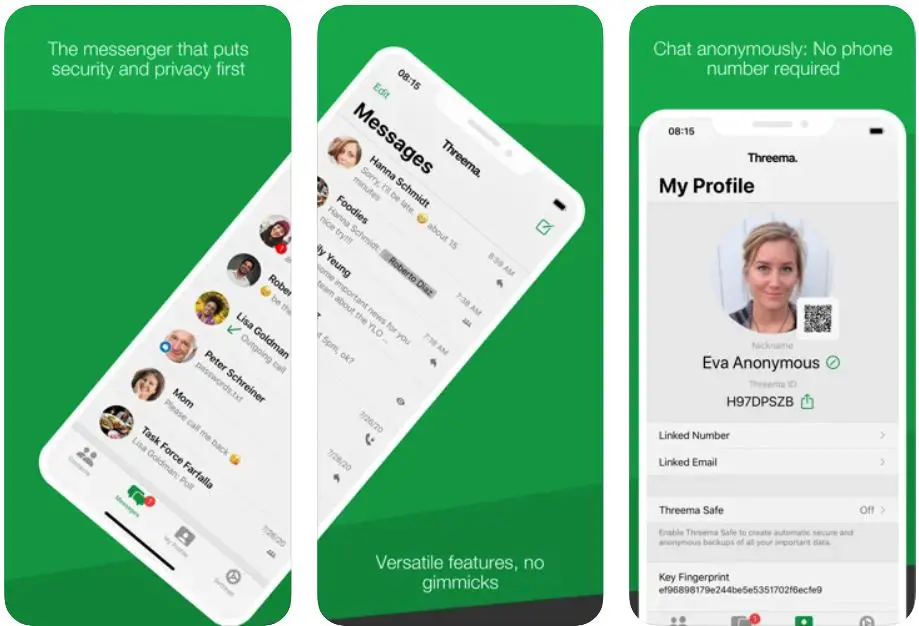 Threema features a similar interface as WhatsApp. This is one of the best chatting apps you will find in the market. From sending messages, images to GPS location, everything is possible with this app.
It is not only compatible with Android and iOS, but you can also use it on your desktop using Web Browser. This makes it one of the top choices for users. With its contact sync ability, it becomes easier for you to find Threema users.
The app is completely secure, and not even the developers can read your messages. If you are looking for a more private messaging app, Threema is the way to go. It keeps all your chat history protected at all times.
Features
Secure messaging
User-friendly interface
3. Element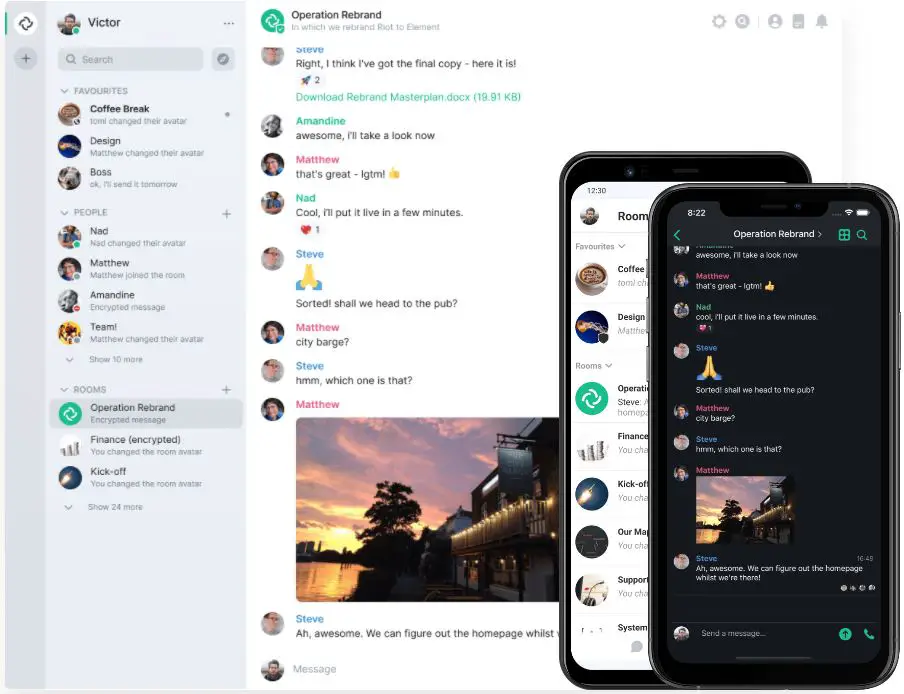 Element is a secure messaging application developed for better communication. The app is packed with features that make it one of the best alternatives to WhatsApp. This is a cross-platform application that supports Web, iOS, Android, Windows, and macOS.
With Element, you can organize rooms around topics you like. It allows both video calls and messages. Along with that, you also have the option to organize conferences.
The application is based on Matrix, which allows you to gain control over your data by hosting it on your server. This is a highly secure app for chatting. If you are no longer sure of WhatsApp, you can consider switching to Element.
Features
Easy file transfer & Fast uploads
Great for remote work
4. Skype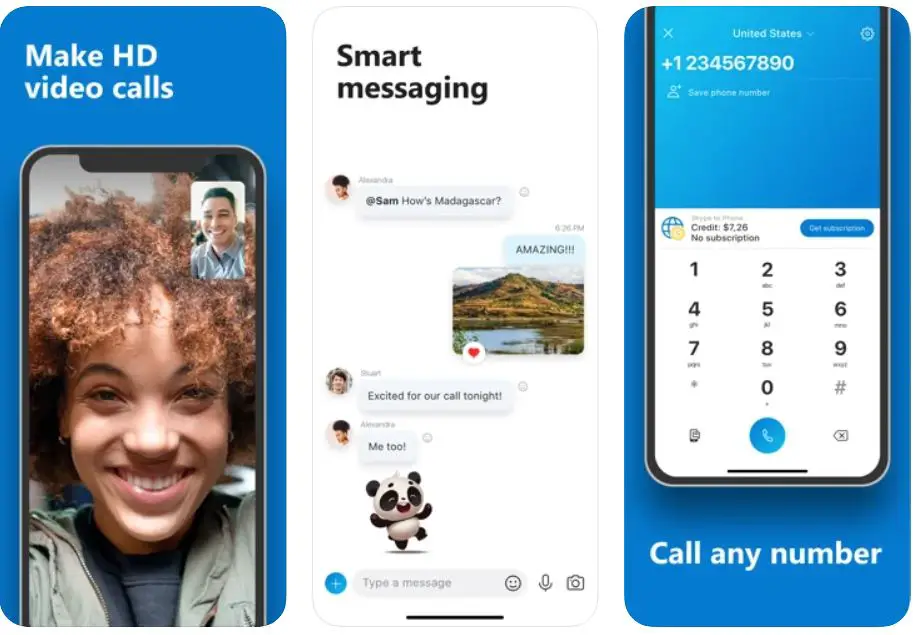 Skype is one of the names that rank on the top when it comes to popular messaging apps. This is possibly one of the best business applications out there. Skype is backed by Microsoft and sports many features that make it a preferred choice for users.
If you love to make a lot of voice and video calls, Skype is best for you. Besides, you can also take advantage of the messaging feature. Skype makes a great option when it comes to making overseas calls. It also offers an efficient group video call functionality.
It allows you to send images, files, and messages to others. The best thing about Skype is that it can be used on both desktop and smartphones.
Features
Excellent voice calls
Easy to use
5. Telegram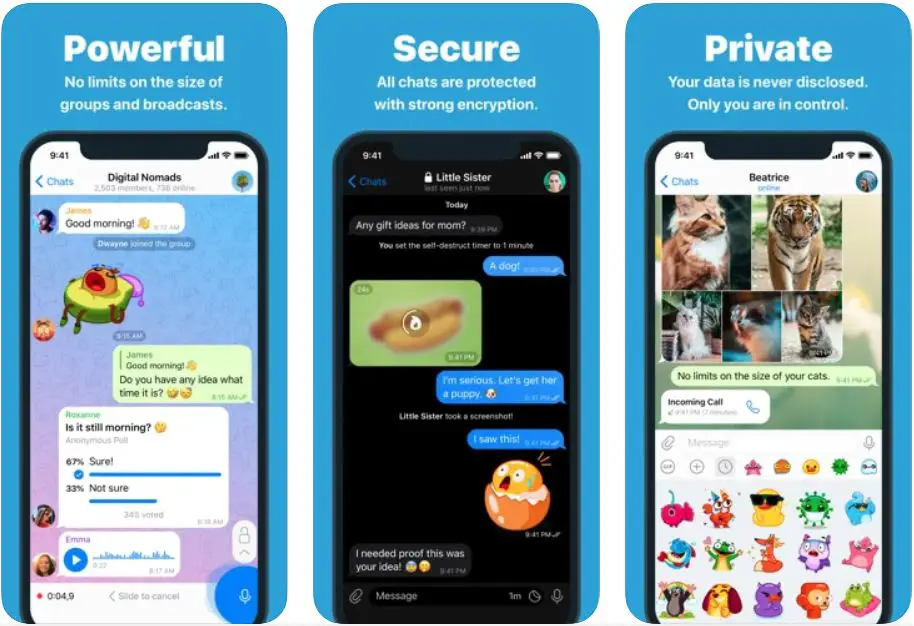 Telegram Messenger is regarded as one of the best alternatives to WhatsApp. The app is quite similar to WhatsApp and also has many of its features. This is an open-source messaging app designed to enhance the user experience.
There are some features in Telegram that are better than WhatsApp. For instance, the former allows sharing files up to 2 GB, self-destructing messages, secret chat, and a lot more. You can even make groups up to 200,000 people, which is not possible on WhatsApp.
Telegram can be used on multiple platforms at once. It also has many game bots that allow you to play games inside the app.
Features
Create groups of up to 200,00 people
Share large files up to 2 GB
Game bots available
6. Wire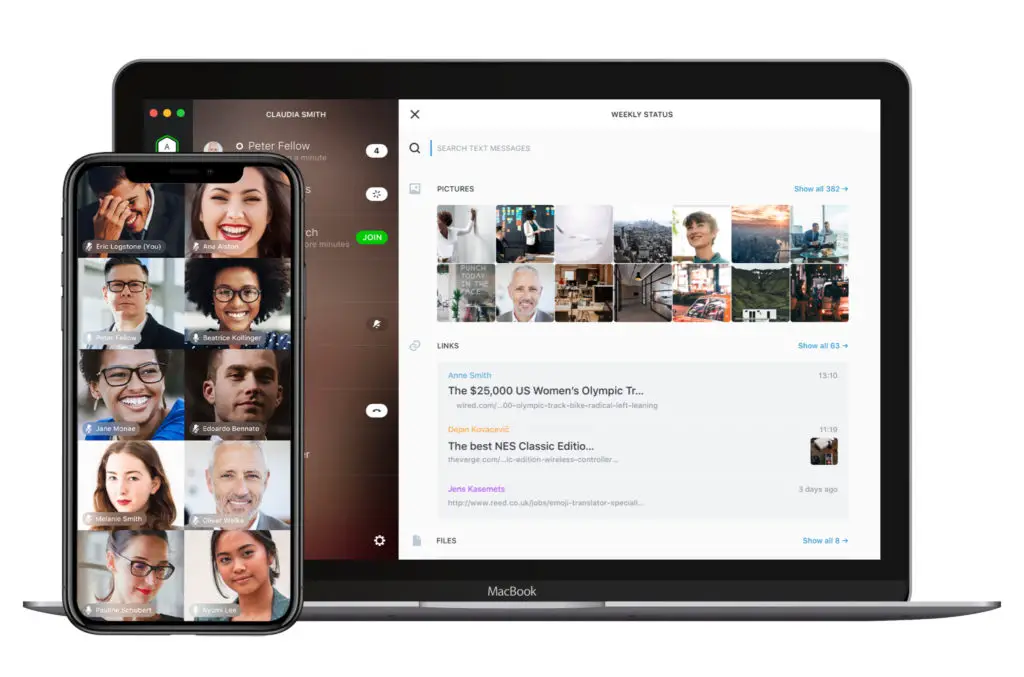 Wire could be the ideal option if you are looking for a secure messaging app with a user-friendly interface. Just to let you know, the app is created with the help of the co-founder of Skype.
To start using the app, you need to provide your email address and mobile number. But there's nothing to worry about as your details remain safe with them. It supports iOS, macOS, Android, and Windows.
The app comes with end-to-end encryption that protects your messages from any third-party access. It is designed to promote better collaboration and communication. Given all the app features, there's no doubt that it is meant for enhanced user experience.
Features
End-to-end encryption
Superior user experience
7. Viber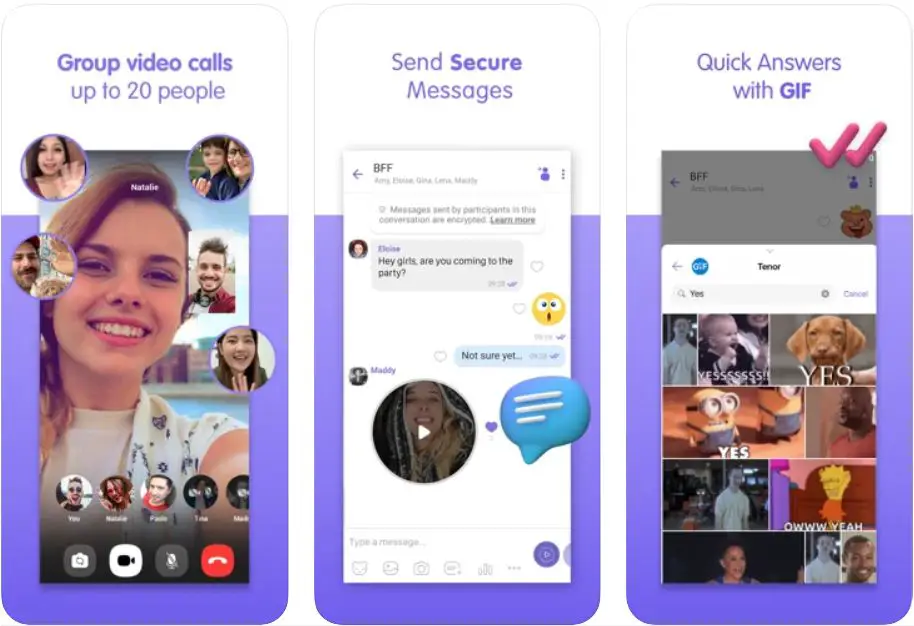 Viber is one of the oldest chatting apps available in the market. This online chat app comes with all the necessary features you want. Just like WhatsApp, it uses your phone's contact list to identify Viber users.
This is a secure messaging app using which you can send images, text messages, and videos. To start using the app, you need to first register with your mobile number.
If you like using many emojis and stickers while chatting, you will surely love Viber. You can also make voice calls from the app. It also allows you to delete messages that you didn't want to send.
Features
Lots of stickers and emojis
Group chat available
8. Kik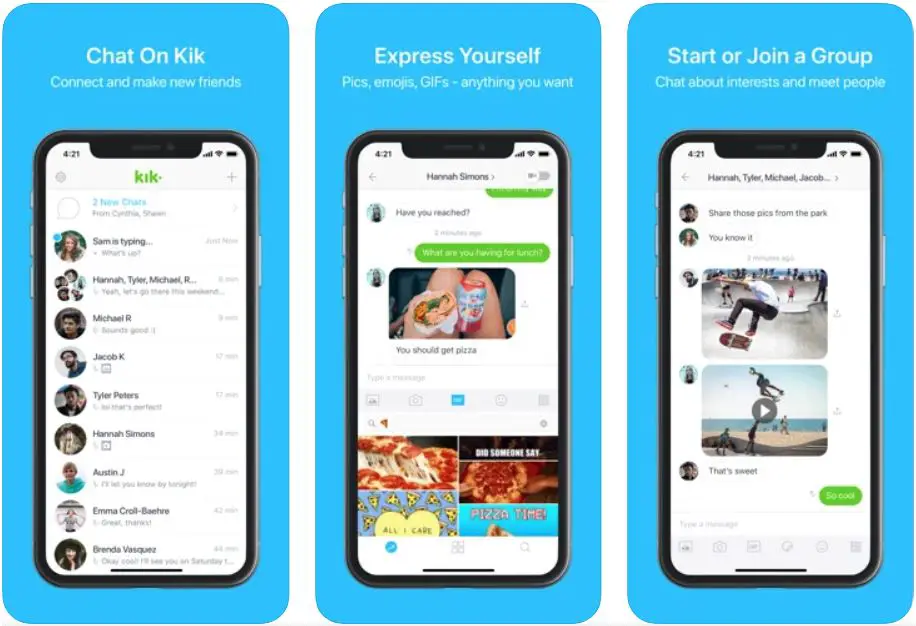 Kik is another great chatting app available in the market. It may not be as popular as other apps on the list, but it has all the features you need.
The best thing about Kik is that it doesn't require your phone number. You use the app only with your username. So if you don't want to share your number with someone, you can just give them your username.
Kik stores all your messages on your phone. This makes it highly secure for users. The app is compatible with Android and iOS.
Features
Safe to use
Doesn't require a phone number
9. Tox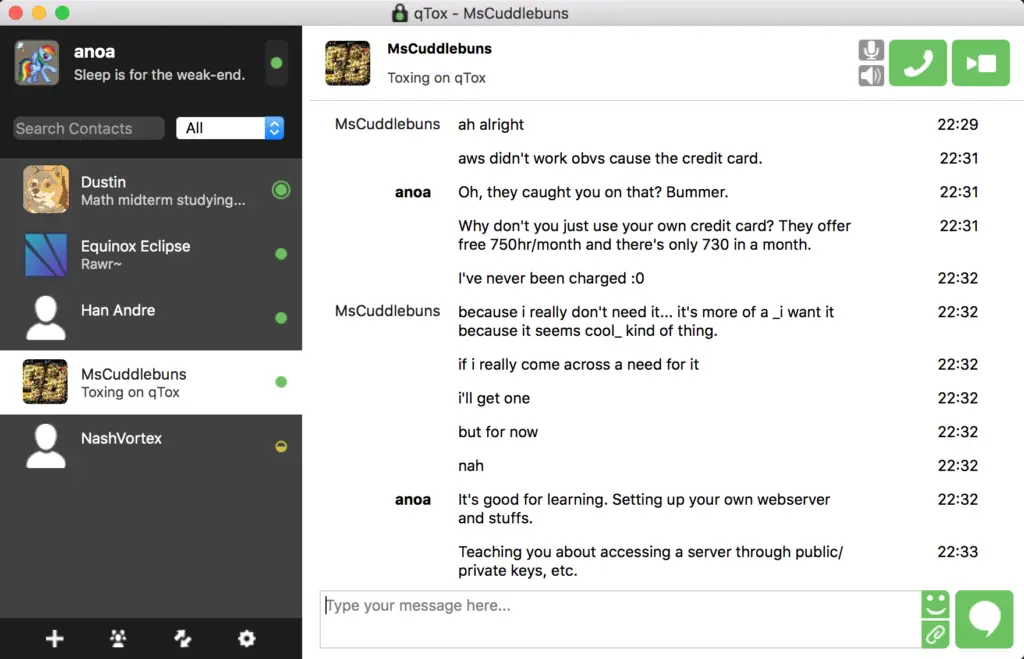 Tox is yet another secure application for chatting. It allows you to connect with your friends, family, and team seamlessly. With the help of this instant messaging app, you can share text messages, images, videos, and much more.
Like most other chatting apps, it has a voice and video calling facility. Not just that, but you can also share your screen. The app is free to use and is available on Google Play.
It comes with end-to-end encryption for high-level security. For secure online communication, Tox is a great option.
Features
Highly secure
Screen sharing available
10. Snapchat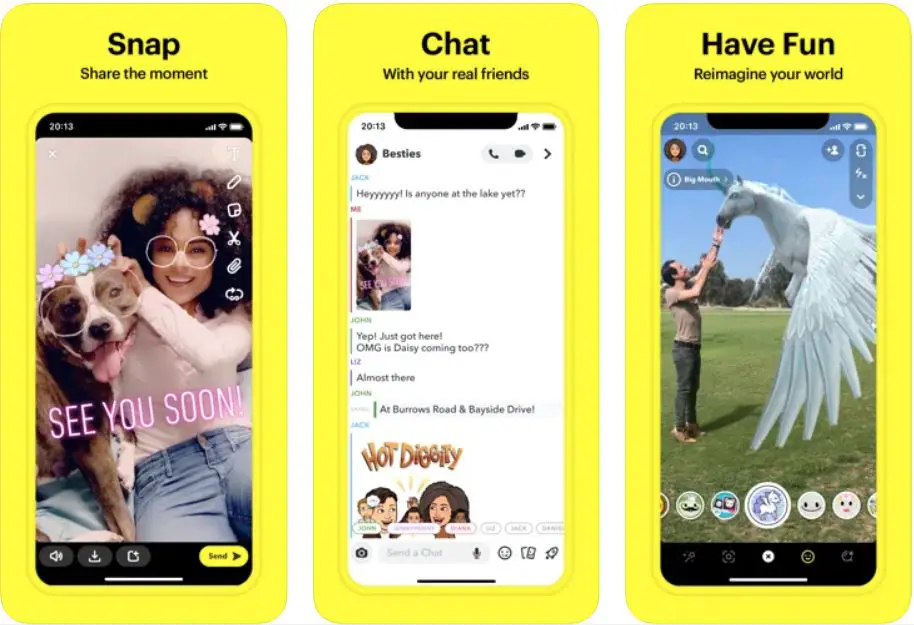 Snapchat is mainly used for sharing snaps, but you can also use it to send text messages.
The app comes with many features that make it a suitable option for users. One of the best things is that the messages you send disappear right after the recipient sees them. However, you can change this from the setting section.
With Snapchat, you can create stories, share stickers & emojis, connect with friends, and much more. 
Feature
Attractive interface
Lots of stickers & filters
11. Discord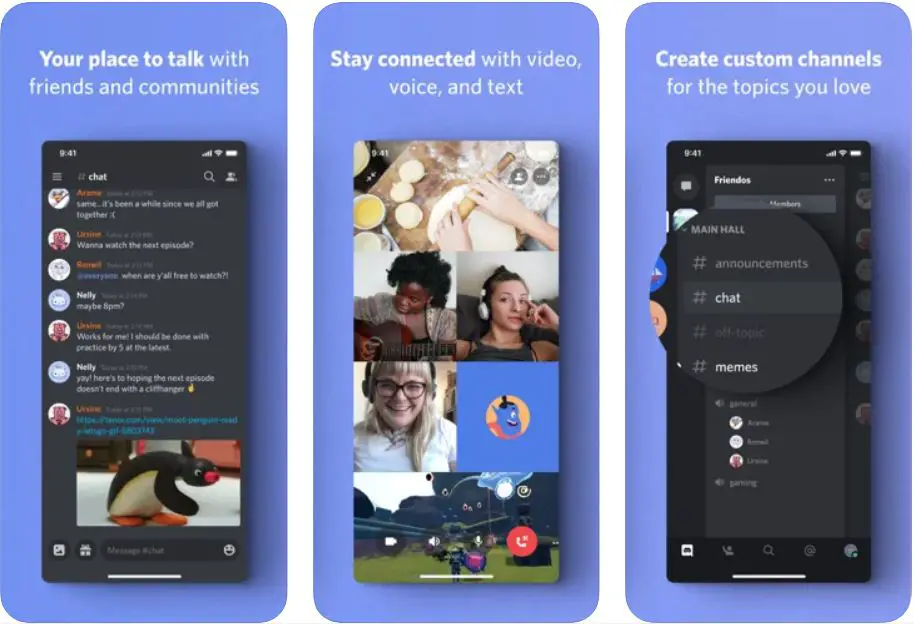 Lastly, we have Discord, which is a voice and text chat for gamers. If you need a secure chat app, Discord is for you. It works seamlessly on both PC and smartphones.
This app is a bit different from the other options. It is designed for the gamer community and is built around gaming.
It allows you to send free texts and voice messages. With the help of this app, you can easily connect with your friends.
Features
Developed for the gamer community
Voice messaging
WhatsApp has currently changed its privacy policy. If you are not sure about using WhatsApp anymore, you can try out these alternatives. All of these chat apps are safe to use and comes with a high level of privacy.
Also read: 10 Best Apple Mail Alternatives for Mac & iPhone
Frequently Asked Questions (FAQs)
How to Add Contacts on Kik?
To add contacts on Kik, you just have to get the username of the person. It is not based on phone numbers.
Can You Make Video Calls Using Signal?
Yes, Signal has both video and voice calling features available. You can use it to send text messages and other media files as well.
How Many People Can You Add To a Group in Telegram?
Telegram allows you to add up to 200,000 people in a single group.
What Can I Use Instead of WhatsApp?
You can check out apps like Signal, Telegram, and Skype instead of using WhatsApp on your smartphone. You can also check out other apps we listed earlier in this article.
Is There a Better App than WhatsApp?
If it's a rich feature set you are looking for, then there is only one option according to us i.e., Telegram.
Which is the Most Private & Secure Messaging App?
According to us, Signal is the best app that you choose if you are very privacy concerned. The reason for selecting Signal is because it is end-to-end encrypted (completely) and messages are only stored on your device.