While searching for games to play this holiday season, we came across G2A – a website where you can get games and other software at dirt cheap prices. Unsurprisingly, a question arose in our minds that made us realize – all that glitters is not gold – why is G2A so cheap, and is G2A legit? Fortunately for our readers, we spent some valuable time digging into that question so that we can finally answer it for you.
Also read: 10 Most Graphically Demanding PC Games
What Exactly is G2A?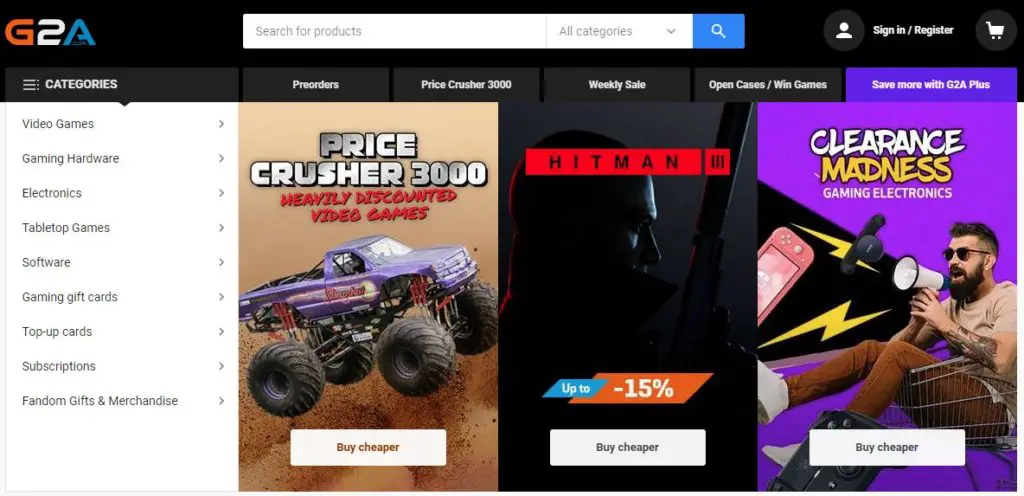 For starters, G2A is a marketplace that boasts of millions of customers, hundreds of thousands of sellers, and more than 75 thousand digital products. Customers can buy games for every major platform such as Steam, Origin, Uplay, PlayStation Network, and Xbox for as low a price as possible. Apart from games, users can also get the software, subscriptions, gift cards, in-game points and currencies, and even e-learning courses on G2A.COM.
The company is also expanding further to sell electronic goods such as PC peripherals at a cheap price to customers worldwide. G2A has got its headquarters in the Netherlands and has also got various offices in other countries such as Poland, Hong Kong, and more. The site currently serves over 20 million customers and 400,000 sellers from more than 200 countries.
To be clear, G2A does not buy or sell products itself. It is just a mere platform that allows buyers and sellers to do so. Besides marketplace, G2A also has other products and services that include G2A Direct, a developer partnership program, and G2A Pay, the company's online checkout service.
G2A is Like eBay, But for Games.
The reason why G2A is so cheap is that it is a marketplace for buyers and sellers – "Many sellers on G2A Marketplace are wholesalers who purchase game keys straight from the developers and publishers in bulk. Since they buy a large number of products at once, they purchase them at much lower prices," says G2A on its website.
Is G2A Legitimate?
Technically, yes. G2A is a totally legitimate platform that serves as a marketplace for buyers and sellers. With that said, it depends entirely on the seller you are buying the products from, whether or not they are legitimate. Unlike Amazon and other leading e-commerce marketplaces, G2A does not really have an advanced product monitoring system.
This makes it tricky for them to verify the legitimacy of the products, say game keys, to check whether they are being bought and sold from reliable sources or not. Users have made stolen, faulty, or unusable purchases on G2A, which has highly impacted the website's reputation.
However, G2A is constantly updating its service to serve its customers better and to reduce fraudulent purchases. Each seller now has to verify their social media account and phone number before placing their listings on the website. The sales would be first limited to 10 persons, after which they would have to provide additional security details.
This has more or less reduced the number of illegitimate purchases, but you as a customer still need to be careful.
---
Protect Your Online Privacy With Surfshark
[The VPN that we use here at Tech Arrival]
---
Where Does the Product Keys Come From?
This is something that is fully transparent and could vary between sellers. There have been various scandals involving G2A, which has put the marketplace's reputation hanging low. There are many ways a seller can obtain product or game keys. The prices of these vary depending upon various factors such as when you buy the game, whether or not you are buying it in bulk, and so on.
G2A offers a money-back guarantee if you still accidentally purchase a fraudulent product key. According to its website, "If a digital item you purchased on G2A.COM is not as described, doesn't work, or has been removed from your account, you will receive a refund."
How Money-Back Guarantee Works on G2A?
To get a refund, you first need to follow these steps:
1. Reporting the problem to the seller:
Sellers have a time period of 7 days to solve your problem. Since sellers are rated by customers, and the rating directly impacts further business, they are obliged to help you. You can do that by clicking on the "Contact Seller" button shown on the product key page. If the seller refuses to help, you can follow the next step.
2. Filing a claim:
Once 7 days have passed, you will see a link to claim in your conversation with the seller if the seller has not solved your problem yet. You can file a claim within a year of making a purchase.
3. Getting the refund:
After submitting the claim and providing all the necessary information, it will be reviewed, and the case will be updated via email. Once done, the refund will either go to the source of the payment or your G2A balance.
All the cases that are reported via Money Back Guarantee are later followed up and monitored. Sellers that repeatedly provide a bad customer experience will lose their rights to sell permanently.
G2A Controversies: What Happened?
G2A has spun itself into a web of controversies in the past. From claims of stolen game keys to even stolen credit cards, G2A has faced a lot of backlashes. Some indie developers have accused the website of having used Google Ads to promote games via the platform. They added that they generate no revenue using G2A, and it's better to download the games illegally instead. G2A countered back these games by proving all of its keys were legitimate.
The company also asked game developers to audit their keys and guaranteed them to pay 10 times the value of any chargebacks resulting from problematic keys sold on the platform. Most of them retracted, but two of them raised the issue. These were Unknown Worlds Entertainment that asserted a total of $30,000 of chargebacks related to Natural Selection 2 and Wube Software for $6,600 of chargebacks of Factoria keys.
But perhaps the biggest controversy was the allegation from tinyBuild. Their CEO, Alex Nichiporchik, accused G2A of allowing key resellers to resell fraudulent game keys that cost the company $450,000. G2A then responded to the allegation by stating that it offered chargebacks to remove them from the platform. The figure is questionable since the company's other games have been discounted or given away for free on multiple instances.
Such controversies have led G2A to face many repercussions throughout its inception and have lowered the platform's trust in the general perspective of its audience.
---
Protect Your Online Privacy With Surfshark
[The VPN that we use here at Tech Arrival]
---
Will your Steam account get banned if you accidentally redeem stolen keys?
This is something a lot of people enquire about before making a purchase on G2A. We recommend you first check the legitimacy of the seller you are making the purchase from and check reviews and ratings. If you still stumble upon a stolen key, the worst that can happen is the game will be removed from your library.
Do keys bought from G2A Expire?
Software and games keys are generally valid for a lifetime. However, as we have said before, games could get removed from your library if the keys are stolen. This seldom happens, though, and after verifying the legitimacy of the seller you are buying from, you should be good to go.
Final Words
How you finally make out of G2A totally depends upon you. We have seen more sketchy marketplaces than G2A, and in comparison, G2A has got some legit policies to reduce fraudulent deals. We still think that the site has more progress to make overall but keeping in mind how much it has grown in recent years, we think thatG2A has a bright future ahead.
You are still getting great deals and discounts on software, games, and more, which remains the website's selling point. With a little research and caution, you can find yourself some excellent deals on G2A.
Also read: 9 Most Popular Games to Play
We hope you are now well informed about G2A. If you have any further follow-ups regarding any of the points mentioned here, comment down below, and we will surely get back.