Mining cryptocurrencies don't have to be expensive if you have the right crypto mining app on your phone. There's a reason why these apps are getting so popular these days.
The thing about crypto mining apps is that they are compatible with phones or tablets. Anyone with a smartphone who is interested in cryptocurrencies can start mining them. So here are the best crypto mining apps for Android.
Also read: How to Invest in Cryptocurrencies, Benefits and More!
List of Best Crypto Mining Apps for Android
1. CryptoTab Browser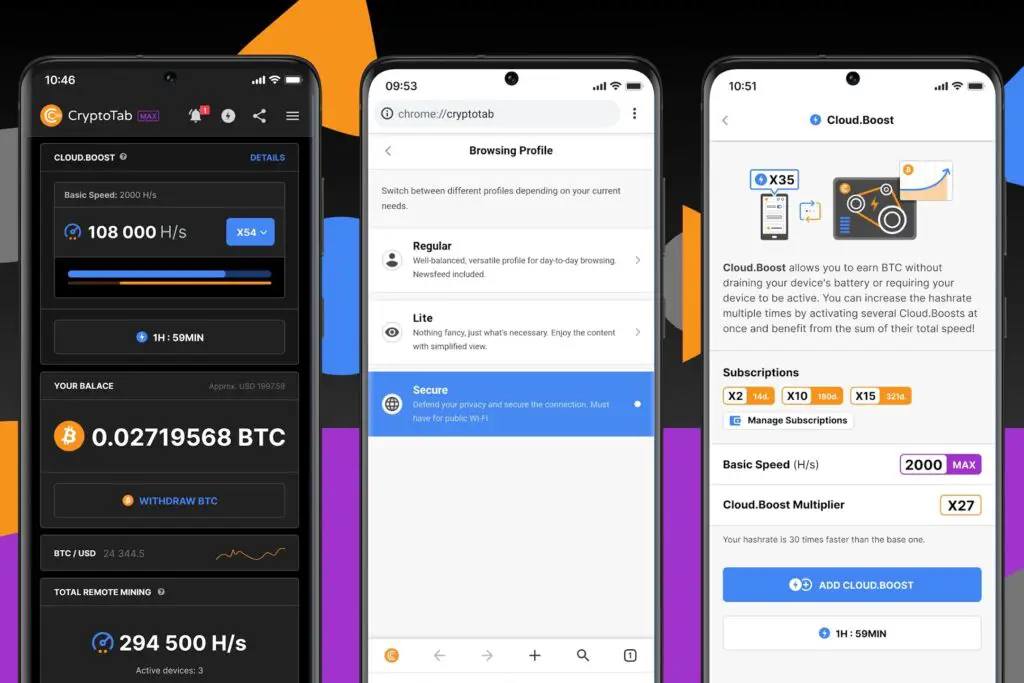 CryptoTab browser has built-in mining features. It has been around for quite some time and is used by over 25 million people worldwide. The crypto mining program is based on the Chrome platform and allows you to mine Bitcoin as a bonus feature.
The mining algorithm of the browser allows you to earn Bitcoins on both computer and mobile devices. With this browser, you can make quick payments without any extra charges. You can withdraw cash as soon as it is collected.
2. ECOS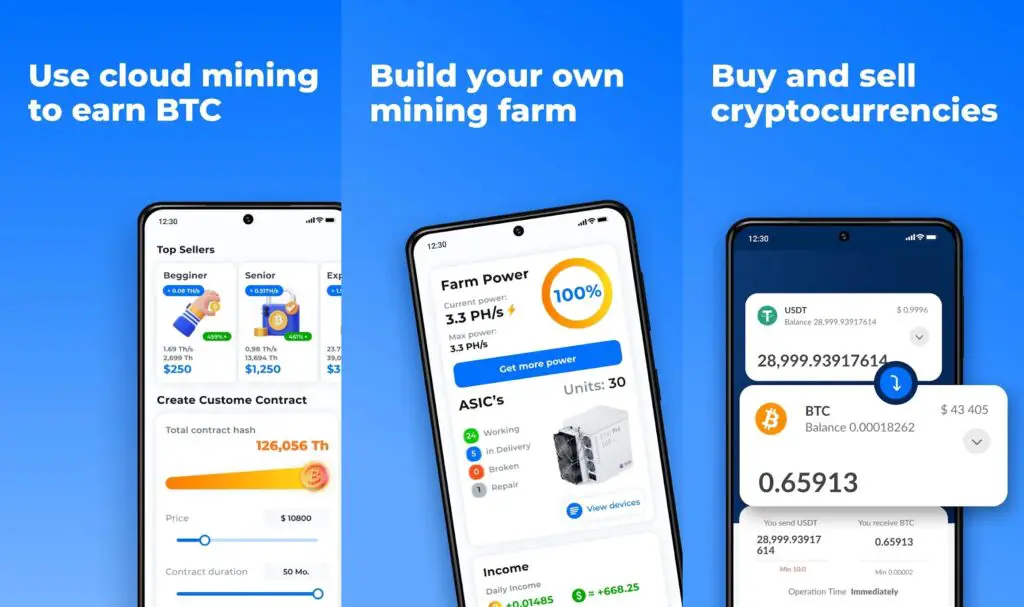 ECOS is a full-fledged cryptocurrency investment app with all the essential features an investor would want. This includes crypto exchange, wallet, crypto portfolios, and mining contracts. However, cloud mining contracts are meant only for BTC mining.
One of the good things about ECOS is that they support various payment methods, including card payment and cryptos. It has a free cloud mining contract for new users for one month. During this time, you can test the platform to determine whether you want to continue with it.
3. Braiins Pool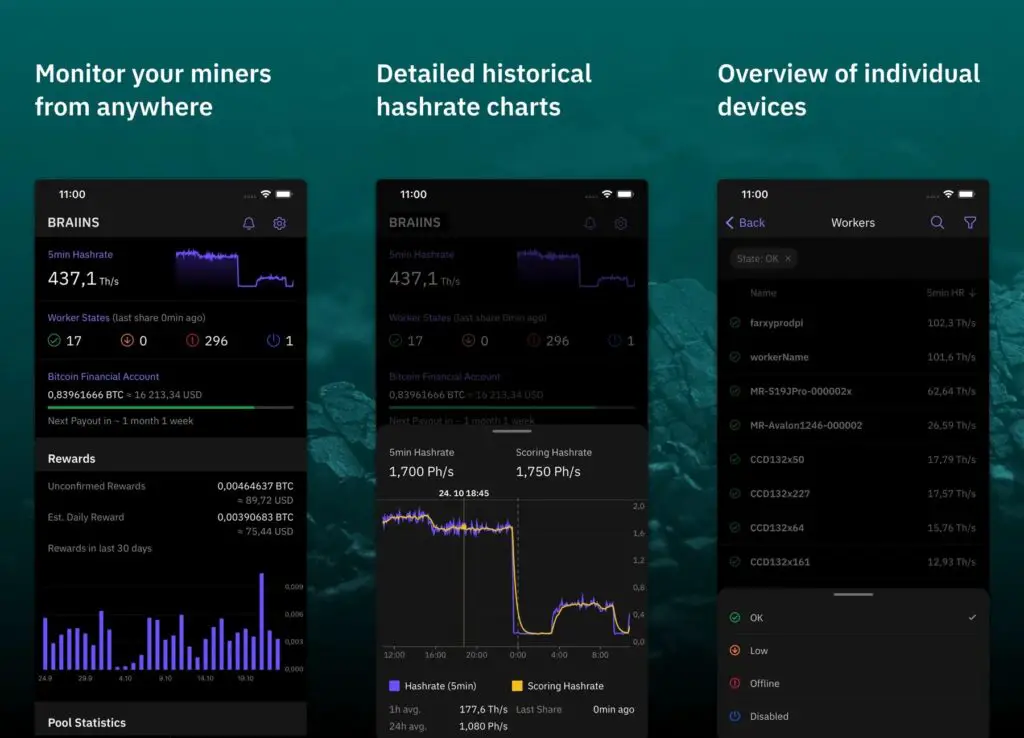 If you are looking for an app that supports pool mining, go for Braiins Pool. It is one of the best crypto mining platforms on the internet. However, this app is not free. It charges a 2% fee for pool mining on the platform.
The Braiins Pool is used as a monitoring tool. To mine crypto coins, you will need to use their mining platform, which is incompatible with mobile devices. This app is best suited for serious miners as it requires a powerful computer with a solid processing capacity. It has Bitcoin mining servers across countries such as Japan, Canada, Europe, the USA, and Singapore.
4. StormGain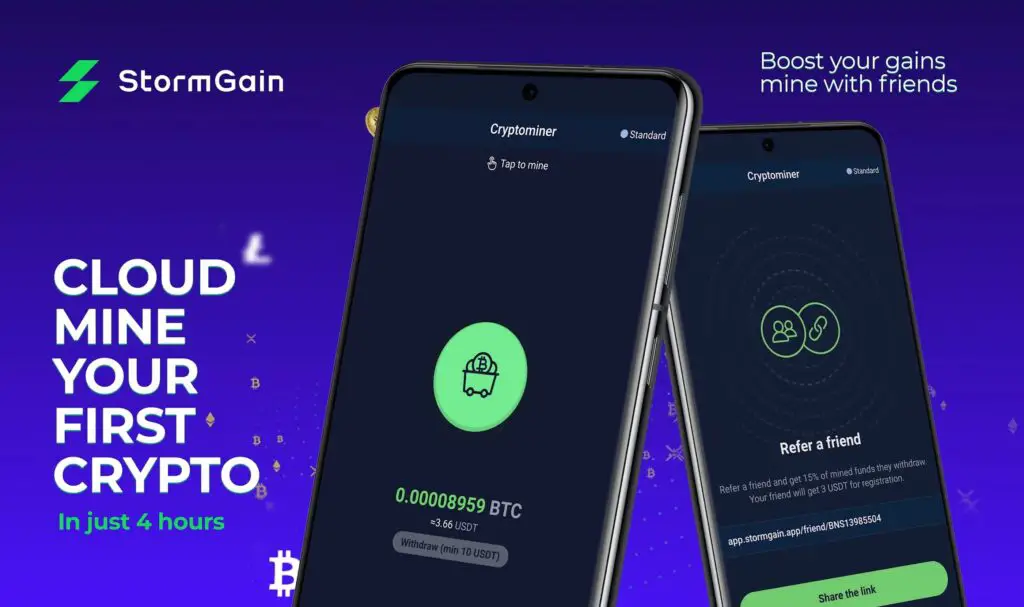 StormGain is an all-rounder app that allows you to buy, sell, store, exchange, store, earn, and study cryptocurrencies. It brings all the mentioned functions in one place. It is an excellent app for those serious about mining crypto and wishing to benefit themselves from the changing market conditions.
---
Protect Your Online Privacy With Surfshark
[The VPN that we use here at Tech Arrival]
---
It is one of the most innovative apps in the market. It is compatible with almost all Android smartphones. Download the app today, and start investing in cryptocurrencies.
5. Binance
Binance is one of the most popular crypto apps in the market. It is a one-stop solution for all your crypto needs. Most users prefer this app because it offers multi-platform accessibility.
Besides Android, you can also use it on iOS devices. With Binance, you can easily trade, buy, or sell cryptocurrencies.
6. Bitdeer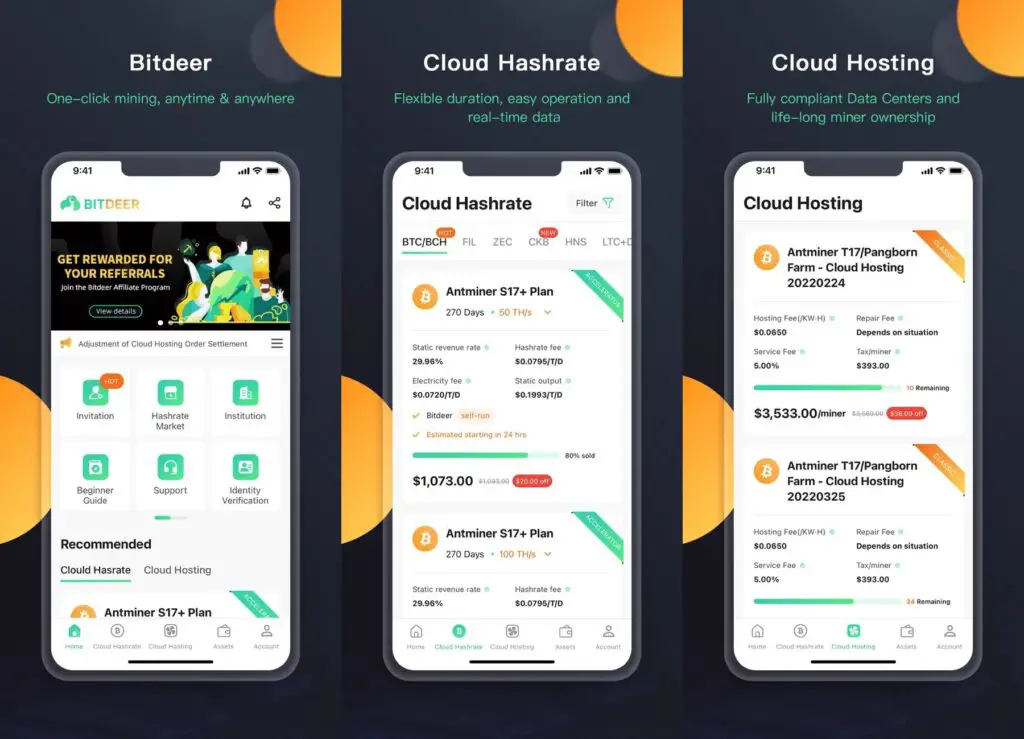 Bitdeer is a leading crypto mining app, which was introduced by Bitdeer Group by Jihan Wu. While the headquarters is based in Singapore, it has a presence in other countries like Norward, the United States, and others. It has a vast network of mining farms and supports up to 10+ cryptocurrencies.
It has a one-stop management system for maximum income and efficiency. Users are provided 24/7 assistance to solve their problems within no time. Miners provide direct rewards to your wallet. With Bitdeer, you can make the most of your mining operations.
7. Hashshiny
Lastly, we have Hashshiny crypto mining software, an excellent choice for generating Bitcoins. It enables you to find mining pools with ease. It comes with several advantages.
It provides a real-time mining hash rate within the app. However, this is not a free app. It is slightly more expensive than other paid apps but offers the best mining features. With this app, you can control the mining process with ease.
Cryptocurrency mining becomes easier with apps like this. To use these apps, all you need is an Android phone. Pick any of the mentioned apps and start mining Bitcoins and other cryptocurrencies. The more you mine, the more interested you become.
Also read: 11 Best Online Investment Platforms & Apps
Frequently Asked Questions (FAQs)
What is a Bitcoin Mining App?
A Bitcoin mining app is a specialized tool that helps you mine cryptocurrency.
What are the Top Cryptocurrencies?
There exist Hundreds of cryptocurrencies in the market. But some of the top ones are Bitcoins, Dogecoin, Litecoin, and Ethereum.
---
Protect Your Online Privacy With Surfshark
[The VPN that we use here at Tech Arrival]
---
Which Cryptocurrency Should You Buy?
If you are just a beginner, it would be better to start your journey with Bitcoin, which is the whale amongst cryptocurrencies.
What are Crypto Wallets used for?
Crypto wallets are digital wallets that are used to store cryptocurrencies. It has a password and other security options to keep your crypto safe.
Can you Mine Crypto Coins on a Mobile Phone?
You can mine cryptocurrencies on your mobile phone using a crypto mining app.
What is a Crypto Mining Pool?
A crypto mining pool is a collaborative group of miners who combine their computational resources to mine cryptocurrencies successfully.
What are Cryptocurrencies used for?
You can use cryptocurrencies for making and receiving payments. Many big companies have introduced cryptocurrencies as a secured form of payment.
How to Mine Cryptocurrencies?
To mine cryptocurrencies, you need mining software and the right equipment. Nowadays, you can mine crypto coins on your mobile phone as well.