In this age of virtual reality, character creators have become increasingly popular. It helps you to create your avatar and share it with others.
Avatars are widely used in role-playing games and profile pictures for social media platforms. With avatar creator websites, you can create your avatar and customize it how you like. The biggest advantage of using character creators is that most of them don't require you to possess any graphic designing or programming skills.
There are hundreds of websites/tools available to create avatars online. Some of them are free, while others are paid. We have handpicked some of the best sites to create avatars online.
Also read: 15 Best Cartoon Streaming Sites
List of Best Avatar Creator Websites
1. Avatarmaker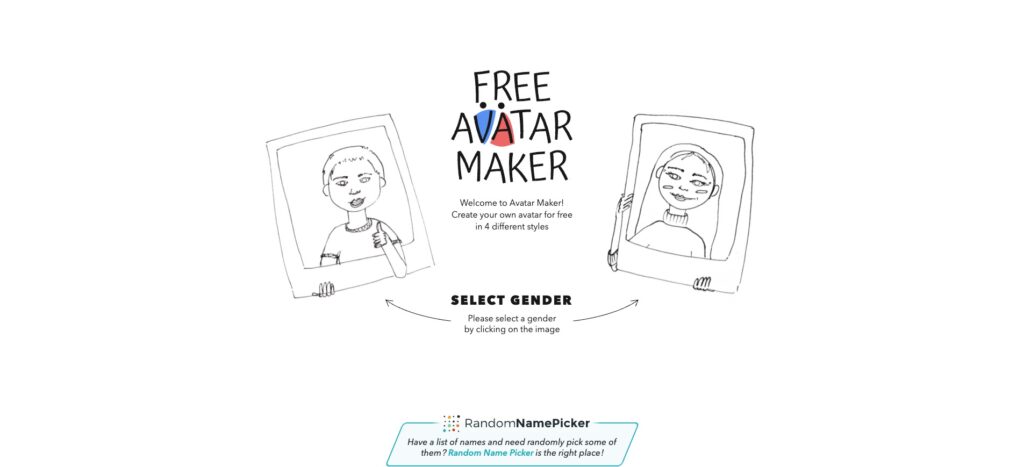 With Avatarmaker, you can create your game character with ease. It provides endless options along with a user-friendly interface. With clothes, hair color, and facial features, you can easily create your character within no time.
The good thing about Avatarmaker is that it doesn't require you to have any special design skills. It is a user-friendly tool suitable for both beginners and experienced users. Additionally, it is free to use. Due to all these reasons, Avatarmaker is more popular than other avatar creator websites. After you create a character, you can download and save it on your device.
2. Avachara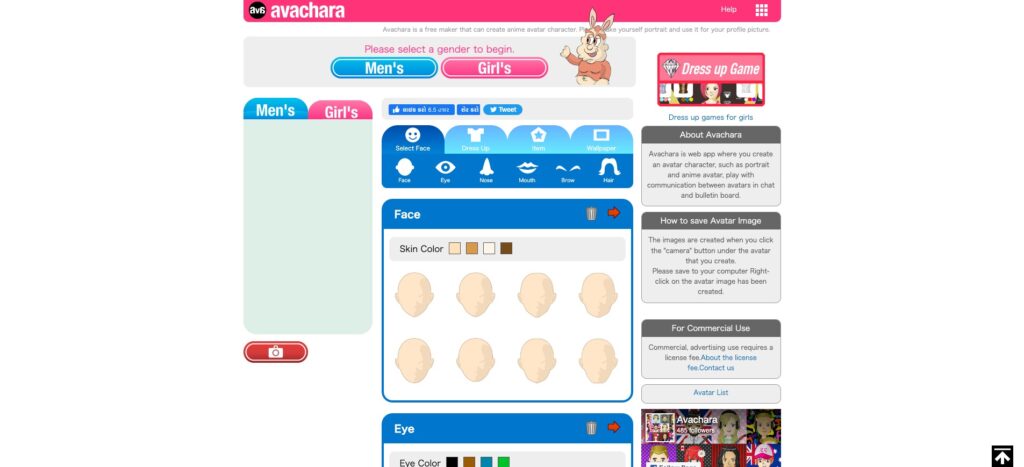 When it comes to creating avatars online, we must mention Avachara. After all, it is one of the best avatar creators out there. It offers an array of impressive features to make your profile pictures more unique and exciting. Some notable features are portrait-maker tools, anime avatar-maker tools, cartoon character makers, manga caricature creators, and more.
With Avachara you can create characters in different styles. Not just that, but you can also customize the avatars you create without needing editing skills. You can use this website to customize avatars for WhatsApp and other social media platforms.
3. Avataaars Generator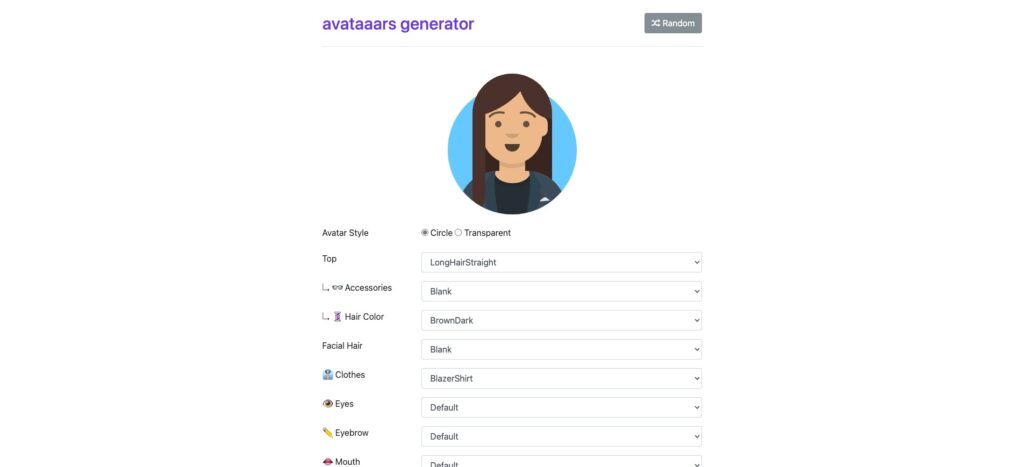 This one is different from Avatarmaker we discussed in the beginning. So please don't get them confused. If you want an online tool to create cartoon images, this could be your best choice. It comes with a simple interface and many features to give you a better experience.
This tool is just perfect for beginners. To create your avatars, drag and drop things, and you are done. It takes only a few minutes to get your avatar ready. Once you are done, you can download your creation in SVG or PNG format.
---
Protect Your Online Privacy With Surfshark
[The VPN that we use here at Tech Arrival]
---
4. Mango Animate Character Maker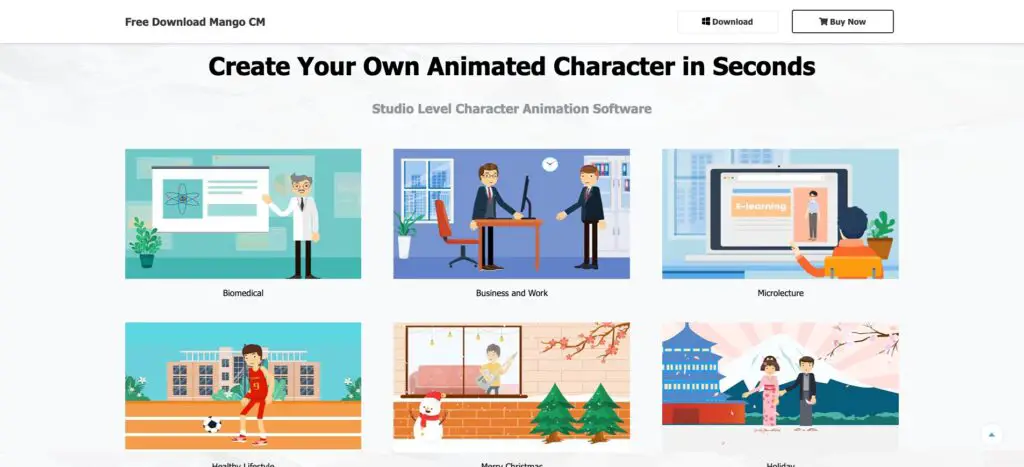 With this fantastic software, you can create animated characters in just minutes. Unlike other tools, it is easy to use and has plenty of customizing options. This tool is most suitable for beginners or first-timers, as it doesn't require you to have programming knowledge or editing skills. Just import your PSD or PNG file into the tool and start editing and applying animations.
You can import your file or select from the pre-designed characters to start. It has features to customize body movements and facial expressions. That's not all; you can even change your character's accessories or outfit with a click. The file can be exported in PNG, MP4, or FIF format.
5. Cartoonize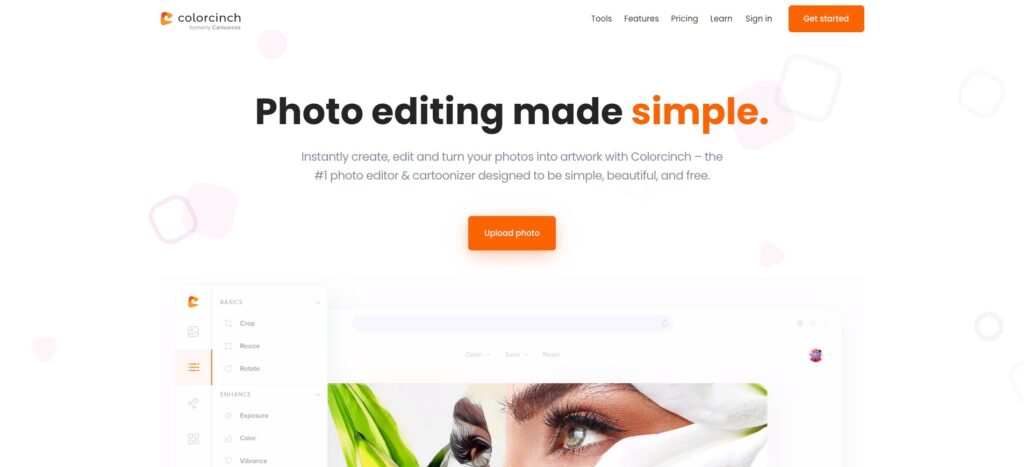 Next up, we have Cartoonize, which is trusted by thousands of users. It is impressive to see how smoothly the website works and converts real images into cartoon forms. You can import any real picture and transform it into a cartoon character. For fun, you can start with your picture.
If you are a business owner, you will find this tool helpful. Using its incredible features, you can put your face on your products. You can download the Cartoonize software on your PC and access more features and special effects. But the software version is paid, while the online version is free.
6. Cartoonify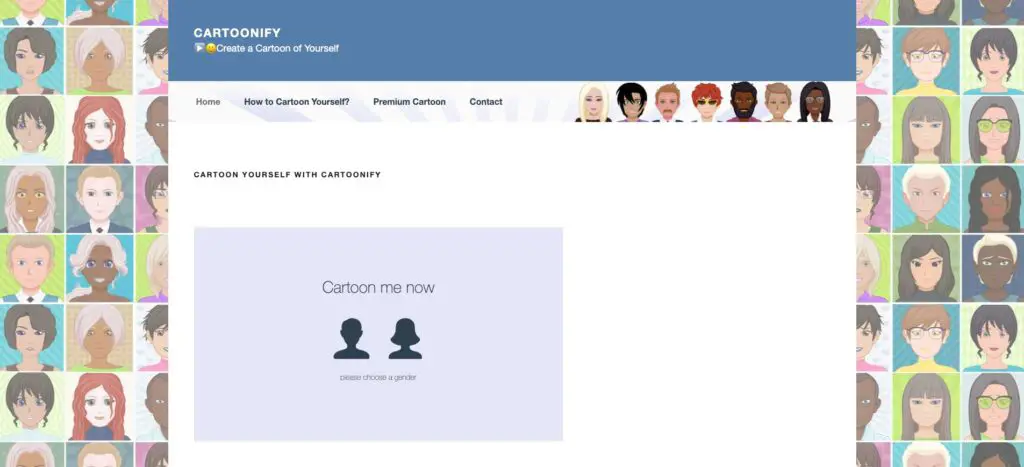 This is one of the greatest avatar makers we have found online. The specialty of this tool is that it helps you to convert real faces into cartoon characters. Yes, you guessed it right. It is similar to Snapchat's Bitmoji.
Cartoonify is one of the smoothest and fastest avatar-creator tools out there. It brings you 300+ customizing options. With this tool, you can customize face color, nose size, etc. Just click on different areas of the face, and the AI will give you a preview. It is an online tool, so you don't need to download the software. Plus, the creations can be saved in PNG or SVG format.
7. Portrait Illustration Maker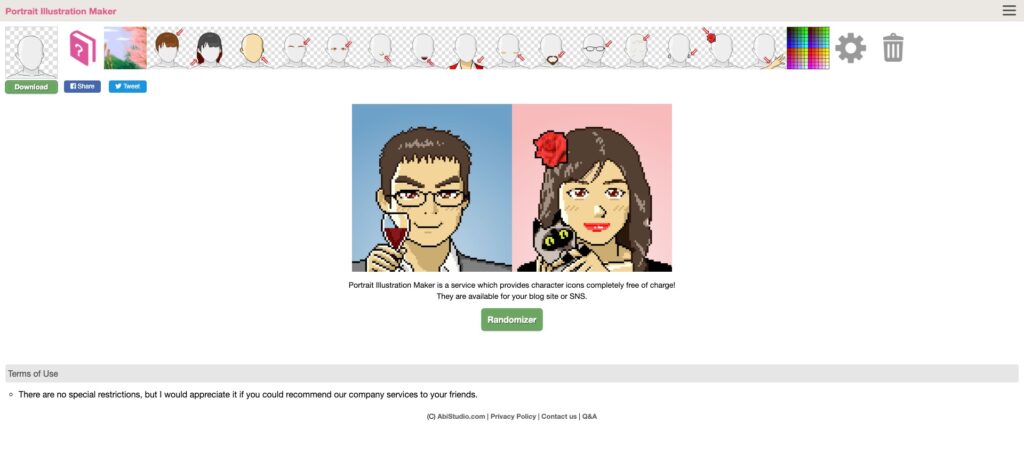 Next in the line, we have Portrait Illustration Maker, an online avatar creator website. It allows you to create avatars based on gender. If you don't possess any design skills, no worries; this site is beginner-friendly. This site can be used by anyone who wants to create fun avatars online.
You will see all the customization options as soon as you open the site. From changing hairstyle to face shape, you can design your character how you like.
8. Photolamus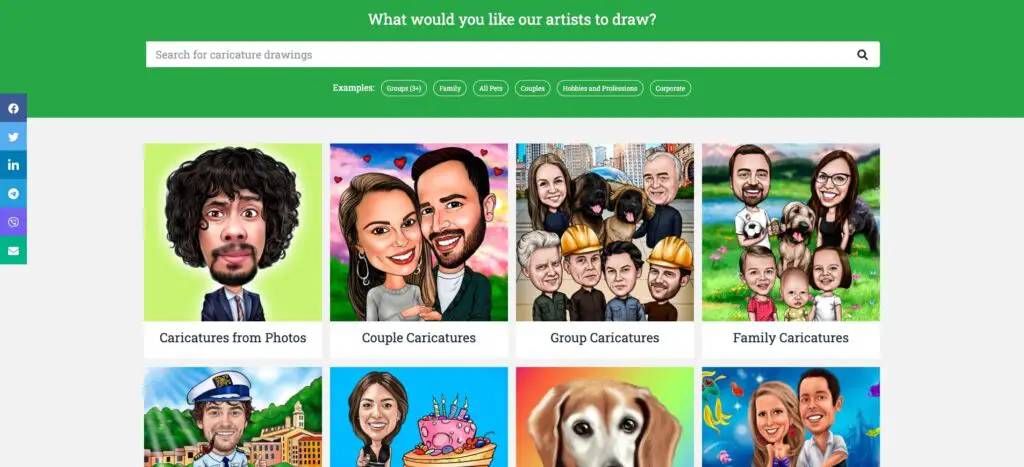 Photolamus is perfect for those looking for an online tool to create caricatures from real pictures. But this is not a free tool. You will have to pay for every image you create. Luckily, the pricing is reasonable, so it shouldn't be a bother. In exchange for a small price, you can get your pictures caricatured by real artists.
The results are accurate and cute, with a portrait-like effect. Unlike other sites, artists at Photolamus don't apply AI effects or filters.
9. Superherotar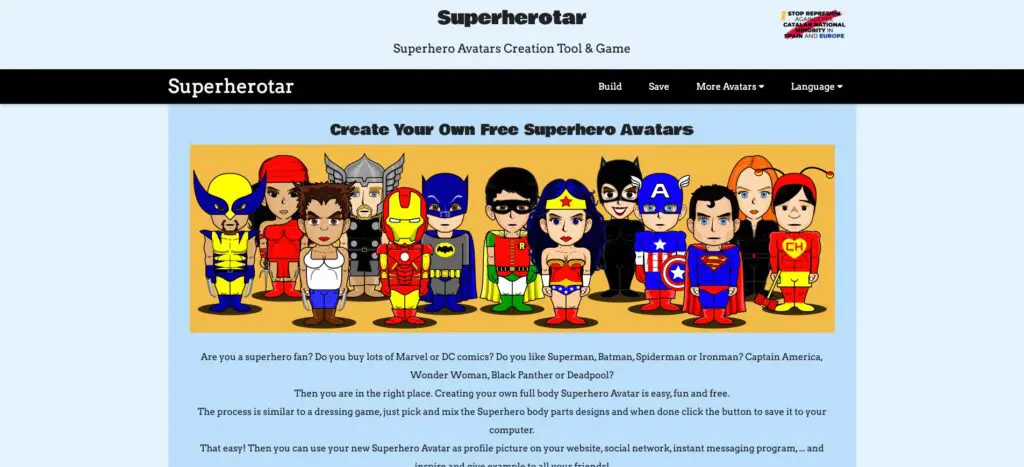 As the name suggests, Superherotar is used to create superhero avatars. With the help of this tool, you can create your superhero avatar from DC or Marvel. It has plenty of customization options. You can use these features to create fun superhero characters. For example, give Hulk long hair or change the way Iron Man looks.
---
Protect Your Online Privacy With Surfshark
[The VPN that we use here at Tech Arrival]
---
Using this tool feels more like a dressing game. All you need to do is select the Superhero body and customize it how you like. Once done, click the save button. Apart from superheroes, you can also use this tool to create vampires, zombies, Vikings, pirates, etc.
10. Doll Divine
If you want an online anime avatar creator, consider using Doll Divine. This website has everything a manga designer needs. It allows you to design your character based on gender. After you select the gender, start annotating them using the features available. From hairstyles to facial tattoos, Doll Divine offers tons of customization features.
Doll Divine is an easy-to-use website. It simplifies the process of character creation, so amateurs can also use the tool. However, there's one problem with the tool. It doesn't allow you to download and save images. You will have to screenshot your creation to export it.
11. Kusocartoon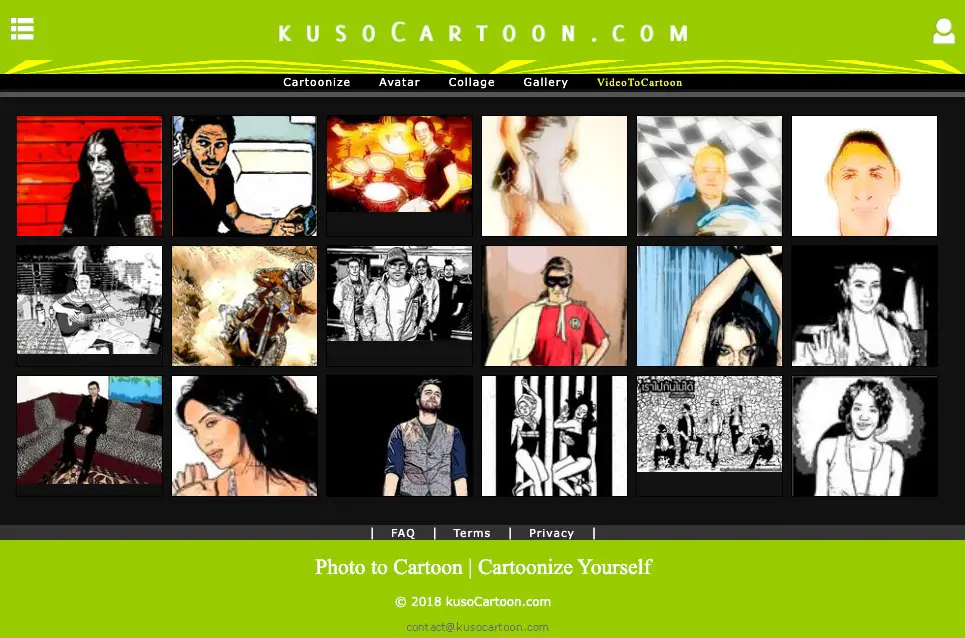 Kusocartoon is a simple website that lets you transform real pictures into cartoon form. You can either choose a full-colored version or the black/white one. Creating avatars becomes much easier with Kusocartoon. All you need is a photo and then start editing it on the website. You can select from various body types and loads of other features.
Users like Kusocartoon because it is fast and easy to use. With the help of this tool, you can create original-looking cartoons. Whether it's your picture or someone else's, you can use Kusocartoon to create the best avatars. You can also cartoonise the pictures of your pets.
12. Befunky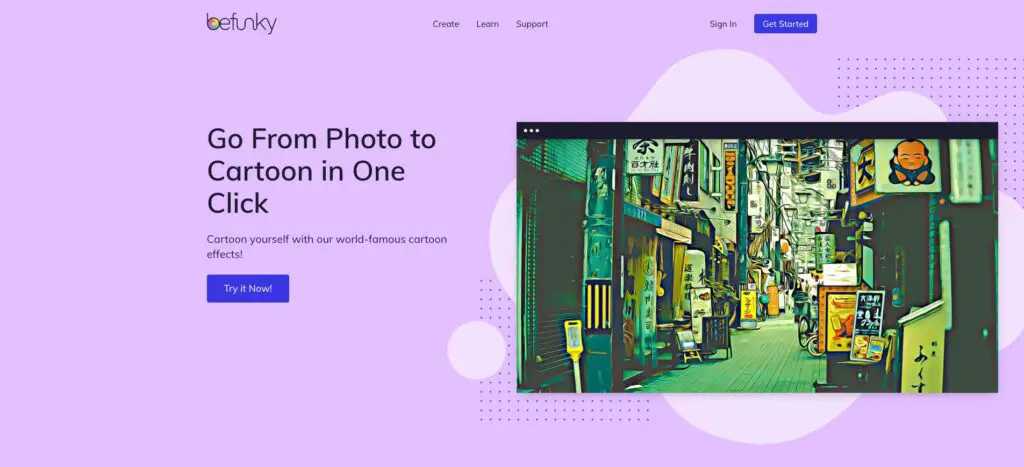 With Befunky, you can make your avatar look more professional without much effort. Befunky creates realistic images, which sets it apart from other avatar creator sites. It comes with tons of filters and special effects to help you create the character design in your mind.
The tool might be intimidating in the beginning. But once you start using it, you will get the hang of things. It is one of the best free avatar creator tools online.
13. Picrew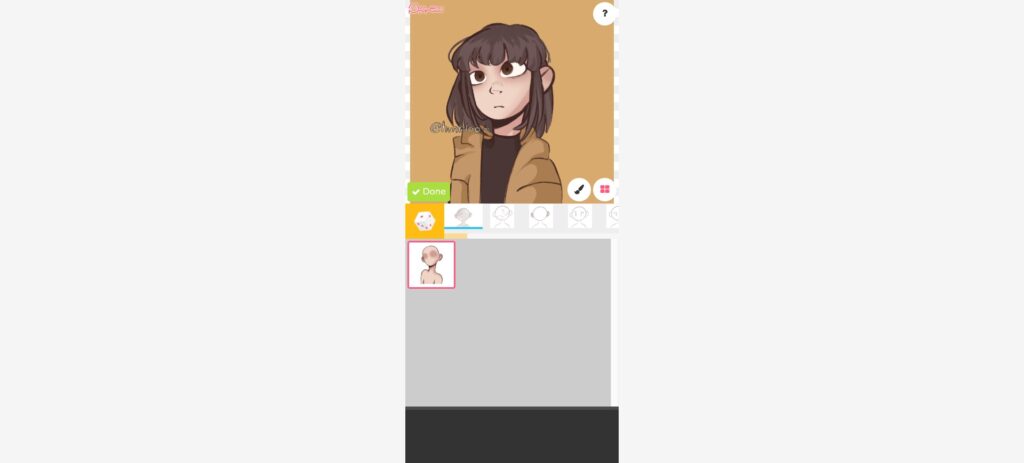 Picrew is one of the oldest avatar creators out there. It is extremely popular among users who are into manga, anime, and video games. With Picrew you can easily create anime characters. Apart from that, it also allows you to use the avatars to create your own story and share them online.
Since Picrew is an online avatar creator, you don't have to take the pain to download it. You can select from a wide range of styles. Just sign up on the website and start creating anime characters. It offers a wide range of backgrounds and references which might come in handy for beginners.
You are likely to come across many more avatar creator websites than the ones mentioned in this list. But these tools are considered the best among the rest. Pick any of the websites mentioned here and start creating fun characters.
Also read: 19 Free Anime Websites to Watch the Best Anime Online
---
Protect Your Online Privacy With Surfshark
[The VPN that we use here at Tech Arrival]
---
Frequently Asked Questions (FAQs)
What is an Avatar Creator Website used for?
An avatar creator website is an online tool that helps you to create your characters. Most of these tools are packed with loads of customizable features.
Why are Avatars so Popular?
Avatars are the representation of a player. Today, avatars have become popular on social media platforms, online forums, and games.
What is the Best Free Avatar Creator Website?
Avatarmaker is the best option you will find online. It is a free and user-friendly tool with all the features you need.
How can I Create My Avatar Online?
To create your avatar online, you will need to use an avatar creator tool/website. You can select from the options mentioned in the list above.
Can I Share My Avatar on Social Media?
After creating your avatar, download and save the picture on your device. You can then share the saved image on your social media profile.
What are Avatars Used For?
Avatars are used in role-playing games and websites. They also make an integral part of online chatting, AI, blogs, and VR.
Is there any Free Avatar Creator Website?
There are many free avatar creator websites, such as Befunky, Avatarmaker, Cartoonize, and more.
How to Create a Realistic Avatar?
To create a realistic avatar, you need avatar creator software. You can choose from the ones mentioned in the list.
Is Befunky Free?
Yes, Befunky is entirely free to use. It is an online avatar creator that doesn't require you to create an account to use the tool.
Is Anichara Worth It?
Anichara is one of the best avatar creators on the internet. It offers tons of unique features and free services.