The number of free anime websites has doubled in the last decade. This is the result of increasing anime demand by viewers. Today, there are plenty of anime websites that allows you to watch your favorite animes for free. From anime movies to series to video clips, you can find all types of anime content on these sites.
Many of these websites also offer different genres of animes such as horror, drama, action, thriller, etc. If you are looking for the best free anime sites, you are in luck. But you should be reminded that most of these free sites are illegal to use. These sites deal in pirated or copyright content. Watching or streaming anime from websites like this is considered illegal under the law. To keep yourself on the safer side, you should use Surfshark VPN. It will help you cover your identity online.
Also read: 17 Cool Interesting Websites to Have Fun Anytime
List of Best Free Anime Websites
So here is the list of free anime websites you all have been waiting for. Make sure you use a VPN service like Surfshark VPN while accessing these sites.
1. Crunchyroll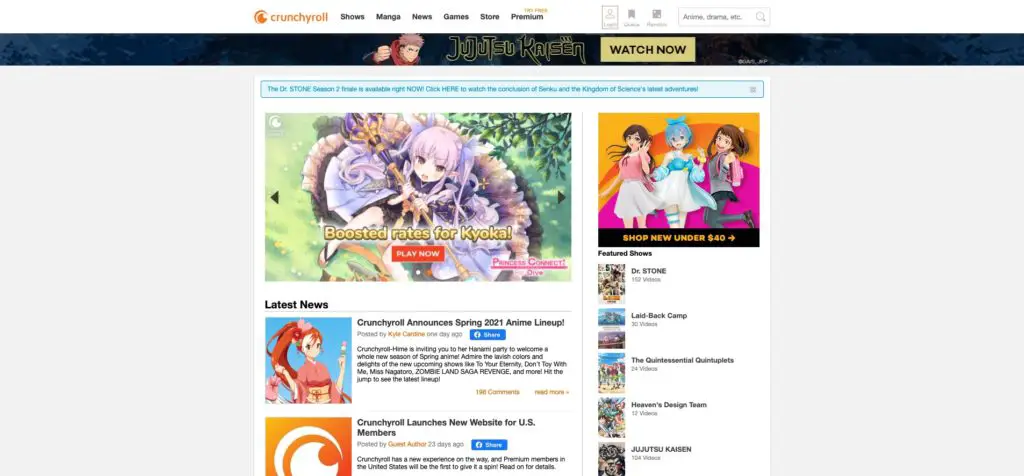 If you are a hardcore anime lover, Crunchyroll is your anime paradise. It is a free website that offers anime on demand. They have a huge collection of anime to watch, and all of them are available for free. You can even add reviews to the anime series that you have watched. This is a multi-lingual site supporting languages such as Dutch, English, France, Italian, etc.
Features
Offers anime on demand
Allows to share videos on social media
Add reviews to anime series
2. MyAnimeList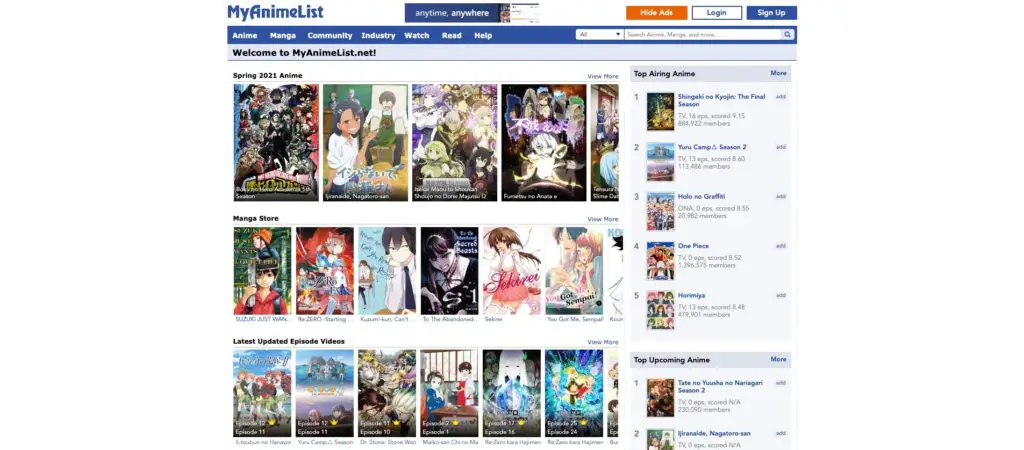 If you want to watch anime movies for free, MyAnimeList is the site. It offers recommendations and reviews of clips. They also have a collection of seasonal anime. To make things easier, they allow you to search anime movies by the names of characters.
Features
Sends you notification of upcoming movies
Allows you to search anime by characters
Promotional videos
3. NicoNico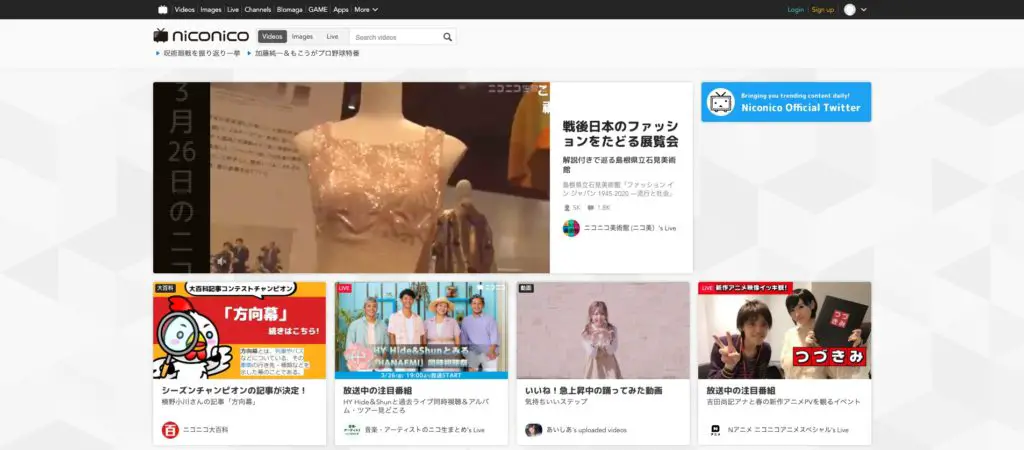 This site is a bit different from the other ones on the list. It allows you to upload and share videos, so you can enjoy a shared video experience. You can also comment on the videos, which are time-synced and appears in the video at the playback time. You can create my list folders to save videos that you like or want to watch later.
Features
Contains ads
Share and upload videos
Video tagging and commenting
4. 9Anime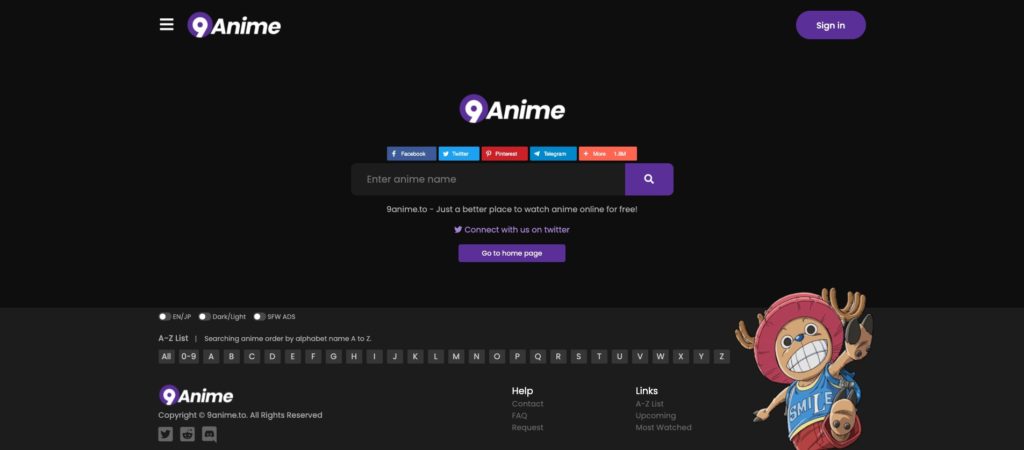 9Anime is one of the best anime websites out there. There is a high chance many of you are already using it. The site is popular for providing varying genres of anime shows and movies. You can use the advanced search filters to find the anime series you want to watch. If an anime is not available, you can send a request for it.
Features
Search for most-watched and upcoming anime
Advanced search filters
Request for anime that are not available
5. Funimation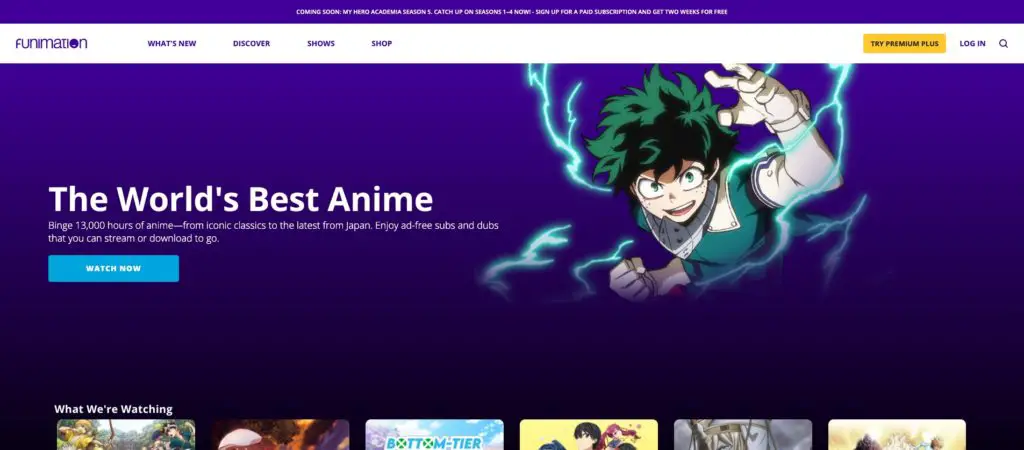 If you are looking for a free anime site for high-quality content, Funimation is the site for you. It is one of the most popular websites on the internet. They release dubbed foreign videos of TV shows, anime, etc. On this site, you can watch anime with English subtitles. The only thing you have to put up with are the annoying ads. But if you get the premium version, you can get rid of the ads.
Features
Dubbed/subbed anime
High-quality content
Latest on-going anime available
6. Tubi.tv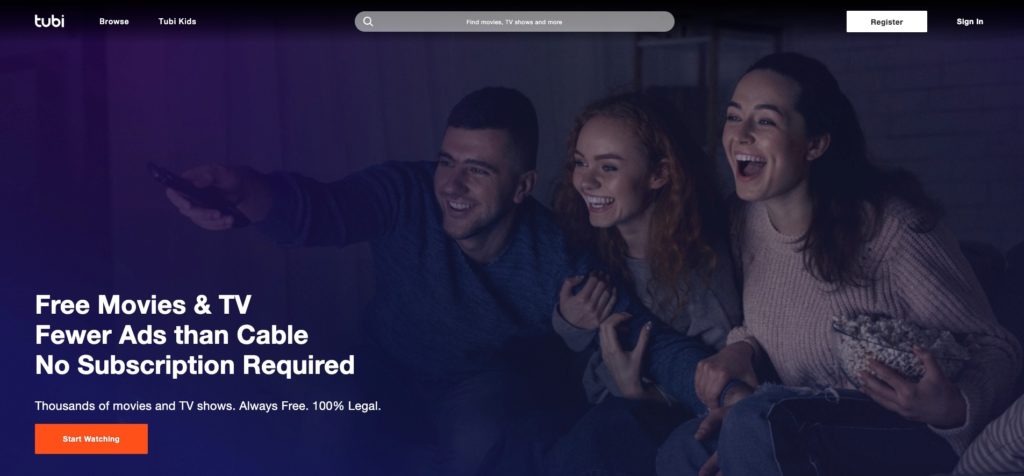 Tubi.tv is yet another site where you can stream popular anime series. Besides that, they also have a good selection of TV shows and movies. The site is known for its extensive library of old and latest series. It is a 100% free site and doesn't require any subscription. It offers many useful features like bookmarking, ad-free streaming, etc.
Features
Can be accessed from multiple devices
Bookmark movies/series to watch later
Old and latest releases
7. VIZ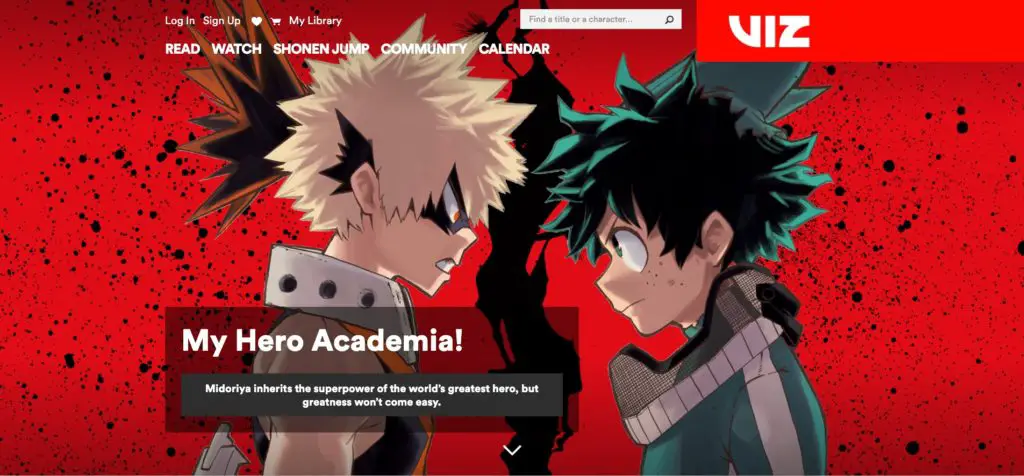 VIZ is an American distributor and publisher of manga. If you love reading comic books and manga, this is the site you should go to. VIZ has been providing manga to English readers for 30 long years. They have an official app that is available on Google Play. You can download the app on your mobile and stream unlimited anime.
Features
Great for reading manga
Subbed/dubbed anime
Mobile app available
8. AnimeHeaven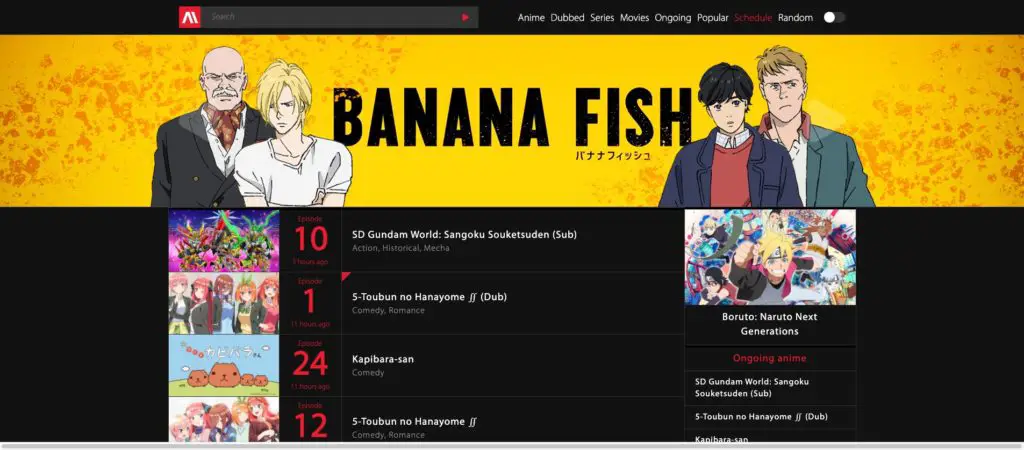 AnimeHeaven is one of the best places to look for free anime content. It has a reputation for offering high-quality anime for free. On this site, you can find both old and new releases. Most of the videos are 1080p and 720p. You can search anime based on genres like comedy, action, mystery, thriller, and more. All the anime movies and series are subbed and dubbed.
Features
Fewer ads
Varying genres of anime
Allows you to select video quality
9. Anime Planet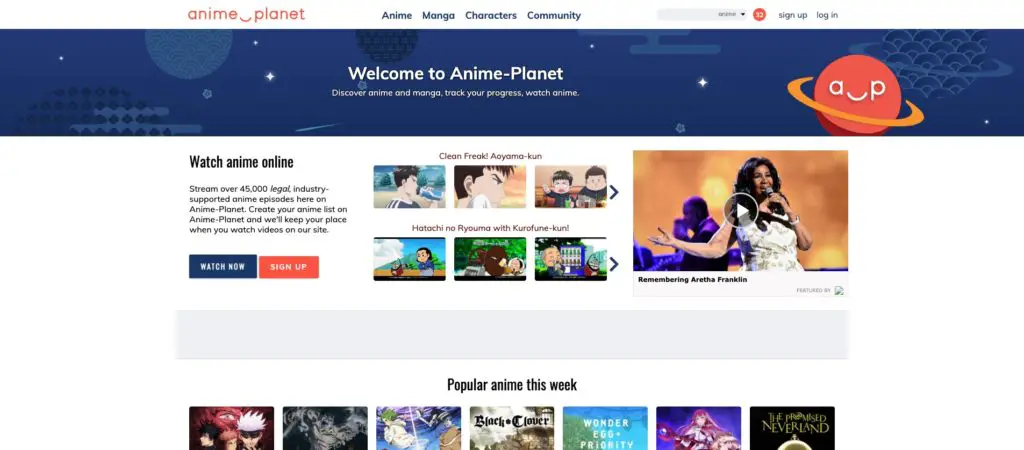 Anime-Planet has a massive collection of free anime. There is no doubt that this site is heaven for anime lovers. It immerses you in the world of anime, where you can watch as much anime as you want. They offer different categories of anime and manga to users. The interface is easy-to-use and can be accessed from multiple devices.
Features
Both anime and manga available
Fewer pop-up ads
A community for anime lovers
10. AnimeLab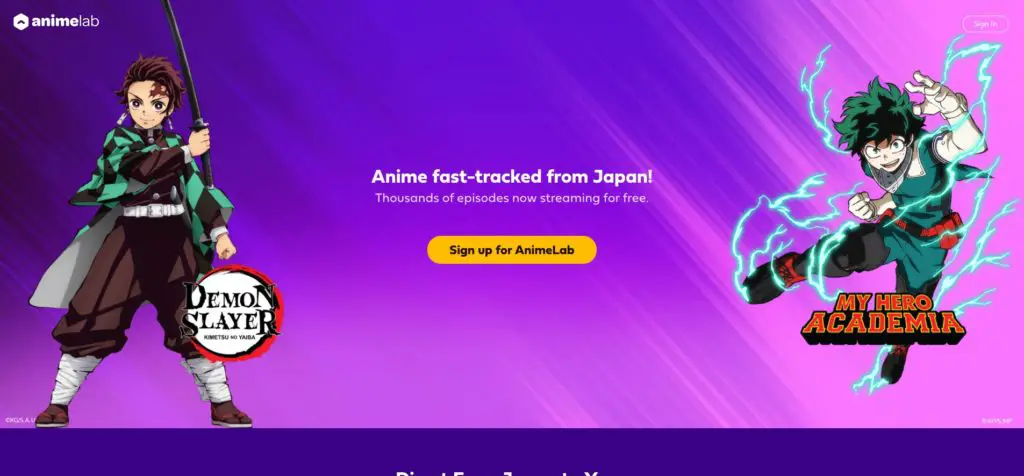 AnimeLab is primarily famous for offering the latest anime that is aired in Japan. All such anime series are made available on the platform after an hour of broadcast. All the videos and series are available for free. Unlike other free anime sites, AnimeLab is updated regularly, so you will have fresh content to watch whenever you log in. You can get the premium version which is free of ads.
Features
English subtitles
Compatible with many devices
Regularly updated
11. AnimeFreak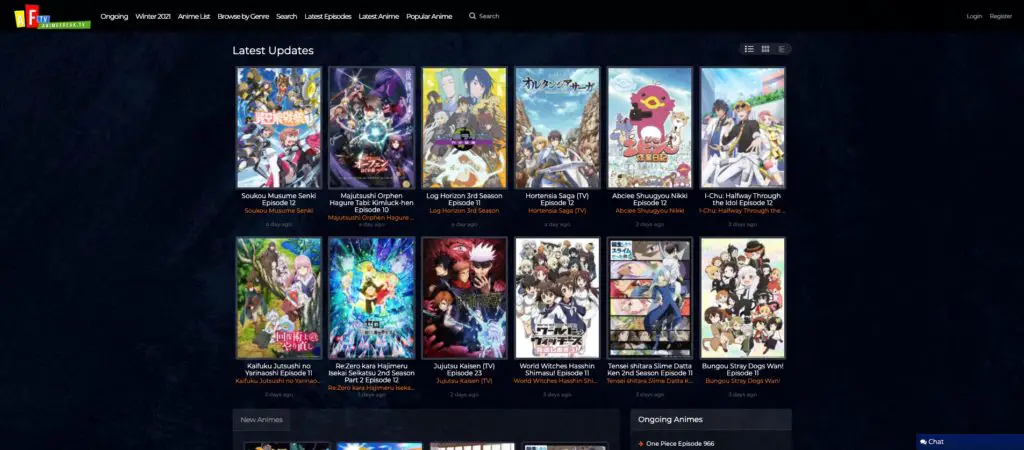 AnimeFreak is yet another great site to watch free anime. The site is used and trusted by millions of users across the world. They offer a vast collection of dubbed and subbed anime for free. The site has a user-friendly interface, which allows you to browse through the content easily. The site is updated regularly for a better user experience. Besides anime, you can also find manga on AnimeFreak.
Features
Manga available
Pop-up ads
Attractive interface
12. Chia-Anime
If you want to watch recently released anime, Chia-Anime is the site for you. They offer a huge selection of anime to keep you entertained. The site has all the popular anime like Dragon Ball, Kokora, One-Piece, and more. All you have to do is log into the site and search for the series you want to watch. The site also has a special feature to keep you updated on all the latest and upcoming anime series. You can also download anime for offline viewing.
Features
Advanced search filters
User-friendly interface
Faster video loading
13. SideReel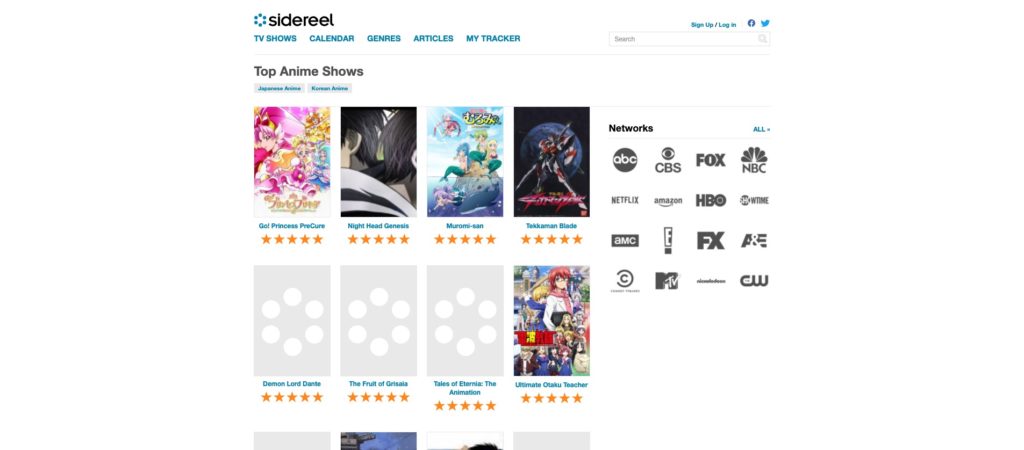 SideReel is a platform mainly dedicated to TV shows. However, you can also find a good collection of anime to watch. You can use the site to get links to episodes, show schedules, reviews, and ratings. The site keeps you entertained with varying categories and genres of anime. It also sends you notification alerts on new episodes. Overall, this is a decent site to stream anime.
Features
Episode alerts
Different genres available
Find airdates and showtimes
14. Animetake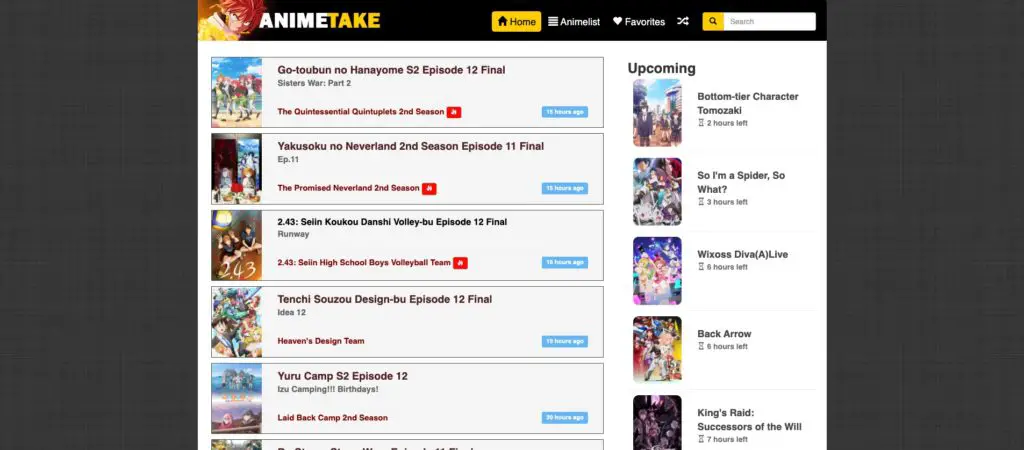 If you are looking for a free collection of anime online, you should go to Animetake. The site features an easy-to-use interface, so it won't take you much time to browse through the available content. You can subscribe to the site to receive notifications on upcoming anime series. They offer numerous genres of anime. Besides that, you can watch movies with English subtitles.
Features
Easy to use interface
Numerous anime categories
Movies with English subtitles
15. CONtv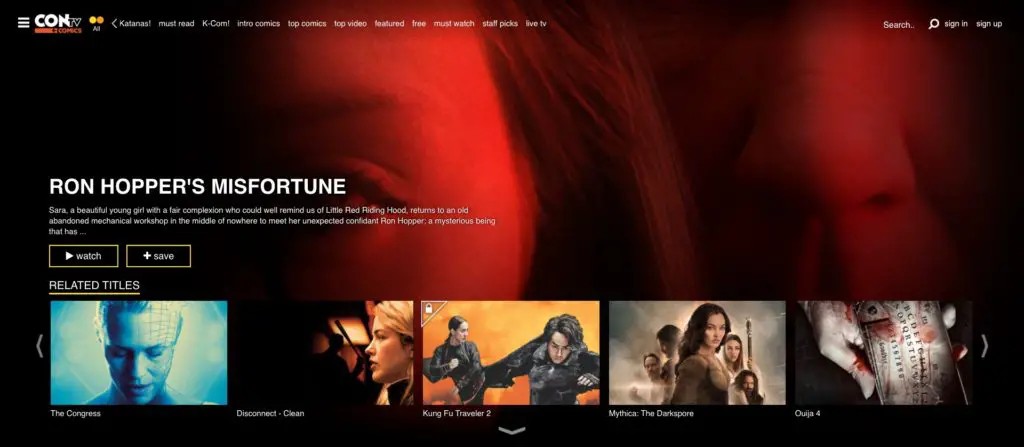 This is a website that allows you to access free anime videos. It offers original shows, movies, and comics. You can access CONtv either by visiting their website or through their official app. The app is available on both iOS and Android platforms. They have a great collection of anime shows. You can add some of them to your watch list to watch them later.
Features
App compatible with both Android and iOS
Watch list feature available
Original movies, comics, and more
16. AsianCrush
If you are a sucker for Asian anime, dramas, and movies, AsianCrush is the right website for you. From Japanese to Chinese, you can find all types of content on this platform. The site offers the best from the Asian industry. They also have a blog section that keeps you updated on the latest and upcoming shows and movies. You can access AsianCrush from many devices.
Features
Wide range of Asian content
Available on multiple devices
High-quality content
17. Amazon Anime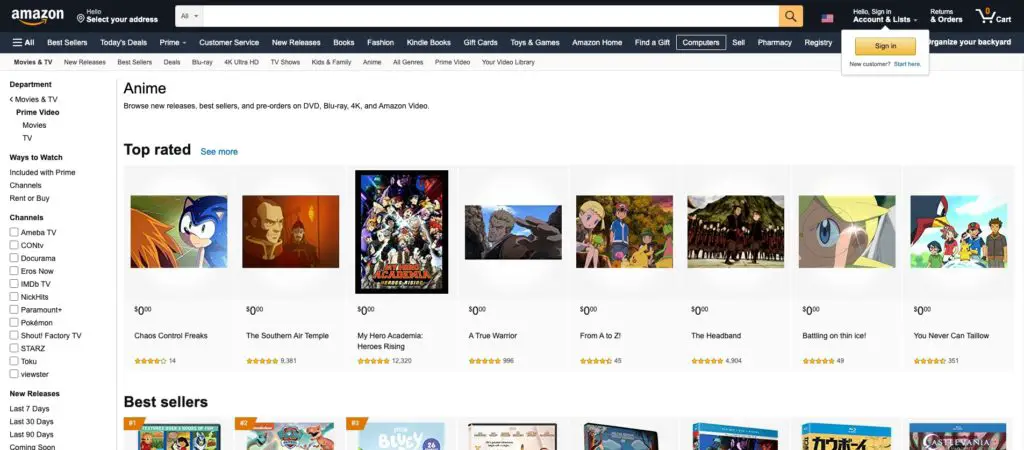 Amazon Anime is a platform that is dedicated to providing anime movies and shows. But unlike other sites, this one is not free. To access their content, you will have to first subscribe to the site. You can buy animated movie CDs and much more. With the advanced search filters, you can quickly find the anime you want to watch. On this platform, you can get anime from different directors.
Features
Supports 4K and HD
Wide range of subtitles
Enables you to buy anime with ease
18. Hulu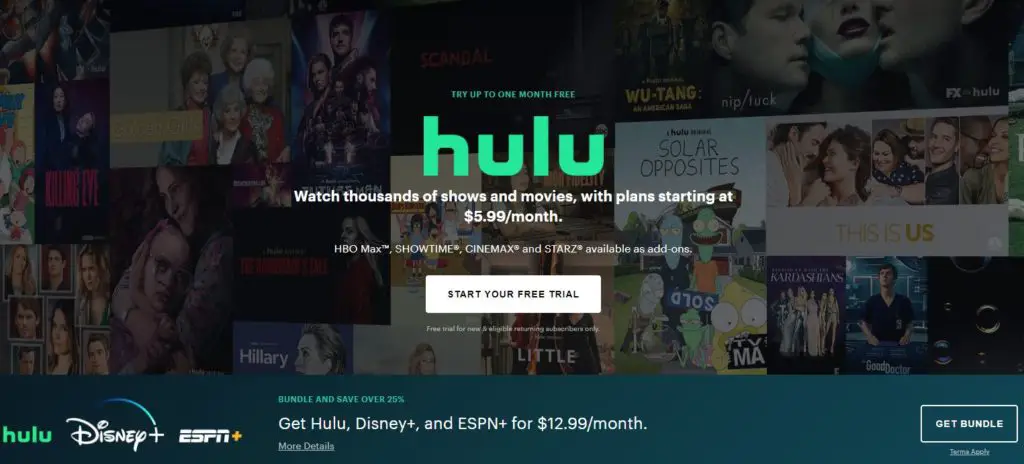 Hulu is yet another site where you can find a good collection of anime. Besides that, you can also find other types of content. The good thing about this site is that they offer high-quality content, so you don't have to compromise on your viewing experience. The site is updated regularly and offers a wide range of anime to watch.
Features
User-friendly site
Different categories of anime
No ads
19. Netflix
There is hardly anyone who hasn't heard about Netflix. This may not be a dedicated anime platform, but they have a good collection of anime movies and series. All the content is available in HD quality. To access anime on Netflix, you will have to subscribe to the platform. On Netflix, you can enjoy high-quality videos without any ads or other interruptions.
Features
Allows to download anime
Subtitles available
Subscription available
Anime is loved by people of all ages. With these free anime websites, you can stream anime any place, any time. Make sure you are using a VPN to access these free sites.
Also read: 10 Best Torrent Sites of This Year
Frequently Asked Questions (FAQs)
Why should you use a VPN to access free anime websites?
Many of the free anime websites provide pirated content that is illegal to stream. If you get caught, you may have to face bad consequences. But with a VPN service, you can protect yourself from getting identified online.
What is the best site to watch free anime movies?
For free anime movies, you should go to MyAnimeList. The site offers full-length movies in high-quality print.
Is Netflix free to watch anime?
No, Netflix is a paid subscription-based website. If you want to watch anime on Netflix, you will have to subscribe to the platform. They have multiple subscription plans available.
Where can you watch 4K quality anime?
Amazon Anime is the platform where you can watch 4K quality anime. The site enables you to buy anime CDs with ease.
Is Crunchyroll good for watching anime?
Crunchyroll is one of the best websites to watch free anime. They have a huge selection of anime. Plus, the site can be accessed in different languages such as English, France, Dutch, etc.