Android devices have many functionalities, and if you're someone who has a flair for art, you can definitely start drawing your ideas on your phone or tablet. There are multiple kinds of apps suitable for your artistic needs – whether you want an application for basic sketching or just for simple doodling.
So we have created a list for you that includes some of the best drawing apps you can get for your Android device. Let's check them out!
List of Best Drawing Apps for Android
1. SketchBook – Draw and Paint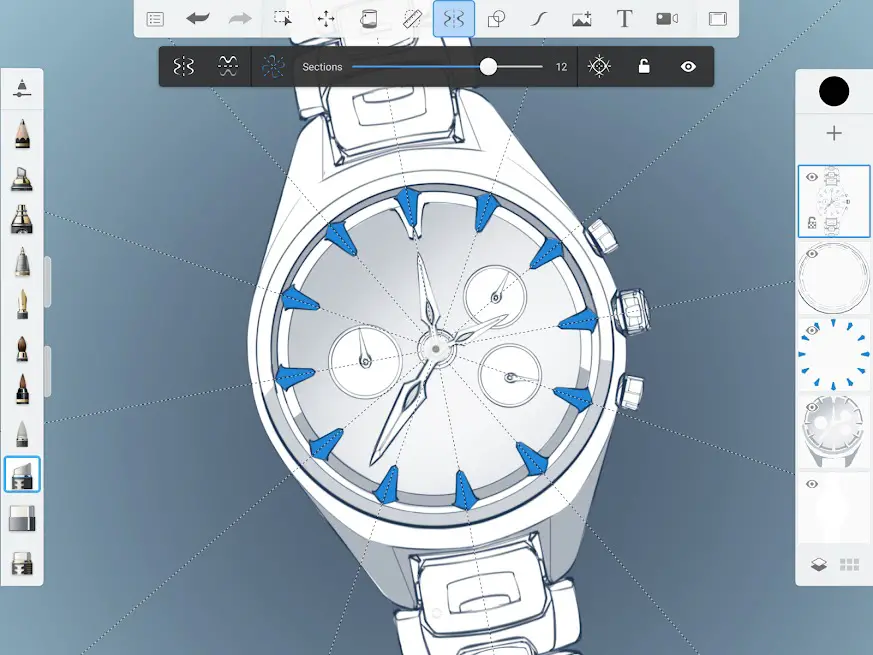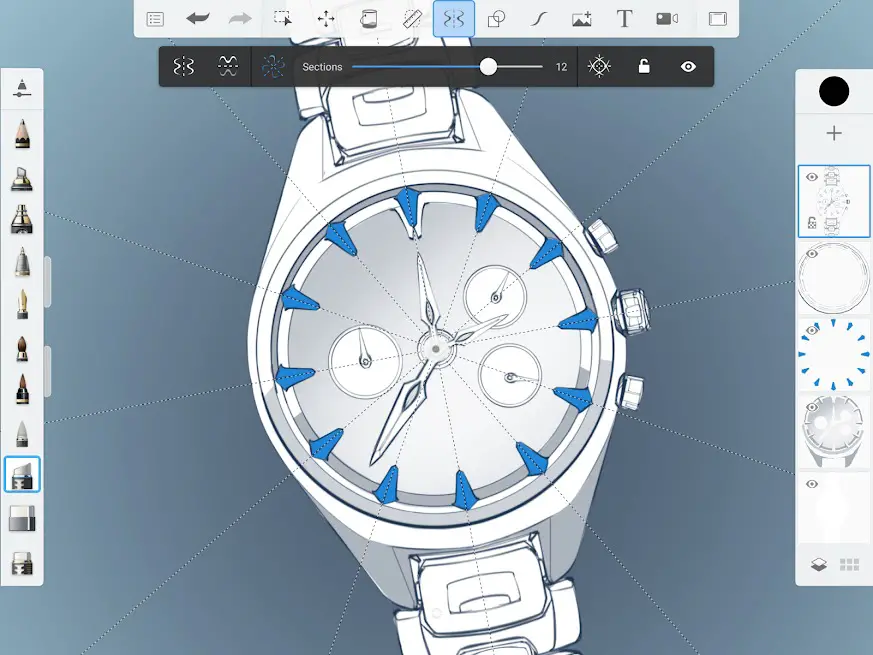 Sketchbook, Created by Autodesk, is a renowned Android painting and sketching application, freely downloadable and among the "Editor's Choice" selection. The users can use 13 brushes, markers, and pencils of various sizes, which support multilayer detailing. The user has the option to zoom up to 2500% to build an intricate painting. Moreover, a pro version with unlimited layers, a full-color library, blending modes, and access to over 100 different brushes is available.  With over 10 million downloads, Autodesk's SketchBook provides both desktop and mobile versions to allow the user to carry on his work at ease.
2. Adobe Illustrator Draw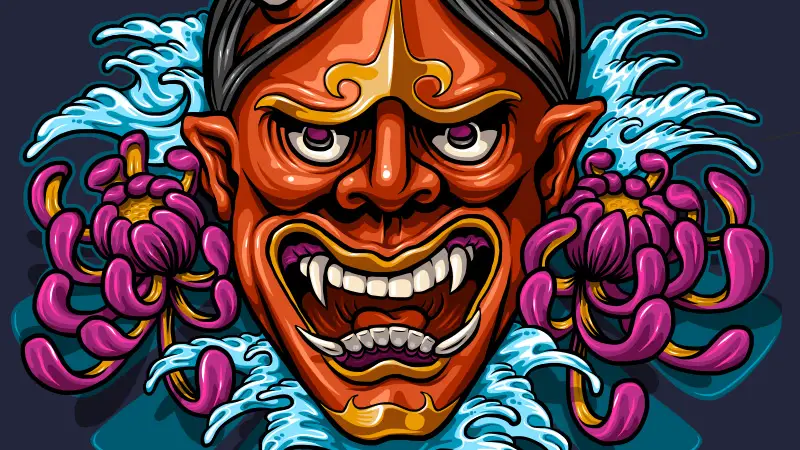 A marvelous application for vector creation, the Adobe Illustrator Draw (mobile version) or the premium Adobe Illustrator is the Winner of the Tabby Award for Creation, Design, and Editing and has been in the "Editor's Choice" list in Google Play store for quite a long time. With over 5 million downloads, this is a free application with a downloadable size of 38 MB containing a versatile range of drawing tools such as 5 different pen tips with adaptable opacity, size, and colors, and shape stencils, vector shapes from Capture, etc.
There are facilities to magnify the graphics up to 64 times for detailing, and the user can add several layers in their artwork to create the masterpiece they intend to. The only necessity is to create an Adobe account, and the illustrations created can be directly stored on your Android device. Furthermore, the user can avail cloud facilities to access their stored images and high-resolution, royalty-free Adobe Stock photos, different fonts, designs, canvas prints, etc.
3. Adobe Photoshop Sketch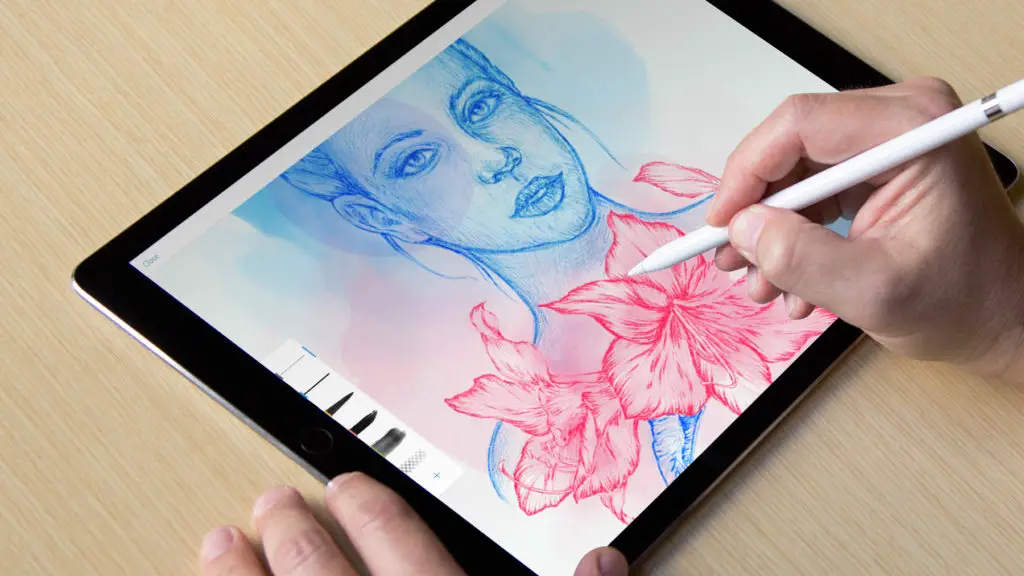 While Adobe Illustrator Draw wears the crown in vector drawing, Adobe Photoshop Sketch remained in the Play store "Editor's Choice" column for impressive sketching and painting. Comprising a wide selection of pencils, pens, markers, erasers, pastels, acrylics, ink, and watercolor brushes. The application also allows users to adjust the size, color, and opacity texture and blending. The user can create their perfect masterpieces, send them to Photoshop or Illustrator, and use creative Adobe cloud services.
4. MediBang Paint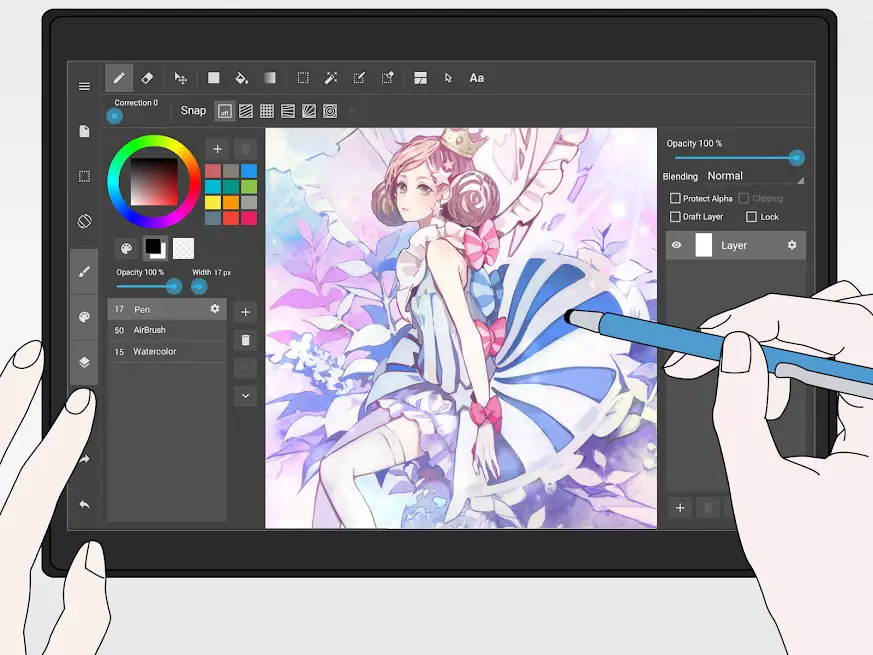 With great reviews and more than 10 million downloads, this free drawing application provided by MediBang Inc. provides every creative tool a user can ask for. This is a lightweight digital painting application aimed especially at comic book artists. A user interface similar to Adobe applications is available for Android, Windows, and Mac users. It provides more than 100 free brushes, pastels, a great selection of pens (G pen, Mapping pen, school pen, drawing pen, etc.), over 850 tones, textures, backgrounds, and free text balloons to aid artist to perfect their work. There are tools to adjust colors, magnify and edit objects, backgrounds, textures, etc., import images and options to interact with other users, and share your work.  The application introduces the user to cloud storage, where the work can be stored, managed, and exported to online platforms.
5. ArtFlow: Paint Draw Sketchbook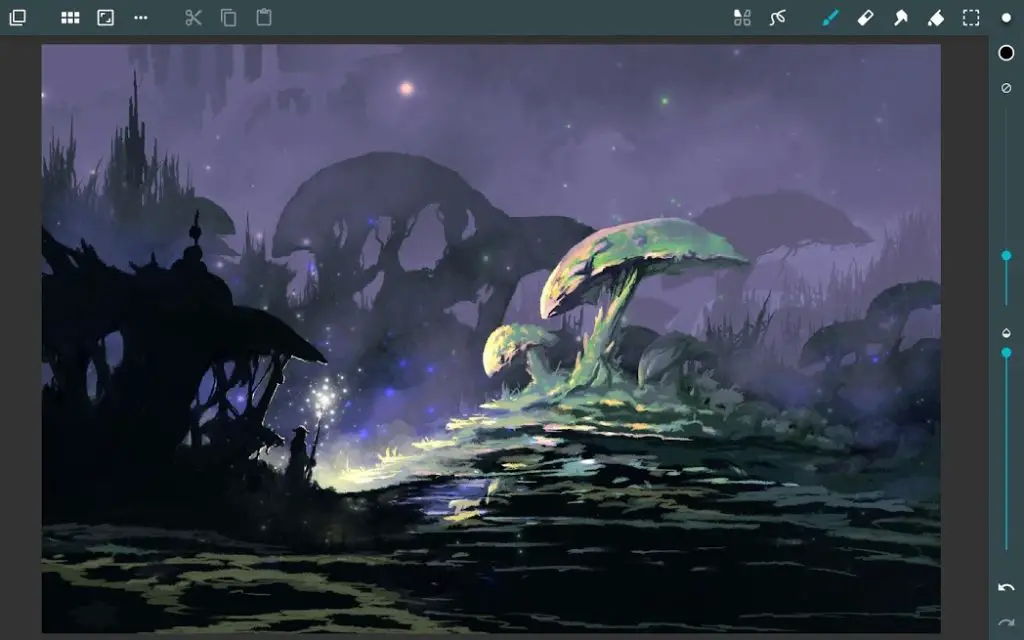 Among the "Editor's Choice" applications under the art and design section, with over a million downloads and several great reviews, the ArtFlow: Paint Draw Sketchbook designed by ArtFlow Studio is of notable mention. With the goal to "convert your device into a digital sketchbook", the app offers over 80 paintbrushes, a variety of colors, pens, pencils, erasers, adjustable smudge tool, blending modes, paint bucket, line style, canvases up to 6144×6144 with 50 layers and so much more. The user can avail of different functions to edit their artwork. The application enables the user to access the gallery and also share their work. The user can export drawings in formats such as PSD, PNG, or JPEG files.
6. PaperDraw: Paint Draw Sketchbook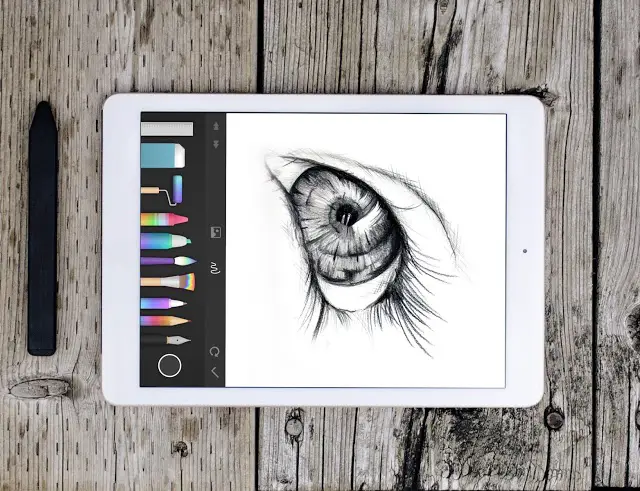 Colorfit introduced the PaperDraw application for Android users for an easy yet enjoyable drawing experience. It provides users with different paintbrushes, pens, pencils with rulers and erasers, etc. It allows the user to input his handwritten signature and mark on the image upon completing the work. The user can also import pictures as the base map, set it to transparent mode to trace the original image, and draw above it. Other features add text, customize the cover and background color, and add graphics tools. The app has some in-app purchases, and the VIP version of the application provides even a greater range of tools to use.
7. Dotpict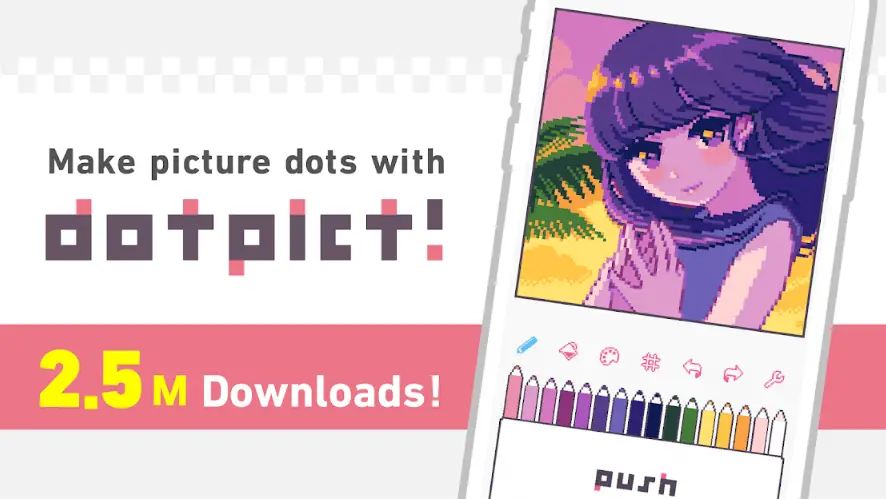 Dotpict is a pixel drawing app that is super easy and fun to use. It features a pen tip that you can navigate to fill every pixel with your color of choice. There's an easily accessible and customizable palette below your pixel canvas and a push-button to select the pixel you want to work with.
---
Protect Your Online Privacy With Surfshark
[The VPN that we use here at Tech Arrival]
---
The app is fun if you are looking for casual doodling and showing all the intricate drawing patterns on the canvas.
8. Ibis Paint X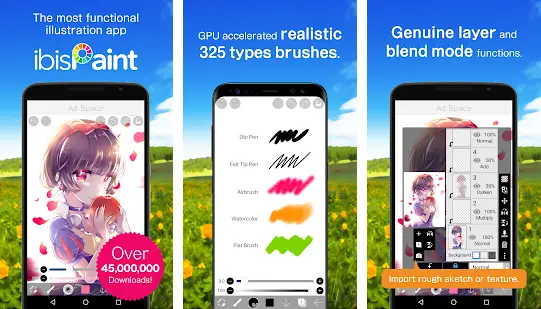 Ibis Paint X is one of the most feature-packed drawing apps on our list. It has over 325 brushes, 63 filters, 46 screen tones, 27 blending modes, recording drawing processes, stroke stabilization feature, various ruler features such as Radial Line rulers or Symmetry rulers, and clipping mask features.
It even features an ultra-smooth drawing experience at 60 fps, which is a treat to the eyes! The brushes even have various parameters such as starting/ending thickness, starting/ending opacity, and initial/final brush angle. The Quick sliders allow you to adjust brush thickness and opacity quickly.
9. InspirARTion – Sketch & Draw!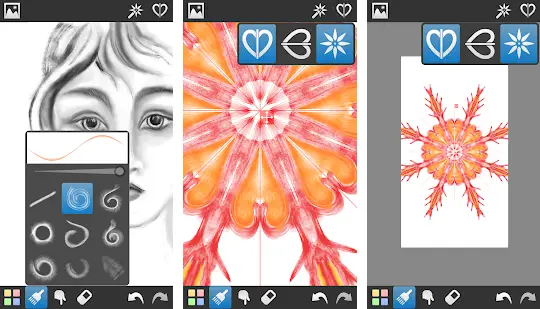 InspirARTion is perhaps the perfect "inspiration" for looking for an app that lets them draw, paint, and design whatever they want. It has several brushes that allow you to utilize many different types of effects for painting and brushing. You also have the ability to use existing photos as templates to create your own work.
There's also a symmetry mode where you can draw on one half, and the design will copy on the other half, which can help you create intrinsic designs and detailed patterns. You can also use colors that are already there on the image you've added, which is a nice nifty feature.
10. LayerPaint HD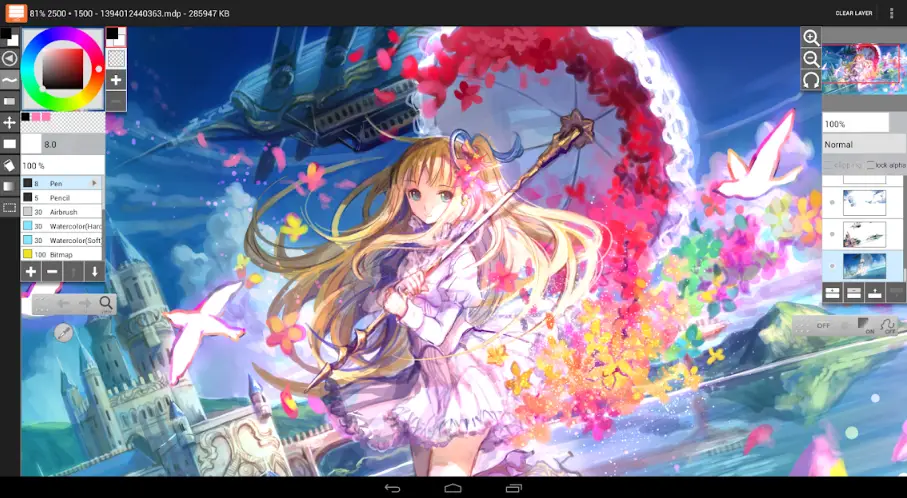 Layerpaint HD is one of the most functional apps for drawing. It has got pen pressure support if you are using a stylus and Wacom tablet support as well. You can import and export in PSD, which is Adobe Photoshop format. There is a foreground color brush and a transparent color brush for adding various layers of colors to your art.
Speaking about layers, this is where the app shines. You can add multiple layers, remove them. There's also support for the clipping layer and locking the alpha layer. The layer mode consists of various functions such as Normal, Add/Emit, Multiply, Overlay, Screen, Lighten, Darken, Difference, Dodge, Burn, Soft Light, Hard Light, Hue, Color, Saturation, Luminosity.
You can also use various tools such as the Selection tool, bucket tool, and various filters as well.
Final Words
These were some of the top-rated art and design applications for both novices and professionals. You can use them to craft beautiful artworks and also showcase them to get recognition. Or you can use just them for relaxing and passing the time by just doodling whatever comes to your mind. Whatever way you want to use them, let us know your experiences in the comments down below.
Also, if you think your favorite drawing app is missing, comment that as well, and we will definitely check it out.