It is a well-known fact that food delivery services are booming in India. Online food delivery is a great way to order your favorite dishes without spending time cooking or going out. Online food ordering services offer many advantages. You don't have to wait in long lines for the busy restaurants; it's always available when you need it and offers an opportunity to try new cuisines at home.
Online food delivery for Indian cuisine has been around for a while now, and it's not showing any signs of slowing down, with new companies launching every day. However, it can be difficult to find the best online food service provider, so we have compiled this list of the 10 best Food Delivery apps in India, which will help you narrow your choices.
Also read: 9 Best Direct Mutual Fund Apps & Platforms in India
List of Best Food Delivery Apps in India
1. Swiggy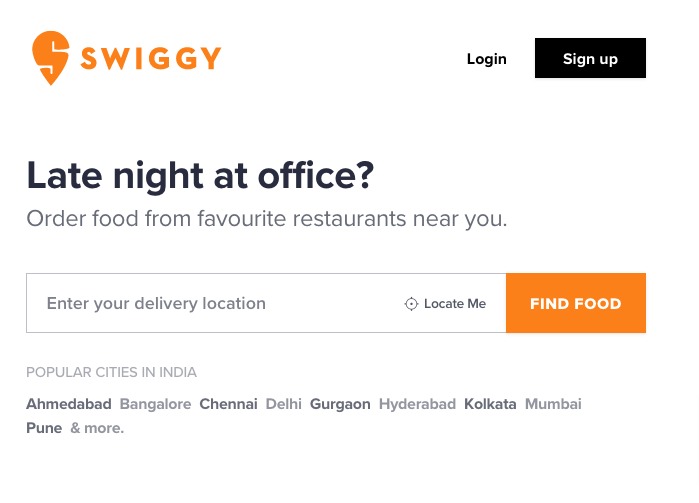 Swiggy is an online food delivery service that offers a lot of variety. They're the largest in India and operate in more than 500 cities throughout the country, such as Delhi, Mumbai, Hyderabad, and Bangalore, among other cities. The company also has features such as Swiggy Genie, which allows customers to order anything from groceries to shampoo while they enjoy their meal; Swiggy Money, which allows customers to load their Swiggy Wallet and pay instantly with ease; and Swiggy Super, where you can free delivery and amazing discount on top restaurants of your city. Swiggy has been rated as the best Online Food Delivery Service in India by several firms since its inception in 2014 (Source: Inc42). They were also ranked among Forbes' top 100 startups of 2017.
2. Zomato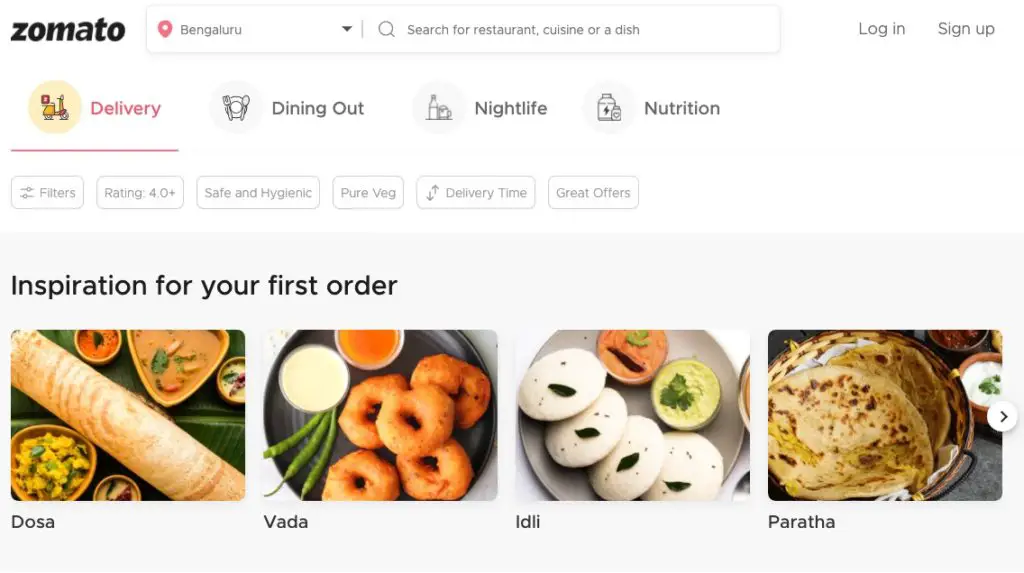 Zomato is a restaurant discovery and food delivery service that operates in more than 500 cities across India. They list restaurants with detailed descriptions, photos of the dishes on offer, reviews from customers, as well as contact information- making it easy to find any cuisine you crave for your meal. Zomato has an extensive and interactive menu, which is why they are a favorite among Indian foodies. It has a wide variety of restaurants you can choose from, and it also offers the option to order ahead for pickup or delivery. Zomato boasts more than 95% of all online restaurant reviews and has been rated as one of Forbes' Top 100 Startups 2017.
3. Eat Fit
Eat Fit or Cult.fit is a fitness lifestyle brand and online food ordering service that helps you to maintain a healthy diet with three simple pillars: Deliver healthy, tasty Indian meals, Aid the wider adoption of physical exercise as a part of daily life and offer education through Yoga, Ayurveda, etc. They have been committed to uncovering and providing a better way of living that will help people live healthier for longer. Eat Fit has its own kitchen to prepare fresh, healthy meals. They offer different meal plans for weight loss, a balanced diet, or just meal delivery in general. Eatfit brings the best of India to you and makes your life easy by offering restaurant-quality goods delivered right at your doorstep.
4. EatSure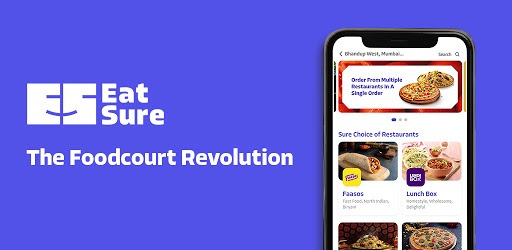 The company Rebels Foods' Faasos app has now been rebranded as EatSure. Before the rebranding, it used to serve six cities in India. It now serves ten cities across India and delivers over 95% of orders within 30 minutes! EatSure is running on a cloud kitchen-based business model wherein the parent company Rebel Foods is offering 10 in-house brands on its platform, namely Faasos, Behrouz Biryani, Oven Story, Mandarin Oak, Lunch Box, The Good Bowl, Sweet Truth, Firangi Bake, The 500 Calorie Project, Navarasam, and Slay. EatSure offers a wide variety of cuisines, catering to the needs and tastes of all Indians. It also provides services that are affordable and fresh, which is why it's so popular among people living in Indian cities such as Mumbai or Delhi.
5. Dunzo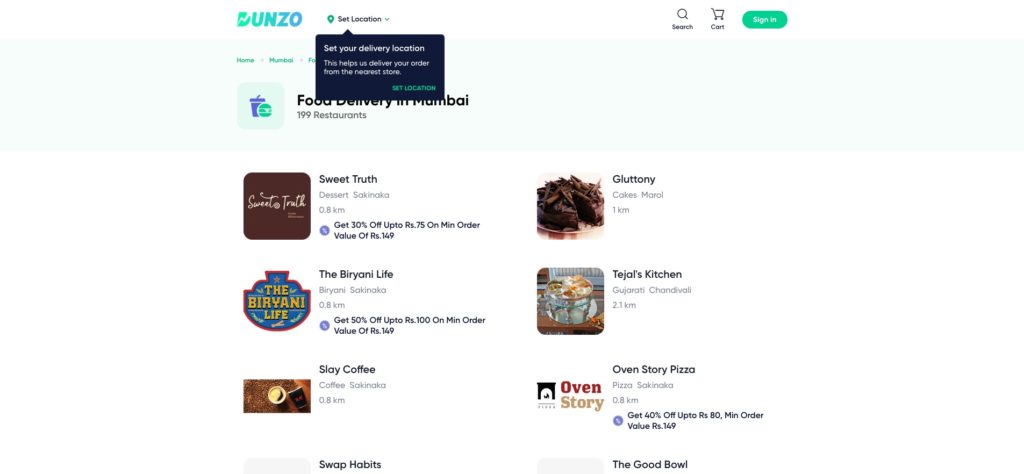 Dunzo is a food delivery service that focuses on providing quality customer service and delivering quality food to customers. It is a food delivery app that was created in India. Dunzo was created to solve the problem of ordering food from restaurants. Apart from Food, You can use the Dunzo App to purchase groceries, everyday essentials like milk and eggs, or even get your laundry done! They have over 100 merchants partnered with them across India at this time, making it one of the best Online Food Delivery Services in India. Anything you need can be delivered right to your doorstep! The Dunzo App is currently available in Bengaluru, Delhi, Gurugram, Pune, Chennai, Jaipur, Mumbai, and Hyderabad.
6. Box8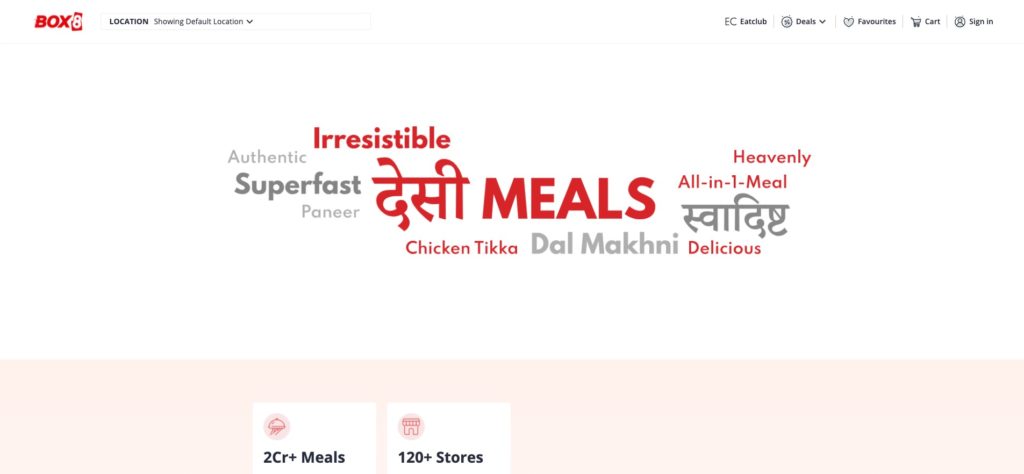 Just like EatSure, Box8 is another Indian startup with the concept of a cloud kitchen. The company is based in Delhi and has the capacity to serve over a million meals every month. They have more than 120 stores across the country and are in the process of adding up more. Since Box8 is a startup, they have been able to keep their prices low and offer free delivery for orders above Rs 350. They also provide cash-on-delivery options where you can pay by card or COD at your doorstep at no extra cost! The food variety is limited to desi meals; from breakfast to dinner, everything is covered. You get the satisfaction of eating homemade and healthy food.
7. Magicpin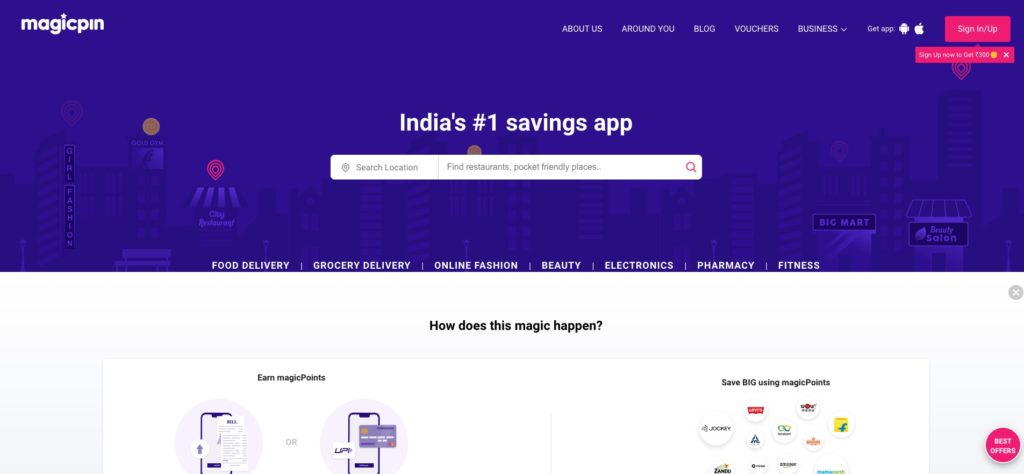 Maginpin is an all-rounder savings app that allows you to discover discounts, coupons, and vouchers to the places you visit regularly. It also offers a food delivery service and has partnered with over 1000 restaurants in India that offer discounts for purchases made through the app. The Maginpin app will allow you to order from the best restaurants made available in your city by finding the location for you, making payment easy with just one click, and delivering them straight to your doorstep! It offers discounts if you are ordering for yourself or have friends over. They pride themselves on providing great quality food while pricing it competitively so that more people can access it.
---
Protect Your Online Privacy With Surfshark
[The VPN that we use here at Tech Arrival]
---
8. FreshMenu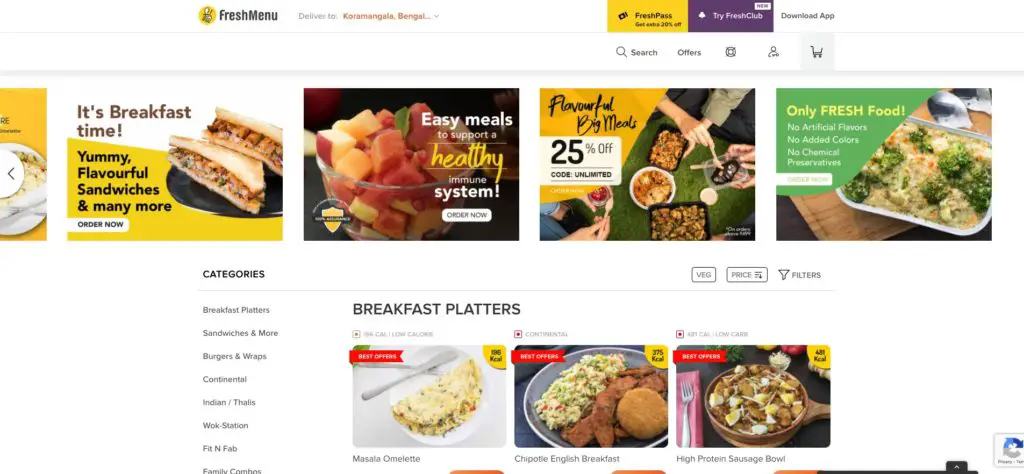 Freshmenu is a meal delivery service that offers freshly cooked food. They deliver meals to your doorstep using an app and have partnered with the best restaurants in India. The company has grown exponentially since it started in 2013, connecting customers directly with chefs cooking their favorite recipes from scratch! Customers can order anything from fast food like burgers and wrap to a full-course meal like chow mein or daal tadka. They offer breakfast, lunch, and dinner with a maximum of two hours to deliver the meal. They are currently present in Mumbai, Delhi-NCR, Bengaluru, Chennai, and Hyderabad.
9. Dominos Pizza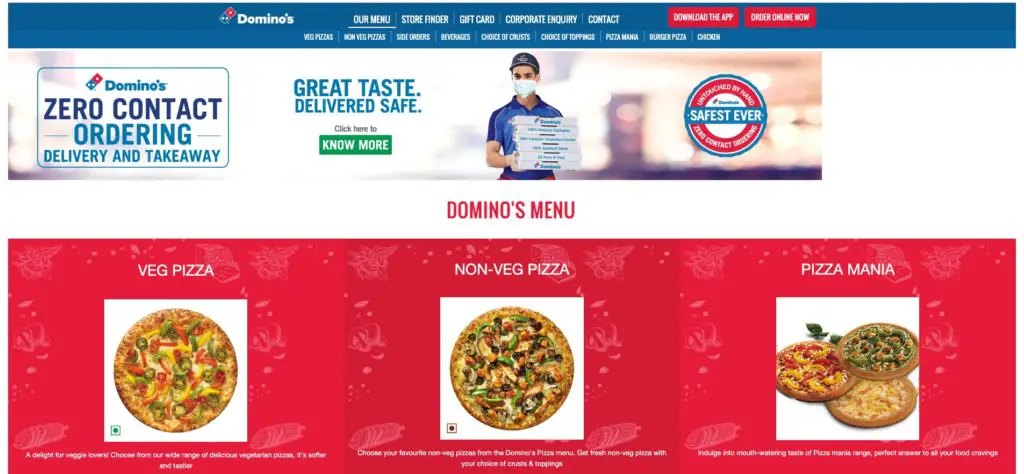 Dominos Pizza India is the local franchise of the global pizza chain, Dominos. The India branch is one of the fastest-growing Dominos branches globally, and its service has been praised by many customers. Dominos is one of the most well-known Online Food Delivery Services in India. The company operates more than 5000 stores and delivers pizza all across the country! They offer a variety of pizzas with flavors from around the globe but also have Indian dishes like tikka masala pizza! And offers dine-in as well as home delivery options to customers at reasonable rates. The menu includes vegetarian as well as vegan options too. You can order any type, shape, or size that you want on their website as they offer a wide variety ranging from BBQ Chicken Pizza to Mexican Fiesta with chicken wings.
10. Pizza Hut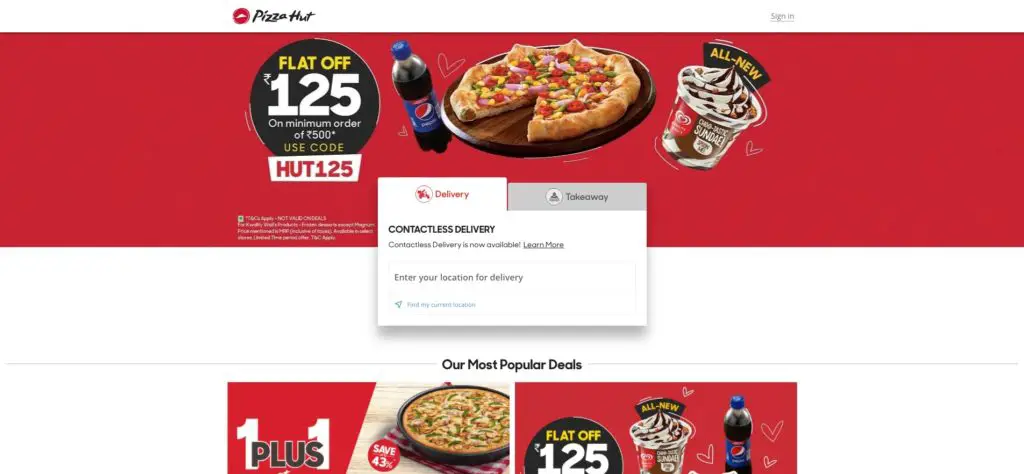 Pizza Hut is among the top fast-food chains in India, delivering the best quality food at affordable costs! When you order from Pizza Hut India, you are assured of getting delicious pizzas made from the freshest ingredients and brought to your doorstep wherever in India. Pizza Hut has a wide variety of pizzas that will suit your appetite, whether you're craving a cheese pizza or pepperoni pizza! They also offer vegetarian options like Veg Supreme, made from fresh vegetables cooked with onions, capsicum, corn, and mixed peppers. Pizza Hut has several outlets in metropolitan cities across India and Online Food Delivery Services with delivery points across the country! The company also offers deals like Dine-in Deals to enjoy your favorite pizza at restaurants for discounted prices.
Conclusion
Do you need to find the best Online Food Delivery apps in India? The above list of 10 food delivery services should have something for everyone. Online Food Delivery Services is a great alternative to dine-in as it offers discounts for customers and delivers quality food in minutes!
Whether you are looking for Indian cuisine, pizzas, desi meals, or other dishes from around the world – we've got it all covered! Which service do you order from most often and why? If none of these seem like your favorite option- let us know what's on your mind by commenting below.
Also read: 10 Best Online Shopping Sites in India
Frequently Asked Questions (FAQs)
Who is Online Food Delivery Service for?
Online Food Delivery Services help those who don't have time or energy to cook, or do not have time to go out and/or would rather spend their free time doing other things.
When did Online Food Delivery Start in India?
In India, online food delivery was introduced by companies like UberEATS, Zomato, Swiggy, FreshMenu, Dominos Pizza India, and Pizza Hut Back in 2014.
What are the Best Online Food Delivery Services in India?
Each of these Online Food Restaurants on this list is a great option for ordering food online: Zomato, Swiggy, Dominos Pizza India, and Pizza Hut.
Is UberEats Available in India?
UberEats used to Operate in India. However, it is now acquired by Zomato. When you download the UberEats App or open its website in India, it will forward you to Download or Open Zomato App/Website.
Which Online Food Delivery App has Cash on Delivery?
All of the Food Delivery Services in India offer Cash on Delivery Options.
---
Protect Your Online Privacy With Surfshark
[The VPN that we use here at Tech Arrival]
---
Is there a Difference in Flavors While Ordering Online Vs. Dine-in?
Online food deliveries do not differ in terms of flavor as they use the same ingredients. However, there is definitely a lot of difference when it comes to Dine-in Vs. Food Delivery Services. The food won't stay fresh as it takes a bit of time to deliver, and there will be packaging and spillage-related issues.