The internet is the new TV – The saying is becoming true day by day. Gone are the days when you loved to sit on your couch and watch television. Modern life is so busy, and you can now watch TV anywhere with your smartphone. 
You will be amazed to know that there are still a lot of apps that allow free live TV streaming. The only caveat is that some of these apps manage to function due to ads that are shown in between. But that's good as long as you are not paying anything from your pocket. 
So, we have gathered some of the best live TV apps for Android to help you stream your favorite TV shows and channels for free. We have personally tested these apps on our Android smartphone, so you wouldn't have to.
Important Note 1: Enable Installation from Unknown sources from Settings >> Security to allow the installation of the apps listed here that are not on the Google Play Store.
Important Note 2: It's always great to use apps available on the Play Store or App Store because these apps go through a checklist of things to ensure they are safe. So, always treat apps not on the official store cautiously, whether you like it or not.
List of Best Live TV Apps for Android
1. Free IPTV Players
Do you know there's a GitHub repository that manages the list of all the free available IPTV resources across all countries? You just need a suitable app that can stream directly from these URLs, whether Android, iPhone, Windows, Mac, Linux, etc. For this tutorial, we will be using VLC Media Player.
Download VLC Media Player. 
Go to More -> Tap "+ New Stream"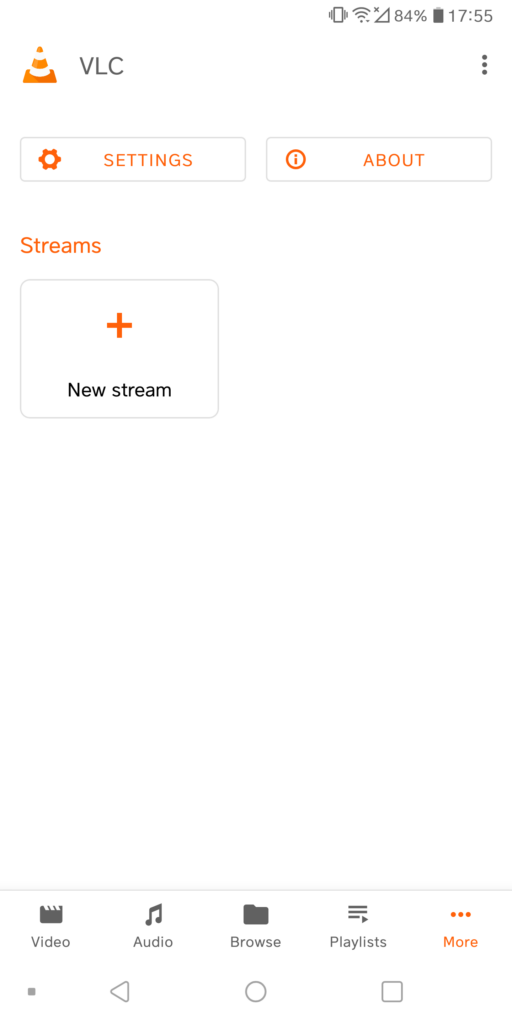 Head over to IPTV GitHub Repo and Scroll to the Playlist Section. 
Copy the desired URL; select the Main Playlist or Grouped by category/language/country/region. 
Paste that URL in the "Enter Network Address" section and Tap the Arrow Icon.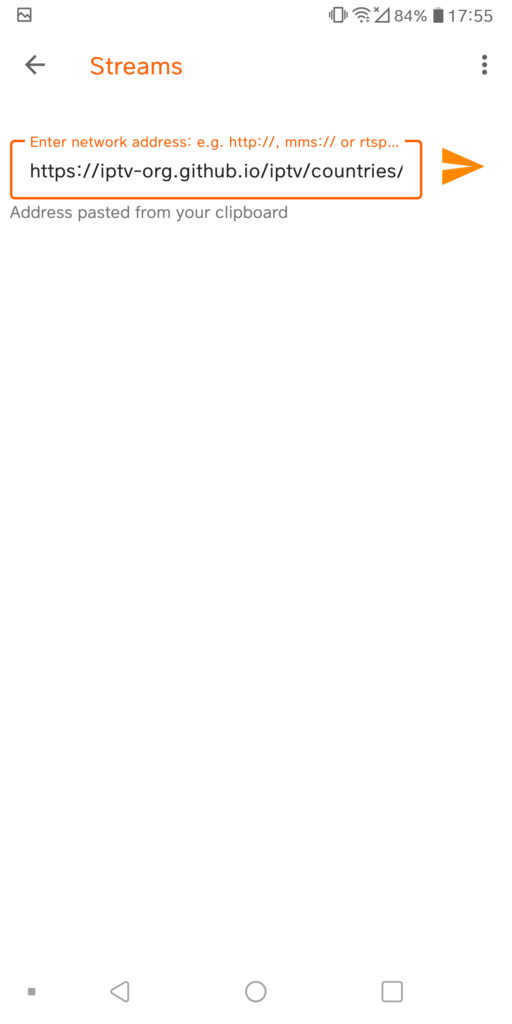 The live stream will begin to play. Press Next or Previous to Change the Channels.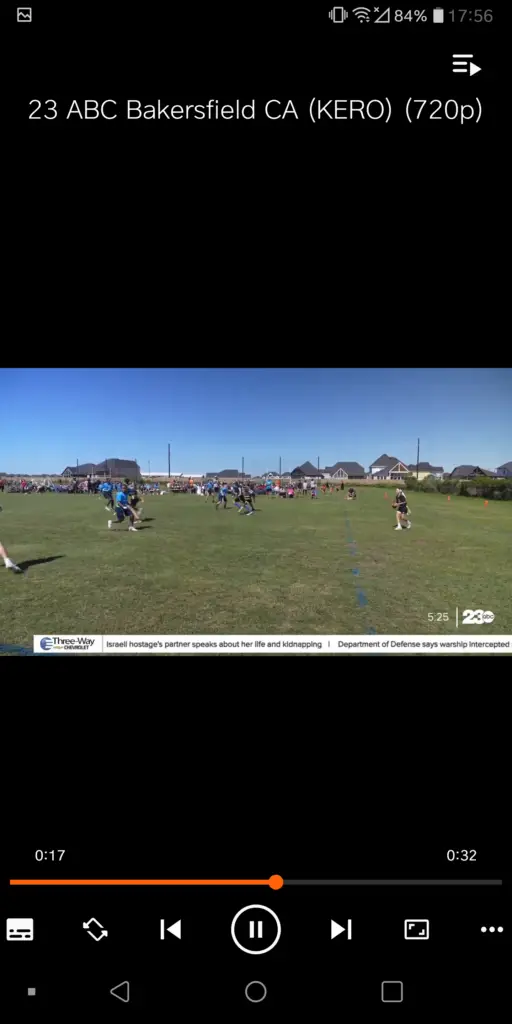 This was just for primary users. If you want to use it frequently and want more features, try some of the recommended apps: https://github.com/iptv-org/awesome-iptv#android. 
2. Live NetTV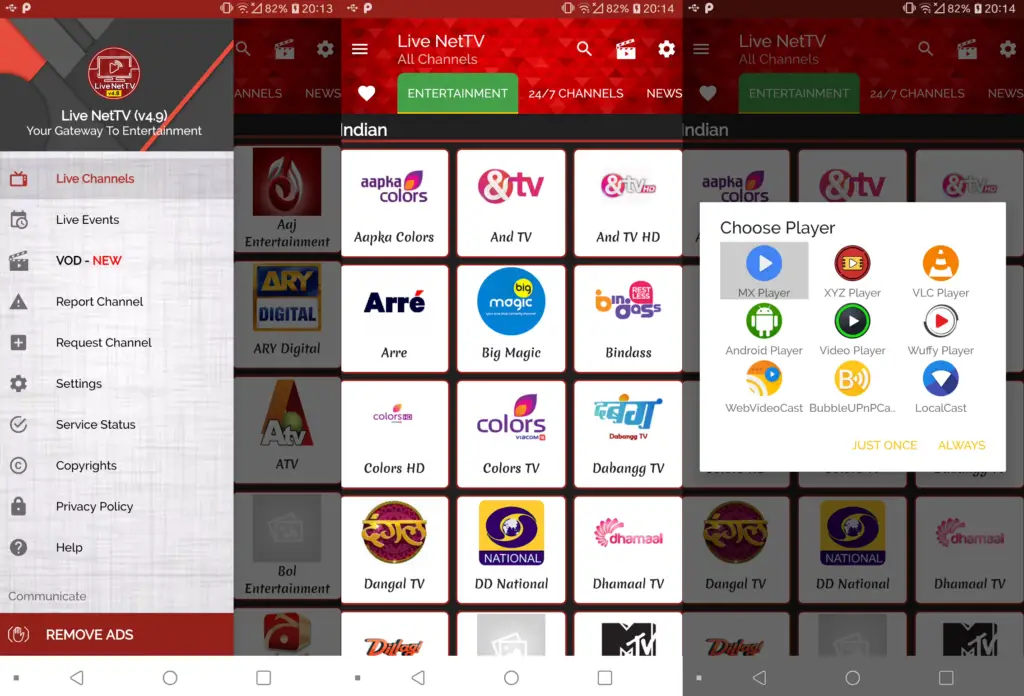 This app is in the legal grey area and unavailable on Google Play Store. But it is one of the best apps we have come across for live TV streaming. It has channels from all across the world. You can also search for your desired channels and tap on them to begin streaming. You will be asked for a desired app to stream on. We prefer MX Player and VLC Player. 
As per the official site, It has 800+ channels. You can sort these channels by country, live channels, news, sports, movies, language, etc. In terms of working, it is similar to the previous one, but everything is well organized here, and there are no manual steps that need to be performed. You can also cast this screen to a bigger screen like your TV. 
3. AOS TV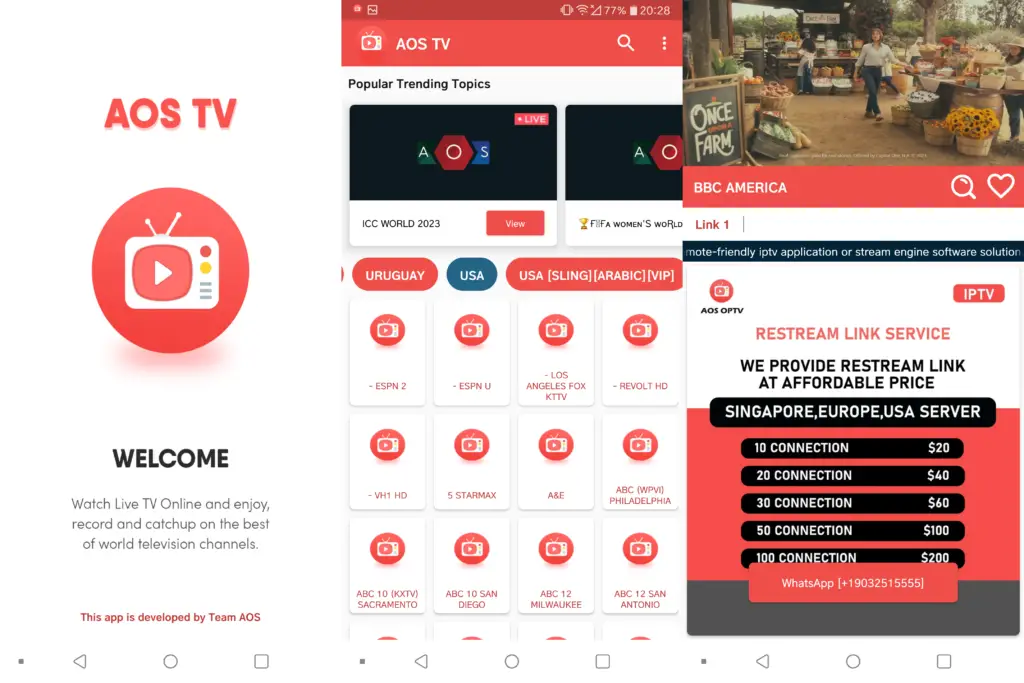 AOS TV is another app like Live NetTV & not on the Google Play Store. As per the sources, it has over 1000+ channels worldwide. The one thing that we like over other similar apps is the lack of ads. It makes a big difference while watching TV. In addition, no additional apps are required to stream live TV as the app has an inbuilt player. 
---
Protect Your Online Privacy With Surfshark
[The VPN that we use here at Tech Arrival]
---
4. Pluto TV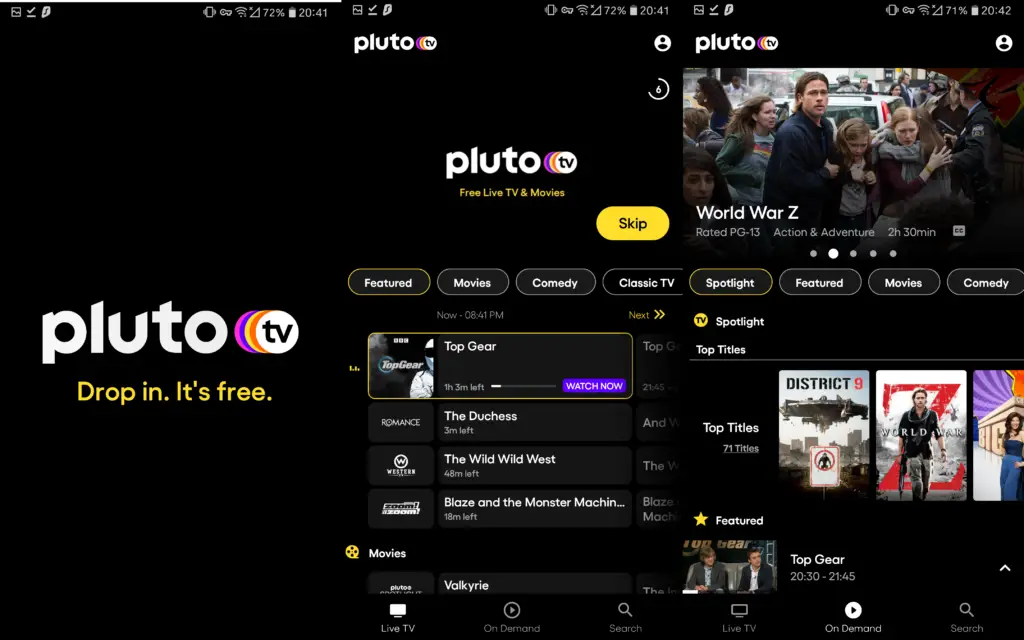 Pluto TV is one of the best legal apps on Google Play Store. It stands apart from other apps because it is really free, and the user experience is also well-optimized. You will get around 250+ channels, 1000+ movies & 400+ TV Shows. You will get ads in between while streaming, but they are not that bad. However, you should note that Pluto TV is unavailable worldwide and is geo-locked to certain countries. 
5. Xumo Play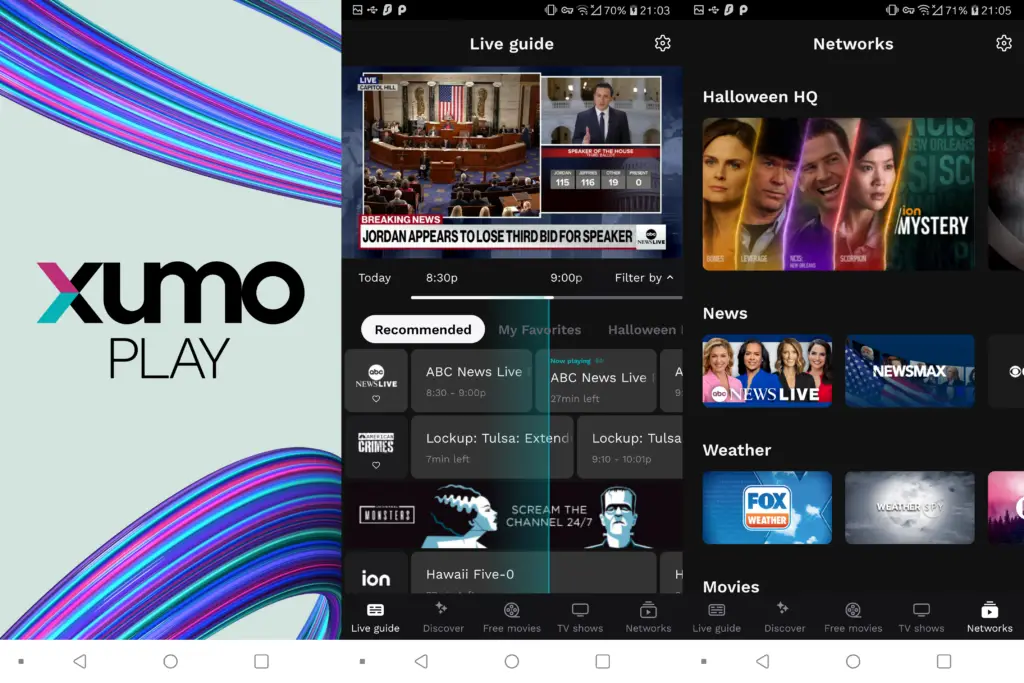 Xumo Play is only available in the United States as of the writing of this article. It is an entirely free app that can stream over 300+ channels. It also has free movies as well as free TV shows. Also, for privacy geeks, no signups are needed to use this app. The app is very user-friendly, and we found no issues using this app. Xumo Play also claims that you will see only half the ads you usually see while using cable TV. 
6. Plex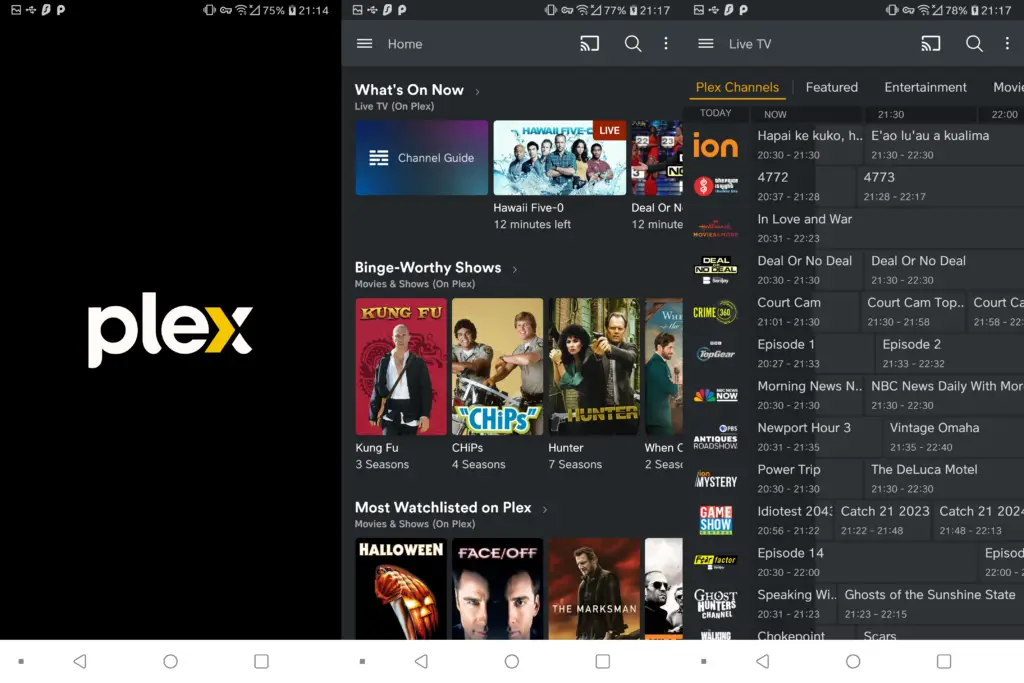 Plex has been popular for a long time, and they are still relevant when it comes to streaming movies, TV shows, and more. Some people like us also use it to manage our media library on our NAS storage to stream across the entire home. But that is outside the scope of this article. 
Plex offers over 600+ channels for live TV and over 50k+ on-demand titles for movies and TV shows. That is a massive number when compared to other apps. Plex is available across multiple platforms like iPhone, iPad, Android TV, etc. You can also cast your screen to other devices using the built-in cast option in the Plex app. You don't need to create an account to use this app, but we highly recommend creating one if you use it regularly to get a customized experience. 
7. Tubi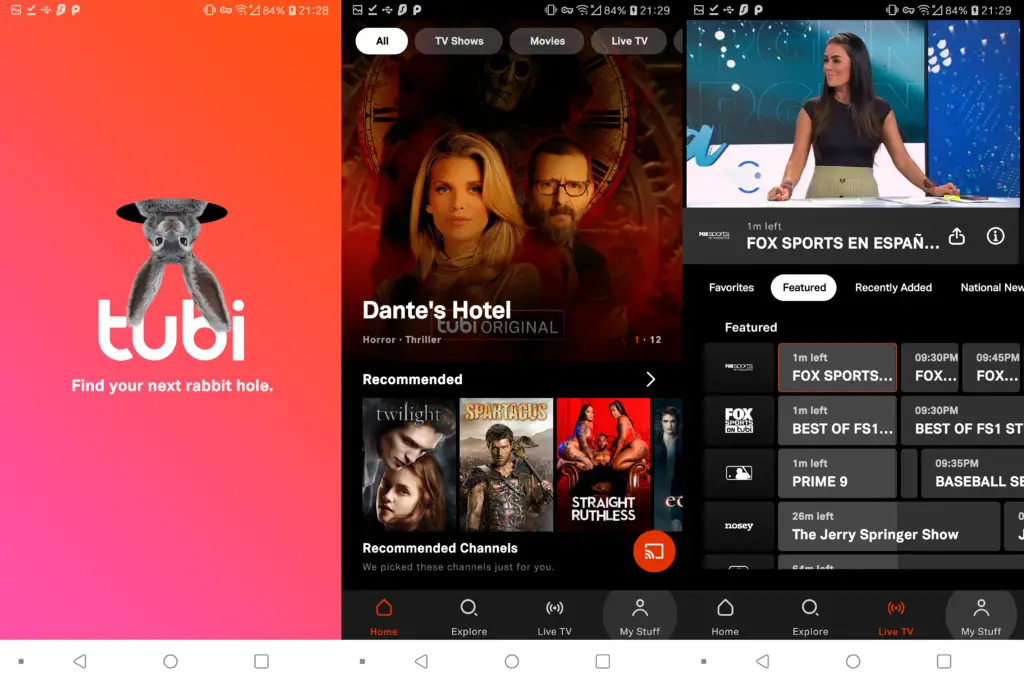 Tubi is another completely free app that lets you stream over 50k+ movies and TV shows. We tried all the features of Tubi and found it on par with some of the best apps out there. There is no official count that we could find from official sources. But as per our estimate, there are over 200 channels available on the day of writing this article. 
Like Plex, this app is also cross-platform and can be used across most devices in your household. Screen Casting is also available to make your life easier. If you create an account with Tubi, it lets you create 6 different profiles for different users to personalize the experience for different users. 
8. JioTV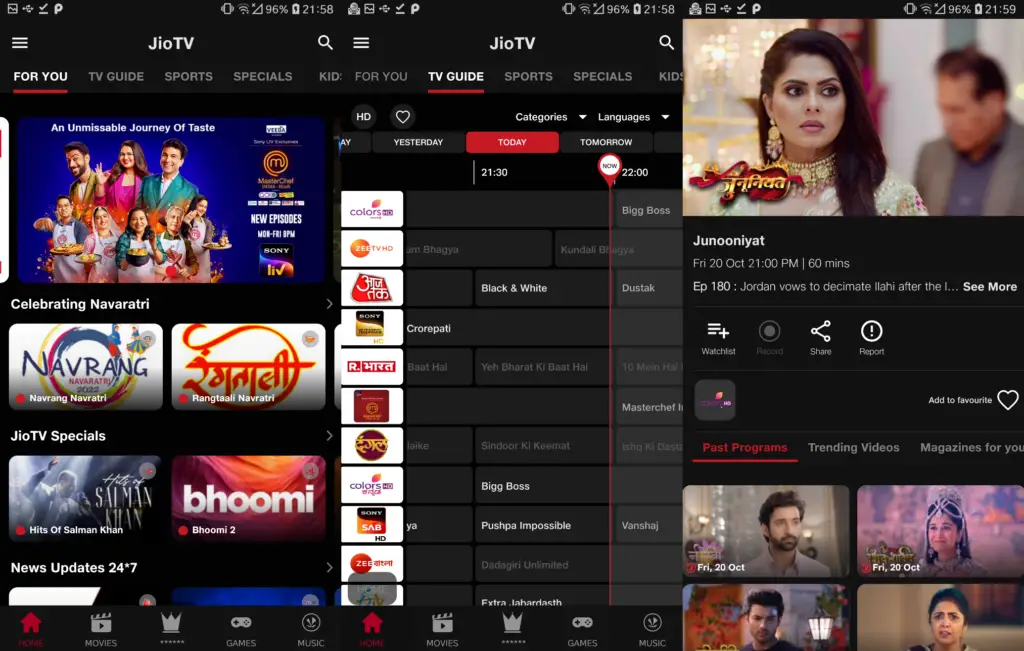 Are you from India? You lucky duck! As of the day of writing, Jio has over 38% Subscribers of India's market share for wireless networks. If you are a Jio user, you can access JioTV for free on supported devices. It includes over 1000+ channels with 15+ languages. 
If you enjoy Indian TV Shows, you can watch the episodes for 7 days once it is streamed live. The best way to experience JioTV is by using a TV, and the best way to do that is with the Jio 4K Setup box. 
9. MX Player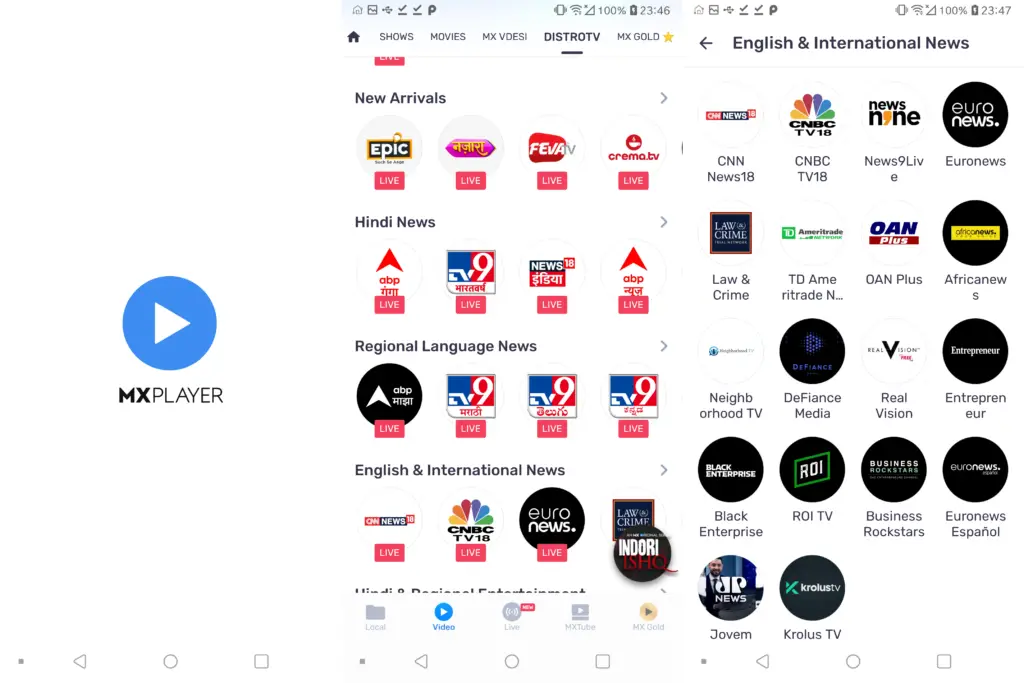 MX Player started as a simple media player for Android and later expanded its reach by introducing itself as an OTT Platform. You will also be surprised to know that it supports live TV. While there is no dedicated section for live TV, you can find it under Video Tab -> DistroTV. 
MX Player has not disclosed how many channels are there, but at the time of testing, we found 450+ channels on the live TV page, and that's a lot. It is an ad-supported model, so you will encounter them at specific intervals while streaming the content. 
Honorable Mentions
+ Crackle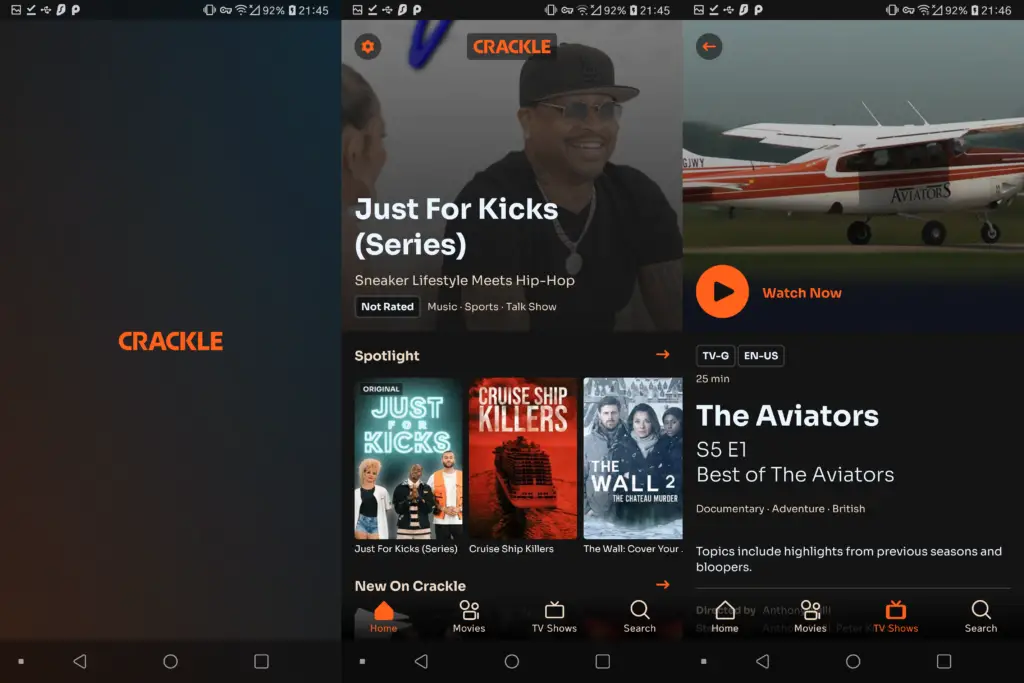 Crackle is not a live TV streaming app, but if you dig out good TV shows and movies, you should check this app out. It has a massive collection of bingeable TV shows and movies. Crackle was originally launched by the name "Grouper" and then later renamed to "Sony Crackle" and then in 2019 changed to "Crackle".
---
Protect Your Online Privacy With Surfshark
[The VPN that we use here at Tech Arrival]
---
Also read: 15 Best Free Movie Apps You Should Use
If you love British content, you will like this app because it includes shows like Sherlock, Taboo, Ripper Street, and more. As of now, Crackle is only available in the USA. 
Apps Not Working Anymore
While searching for live TV apps, we found several mentions of these apps on multiple blogs, but unfortunately, none of them were working at the time of our testing and, hence, were excluded from the list. 
Peacock TV: Not free for new users
YuppTV: Mostly paid channels and only a few free channels
nexGTv: Negative Reviews on Play Store
Kodi: ccloud TV addon has not been updated since 2017. 
STIRR: Not updated since 2022
ThopTV: Banned and Shutdown in 2021
Oreo TV: Banned and Shutdown in 2021
Sony LIV: Sony LIV TV Channels streaming discontinued from August 30, 2023
So these are all the apps you can use on your Android device to stream live TV for free. Many apps also have a separate version for the Android TV OS, and you can opt for that if you are going to use your Android TV. For those apps that have a mobile-only version, you can use the Screen Cast to watch them on your TV. 
Frequently Asked Questions (FAQs)
Can I watch TV online for free?
Yes, there are lots of services and apps that allow you to watch TV online for free. Some of them are listed here in this article. Additionally, many major TV networks also offer their apps and websites so that you can watch their channel for free.
How can I watch TV without cable or the internet?
The best way to watch TV without the internet or cable is to use the antenna attached to your TV or a DVR with a built-in over-the-air tuner. In many countries, there are some free-to-watch channels that you can watch using this method.
How many channels can you get with an antenna?
This purely depends on the area that you are living in. The closer you are to the broadcasting station, the more channels you will receive.
What are the downsides to free online TV versus paid TV?
Free Online TV services/apps generally pay their bills from the revenue they generate from the advertisements. Additionally, most of the time, you will be restricted to 480p or 720p since lower quality saves them lots of bandwidth, and it is a method for cost-cutting.
What are IPTV Players?
IPTV players basically convert a stream from the internet, generally in the form of M3U8, XSPF, and M3U files, to viewable TV channel video. 
What is the best free app for watching live TV?
According to us, Pluto TV, Plex, JioTV, and MX Player are the best apps for watching live TV for free. 
Is JioTV Free?
Yes, JioTV is free for Reliance Jio customers. 
---
Protect Your Online Privacy With Surfshark
[The VPN that we use here at Tech Arrival]
---