As the internet becomes more and more of a necessity in our day-to-day lives, it has become essential that we take the necessary precautions to protect ourselves from hackers, identity theft, or government surveillance.
One way to do this is by using VPN extensions for your Chrome browser. A VPN extension encrypts all of your web traffic, so you don't have to worry about someone looking at what you're doing on the internet.
Are you looking for the best Google Chrome VPN extensions? There are a lot of different VPNs and extensions that you can use, but not all will protect you as they should.
Also read: 13 Best VPN for Windows 10 PC
In this blog post, we will review different Google Chrome VPN Extensions that provide top-notch protection for your browsing experience!
The best part? Some of them are totally free!
List of Best Google Chrome VPN Extensions
Note: The VPNs in the list are not arranged from best to worst or from free to paid.
1. Surfshark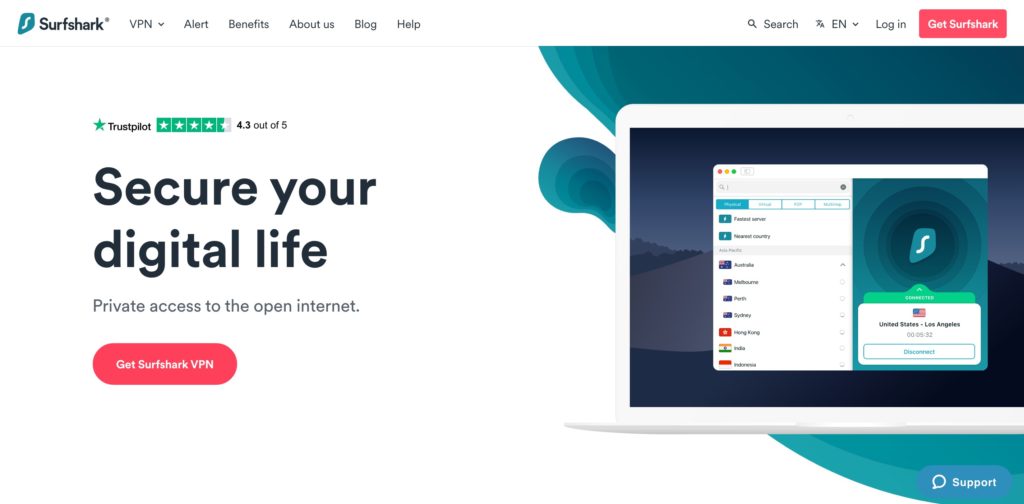 Surfshark is a new but revolutionary VPN service. It's extremely cheap if you opt for an annual subscription; however, it's not much expensive when you opt for a monthly payment as well. You can use the VPN on 5 devices simultaneously with one account. Apart from the Google Chrome extension, it has compatible apps across all platforms, including iOS, Android, Linux, Mac & Windows.
Surfshark VPN also offers three protocols, OpenVPN, WireGuard & IKEv2. They have servers worldwide, so you won't have to look for servers in different locations. SurfShark also offers powerful Ad-Blocking, WebRTC leak protection, Kill switch, and DNS Leak protection.
2. ExpressVPN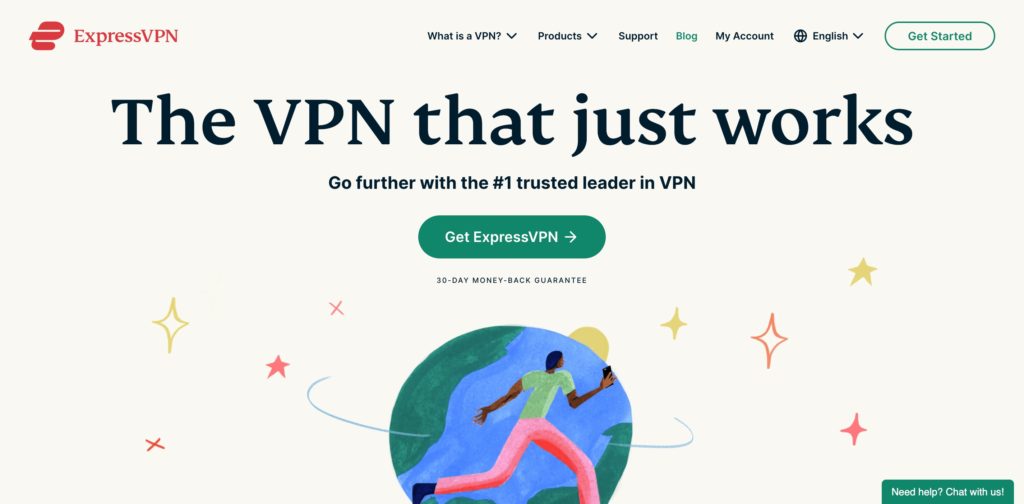 ExpressVPN is the best choice for unblocking websites and streaming content. It has servers located in 94 countries worldwide, which gives you plenty of options to choose from when looking at where you want the traffic to come from. Their Chrome extension also provides 256-bit AES encryption and DNS leak protection, so hackers cannot see what sites you are visiting.
---
Protect Your Online Privacy With Surfshark
[The VPN that we use here at Tech Arrival]
---
Their customer service is also top-notch, which means you can get help at any time if you're having issues with the extension or seeing specific content that isn't working for some reason. You will need to sign up for their services before using this Google Chrome VPN Extension, but it's worth doing so! You even have a 30-day money-back guarantee with your purchase, which means you can try it out and get a refund if you don't like the service for some reason.
3. ZenMate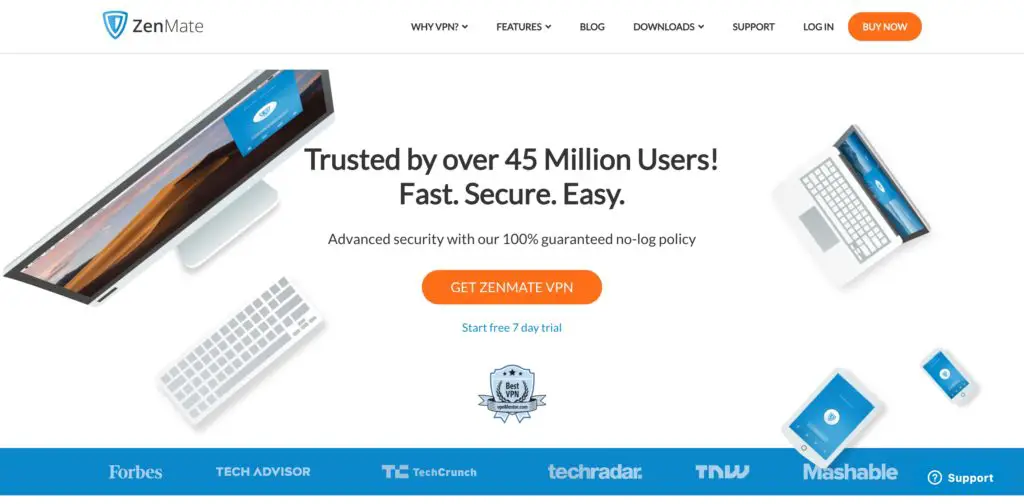 ZenMate is one of the best VPN services in the world. They offer secure browsing with one of the most trusted privacy-protecting companies worldwide, known as ZenGuard. It helps you access blocked websites, secure your connection while you are on a public Wi-Fi hotspot, hide your real IP address & encrypt all of your data so that no one can spy on or monitor your activity online.
With unlimited bandwidth and traffic, ZenMate guarantees you will enjoy its lightning-fast VPN service. Their Dedicated Streaming Servers allow you to stream video content even when location restriction blocks it. ZenMate works with Netflix, Hulu, and other streaming services that may be restricted in your area. The strong Military Grade Encryption covers up your personal IP address and provides a secure Internet connection against any data or spying.
4. Touch VPN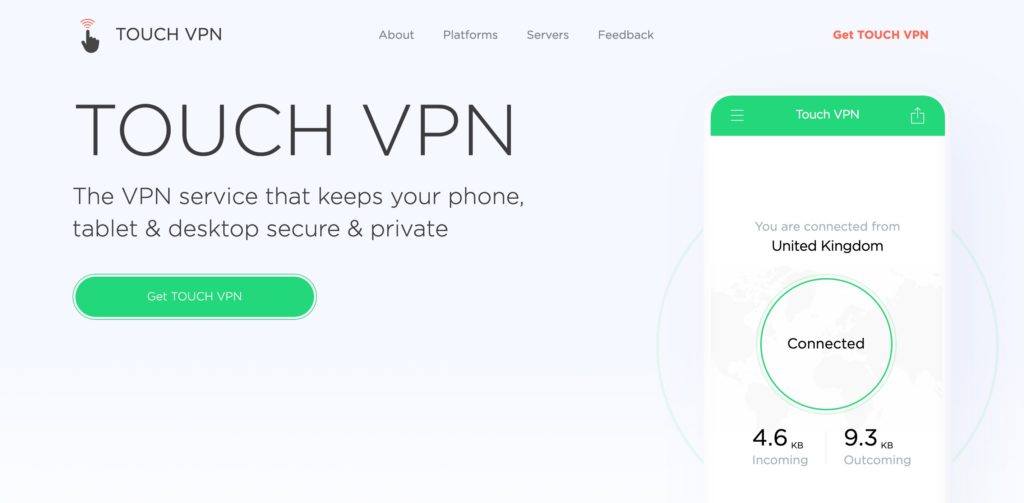 Touch VPN seamlessly enables access to blocked websites and services on your Google Chrome browser. This premium Android VPN app securely encrypts all internet traffic, enables you to access blocked or Geo-restricted websites, and keeps you anonymous while using the internet. This is one of our favorite VPN on the list. Reason? This VPN is completely free and does not require you to purchase a subscription.
All you have to do is download the extension, and you are good to go. No registration is required, no settings are to be changed. It's an on-demand VPN app that allows you to access any website. Their servers are available worldwide, which means you get unlimited access to any site from any country. There is no bandwidth or speed limit, and your IP is never exposed.
5. Betternet

Betternet for Chrome is a completely unlimited and free VPN service. Betternet secures your connection by encrypting all of your data, changing your IP address, and hiding your real locations. The advanced technology that Betternet offers encrypts your network traffic, enabling you to access the internet through a secure VPN connection. The result? Secure, anonymous, and private web surfing experience.
It works like most VPN services by establishing a secure connection to the website you are visiting. You can also unblock blocked websites from school, college, or workplace for free with this secure Chrome extension. Millions of users trust the Betternet VPN service. This is one of our favorite VPNs on the list because it's straightforward to use and compatible with all other major device platforms.
6. Hotspot Shield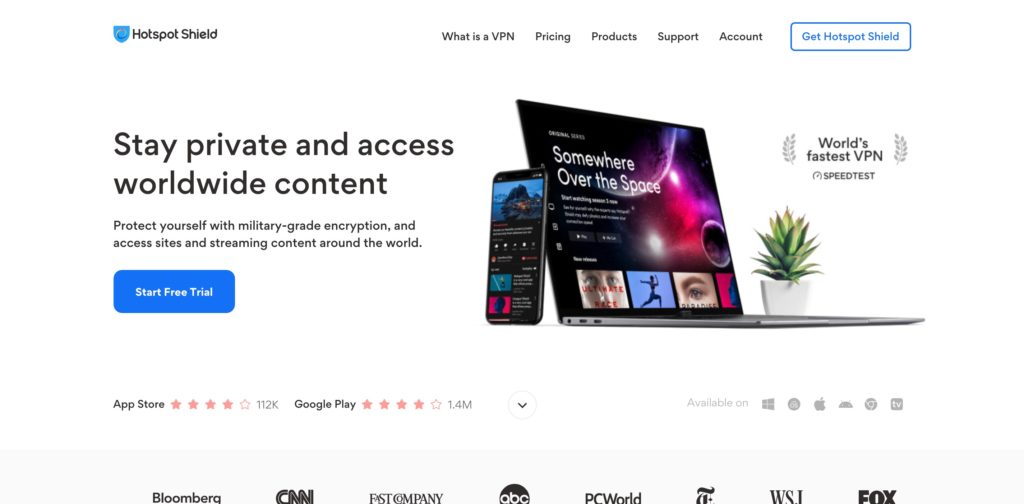 Hotspot Shield offers cross-platform protection, fast speed connection, and the ability to unblock geographically restricted websites. It's also one of the most popular Google Chrome VPN extensions with more than 2 million downloads. Hotspot Shield is powered by Pango: a company that's been around for 20+ years. It offers Military-grade encryption and has a no-logging policy.
Additionally, the VPN comes with plenty of good features such as Unlimited bandwidth, access to 80+ countries, support of more than 5 devices simultaneously, thousands of servers around the world, and more. On top of that, it uses proprietary Hydra VPN protocol that is one of the fastest VPN protocols. You also get 45-day money-back guarantee, free updates, and friendly 24/7 support.
7. Private Internet Access

Private Internet Access is a leading no-log VPN based in the USA. It has a massive list of features that include a strict no-logging policy; You can choose from 45 servers located in 28 countries. 24/7 customer support that's available via live chat or email. It provides unlimited bandwidth and works with Netflix, BBC iPlayer, and Hulu. The VPN service is available at a low cost, and you can save more if you get a yearly subscription.
You can use it on 5 of your devices simultaneously. It offers unlimited bandwidth, so you don't have to worry about exceeding the limit. One of the best things PIA offers is IP Cloaking that hides your real IP and encrypts all of your data. Private Internet Access is a great choice for those who don't want to compromise security and speed.
---
Protect Your Online Privacy With Surfshark
[The VPN that we use here at Tech Arrival]
---
8. Windscribe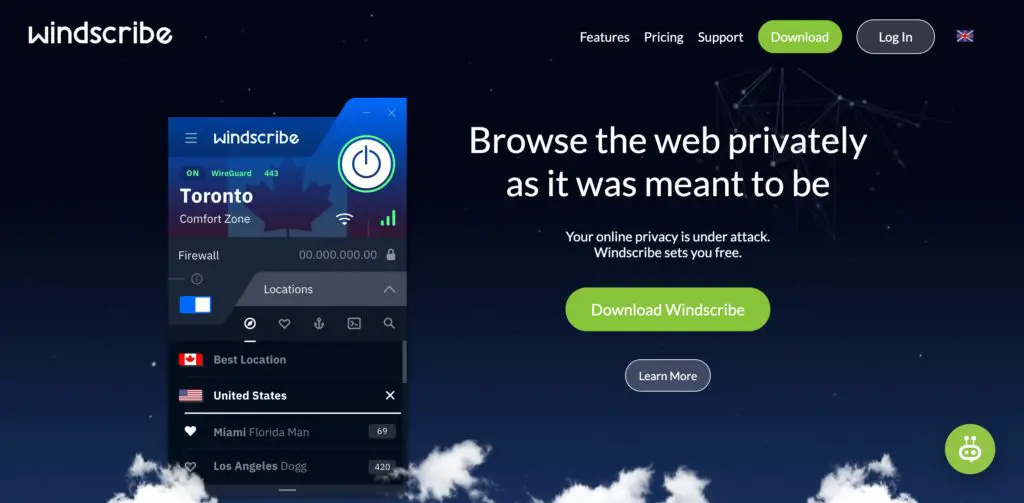 Windscribe is one of the fastest-growing Google Chrome VPNs in the industry. It has a massive list of features that include Unlimited Data, OpenVPN, IKEv2, WireGuard, Blocks Ads, Trackers and Malware, and much more. You can also use it on more than one device simultaneously. It offers unlimited simultaneous connections so that users can protect all their devices with a single account. Windscribe VPN offers servers in more than 63 countries located around the world.
It uses OpenVPN, an open-source protocol with military-grade encryption. It offers unlimited bandwidth and unlimited speed without usage caps or throttles. This makes it an ideal choice for all types of users that require speed for streaming, gaming, or downloading. One of the best features is to custom-build a plan and only pay for the server location you use.
9. NordVPN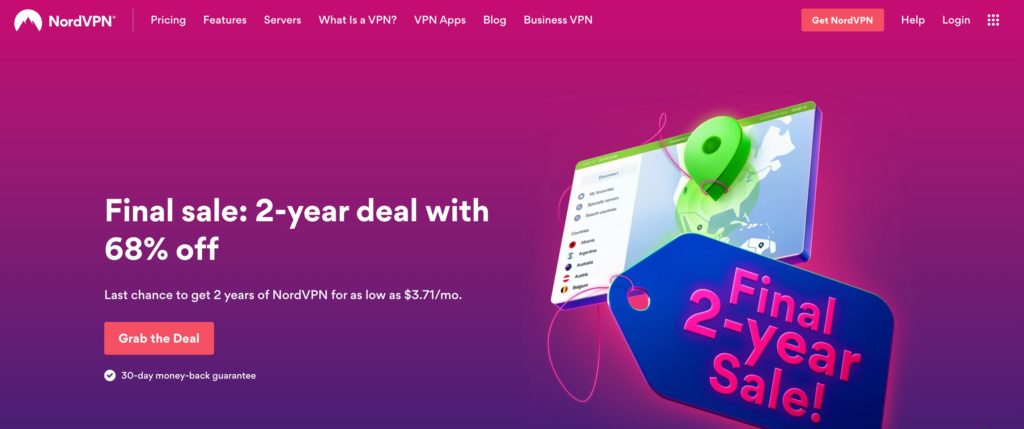 NordVPN is one of the most secure VPN services that offer AES with 256-bit keys. It doesn't keep any logs and allows torrenting/P2p on all servers, 24/7 support via live chat, email, or ticket system. It has more than 5100 servers in 60 countries around the world. The VPN service also offers unlimited bandwidth, speeds, and server switches. You can use it on 6 devices simultaneously, so it provides you complete privacy no matter where you are or what device you are using.
It also comes with DNS leak protection that ensures your ISP doesn't get to know which sites you visit. NordVPN is based in Panama, so you never have to worry about the NSA or other agencies snooping around. It also offers a CyberSec that blocks dangerous websites and lets you browse the web safely. NordVPN is one of the most secure VPNs that offers powerful security and Internet freedom for everyone at any time.
10. TunnelBear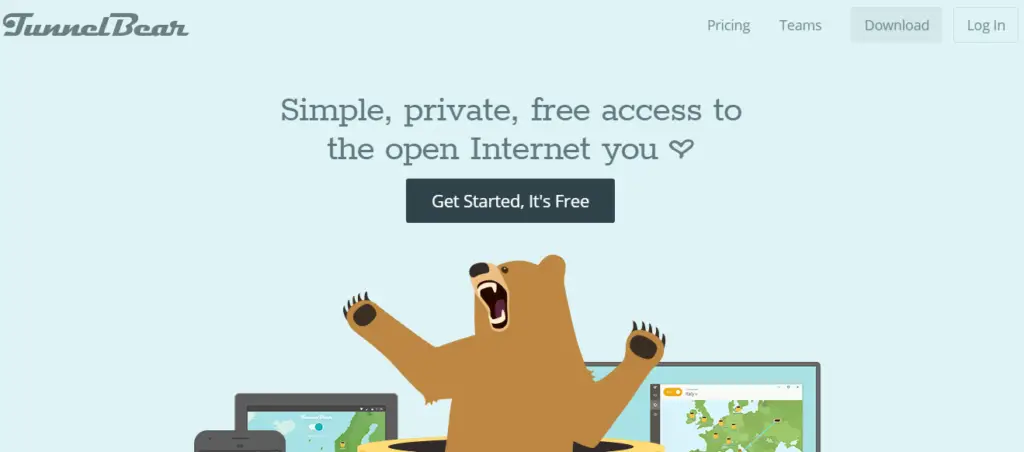 TunnelBear VPN is one of the most popular Google Chrome VPN extensions, with more than 1 million downloads. It provides fast connection speed to its users and allows you to access geographically restricted websites. The best thing about TunnelBear is that it offers 500 MB of free data usage every month. This means even if you cancel your plan, you can still use 500MB for free to test their service.
You can upgrade your plan or downgrade it if needed. The VPN uses AES-256 encryption, which has military-grade security. Another great feature of this Google Chrome VPN extension is that you can torrent anonymously while hiding your IP behind a bear tunnel. TunnelBear offers you a great Chrome VPN extension. It comes with an easy-to-use interface, and it's straightforward to use.
11. VeePN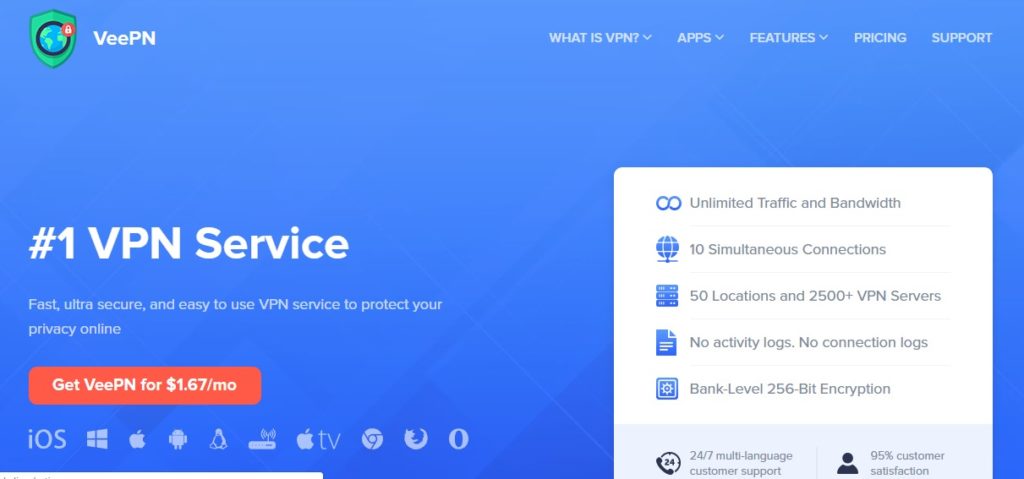 VeePN extension guards you against frauds and hackers. It hides your location and secures your data. Get yourself the necessary resource access and total protection of the Internet connection.
Your privacy and safety are the primary values of the company. VeePN does not collect or store your data. You can ensure it by checking the No Log policy – all the details are there for your information. If the company gets access to your data in the service delivery process, they don't share it with any third party.
Chrome VPN Extension Vs VPN Software
This choice is a difficult one. Both have their pros and cons, but I recommend you to use Google Chrome VPN extensions for your browser as they are easy to set up and don't affect the speed of the internet at all. On the other hand, if you need more control over how it works or want advanced security options, go with VPN software.
Also read: 10 Best VPN Apps for Android
How to Install VPN Extension on Google Chrome
Installing any extension on Google Chrome is very easy. You'll be able to finish it in no time and start enjoying those additional features straight in your browser right away!
---
Protect Your Online Privacy With Surfshark
[The VPN that we use here at Tech Arrival]
---
Follow the instructions below to find out how to do this:
Step 1: Visit Chrome's Extensions Store Page.
Open up Google Chrome and tap on the menu button. It's located at the top right of your browser (to the right of the search bar).
A pull-down menu will appear. Click on "More Tools" and then select 'Extensions'.
The page you're looking for should be located in the hamburger menu on the top left. Now click on 'Open Chrome Web Store'.
Step 2: Find an Extension You Want to Install.
You can find any extension by using the search feature at the top of the page. Type in the VPN name and press Enter.
We have included direct links to every extension to make things easier. Once you've found an interesting extension, click on the title to visit the extension's page.
Step 3: Install your New VPN Extension add-on!
Now that you're on the extension's page, all you have to do is click "Add to Chrome". You might get a pop-up asking you if you're sure you want to install the add-on. If this happens, click Continue, and it'll be added in seconds!
If you're done with the installation, you should see your extension's icon in the top right corner of Google Chrome. You can click it to open up the extension's page or access its features straight away!
How to Uninstall VPN Extensions on Google Chrome
If you ever feel like removing the extension you installed, follow these steps:
Step 1: Visit Chrome's Extension Setting Page
Open up Google Chrome and tap on the menu button. It's located at the top right of your browser (to the right of the search bar).
A pull-down menu will appear. Click on "More Tools" and then select 'Extensions'.
Step 2: Disable or Remove the Extension
After clicking 'Extensions', you will see all your installed extensions. Click on the small toggle button to the right of the extension you want to disable and select 'Disable'.
If you want to get rid of it, click Remove instead.
When you're done removing your extensions, click close and restart Google Chrome.
Conclusion
Whether you want to protect your privacy, unblock content or encrypt data transfer, these extensions will meet your needs and help give you peace of mind when browsing online. These VPN extensions for Chrome will help you surf the web with more safety and security.
The best Chrome VPN extensions are those that provide a high level of protection, an easy installation process, and great customer service. When selecting the right one for your needs, be sure to consider all three factors when you make your decision.
Also read: 5 Best VPN Apps for iPhone & iPad
After reading this article, we hope you'll have a better idea about what features to look out for to protect yourself from cybercrime today without compromising on ease-of-use or price point.
What's your favorite extension? If we've missed any good ones, let us know in the comments!