So you have got your child the latest iPhone but aren't sure about their Online Activity and Safety? You have come to the right place. We have made a comprehensive list of the best iPhone Parental Control Apps. Read on further to know more.
But before showing you everything about Parental Control, let me tell you what Parental Control truly means. Parental Control Apps include Filtering, Monitoring, Mobile-device management (MDM), and Virtual private network (VPN).
Filtering – blocking the junk through content categories (e.g., violence, adult, etc.), a blacklist, clean DNS, or a combination.
Monitoring – keeping track of digital behavior and reporting it to someone else. Often used synonymously with Accountability (although Accountability often also implies a strong relational aspect with a friend who is helping or a parent who is guiding). This could mean monitoring websites, words, or actions. There are very, very few reliable iPhone monitoring solutions available because of the technical complexities involved. In other words, it's easier to block a list of junk than it is to keep current on the different demands of different operating systems in order to capture and report on how someone is clicking. Covenant Eyes, Bark, Accountable2You, and EverAccountable are examples of monitoring companies (Covenant Eyes also has a filter, which is unique to have both). The Bark is also a monitoring company that focuses on themes and words, which you can read more about below. They purposefully don't block or filter anything.
Mobile-device management (MDM) – this is a tool used by some parental control companies in order to exert greater control over the device. It means loading a "profile" onto the phone, which digs into a phone's operating system.
Virtual private network (VPN) – a VPN is used by some parental control companies to dig deeper into the device's internet traffic and in the case of a sneaky teen, also used to evade parental controls
Now let us look at some default options already available on your iPhone.
Also read: 12 Best iOS Keyboard Apps for iPhone and iPad
List of Best Parental Control Apps for iPhone
1. Screen Time on iOS 12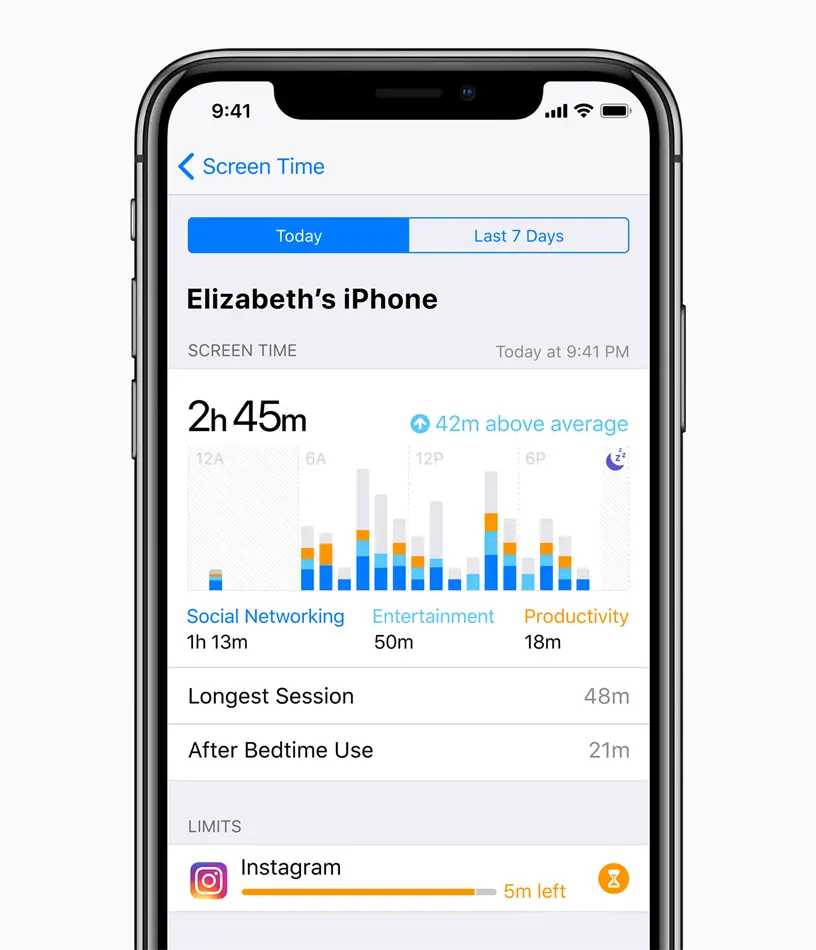 If you have an iPhone, chances are its already on iOS 12. With iOS 12, Apple has introduced some cool features which allow you to keep a tab on the iPhone. In iOS 12, restricting access to any content falls under the new Screen Time feature.
Launch Settings from your Home screen.
Tap Screen Time.
Tap Content & Privacy Restrictions.
Enter a four-digit passcode.
With this, you can choose what type of content to block, including in-app purchases, adult websites, location sharing, and a lot more!
But this generation of kids is super smart and even after setting up Restrictions on your iPhone, they might be able to bypass it. So that leaves you to some alternative Parental Control App.
2. Mobicip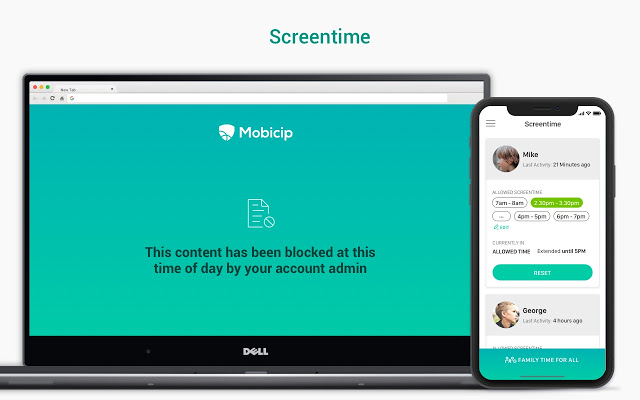 If you have kids in pre-school, elementary school, and middle school, we believe the overall best parental control solution for is Mobicip. Mobicip uses an MDM/VPN strategy which works quite well and is adequate enough for young kids. It's able to sort through explicit content within Pinterest (which NO ONE does), force YouTube restricted mode through a browser and allows for a safe search to be locked in seven different browsers (more than anyone).
Mobicip has always had the greatest control for parents over YouTube and their recent parent app updates show parents the exact YouTube videos that were watched. It works on many of the operating systems that parents desire, including Chromebooks.
3. Boomerang
Boomerang is another reliable parental control app. The only thing that differentiates Boomerang from Mobicip is that Boomerang doesn't use VPN – and sometimes that's what parents need! Boomerang promises a world-class filter with SPIN and it is very safe. You can prefer Boomerang if VPN is too harsh and you want your kids to enjoy regional content and services.
---
Protect Your Online Privacy With Surfshark
[The VPN that we use here at Tech Arrival]
---
4. Bark
For families with kids that use social media, texting, email, or manage a YouTube channel. Bark is the best (and only) monitoring solution. We are saying this because social media apps are typically untouched by parental control solutions. And Bark is the only solution which lets you monitor your kid's social media activity.
Bark is designed to report on behaviors so that parents know when to get involved. Bark uses a complex algorithm to detect when kids use certain words like "suicide," "whore," and a whole list of other terms. Parents also have the ability to choose their own keywords for flagging. Think of it as an individualized "flag list." If Bark comes across the keywords using Machine Learning or the "flagged list", it instantly notifies you.
5. Circle with Disney
For the router, Circle with Disney is popular for a good reason – it's pretty good. Circle "sniffs" wireless traffic and unpacks it before it gets to the router. It was truly a game-changer when it was released. It analyses the data and makes sure your kid is accessing the right websites and apps. Circle is also good for 3 things –
Controlling what apps and websites kids use,
How long they use them, and
Controlling who is using your home's WiFi.
Circle can also specify bedtimes and off-times for each user. This is very useful for ensuring your kids don't stay up too late, or get delayed checking Instagram in the morning before school.
Circle with Disney is unlike any other internet control service. While it is possible to achieve similar functionality if you know how to dig into your router settings or customize complex user profiles, Circle offers all this in a simple and well thought out interface that anyone can set up.
6. Ever Accountable

If you want to keep your kids or young adults off adult content, here's when Ever Accountable comes into the picture. Ever Accountable works by sending logs of your internet information and websites visited to a designated person. This could be a SA sponsor, spouse, friend, pastor, or anyone else you choose. Therefore, any website you visit will be seen by those people, so you'll be able to use the internet for productive activities and safe leisure without being tempted to look at adult content.
Ever Accountable acts as a third-party when it comes to recording internet traffic, so you don't have to wonder if logs have been altered or changed. It even picks up traffic when the browser is set to private mode, so there's not an easy way to circumvent the process. Ever Accountable doesn't restrict access to different websites on the internet, though.
Ever Accountable is a good accountability solution for people that might be suffering from adult content addiction. However, you need to have a partner who you trust and that can help you in order for Ever Accountable to work, so it might not be right for everyone.
7. Accountable2You

Accountable2You is another great accountability solution. It can be installed on up to 20 devices in your home, including desktops, laptops, iPhones, Android phones, iPads, Android tablets, and Kindle Fires. With Accountable2You, you can set words as Questionable, Highly Questionable, or Not Questionable words and flag them. Next time these words come across your kid's apps or websites, your partner will be notified.
Once you install Accountable2You, you designate an "accountability partner" just like Ever Accountable to whom the information will be sent. If you have any concerns about the location of your child, or you have places that members of your group or workforce should not visit. The current location can be shown for any Android or iOS device, and individual partners can be given access to the location of the device.
Also to protect you further, Accountable2You doesn't capture keystrokes or screenshots or any other personal information. With generated reports being password protected, they are kept away from prying eyes; all communication is encrypted by the same Transport Layer Security (TLS) system a bank would use.
---
Protect Your Online Privacy With Surfshark
[The VPN that we use here at Tech Arrival]
---
8. OurPact

Unlike most other parental-control apps, OurPact breaks its features into three pricing tiers. Free users can control a single child device with up to five manual blocks per month and a single automated block schedule. Upgrading to OurPact Plus for $1.99 a month bumps you up to 10 child devices, unlimited manual blocks, and unlimited automated block schedules.
The app-management screen in OurPact is simple to understand and operate. By default, every app is set to adhere to the schedule or manual blocks that you input elsewhere in the app. At the moment, OurPact is the only service that offers full app-management functionality on iOS as well as Android.
OurPact's Schedule lets you set up as many blocks of time as you like during which your child will not able to use his or her device. By default, a "Bedtime" schedule from Sunday to Thursday is set up, but you can tweak that and also add as many other schedules as you like. OurPact is one of the easiest apps to navigate and control and is also one of the best-looking in terms of UI.
Also read: Top 6 iPhone Privacy Settings You Should Enable Now
We hope this post makes gives you a great insight of Parental Control solutions available. Mobicip is our personal favorite as it does most of the job you'd want to expect at perfection. Ever Accountable is also great if you don't want to restrict any websites from your kids' devices but still want to monitor them.
Still have questions? Leave a comment below and we'd be happy to help.