In a world where documents and data are an integral part of our lives, finding good LaTeX editors has become necessary. For the users who aren't aware, LaTeX editors are a document preparation system. This system is pretty convenient for creating scientific and technical documents that you likely need to edit along the way. 
Unlike the general Word editors that lack advanced features, the LaTeX editors enable users to insert tables, images, and mathematic symbols with no hassle. It also allows collaboration with other users. 
Also read: 11 Best ePub Readers for Windows & macOS
Following are a few of the best LaTeX editors that you can use for seamless editing of your documents without any hassle.
List of Best LaTeX Editors To Try
1. Texmaker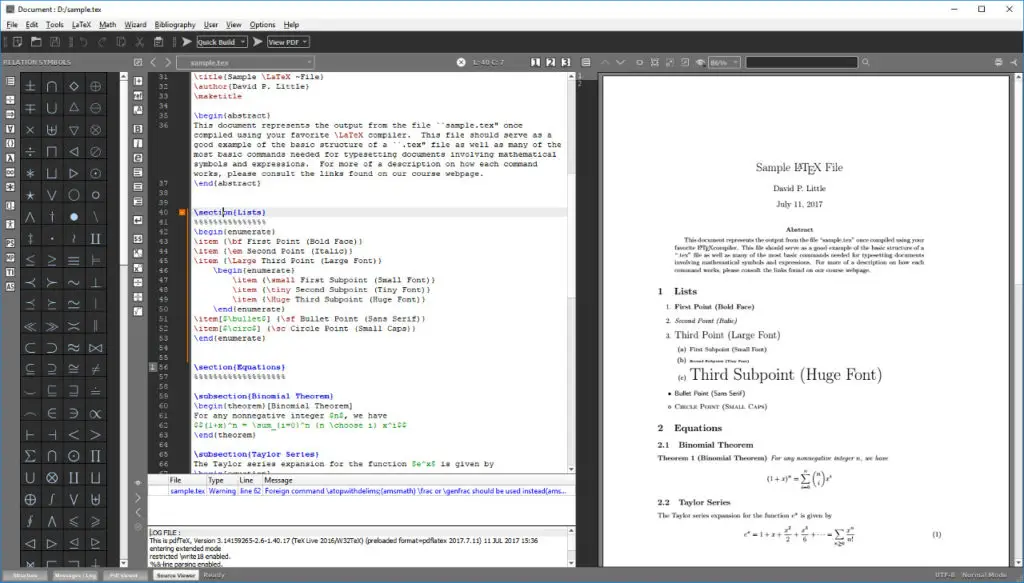 Texmaker is a popular open-source LaTeX editor that enables seamless functioning without any hassle. It is also integrated with a PDF viewer and is a Qt. app. It is also compatible with almost every system, be it Windows, Linux, or Mac operating system. The platform has been around since 2003, so you know that you wouldn't have to worry about the functions at all. It enables users to spell-check and even change other document layout settings.
Features:
Open-source
Easy to use and configure
Easy code compilation
Enables insertion of mathematic symbols and tables
Enables searching for text in folders and subfolders
Available on: Windows, macOS, Linux
2. Overleaf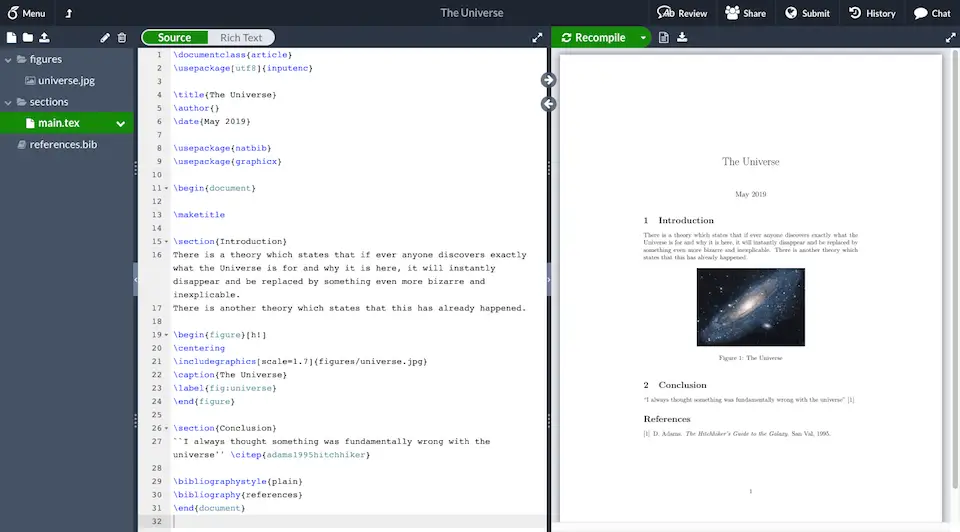 Another popular LaTeX editor that you wouldn't regret using is Overleaf. It doesn't require separate installation or separate collaboration, making it a seamless option for everyone to use. It is a cloud-editor LaTeX that enables you to edit the documents and keep track of document history. Aside from the basic editing, the software also allows you to insert images, bibliophiles, to name a few. It makes the process of writing, editing, and publishing a lot easier. It also makes it a lot easier for you to locate the LaTex errors without any issues.
Features:
Multiple template options
Allows real-time preview of code
Easy sharing and collaboration
Locate LaTeX error in no time
Available on: Web
---
Protect Your Online Privacy With Surfshark
[The VPN that we use here at Tech Arrival]
---
3. TeXnicCenter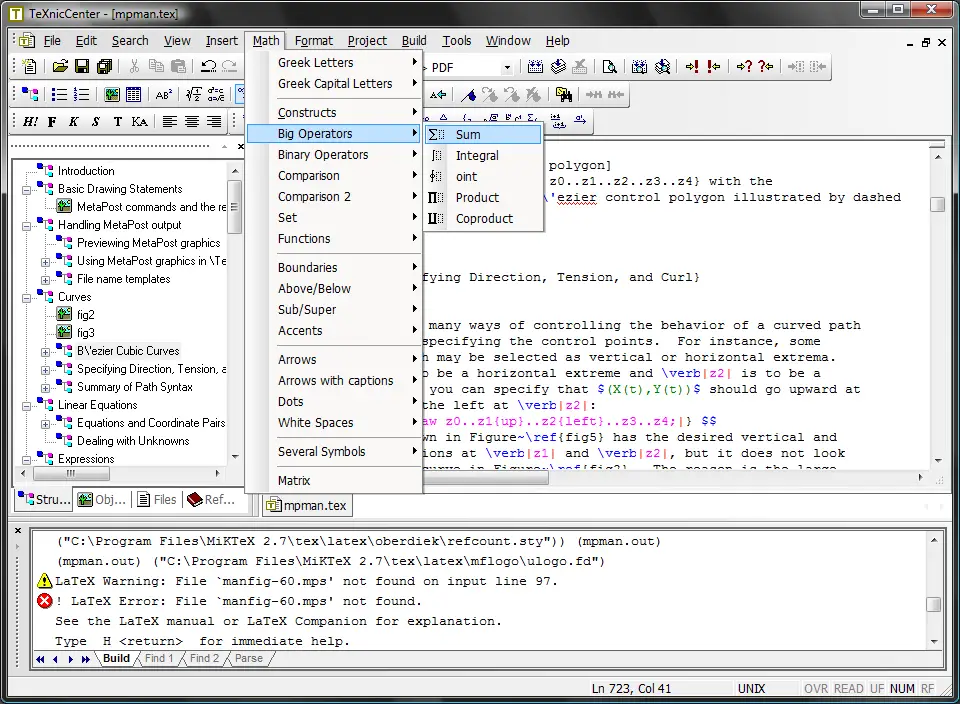 Another excellent LaTeX editor that you wouldn't regret installing is the TeXnicCenter. This one is only compatible with Windows, so if you have a macOS, this isn't the one you need. It uses the MiKTeX typesetting distribution that makes the conversion from Microsoft to LaTeX a lot easier. Coming round to the available functions, it packs in everything that you are likely looking for in a LaTeX editor. It supports a GUI editor with an excess character encoding option.
Features:
Open-source
Uses MiKTeX typesetting
Supports GUI editor
Available on: Windows
4. LaTeX Base
If you don't want the hassle of installation, the LaTeX Base is the absolute best option. It provides a live preview of the editing and enables seamless sharing without any issues. Moreover, it is one of those rare LaTeX editors that supports online working. It is a web-based editor, so you wouldn't be able to use it on your smartphone. This editor also compiles the code as you write on the document. It also supports the single share publishing option, which is again a bonus. The editor also supports syntax highlighting.
Features:
Enables syntax highlighting
Web-based editor
Compiles the code as you write
Available on: Web
5. LyX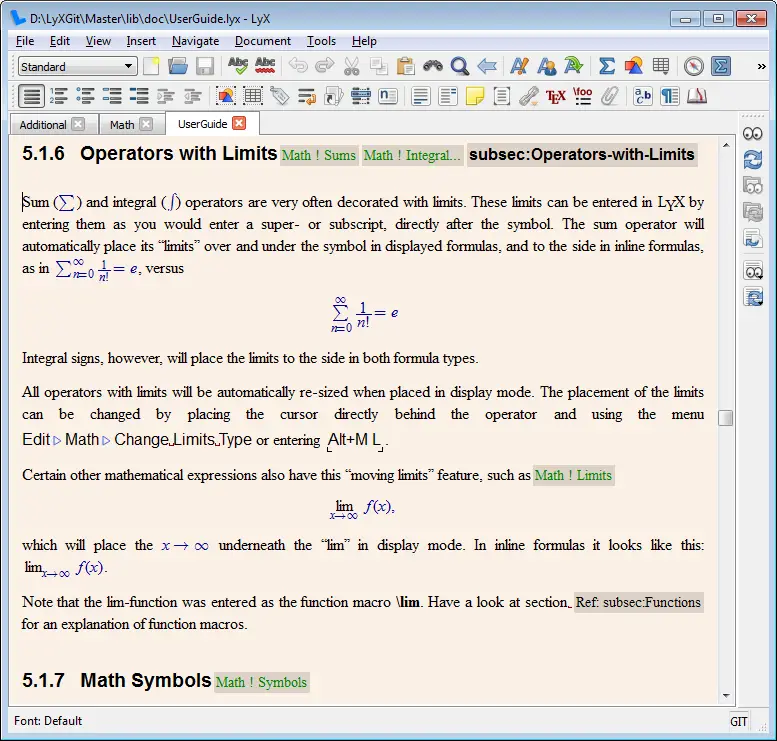 When discussing the modern LaTeX software, LyX is likely one of the absolute best options around. Again, it is an open-source editor that is compatible with almost all the systems, including Windows, macOS, and Linux OS. It supports the WYSIWYM writing approach with a simple GUI interface. One of the primary reasons behind this platform's popularity is modern tools, including equation editor and reference indexing. It is not just suited for mathematical documents but also works well with academic articles.
Features:
Open-source
Supports WYSIWYM writing style
Includes modern tools
Best for mathematical documents
Available on: Windows, macOS, Linux
6. Authorea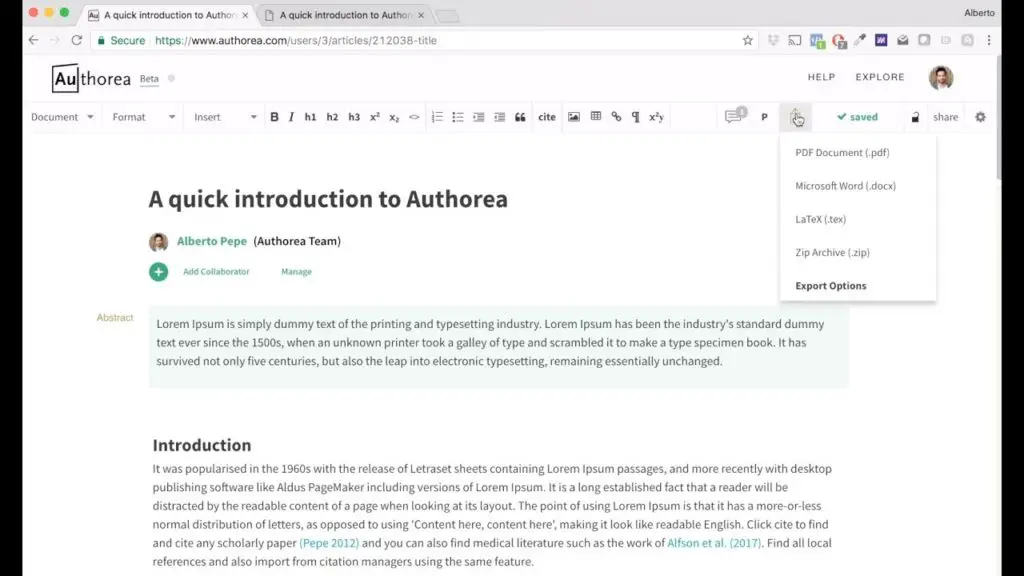 Not only does it help edit your existing data on the documents, but it also enables seamless citing and publishing with a single click of your fingers. It is a very popular collaborative writing tool that allows the researchers to write, edit, and collaborate with the subjects and the authors. It is an online LaTeX editor that comes with the options for real-time commenting for easier editing. It also allows you to start developing the documents with the existing templates. The app is also backed with 24×7 customer support.
Features:
---
Protect Your Online Privacy With Surfshark
[The VPN that we use here at Tech Arrival]
---
Enables easier management of multiple versions of the documents
Backed with 24×7 customer support
Supports multiple templates
Real-time collaboration
Available on: Web
7. TeXstudio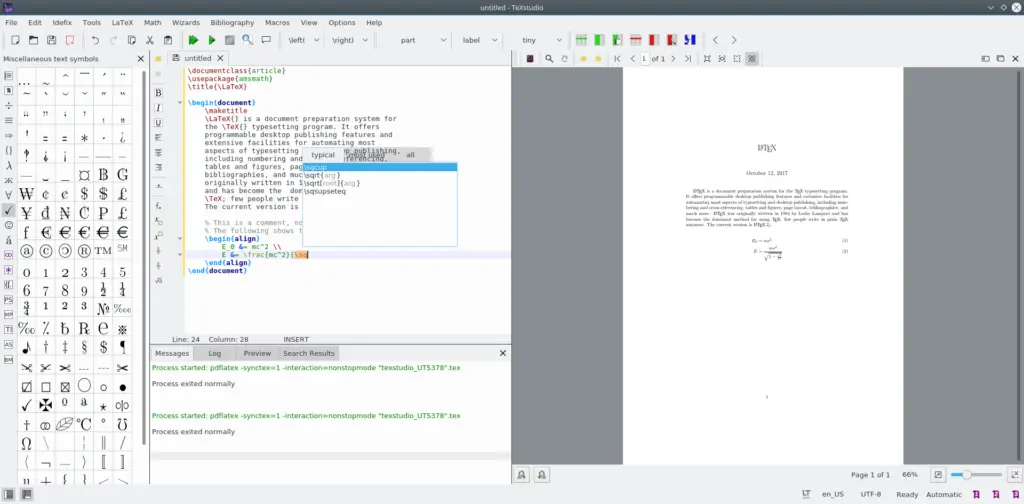 Another integrated writing environment that enables seamless editing of your writing documents is TeXstudio. This application's main objective is to make the overall writing and editing of LaTeX documents a lot easier and seamless. It is yet another popular open-source editor that is highly popular among academics. Even this one comes with several tools and extensions that further support the editing process seamlessly. This software's layout is a lot similar to Texmaker, but it supports several additional features and functions, including document word count and frequency count analysis.
Features:
Open-source
Seamless UI
Makes editing and publishing easier
Additional tools and functions 
Available on: Windows, macOS, Linux
8. Emacs
While we have mentioned good quality LaTeX editors for multiple platforms and systems, Emacs is ideal for the Unix software. It is a perfect option for the GNU operating system, mainly because it blends well with the overall design and layout. It is a popular option among programmers, engineers, and students, making this ideal for everyone's use. It allows you to add, modify, insert words, and even include letters and lines in terms of editing.
Features:
Supports built-in documentation
Perfect for Unix 
Enables seamless editing
Customizable options
Available on: Windows, macOS, Linux
9. Papeeria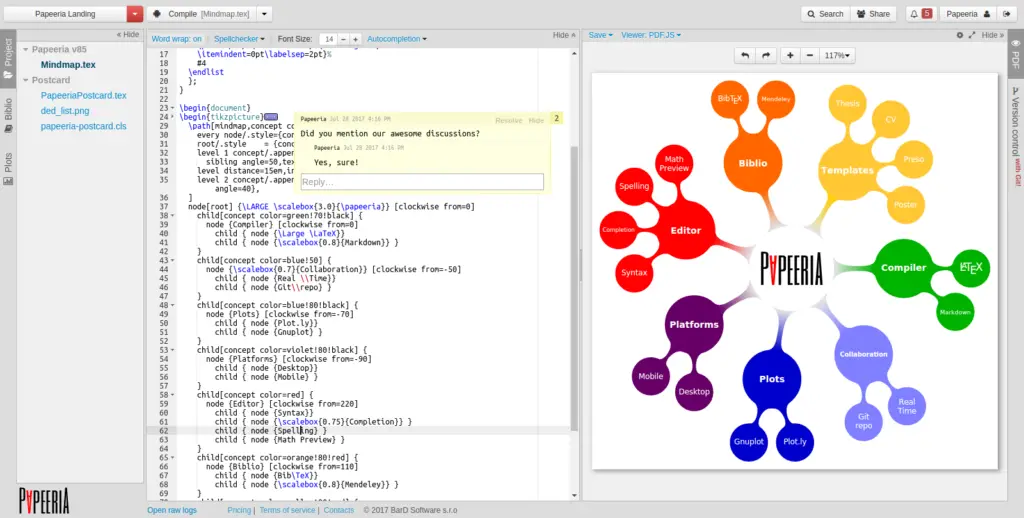 Another popular online LaTeX editor that is worth the mention is Papeeria. It enables the users to plot and mark the scientific papers without any issues. It also comes with options with real-time collaboration. It is developed with a range of advanced tools and features and a wide range of existing templates. The technical paper layouts are likely one of the best options around. It doesn't alter the papers' formatting, making it easier for you to edit without any issues at all. It also enables the users to collaborate on the LaTeX documents in real-time.
Features:
Online editor
Compiled with a range of advanced tools
Real-time collaboration
Document history options
Available on: Web
10. MiKTeX
MiKTeX is another modern Tex distribution and editing platform that works for Linux, Windows, and macOS. It is an open-source editing platform with a separate and seamless installation process, especially for users who aren't very tech-savvy. It comes with a package management system, which again is a reason for using this one. Aside from the existing templates, it also supports a range of styles, fonts for seamless editing. The latest software updates are also one of the reasons why it is considered such a good option.
---
Protect Your Online Privacy With Surfshark
[The VPN that we use here at Tech Arrival]
---
Features:
Multiple OS support
Easy installation process
Integrated package management system
Range of existing templates
Available on: Windows, macOS, Linux
11. Kile
The Kile LaTeX Editor is another minimal and straightforward LaTeX editor supported on multiple platforms, including Windows and macOS. It is developed and designed by KDE and is an open-source software program that you wouldn't regret using. It features an interactive preview mechanism with a clean graphical interface that makes the editor super responsive and easy to use. It is particularly popular among academic students, mainly because of the accessory features of citation and referencing. It also supports features like forwarding search, chapter support, quick preview, to name a few.
Features:
Advanced editing functions
Multiple template options
Interactive preview option
Available on: Windows, Linux
If you have been looking for some good LaTeX editors all along, this list should be enough to help you find the absolute best one in the lot. These are some of the best options that you can use this year. If required, you can even check along and invest in the one based on the accessory features and the advanced functions. Additionally, make sure that you always check the free trial versions before investing in the paid subscriptions.
Also read: 10 Best Notepad++ Alternatives for macOS
Frequently Asked Questions (FAQs)
What is LaTeX Editor?
A LaTeX editor is used for creating technical and scientific documents that you are likely to edit along the way. It is basically a document preparation system, and at the end, you can output the finalized document in PDF and several other formats.
What are the advantages of a LaTeX Editor?
There are several advantages:
– Management of Internal Reference
– Management of Citations
– User-friendly editing experience
– Structured Files
– Easily Convertible
– Dealing with mathematical notations is easier
Is LaTeX a Coding Language?
Kind-of! Leslie Lamport created laTeX as an addition to the TeX typesetting system. This was to make it easier for publishers to create general-purpose books, articles, and papers.
---
Protect Your Online Privacy With Surfshark
[The VPN that we use here at Tech Arrival]
---
Which LaTeX Editor is the best?
Many LaTeX editors are available, but the best ones according to us are Overleaf, TexMaker and LaTeX Base. You can find others in the list provided above.