If you love reading manga, then you already know it originated in Japan. It's like regular comic strips made by other countries. The only difference is in the term used.
Back in the days, manga series were available as comic books and paperbacks. But with the rise of the internet, various eBook readers and websites have are now available. It allows you to read your favorite manga series online. Some of the websites also allow you to download the manga series for offline reading.
To make things more convenient, you can use a manga app. But with so many options available, it becomes challenging to find the best manga apps. If you need help finding the best manga app for Android and iPhone, you can rely on us. We have curated a list consisting of all the top manga apps currently available in the market. So without wasting time, let's get to the list.
Manga apps are the best option for manga readers as it allows you to access unlimited manga series on your smartphone. These are downloadable programs that are readily available in the Apple App Store and Google Play Store. By downloading any of these apps, you can read manga either for free or after paying.
Also read: 8 Best Free Live TV Apps for Android & iOS
List of Best Manga Apps for iPhone and Android
1. Shonen Jump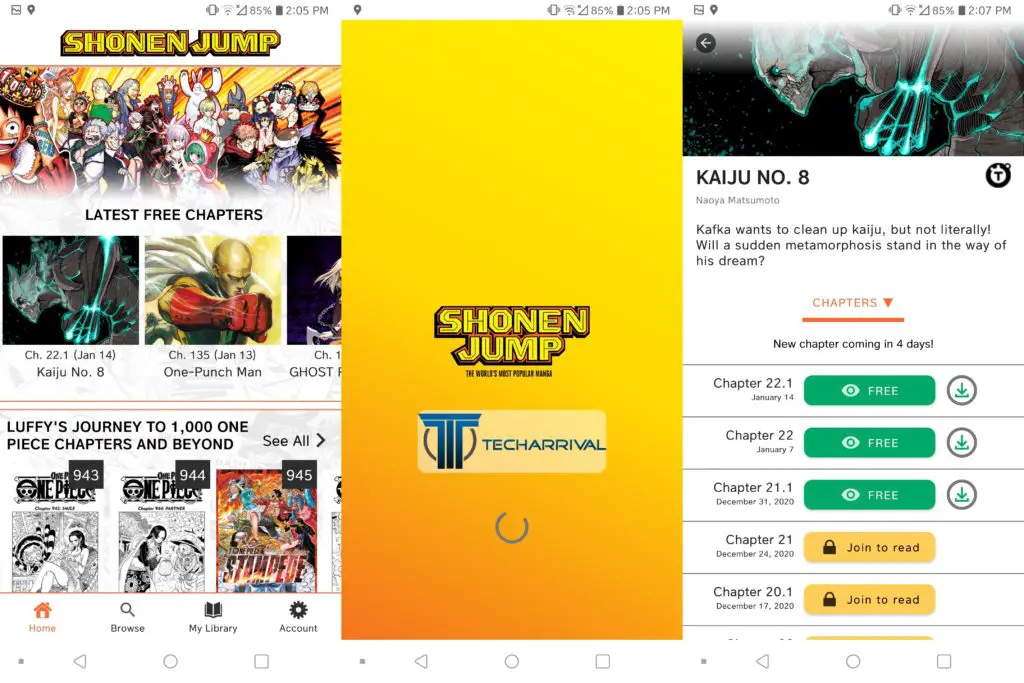 Starting the list with a free-to-download app that will meet all your manga needs. This app is available on iOS and Android devices. The main highlight of Shonen is that you will find all the popular titles here. Naruto, Dr.Stone, and One Piece are few to be named.
All the chapters are updated as soon as they are released. With this app, there is no need for you to wait to read your favorite manga. Accessing all the available manga is easy because of the easy-to-use interface.
The app allows you to access up to 100 chapters a day freely. To access more than 100 chapters in a day, you will have to pay $1.99 per month. Users paying for the app can enjoy reading manga series without ads. You should be informed that the app offers titles that are from the Shonen Jump series. If you want to read other popular series, then this app is not for you.
Features
Free to download
Popular manga titles available
User-friendly interface
2. Manga Zone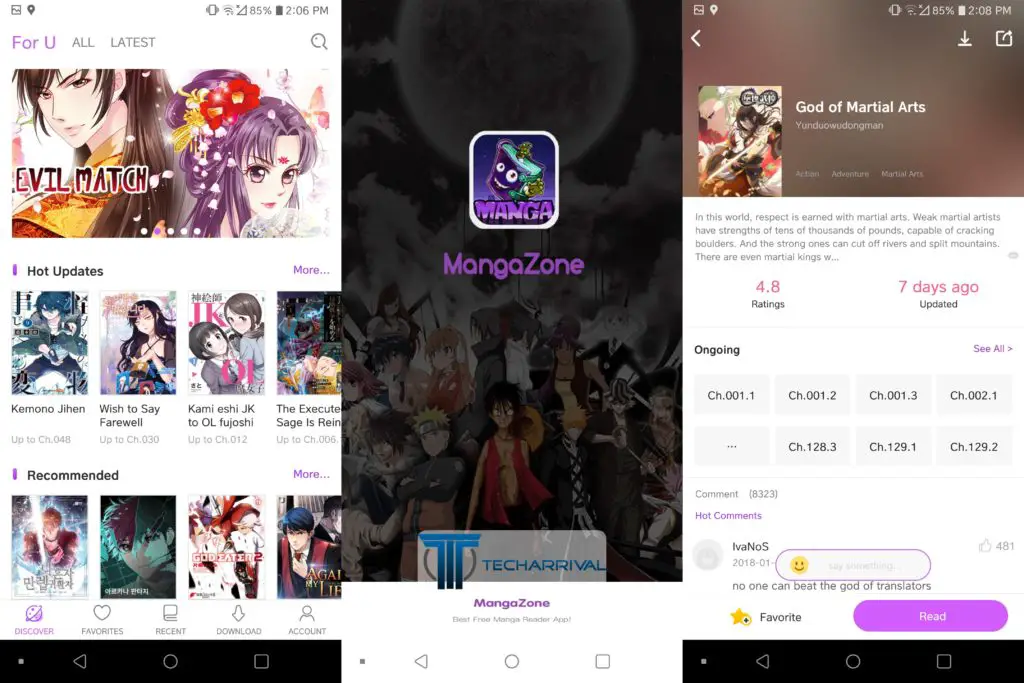 If you are an avid manga reader, you are surely going to love this app. It has a massive stock of 15,000 titles to offer. The best part is that they are all translated into English. Even the interface is easy to handle, except for the fact that it gets slow at times. Despite this minor drawback, the app is used by millions of manga fans.
---
Protect Your Online Privacy With Surfshark
[The VPN that we use here at Tech Arrival]
---
As of writing, the app is not available in Google Play. But you can download it on your android device from the official Manga Zone site. Just like most other manga apps, Manga Zone has ads too.
Features
Large database of manga titles
Easy interface
Available for free
3. Manga Geek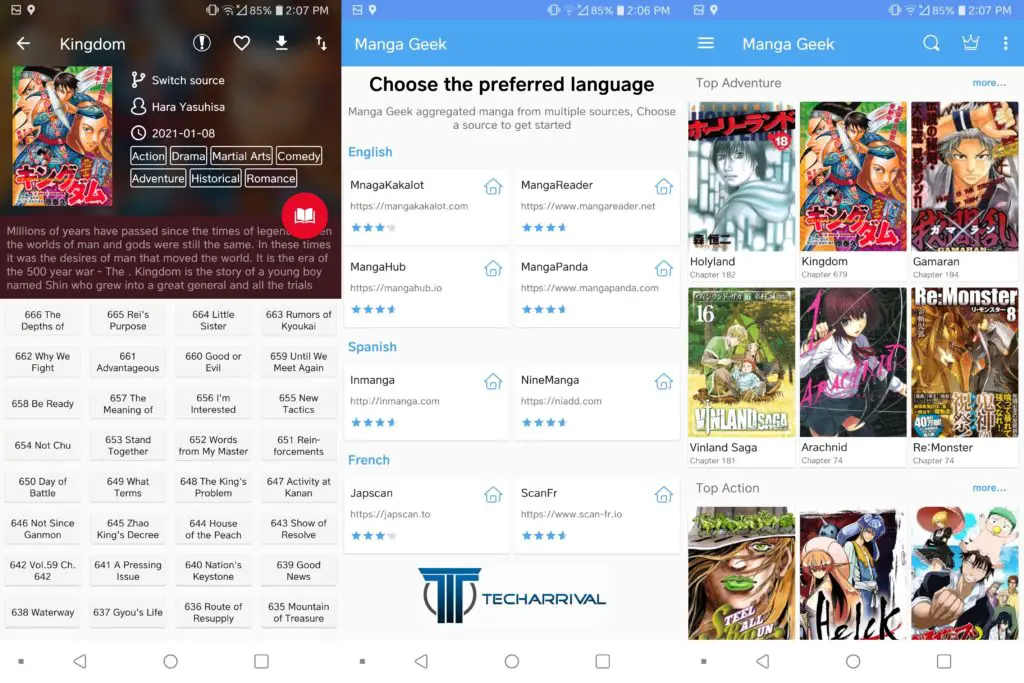 This manga reading app is famous for its creative interface. With this app, you can access thousands of manga series and even read them offline. This feature is useful for the times when your internet connection is not stable. Due to the extensive manga collection, this app is loved by thousands of manga readers.
It has over 40,000 manga titles, including both new and old ones. At the same time, it also offers anime titles for your convenience. The only thing that could annoy is the ads. However, you should know that this app is not entirely free. You may have to pay a minimal charge to access a few of the titles.
The app sources manga titles from various sites such as NineManga, and JapanScan. Hence, you will always receive the latest manga series. At the moment, this app is only available for Android users.
Features
More than 40,000 series
Allows offline reading
Various Content Sources
4. VIZ Manga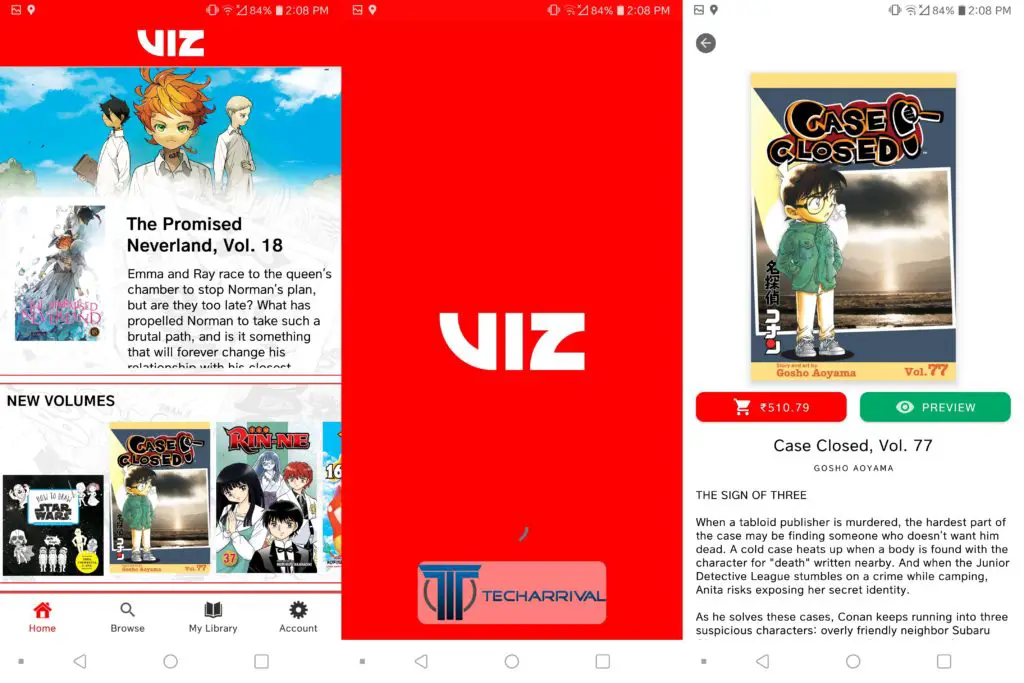 This is probably one of the best manga apps you will find out there. The app is updated with new chapters every day. You can find all your favorite manga titles on this platform. Just like the previous app, VIZ Manga too has the offline reading option. You can download the manga to read later. You also get the bookmark mode for your convenience.
Another useful feature is the landscape and double-entry reading. You can choose whichever you are comfortable with. All the content available is nicely organized in the app.
This app provides the best mange titles. From old to new releases to classics, you can find it all on this platform. They also have some online exclusive series and mega-hits to offer.
Features
New chapters are added daily
All types of manga titles available
Bookmark mode & Offline mode available
5. Crunchyroll Manga
This is yet another great app to read manga. The app is designed for convenience and ease of access. Using it, you can read manga from your tablet or smartphone without any hassles.
---
Protect Your Online Privacy With Surfshark
[The VPN that we use here at Tech Arrival]
---
New manga titles are added to the app the same when they arrive in the bookshops. You will find the most popular titles on this app. Some of the manga titles are One Piece, Attack on Titan, Fairy Tale, and others. For the convenience of readers, all the manga are divided into chapters.
Each manga series come with the author's details and description. You can go through the given information before starting a new manga.
Features
All popular titles
Updates regularly
Manga comes with author details and other information
6. Manga Dogs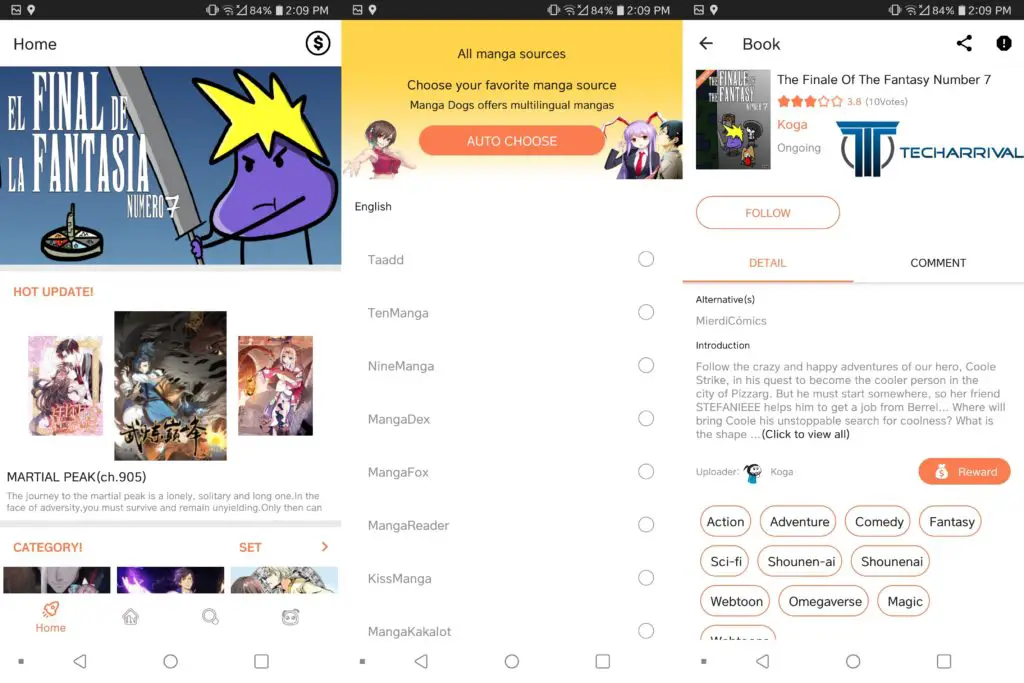 The name may sound funny, but this is a great application to read Japanese comics. One good thing about this app is that it allows you to download the manga you are reading. You can download as many titles as you want and read them offline. The app has an excellent collection of manga, which is available in six different languages to read.
Manga Dogs allows you to read comics directly from the application or download it to your device and read them later. The read mode comes with useful features like brightness adjustment, reordering page, and page orientation.
The app allows you to create your manga library online. You can then store all your favorite titles in one place. The powerful search filter helps you to find the titles you are looking for. 
Features
Manga download available
Available in six different languages
Read mode available
7. ComicRack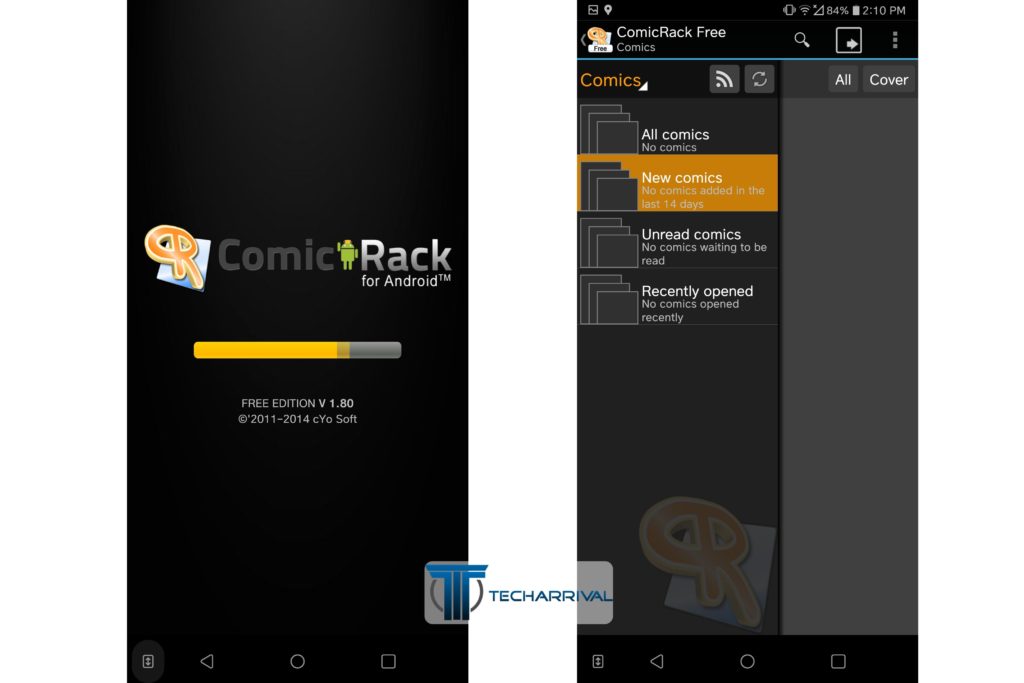 If you love reading manga a lot, this is the app for you. The library is divided into sections for easy access. It analyses everything and shows comics added in the last two weeks, the unread ones, and the comic you last opened. You can also check the statistics of your read.
The good thing about this app is that it can be used on your PC as well. It allows you to sync your libraries between your smartphone and computer. The easy-to-use interface supports a variety of formats, including PDF, RAR, ZIP, and CBZ.
The app has a full-screen reading mode and bookmark feature. You will find all the useful functions that you need while reading comics. You can also use comic covers as live wallpapers. As of the time of writing, we could only find this app on Google Play Store and not on the Apple App Store.
Features
---
Protect Your Online Privacy With Surfshark
[The VPN that we use here at Tech Arrival]
---
Full-screen reading mode & Bookmark option
Compatible with PC
Supports a wide range of formats
8. MangaToon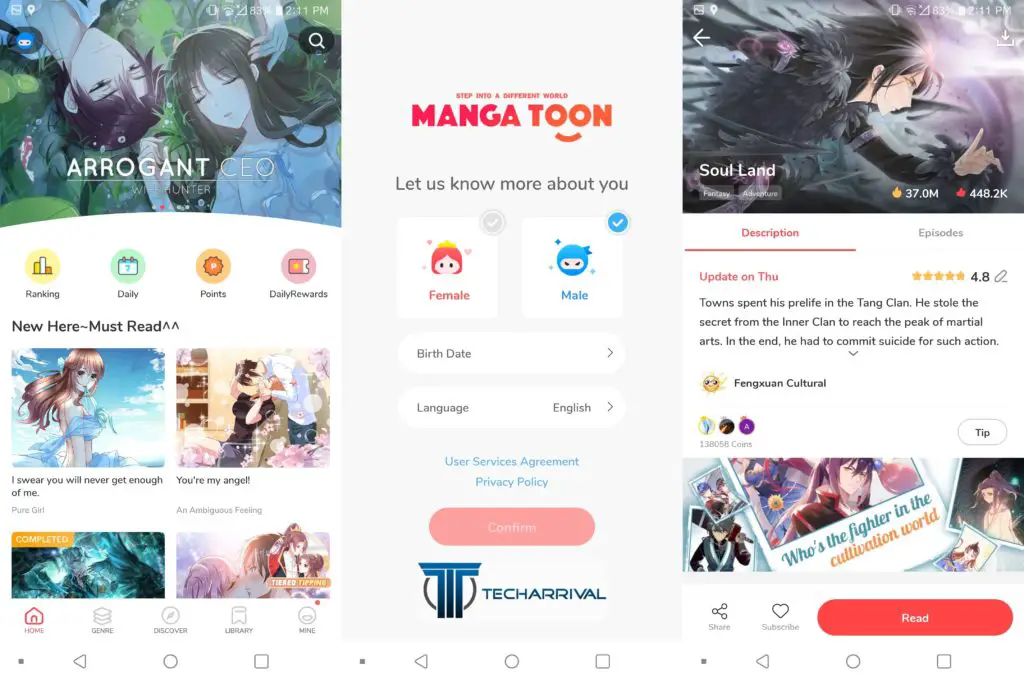 This is one of the most popular manga reading app out there. It comes with a user-friendly interface that gives you access to unlimited manga series. The app has titles from almost all genres, which makes it an ideal option for readers.
They add new titles daily, which means you are never running out of comics to read. Besides Japanese manga, you will also find Korean manga here. You can also subscribe to a manga page or series, so you get notifications on every release.
The best thing about the app is everything is available for free. You can even write your manga and share it with other readers.
Features
Both Japanese and Korean manga available
Free & Easy-to-use
Allows you to write and share your manga
9. Manga Storm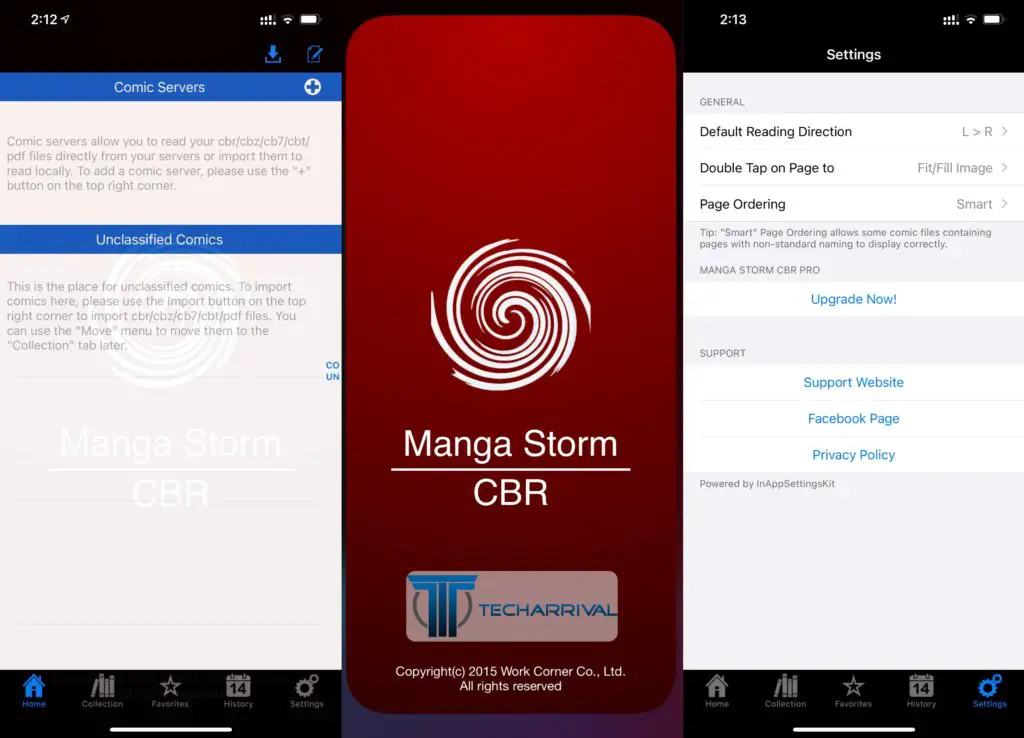 Lastly, we have Manga Storm, which is a simple manga reader available to readers using iOS. The specialty of the app is it can add manga from different sites. All you have to do is enter the URL of the website.
The app automatically saves your progress in reading. If you want, you can also download the comics and save them to read offline.
The interface is quite useful. Also, there is a large variety of manga to read. Unlike many other manga apps, you will find all genres of manga here.
Features
Simple interface
Variety of genres
Offline reading available
Having a good manga app can solve your manga reading problems. With these apps, you can read manga anytime and anyplace. Each of the apps has certain unique features to offer. Try out one or more apps from the list to find the best one for yourself.
Also read: 10 Best Woodworking Apps for Android & iOS
Frequently Asked Questions (FAQs)
Which manga app to use for offline reading?
You can use VIZ Manga and Manga Storm to download and read manga offline.
---
Protect Your Online Privacy With Surfshark
[The VPN that we use here at Tech Arrival]
---
What kind of manga is offered by Shonen Jump?
Shonen Jump offers manga titles only from the Shonen Jump series. No other manga titles are available on the app.
What is the best thing about Manga Toon?
Manga Toon is a unique manga app that offers both Japanese and Korean titles to read.
What app to use to read manga for free?
You can use Manga Toon to read manga for free.