Nowadays, mobile phones are everywhere. And these devices have hundreds of thousands of apps built for different people and professions. From games and fun apps to important tools and utilities, you can find everything on App stores.
This means even woodworkers are not left behind. As more woodworkers and DIY enthusiasts take to the internet to access video tutorials and project plans, the industry has seen growth in technological engagements. We're seeing more and more people build things themselves because of such convenient applications.
Many apps are developed for such enthusiasts which have got the appropriate tools and other things necessary for woodworkers and carpenters. Here are the best apps and tools you'd find for woodworkers.
Also read: 9 Best Manga Apps for Android and iPhone
List of Best Woodworking Apps for Woodworkers
1. Planner 5D Interior Design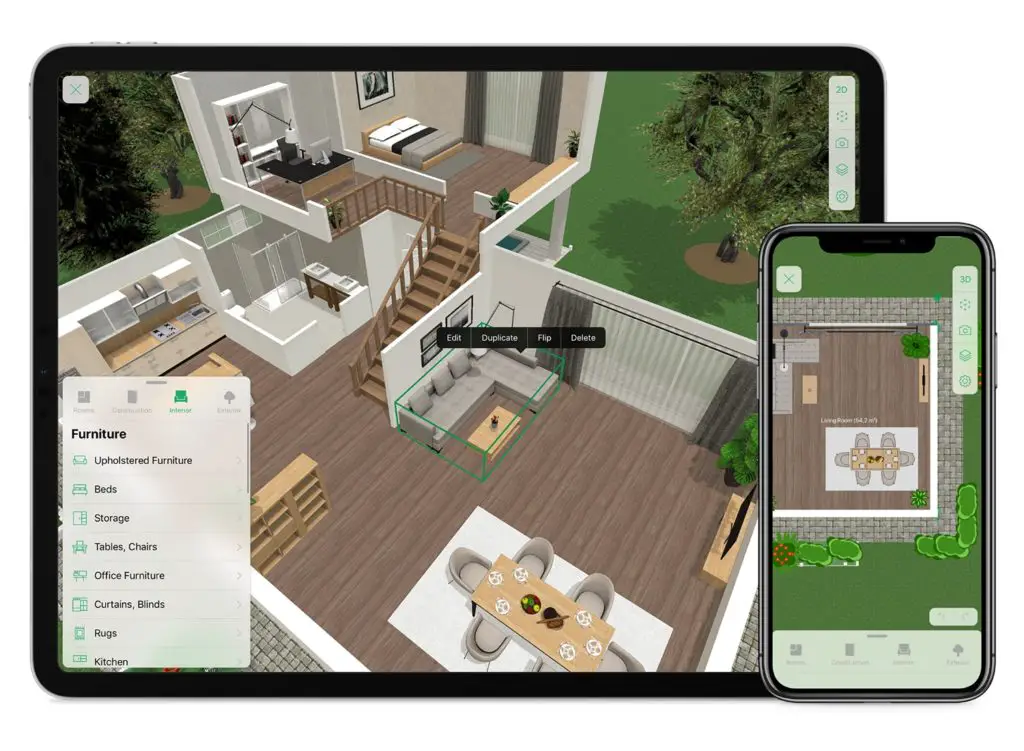 Planner 5D has got you covered with everything from remodeling and renovating to building your own Dream Home. You can create 2D and 3D floor plans very easily using this app. It has even got a catalog of 3000+ items through which you can browse furniture, appliances, household items, etc.
The app lets you create a very detailed model of both the interior and the exterior of your home. The Snapshot feature adds more reality by adding lighting, textures, and shadows to your design. If you are using the app on an iPad, there's also support for Apple Pencil which is brilliant for those looking to give their homes an artistic vibe.
Planner 5D is free on the App Store and works for iPhone, iPad and iPod Touch. There's also a web version so you can log in and all the data gets saved. The free version includes 2D/3D editor, 150+ item catalog, unlimited number of projects, multi-platform sync and also a 630+ item catalog of colors, textures, and patterns.
With the Premium version, you get access to the entire 3000+ item catalog and you can even customize the size and appearances of all the furniture.
2. Measure
Both Apple and Google have made an app called "Measure" for their respective platforms which does pretty much the same thing. Using Augmented Reality (AR), it lets you measure any object in your vicinity. It uses the phone's sensors and cameras to do so.
To get started, you can download the Measures app from the Google Play Store. The Measures app is already present on iPhones running iOS 12+.
Scan the area with the app so that it detects the horizontal and vertical planes. On Google's version, you can choose between measuring distance or elevation. On the iOS version, you can measure objects and there's also "Level" which acts as a spirit leveler.
3. Smart Ruler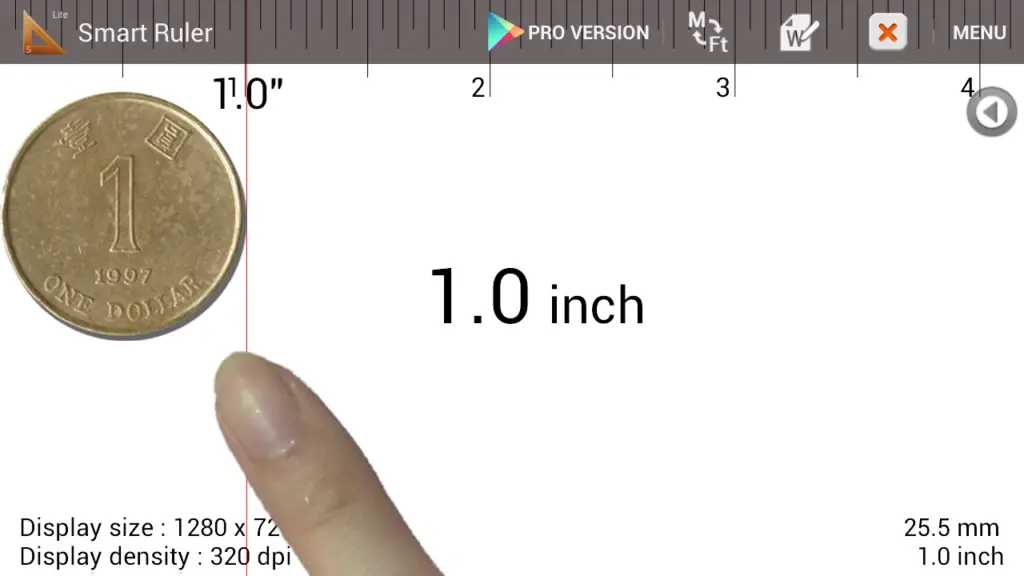 Smart Ruler is not just a normal ruler app, it is made for measuring small objects which can fit within your display. Often at times, we have to measure the length of a screw or a coin but couldn't find the right tools at the right time. With Smart Ruler, you can just make your phone the right tool.
You have to put a small object, like a coin or bolt and adjust it to the left of your screen. Then touch the screen after which a red line will appear. Adjust that red line and you'll get you accurate measurements.
Download Smart Ruler for Android
4. Decibel X
This app might not really be useful for woodworking, but if you want to check how much noise the TV is making or perhaps you want to record the noise of the construction going on next door, this app is the best solution for you.
Decibel X has a pre-calibrated accurate sound level meter. It also shows you how much decibel levels things produce such the sound of a motorbike, or children playing in an area. Its measurement ranges from 30 to 130 dB.
It has a nice user friendly and intuitive UI which makes it a better overall experience.
Download Decibel X for Android and iOS
5. iFixit
We all have heard of iFixit and its numerous teardowns. But do you know you can do them as well? The iFixit apps let you tear down furniture, home appliances, and other things in a proper manner to diagnose and solve problems.
Once you open the app, you browse by different categories and model names. If you're an expert, you can even upload your own teardown or repair guides straight from the app. iFixit also lets you order tools and other stuff from its own stores if you're running low on supplies.
Download iFixit for Android
6. iHandy Carpenter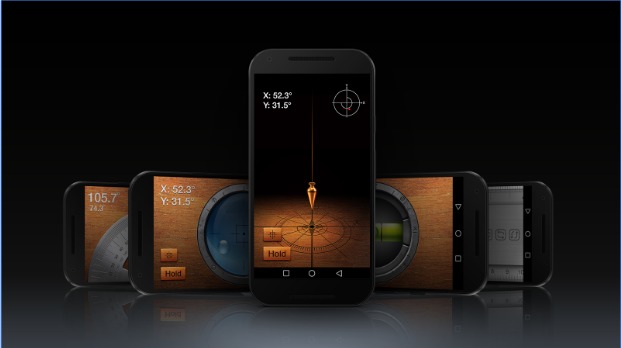 If you are looking for a beautiful app with some of the best tools, then you need to choose iHandy Carpenter. This app comes with five professional tools including a plumb bob, bubble level bar, surface level, steel protractor and steel ruler that are all meant to help you produce accurate measurements.
With this app, you can be able to measure the verticality of the walls, ensure that the surfaces are level, measure angles well, and swipe to measure in centimeters or inches. It's one of the best apps that you should not do without as woodworker.
7. TapPainter
TapPainter helps you to decide which paint color will suit on the walls of your home. Not only you can select different shades of colors on your own, but you can also mix your own ones which you can easily buy at a hardware and utility store.
Although nothing can beat the actual samples on the walls, TapPainter is very helpful if you're confused between different colors and want to narrow down your choices.
To get started, you can import a photo or take a picture within the app. Then you can select different colors and TapPainter will automatically detect and color each area based on your choices.
8. Handyman Calculator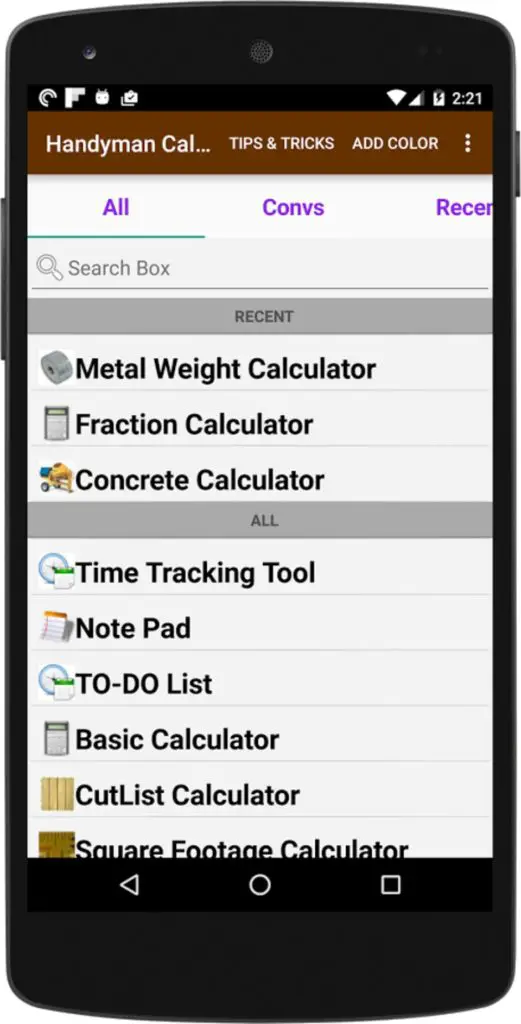 Handyman Calculator is one of the most useful apps for woodworkers. It contains all the necessary tools like calculation and conversion tools intended for Handyman and Woodworkers. You get Simple unit conversions, fractional calculators, density calculators, arc length and rebar weight and more in this app.
Inside the app, you can even change its font, color and text size. A more extensive list of tools includes Air Conditioning (determine what BTUs are needed given room size and population), Concrete Steps, Curbs, and Gutters, Deck Board Calculator (calculate number of boards required), Drill Size Chart, Density Chart of Metals and Alloys, LED Resistors, Oil Pressure, Calculate the number of Sand Bags given length and width of area, Water Flow Rates.
Download Handyman Calculator for Android
9. The Woodshop Widget
The Woodshop Widget app is also one of the very useful apps if your work involves a lot of wood. The app gives you an estimate about how boards of different species of wood might grow or shrink under different conditions.
Other than that, the app also contains tools like species comparison, a board volume calculator, unit conversion aids and a compound-and-crown assistant for crown molding and decorative elements. The app also contains a list of densities of around 200 types of woods, which is quite useful for a woodworker
Download The Woodshop Widget for iOS
10. iHandy Level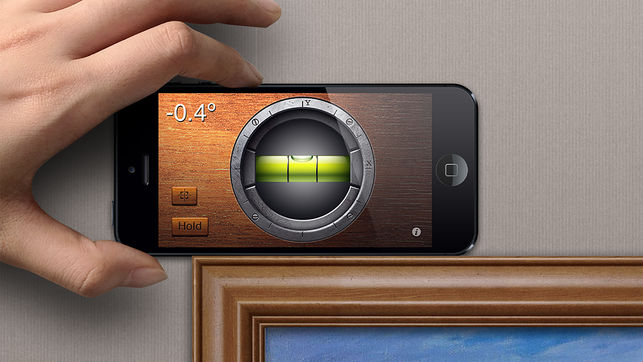 Another app from iHandy in our list, this one helps you to check how flat a surface is. It acts like a Bubble/Spirit level tool, but on your phone. The developer says that every device has a different sensor so you need to calibrate the app before use.
Once calibrated correctly, this app is one of the most accurate level apps in the market. To calibrate, first, you have to find a flat surface. Then you have to hold your device upright, put the bottom edge of the device on the flat surface, then press the Calibrate button.
Download iHandy Level for Android and iOS
Conclusion
These tools prove to be a boon for woodworkers, carpenters, and DIY enthusiasts. Often at times, many physical replacements of these tools aren't handy. The ability to get them instantly on your phone is perhaps technology's major advent in all these years. These must-have apps save your time and effort, but also prove to be very beneficial if you are a person who does things like breaking and building very often.
Feel free to share your favorite apps and thought about them in the comments section below.