Nowadays, mobile phones are everywhere. And these devices have hundreds of thousands of apps built for different people and professions. From games and fun apps to important tools and utilities, you can find everything on App stores.
This means even woodworkers are not left behind. As more woodworkers and DIY enthusiasts take to the internet to access video tutorials and project plans, the industry has seen growth in technological engagements. We're seeing more and more people build things themselves because of such convenient applications.
Many apps are developed for such enthusiasts which have got the appropriate tools and other things necessary for woodworkers and carpenters. Here are the best apps and tools you'd find for woodworkers.
Also read: 9 Best Manga Apps for Android and iPhone
List of Best Woodworking Apps for Woodworkers
1. Planner 5D Interior Design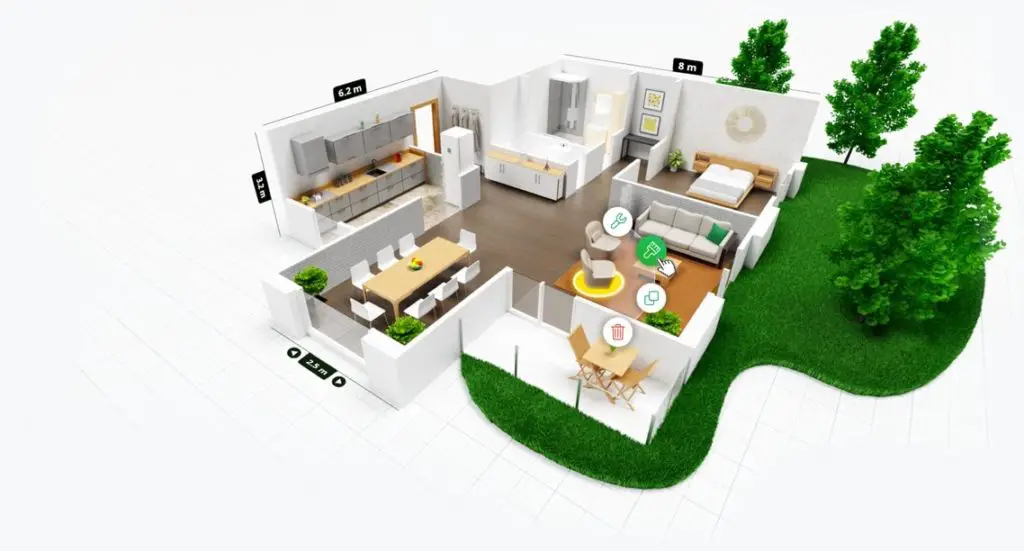 Planner 5D has got you covered with everything from remodeling and renovating to building your own Dream Home. You can create 2D and 3D floor plans very easily using this app. It has even got a catalog of 3000+ items through which you can browse furniture, appliances, household items, etc.
The app lets you create a very detailed model of both the interior and the exterior of your home. The Snapshot feature adds more reality by adding lighting, textures, and shadows to your design. If you are using the app on an iPad, there's also support for Apple Pencil which is brilliant for those looking to give their homes an artistic vibe.
Planner 5D is free on the App Store and works for iPhone, iPad and iPod Touch. There's also a web version so you can log in and all the data gets saved. The free version includes 2D/3D editor, 150+ item catalog, unlimited number of projects, multi-platform sync and also a 630+ item catalog of colors, textures, and patterns.
With the Premium version, you get access to the entire 3000+ item catalog and you can even customize the size and appearances of all the furniture.
2. Ruler App
Ruler App is a powerful and unique tape measure tool backed by Augmented Reality. AR technology enables you to measure tape in the real world using your smartphone camera. All you need to do is aim at the detected plane and start using the tape measurement tool.
With the help of this app, you can tape measure in different sizes, including m, cm, yd, ft, etc. Not just that, but you can also use it to tape measure corners on 3D planes. This is a highly accurate tape measure app that can measure the size of any object by either measuring it on the screen or taking a picture of it. You can use this app as conveniently as you use a measuring ruler.
---
Protect Your Online Privacy With Surfshark
[The VPN that we use here at Tech Arrival]
---
3. Metal Detector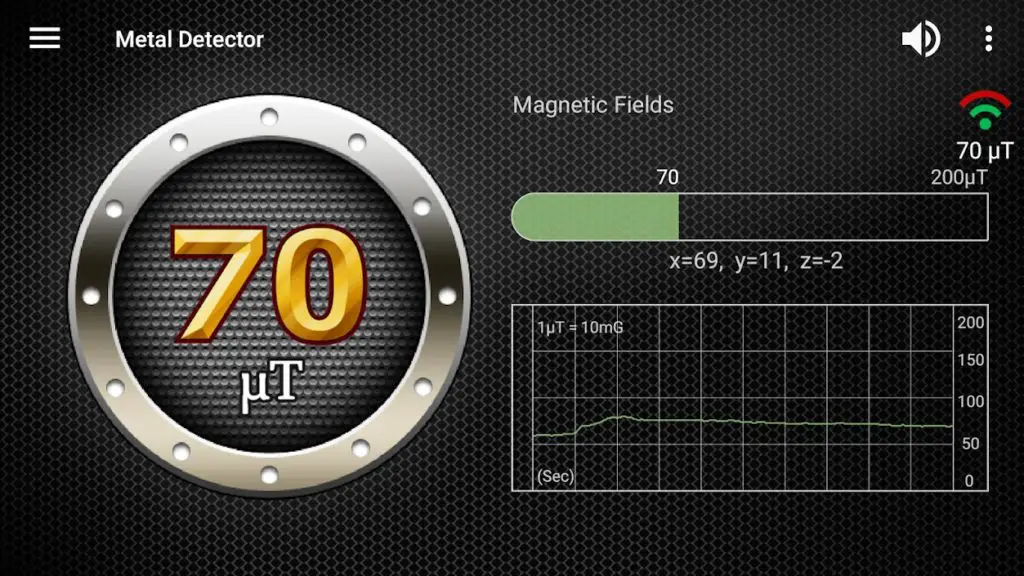 Metal Detector is yet another great woodworking app you can add to your collection. This app is designed to measure the magnetic field with an embedded magnetic sensor. At first, you may find the app difficult to use, but it is easy to handle once you get the hang of things. All you need to do is open the app and move it around. You will see the magnetic field level will constantly fluctuate. 
You can use this app to find electrical wires in the walls, iron pipes in the ground, and more. However, the app's accuracy depends on your magnetic sensor, which gets affected by electronic equipment such as TV or PC, due to electromagnetic waves. This app has a pro version with additional features like compass, sharing GPS location, and no ads.
4. AR Ruler App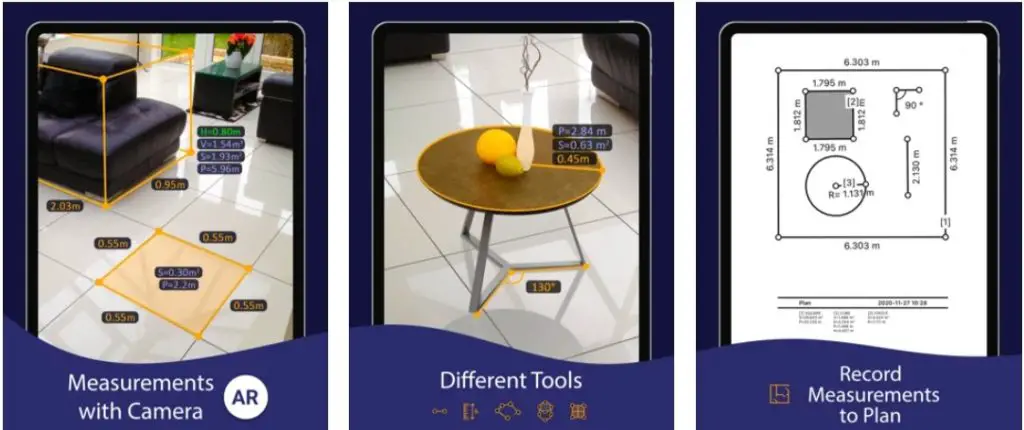 Next up, we have the AR Ruler app with Augmented Reality technology. It is an efficient tape measure tool. Using this app, you can tape measure the real world with your smartphone's camera. This is made possible with AR technology.
AR Ruler app allows to tape measure linear sizes in m, cm, mm, inches, feet, and yard. You can also use the app to tape measure distance from the device camera to a fixed point on the detected 3D plane. The good thing is you can use this app to tape measure 3D objects as well.
5. Measure
Both Apple and Google have made an app called "Measure" for their respective platforms which does pretty much the same thing. Using Augmented Reality (AR), it lets you measure any object in your vicinity. It uses the phone's sensors and cameras to do so.
To get started, you can download the Measures app from the Google Play Store. The Measures app is already present on iPhones running iOS 12+.
Scan the area with the app so that it detects the horizontal and vertical planes. On Google's version, you can choose between measuring distance or elevation. On the iOS version, you can measure objects and there's also "Level" which acts as a spirit leveler.
PS: Google has not updated their Measure app in a while.
6. Handyman Calculator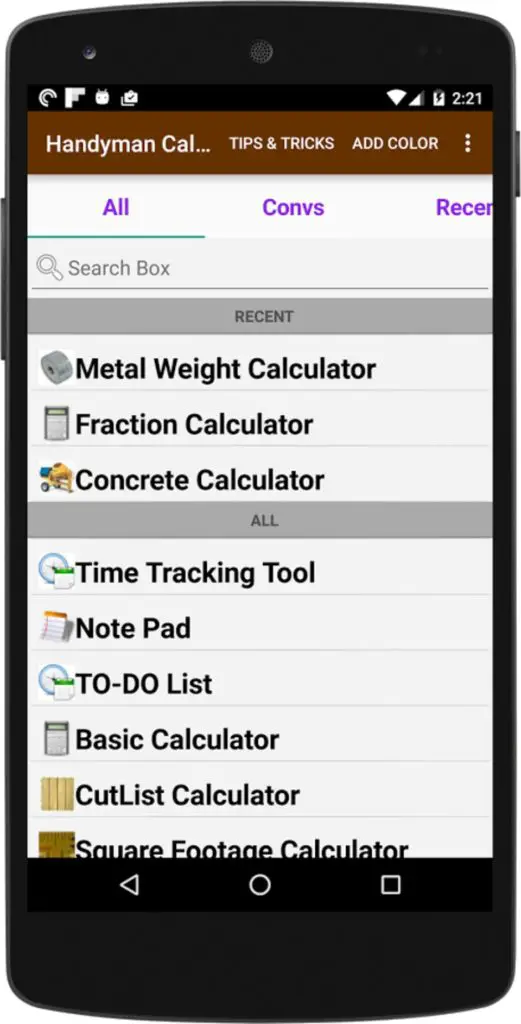 Handyman Calculator is one of the most useful apps for woodworkers. It contains all the necessary tools like calculation and conversion tools intended for Handyman and Woodworkers. You get Simple unit conversions, fractional calculators, density calculators, arc length and rebar weight and more in this app.
Inside the app, you can even change its font, color and text size. A more extensive list of tools includes Air Conditioning (determine what BTUs are needed given room size and population), Concrete Steps, Curbs, and Gutters, Deck Board Calculator (calculate number of boards required), Drill Size Chart, Density Chart of Metals and Alloys, LED Resistors, Oil Pressure, Calculate the number of Sand Bags given length and width of area, Water Flow Rates.
7. Smart Ruler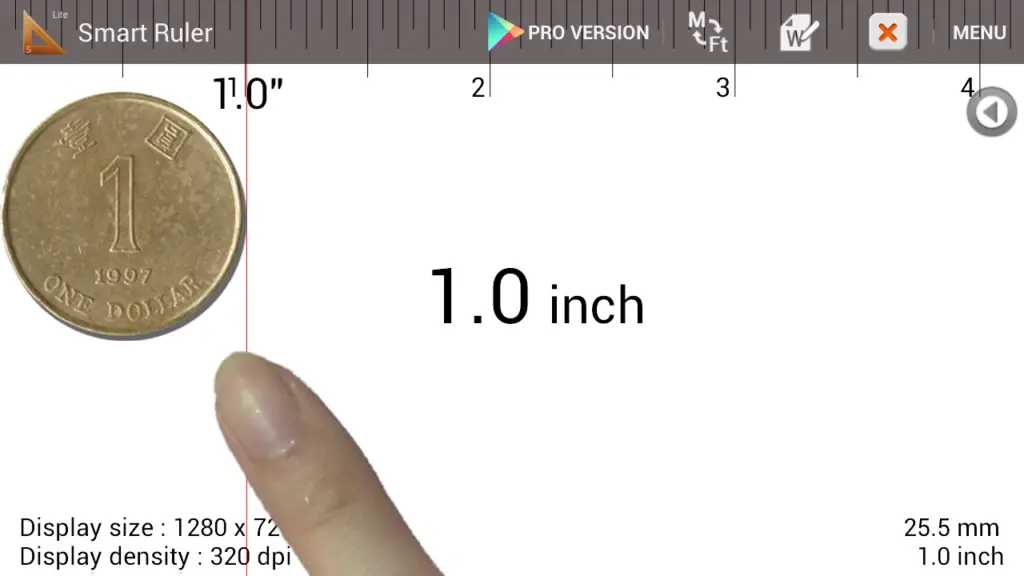 Smart Ruler is not just a normal ruler app, it is made for measuring small objects which can fit within your display. Often at times, we have to measure the length of a screw or a coin but couldn't find the right tools at the right time. With Smart Ruler, you can just make your phone the right tool.
---
Protect Your Online Privacy With Surfshark
[The VPN that we use here at Tech Arrival]
---
You have to put a small object, like a coin or bolt and adjust it to the left of your screen. Then touch the screen after which a red line will appear. Adjust that red line and you'll get you accurate measurements.
8. iHandy Level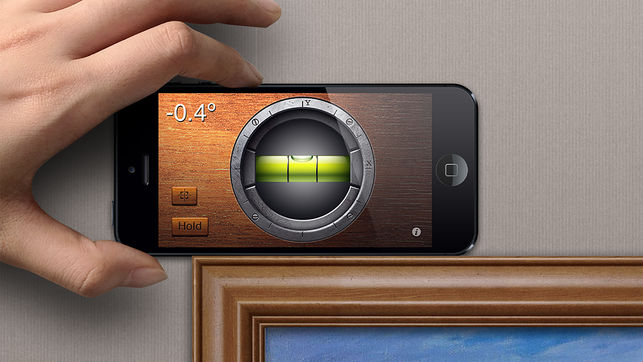 Another app from iHandy in our list, this one helps you to check how flat a surface is. It acts like a Bubble/Spirit level tool, but on your phone. The developer says that every device has a different sensor so you need to calibrate the app before use.
Once calibrated correctly, this app is one of the most accurate level apps in the market. To calibrate, first, you have to find a flat surface. Then you have to hold your device upright, put the bottom edge of the device on the flat surface, then press the Calibrate button.
9. CalcKit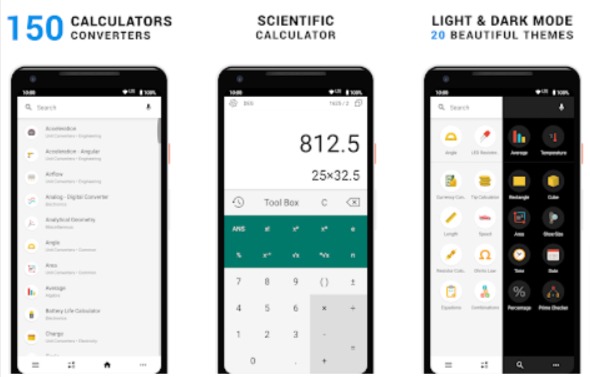 If you are looking for a simple woodworking app, then CalcKit could be the best choice for you. It is a powerful app with a great collection of calculators and converters for finance, electronics, math, and more. This app is designed with simplicity in mind. With the help of this app, you can almost solve all kinds of everyday problems.
You can use CalcKit for simple calculations and currency conversions, proportions, percentages, areas, volumes, etc. It is packed with many useful features that make it an ideal choice for users. One of the notable features of this app is the 150 free unit converters and calculators. It is also loaded with a highly customizable scientific calculator.
10. Building Calculations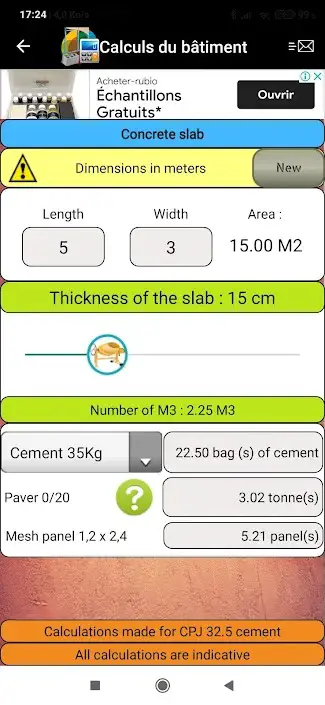 Building Calculations is an efficient app that helps you to calculate the quantities of your work. It comes with a simple interface that makes your work easier. With the help of this app, you can calculate almost anything related to your construction work. You can use this app to calculate it all from measuring mortar mixtures to concrete for a slab.
This is a very straightforward and easy-to-use app. No wonder it is rated highly by users. You can download the app for free and get started with your construction calculations.
11. Homestyle Interior Design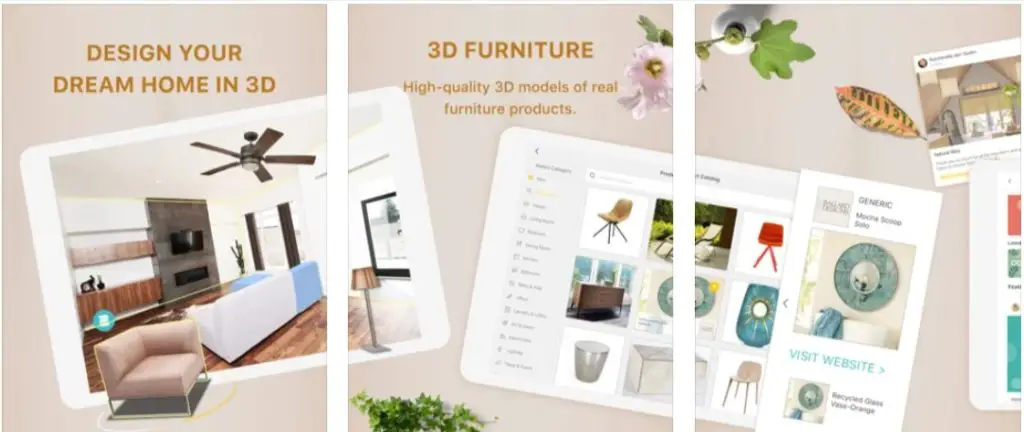 This is one of the most efficient apps you will find on the market. If you are currently remodeling or building, then you might find this app to be very useful. The first thing to know about this app is that it is free. You can use this app to decorate your house and the interiors efficiently.
Homestyle Interior Design app enables you to create your home project. You can use this app to complete your DIY design projects, remodel your room, build your interior design profile, and much more. You can also get new home design ideas from the home design community.
12. Magicplan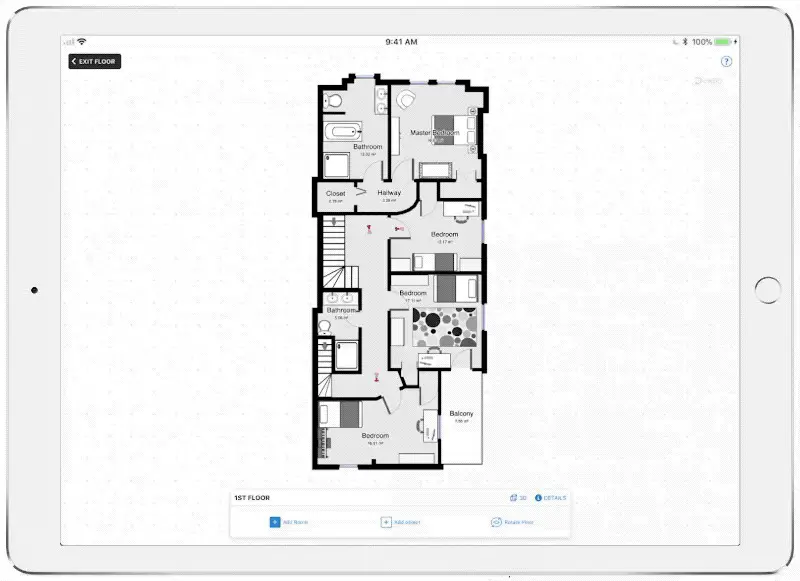 The next best option we have is Magicplan. It is considered the best residential contractor app for the field. It allows you to create and share floor plans, estimates, and field reports on-site without delays. Although the app is packed with many features, it is easy to handle.
Magicplan helps you to digitalize the site and streamline remote workflows. With the help of this app, you can create sketches with detailed dimensions. Besides that, it can create reports with notes and photos. That's not all because you can use this app to calculate cost estimates for remodeling jobs. 
---
Protect Your Online Privacy With Surfshark
[The VPN that we use here at Tech Arrival]
---
13. Decibel X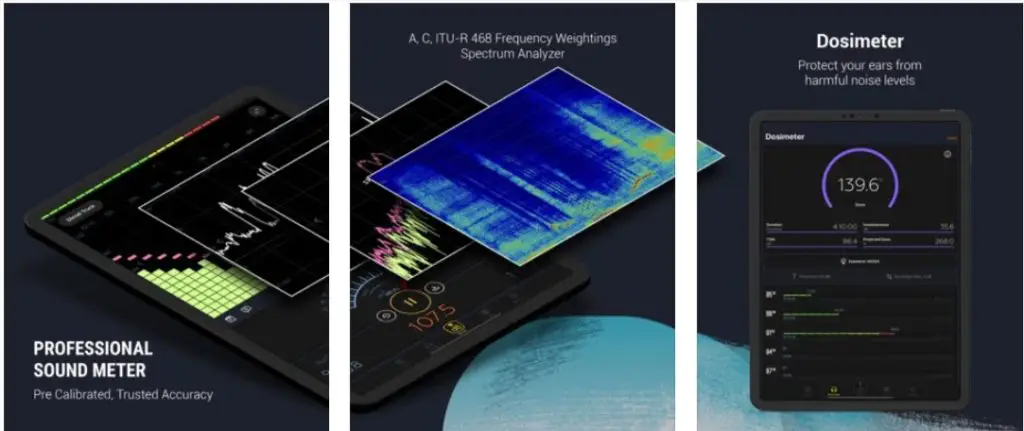 This app might not really be useful for woodworking, but if you want to check how much noise the TV is making or perhaps you want to record the noise of the construction going on next door, this app is the best solution for you.
Decibel X has a pre-calibrated accurate sound level meter. It also shows you how much decibel levels things produce such the sound of a motorbike, or children playing in an area. Its measurement ranges from 30 to 130 dB.
It has a nice user friendly and intuitive UI which makes it a better overall experience.
14. Feet & Inches Construction Calculator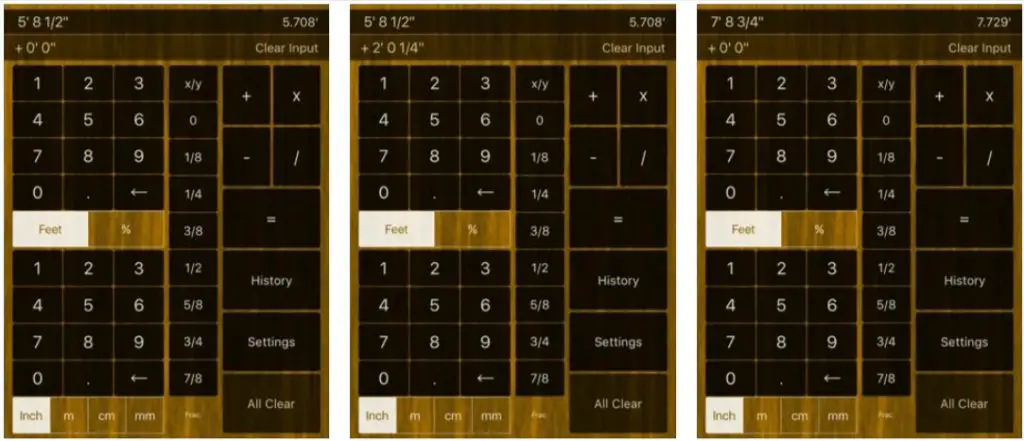 This is one wonderful app that can help calculate floor plans. It comes with a great calculator, which is accurate every time. Using this app, you can almost measure anything related to your construction project.
The app has received over 4.5 stars which tells you how efficient the app is. Even if you are using this app for the first time, you will find it easy to handle. Thanks to the user-friendly interface that allows you to use the app for your calculations easily.
15. Paint Tester 
With Paint Tester, you can see how your new wall colors look before painting them. This app can help you find the right color for your room. It shows you the results before the painting, or the repainting is done. You can easily try out different colors from the palette or take a photo of a color that you want to try.
This app comes with various tools, including the smart paint bucket that makes it easy to change the wall color in a picture. To get the best results, you should try taping a color sample to the wall and take a photo of it. 
16. iHandy Carpenter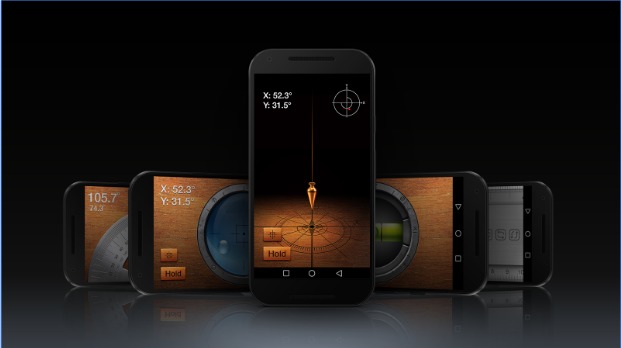 If you are looking for a beautiful app with some of the best tools, then you need to choose iHandy Carpenter. This app comes with five professional tools including a plumb bob, bubble level bar, surface level, steel protractor and steel ruler that are all meant to help you produce accurate measurements.
With this app, you can be able to measure the verticality of the walls, ensure that the surfaces are level, measure angles well, and swipe to measure in centimeters or inches. It's one of the best apps that you should not do without as woodworker.
17. Woodworking
Woodworking is a highly popular app among users because of its features. You can use this app for different types of woodwork projects. It also offers a Woodworking community where you can post your creations and share them with others.
Coming to the features, Woodworking allows you to post your projects with photos and videos easily. It is also faster than the camera photo app. It offers you a dedicated space to post any woodworking projects you might encounter.
---
Protect Your Online Privacy With Surfshark
[The VPN that we use here at Tech Arrival]
---
18. Woodworking 101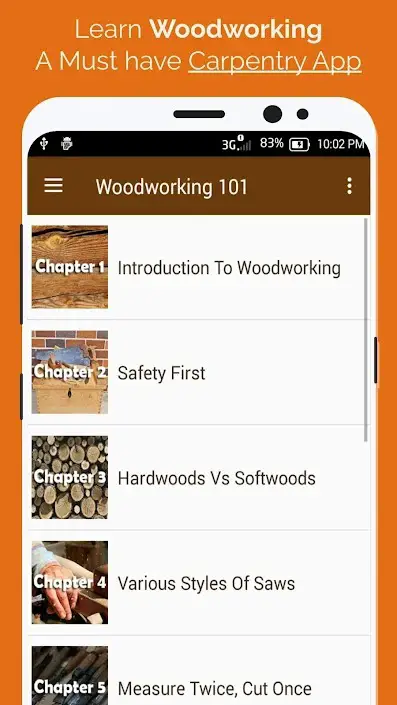 Woodworking 101 is yet another efficient woodworking app. You can use this app for your woodworking projects and carpentry. With Woodworking 101, you will learn to use woodwork tools. Along with that, you will also learn how to design your perfect woodworking projects.
With this woodwork app, you can learn to work with proper safety. It teaches you how to work with various styles of saws, measure properly, choose the right tools for your woodwork projects, and more. Additional features include free access to 50 free woodworking plans.
19. I.D. Wood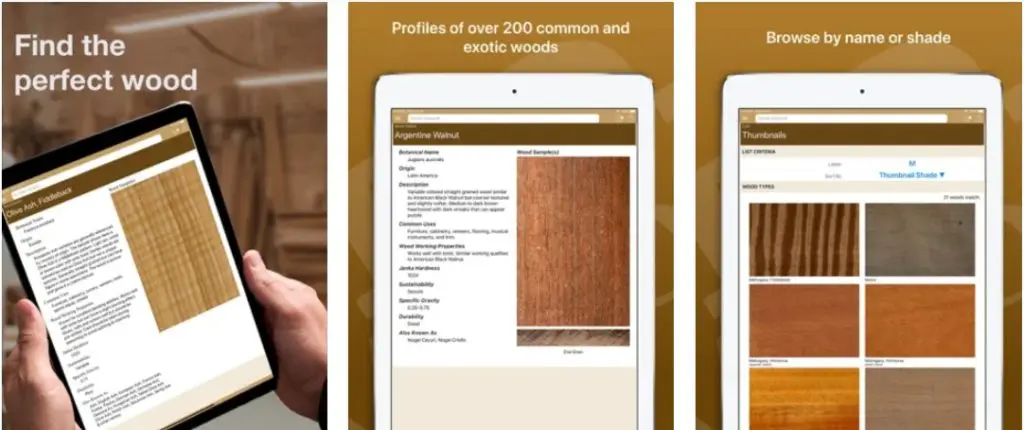 Next up, we have the I.D. Wood app that is one of the favorite apps out there. It is like a pocket guide to woods from around the world. It provides you detailed information on woods with samples. It can fetch you information for over 200 different woods.
The best thing about this app is that it can work with or without an internet connection. From the basic to the exotic woods, I.D. Wood can provide you all the details you need about woods. It is a virtual guidebook suitable for woodworkers, architects, homeowners, carpenters, and others.
20. Dozuki Guides
Dozuki Guides provides how-to manuals for repair, work instructions, training, or just about anything else. Before starting this app, you need to first sign up at Dozuki.com and add your instructions. The app offers large graphics that make learning easier. You can also zoom the images to get a better look at the pictures.
This app is packed with many great features. Starting with the in-the-field photo capture and guide creation, cross-device syncing, and offline storage. It provides you easy-to-use mobile guides that can prove to be useful in many ways.
Conclusion
These tools prove to be a boon for woodworkers, carpenters, and DIY enthusiasts. Often at times, many physical replacements of these tools aren't handy. The ability to get them instantly on your phone is perhaps technology's major advent in all these years. These must-have apps save your time and effort, but also prove to be very beneficial if you are a person who does things like breaking and building very often.
Feel free to share your favorite apps and thought about them in the comments section below.
Frequently Asked Questions (FAQs)
What Exactly Woodworking Is?
Woodworking refers to the skill or activity of making items from wood. This includes cabinet making, wood carving, carpentry, and woodturning.
What are Some of the Best Woodworking Apps?
There are plenty of woodworking apps available on the market. But some of the best options are Woodworking, Ruler App, Woodworking 101, and Planners 5D Interior Design.
Is iHandy Carpenter Worth It?
If you want a reliable app for your woodworking projects, then iHandy Carpenter would be a great choice for you. It is a beautiful app packed with professional tools such as bubble level bar, plumb bob, surface level, steel ruler, and steel protractor.
---
Protect Your Online Privacy With Surfshark
[The VPN that we use here at Tech Arrival]
---
Is Handyman Calculator Available on the iOS Platform?
No, Handyman Calculator is an Android app. It is a very useful app for woodworkers and comes with many important tools like conversion tools and a calculator.
How Does the Paint Tester App Work?
The paint Tester app can help you find the right color for your room. You can use the color picker to select the sample and then use the paint bucket to apply the color.
Why Do You Need the Ruler App?
The Ruler App can help you measure everything with a beautiful on-screen ruler. It can measure in different formats as well.
What is the Magicplan App All About?
Magicplan is one of the best residential contractor apps for the field. It helps you to instantly create and share floor plans, estimates, and field reports on site. With the help of this app, you can also increase productivity on the go. The app is super-fast, lightweight, and powerful.
Is Planner 5D Interior Design App Free?
Yes, the Planner 5D Interior Design app is free for all users. The only time you need to pay is when you want to gain access to the entire catalog.
What is Special About the Plumb Bob App?
Plumb Bob is one of the best 3D measurement apps. It is backed by augmented reality technology, which makes this app efficient among other similar apps.