iPhones are the bane of multiple people's existence. Some individuals have the finances to buy them first hand, while others tend to depend on refurbished phones to make do. Many people fail to realize that even refurbished iPhones hold a lot of value, especially if you are trying to budget out your purchase and not pay over $1000 every time a new model is launched.
However, the only issue with refurbished iPhones is the fact that not many people know about it or understand the concept. This makes it tougher for individuals to make them a worthy purchase in the long run.
If you are considering buying an iPhone but are consistently pushing the purchase to the back of your mind, we'd recommend that you read ahead to learn more about refurbished iPhones and where you can buy them from.
What is a Refurbished iPhone?
Before we give you an insight into the benefit of a refurbished iPhone, you should understand what it means. In simpler terms, a refurbished iPhone is a device that has been restored to its original potential like you would have bought it when it was new. It is typically a used device that was used by a previous owner.
However, refurbished iPhones are thoroughly checked by a certified Apple reseller before being put up on the market for further purchase. The only issues that you might notice with a refurbished iPhone are the external damage, typically including the scratches and other marks on the phone's exterior.
Also read: 12 Best Wireless Chargers for iPhone
What is the Difference Between a Used & a Refurbished iPhone?
Although the concept of used and refurbished iPhones might seem similar, there is a difference between the two. With a used iPhone, you might get it for an extremely cheaper price point, but you won't have a guarantee about the item or the functionalities that it comes with. This means that if the used iPhone that you bought for $100 or less ends up not functioning the next day, there's no guarantee to the purchase.
With a refurbished iPhone, that isn't the case. These models are typically tested and optimized by an official Apple reseller. The device is fixed, and the functions and performance are made top-notch like a new phone before they are sold. This means that although you are typically buying a "used" iPhone when buying a refurbished one, you are buying one of good quality that comes with a warranty on the product.
In such rare situations, you will also find brand new iPhones under the refurbished deals. These rarely happen when buyers return their devices after a few days of weeks of use for a cheaper price point to be sold forward. However, keep in mind that it is extremely rare and not something you can expect to happen now and then.
Is Buying a Refurbished iPhone Worth It?
Everyone wants to use a new device, not realizing that buying a new iPhone every time a new model is launched is not accessible for every user. Typically, you do need to have a lot of money to be able to achieve that.
---
Protect Your Online Privacy With Surfshark
[The VPN that we use here at Tech Arrival]
---
If you don't have or don't want to invest that kind of money on a new phone, buying a refurbished iPhone seems like a good enough idea. Here are some of the outlooks and factors you need to consider before buying a refurbished iPhone:
What Kind of Usage are You Expecting?
It is not even a question that you need to understand the utility behind the refurbished iPhone. Are you going to use it for simple calls and basic messaging? If yes, a refurbished iPhone should suffice your needs. However, if you are buying an iPhone for the camera quality, we have some news for you. You need to seek out the latest models in that case, especially because there are camera upgrades in iPhones almost every year.  
Does It Come with a Warranty or Guarantee?
Unlike the used iPhones sold for an extremely cheap price point than the original one, you will get some months of warranty with the refurbished model. Typically, it can range between 3-9 months, depending on the quality of the iPhone. The good thing about refurbished iPhones is that even if they have exterior damage, their processors and normal functioning are pretty great. This means that you won't have to compromise on the performance of the device at all.
We'd always recommend buying refurbished iPhones from certified Apple resellers. This way, you get a new battery and a new outer shell installed in the refurbished phone. So, even if you are paying a very less price than the original one, you get to enjoy the look of a brand new iPhone. 
What is the Pricing Like?
Another factor with a refurbished iPhone that is worth considering is the price. Depending on the quality and the condition of the iPhone, the price range can vary between $200 to over $1000. So, it depends on what you need at the moment. If you want more storage and a better processor, you might find a refurbished iPhone more expensive than the standard choices. 
The price of the iPhone will vary. It is you who has to decide which kind you'd want to invest your money in in the long run. 
List of Best Places Where You Can Buy Refurbished or Used iPhones
Now that you have a basic idea about refurbished iPhones and what they are good for, you should know where you can source them. Contrary to what you might think, they are available across multiple platforms, which means that you won't have to worry about not being able to get your hands on one.
All you have to do is a little research on your part to get your hands on the high-quality purchase.
1. Apple Refurbished Store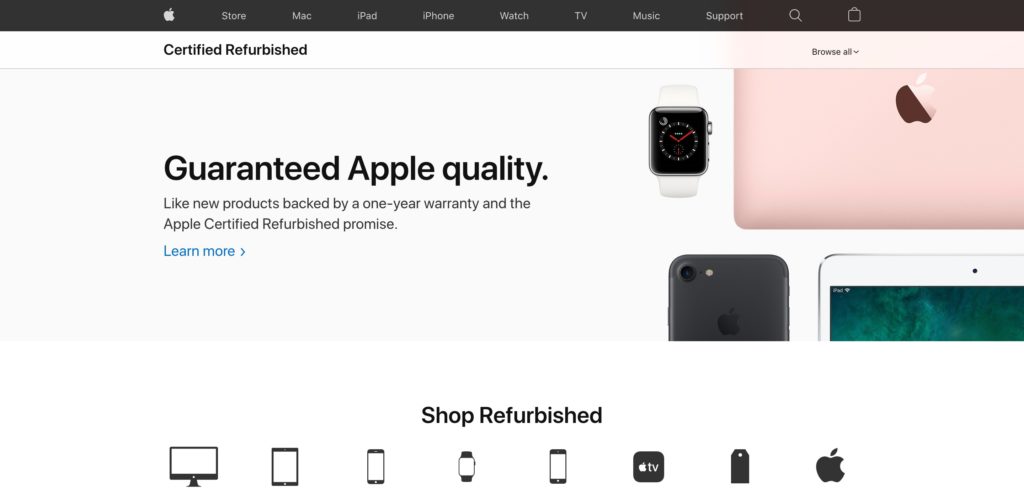 The very first and likely one of the most common spots to buy refurbished iPhones is from the Apple Store. Apple offers a host of assurances that you typically won't find with the other standard choices that you find around. However, one downside to buying from Apple is that their product prices for the refurbished items will be slightly higher.
However, it comes with its set of benefits too. Not only do you get the best quality product, but you can also find a fully calibrated device with a new battery and exterior. This makes the device look brand new, even though you are paying a very reduced price for the same.
You can find more details on Apple's official website, where you can check out the available options and buy one that best suit your needs.
---
Protect Your Online Privacy With Surfshark
[The VPN that we use here at Tech Arrival]
---
2. Swappa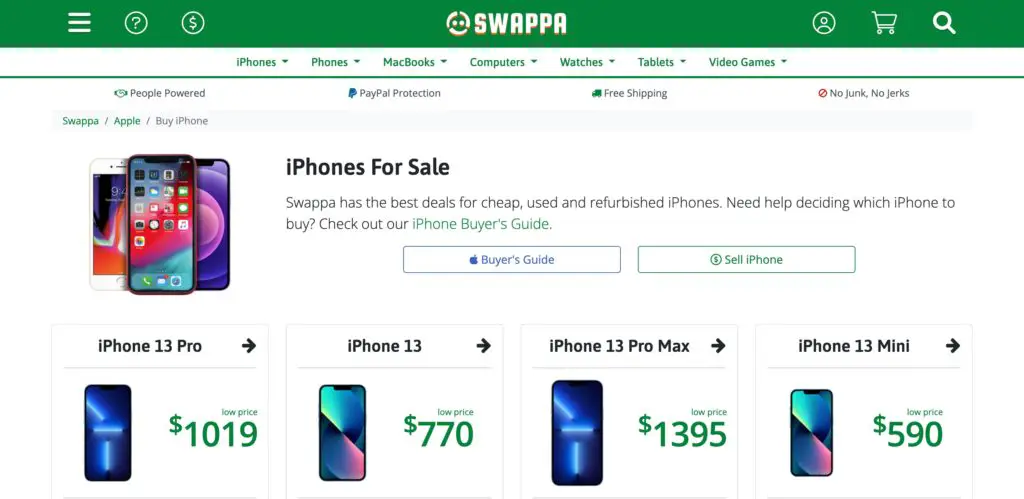 Just like the name suggests, Swappa is a website that helps you get your hands on used and swapped devices – refurbished iPhones being one of them. The good thing about this website is its combination of available devices. Not only can you find refurbished devices, but it hosts a range of used devices as well.
But, what makes it stand out is the level of user protection it offers. This means that even though you are typically buying an old iPhone, you get the guarantee, making it a safer purchase for you. The website has a range of cheaper iPhone options, some even starting at as low as $400 and even less.
3. Best Buy
Moving on to another selling mogul. Not only your daily electronic necessities but best buy also takes care of your need for a refurbished iPhone. The brand is highly reliable and accessible, with a range of stores all across the country. This means that you won't have to worry about finding the right products for your needs. 
Besides the reliability and lower price of the refurbished iPhones, one amazing standout point of this website is the warranty it provides. You can easily find products with at least 3 months warranty on them. So, if there's something wrong, you do get a complete value for the money you have invested. Also, the available refurbished iPhones in Best Buy easily start from as low as $250.
4. Amazon Renewed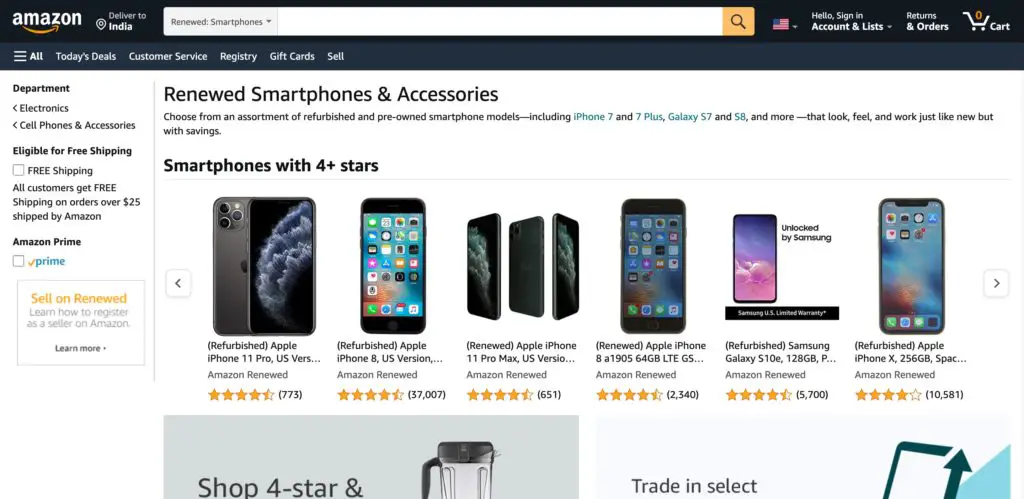 Many people are often skeptical about Amazon Renewed storefront thinking that the products are either bad or not worth the price we pay. It is a complete myth. Given how regulated the entire process is, we can reassure you that any product that you buy from this storefront is worth every buck you spend.
So, if you are considering buying a refurbished iPhone, you will find a lot more than you'd typically anticipate. Every product and reseller is backed and verified by Amazon. This means you won't get scammed for your money and get the product you likely paid for. Also, since the concept of refurbished iPhones is so popular, you can find cheaper products that are even less than $200.
5. eBay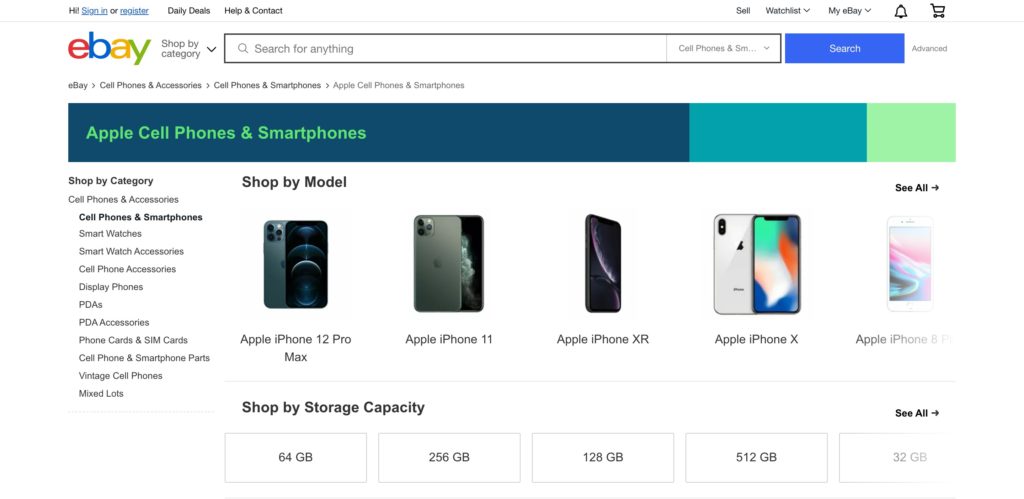 Although not on the top of our list, eBay is still a potential platform specializing in refurbished iPhones. The platform has been one of the most common stops for buying used and refurbished items. However, the lack of authenticity and regulation under eBay is what makes this website a suspicious one. This means that you need to be mindful of the seller you are buying the product from.
Check out their reviews and credibility. If everything seems clear and without any complications attached to it, we'd recommend that you go ahead. However, with eBay, there is a chance of being hit or miss. Some individuals have gotten refurbished iPhones for half the original price, and they were pretty much brand new. It is a matter of good research and the best deals.
6. Gazelle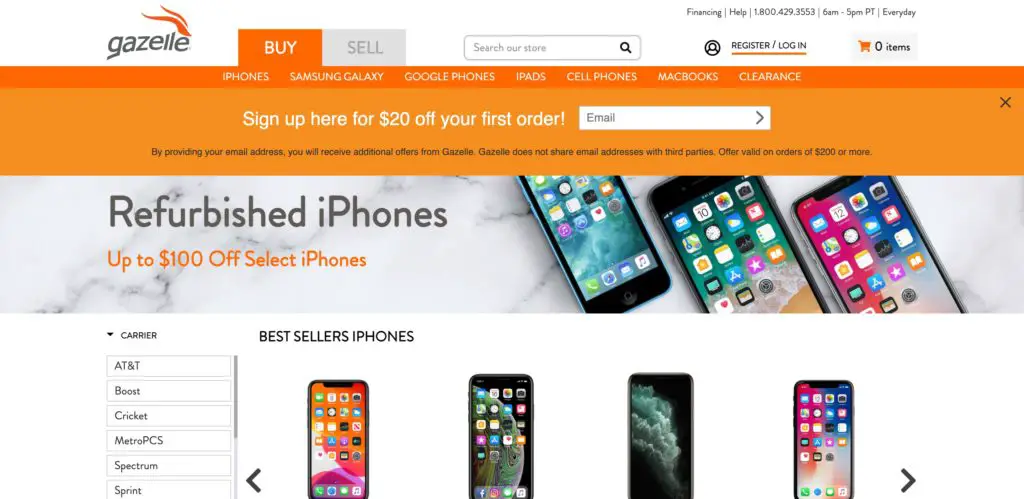 Although quite an underrated platform, Gazelle is a worthy option that you can consider looking into. It is an extremely reputed platform, popular among users who are reliant on refurbished products. The good thing about this platform is that its team is a network of people. Some individuals but the used iPhones have specialists who fix up the issues and make it run again like a brand new iPhone out of the case.
The platform has cheaper refurbished iPhones priced as low as $400 and even less in some cases. Typically, they have a return policy, but it is viable only for 30 days, so make sure that you take care of that issue.
7. Network Carriers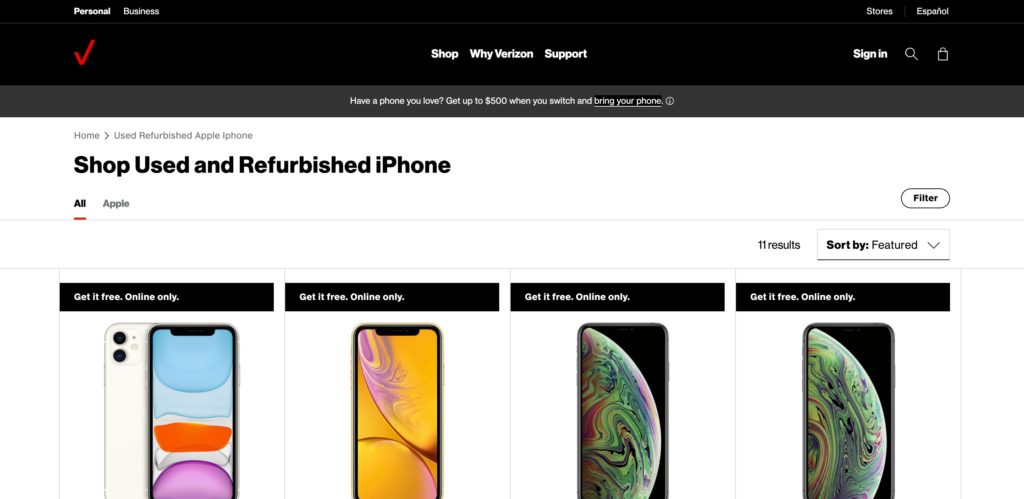 Not just the big tech dealers but even network carriers sell refurbished iPhones. Yes, you heard it right. Popular carriers like AT&T and Verizon and T-Mobile, all deal with refurbished handsets. So, if you are considering getting one, enquire about the same in the nearest store, and they will further guide you on what to do.
---
Protect Your Online Privacy With Surfshark
[The VPN that we use here at Tech Arrival]
---
Many individuals do recommend looking into Craigslist and LetGo as alternatives too. However, we'd recommend that you skip those two out. It is mainly because they often tend to include refurbished iPhones that are often stolen. 
If you are considering buying a refurbished iPhone, we'd recommend that you go for it. Not only is it a good deal for the money, but you also contributed to sustainability. However, be extremely careful where you are buying the product from. Try to stick to official and reliable platforms instead of the random ones that offer extremely lower prices.
Also read: 5 Best VPN Apps for iPhone & iPad
Frequently Asked Questions (FAQs)
How Long Do Refurbished iPhones Last?
They can typically last between a year to over five. It depends on the condition you bought it in and how you handle it.
Is It Safe to Buy a Refurbished iPhone?
Yes, until and unless you buy it from sketchy resellers, it is safe to buy them without worry.
Does the Refurbished iPhone Come with a Warranty?
It depends on where you are buying it from. Official Apple store, Best Buy, and Amazon renewed will provide a warranty on the product.