Reddit is considered one of the best places to discover the happening things on the internet. From incredible inventions to technology development and politics to entertainment, you will find all kinds of updates on this platform.
Reddit has millions of monthly active users who use the platform for anonymous discussions on various topics. Becoming a Reddit member allows you to share your views and opinions without revealing your identity.
However, many users are looking for better alternatives, so they can satisfy their urge to discuss and debate various topics. The good news is there are plenty of similar websites on the internet.
Also read: 11 Best Facebook Alternatives to Protect Your Privacy
In the post below, we have suggested some of the best Reddit alternatives that you can go to.
List of Best Reddit Alternatives
1. Quora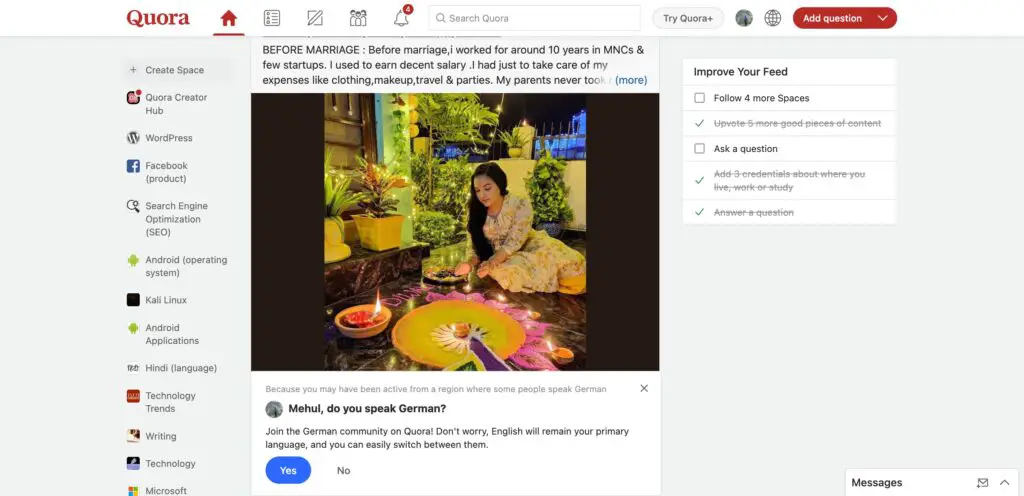 Quora is the first name to cross the mind when discussing alternatives to Reddit. It offers an excellent platform for meaningful discussions. It allows its users to ask questions, so others who know about the topic can answer them.
If you have any doubts or queries, you can post a question on Quora. You will receive hundreds of answers in a short time. It also lets users select topics they are interested in. This helps you to find relevant topics on the platform. You can also follow other members or experts on Quora.
2. 4chan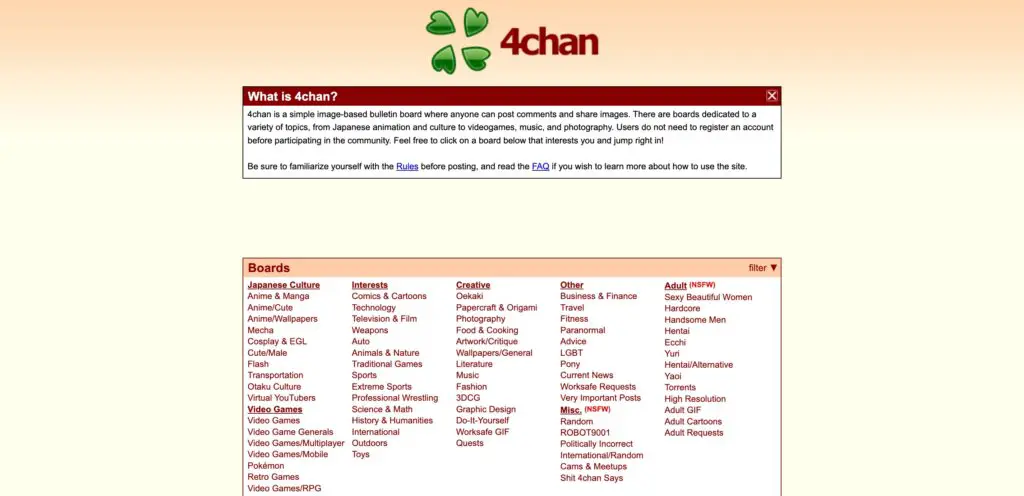 4chan happens to be a very popular online community. It is an imageboard where users can post pictures of boards they like. They can also comment on posts shared by other people. The best thing about using 4chan is that you don't need an account. Just log in to the site and start exploring boards.
It has a board for every topic you can think of. Some of the most popular boards are music, movies, games, technology, anime, etc. 4chan also has an adult section where you will find a lot of NSFW content. It allows you to post anything without revealing your identity. For all these reasons, it makes a great Reddit alternative.
3. Imgur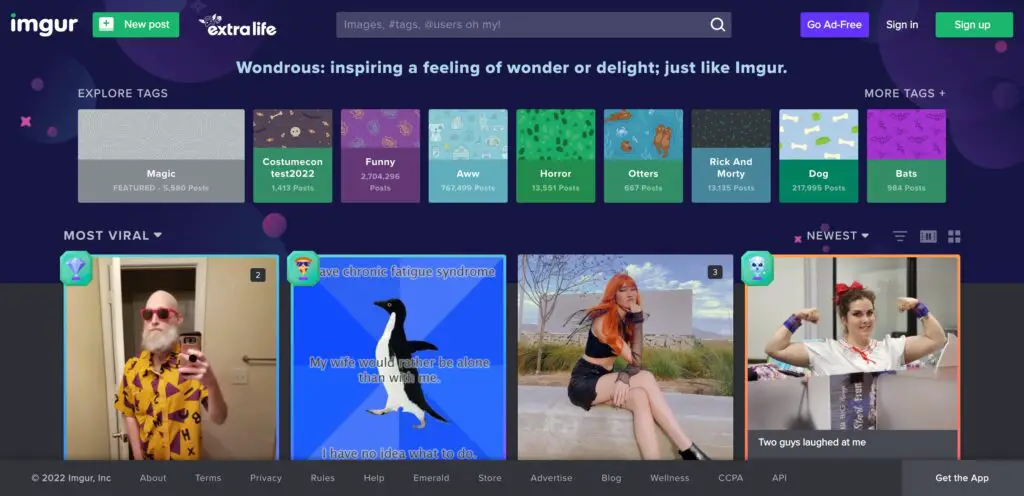 Imgur is slightly different from Reddit. Instead of news and updates, it offers an endless collection of images. No matter what image you are looking for, you will find it on Imgur.
---
Protect Your Online Privacy With Surfshark
[The VPN that we use here at Tech Arrival]
---
Imgur acts as an image repository where you can look for things you are interested in. Whether sports, technology, or anything else, Imgur has it all. It uses tags that help you find the images you are looking for. You can also download and save the images you like.
4. Slashdot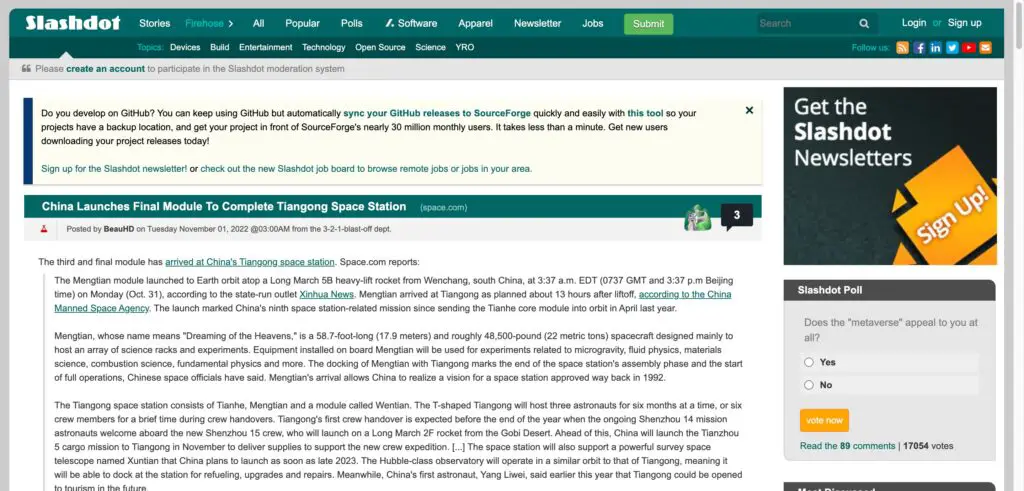 If you are looking for a website where you can find news related to technology, Slashdot is the answer for you. This is regarded as the best site for geeks. Here you will find the latest news on technology from various sources.
Usually, finding news on other sites is troublesome. But with Slashdot, you don't have to worry about anything. It makes news searching easy by listing them all on the front page. It collects news from hundreds of sources, so you can keep yourself up-to-date about everything happening in the technology world.
5. Hacker News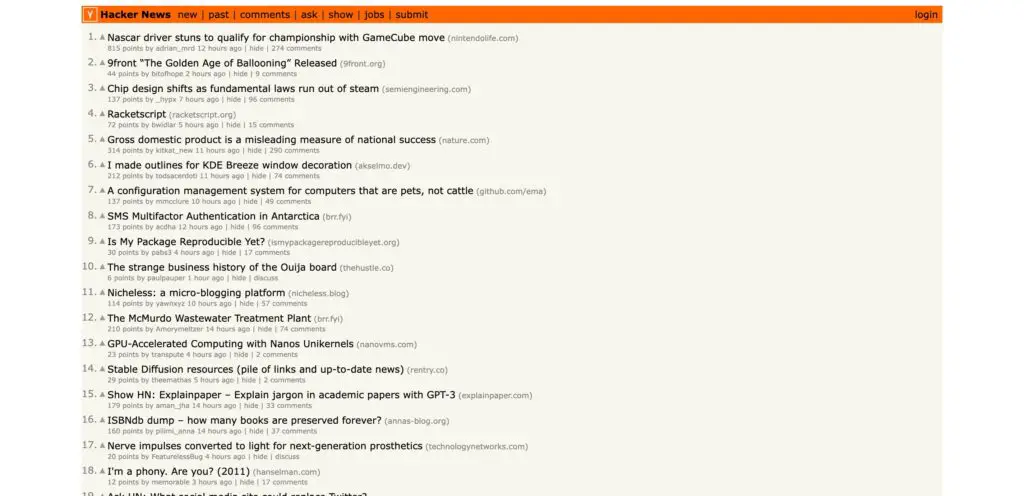 As the name suggests, Hacker News is a news platform. It is one of the most straightforward news portals on the internet. Unlike other sites, it doesn't feature flashy signs, ads, widgets, or sidebars. This platform lets you keep up-to-date about everything happening in the technology world.
This site targets tech enthusiasts, hackers, startups, and entrepreneurs. You will find fresh news every day. The points can determine the popularity of the news it has received. Users can upvote news and push it higher in the ranks. You will find legit news from good sources like Washington Post, New York Times, etc. You can also comment on the news to start a discussion on the platform.
6. 9GAG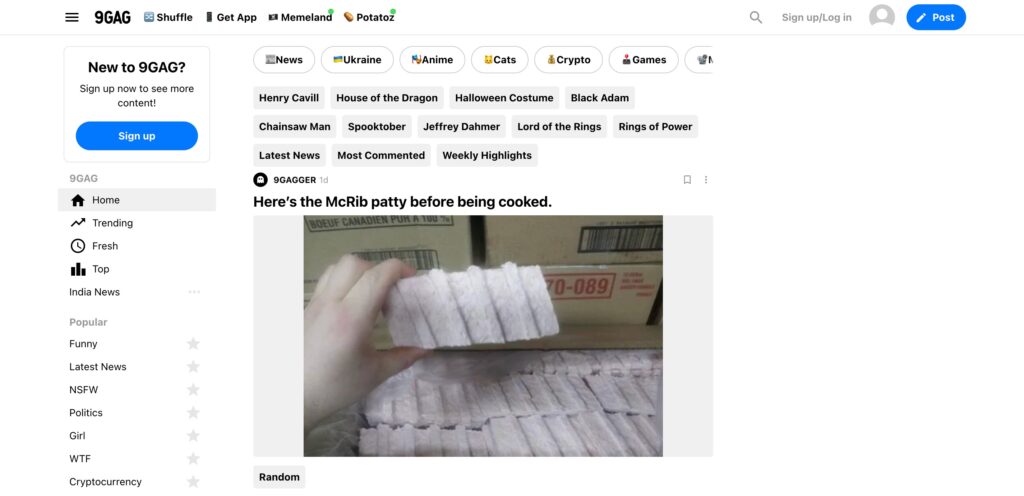 You must have come across a lot of 9GAG posts on the internet. Well, you should be because it is one of the most popular blog sites online. Initially, it started as a simple website, but now it has become a hub of funny images, memes, and posts. It allows users to submit content and share it with others.
You can also use 9GAG to discuss different topics. You cannot only post your content but also leave comments for others. If you are hunting for a website to enjoy some good humor, then 9GAG is the site for you. For quick access, you can also download their mobile app.
7. Product Hunt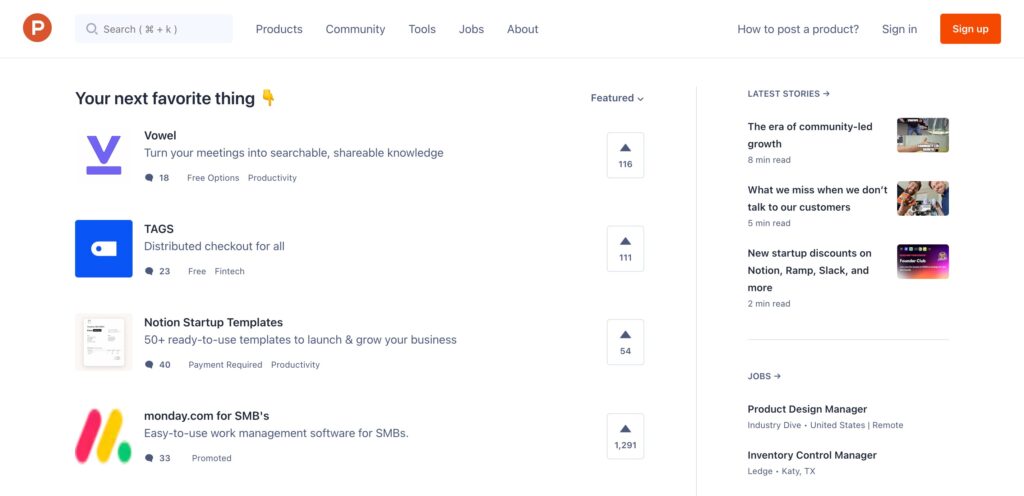 This site is ideal for users who often search for products online. On this platform, you will find information related to thousands of products. From innovative gadgets to the latest techs, Product Hunt covers everything. The site features a list of popular product categories, which includes mobile apps, website designs, games, and more.
Users can also create their lists and share them with others on the platform. Product Hunt is like an online community where you can find information on products you are interested in. It's a great place to discover something new every day.
8. BuzzFeed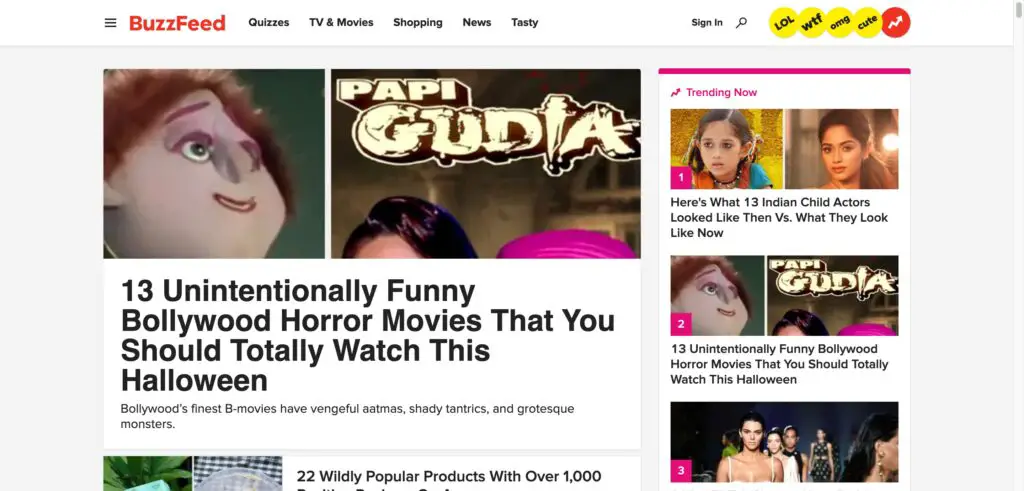 BuzzFeed is another excellent alternative to Reddit. It is a news-based website where you can find news about the world. With Buzzfeed, you can keep yourself updated on everything going around the globe. It features a modern and sleek interface, so you can navigate the website easily.
BuzzFeed is an ideal place to look for breaking news stories. It also has some fantastic community options that make it more interesting. For example, you can highlight news stories happening on other sites. Even though it is a news site, it allows you to follow other users. It lets users share news stories on popular social media platforms like Facebook.
---
Protect Your Online Privacy With Surfshark
[The VPN that we use here at Tech Arrival]
---
9. Steemit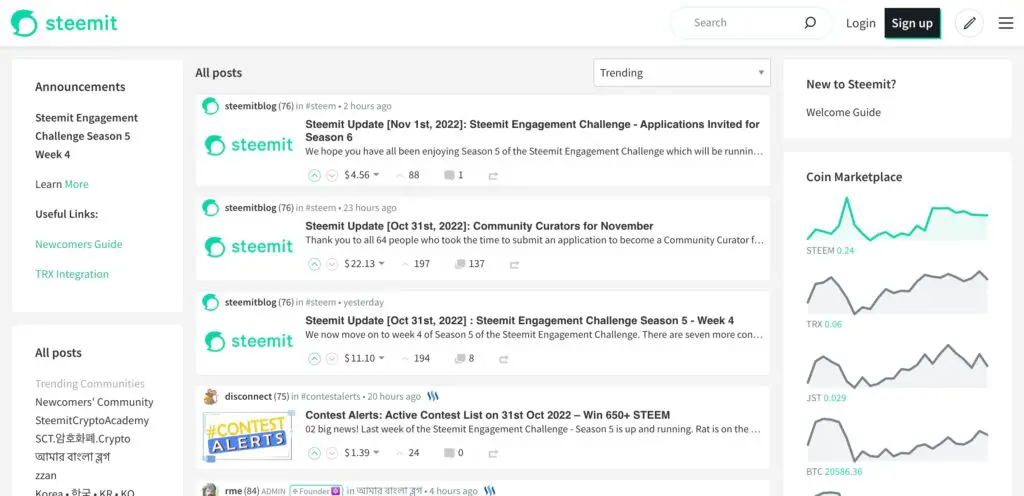 If you are looking for an online forum for crypto-based discussions, Steemit is for you. It has been the best Reddit competitor for the longest time. It has features that are similar to Reddit. For example, users can post questions and leave comments on other posts.
It also allows you to downvote and upvote to register your comment about any topic. But the unique thing about Steemit is that it incentivizes upvoted posts. In other words, you can get paid for the posts you make. The only drawback is that Steemit has a lot of spammy or clickbait posts. So you need to be careful of them.
10. Digg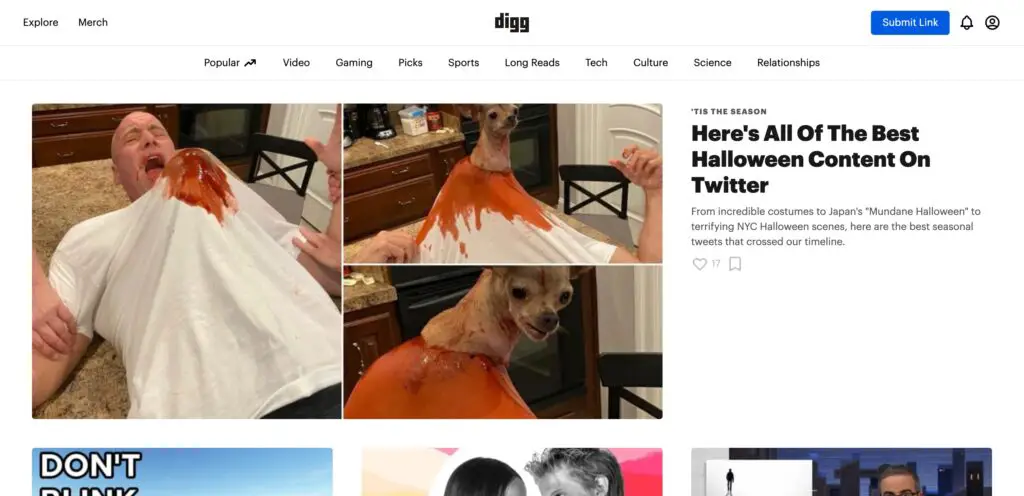 Digg has been around for a long time. It is a user-friendly website that offers engaging content to users. The unique feature of Digg is the voting system that helps you to find good content. Digg also has a very active community, so you can talk and discuss things with others.
The best thing about this site is that it allows you to submit your stories and vote on them. Compared to Reddit, Digg is faster and has a better interface. It also allows you to save articles, so you can read them later.
11. MIX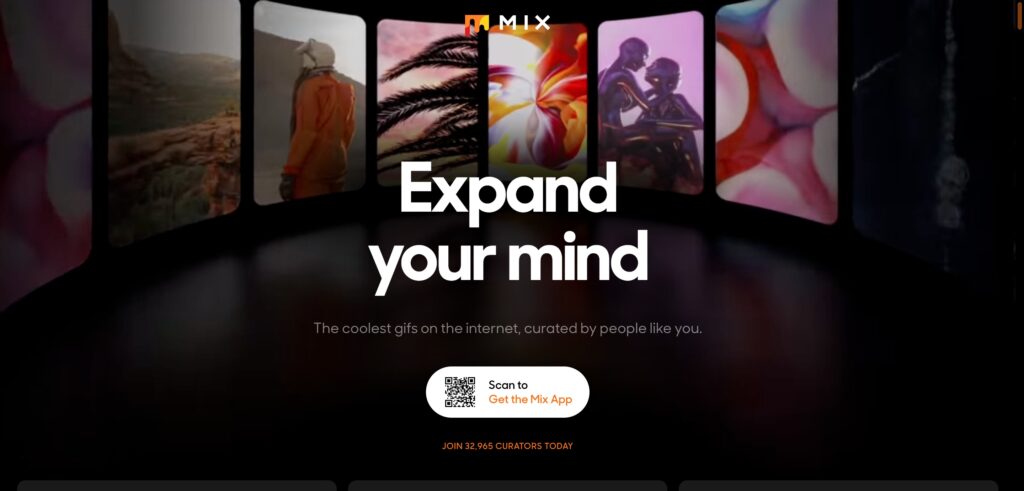 Many of you know this platform as StumbleUpon. But now the name has been changed to MIX. This is a platform where you can find the latest stuff on the web. All the content available on MIX is submitted by various people worldwide. You will find everything on one website, from great stories to the latest news.
MIX has its mobile app. So if you are not comfortable using the website, you can download the app for free. Just so you know, they also offer a browser extension available. Like others, you can also submit your content and share it with the world.
12. Mashable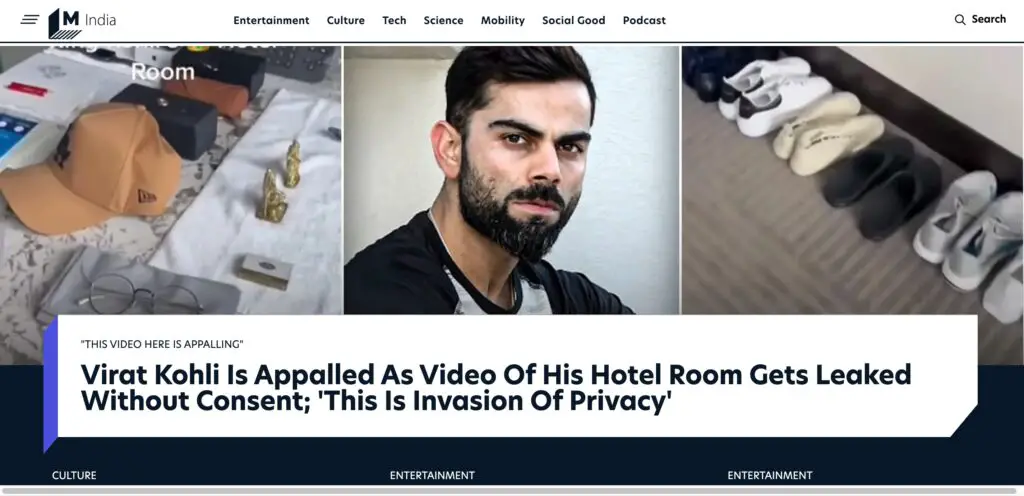 This platform allows you to find social media, gadgets, and technology news. It is a pretty engaging platform where you can discover content on games, web developments, and other entertaining topics.
Compared to other sites, Mashable is easy to use and navigate. It is updated with fresh content daily, so you can have something new to read every time you open the website. Mashable can be a good site for you if you are a casual reader.
If you are losing interest in Reddit, you should try exploring some sites for exciting and engaging content. You can also post your stuff and share it with others.
Also read: 11 Best WhatsApp Alternatives You Can Use
Frequently Asked Questions (FAQs)
What are the Best Reddit Alternatives?
You will find plenty of sites that are similar to Reddit. But the best alternatives are 4chan and Quora.
---
Protect Your Online Privacy With Surfshark
[The VPN that we use here at Tech Arrival]
---
What is Product Hunt All About?
Product Hunt is a website where you will find news about gadgets, technology, and innovations worldwide.
How is Imgur Different?
Instead of offering news and articles, Imgur offers tons of images. On this platform, you can find images of almost anything.
Does 9GAG Have a Mobile App?
9GAG has both a mobile app and a website. For easy browsing, you should download the mobile app.
How to Get Featured in the Buzzfeed Community?
To get featured on Buzzfeed's community, you have to first create an account and then make a post on the platform. Editors will review the content posted by you. They will feature your content on the site's community page if they think it is good.
Can Kids Use Reddit?
Reddit is not a safe place for kids. Only users above the age of 18 are allowed to use this site.
Is Steemit Safe?
Steemit is a 100% legit website. It offers a platform where users can find content on cryptocurrency, blockchains, etc. Users can also interact and share their posts.
Can I Make Money from Steemit?
To make money from Steemit, you must write original content and post it on the platform.
Is Hacker News Safe?
Hacker News is one of the most trusted news sites on the internet. It has over 8 million monthly active users.