Sticky Notes is one of the coolest features offered by Windows. It has been a part of the Windows OS for years. Unlike other Windows apps, Sticky Notes haven't received any major features or updates for a long time. It is possibly the most neglected app on Windows.
The lack of features in Sticky Notes has forced users to look for better alternatives. Apps like Sticky Notes come in handy when you want to save a quick note. 
Also read: 10 Best To-Do List & Task List Apps for Android
To save you time and effort, we have handpicked the best alternative apps to Sticky Notes.
List of Best Sticky Notes Alternatives for Windows 
1. Microsoft Sticky Notes
As you may already know, Microsoft has replaced the original Sticky Notes with a more advanced alternative. This feature-rich app is called Microsoft Sticky Notes and is available on Windows 10. It allows you to add short notes, reminders, and tasks quickly. The best thing about the app is probably the cross-device syncing. You can access your saved notes from Outlook, OneNote Mobile, and Microsoft Launcher. However, it still lacks the stay-on-top feature, which the company should have fixed long back.
2. Microsoft OneNote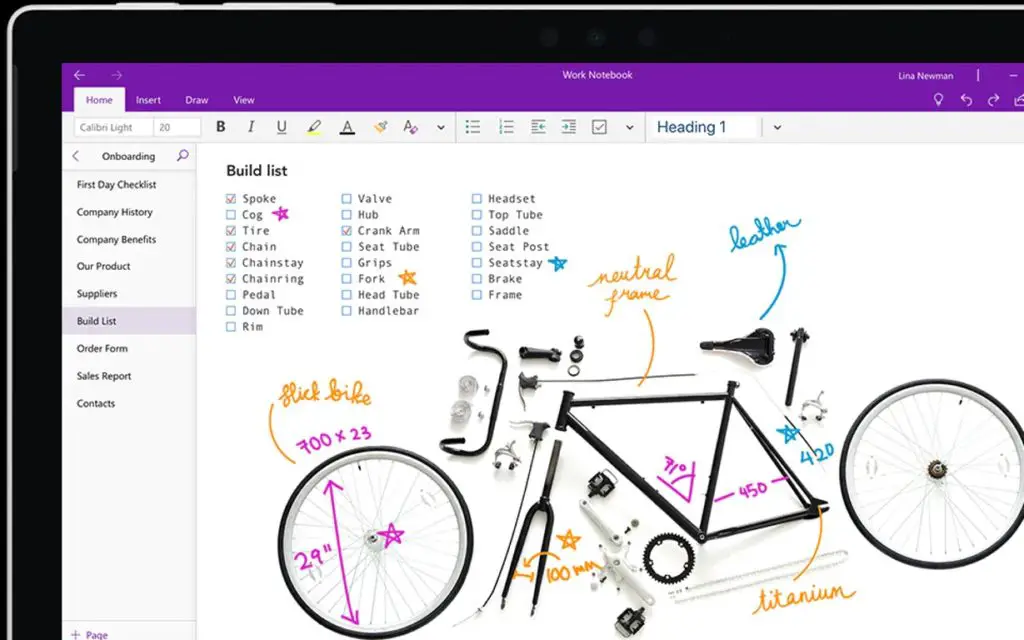 Microsoft OneNote is an efficient digital notebook that provides you a space to store your thoughts. It is easy to use and has all the features you need. It is designed keeping in mind the needs of users. With this notebook app, you can meet all your note-taking needs. But before you can start using it, you will have to first sign-up on the app. It allows you to bring notes and conversations in one place to have a great portable experience. You can also share and collaborate on your notes with OneNote.
3. Google Keep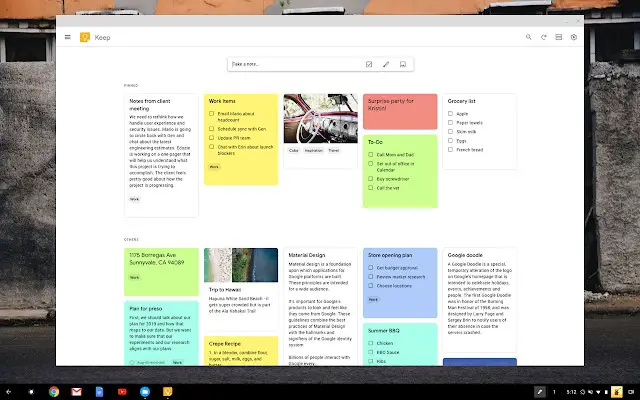 Talk about sticky note alternatives; Google Keep is one of the names that will come on the top. This is one of the best note-taking apps you will find. It allows you to take quick notes and sync them across various devices. It features a very neat and easy-to-use interface. With the help of Google Keep, you can create images, text, to-do, and voice notes. Another useful feature is that it lets you set location-based reminders. You can also invite your friends to collaborate on a single note.
4. Simple Sticky Notes
This is yet another great alternative to Sticky Notes. If you are looking for an efficient and lightweight note-taking app, then Simple Sticky Notes could be the best choice for you. Unlike Microsoft Sticky Notes, it offers the stay-on-top feature. This makes the app more convenient to use. It also has the drag and drops feature, using which you can quickly add texts on the sticky note. It also has many customization options. For instance, it allows you to change colors, edit the title, adjust opacity, etc. You can also share your notes via email.
5. Zoho Notebook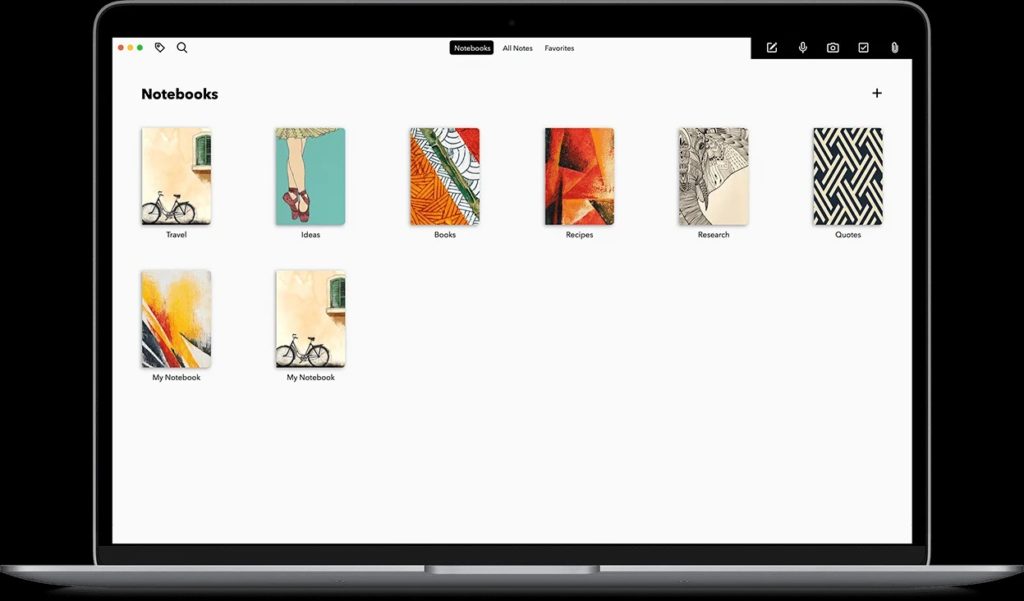 Zoho Notebook is a feature-rich app that allows you to quickly add and save notes whenever you want. It offers powerful, customizable options that help change the appearance as per your liking. Creating notes becomes much easier when using Zoho Notebook. It is easy to use and also lets you set reminders for various tasks. Some of the notable features of this app are gesture support, fingerprint security, passcode, tags, free unlimited cloud storage, and version history. All these features together make Zoho Notebook one of the best note-taking apps for Windows.
6. Notezilla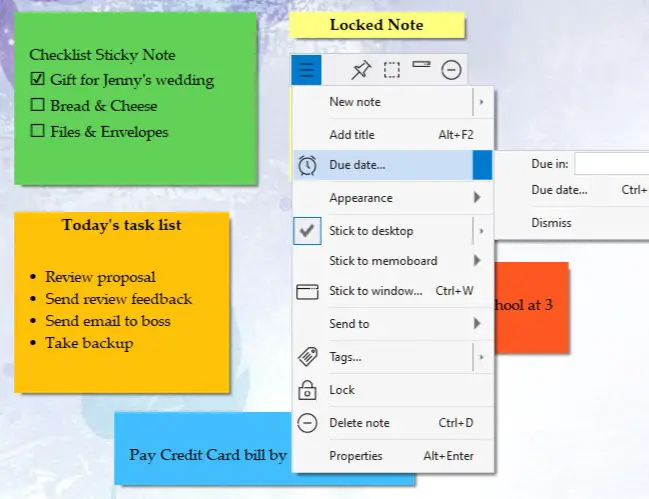 Notezilla happens to be a very popular alternative to Sticky Notes. It has all the necessary features you would want in your note-taking app. It offers a clean interface along with features always-on-top. This makes the app more convenient to use. You can pen down your thoughts and tasks using just one click. The sticky notes are available in different themes and colors. Features such as this one make the app more interesting to use. It also offers cross-device syncing and an option for setting reminders.
---
Protect Your Online Privacy With Surfshark
[The VPN that we use here at Tech Arrival]
---
7. Stickies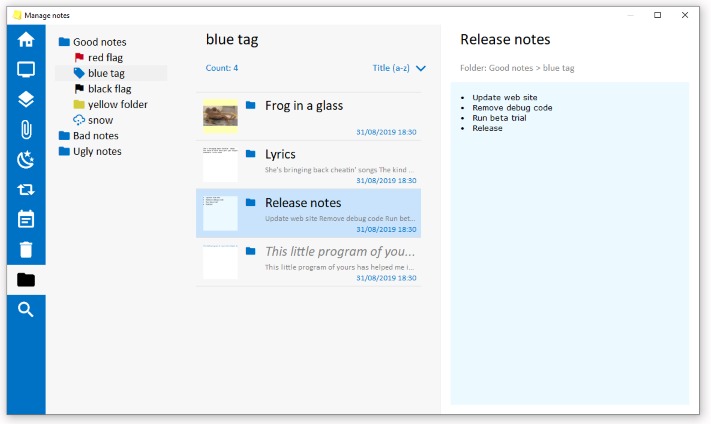 Lastly, we have got Stickies which is a highly advanced note-taking app for Windows. If you want more features from your note-taking app, you should try Stickies. To start with, it has the stay-on-top feature and keyboard shortcuts for convenient use. You can take advantage of the multiple hotkeys for hiding, creating, and deleting notes. If needed, you can also customize the hotkeys at your convenience. It allows you to share your notes within your network. The good thing is Stickies can be used by both general and pro users. This is a powerful sticky note app with all the right features.
So these are some of the best alternatives to Sticky Notes for Windows. All of these apps have far better features than Sticky Notes. Choose any of these notebook apps and keep your thoughts organized.
Also read: 18 Best Open Source Softwares You Should Know About
Frequently Asked Questions (FAQs)
Are Sticky Notes Apps Safe to Use?
Just so you know, sticky notes apps are not encrypted (on device), which may make them vulnerable.
What are the Best Alternatives to Sticky Notes?
The best Sticky Notes alternatives are Notezilla, Google Keep, Zoho Notebook, and Microsoft OneNote. All these apps are packed with features and are designed to give you a great user experience.
Can I make Sticky Notes Stay-on-top?
Unfortunately, the always-stay-on-top feature is not available in Sticky Notes. However, you can pin Sticky Notes to the Windows taskbar for instant access.
Is Google Keep a Good Notebook App?
Google Keep is available both as an app and web application for Android and iOS platforms. The app has a variety of tools that makes note-taking easy. It allows you to add text, lists, images, and audio. It is a powerful note-taking app with great features.
Is Zoho Notebook Free?
Zoho Notebook is a free note-taking app with an attractive interface. This app is compatible with a wide variety of platforms and can be synced up with a large number of devices as well. The best thing about this app is that it can even scan documents and turn physical papers into PDF files.