With popular apps like Telegram and WhatsApp taking over the messaging world, traditional SMS has taken the back seat. However, text messaging or SMS is nowhere to go.
SMS is still a very popular form of communication, especially in countries like the US, the UK, etc. Not just that, but text messaging is also used by big companies. No wonder you receive so many promotional messages every day.
If you want to make text messaging more interesting, you can do it using the best text messaging apps. These apps are designed to give you an improved texting experience.
Also read: 7 Best Messaging Apps for Android & iPhone
We have handpicked some of the best text messaging apps for Android. Go through the apps below, and then you can download the one you like.
List of Best Text Messaging Apps for Android
1. Messages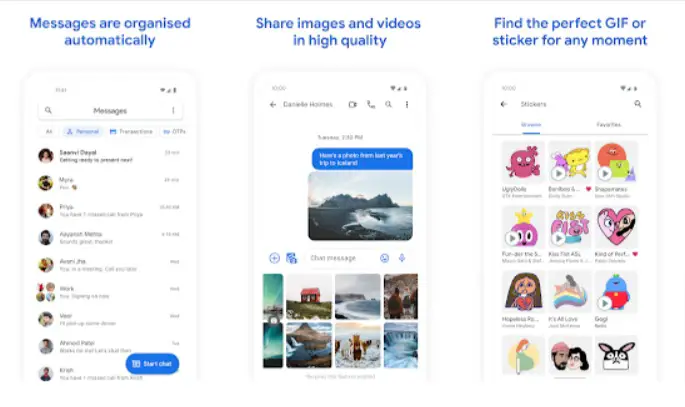 Our first recommendation is Messages which is Google's official app for SMS, MMS, and chat. This is an amazing app that enables you to send messages to anyone from anywhere you want. It makes keeping in touch with friends and family easier. Like other messaging apps, Messages allows you to send group texts, share emojis, GIFs, stickers, and send text, videos, and audio messages. It features a clean, intuitive design that makes it more convenient to use. One of the notable features is the search option that helps you to find more of the content you shared in your conversations.
2. Textra SMS
The next best option we have is Textra SMS. It is packed with many great features that make it popular among its peers. To start with, it has over 180 design themes, apps, and bubble icon colors. This highly customizable app lets you change your theme and bubble colors, notifications, and signature as per your lining. You can even customize the theme as per conversation as well. They have added a new feature that lets you send your texts in a bubble. If you are looking for a pretty SMS app, then Textra could be the best choice for you. Sometimes you will encounter ads that can be removed by purchasing the premium version.
3. Chomp SMS
Chomp SMS is yet another customizable SMS/MMS app that you would like to use. This app is already downloaded over 10 million times. If you want a free and reliable messaging app for your Android device, you can consider using Chomp SMS. The notable features are the passcode lock, scheduled SMS sender, stop a text while sending, backup, SMS blocker, pin favorites to top, signatures, text snippets, and more. It also offers unlimited customization options that let you change notification LED colors, vibrate patterns, and ringtones. 
4. Mood Messenger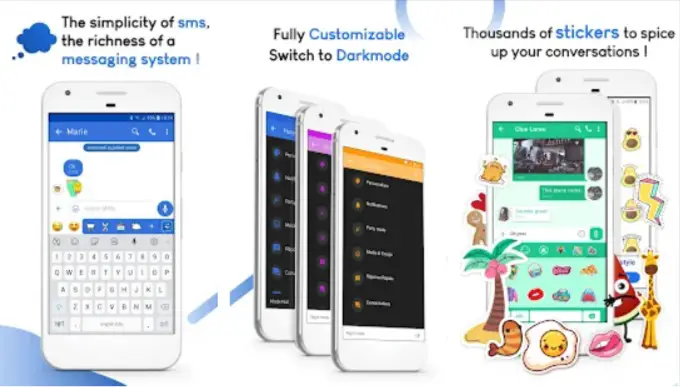 Mood Messenger is one of the best-rated Android SMS & MMS apps out there. It comes with a simple and smooth interface, so users can use it with ease. The app allows you to customize almost everything. Not just that, but it also gives you access to amazing features such as real-time caller ID and typing indicator. You will also find a lot of animated emojis and themes on this app. It has the dark mode option to make the interface look more appealing.
5. Pulse SMS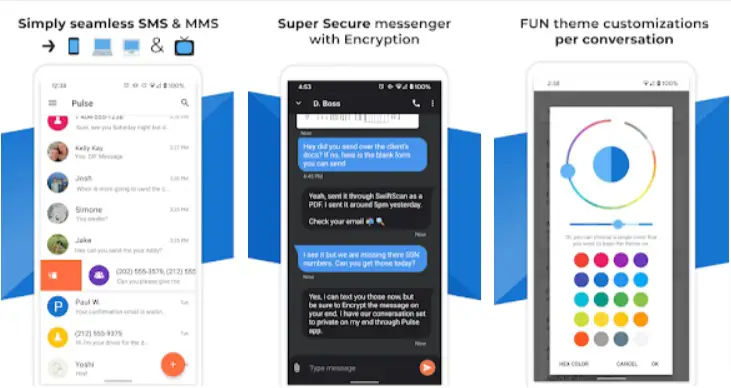 Next up, we have Pulse SMS. This messaging app is so popular that many of you are already using it. This is a fast and secure app packed with lots of customization and other features. It is completely free and extremely user-friendly. Also, the app has got no ads. While using Pulse, you can send and receive texts and images from your PC, TabletTablet, or any device with an internet connection.
---
Protect Your Online Privacy With Surfshark
[The VPN that we use here at Tech Arrival]
---
6. Handcent Next SMS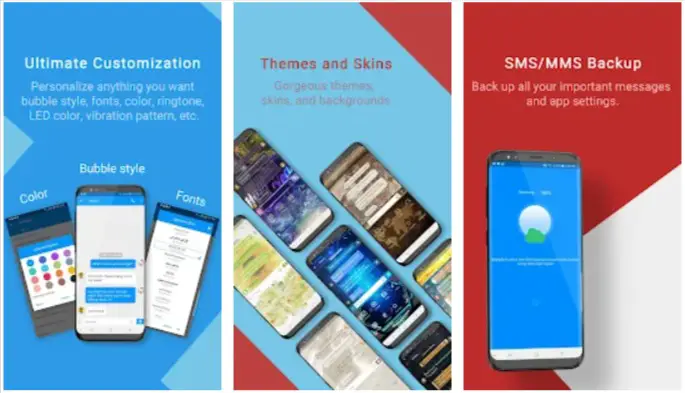 For the ultimate messaging experience, you should download Handcent Next SMS on your device. It is packed with many customization options, so you can alter the app as per your liking. It has features such as mass or group text, using which you can send a message to multiple recipients simultaneously. It also offers free cloud backup, so you can store all your long texts there. Using stickers, emojis, and GIFs, you can keep your conversation intersecting. One of the best things about Handcent messenger is that it allows you to message from your PC, Mac, or TabletTablet without needing your Android phone.
7. SMS Organizer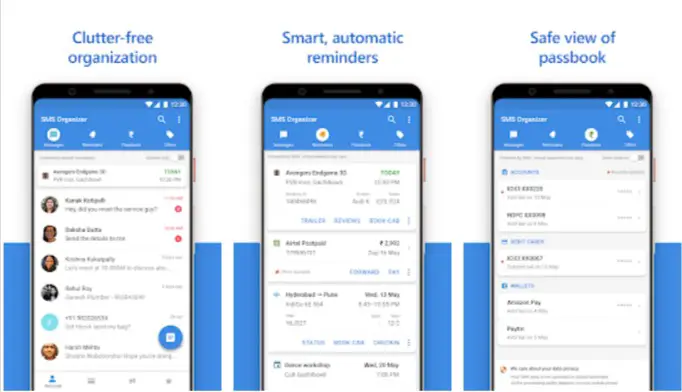 SMS Organizer happens to be a Microsoft Garage project. It is one of the smartest messaging apps you will find. It automatically organizes your inbox, keeps track of your expenses, and sets reminders. It can do all of this on your device without collecting your data or uploading it anywhere online. It also offers you live railway schedules. This feature can even work offline. With the help of this app, you can keep track of all your bank accounts and expenses. Last but not least, it sets reminders for all your appointments.
8. Signal Private Messenger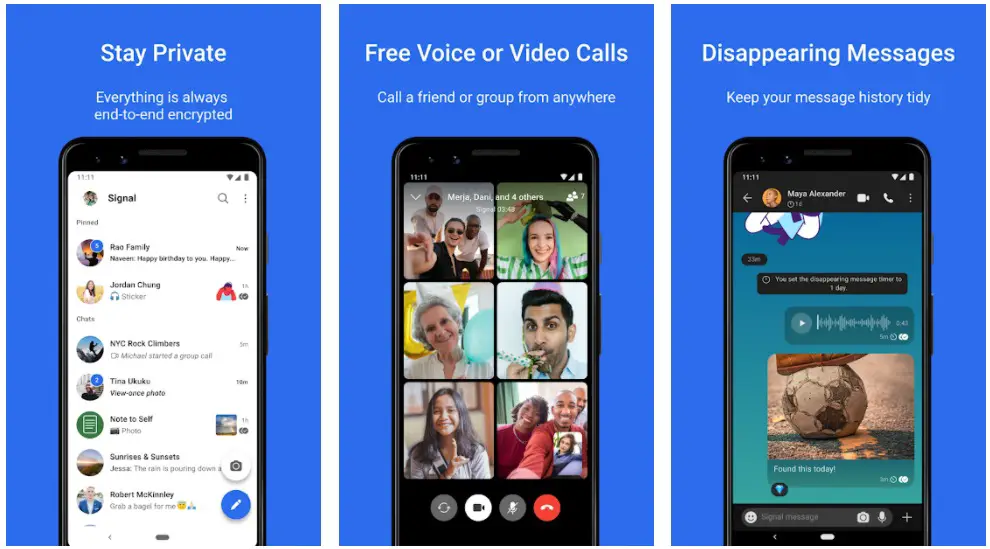 Signal is often compared to WhatsApp, the most popular messaging app. That's because both the apps have a lot in common. Signal is a powerful messaging application that lets you send text messages, images, and videos to your contacts. It has an attractive interface that is easy to use. But the main highlight is the advanced privacy-preserving technology. This allows you to share your moments with your friends and family without fearing anything. This app is not only free but also quite fast. Last but not least, it comes with a built-in image editor to edit your images.
9. Messenger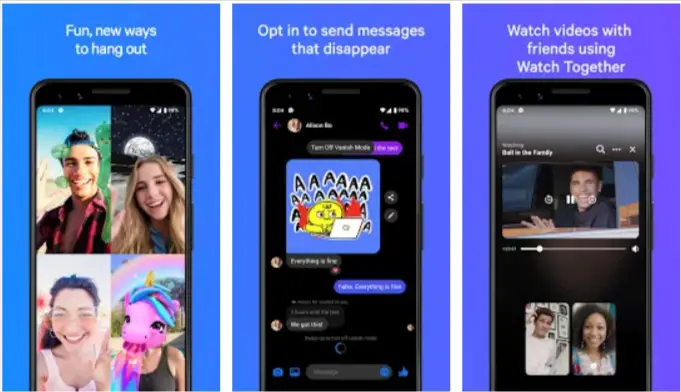 Messenger is one of the best messaging apps online. It is a cross-app messaging and calling app that can even connect with your Instagram account. This app is mainly popular because of its features. It has dozens of innovative features that you will not find in other messaging apps. One fine example is the vanish mode that makes your texts disappear. Messenger also has strict privacy settings. It can even filter messages from unknown users. It also allows you to customize chat themes for individual chats. Besides texting, you can use this app to make video calls as well.
10. QKSMS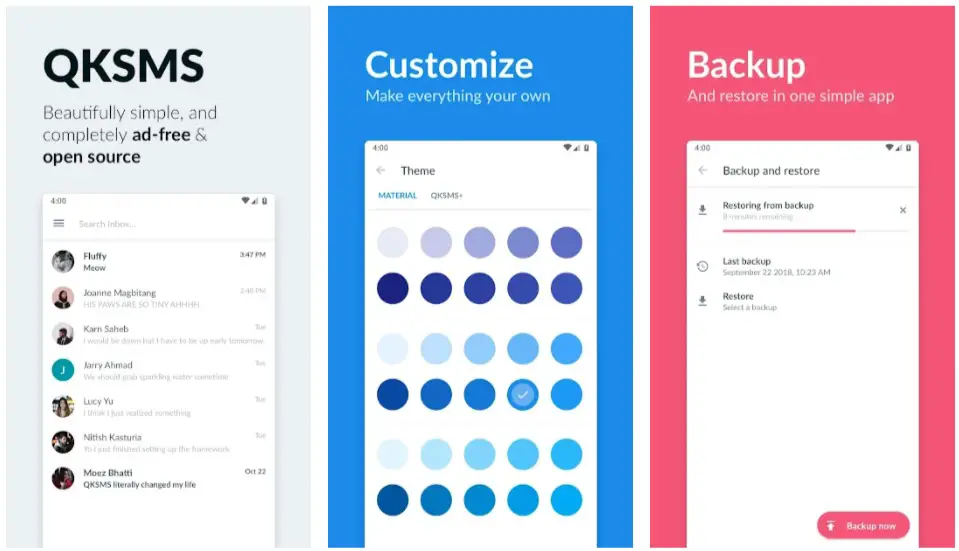 QKSMS is designed to give you a beautiful messaging experience. This is an app that will make you fall in love with texting all over again. Unlike other free messaging apps, QKSMS is completely free of ads. It is an open-source app with dual-SIM and multi-SIM support. It has a clean, intuitive, and clutter-free interface that makes it better than other messaging apps. QKSMS is also customizable. You can change the theme color of the entire app or any particular conversation. Overall, this is a safe and private messaging app.
11. YAATA
YAATA is a feature-rich app that allows you to personalize and configure the app as per your requirement. This is a very powerful and reliable app that takes messaging to the next level. Even with a bunch of features, the app is only under 3.9MB. It features a user-friendly interface which makes the app easy to use for beginners. To gain access to all the app features, you need to opt for the premium version. The free version is good, but the premium one is the best.
All the mentioned apps are great for messaging. Each of them has tons of features to offer. Some of them even have a premium version. But if you are looking for the best free messaging apps for Android, you can pick from the given list.
Also read: 11 Best WhatsApp Alternatives You Can Use
Frequently Asked Questions (FAQs)
What is the Best Free Text Messaging Apps?
If you are looking for the best free text messaging apps, you should download Signal, Messenger, or Messages. These three are widely recognized among users and have all the right features you need.
Is Signal Safe to Use?
Signal is an encrypted messaging app. It offers a completely secure way to communicate with friends and family. Due to end-to-end encryption, your conversations stay private between you and the recipient.
Why is Messenger so Popular?
Messenger, as you already know, is the product of Facebook. It offers cross-app messaging and calling. One of the best things about Messenger is that it receives regular updates. Not just that, but they also keep adding new features very often.
---
Protect Your Online Privacy With Surfshark
[The VPN that we use here at Tech Arrival]
---
Is QKSMS Free?
Yes, QKSMS is a completely free and open-source messaging app. It is a great messaging app for the Android platform.
What is the Textra app?
Textra is a simple and user-friendly messaging app available for Android users. It comes with many great features for convenient use.