One of the best ways to prolong your Windows Computer's life is to maintain optimum CPU and GPU temperatures. No matter how expensive your PC is, it will emit heat while functioning. However, there's a limit to the amount of heat it can handle.
CPU and GPU temperature increases when performing intensive tasks on your PC. However, it can also result from poor cooling systems, obstructed airflow, and dust accumulation. Increased temperatures can lead to problems such as system shutdown or slow performance. If ignored for an extended period, it can eventually damage your CPU/GPU.
Also read: 10 Ways to Extend & Prolong GPU Lifespan
This is why you need a monitoring tool to keep the temperatures in check. It will let you know if your system is overheating; based on that, you can look for a solution.
List of Best Tools to Check GPU & CPU Temperature Monitoring Softwares for Windows
1. Core Temp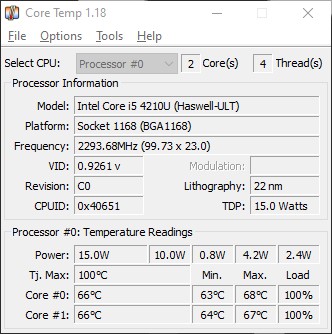 Core Temp is a compact program to monitor CPU temperatures and other information. With the help of this tool, you can check the temperature of each CPU core. It will display the varying temperatures depending on the workload in real time.
It allows you to include additional plugins and add-ons to extend the functionality of its features, like network monitoring. Other important features are memory utilization, graph view, and listing processor temperature.
2. Speccy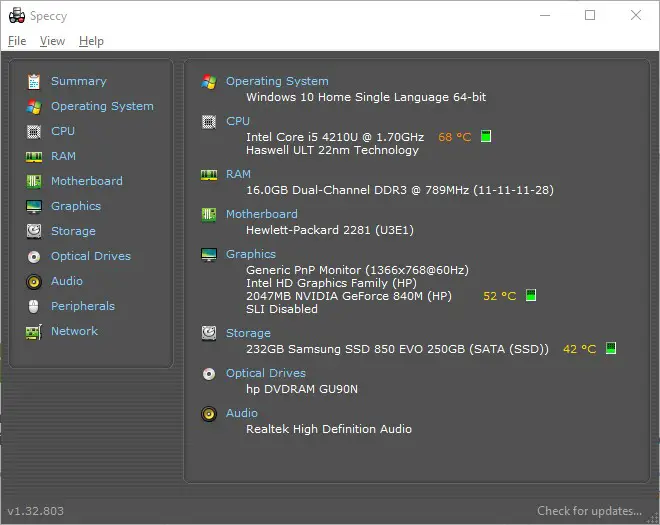 Speccy is an advanced tool that will help you to know your CPU temperature in the system. It has a neat interface helps you find all the information in one place. For instance, motherboard, graphics card, CPU, RAM, and more.
3. HWMonitor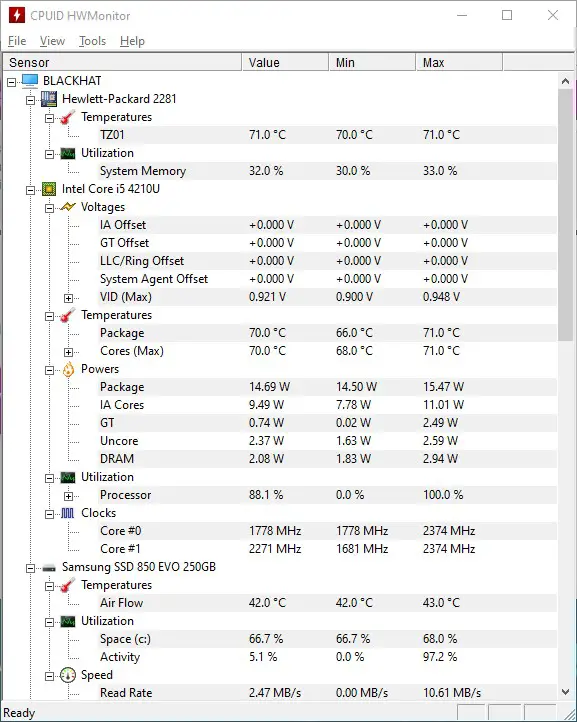 HWMonitor helps you check your computer's temperature, voltage, and fan speed. It reads health sensors like Winbond ICs, ITE IT87 series, etc. It can also read die-core thermal sensors, hard drives, and GPU temperature.
It has the option for remote monitoring to watch the sensors of several distant computers or Android devices via a simple IP/TCP connection. With the graph generator, you can save all the monitoring data and create graphs as bitmap files. The customizable interface allows you to select the desired display mode, add a sensor in the System Tray, and edit labels.
4. HWiNFO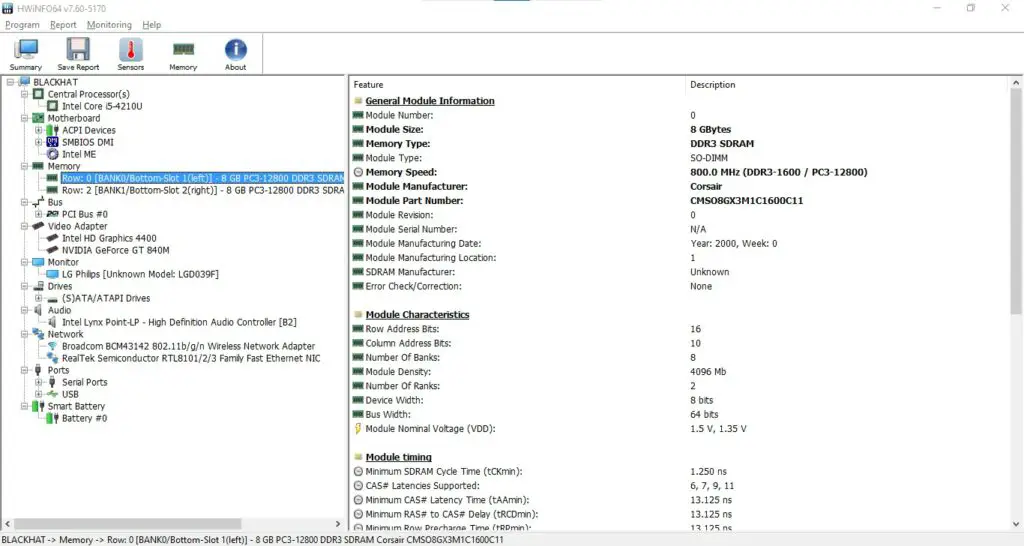 HWiNFO provides detailed information about your computer's hardware. This makes it easier to understand the components that need fixing or upgrading. It is a kind of diagnostic software that is used for hardware monitoring, analysis, and reporting.
---
Protect Your Online Privacy With Surfshark
[The VPN that we use here at Tech Arrival]
---
With the help of this program, you can perform real-time health monitoring of your system and hardware components like GPUs, CPUs, drives, mainboards, etc. It can detect overload, overheating, and performance loss.
5. NZXT Cam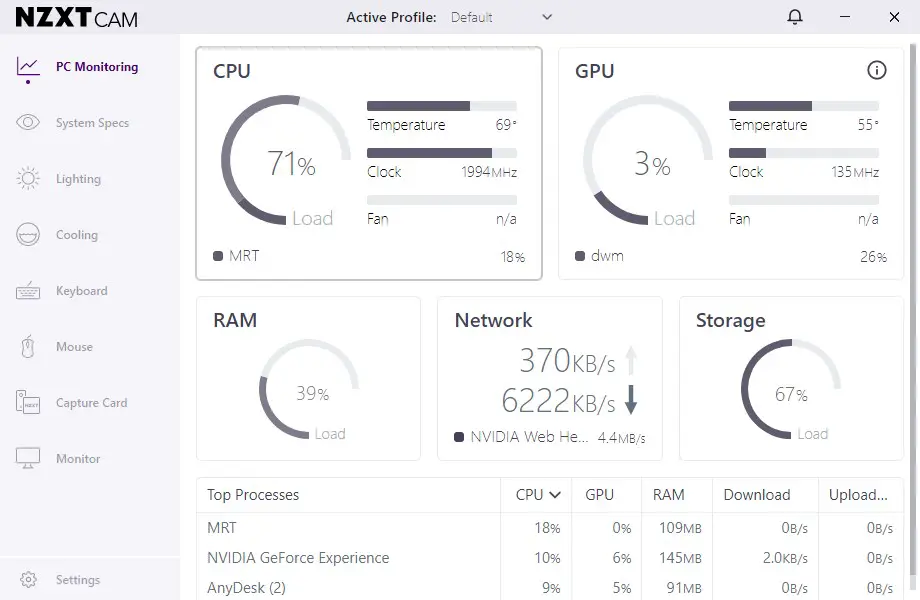 NZXT Cam. is a free tool designed for efficient computer monitoring. From bandwidth consumption to CPU load, it will monitor everything. It can perform in-game monitoring for CPU and GPU temperatures, current FPS, battery level, COU and GPU load time played, etc.
6. Open Hardware Monitor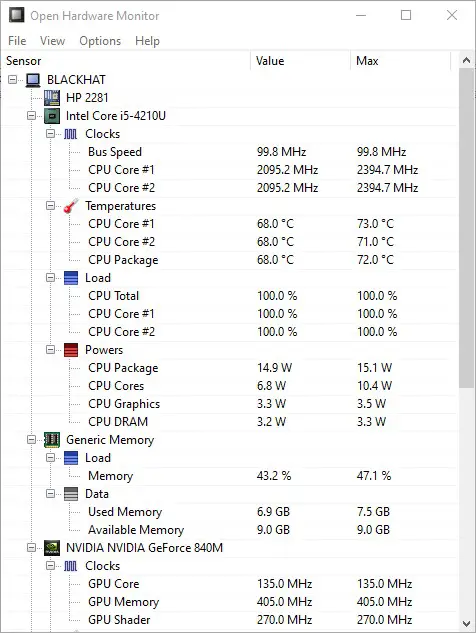 Open Hardware Monitor is another free program to check CPU temperatures, fan speed, and voltage. It is available on Windows and Linux. All you have to do is unzip the archive and run the .exe file.
Open Hardware Monitor helps you to check temperature sensors, load & clock speeds, voltages, and fan speeds of a desktop. It works with most modern hardware chips, so you shouldn't experience compatibility issues.
7. SpeedFan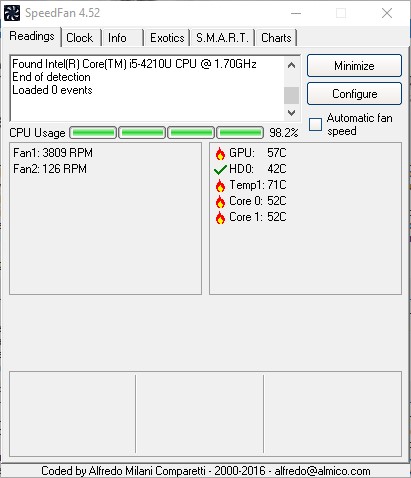 SpeedFan allows you to monitor the CPU temperatures of your computer in real time. The unique thing about SpeedFan is that it allows you to adjust the fan's speed directly in the software.
One thing you will notice about Speed Fan is that it has a lot of customization options. This allows you to set your fan settings. This is something you will rarely find in other CPU temperature monitoring programs.
PS: SpeedFan brings back some memories. If you were into overclocking before it was mainstream, it was one of the best software. SpeedFan was released in 2001.
8. AIDA64 Extreme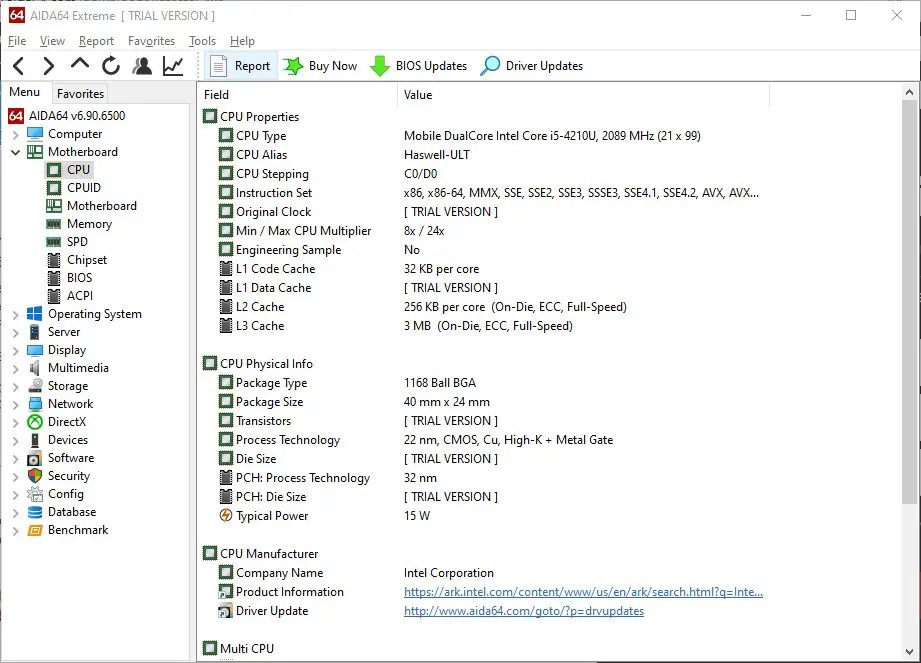 AIDA64 Extreme is one of the most efficient tools you will ever use. It provides detailed information about installed software and provides support for overclocking.
It works to monitor the sensors and provide accurate temperature and voltage readings, fan speeds, and more. It supports LCD and VFD screens and reads sensor values remotely on laptops and tablets.
9. Real Temp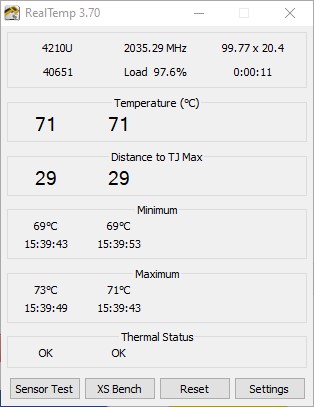 Real Temp is yet another tool to monitor the temperature for each core in your processor. It supports only Intel-based CPUs, so it will not work with Pentium 4 or AMD processors.
It logs the maximum and minimum processor temperatures. Some notable features are shutdown features, high-temperature alarms, and test sensors.
---
Protect Your Online Privacy With Surfshark
[The VPN that we use here at Tech Arrival]
---
10. CPU Thermometer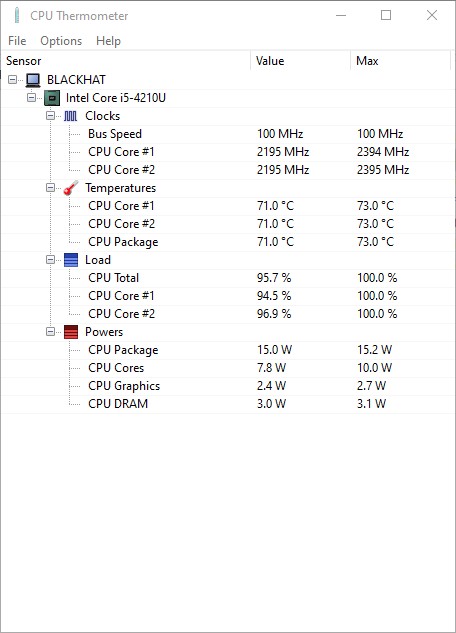 If you are looking for a lightweight CPU temperature monitoring software, then CPU Thermometer could be the one for you. The good thing about this software is that it works with both AMD and Intel-based processors.
It displays the individual CPU cores and their temperatures and load capacity. It also includes some basic features like setting the maximum temperature for a processor. You will see a warning message on your screen when the temperature reaches the maximum limit.
11. Enhanco Free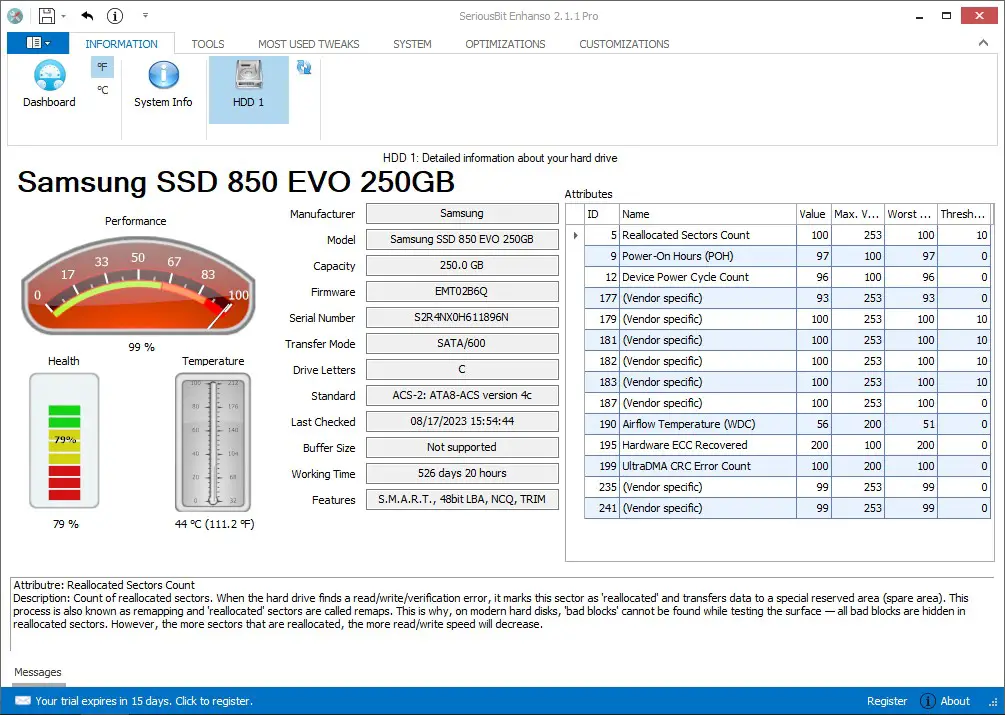 Enhanco Free monitors CPU speed frequency, RAM information, CPU temperature, and more. With the help of this tool, you can tweak many software and hardware components on your computer, such as disk cleaner, security, registry cleaner, defragmentation, etc.
12. Paessler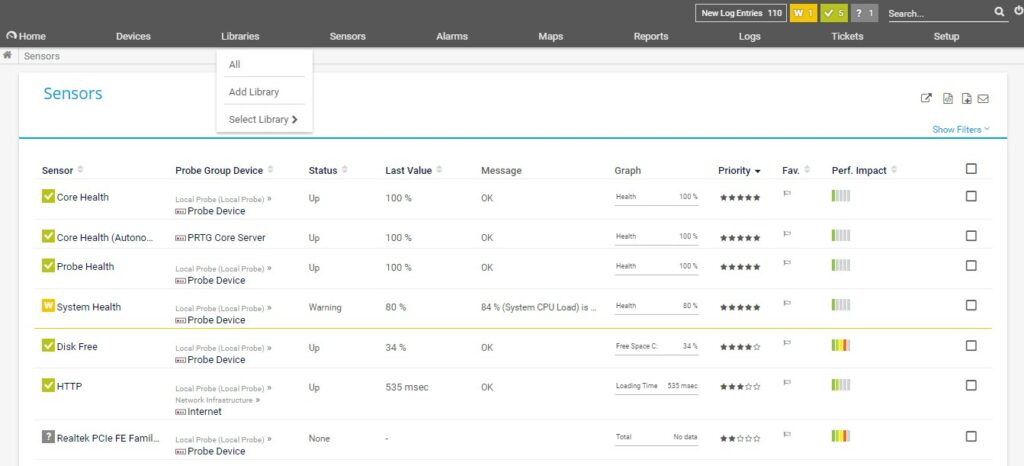 Paessler provides a free PRTG Network Monitor version that helps you monitor your PC's performance. It is a tool majorly used by enterprises and professionals. It can measure bandwidth, routers, servers, and memory usage. This software has both paid and free versions available. While the latter keeps you limited to 100 sensors, the former gives access to all the features.
13. SIW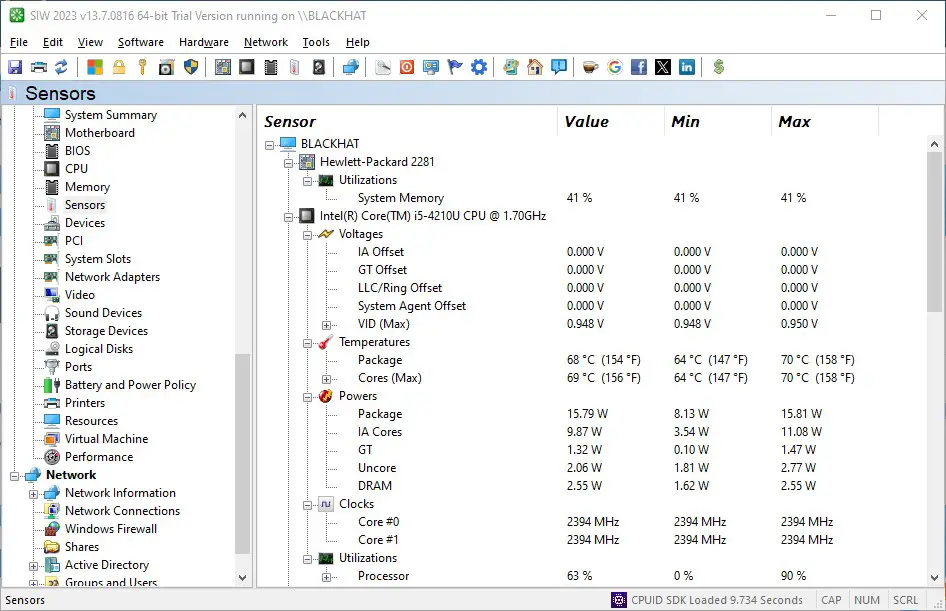 System Information for Windows (SIW) can monitor processor temperatures and network, software, & hardware information. It can monitor memory, motherboards, video cards, network adapters, open ports, and connections. It can also track sound devices, certificates, and operating systems.
Monitoring the CPU and GPU temperatures is crucial for your system's performance. It helps you detect issues before they happen by tracking the real-time temperature. The tools mentioned in this post are very efficient for reading CPU and GPU temperatures.
Also read: How to Optimize PC for Gaming [Pro Tips]
Frequently Asked Questions (FAQs)
Why is it important to monitor CPU temperatures?
High CPU temperatures indicate overheating issues. It lets you know it's time to clean or replace the fans.
How does CPU temperature affect performance?
Excessive heat increases the electrical resistance of objects, therefore decreasing the current. It can shut down components due to overheating, and the motherboard temperature sensor instructs the hardware to slow down.
What is the ideal CPU temperature?
The ideal CPU temperature should be between 40–65°C. This temperature range is considered safe for a normal workload. While running demanding games or apps, the average CPU temperature may range between 70–80°C.
Why is my GPU so hot?
Your GPU is hot because it cannot cool itself properly. This can result from worn-out thermal paste, obstructed airflow, or placing your device on a restrictive surface. Overloading your GPU can also cause overheating.
---
Protect Your Online Privacy With Surfshark
[The VPN that we use here at Tech Arrival]
---
How do I fix my GPU temperature?
To lower your GPU temperature, install more fans and turn off any overclocking you might have done before.
Can gaming for long hours raise the CPU temperatures?
Gaming or any other intensive task can increase the temperature of the CPU in your system. If you let it overheat for a long time, it can eventually damage your CPU.
How to reduce CPU temperatures?
You should get some liquid cooling to lower your CPU temperatures. It is a very effective way of reducing CPU temperature by 10-15 degrees Celsius.
How to check my CPU temperature for free?
Core Temp is a free and efficient tool that allows you to monitor the CPU temperature in your system.
What is GPU needed for?
GPU stands for the graphics processing unit. It is a specialized processor that aims to accelerate graphics rendering. It can process many pieces of data simultaneously and make them useful for video editing, gaming, and machine learning.
What is the best CPU and GPU temperature monitoring software?
HWMonitor, Core Temp, and Speccy are three of the best software for monitoring CPU and GPU temperatures.