Are you bored of the dull wallpapers on your mobile phone? No worries, because there are plenty of wallpaper apps available for Android phones.
Most Android phones have limited wallpapers. If you are done with the same old outlook and want something new, you will find these wallpaper apps useful. These apps hold a collection of various bold and braze wallpapers that can enhance the look of your phone or tablet.
In this post, we will suggest the best wallpaper apps you can get for your Android device. Download any of these apps and ditch using low-resolution images as wallpaper on your phones.
Also read: 6 Best Google Photos Alternatives
List of Best Wallpaper Apps for Android
1. Zedge Wallpapers & Ringtones
Zedge is not just a wallpaper app, but it also has a huge collection of ringtones. This is one of the most popular apps for downloading wallpapers and ringtones for Android phones. This app can give you the best background wallpapers for free! From HD wallpapers to live wallpapers, you will find all types of wallpapers and backgrounds on Zedge. This app is used by 300+ million people who have already customized their phones. It offers an endless collection of free backgrounds that supports the most common screen sizes.
2. Backgrounds HD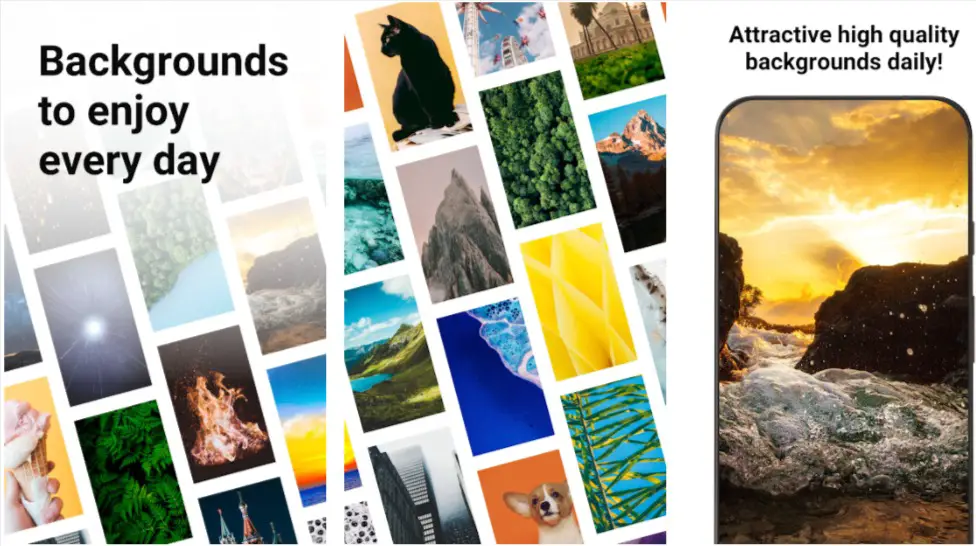 Backgrounds HD is an app where you can find amazing wallpaper designs for everyday fun. This app is rated 4.6 out of 5.0 by over 2.4 million users globally. It includes new backgrounds, including pictures, videos, watches, and illustrations. The best thing about this app is that it is updated every day. This means you will get new designs every time you log into the app. It also offers live wallpapers to beautify your phone.
3. Reddit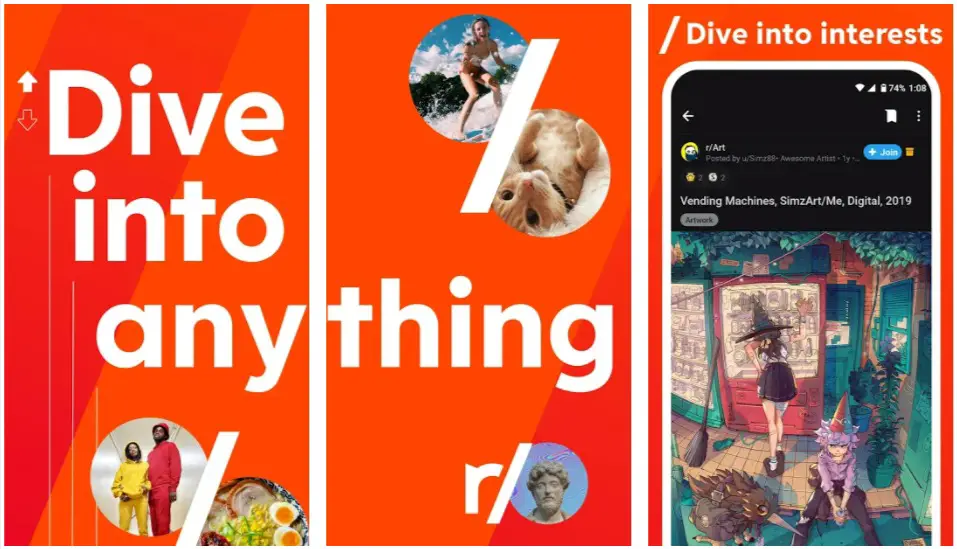 Although Reddit is not a wallpaper app, it provides you the opportunity to become a part of the community. It is a platform where people discuss different topics. You will come across many such communities on Reddit that offers free wallpapers. All you need to do is download the wallpapers you like and set them on your phone. There are millions of people on Reddit who keep posting new wallpapers and backgrounds every day.
4. Walli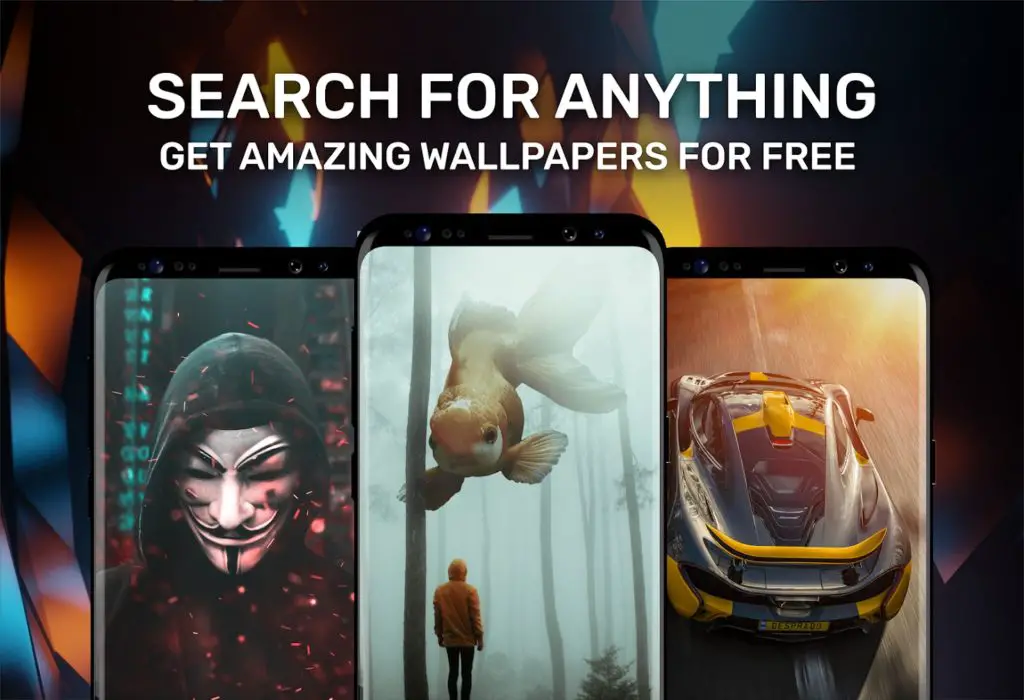 Walli is yet another popular wallpaper app out there. Walli wallpapers are so popular that they are featured on the Google Wallpapers app and Google Pixel devices. If you are in search of creative wallpapers, then Walli is the best choice for you. You can switch from wallpaper to wallpaper and improve the look of your phone or tablet. Unlike other apps, Walli offers high quality, selective collection of cool and unique wallpapers. These wallpapers are exclusively made by expert artists. They also get rewarded for their work.
5. Walloop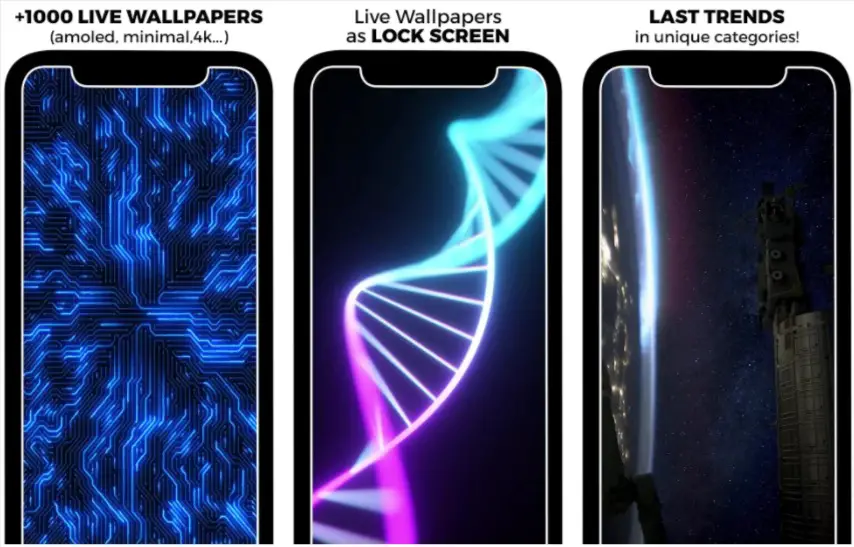 If you want a free collection of amazing wallpapers, then Walloop is the best option for you. It also offers the best 4K live wallpapers, including black, AMOLED, anime, superheroes, love, and vaporwave. Not just that, but it can also change automatically from your favorite wallpapers to live wallpapers. Besides that, you can customize your live lock screen to enhance the look of your phone. This app is free to download and offers free wallpapers too. Unlike other free apps, Walloop provides a large collection of HD live backgrounds with 3D, 4D effects. With this app, you can always find something new to personalize your phone.
6. Kappboom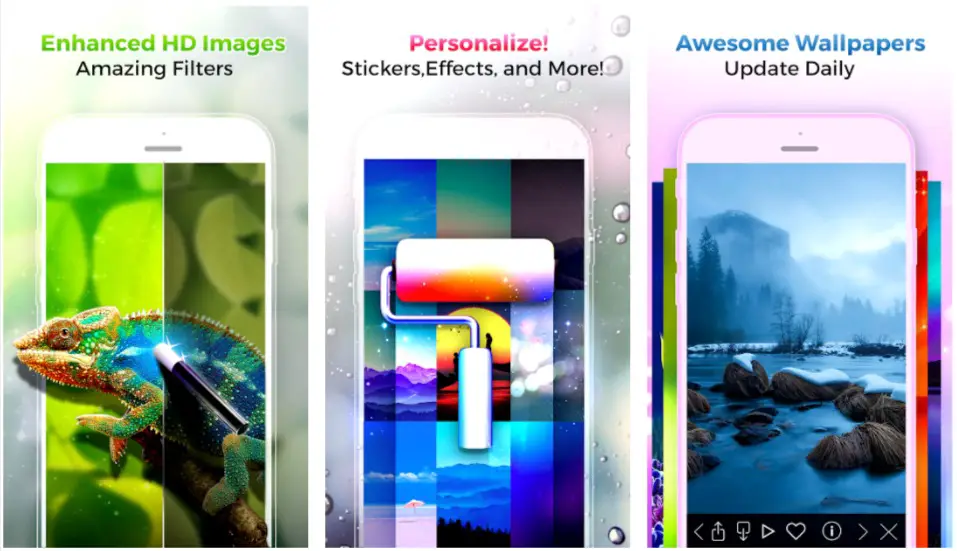 With Kappboom, you can access the best wallpapers. The app has over 200,000 cool wallpapers at your fingertips. These wallpapers are carefully curated for you and can be downloaded for free. The app is fast, smooth, and memory-optimized. They have staff and developers to make sure that you are getting the best content. Not just that, but they are also constantly working to improve the app. You will find different categories of wallpapers, including anime, games, cars, movies, music, and more.
---
Protect Your Online Privacy With Surfshark
[The VPN that we use here at Tech Arrival]
---
7. Wallpapers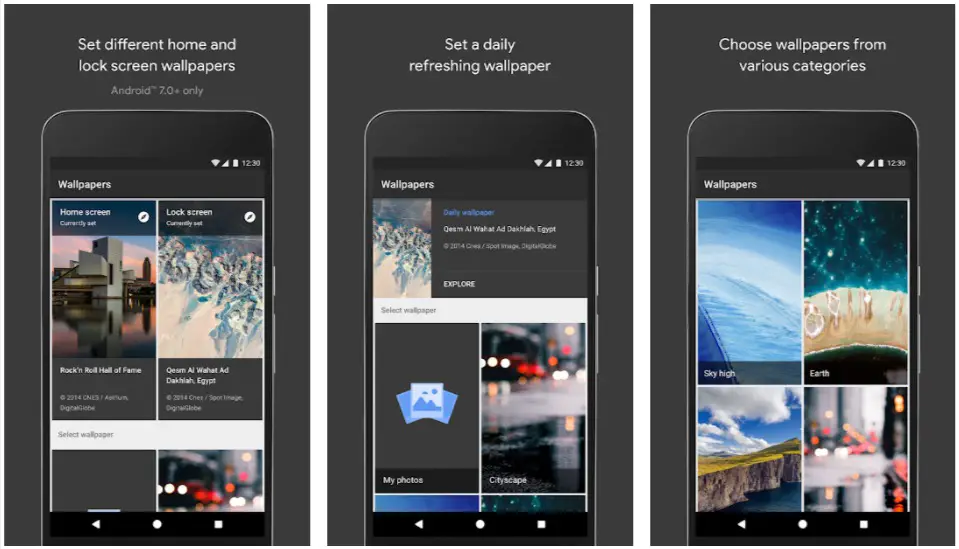 Next up, we have the app called Wallpapers. This app is designed to provide beautiful and cool wallpapers to decorate the screen of your phone. You can choose from your photos, Google Earth collection, or Google+. The app has a brilliant collection of wallpapers that you can keep changing as per your style and wish. Just like the previous app, the Wallpapers application also has different categories to choose from. You can start your day fresh by choosing from your favorite category.
8. Tapet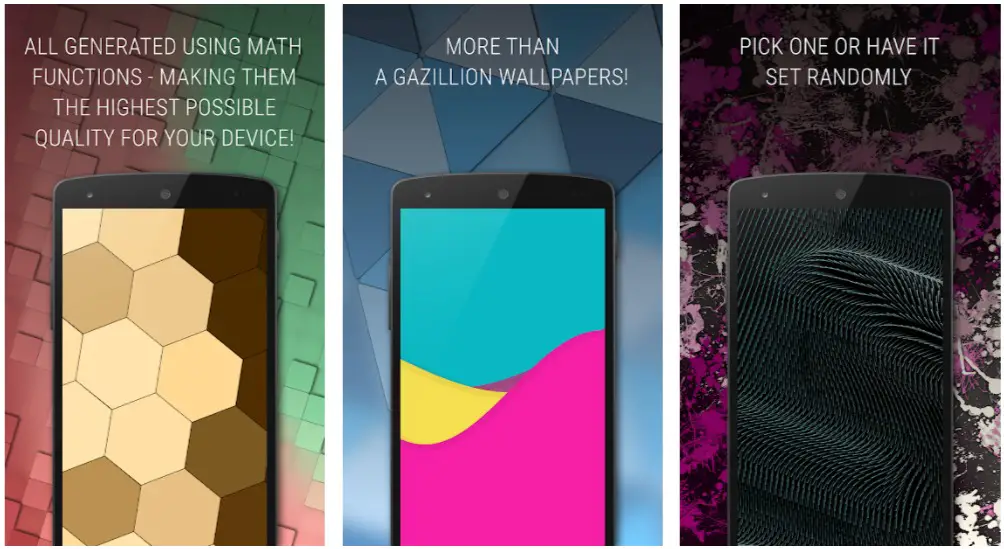 When it comes to downloading wallpapers on Android, you simply cannot overlook the app called Tapet. This app is the first of its kind. It automatically generates high-quality backgrounds and offers new wallpapers and backgrounds every day. Unlike other apps, Tapet is not free. However, it does provide free trials. The unique feature is that the wallpapers are created based on your device's screen resolution. With Tapet, you will get the highest quality wallpapers to fit your screen perfectly. It adds new exciting patterns every day.
9. Muzei Live Wallpaper
The next best option we have is the Muzei Live Wallpaper app. With this amazing wallpaper app, you don't have to worry about running out of new styles. It offers new wallpapers every day to create a fresh look for your phone. It also recedes into the background, dimming and blurring artwork to keep your widgets and icons in the spotlight. All you need to do is double touch the wallpaper to enjoy and explore the artwork in its full glory. You can also choose your favorite photos from your phone's gallery on your home screen. 
10. Backdrops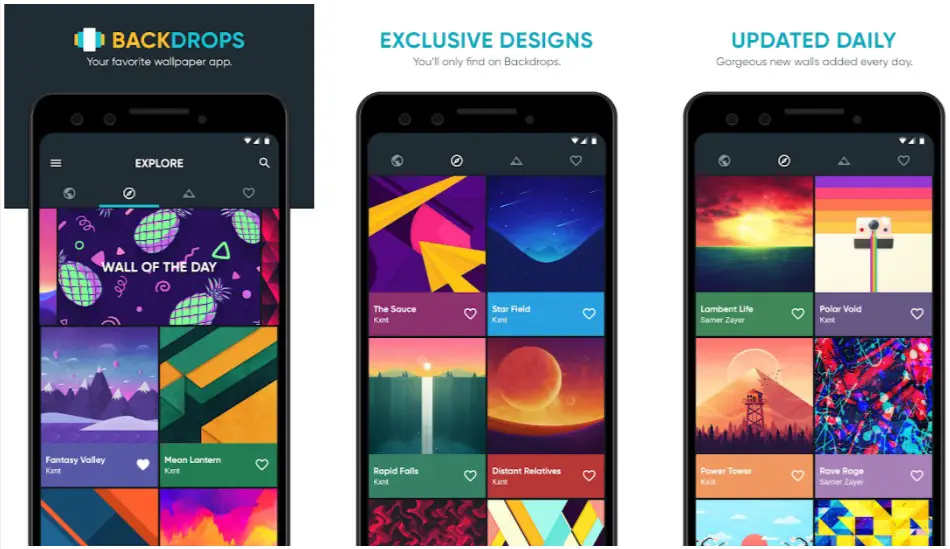 If you want creative wallpapers to give a fresh look to your phone, Backdrops is the app you need. It has hundreds of original wallpapers that are handcrafted by the Backdrops team. With this app, you get to enjoy exclusive wallpapers and backgrounds designed specifically for your device. In other words, you will not find these styles in any other app. It also allows you to upload your wallpapers and share them with others. The app uploads new pictures every day to expand its premium collection.
11. Live Wallpapers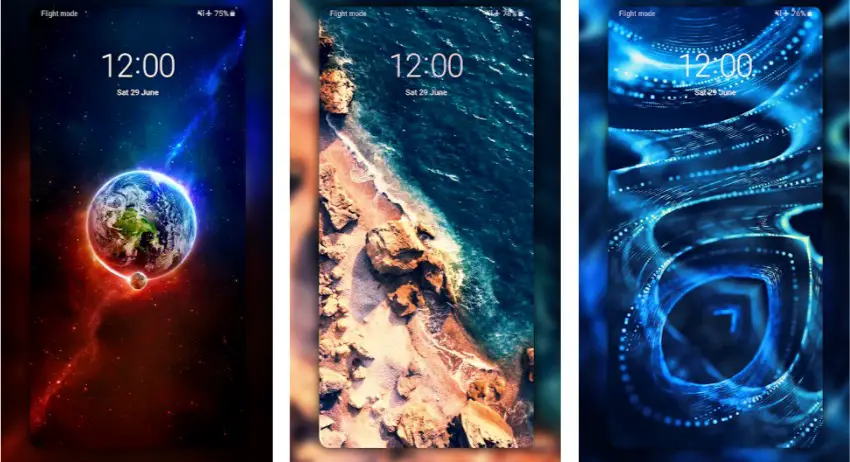 Live Wallpaper is a free app for downloading wallpapers. It offers a huge collection of wallpapers in HD and even in 4K. Along with static wallpapers, you will also find a great collection of live wallpapers. With this app, you can give a unique and elegant look to your phone's lock screen. The app contains wallpapers from different categories. The best feature of the app is the auto wallpaper changer that is used to change live or static wallpapers after a certain period of action.
12. Walpy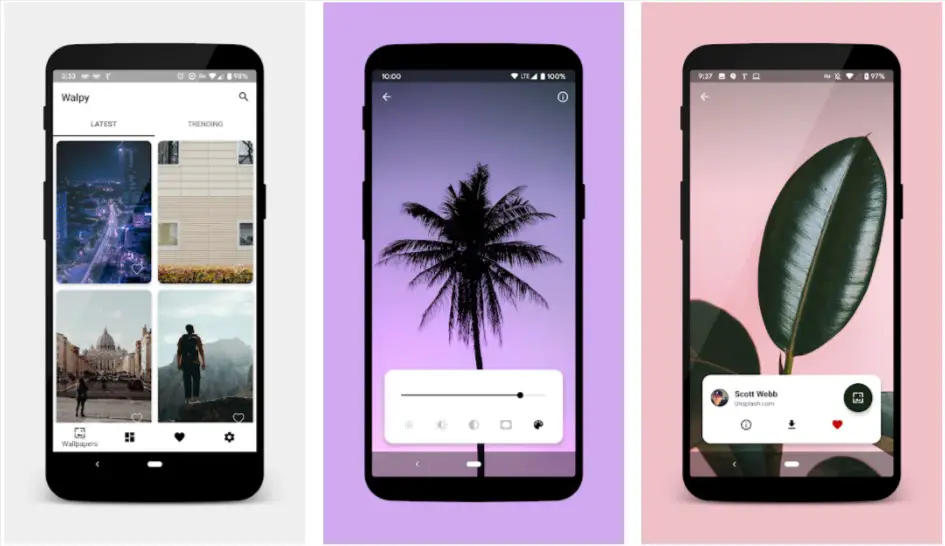 Walpy is one of the best places to source new wallpapers every day. If you are bored of the dull outlook of your phone, this app can provide you with interesting styles to create a new look. It allows your device to figure out the best time to change wallpapers. You can configure constraints to change wallpaper while your device is charging, idle, or is connected to a Wi-Fi network. This app allows you to enjoy new wallpaper every day without exhausting the battery of your device.
13. AmoledPix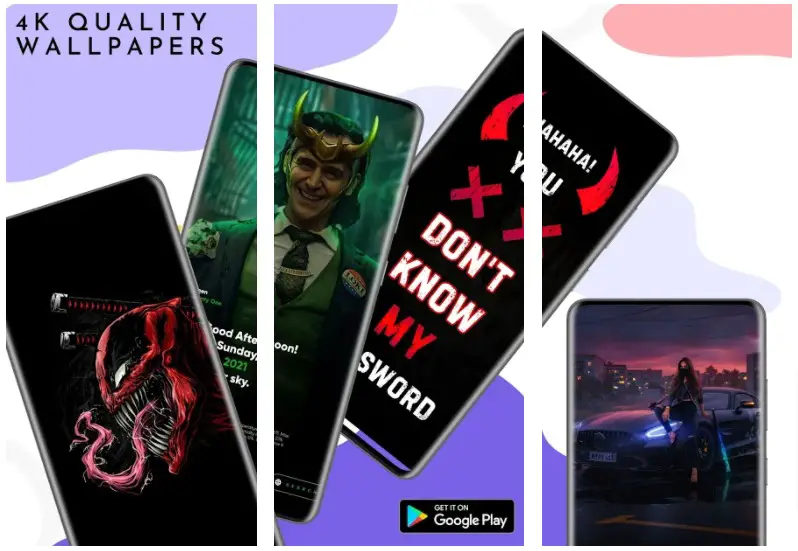 For HD quality wallpapers, AmoledPix could be the best choice for you. It has a collection of over 10000 of 4K AMOLED wallpapers. This app is developed to give you an unlimited collection of wallpapers for your phone. It has already been downloaded more than 1 million times, and users have loved this app for its brilliant collection. The wallpapers offered are perfect for all types of Android phones. One thing you will appreciate about this app is that it saves battery. It will help you to make your phone look sharp and more appealing. 
14. WalP
WalP has a huge collection of HD and 4K wallpapers that can help transform the look of your phone. There are 30+ brands of stock wallpapers available, and new ones are added as soon as they are released. With the help of this app, you can stylize your phone the way you want. The popular tab feature lets you know the most downloaded wallpapers. Using the search functionality, you can find the wallpapers you want easily. You can also crop wallpapers to fit your screen size. For fast-loading wallpapers, you should get this app today.
15. Minimalist Wallpapers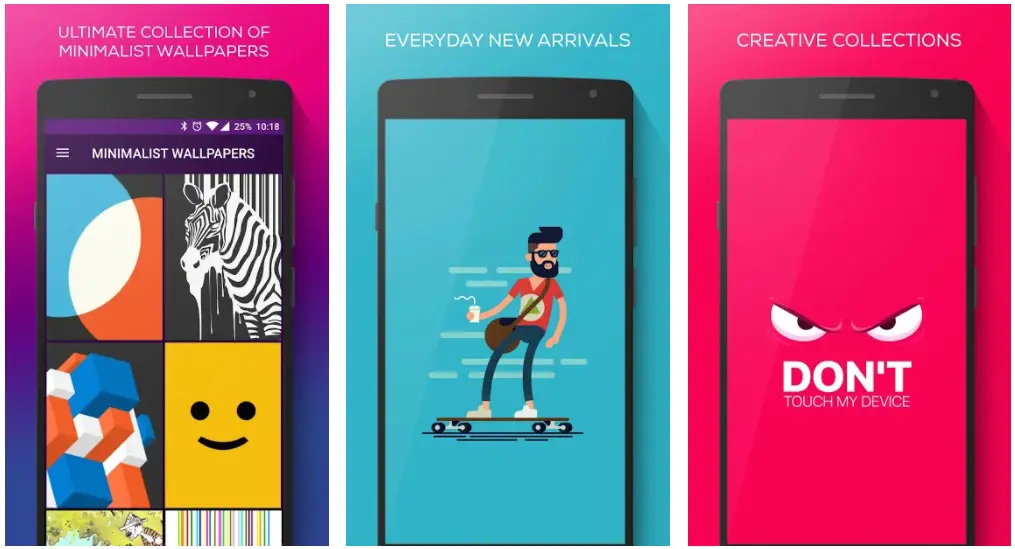 Minimalist Wallpapers is the only app you need to transform the home screen of your phone. This app is packed with new and unique wallpapers and backgrounds. The wallpapers available on this app are so unique that you won't find them on any other app. It has a collection of over 2500 minimalist wallpapers, and backgrounds and new ones are added every day. This means you will get new wallpapers every day for your device. Well-arranged categories help you to find wallpapers easily.
16. Resplash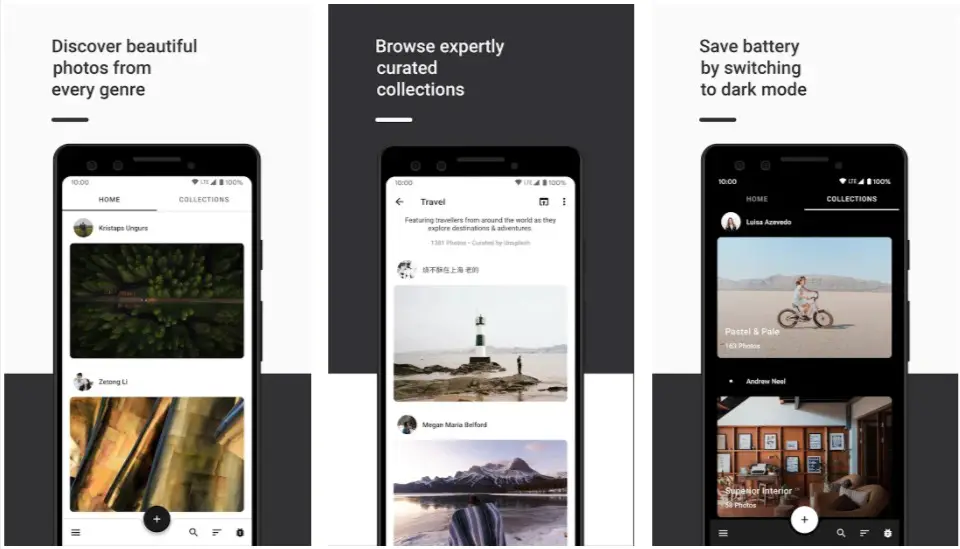 Powered by Unsplash.com, Resplash is one of the best wallpaper apps you will find for Android phones and tablets. It provides you with free usable images. The app has a stock of over 1 million high-resolution pictures. The best thing about this app is that they add new wallpapers every day. It also has the automatic wallpaper changer feature that refreshes your home screen with new random wallpaper after a certain time. It also has a dark theme to give a unique look to your phone. You can log into the app to update your profile and like photos.
17. Abstruct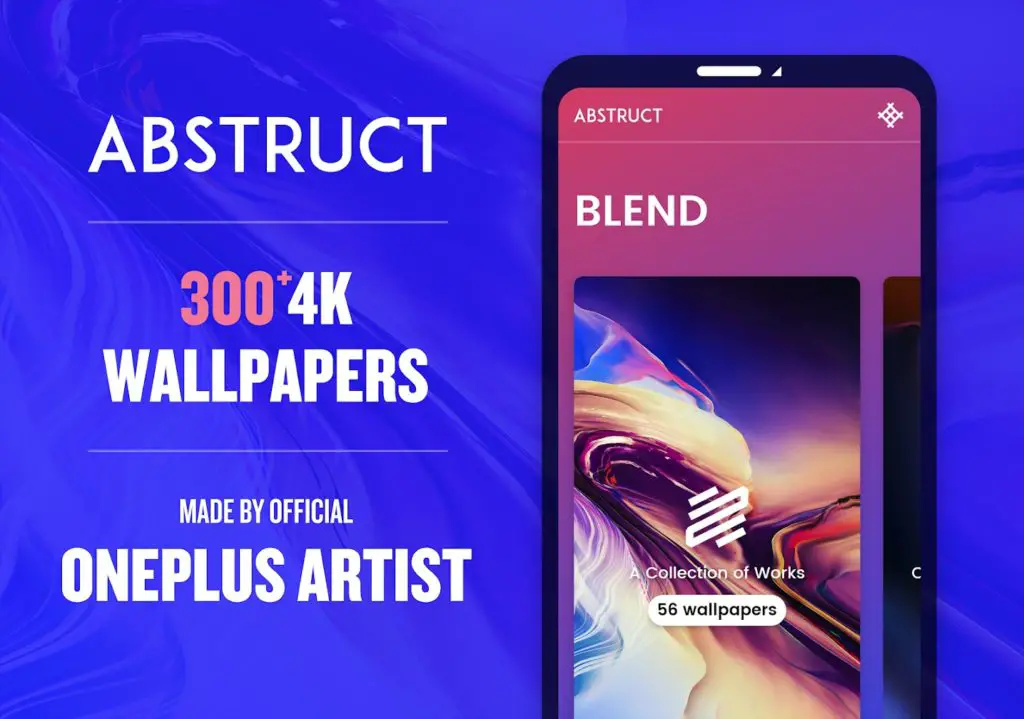 Lastly, we have Abstruct, the official wallpaper app made by OnePlus wallpaper artist Hampus Olsson. It offers more than 350 exclusive wallpapers to change the look of your device. All the wallpapers are available in 4K resolution and fit perfectly to your screen size. You will get all the official OnePlus wallpapers on this app. Not just that, but you can also access all the official Paranoid Android wallpapers made by Hampus Olsson directly in this application. The modern design of the app makes it easier for you to use it.
---
Protect Your Online Privacy With Surfshark
[The VPN that we use here at Tech Arrival]
---
With these wallpaper apps, you will never have to run out of new wallpapers and backgrounds for your phone. Some of these apps are available for free. You can download these apps to create a new look for your phone every day.
Also read: 10 Best Android Keyboard Apps
Frequently Asked Questions (FAQs)
Why is Phone Wallpaper Important?
Your phone wallpaper is important because it helps you give a new look to your home screen. Besides that, it also creates a calming effect on your mind and helps remove stress. Yes, changing your phone's wallpaper does come down to your mood and how much you enjoy that wallpaper in the first place.
What are the Best Free Wallpaper Apps on Android?
You will find plenty of wallpaper apps for your Android smartphone. Some of the most popular ones are Zedge, Kappboom, and Muzei.
What is the Zedge Wallpaper App?
Zedge is an all-purpose wallpaper app that provides millions of live and HD wallpapers, stickers, ringtones, and alarm sounds for your Android phone.