If you use an iPhone, you know you have pretty limited options when it comes to managing your device. The official option is to use iTunes. But Apple hasn't updated the application in years, and the app is now outdated. Using other iPhone managers is perhaps the only solution to this problem. There are many iPhone managers and we tested DearMob's iPhone Manager to get the best out of our iPhone.
This software application really surprised us in terms of features and usability.
Let's take a look at what DearMob iPhone Manager offers us.
Features
DearMob's iPhone Manager is perhaps to most feature-rich iPhone managing software we have ever used. Here's pretty much everything you can do with the software –
Photos: Load, preview, and sync between your PC or Mac in a jiffy.
Music: Add non-iTunes music/unsupported formats to your iPhone, backup music without data loss.
Videos: Transfer videos up to 4k resolution on your Mac/computer. Compress and even convert videos into different formats.
Backup: Backup your entire iPhone without any storage limits like iCloud. Supports encryption and password protection.
Files: Compatible with the latest iOS 13. Add, move, edit, remove files and documents on your iPhone even with your computer.
Apps: Install apps from outside the App Store without jailbreaking! You can even manage and edit app files, get Picture-in-Picture mode even outside the app.
Contacts: Export and manage your contacts from your PC, sync and merge duplicated contacts.
SMS: Backup and Sync your SMS and iMessages along with photos and videos without any data loss.
Ringtones: Add your favorite ringtone without iTunes interference.
Books: Convert books on your iPhone to any digital formats such as PDF, ePub. You can even make it compatible with Kindle.
Podcasts: Add and transfer podcasts to and fro from your iPhone.
We know that's an extensive list of features. Now let us show you how easy it is to manage your iPhone with DearMob iPhone Manager.
Managing Photos, Videos, and Other Files
The interface of the software is pretty easy to follow, unlike the clumsy iTunes interface.
Adding, Removing and Syncing
Firstly, you have to connect your iPhone to your Mac/PC with the data cable and tap on "Trust this device" on the iPhone screen.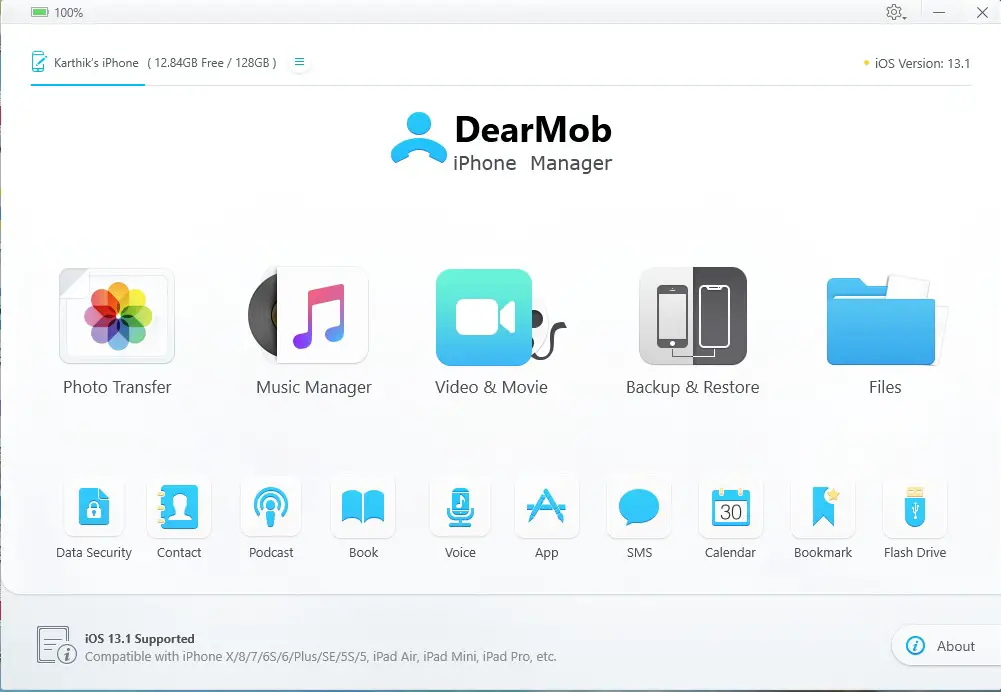 Now as you can see in the above screenshot, you have multiple options. Select the one you wish to manage. All the content of your iPhone will be shown. Here, we have selected the Videos & Movie option. From here, you can export, add or delete all of your videos & movies. There's also an option to sync everything using the sync button at the bottom. You can even transfer everything from iPhone to iPhone from here.
You can also drag and drop videos from your other folders onto your library and it will transfer them easily.
Organizing your Photos
Folders on computers are messy. And if you want to transfer photos and videos to your computer, you probably want them to be as organized as possible. Fortunately, DearMob iPhone Manager makes it possible with just a few clicks.
In the case of photos, iPhone photos are displayed by media types such as selfies, live photos, panoramas, etc., by year/month/date, and by albums. Go to any of these options.
Now, go to the "Group" drop-down menu and select the option of your choice. You can group your photos by Day, by Month or by Year.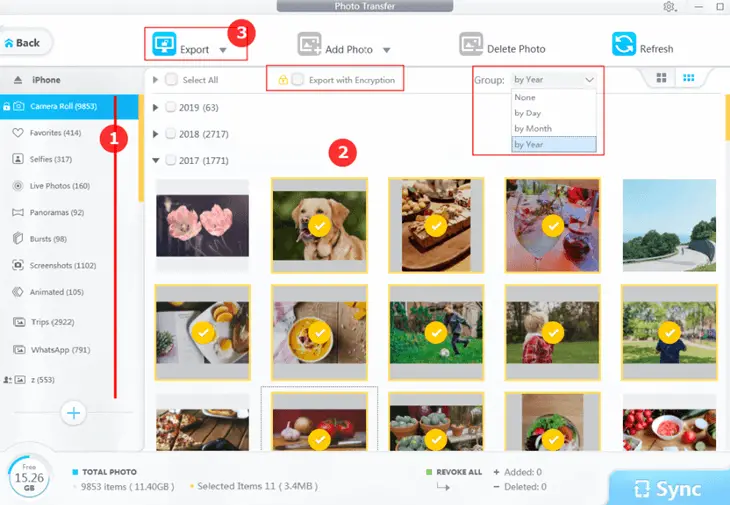 Once you group your photos together, click on the "Export' button. You also have an option to export with encryption for more security.
Managing Music and Ringtones
If you use Apple Music, you can manage your entire music library using the application. If you don't use Apple Music, even you can add music files from your computer to your iPhone here.
Go to the Music Manager from the Home. Once everything is synced, your entire Apple Music library will show up.
Choose the options on the top to export, add, edit or delete music. You can also create ringtones and alert tones from these music files.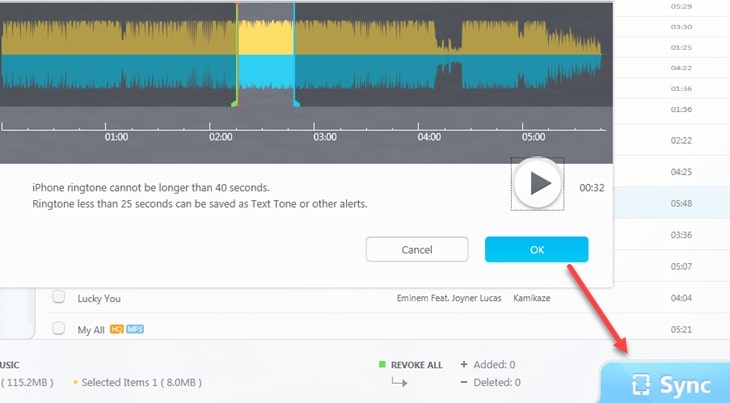 As you can see, you can select clips of your music to set the ringtone. Once everything gets done, click on Sync to make sure all the changes reflect back to your iPhone. Now that you have synced, you can open the Settings app on your iPhone, then tap Sounds (also called Sounds & Haptics), then Ringtone. Tones that you have added will appear at the top of the list, above the default Ringtones. Tap on one to make it your ringtone.
Managing Videos
If you have purchased movies from iTunes before, you can even remove the DRM protection and transfer them to your computer. Also, the camera roll videos are separated from photos, making it easy to manage video records neatly.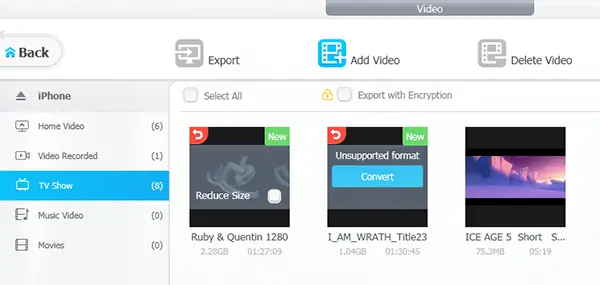 Managing Contacts
You can manage contacts from your iPhone and transfer it to your computer. You can also merge duplicated contacts and make them all together.
---
Protect Your Online Privacy With Surfshark
[The VPN that we use here at Tech Arrival]
---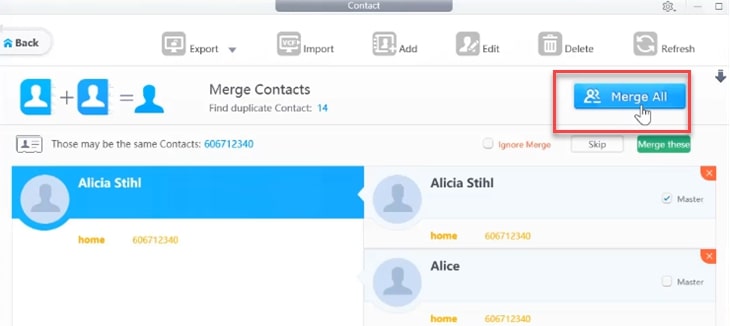 Data Encryption
You might know that iTunes provides you with the option of data encryption. Well, even DearMob iPhone Manager lets you do that. You can export and backup all of your data with the option 'Export with Encryption'.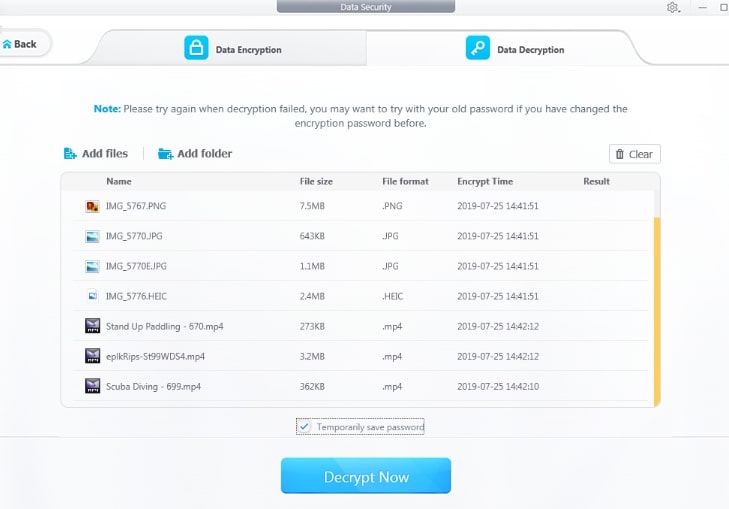 Once you do that, it will prompt you to set the password. You'll need this password to decrypt your data as well. Make sure that you don't forget your password because there's no other way to get your data back.
Flash Drive
This is probably one of the most interesting features of DearMob iPhone Manager. You can use the application to make your iPhone a flash drive and save any kind of file with any format. This might not be new for Android phones, but it is certainly new for an iOS device.
Select the "Flash Drive" option from home and just drag and drop any file you want to transfer.
Note – Features such as Contacts, SMS, and Calendar will only function when iCloud syncing is disabled on your iPhone. The app does not sync with iCloud but only works with locally stored data. To disable syncing with iCloud, head over to Settings then tap on your name, then select iCloud and uncheck the options.
Pricing
One Year License, available for a year with free updates on 1 PC
DearMob iPhone Manager offers a free trial. After the trial, however, you need to purchase the software. The application comes under three different licenses:
$59.95 $39.95 | 1 Year License, 1 PC.
$67.95 $47.95 | Lifetime License, available for a lifetime with free updates on up to 2 PCs.
$107.95 $69.95 | Family License, also available for a lifetime with free updates on up to 3 PCs.
Our Verdict
DearMob iPhone Manager has to be the best in class iPhone manager we have ever used. It is packed with features and everything is very easy to operate – thanks to the super clean user interface.
---
Protect Your Online Privacy With Surfshark
[The VPN that we use here at Tech Arrival]
---
The only limitation to the app is that if you want to keep syncing your contacts, calendar, and SMS with iCloud, you cannot sync them with your computer. It's perhaps the only downside of a super-useful iPhone manager application. The app is far better than iTunes and offers far more functionality and productivity to you.
And everything encrypted and saved safely is just the icing on the cake. The app is lightweight and super smooth, and the backup process takes no more time than 10 mins. Overall, the app is recommended for those who are tired of iTunes and want a different and more functional app to boost their productivity.
UI – 5/5, Usability – 5/5, Backup and Restore – 5/5, Data Encryption – 5/5, iCloud Sync – 1/5