Are you disheartened that your presentations do not have as much captivating aura as required to retain an audience?  Enough with the monotonous rungs of text make your articles, blogs, presentations, etc. attractive and interesting by incorporating high-quality photographs from Depositphotos.
What is Depositphotos?
Depositphotos is a well-established stock photo company which offers a great collection of royalty-free images for sale. It is an online platform with the purpose of bringing together the authors of licensed exceptional images and the enthusiastic buyers of such images.
Launched by Dmitry Sergeev in 2009, Depositphotos is now one of the most popular stock image sites with a library of over 60 million photos and 18 million vectors. They are well known for their discount offers, which they promote extensively on their own website and on AppSumo, and their excellent customer support.
Over the past decade, this stock-photography agency has bloomed and blossomed with the help of talented photographers, illustrators and professionals and appreciative patrons of the photographs. Presently, Depositphotos has several international offices and provides customers with support in 20 languages.
Depositphotos Salient Features
Over 60 million images (and counting)
Images added weekly
Depositphotos has been online since November 2009
File types sold on Depositphotos are stock photos, vector files, and videos
Accepts payment by PayPal, Moneybookers, and Webpay
Royalty free and Extended licenses only
Features Of Depositphotos
1. Images
Depositphotos collects photographs from talented professionals on a royalty-free basis, thus providing a large library of high-quality royalty-free stock photos pertaining to various genres. Their collection is useful for any user, who requires high-quality photos at affordable prices and less time in hand.

2. Vectors
The site consists of a large reservoir of scalable graphics and illustrations created by professional graphics editors. Stock vectors consist of icons, logos, and pictures, which are classified into categories as per consumer demand and are delivered in several formats such as PSD, EPS, SVG.
3. Editorial
The site provides a wide range of latest stock images, organized especially for editorial purposes and are aimed at journalists, editors, bloggers, and website owners. These images comprise of photos of people, events, landmarks or other symbols specifically for commercial uses.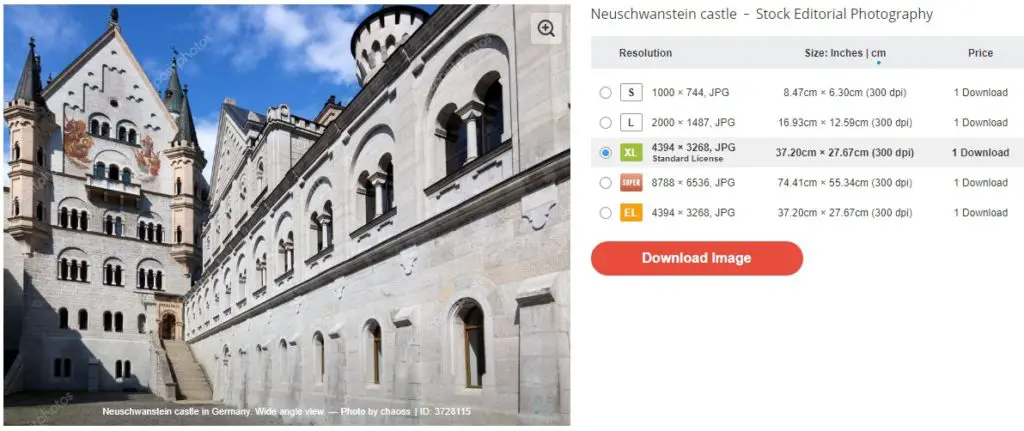 4. Videos
Over 2.5 million video clips are categorized under suitable labels and according to popular demand in Depositphotos. These are around 60 seconds each and available mostly for commercial uses or advertisement requirements in SD, HD, and Ultra HD formats.

5. Image Searching Tools
After working for more than a decade, Depositphotos have developed a very improved image search engine as well. They offer an advanced searching feature that includes keyword searching, filters, and image recognition technology for reverse image search.
Their library is organized by categories in the most popular and sought after topics and styles, and all their images include relevant keywords. You can sort search results by best match, most sold or recent, as well as by file type and licensing status.
---
Protect Your Online Privacy With Surfshark
[The VPN that we use here at Tech Arrival]
---
The reverse search option lets you use any image you provide as search parameter to find similar, licensable stock photos.
6. Image Licensing
Depositphotos have an option of royalty-free licensing and extended licensing as well. Extended licenses are sold under their own image download packs, starting at 1 image for $89. It includes all the uses of the Standard license plus unlimited copies and uses in items for resale or free distribution.
Licenses can only be purchased on demand only, with image download packs, and their individual price decreases the more licenses you buy at once. Their prices are very competitive for the market.
7. Other Features:
a) Ease of access: Depositphotos allow easy contribution as well as purchases. They complete the processes of uploading, submitting, getting approval and payment transactions to contributors very quickly. Buyers also can purchase the services of their choice in no time at all.
b) Moreover, Depositphotos does not exclusively focus on microstock, which implies that contributors are able to sell their creations on other websites as well.
c) Customer Support:  They have high-priority customer service and frequently offer attractive discounts, bonus offers, free giveaways, and coupons, along with many other perks for users.
How to Use Depositphotos
Using Depositphotos is quite simple and less time consuming. Let us see that from both seller's and customer's point of views.
Contributor at Depositphotos: Contributors can sell their images and creations through subscription and single-order credit plans in three easy steps:
The first step is to register yourself with Depositphotos to create your account
Pass the test by uploading some of your best photos.
Thereafter, become a contributor and upload images
A Customer at Depositphotos: Customers can purchase images from a wide range of stock photos, vectors, editorials and videos at affordable prices using user-friendly buying options.
At first, you have to sign up for a membership account for free.
To download both paid and unpaid photos, vectors and videos, you have to subscribe to a payment plan.
After that, keep downloading and enjoy the benefit of these lucrative photos in your work.
Pricing & Plans
Depositphotos furnishes separate plans for images (photos and vectors) and Videos with the perception of profiting through bulk buyers and more membership rates.
Price Structure for Photos and Vectors:
Flexible Plan:  For this, you can make a monthly payment of $9.99 or save 20% by paying $99 on a yearly basis. This plan allows downloading 10 high-resolution photos and vectors every month, with unused downloads added up for the upcoming month's provision. On using up the monthly provision, $1 additional charge has to be paid per extra image.
Subscription Plan: This plan requires monthly fees of $69, $99 and $199 for acquiring 75, 150 and 750 images (of any size) per month respectively. The same subscription, if paid for annually requires $699 for 75 images per month, $999 for 150 monthly images and $1999 for 750 images every month.
On Demand Plan: The standard license ensures 10 images at $49, 25 images at $99 and 100 images at $299. These images can be used anytime within the duration of one year. For the Extended license, $89 must be paid for 1 image, $359 for 5 images and $1599 for 25 images.
Subscription Pros
Flexibility in subscription options
Subscription services are cheap and require little investment
Buyers can gain Depositphotos bonuses through their subscription purchases
Subscription Cons
---
Protect Your Online Privacy With Surfshark
[The VPN that we use here at Tech Arrival]
---
Extended licenses have to be purchased with dedicated image pack.
Price Structure for Videos:
Standard Definition: The pay structure for 240p videos includes $19 for 1 video, $69 for 5 videos, $319 for 25 videos, whereas for 480p videos, 1 video costs $39, 5 videos $139 and 25 videos $649.  To purchase any number of videos, $13.80 and $27.80 can be paid for each video of 240p and 480p qualities respectively.
High Definition: This plan comprises 3 plans for 720p videos of quantities 1, 5 and 25, for which you have to pay $59, $239 and $1149 respectively, while in the 1080p HD plan, the value for pack of 1, pack of 5, and pack of 10 videos are corresponding $69,$289 and $1399. However, to purchase individual videos, the cost for each 720p video is $47.89 and $57.80 per 1080p video.
Ultra-high Definition: This plan provides 4K videos at a rate of $145.80.  It also has similar package plans like the previous plans, priced at $169 (for 1 video), $729 (for 5) and $3499 (for 25)
For all plans, the video downloads are available throughout one year after purchase.
Thus Depositphotos is a global platform which provides high-quality royalty-free images, comprehensive information, bonus services and works with their buyers and contributors to enhance their site. Since its foundation in 2009, it has consistently been among the topmost stock photography websites.
If you are a content creator, you should definitely check out Depositphotos as they are cheaper than most other stock picture websites but provide better services and an awesome collection of unique images that will attract visitors.