To attract a long-lasting audience and potential customers for your website, the easiest method is to add visuals to describe your products or services. Graphics and images give a better description of your services and create a long-standing effect. But with a tight pocket and inadequate time, it is not possible to hire a professional visual designer. However, there are several software and applications which can support you in such cases. Crello is one of the foremost visual development applications that can help you to develop your website in no time.
What is Crello?
Crello is a modern-day graphic designing tool launched by Depositphotos, aimed at marketers, social media specialists, entrepreneurs, bloggers, etc. to create visual content for social media posts, blogs, presentations, advertisements, videos, eBooks and printed materials and so on. Crello provides users with a wide choice of templates, formats and more than 60 million images from Depositphotos. The templates and designs are created by professional web designers and are updated on a regular basis. You need not have any knowledge of graphic designing to use Crello. You simply should select a proper format and template to deliver your idea in a lucrative way.
Features
Crello possesses some astounding features:
Crello has a collection of 60 million photos, 11000 templates, 12000 free photos and 33 design formats, and provision for a video library.
It has in-built Photo Editor tools (such as Filters, Crop, Layers and Transparency, and Blur) and Design Tools (like, Resize Design, Stickers, Shapes, Icons)
It can create designs for Social Media (Social Media graphics, stories,posts, covers, ads for  Facebook and Instagram, YouTube Channel art and thumbnails, posts, header and ads in Twitter, Tumblr graphic and banner, Pinterest graphics), for Animated Designs ( Animation Maker and Design), for Advertising ( Display Ad banners, Facebook ad, Instagram ads, Twitter ads), for Blogs (Images and graphics), for Marketing(email headers,  presentations, eBooks), for Print (Flyers, Posters, Business cards, Gift Certificate), for Events (posters, invitations, business cards).
Crello provides appropriate dimensions for creating social media, website graphics and selected printed materials.    
It gives the option to upload your own files and fonts to customize your own ideas and a free-of-cost platform to save your projects.
It lets you to download animated videos in MP4 format for creating advertisements, social media posts, YouTube videos, etc
Crello is cost-effective in the sense that it's PRO account is less expensive, yet offers a large library of free templates, photos, and objects.
---
Protect Your Online Privacy With Surfshark
[The VPN that we use here at Tech Arrival]
---
How to Use Crello?
Designing using Crello is easy to learn. The site provides some video tips and tutorials on using Crello. Some basic steps are as follows:
1. Sign-up in order to save your projects for editing later.
2. Customize the dimensions of your content and select a suitable template from thousands of available designs.
3. While preparing a presentation, you can add new pages from the right hand side panel and input and edit designs,   photos, background, texts and objects from the extreme left column of options.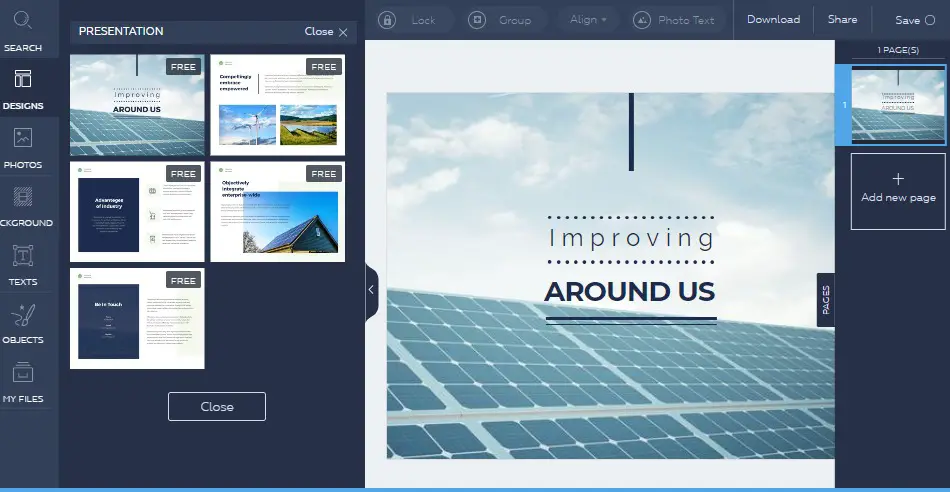 4. To use images, you can choose from the free photos, uploads or from the gallery. After including an image in your design, you can edit it using crop option and a variety of filters.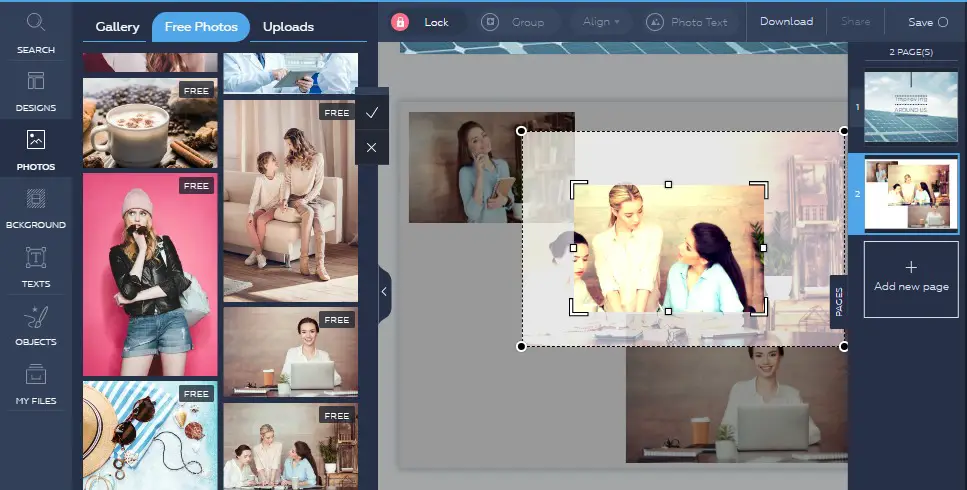 5. While adding text to your presentation, its font and font size, position, alignment, style (bold, italics, underlined), line spacing and colours can be changed according to your liking.
6. You can upload your own fonts from the left hand side column containing the "Uploads" option.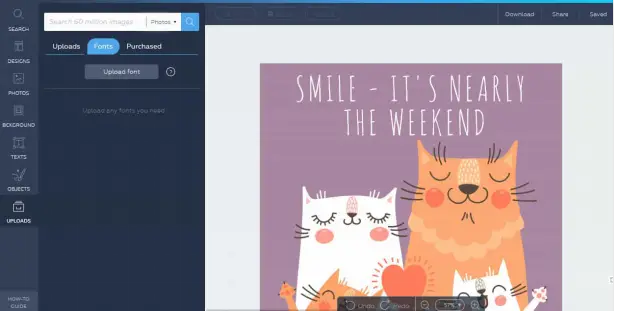 7. You can also find options for including shapes, icons, illustrations, lines, borders, stickers and frames from the "Objects" option in Crello.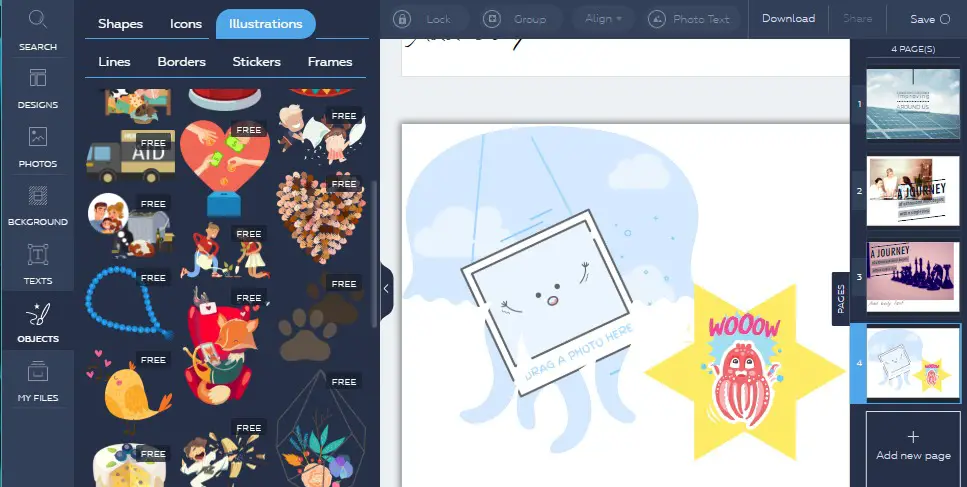 8. Upon completion of your design, you can give it a suitable file name and save it to your desktop in various formats such as JPEG, PNG, transparent PNG or a PDF.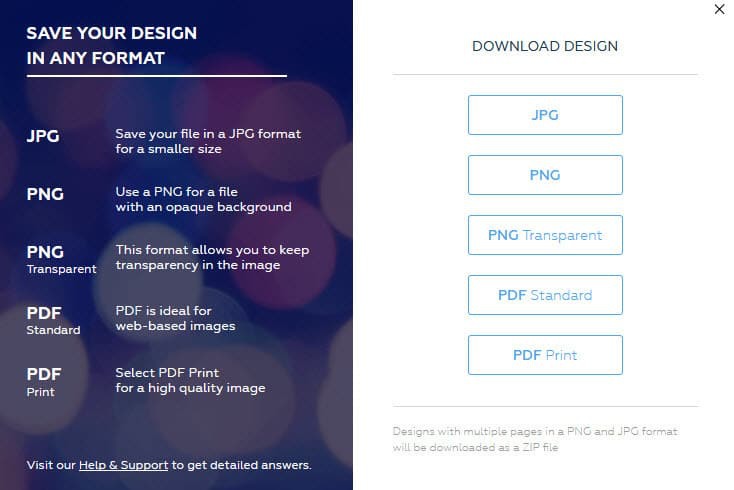 9. After downloading your design, the saved files can be revisited in Crello, categorized into folders and edited or deleted.
Pricing & Plans
Crello provides three types of pricing plan to choose from, with the option of upgradation.
---
Protect Your Online Privacy With Surfshark
[The VPN that we use here at Tech Arrival]
---
Basic Plan: This is a completely free plan which includes 6000 free design templates, 4000 free photos, personal storage for the designs created, one custom font upload, 100 images upload, and access to stock photos at the rate of $0.99.
Advanced Plan: Using this plan, designs can be created with over 12000 premium design templates (which are renewed on  weekly basis), access to 20000 premium photos and premium design elements each, option to upload 1000 images and unlimited number of custom fonts, and 5 free Depositphotos stock per month, along with access to stock photos at $ 0.99 each. For this plan, the payment structure is $7.99 per month, whereas yearly subscription sums $6.67 per month.
Pro Plan: This is the most popular Crello plan with a monthly price of $19.99, while with yearly subscription, you can save up to 17% of the monthly cost. This provides full HD quality, 4 design formats, more than 5000 video design templates, free access to 2000 premium video files and 4000 animated elements with unlimited images and custom fonts upload with 10 free Depositphotos stock photos per month. It also allows you to upload your own videos, remove watermarks on a video and resize any animation.
Conclusion
Thus Crello is definitely an apt solution for any visual designing problem. It is perfect for preparing creative and concise articles in a short span of time. The software is quite straightforward to use and the supplied tutorials and tips assist the users to learn using Crello effortlessly. Some pros of Crello point out at its easy user-interface, instant access to a wide array of designs, stock pictures, templates, animated formats, and objects, etc. The cost structure for Crello is also acceptable. But the only negatives may be that the free plan provides limited access and the customer support may have the scope for improvement. However, taking the overall view into consideration, Crello is a useful graphic content making tool which all can use to create professional images, without being accustomed with sophisticated graphic design techniques and softwares.