Apple Music is one of the best platforms to bring your music together. It lets you access millions of songs, curated playlists and radio and music recommendations. Apple's streaming music service is comparable to other similar streaming services like Spotify, Amazon Music Unlimited, Google Play music and more.
Apple Music is highly organized and efficient. It boasts access to a total of 50 million songs. Users can stream or download content for offline play and there are songs and genre-based stations available. The service integrates with your existing iCloud Music library which lets you combine Apple Music songs with songs previously purchased on iTunes to a unified location.
But Apple Music has its own limitations that can bug a lot of people. While not all of them are major, some of them can create problems preventing users from making the changes they are looking to make. The best way to deal with this situation is to take a converter and convert the music in such a way that Apple Music has no problems with it.
Now when it comes to converters, there are a lot of options available in the market and you may face a lot of difficulty in finding the right one. But you can skip that as we are going to review the TuneFab Apple Music Converter. Not only it makes having Apple Music a lot easier, but it also gives solutions to the problems faced when using Apple Music.
In this article, we will be reviewing the TuneFab Apple Music Converter software. We will cover the features and give a quick guide on how to convert Apple Music to MP3.
TuneFab Apple Music Converter Review
If you often find yourself in a situation where you need to convert Apple Music into different formats, TuneFab Apple Music Converter is the tool you are looking for. The software comes with a bunch of tools and features that will make it your favorite music converter for all seasons. It has a very simple interface which makes it very convenient for beginners. The tool is available for Windows and Mac.
Features
Here are some of the best features of TuneFab Apple Music Converter:
Unlock DRM
Apple Music tracks are encrypted with DRM (Digital Rights management) that limits Apple Music on some specific devices like iPhone, Android, and Windows PC. That means you can't transfer your favorite music to your MP3 devices or your car. Also after terminating your Apple Music subscription, the tracks will be lost forever.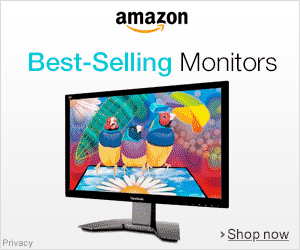 This is where TuneFab Apple Music Converter comes to the rescue. It allows you to convert the songs purchased from Apple Music and use it in other devices. It is professional and all this can be done with a single click.
Converting Apple Music to Different Formats
Another useful feature of TuneFab Apple Music Converter is that it allows you to convert Apple music into countless different formats like MP3, MP4, M4R, M4A, FLAC, MKA, AU, AC3 and many more. After removing the DRM you can convert the music into any format you want. The process is quite simple and having full control over your purchased music feels great.
AudioBook Converter
The software comes with an audiobook converter or audiobook DRM removal option that lets you convert any purchased iTunes or Audible audiobook.
Use Apple Music Offline
Another great feature about this tool is that you can use Apple Music offline with it which means you don't have to worry about internet connectivity. You can have your music at your fingertips and listen to it anywhere and whenever you want. It also provides the simplest solution for you to enjoy Apple Music on multiple devices at one without having a family plan.
This is also very useful if you are thinking of making a backup of the downloaded music. The tool has a one-click back-up option for the exported non-DRM audio files from your iTunes library.
ID3 Tags Editor
If you love your music neatly organized then you will like the ID3 Tags Editor of TuneFab Apple Music Converter. You can edit the missing tags and add them back without any issues. This will make sure the songs in your list are properly organized and easily identifiable. Searching for a specific song or genre will be highly efficient.
Batch Conversion
This is a feature most converters lack but not the TuneFab Apple Music Converter. The Batch conversion works really well and without the loss of any quality. All the audio files in your collection will have the same file integrity.
16X Fast Conversion
TuneFab Apple Music Converter allows you to convert Apple Music to other formats in 16X faster speed with no damage or loss of quality to the original music file.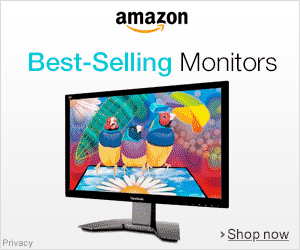 Customizable Settings
Users have the option to customize audio parameters like Bitrate, Sample rate, etc and edit the ID3 tags manually.
How to Convert Apple Music to MP3 Easily
After the introduction to some of the cool features of TuneFab Apple Music Converter, it is time to get our hands on the tool. Here we will give a quick guide on how to convert Apple Music to MP3. We will be assuming that you have downloaded the software and installed the software in your PC.
You don't have to buy the software as it allows a free trial that allows you to convert 3 minutes of each Apple Music song without paying anything. That being said, we would like to remind that it is illegal to commercially distribute DRM-free Apple Music to others.
1. Launching TuneFab Apple Music Converter
Download the TuneFab Apple Music Converter from the official website and install it on your computer. iTunes will be activated automatically.

2. Understanding the Main Interface
The main interface of the TuneFab Apple Music Converter is divided into different sections like the top menu, iTunes playlists, output settings, metadata, etc. The UI is very simple and intuitive and you will find easy to move around.
3. Selecting the Apple Music Songs that are to be Converted
You will see the iTunes playlists displayed in the left column. Click on Apple Music playlists and select the Apple Music songs that you want to convert by clicking the little checkbox. If you find it difficult to find the song, use the "search" function. It helps to find your desired songs by searching for its name, artist or album info.
4. Choosing MP3 as the Main Format
TuneFab Apple Music Converter comes with support for 9 output formats including MP3, M4A, AAC, AC3, AIFF, FLAC AU, M4R and MKA. Go to the "Output Settings" tab and select MP3 as output format. You can also adjust other parameters such as bit rate, sample rate, codec and more. To speed up conversion speed, adjust the conversion speed in "Options".
5. Converting Apple Music to MP3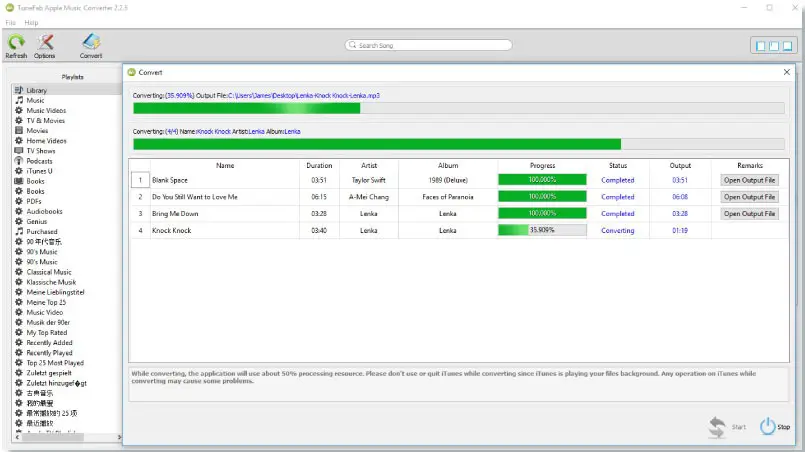 From here it is really easy. You just have to click at the "Convert" button and it will start converting Apple Music songs to MP3. You will see a new conversion window pop up showing the entire process of music conversion.
After finishing the process, it will show "Completed" and you can click at the "Explore Output File" button to locate the recently converted file on your local folder.
Pros and Cons
Like any other software, TuneFab Apple Music Converter comes with its own set of pros and cons. However, we can comment that the pros of the software outweigh the cons. Actually, we found very little downside when testing this tool.
Pros:
Excellent set of features
Easy DRM removal
Easy to use
Large number of output formats
Cons:
It is not free
Works only on Windows and Mac
Final Verdict
After using the TuneFab Apple Music Converter, we can say for sure it is one of the best, if not the best Music converter for Apple at this moment. The software really managed to impress and we hardly noticed any roadblocks while using it. It is fast, easy to use, efficient and one of the must-have tools if you are an Apple Music user.
For the final question, do we recommend the software? The answer is yes without any hesitation. Even if you are paying money, the features it offers are worth it. It also saves money if you plan to listen to your favorite Apple Music on multiple devices without upgrading your plan. So if you are in search of a converter for Apple Music, TuneFab Apple Music Converter is the solution.