IoT refers to the Internet of Things and is an emerging technology that promises to transform many industries. The Internet of Things (IoT) refers to the idea of connecting devices in our environment to the Internet.  But what exactly is IoT? How will it impact you? And how can you get involved? 
The IoT revolution is transforming many industries, and the healthcare industry is no exception. The healthcare industry needs disruptive technologies that will make the health care system more effective, patient-centered, and sustainable. 
The Internet of Things is transforming healthcare in every aspect – from how patients are monitored to how data collected during patient visits is used to diagnose and treat patients.
In this post, we will be looking at some major areas where IoT is disrupting the healthcare industry.
What is IoT?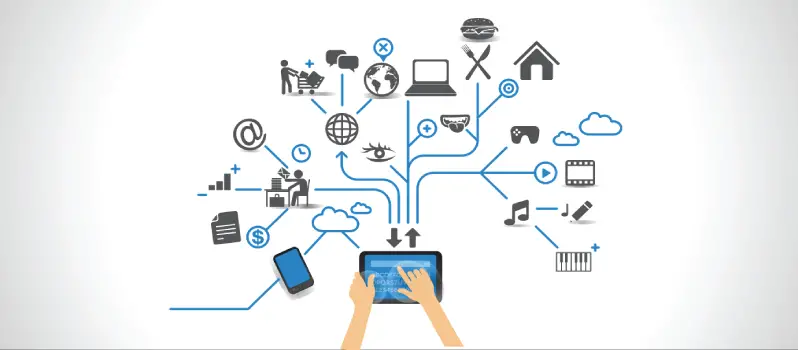 Internet of things (IoT) is a network of connected physical objects or devices to the Internet.
IoT is a term used for describing the merging of information technology, automation, and electronics. IoT connects objects, devices, people, and data from the Internet cloud, which will help in collecting, storing, sharing, and analyzing information from the connected devices.
The internet of things can be used for various purposes, including healthcare, fitness, smart cities, smart homes, smart agriculture, manufacturing, and many more.
Healthcare professionals are looking for new ways to improve patient care. We've seen that people are using IoT devices to monitor their own health. As technology becomes more affordable, these devices will become increasingly common in the average home.
The Internet of Things can be applied to a wide range of healthcare applications.  Here are just a few examples of how the IoT revolution is transforming healthcare:
IoT can be used to monitor patients at home or in an ambulatory care setting. 
IoT can be used to track patient movement and behavior.
IoT can be used to predict health issues such as the onset of a chronic disease. 
IoT can be used to help improve adherence to treatment protocols and medications.
IoT can be used to help predict disease recurrence and help guide post-discharge care. 
IoT can be used to help prevent emergency room visits by providing early diagnosis.
IoT can be used to provide remote patient monitoring.
How Does IoT Enable Healthcare?
The Healthcare industry is one of the most advanced industries as it is related to people's lives and their well-being. The healthcare industry will get smarter with the help of IoT.
---
Protect Your Online Privacy With Surfshark
[The VPN that we use here at Tech Arrival]
---
Even if you don't realize, we have already started utilizing many different IoT devices in our daily lives. These devices are making our lives easier and more convenient.
IoT provides data that can be used to improve the health and well-being of people. We can gather more data about our health, diet, sleep patterns, heart rate, blood pressure, etc. And with that information, doctors can find new ways to treat us and help us feel better!
IoT will help in providing better monitoring of the patients. It will help collect the data and provide this data to the doctors, which will help them make the proper decision.
The data collected by IoT will help the doctors identify the diseases early; Doctors will be able to keep an eye on the patients remotely, which will help them identify the problems much earlier.
How Does IoT Improve Diagnosis?
IoT is transforming the healthcare industry by giving patients a better experience, better diagnosis, and better care. The patients can receive treatment at any time and anywhere.
IoT will help the patients to receive medical services, which they don't have to go to the hospital or clinic to receive treatment. The connected devices will provide the data to the doctors, which will help them make an accurate diagnosis.
The patient's vital information, such as blood pressure and pulse, will be sent to the doctors and nurses to improve the treatment quality.
This reduces the chances of long-term complications and saves lives.
When the patients come to the hospital or clinic, the doctors and nurses will give the patients more attention and care.
How Does IoT Improve Care?
IoT will provide real-time data to the doctors, which will help them in making decisions in the best possible manner. Doctors can perform their duties much faster and with better accuracy.
It will help in providing better care to the patients. Doctors can also check whether the patient is following their treatment properly or not.
---
Protect Your Online Privacy With Surfshark
[The VPN that we use here at Tech Arrival]
---
They can also monitor the health condition of the patients remotely. IoT can connect the patients with the doctors to get immediate help whenever they need it.
It will help the doctors perform remote surgery and help perform surgeries in the best possible way. The doctors will be able to do things remotely and save the time and money of the patients.
IoT will help in improving the security of hospitals. This is one of the most important benefits of IoT. In case of any security issue or attack, the data can be transmitted to the security team, and the problems can be solved in no time.
What are The Issues Faced by Healthcare Providers When Adopting IoT?
For the healthcare industry, there are many potential benefits from implementing IoT in their practice.
However, the adoption of IoT into the healthcare industry has not been without its challenges.
Many people believe that this is because the technology is so new and so untested, and the benefits of IoT are not so great.
1. There's a Lack of Awareness About the Technology
The Internet of Things (IoT) has been around for quite a while, but only recently has it become mainstream. Its potential uses and benefits have been well-known for years, but most people didn't really start to see it as a viable solution until recently.
2. Medical Devices Software Development
The goal of software development for medical devices is to create a system that is easy to use and operate safely and effectively. It is also vital to ensure that the software is compatible with all the different hardware used in the healthcare facility.
3. Privacy and Security
Security Because IoT is so new; there are still a lot of questions about what type of security measures should be put into place. It can be difficult to know how best to protect the data being transmitted through IoT devices.
4. The Cost of Adopting IoT into the Healthcare Industry Can Be Very Expensive
Not only do you need to purchase all the necessary equipment, but there are also ongoing costs associated with operating and maintaining it.
5. The Need for Quality Control The Cost of IoT Devices is Very High
This means that you want to be sure that you are getting the best quality devices for the money. If you buy a low-quality device, you might end up with a system that doesn't work properly.
---
Protect Your Online Privacy With Surfshark
[The VPN that we use here at Tech Arrival]
---
Internet of Things (IOT) Healthcare Examples:
1. Remote Patient Monitoring
This technology is used to monitor patients who are unable to attend their medical appointments but would like to be kept informed about their condition.
2. Wearable Devices
These are devices that can be worn on the body. It can measure various things such as heart rate, breathing patterns, movement patterns, etc.
3. Glucose Monitoring
This is done to help people with diabetes manage their condition and stay healthier by monitoring their blood sugar levels and adjusting medication accordingly.
4. Sleep Monitoring
Sleep monitoring is used to assess the quality of a person's sleep, which is an important factor for general health and well-being.
5. Heart-Rate Monitoring
For example, heart-rate monitoring can be useful when a person is exercising or is suffering from a heart attack. It can also be used for stress management by tracking how often a person gets angry or frustrated.
6. Robotic Surgery
This is done by using robotic arms to perform surgery. This technique has been around for quite some time now and has significantly improved the quality of surgeries.
7. Hand Hygiene Monitoring
To prevent the spread of infections such as MRSA, influenza, etc., by encouraging people to wash their hands with soap and water or alcohol-based sanitizers before eating, preparing food, and after using the toilet.
8. Depression and Mood Monitoring
To understand how depression can be prevented by monitoring a person's mood in real-time to identify symptoms that require immediate medical attention.
Is The IoT System Secure?
Consequently, IoT's biggest challenge today is ensuring that all the connected devices have some security solution implemented.
It's not simply the case of having a firewall or anti-virus software running on the device, but rather, the security needs to be pervasive about hardware, software, and the network.
In fact, security should be baked into every layer of the IoT architecture, from the physical to the application layer.
---
Protect Your Online Privacy With Surfshark
[The VPN that we use here at Tech Arrival]
---
Conclusion
The Internet of Things is transforming the healthcare industry. With more data than ever before at our fingertips, new opportunities will open up for doctors to share information that they never had access to in the past.
Patients might be able to take back control of their health by tracking what's going on during a visit or noticing changes over time that may not have been noticed otherwise.
As IoT continues to evolve, likely, this trend will only continue.
Have you ever tried using IoT technology in your life? If not, what do you think about it? What are your thoughts on the IoT revolution in healthcare?
Share your thoughts in the comments below!