The 4K video technology is here, and there is a lot of information on how to convert 4K video to 1080p on the internet. Over time, it will only grow in size and accessibility. But do you truly understand what 4K is? 4K is the technology now gathering steam for an excellent purpose. It's possible to get mixed up between 1080p video and 4K video, though. What are the key distinctions between them? What makes one superior to the other? Is it possible to distinguish the difference? All of these issues must be answered to have a robust and solid understanding of the future of ultra-high-definition video in the form of 4K.
Continue reading to learn more about 4K, how it varies from 1080p high definition, and why one is superior to the other.
Why Do We Need To Convert 4K to 1080p?
The majority of people are already acquainted with high-definition 1080p video. It is praised for its sharpness, and as a result, it has become the world's typical high format. Even consumer DSLR cameras that cost less than $1000 now offer 1080p video recording capabilities. Even the most budget-conscious novice cameraman now has access to high-definition equipment.
Let's see the difference.
Ultra High Definition (UHD) refers to 4K, whereas High Definition (HD) refers to 1080p. 4K UHD video offers far greater quality than 1080p HD video, as their titles suggest. The 4K resolution is 3840 x 2160 pixels, whereas the 1080p resolution is 1920 x 1080 pixels.
The term "4K" refers to almost 4000 horizontal pixels. Typically, quality has been labeled in terms of vertical pixels, and in the instance of 1080p, that high definition resolution is made up of 1080 vertical lines. In comparison, 4K has 2160 pixels vertically, which is a significant gain.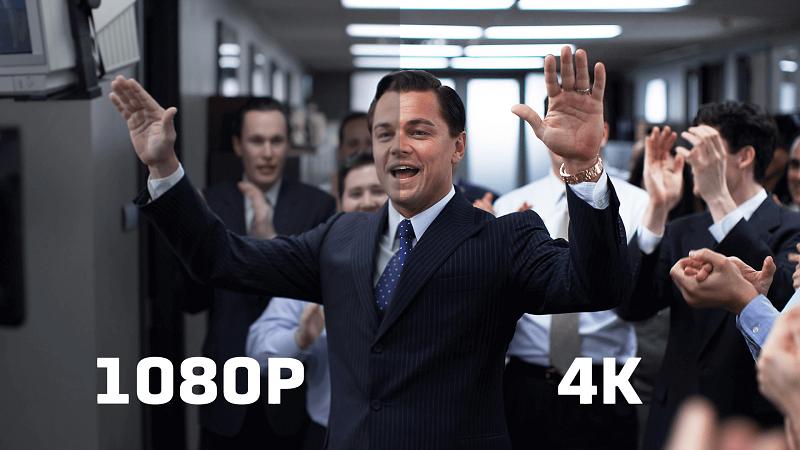 How to Convert 4K Video to 1080p at Highest Quality
Do you want to know why it is so beneficial to convert 4k video to 1080p and how to do it? Well, you should understand the reasons for this conversion.
The horizontal display resolution of 4K/Ultra HD/UHD is roughly 4000 pixels (3840 x 2160). Because more people have suitable monitors and the file size is much less, watching and handling 1080p HD videos is far superior to 4K. Furthermore, not all systems can play 4K definition movies, necessitating downscaling to 1080p or below.
1. Using HitPaw Video Converter to Transcode 4K to 1080p 
HitPaw Video Converter is the fastest and easiest solution for immediately converting 4k video to 1080p video and vice versa.
Features
---
Protect Your Online Privacy With Surfshark
[The VPN that we use here at Tech Arrival]
---
Convert video to more than 1000 different mediums and platforms.
With a single click, you may download material from over 10,000 famous websites.
With ultrafast download speeds, download playlists and channels in bulk (Windows version only)
Features for video editing that aren't included in the base package improve your video viewing experience
Without sacrificing quality, video conversion from 4k to 1080p is 90X quicker.
Pros
Super conversion speed from 4k to 1080p
Guaranteed results
Batch conversion features for 4k video to 1080p conversion
Free trial period
Cons
Not a free tool
Some video conversion features are currently available for Windows only and not for Mac users.
Step 1. Import the 4k video file whose format you want to change. We assume you already have the tool downloaded and installed on your device.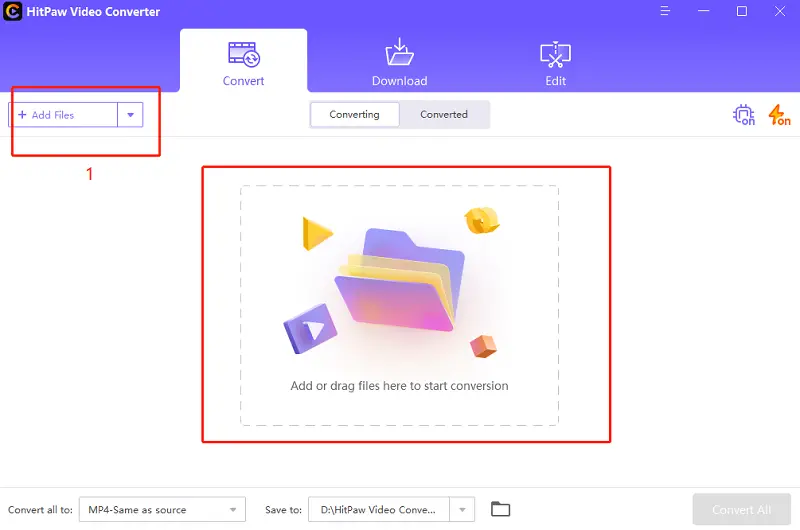 Step 2: Lossless Acceleration should be enabled.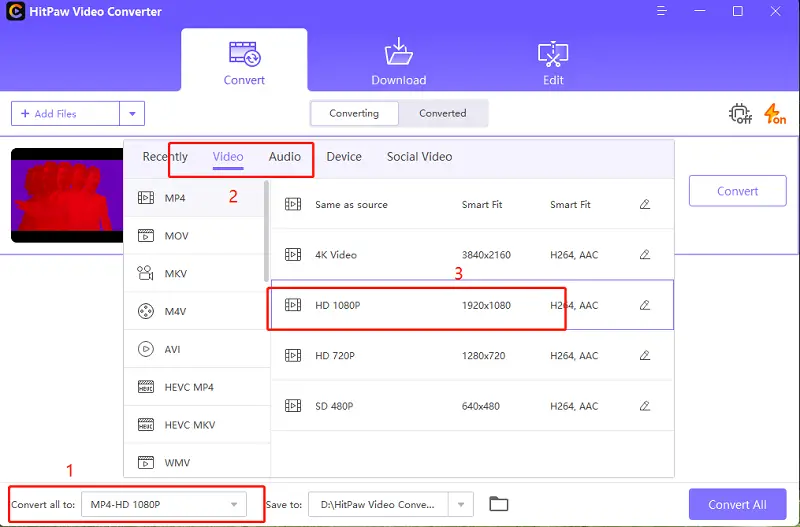 Step 3: Select Convert or Convert All from the drop-down menu. Make sure that you have selected the conversion option from 4k to 1080p.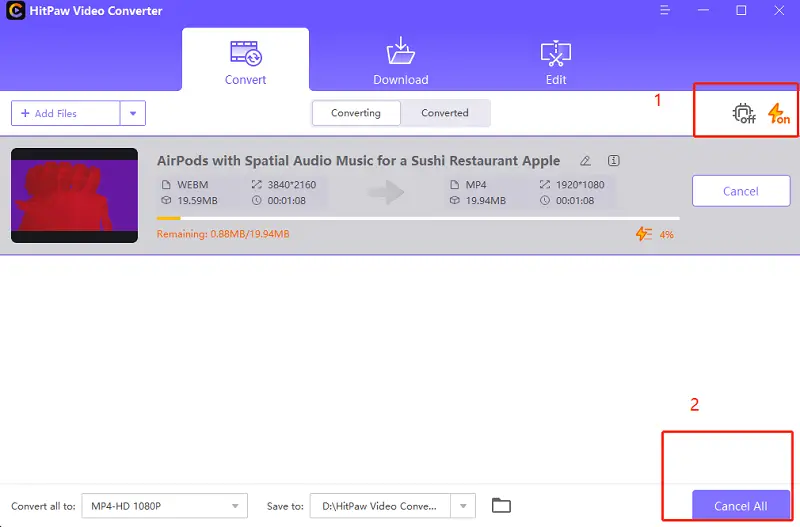 2. Using Handbrake to Convert 4K Video to 1080p
Features
HandBrake is a powerful 4K to 1080p converter that combines easy functionality with unrivaled versatility to achieve outstanding results. It is open-source, free, and runs on all major platforms (Windows, Mac, and Linux).
HandBrake has built-in device presets with simple and complex changes to aid further optimization of the encoding process.
Pros
Accept 4K movies in practically any format, including H.264, H.265, VP9, MP4, MKV, MXF, WebM, and others at 24/25/30/50/60 frames per second.
Convert 4K to 1080p for iPhone, iPad, Android, Windows, Web, and other devices.
Utilize Intel QSV and NVIDIA CUDA/NVENC level-3 hardware acceleration to significantly increase compression speed while achieving a balance between speed, accuracy, and image file.
Cons
Runs very slow, even with Intel QSV hardware acceleration
CPU-heavy programs always using over 90%
Step 1: Import the source 4K video by clicking on the "File" icon labeled 1 or simply dragging and dropping a file into the area labeled 2.
Step 2: From the drop-down menu, select your chosen "Preset" and then your preferred output "Format."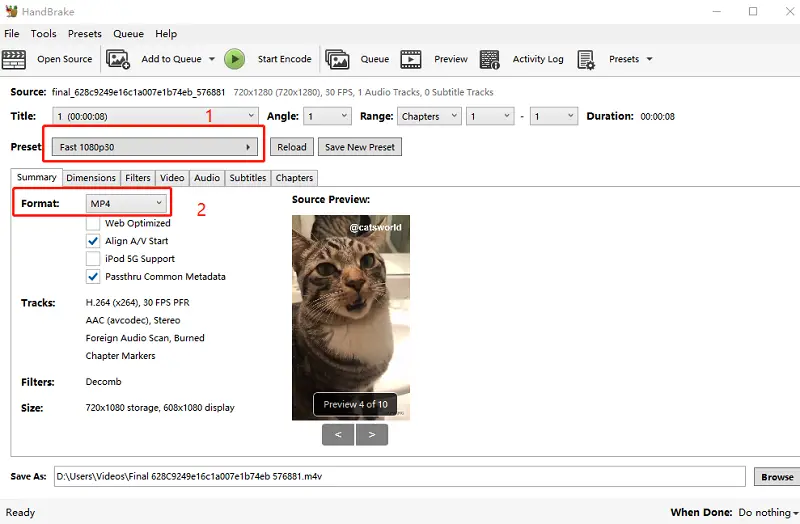 Step 3: Select a saving directory in the "Save As:" box, then click the "Start Encode" icon to begin the downscaling process.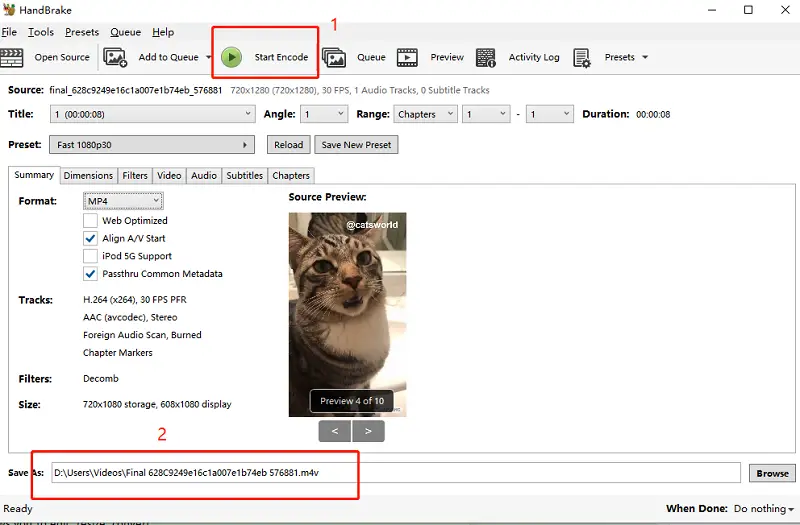 3. Using VideoProc to Convert 4K Video to 1080p
VideoProc is a one-stop media management program that allows you to edit, resize, convert, and alter HDR/4K films, music, and DVDs with full hardware acceleration – specifically Level-3 Hardware acceleration.
This implies that an Ultra HD 4K movie may be conveniently downscaled to a Full HD 1080p or HD 720P film. You'll get up to 47 times faster rates than equivalent tools.
---
Protect Your Online Privacy With Surfshark
[The VPN that we use here at Tech Arrival]
---
Pros
Easy video editing options
Best for beginners
Ability to enhance the video during downscaling
Easily convert 4k video to 1080p
Cons
Sometimes technical issues may occur
The offline tool has some bugs.
Step 1: Open the video converter dashboard by clicking the "Video" icon on the VideoProc landing page.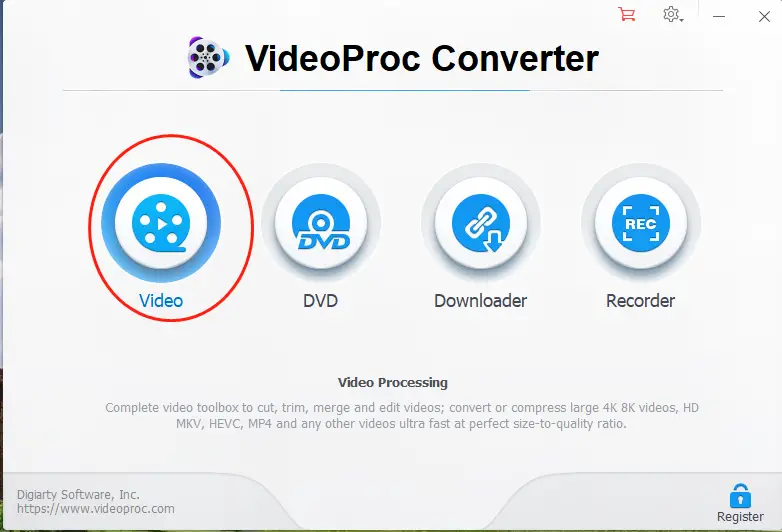 Step 2: To downscale to 1080p, add a 4K video. To launch a file browser dialogue box, click the "Video" button at the top. Navigate to the source 4K file's location and add it with it.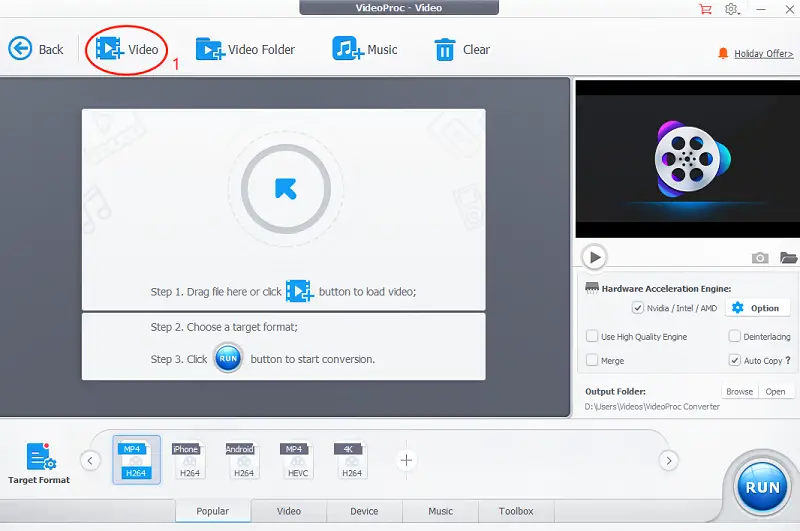 Step 3: Select the output format you want. Click the "Video" tab from the "Target Format" panel at the bottom, then scroll through the different formats until you select your favorite one.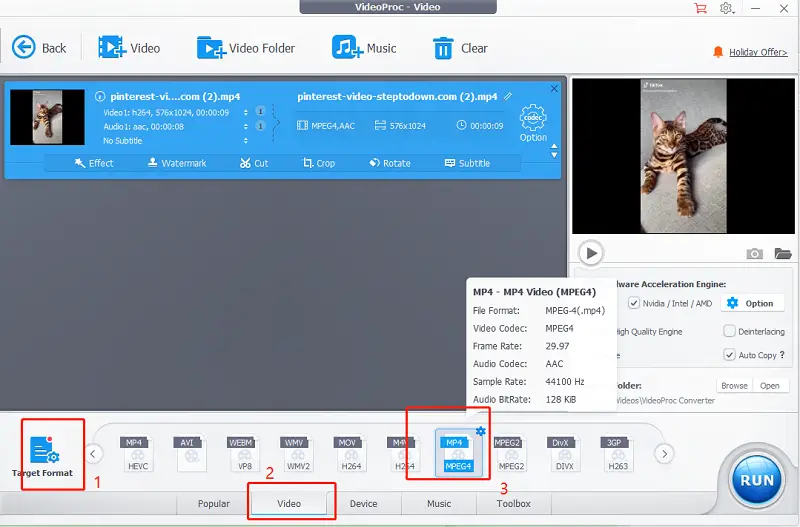 Step 4: For the selected codec, set the output resolution to 1080p. To begin, click the "Option" button for the codec indicated below.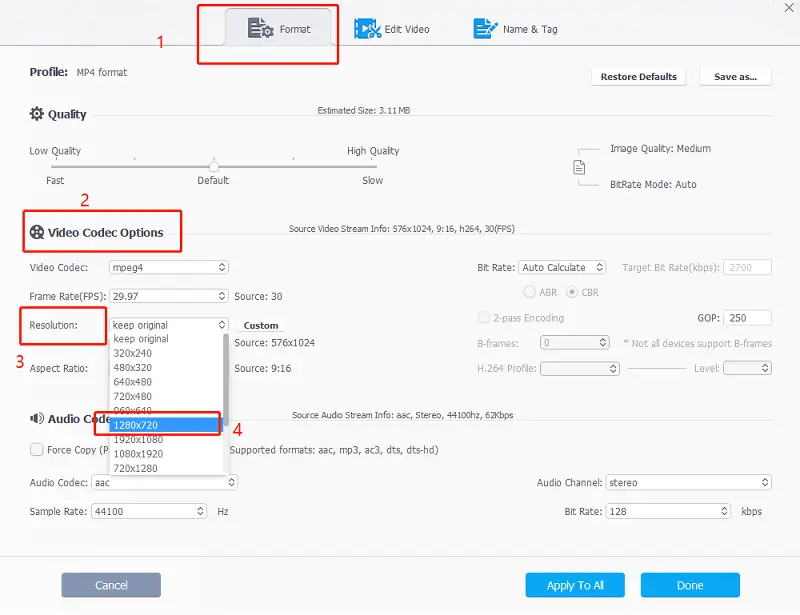 Step 5: Select your desired output folder before pressing the "RUN" button.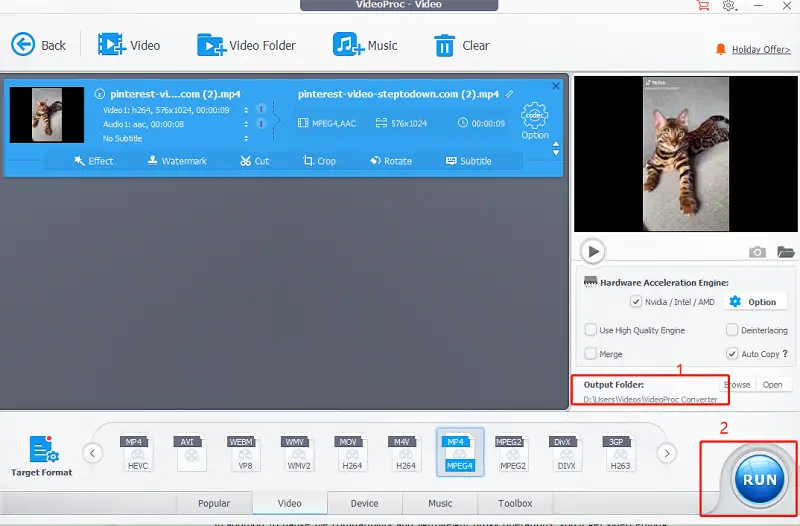 4. Using Premiere Pro to Convert 4K Video to 1080p
Adobe Premiere Pro is the industry's most popular video converter and editor for social media, television, and cinema. You will be able to trim down any UHD 4K footage to a 1080p quality that is compatible with most devices.
In addition to native file compatibility and lightweight proxy operations, you'll get video editing features that enable you to adjust 4K video in any format/camera/platform.
Pros
Allows enhancement of videos
Makes downscaling of any 4k footage possible
Easy and convenient video conversion options
Super beginner-friendly
Cons
Not compatible with many devices
Step 1: Open Premiere Pro, make a document, and upload the 4K material you wish to scale down.
Step 2: Create a sequence in step two. Drag and drop the imported video player into the window labeled "Drag multimedia here to build a series."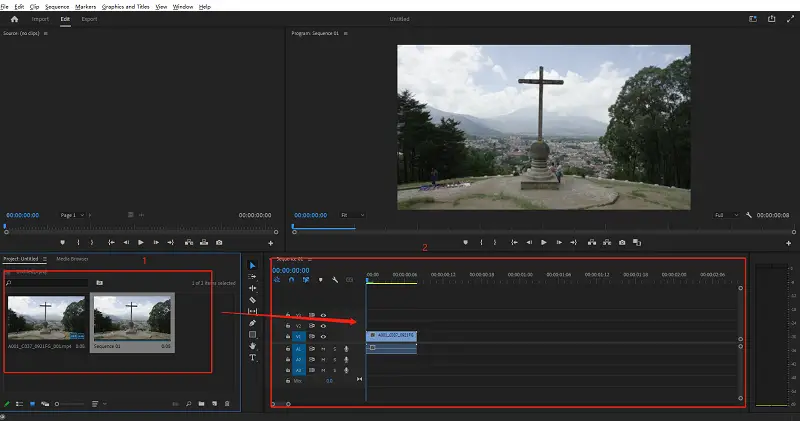 Step 3: To apply the downscale settings, change the sequence setting. Navigate to the "Sequence" file list and click the "Sequence Settings…" option to access the needed window.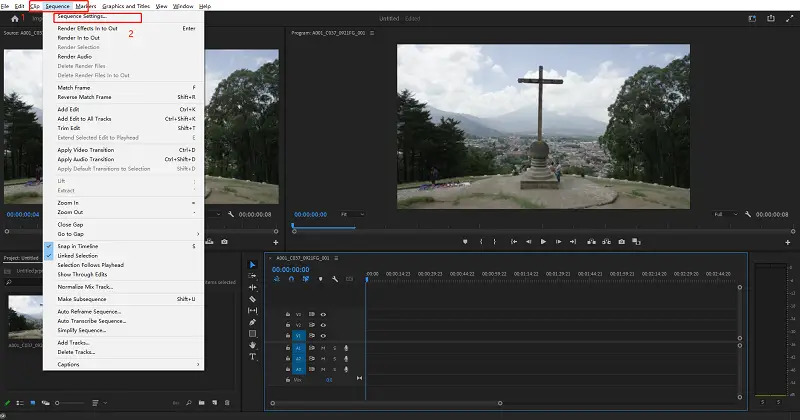 Step 4: After making the modifications, you'll notice that the video in the preview window has been zoomed in. To fix this, go to the "Sequence" panel and click on the source video, which will open the "Effect Controls" windows on the top left side.
---
Protect Your Online Privacy With Surfshark
[The VPN that we use here at Tech Arrival]
---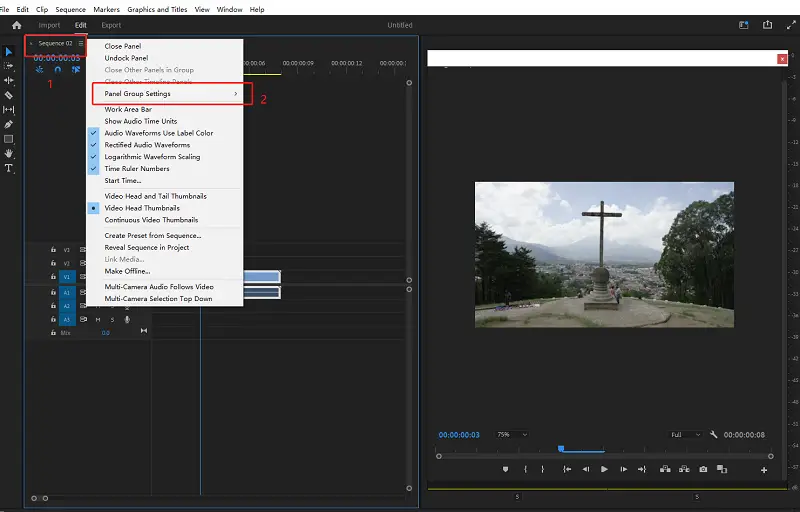 Step 5: Save the downscaled video to your computer. Select the "Export" option from the "File" menu.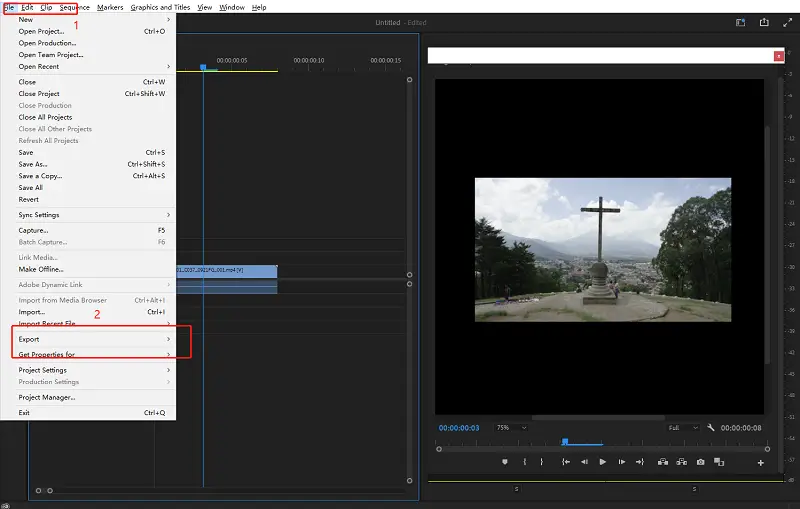 5. Using Wondershare UniConverter to Convert 4K Video to 1080p
You may not only convert but also edit 4K videos using Wondershare UniConverter (formerly Wondershare Video Converter Ultimate). Additionally, the program allows you to download movies from streaming sites, compress files to make them smaller (this is very useful if you're dealing with a huge video file), add text and audio to videos, and burn videos to discs for playback on a DVD or Blu-ray player.
Pros
On Windows/Mac, you may convert 4K movies to 1080p, 720p, 480p, and other resolutions.
1000+ video formats are supported, including MP4, MKV, MOV, AVI, FLV, and others.
Convert 4K films to optimum presets for nearly all devices, including iPhones, iPads, and Huawei phones.
With APEXTRANS technology, you may convert 90 times quicker than other converters.
Trim, crop, apply a watermark and adjust subtitles in videos, among other things.
Cons
Not compatible with Mac
Does not provide a high-definition experience
Step 1: Open Wondershare UniConverter and navigate to the Converter section. Add the 4K videos you want to convert to the program, load them, and then save them in a new format.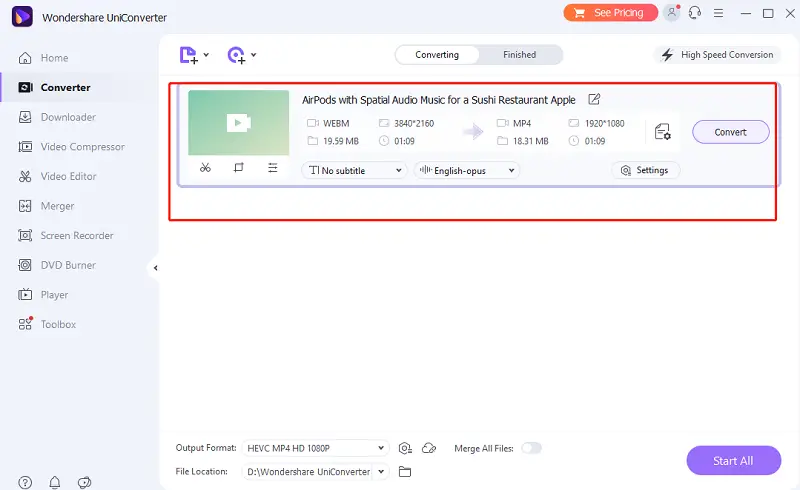 Step 2: Select an output format and a resolution of 1080p.
Select the format you want to convert the chosen video from the drop-down option labeled Output Format at the bottom of the Wondershare UniConverter window.
Step 3: Reduce the resolution of 4K videos to 1080p. Easily.
You can set the bitrate at which the converted video will be encoded; after you're finished, click Save.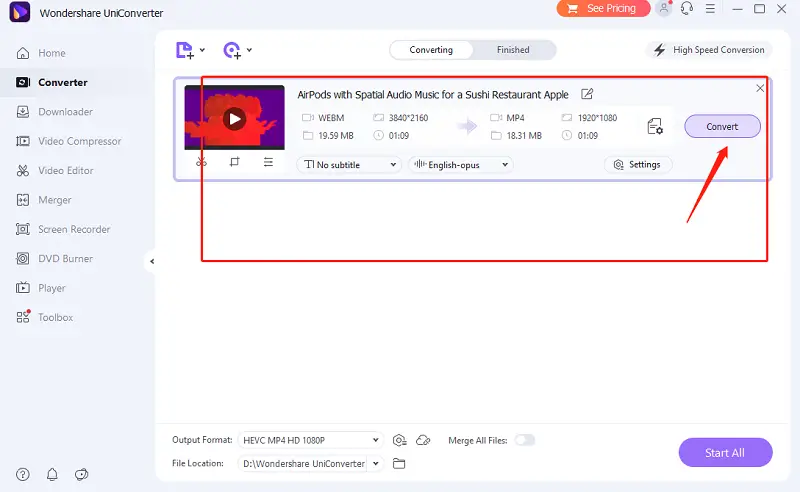 How to Convert 4K to 1080p With Online Converter
Well, you may need instant solutions if you do not want to download any tool for offline usage. Here is how to convert a 4K video to 1080p online.
1. FreeConvert [No Conversion Settings]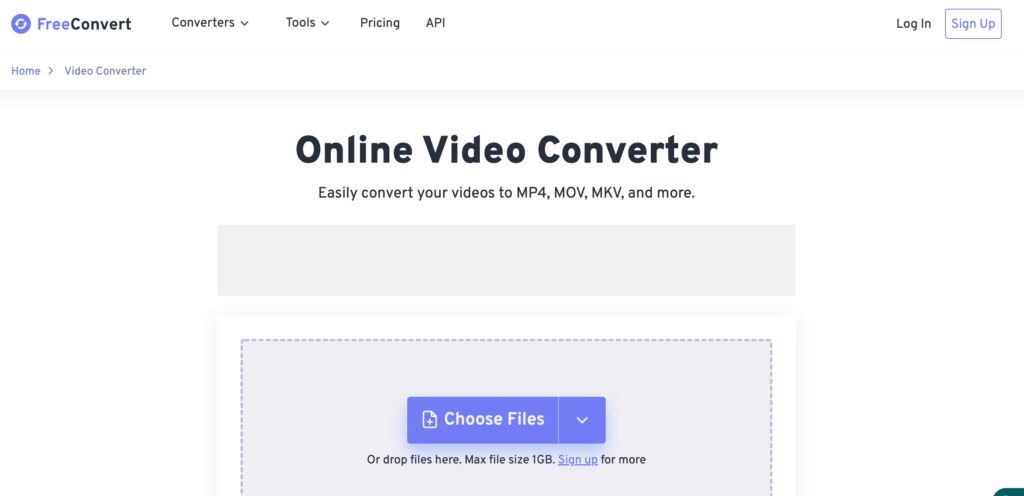 Go to the official website of FreeConvert.
Click the choose file option and upload the 4K video you want to convert to 1080p.
Click on the "Convert" button. Very soon, your video will be converted into 1080p, and you can download it immediately.
2. HitPaw Online Video Converter [Limited Export Options]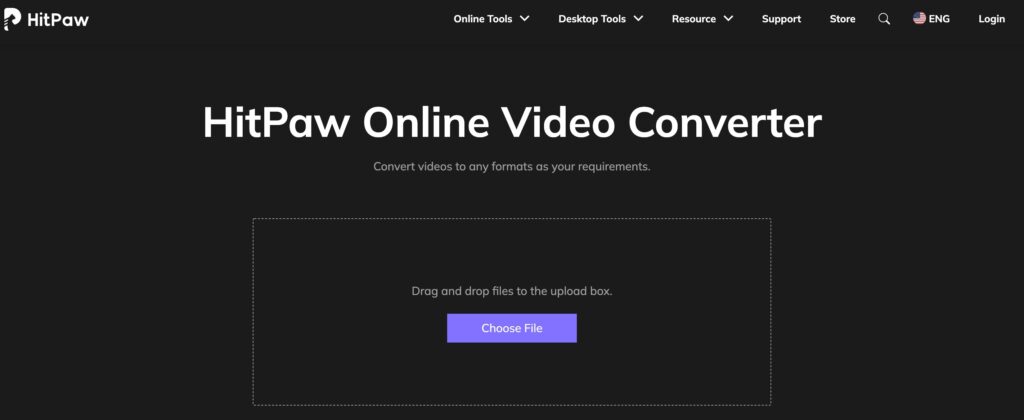 Go to the official website of HitPaw Online Video Converter.
Add a 4k video. To post a video, drag and drop it onto the page.
Choose a 1080p Format. To convert your video, select the format carefully.
Save and Download. To save the converted 1080p video, click Download.
3. ZamZar [No Cloud Services]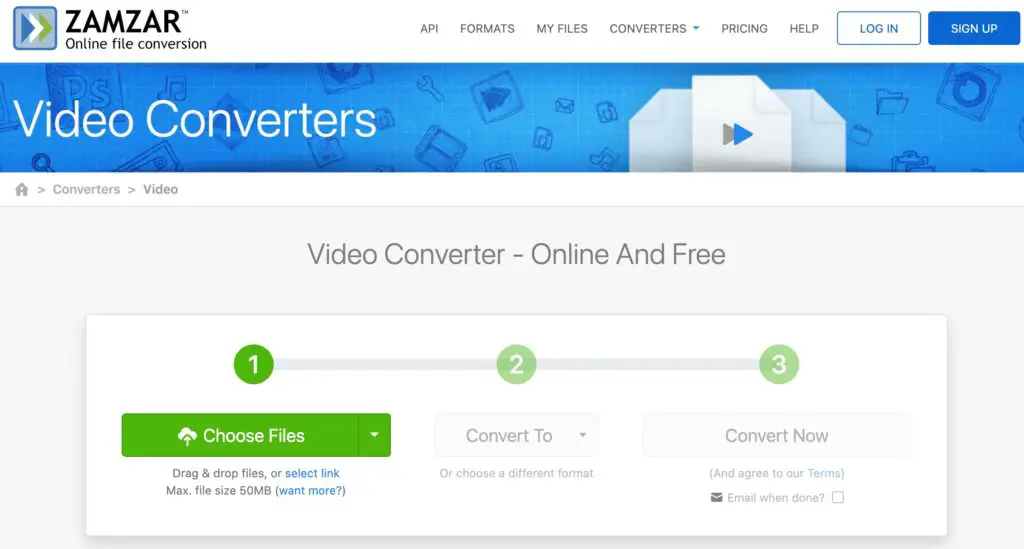 Visit the official website of for ZamZar.
Immediately choose the file that is a 4K video that you want to convert.
Provide information regarding converting to 1080p and click on the "Start" to begin the process.
Final Words
Now you know why it is so important to convert 4k video to 1080p and how to do it for free using the simplest and the most convenient ways. We recommend using HitPaw Converter for converting 4k video to 1080p. However, many other software solutions are also available in the market. Still, they are not without flaws, and the best one is the HitPawVideo Converter, our number one recommendation.