If you want to work remotely, you will need a way to connect to your computer. This is where the term "remote desktop" comes in. A remote desktop allows you to use your own computer, view its screen or use its keyboard and mouse at a different location.
There are many options available nowadays, but if you are looking for a remote desktop solution that is easy to use and provides a great user experience, then Iperius Remote 4 is the perfect solution for you. The software is easy to use and provides a range of features that make it an excellent choice for remote desktop support.
In this review, we will look at the features and functionality of Iperius Remote 4, its performance, and its usability.
What is Iperius Remote 4?
Iperius Remote 4 allows you to manage and control your computer remotely. It is a handy tool for technical support, remote administration, or simply accessing your computer from another location. It is easy to use and set up. The software offers a user-friendly interface that allows you to easily connect to any of your remote computers, no matter where they are located.
With the help of Iperius Remote 4, you can access your computer from anywhere, including home, work, school, or even on the go. You install the software on the computer/mobile device you want to control and the device you will use to control it. Once the software is installed, you can connect the two computers and start managing and controlling the remote computer.
Iperius also provides a solution for remote technical support with a wide range of features. So the technical team can access the client's device, diagnose and fix the problem. Iperius also offers many options to customize your remote desktop software, including security settings and remote device control. It offers a wide range of security features, which means that you can be sure that your sensitive data will remain safe and secure.
Features
Iperius Remote 4 has several features that make it a handy tool. When it comes to the actual functionality, there are some things that you can expect from good remote desktop software.
+ Unlimited Cross-platform Remote Desktop Connections
Iperius Remote 4 supports multiple operating systems such as Windows, Mac, iOS, and Android. You can set up a cross-connection between your computers and mobile devices & connect to unlimited devices. This feature is ideal for IT administrators, project managers, and business owners who need to collaborate with their team members from any location.
+ Fully Portable Software
If you're looking for remote desktop software that's fully portable and doesn't require any installation, then Iperius Remote 4 is the perfect solution. This software is ideal for those who only need to use it for one time on a remote computer. Simply run the software, and you're ready to go. There's no need to install it, so you can save time and effort.
Note: It will only run on Windows operating system without installation.
---
Protect Your Online Privacy With Surfshark
[The VPN that we use here at Tech Arrival]
---
+ File Transfer
You can easily transfer files between the two computers with ease. This means that you can upload and download files to and from the remote computer. The FTP-like file manager allows you to browse the remote computer disk, create folders, delete files and use this feature to share files between different operators. Iperius Remote 4 uses intelligent bandwidth management. It automatically monitors the network bandwidth usage and adapts to your network conditions.
+ Unattended Remote Access
When you install Iperius Remote 4 as a service, you will have Unattended Remote Access to your computers. This means you can access your computers remotely without logging in and out. This is perfect for you if you need to check up on your computers while you are away. It can be used to monitor the status of a server or client, perform backups, troubleshoot errors, update software, perform security checks, and perform various other functions.
+ Multiuser Chat
Iperius provides a simple chat feature that allows connected users to communicate quickly and easily. Plus, if you're connected to the same computer as other operators, you can also use the chat feature to communicate with them. This can be extremely useful for troubleshooting or for simply getting help from another user.
+ Advanced Security Features
One of the most useful security features is the ability to set multiple login passwords for different client Accounts for the same remote computer. You can also set up granular security policies for the remote computers, allowing you to block certain actions; you can enable or disable mouse or keyboard controls and only use them for screen sharing or presentation. It also follows Double security measures: integrated encryption and HTTPS (SSL)
Steps to use Iperius Remote 4 Desktop Software
This step-by-step tutorial will show you how to use Iperius to access another computer remotely.
First, you'll need to download and install Iperius on both the device that you want to access remotely (the "server") and the device that you'll be using to access it (the "client").

Start by downloading Iperius Remote 4 Desktop from its website. This is free and available for download at www.iperiusremote.com. Click on the Download Button, which says "Free Download" and choose a location to save the installation file.
Once you've downloaded the Iperius Remote 4, install it on both devices. You will be prompt with 3 Installation Options. 

Install: This will install a standalone application on the computer.
Install as a Service: This allows Unattended Access (Allow the Remote Computer to Connect Any time).
Run Only: Directly Run the Software without Installation.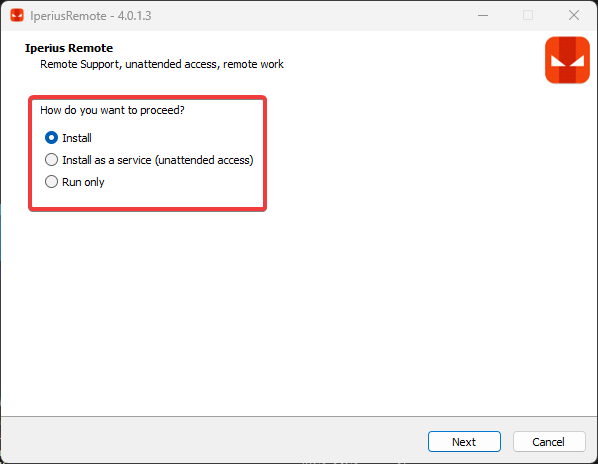 Once Iperius is installed, open the program, and you will see your Connection ID and Password. You can create a secure connection between two computers simply by entering a Connection ID and Password.
Once connected, you will see the desktop and be able to interact with it and perform any actions the user has permission to perform.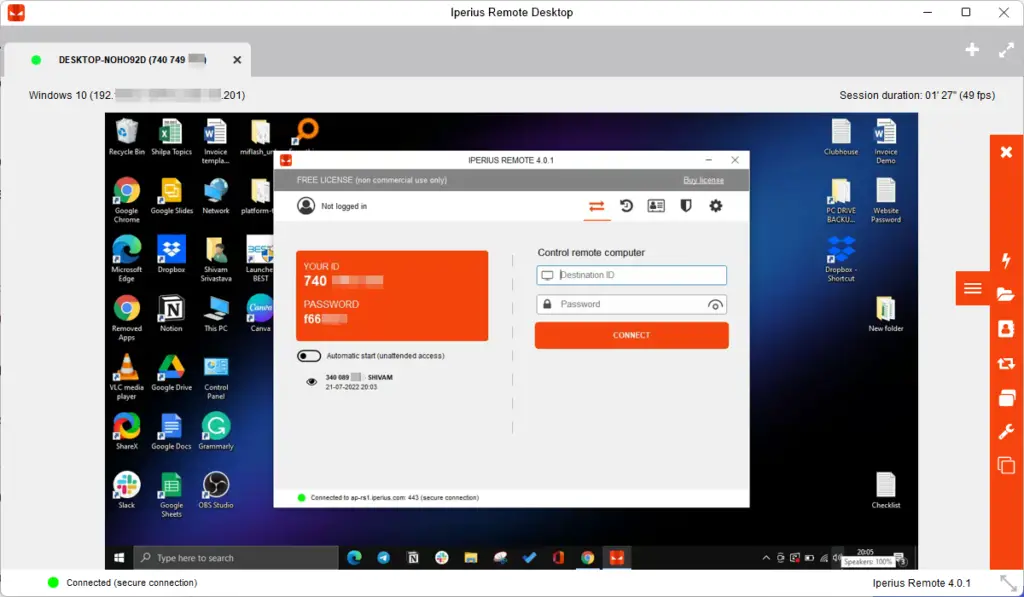 You can transfer files, send shutdown or restart signals, add a user to an address book, minimize and maximize the window, and several other tools from the right sidebar.

To close the connection, press the "X" Cross button on either of the connected devices.
Pricing
The Iperius Remote 4 comes with free and paid Pro Versions. The difference is that the free version is for personal and non-commercial use only. It allows you to connect to one other machine at a time. On the contrary, the paid versions allow you to connect to many machines simultaneously.
The best way to decide which software you need is to think about what you'll be using the software for. You can use the free version if you just need to connect to your own personal device. However, if you will be connecting to many computers, you should get the Pro Version.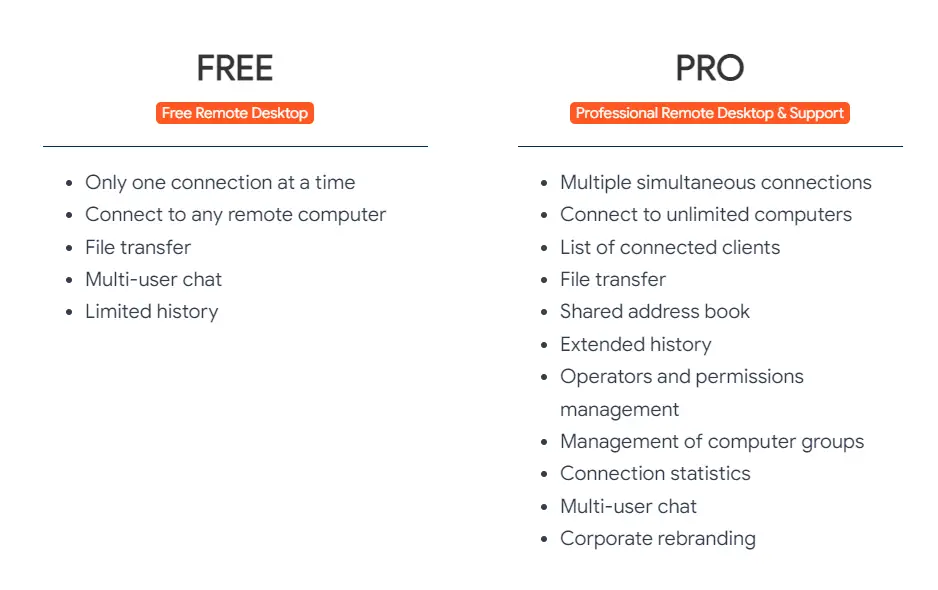 There are multiple tiers for the Pro Version. It starts with a Small Plan which costs €8.39 and allows 2 Concurrent connections. The Medium Plans cost €19.99 and allows 5 Concurrent connections. The Professional Plan Cost €33.99, which allows 10 Concurrent connections.
If you are running a large business and require more than 10 Concurrent connections, you can buy the upgraded Professional Plan and choose between 10 and 200 Concurrent Connections for an additional price.
Conclusion
Overall, Iperius Remote 4 is a useful tool for managing and controlling a remote device. It has many features that make it a handy tool, and it is easy to use and set up. It allows you to remotely access your client's computer and carry out various tasks. It can remotely control the computer without user intervention. It offers features you may not even be able to find elsewhere. Iperius is also compatible with many operating systems, including Windows, macOS, Android, iOS, etc.
Iperius Remote 4 is a good value for the Price. The Personal version is free, and the Pro version starts at just €8.39. You should try out the Free Version if you only have one other device to connect to. Otherwise, you can buy the Pro version for Business use.
---
Protect Your Online Privacy With Surfshark
[The VPN that we use here at Tech Arrival]
---
Frequently Asked Questions (FAQs)
Does Iperius Remote 4 Support Mobile Devices?
Yes, Iperius Remote 4 allows you to remotely connect to your desktop computer (Windows and macOS) or a mobile device. It works on Android and iOS platforms and can be used for various tasks, including file transfer, screen sharing, remote controls, and other operations.
What Languages Does Iperius Remote 4 Support?
The Iperius Remote 4 is available in six different languages: English, French, Italian, Portuguese, Dutch, and Español.
Who are the Typical Users of Iperius Remote 4?
It is designed for both personal and commercial use. Iperius Remote 4 is used by businesses and individuals who want to connect to their desktop, laptop computer, or mobile devices from anywhere in the world.