A lot of times, our iPhones get stuck in recovery mode, and we have no option other than to glance at the screen of death. Or perhaps the iOS device stops charging, iOS fails to update, fails to connect to iTunes. A quick solution to this might be reset, but that means all our data wiped off our device. But our very important files and photos are still stored on the device, which isn't backed up yet and we can't afford to use them all! Ever been in such a situation and lost your data?
Well, fortunately, there's a solution available for such instances. Joyoshare UltFix brings you the ultimate solution to fix such problems present in your iPhone using your computer be it Mac or Windows. Let's take a deep dive into what exactly is Joyoshare UltFix and how does it help you recover your data.
Fix More than 30 iOS Problems with Joyoshare UltFix
Joyoshare UltFix has two modes – Standard Mode and Advanced Mode. Standard Mode helps you fix minor problems such as iPhone won't charge, iPhone failed to update, iPhone is disabled connect to iTunes, etc.
Advanced Mode, on the other hand, helps you to fix some complicated problems like when your iPhone is stuck on a boot loop, or if you want to remove passcode lock. Do note that using Advanced Mode will remove all your data. So we suggest you stick to the Standard Mode as far as possible.
How to Use Joyoshare UltFix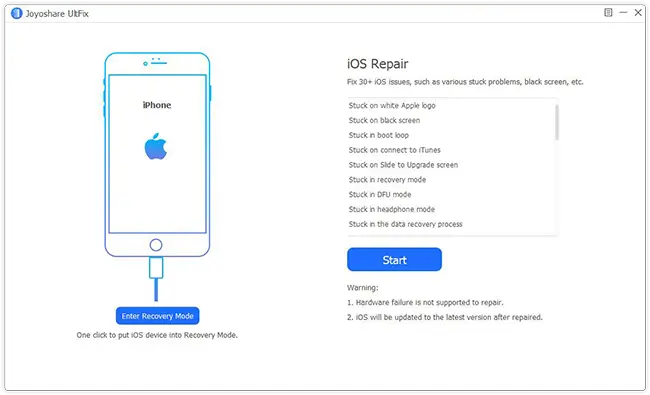 Now connect your iPhone/iPad/iPod Touch to your Mac or PC and select your issue from the list given and click on "Start".
After that you'll have to select which mode you want – Standard or Advanced. As we recommended earlier, you should select Standard at first. Switch to Advanced Mode if and only if Standard Mode doesn't work as it will erase your data. You could take a backup though, and then restore it later.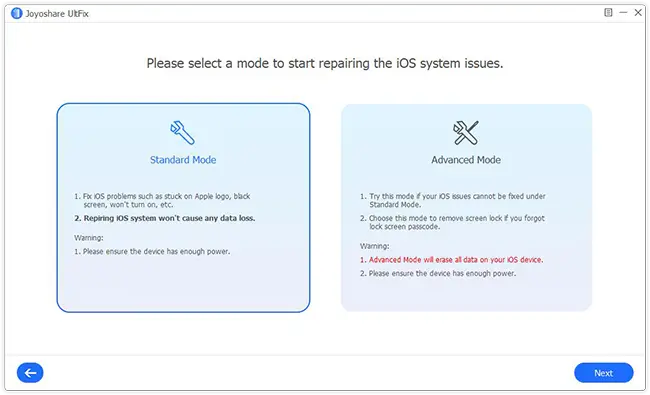 You'll now have to download the required firmware for your device. Enter the details of your iOS device carefully and click on Download. Might take a few minutes so feel free to eat some donuts and coffee whilst the downloading occurs.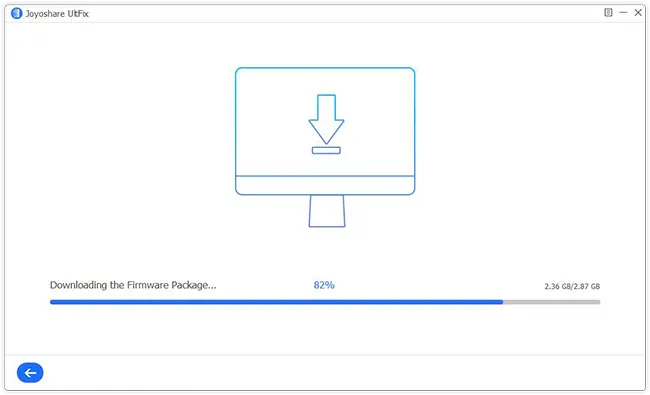 Once the downloading is over, you can eat some more donuts as your job is done. Joyoshare will now start repairing your device and will notify you once it is completed. Make sure you don't disconnect your phone's connection as it will disrupt the entire process.
Reboot your device after repair. You can now restore your device as well if you used Advanced Mode.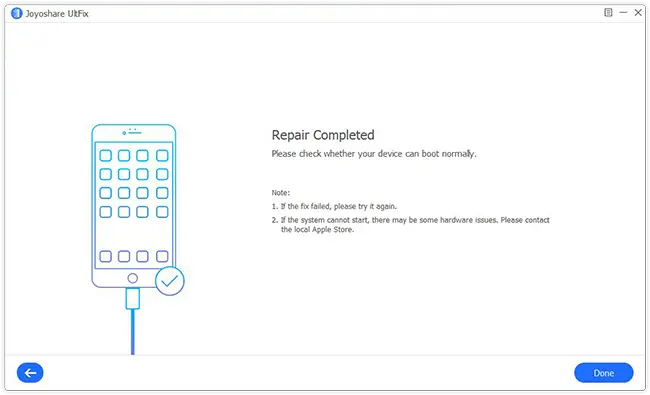 And that's it. Your device has finally gotten rid of all the iOS problems haunting you for so much time.
Recovery Mode
One additional thing which Joyoshare UltFix helps you do is enter Recovery Mode in just as single tap. You can use Recovery Mode even if you are not registered with Joyoshare. Usually, there are a lot of complicated steps involved while entering Recover Mode on an iPhone with each iPhone having a different method.
Using UltFix, you can enter Recovery Mode of any iPhone with just a single tap. Moreover, there's not even the risk of data loss if you want to exit the recovery mode, as opposed to the iTunes method.
Things to Know Before Using Joyoshare UltFix
Joyosare UltFix fixes Software Problems and not hardware ones. If there's an issue with any of the button, TouchID or anything related to hardware, you might visit your nearest Apple Store.
Once the repair is finished, Joyoshare will automatically update your iPhone to the latest iOS version as sometimes, even iOS updates can resolve software issues.
If you have Jailbroken your device, after repairing, Joyoshare will upgrade your iPhone to a non-jailbroken iOS version.
The iOS device will be locked upon the first bootup so make sure you know the passcode.
iOS Devices Supported
iPhone – iPhone XS, iPhone XS Max, iPhone 5s, iPhone 5c, iPhone 5, iPhone 4s, iPhone 4, iPhone 8 Plus, iPhone 8, iPhone 7 Plus, iPhone 7, iPhone 6s Plus, iPhone 6s, iPhone 6 Plus, iPhone 6, iPhone XR, iPhone X, iPhone SE
iPad – iPad Pro, iPad Air, iPad mini, and iPad (All the models)
iPod – iPod touch 6, iPod touch 5, iPod touch 4, iPod touch 3, iPod touch 2
Minimum Requirements
Mac:
Supported OS: Mac OS X 10.8, 10.9, 10.10, 10.11, 10.12 Sierra, 10.13 High Sierra and 10.14 Mojave.
Processor: 1GHz Intel processor or above.
Hard Disk Space: 200MB or above.
RAM: At least 512M physical RAM.
Windows:
Supported OS: Windows 10/8.1/8/7/Vista/XP
CPU: 1GHz (32 bit or 64 bit)
RAM: 256 MB or more of RAM (1024MB Recommended)
Hard Disk Space: 200 MB and above free space
iOS: iOS 12, iOS 11, iOS 10 and former
Pricing
Joyoshare UltFix is a paid software which has only a one-time license fee. But before that, you get a free trial where you can checkout all its features are making sure it's suitable for you. Once the trial ends, these are your purchasing options –
A Single User License: $39.95 for 1 device
A Family Licence: $49.95 for up to 5 devices
A Multi-User License: $69.95 for up to 10 devices
All of these three licenses are valid for a lifetime so you don't have to worry about any subscription. Also, Joyoshare has very great customer support so if you encounter any problems, you can always contact them.
Final Words
Joyoshare UltFix is one of the best and rare iOS repairing software which incorporates itself so easily. Because of how restrictive Apple is, it doesn't let anyone fiddle around its OS. But Joyoshare surely knows how to deal with all that and provide you with the best solutions possible.
---
Protect Your Online Privacy With Surfshark
[The VPN that we use here at Tech Arrival]
---
With that said, we recommend you to take a full system backup before using any type of repairing tool on your smartphone, as things might go wrong and there could be potential data loss. However, if you follow all the instructions carefully, you'll surely have a hassle-free experience using this software.