The tech giant, Google has always been the most loved and most used search engine all across the globe. If you own an Android device, you are probably aware of the easter eggs that come with every version. Not only Android but Google adds these Easter Eggs to their other services as well. Such as Chrome browser, YouTube, Google Search, etc. since around 2000.
There had been a lot of Easter Eggs since 2000 and all of them are still interesting and amazing. Google added an Octopus game in Android 8.0 as an easter egg. But Android 8.0 was actually Oreo and Octopus was just a new Easter egg and nothing else. Let us now talk about one such interesting and wonderful Easter egg that came up with the Google Chrome browser.
Chrome had always been the most popular and feature-loaded browser in the history of the Internet. It is the most used Web Browser worldwide, no matter whatever device or OS you use. As of the recent reports, Google Chrome shares more than 63% of the total web browser's usage around the world as a desktop browser. There are lots of reasons why Chrome is a better browser than any other browser out there.
Also, it is one of the major components of Chrome OS that the users use to access web apps such as Facebook, WhatsApp, Telegram, etc. And because of such great success of Google Chrome, they have extended its brand name to Chromecast, Chromebook, Chromebox, Chromebit, Chromebase, etc.
Have you ever run out of network on Google Chrome on your PC or smartphone? I guess you probably had no matter if you use Android, Mac, iOS or Windows. We have already seen how Google plans to make connectivity issues intermittent less of a hindrance through the cache page loading strategy. But the latest builds and/or updates of Chrome come with something different and extraordinary. This is something that will help you pass your time until your network connection is back again.
Also read: 9 Best Chromium Based Browsers You Should Try
Chrome T-Rex or Dinosaur Game: Introduction
Chrome has got a new hidden feature that you can play when your network connection is down. The new network error page now has a cute endless running game. The T-Rex character is an 8-bit design. Many games and animations in the past have used this. But still, it looks really attractive while you get to see it. Now let us have a look at what is in this game and how you to play it perfectly.
Features of Dinosaur Game of Google Chrome
The goal is just as simple as other endless running and racing games. You run as far and as long as you can. And until the character crashes with some obstacles. You need to cross the hurdles that come in the way. And reach the end but as there's no end of the way in which the character runs you can play till death. Here are all the important features at a glance:
Endless game, i.e. play until the character dies
Single-player game (no multiplayer kind of thing)
8 bit T-Rex character looks amazing
Easy to use and play
How to Play Chrome Dinosaur or T-Rex Game?
As I have already mentioned the game is simple and easy to play. So you need not require any special skills or anything to play this game. Even you can beat the high score easily because you are only who plays the game at that particular time. Here is the detailed information about how you can play this game in the Chrome browser.
---
Protect Your Online Privacy With Surfshark
[The VPN that we use here at Tech Arrival]
---
The game does not need any special keys or too many keys to move. The character runs on its own and you only need to save it from obstacles that come in its way. If you don't need any extra stress and play the game without any a headache then follow the required steps.
You can download Google Chrome from the official site, click here.
No-Internet or Offline Method
You might be running Linux, Windows or Mac on your PC. But don't worry as all of them have advantages and disadvantages of their own, so as they have different methods to run this game. So we have got separate methods for you.
On Windows PC
First of all turn off your Internet connection. In case it is on by any means like Wi-Fi or USB Data Connector or Router or anything else then disconnect your internet connection or permanently disable it using a Firewall.
Now, just go to any of the sites that you like the most. For example let us just open the most used website, i.e. https://www.google.com or you can try this with any other site of your choice, no matter whatever it may be related to.
As your internet connection is totally disabled you will find that the message is been displayed as 'This site can't be reached. Please check your internet connection'. But my friend you don't need to look after your internet connection instead take care of the dinosaur that is been displayed beside this warning.
Instead of looking after that warning press the space key on your keyboard. And you can now start playing the game. You need to continuously press the space bar as soon as the character comes closer to some obstacle and/or enemy.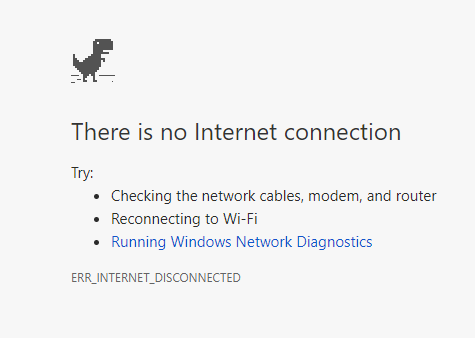 As soon as you cross each of those checkpoints, i.e. after every 100 points the running speed of the character increases by some ratio and the obstacles seem passing more frequently so you need to be very alert to beat your previous high score.
As soon as you cross something like 700 or 800 of score the background and majority of the screen will change to the dark theme. This dark theme might distract you at first. But you won't regret it after a while as it seems to be more wonderful than the usual one. As you go ahead 500 more points, it will change the theme again to the usual one and will again distract you. But I'm sure when you have been playing this game for a while this won't distract you anymore, instead, you will wait for the theme to get changed.
On Linux or Mac
For playing this T-Rex Dinosaur game in Linux or Mac OS you need to install the Chrome browser on your PC. As both of these are different OS so their setup will be different as well. So download and install the browser according to your OS from the links given below:
Now, as soon as you have installed the Chrome browser on your PC the process is the same just like the Windows one. So simply follow the steps of playing the game in the offline mode provided in the Windows one.
---
Protect Your Online Privacy With Surfshark
[The VPN that we use here at Tech Arrival]
---
On Android Smartphones & Tablets
You might be using smartphones or tablets in your day to day life and want to know about playing this game on your favorite device. But do you know that the process iOS almost the same for each and every smartphone or tablet out there, only if they are running on Android or iOS?
Make sure that you have installed the Chrome browser on your device and you don't have an internet connection by any means like Wi-Fi or Mobile Data. In case it is on, just turn off your internet connection as soon as possible and get to the Chrome browser.
Now open any website, just like we have done with PC, e.g. open https://www.google.com and you will find that the page can't be reached as you have disabled the internet connection. And beside this message you will see the T-Rex character, so simply single or double on that character to wake it up and start the game.
Download Chrome from Google Play Store
The process to wake up the character explained above might differ from OS to OS and version to version, but I'm sure you can adjust with that find it yourself. In case you still face any kind of problem, do let us know in the comment section below. We will reply to you as soon as possible.
Now you are all ready to play the offline version of the T-Rex Dinosaur game of Chrome in any of your devices.
But hey wait! We haven't talked anything about the online version of this game. Why not have a few points and information on the online version this game as well. So let us have a look at that in the details given below.
Online Methods
There is an online version of this Chrome's Easter egg – Dinosaur Game as well. Here you need to log in to your Google account, no matter how many you have, you can use any of your accounts as credentials. Just enter the email address and the password that you use it and voila you are all set to play the game online.
As soon as you are done you will find the global leaderboard and a few more options like share on Twitter and invite your friends etc. So instead of just beating your own high score now you can compete with other players from all across the globe and try to beat their high scores as well. Some of the players out there have crossed the scores beyond your imagination and became the top players in the world.
Playing the game on your favorite device
But wait how to get this online or offline version of the game on your device? We haven't talked anything about this till now. So let us know have a look at how you can play this game in different ways on your devices including iPad, iPhone, Windows, Android, Linux, and Mac OS.
Update: This Method Works on All Devices Having Chrome Installed
---
Protect Your Online Privacy With Surfshark
[The VPN that we use here at Tech Arrival]
---
Open Google Chrome
Go to "chrome://dino". You will get "There is no Intenet connection" error with error code "ERR_INTERNET_DISCONNECTED".
Now start playing normally with spacebar.
On Windows/Linux/Mac
I assume that you have already downloaded and installed the Chrome browser on your PC, no matter if it is running Linux, Mac or Windows. The process for running the online version will be the same for all the OS.
Just go to your Chrome browser and search for a T-Rex game extension on the Chrome Web Store. Or just go to the direct link for chrome extension from here. Now add that extension to your Chrome browser and wait until the process gets completed.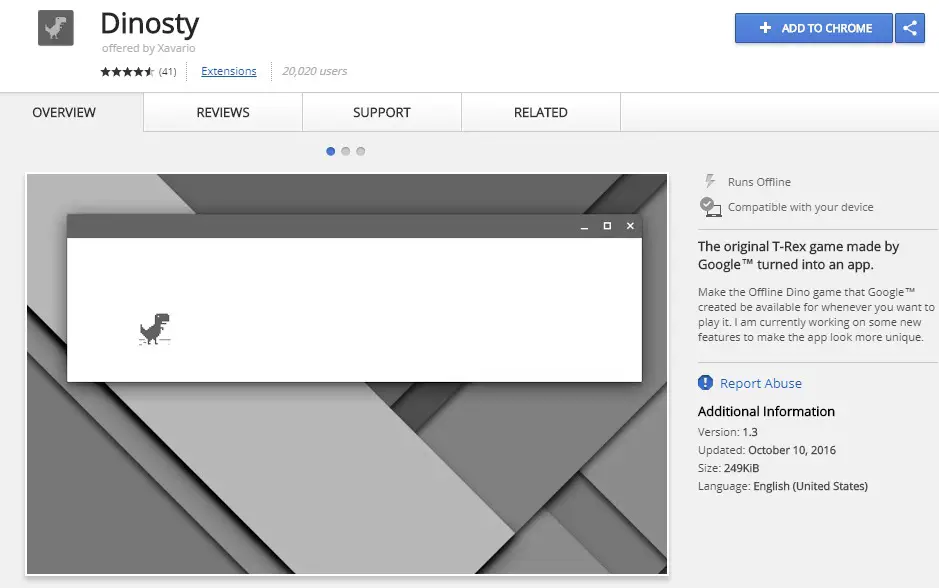 Once you are done, start playing the game. Although we have provided in-depth details about the online version before in this article still if something is left, don't worry about that as you will learn everything else on your own about the online game.
On Android Smartphone or Tablet or iOS Device
As we have mentioned already that all these processes will work only if you are running Android or iOS on your smartphone or tablet so before we move on to keep this thing very clear in your mind.
The only thing you need to do is that download the app available on Google Play Store, for Android users. There's a separate app for iOS users. It is called "Steve the Jumping Dinosaur" and it works exactly the same. You have to tap the screen to make the dino jump, to dodge the obstacles that come along the way. It even has better maps than Google's basic background and we're sure you'll enjoy this more.

Final Verdict
The Chrome T-Rex Dinosaur Game has been very popular since its launch with the Easter Egg of Chrome Browser. Although it does not have high-end graphics or story or something like that, still is one of the most loved game all across the globe. And on great demand, we came across this article on this game and how you can play it on your favorite device. Hope you enjoyed reading the article.
Do let us know about your high score and your thoughts on the game in the comment section below. Also in case, you faced any kind of problem while playing the game or installation process tells us in the comment section below. We will try to solve your problem as soon as possible.