Are you tired of scrolling through different apps and websites to find the perfect recommendation to eat, stay, watch movies or have fun?
As someone who loves trying new restaurants, hotels, activities, and entertainment, we always look for new recommendations and ideas, which are very hard to find nowadays.
Recently we came across the app RecSpot. RecSpot is a new, socially-powered recommendation app that will make your life easier by providing recommendations for the best places to eat, stay, and have fun worldwide.
On the RecSpot App, you can create and organize a list of all your favorite entertainment, restaurants, hotels, and activities, and you can also share them with friends directly from the app.
We have personally used this app, and we can assure you that it is user-friendly, efficient, and, most importantly, gives you accurate recommendations because the feedback is user-driven.
In this blog post, we will give you a detailed review of the RecSpot App, so join us and let's discover the world of RecSpot together!
User Interface
The RecSpot app has a clean and modern design. The minimal design aesthetic of the app gives it a nice look and feel. The layout is user-friendly, so you will quickly get used to it. This makes it easy for users to find what they are looking for.
Navigation within the app is smooth and straightforward; It has a bottom navigation bar allowing users to browse and filter through different app pages easily. The RecSpot app has a straightforward navigation structure that consists of four main options: Home, Discover, MySpot, and Profile.
Also read: 19 Ways to Watch Videos with Friends Online
Detailed View
Once you open a recommended media or place, you will be presented with a detailed view. Here you can review the recommendation and reviews left by other users. This feature gives you an idea of how popular and well-received a particular recommendation is. You can also bookmark a recommendation, add it to your RecList or share it with others.
---
Protect Your Online Privacy With Surfshark
[The VPN that we use here at Tech Arrival]
---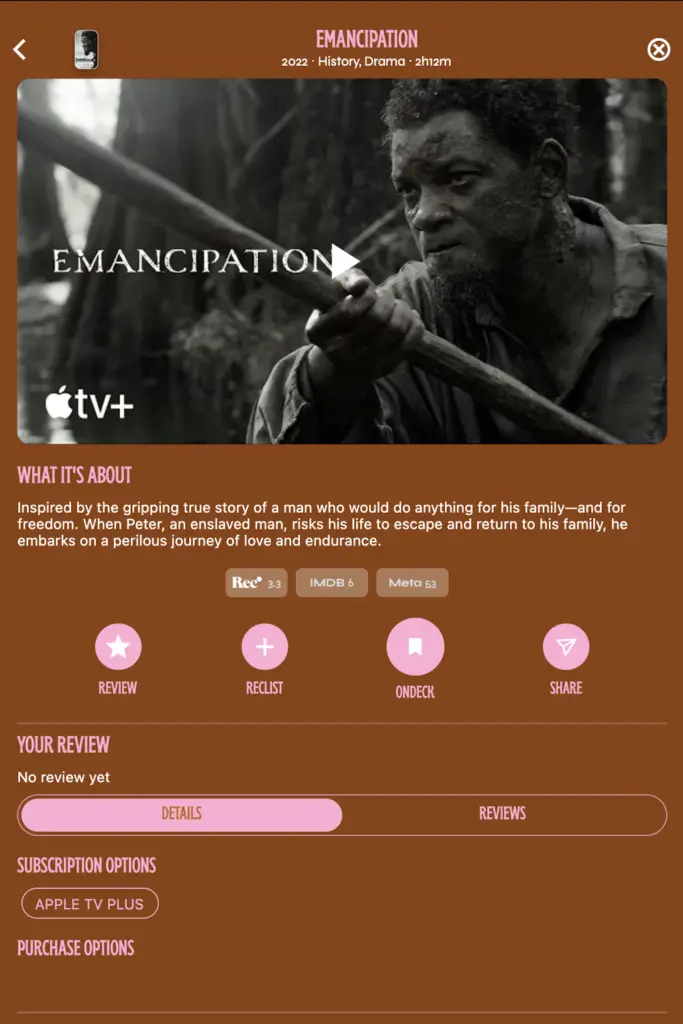 For media recommendations like Movies or TV shows, it includes a section that lists similar movies and TV shows based on the content's genre. This makes it easy for You to discover new content similar to what you like.
You will also find the cast and crew information. In addition, the detailed view includes a subscription option that tells you the OTT platform where you can watch it.
For places, the detailed view includes the address, price, and similar locations around the area. This is useful for people who plan to visit a new location or are searching for similar places around the area.
Recommendation Features
Activity Feed
The first page of the app is the activity feed, which provides an overview of the latest recommendations and activities from your friends and the community. It serves as the hub of the app, allowing you to quickly see what your friends are enjoying and discover new content.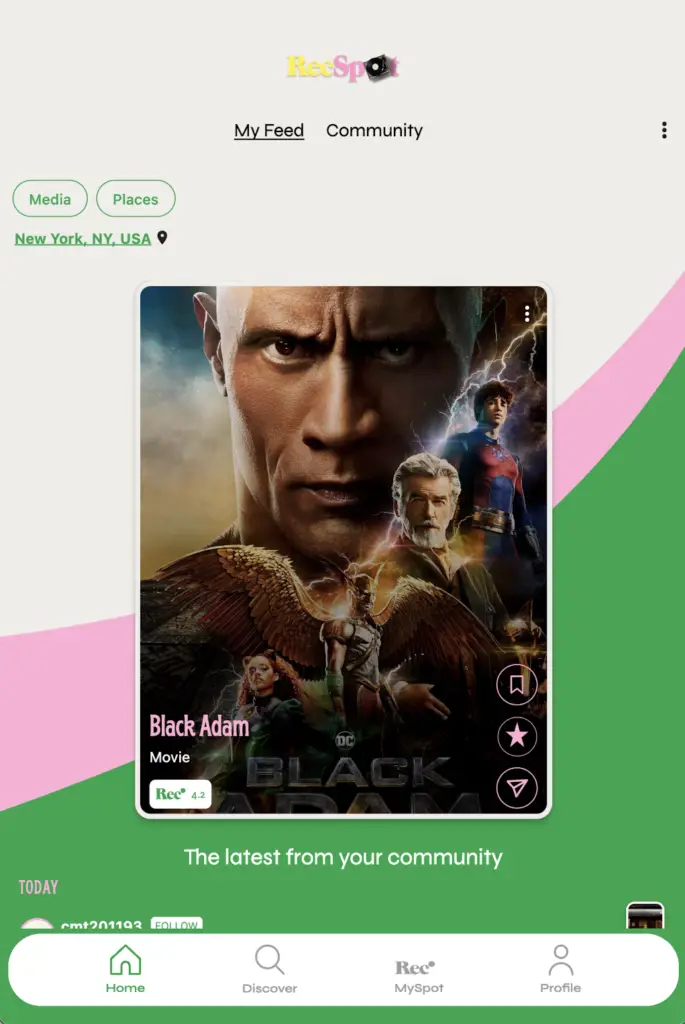 This feature is personalized based on your friend's ratings; the more your friends rate, the more personalized the feed will be. This feature makes the activity feed an excellent starting point for users who want to stay informed about the latest trends and popular content.
It has a button to switch between two types of recommendations: Media and Places. You can easily switch between these options to find the type of content you want.
Additionally, it has a "Community" feature that switches the interface to a TikTok or Instagram Reel-like format so you can scroll through the activity feed in a vertical format similar to TikTok or Instagram Reels; you can swipe up to see more content in the feed.
Discover
The "Discover" page serves as a search feature for finding and exploring new media, people, and places.
There are three tabs on the Discover Page: Media, People, and Places.
You can search and explore different movies and tv shows on the Media page. You can also filter through different genres; apart from that, you get a curated list of recommendations.
On the Places page, You can discover new places worldwide and get recommendations on the best places to visit, eat and shop.
---
Protect Your Online Privacy With Surfshark
[The VPN that we use here at Tech Arrival]
---
The People page allows you to search for and discover other users on the app and shows a list of suggested users to follow. You can also access the friend list from this page.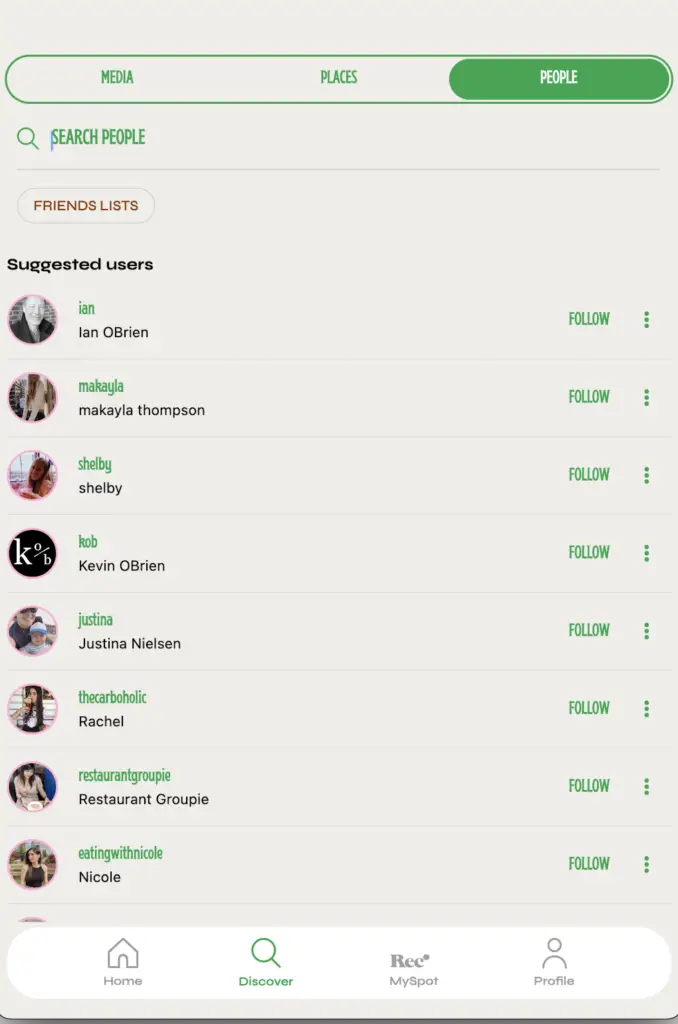 Third-Party Integration
The RecSpot app can be integrated with third-party services to enhance its recommendation feature. One of these integrations is with Netflix, which allows the app to access users' viewing history and preferences from their Netflix account to provide even more personalized recommendations and make the experience more seamless.
Additional Features
MySpot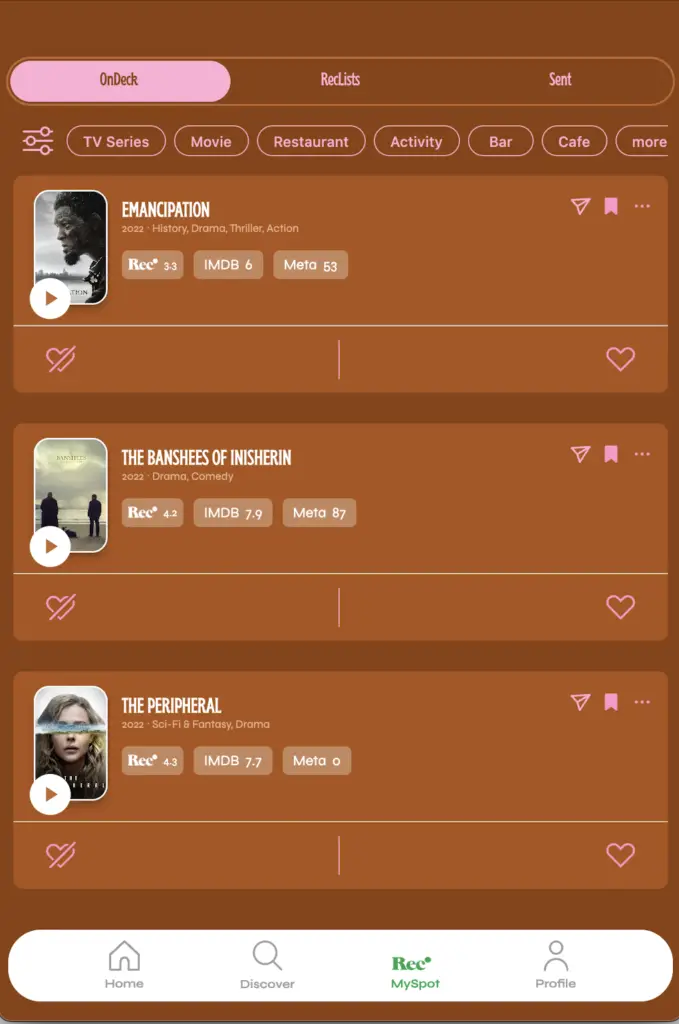 Another great feature of the app is "MySpot." One of the critical features of MySpot is the ability to bookmark a recommendation to view them later.
This allows you to save items you might be interested in but may not have time to view or explore immediately.
MySpot also includes a feature to create and manage personalized lists called "RecLists" you can think of it as a collection of recommendations on a specific theme or topic.
You can create multiple RecLists and add items based on different themes, let's say, "Places to Visit in Canada" or "Horror Movies" and even share them with other users.
You can also view all the sent recommendations in MySpot, allowing you to track the recommendations you sent to your friends.
Connect With Other Users
Another fantastic feature is that it allows you to follow other users on the app. In addition to following other users, you can also send direct messages to other users. This enables you to communicate with one another, share recommendations, and discuss a movie, tv show, place, or food.
This feature is designed to help users build a network of friends and like-minded individuals within the app and create a sense of community.
You can view and manage your followers and followings on the profile page.
Social Sharing
The RecSpot app has a social sharing feature that allows you to share recommendations on popular social media platforms such as Instagram and TikTok.
---
Protect Your Online Privacy With Surfshark
[The VPN that we use here at Tech Arrival]
---
This feature enables you to share your favorite content with your friends and followers on these platforms, expanding your recommendations' reach and bringing more people to the app.
To Share on TikTok and Instagram, click the "Share" button on the recommendation's detail view and then choose the desired platform to share the recommendation.
Also read: 12 Best Subtitles Download Sites for Movies & TV Shows (SRT)
Conclusion
The RecSpot app is an excellent tool for finding and discovering new media to watch, people to follow, and places to visit, all in one spot.
The app's user interface is easy to navigate and has a minimal design, making it visually pleasing and easy to use. The activity feed, discover page, and MySpot are vital features that make this app stand out.
The app's performance is generally solid, but there is room for improvement. One area for improvement could be increasing the number of third-party integrations to make the app even more personalized.
We encourage you to download the RecSpot app from here and try it yourself. We're sure you will love it as much as we do!