For everyday movie watchers, subtitles are important. Subtitles are displayed at the bottom of the screen. It is used to translate or transcribe dialogues or narratives. 
Let's say you are watching a movie in a different language and it is not dubbed. To understand the dialogues, you need subtitles in a language that you understand.
The movies and TV shows that you watch may or may not have subtitles in your target language. In that case, you will have to download subtitles from the internet. Some sites allow you to download subtitles in different languages. In this post, we will discuss some of the best sites to download subtitles. So if you are a big movie buff, you must read this article.
You will come across many sites allowing users to download subtitles in their target language. But some of them are better than others, and we have tried to cover only the reliable options.
Also read: Top 11 SolarMovie Like Sites to Watch Movies Online
List of Best Sites to Download Subtitles for Movies & TV Shows
1. Subscene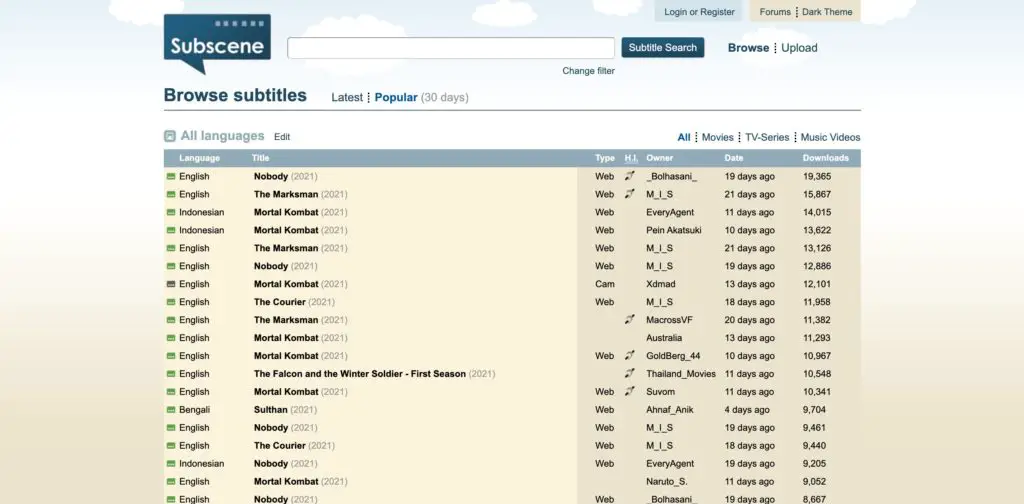 Subscene was introduced back in 2005. It's been more than a decade and a half that it serves users with subtitles in several languages. What we like about Subscene is that it let users upload their subtitles as well. Users can participate in the forum and request the subtitles they are looking for. But before you can access all these features, you will have to register on the site. They also offer subtitles for popular music videos.
2. OpenSubtitles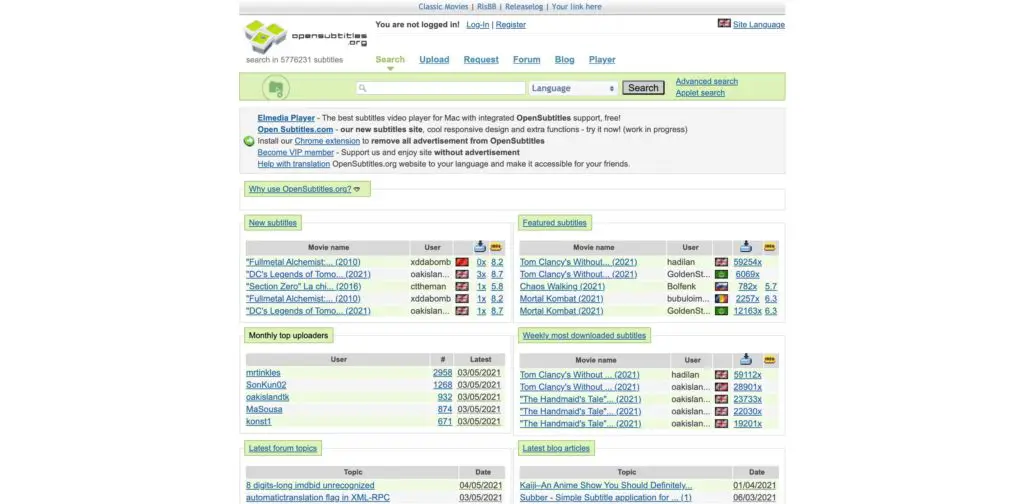 OpenSubtitles is one of the biggest and popular sites to download subtitles. It has a collection of 50+ subtitles in over 50+ languages. If you are a Mac user, you can enjoy some special benefits as the site is integrated with Elmedia Player. This enables you to watch movies with subtitles without having to download them. Besides that, you can also upload subtitles, participate in forum discussions and make requests for new subtitles.
3. YIFY Subtitles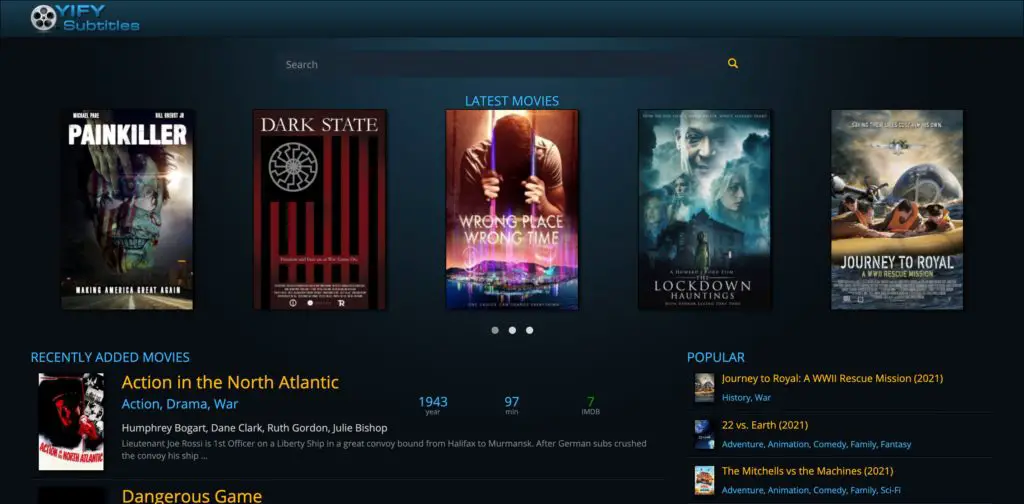 There is hardly anyone who hasn't heard about YIFY Subtitles before. It is a highly popular website with a huge library of subtitles. This site is mainly known for its simple interface. Just so you know, YIFY Subtitles is owned by YIFY torrents. It maintains a small file size, so users find it easy to download them. The site features a clean, dark theme. You can search for subtitles using keywords, languages, popularity, genres, and year of release.
4. Subdl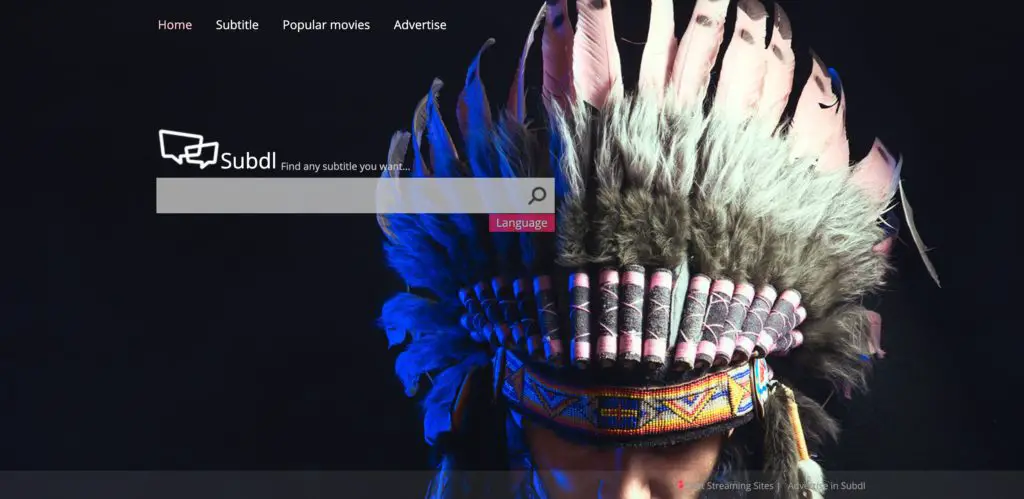 Subdl may not be as popular as the other sites, but it has a huge collection of subtitles to offer. The first thing you will notice is the amazing user interface. You can download subtitles in a wide variety of languages. They even categories the subtitles for the convenience of users. Besides that, they have a section dedicated to 'popular movies.' This is where you can find an exquisite collection of movies and TV shows.
5. DownSub
With an amazing interface, DownSub is one of the best subtitle sites to use. It offers a user-friendly interface for convenient navigation. The best thing about DownSub is that they regularly update their sites with new subtitles. Whether you want subtitles for an old movie or a recently released one, DownSub has it all. Besides movies and TV shows, they also offer subtitles for other content found on DailyMotion, YouTube, Hotstar, and others. You can also translate the subtitles into other languages. But this option is available only after clicking the download button.
---
Protect Your Online Privacy With Surfshark
[The VPN that we use here at Tech Arrival]
---
6. Subdivx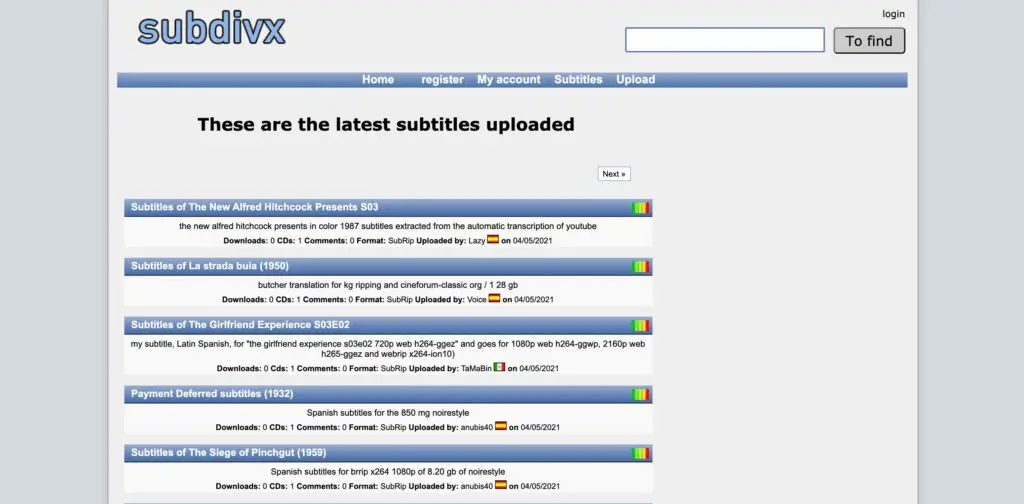 If you want a site with a massive database of subtitles, then Subdivx is for you. This is a free site that can be accessed from media centers and video players like Kodi. After obtaining permission, you can share or upload subtitles on the site. It also has an online forum where you can interact with other Subdivx users. It may not have the best UI, but you will eventually figure it out after using the site couple of times.
7. TVsubtitles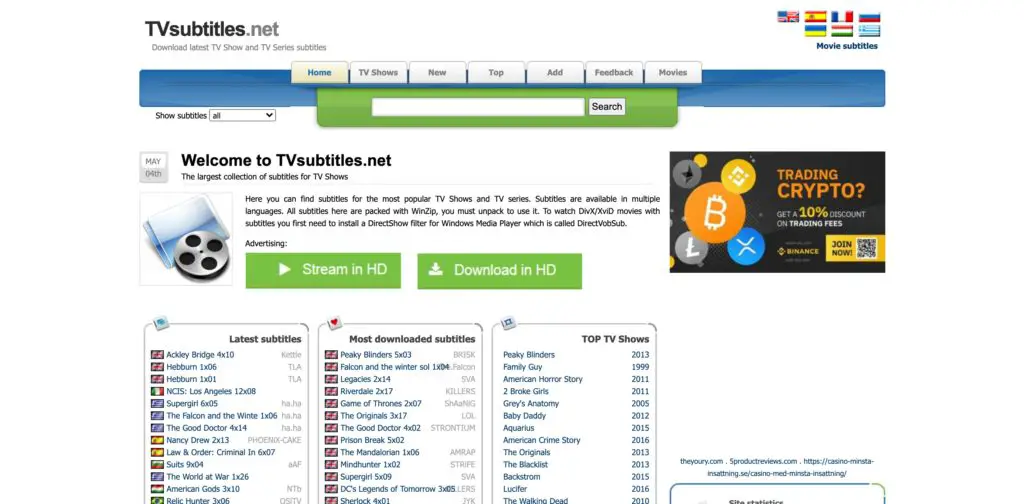 If you are looking for subtitles for your favorite TV show, then TVsubtitles is the solution for you. They offer subtitles for TV shows from various genres. It has a convenient interface, so you will find it easy to download the subtitles manually. Besides TV shows, they also offer subtitles for movies. The site is divided into two main categories, including films and TV series. This is done to make things easy and convenient for users. The most striking feature is the uploading of subtitles by users.
8. Addic7ed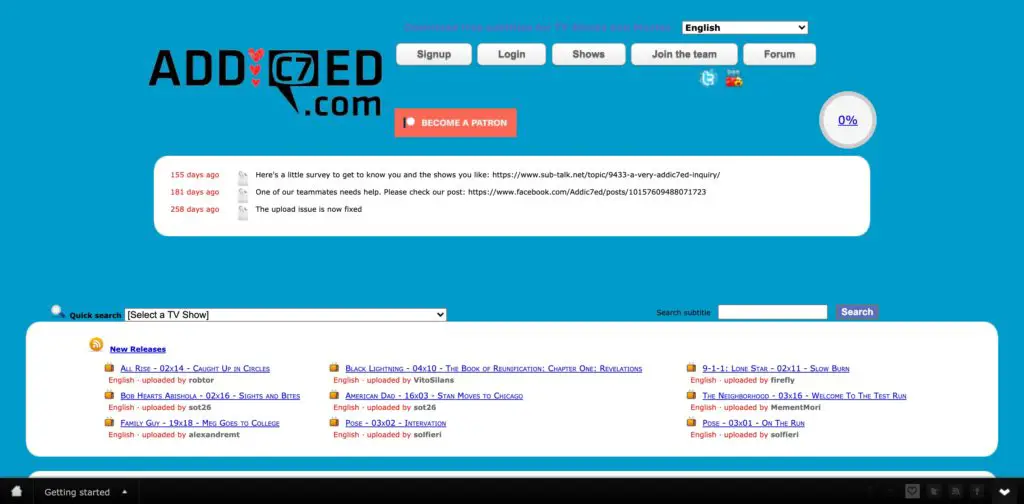 The next best site we have is Addic7ed. This site not only allows you to download subtitles but also provides information about the TV show or movie that you may be watching. One thing that may get your attention is the outdated interface. Besides this, the site doesn't have any other issues. You will see the movie and TV show titles with the most number of subtitle downloads on the homepage.
9. Podnapisi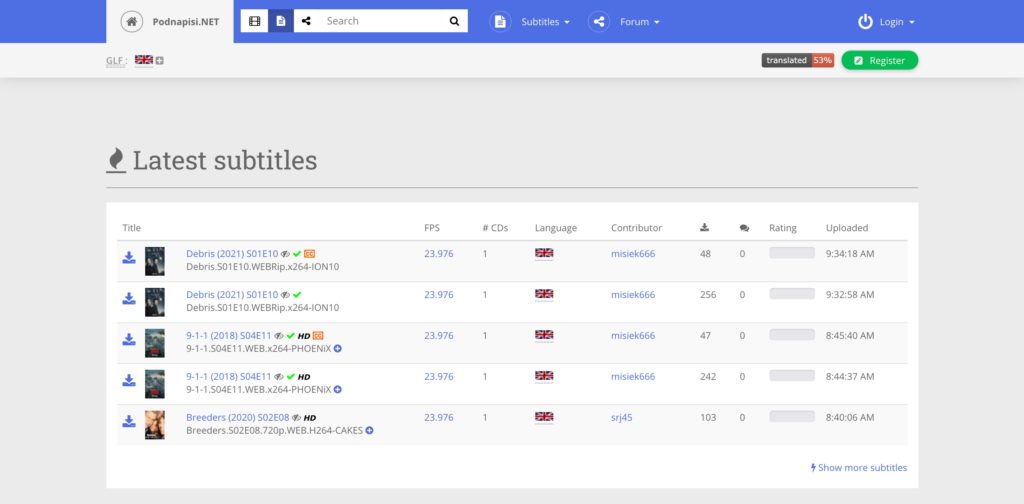 Podnapisi has a huge collection of subtitles for 50,000+ movies and 6000+ TV shows. They offer subtitles in 100 different languages. This should be enough for anyone to want to use this site. The subtitles are categorized so that users find it easy to find what they are looking for. They have a special section for 'Latest subtitles' for movies. With the help of the advanced search option, you can easily find the subtitles you want. You can search subtitles by language, year, or name of the TV show or movie.
10. Subtitle Seeker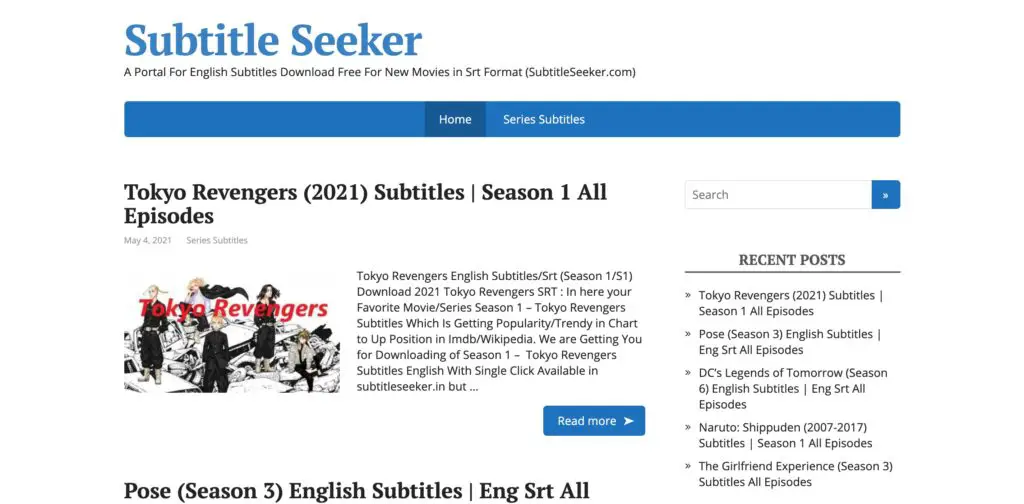 This is a portal for English subtitles. It allows users to download subtitles for free. You will find subtitles to almost all the latest English movies that are released recently. This site is similar to a torrent platform. To find subtitles, you have to use the search bar in the top-right corner of the homepage. You can search for subtitles by the name of the movie or TV show. All the subtitles you download will be available in the SRT format. The only problem with the site is the pop-ads. It can be annoying to a lot of users.
11. iSubtitles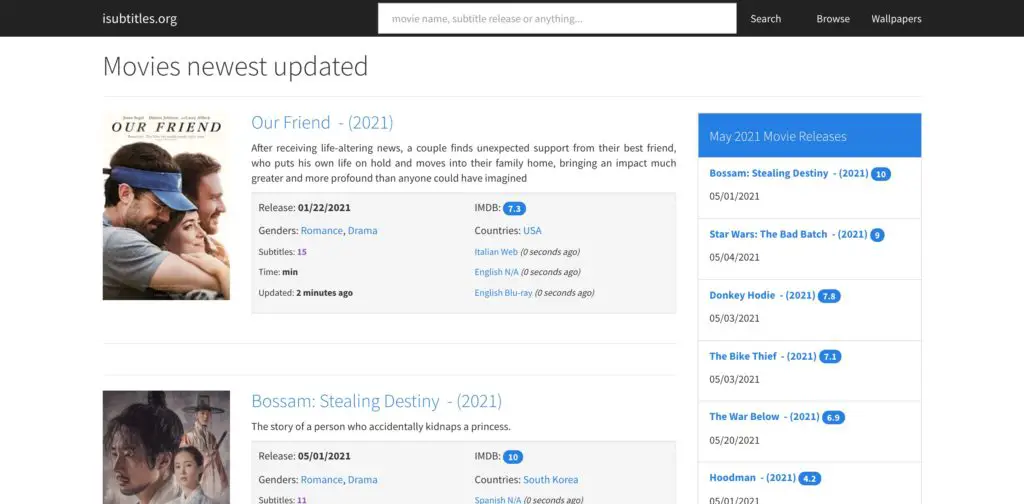 The next best option we have is iSubtitles. Alongside subtitles, the site also provides detailed information about the movie or TV show. iSubtitles serves as a reliable source for downloading subtitles in SRT format. The site comes with an intuitive search bar to give you a better user experience. If you are looking for subtitles in multiple languages, this site could be the best option.
12. English-Subtitles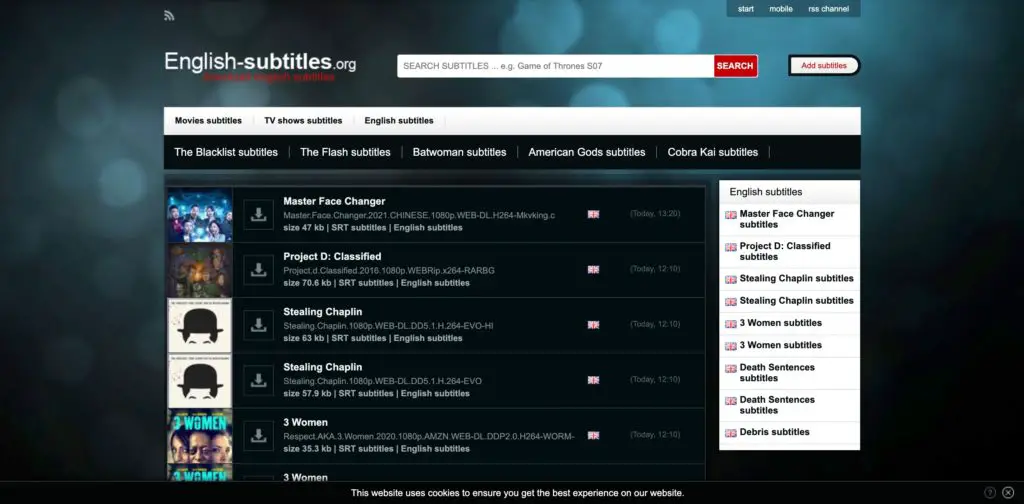 Lastly, we have English-Subtitles. From the name of the site itself, you get an idea that you will find English subtitles here. They have a massive collection of English subtitles for both movies and TV series. All you have to do is search the subtitles by the movie's name, and you will find it. One of the best things is that the site is ad-free. It features a simple interface that makes it easier for users to navigate through the platform.
With these sites, you never have to go without subtitles. You can download subtitles in various languages from these sites. All these are reliable and free sources to access movie and TV show subtitles.
Also read: 19 Ways to Watch Videos with Friends Online
Frequently Asked Questions (FAQs)
What is the Best Site for Downloading TV Show Subtitles?
If you want subtitles for your favorite TV show, then TVsubtitles is the site for you. However, they also offer subtitles for movies.
Where can you find English Subtitles?
If you are particularly looking for English subtitles for movies and TV shows, then English-Subtitles is the place to be. It is a reliable platform with a huge collection of subtitles.
---
Protect Your Online Privacy With Surfshark
[The VPN that we use here at Tech Arrival]
---
Should you Watch Movies with or without Subtitles?
If you are watching movies in a foreign language, you need subtitles to understand them. But if you are watching with your target language, then you can go without subtitles.
Why Do We Need Subtitles to Focus?
If there are noises or other words present that are louder, we won't hear what we try to focus on. This is why subtitles are needed to help us keep our brains focused on the content.
What is the Best Site to Download Subtitles?
You will come across several sites offering subtitles in various languages. But the best one is Subscene. It is not only one of the oldest but also a reliable site to download subtitles.