TOZO Golden X1 are the latest wireless earbuds that we got a chance to review thoroughly. To be very honest with you guys, when the TOZO team first contacted us regarding their latest product, TOZO Golden X1, we heard their name for the first time. But what excited us the most was the spec sheet of those wireless earbuds, and after using them for over a month, we can confidently say that they lived up to our expectations.
So, without wasting any time, let's get right into all the characteristics that make any wireless earbuds great.
The Unboxing Experience of TOZO Golden X1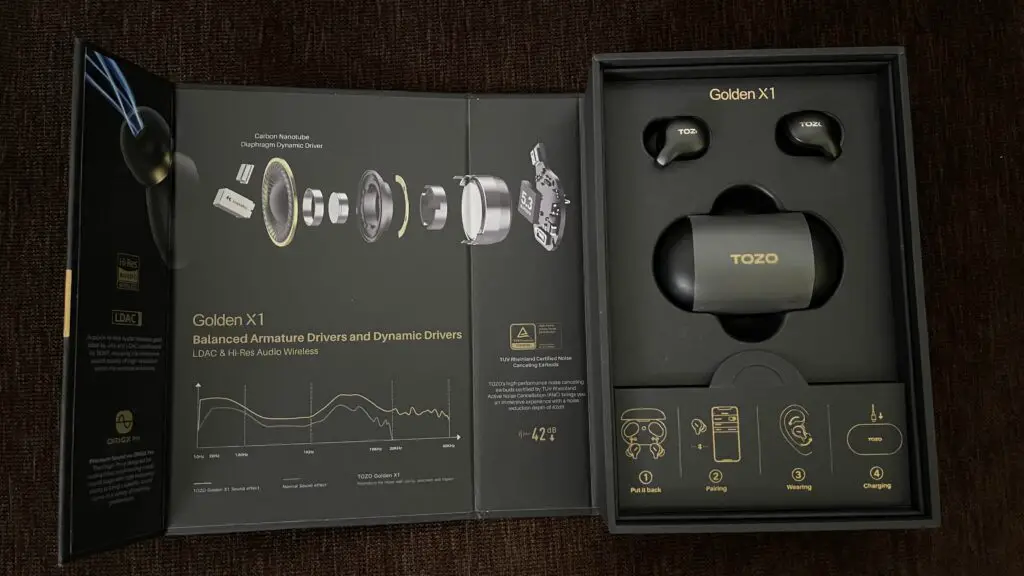 As you can see in the image above, the matt black box with golden highlights and the shiny representation of the earbuds was genuinely fantastic. Sliding the box out of the outer layer reveals the magnetic box with a similar golden design. This retail packaging is some of the best we have seen.
In the box, you get the User Manual at the top, the wireless earbuds, a premium-looking earbuds case, five extra pairs of interchangeable tips, and a USB A to USB C charging cable. There is also an excellent representation of the drivers and other components of the earbuds on the left side of the box. So far, so good.
The Design
As we all know, the design of wireless earbuds in all segments has become monotonous. There are hardly some that stand out from the rest. Similarly, the design of the earbuds was quite similar to the others in the segment. The factory-fitted tips were perfect for testing purposes. The earbuds provided a snug fit with excellent passive isolation from the outside noise. If you have put them in your ears perfectly, they are not going to fall out even while doing intense activities.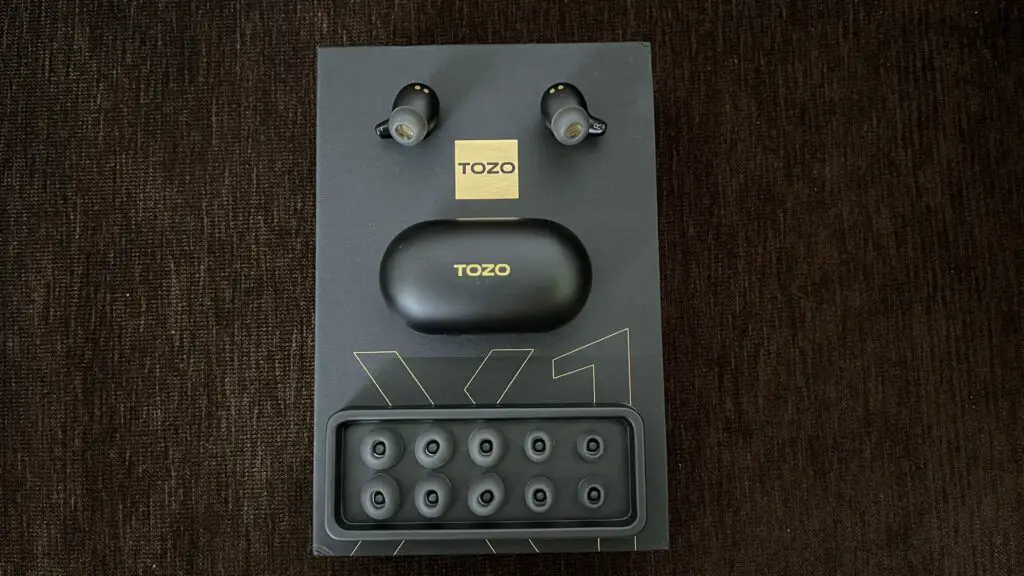 Now, coming to the charging case of the TOZO Golden X1, we were thrilled to see a bar-style LED at the front to let us know whether it is charging. On the inside, in the center, you get the percentage of charge remaining for the case, and on the respective side of the earbuds, you can also check out the battery levels of each earbud. Great, isn't it?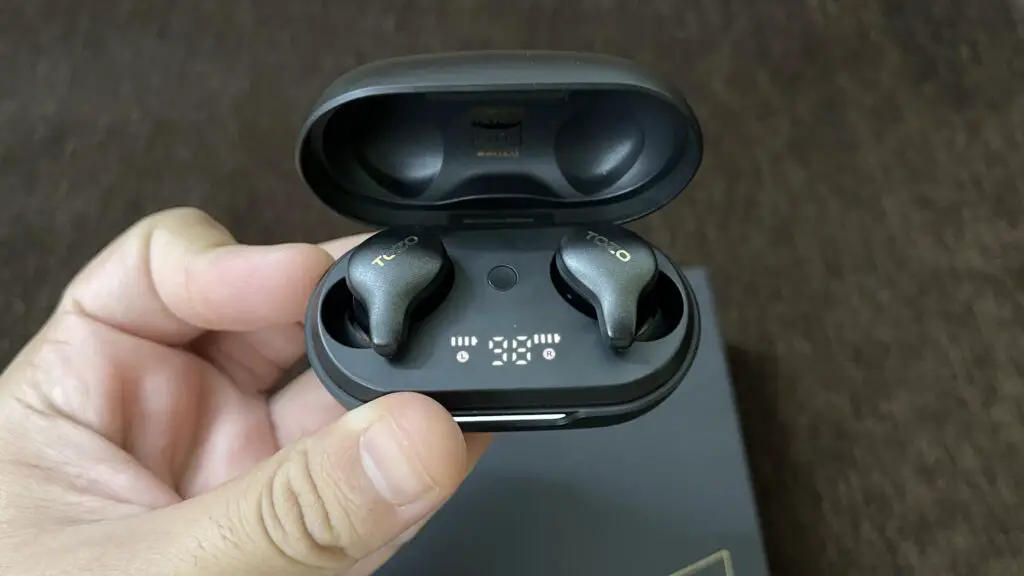 Features
TOZO Golden X1 features 12mm diameter drivers (for reference, Airpods Pro 2 has 11mm drivers), Active Noise Cancellation (Triple Microphone), Environmental Noise Cancellation (For Calls), IPX6 Waterproof and Sweatproof and Around 4-6 hours of single charge usage and 25-30 hours of usage with the charging case.
On top of that, for enthusiasts, it also supports Wireless High-Resolution Audio with LDAC support. So if you are someone like us who loves to listen to 24bit Audio, these earbuds support it with frequencies ranging from 12Hz to 44.1kHz. But if you are a true Audiophile, you will always prefer premium wired headphones. If you know, you are the one!
For productivity, since these earbuds are equipped with Bluetooth 5.3, you can easily connect two Bluetooth devices at once, and they will automatically switch over from one to the other, depending on which one you are using. This worked in most cases with very similar ease as Apple Continuity with Airpods.
For controlling the device, you have no physical buttons. Everything on the earbuds can be controlled easily with customizable gestures. We will discuss more about this in the next section.
---
Protect Your Online Privacy With Surfshark
[The VPN that we use here at Tech Arrival]
---
Despite packing the punch with features, one thing was missing: guess what? In-ear detection. We might be knit-picking here, but we are spoiled by the Airpods. Removing them from the ear to pause music/video is quite handy sometimes.
The TOZO App
From experience, we can truly emphasize that "any hardware is only as good as its software," and in this section, the TOZO has completely nailed it.
You can download the TOZO App easily from the Google Play Store or Apple App Store, connect it with your earbuds, and you have unlocked complete access to customizing your earbuds. Let's see what we mean by that.
If you are an enthusiast, you might know that each of our ears is different and perceived sounds slightly different. So, TOZO has come up with something called Earprint. What it does is create a sound profile based on your Age, Gender, and other test that it will perform to make the earbuds sounds best for you. After completing the test, you can see the graph of your hearing curve vs. compensation curve. You can even have multiple profiles if multiple people use it, and you can easily switch them from the TOZO App.
The next tab gives you access to the Noise Cancellation feature of the earbuds. There are 5 pre-defined presets that you can choose from: Noise Cancellation, Transparency Mode, Reduce Wind Noise, Leisure Mode, and Normal Mode. If you are feeling wild, you can select the custom mode.
The next tab gives you access to a full-fledged equalizer; it has 16 pre-defined presets, which can also be customized per your needs.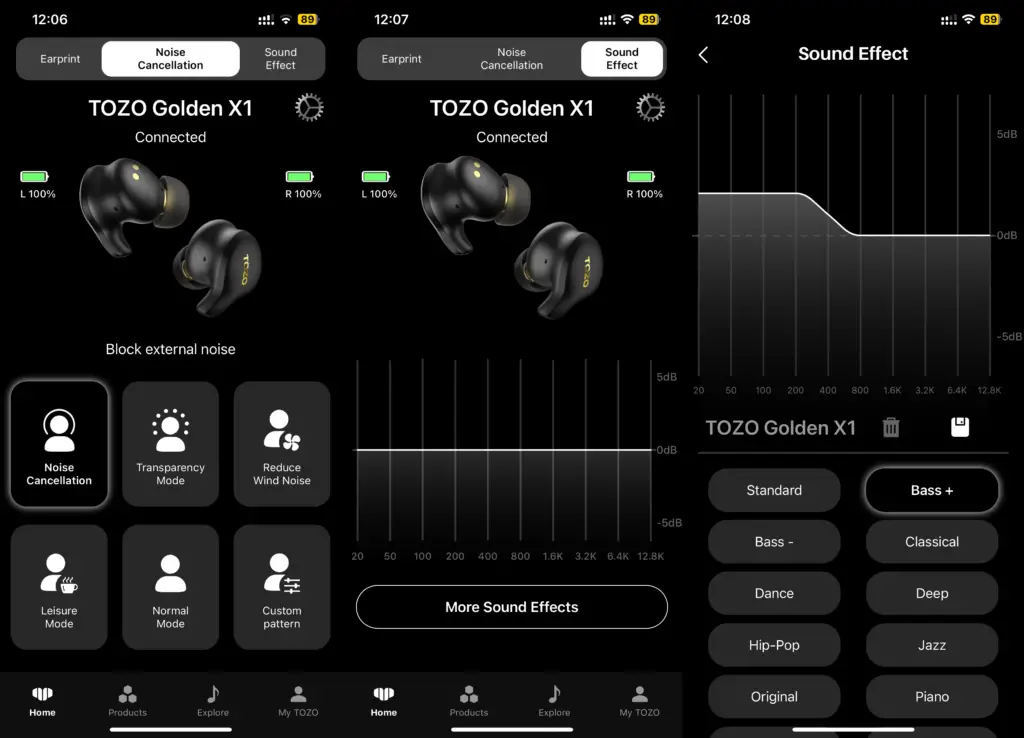 The main settings options reveal the Touch Control Settings for the earbuds. There are 4 different gestures that you can perform and customize on each of the earbuds. So, in total, you can perform 8 different actions. These gestures are Tap, Double Tap, Triple Tap, and Long Press. You cannot ask for anything more from this section. This app can also perform OTA updates on the earbuds to keep them updated with the latest updates.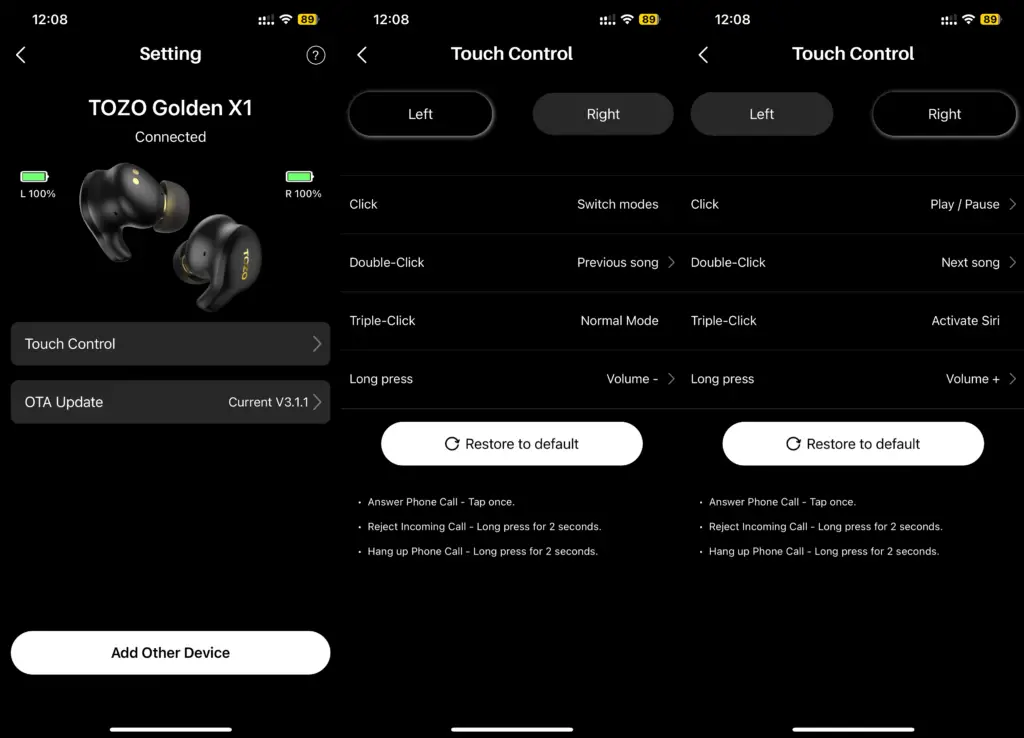 Sound Quality & Performace
During our brief testing period of 28 days, we were surprised to see a balanced output of these earbuds. We tested these earbuds using Macbook Air M1 and iPhone 12 Pro Max. Since we already have an Apple Music subscription, we also were able to test Lossless 24-bit audio. To put things in perspective, only the Airpods Pro 2 supports lossless audio up to 20-bit with Apple Vision Pro. 
During the testing, we felt a slight but noticeable difference while switching from Regular to Lossless Audio. Although we are no audiophiles, having that option is truly remarkable at this price range. 
Now, coming towards the Noise Cancellation, since these earbuds fit snugly on your ears, there is a good amount of noise isolation to begin with. Switching the Active Noise Cancellation ON was a very good experience. We tested this in a noisy environment as well as a windy environment. It was able to cancel out most of the noises. The only noises that were able to pass through were the noises that were dynamic and not consistent. Compared with the latest generation of AirPods Pro, it was a similar experience; to be clear, that's a compliment. 
Surprisingly, these also come with Transparency Mode. We have seen many earbuds copy these features from Apple, but none were as good as the OG, so we didn't have many expectations from these. Oddly enough, the transparency mode on these worked great. There was no delay in between, and it provided almost real experience. The one thing that we found was that it could not distinguish directional sounds. For example, if you snap your finger near the left part of your body, naturally, you would be able to predict the sound source, but while using the transparency mode, you would not be able to tell where the sound came from because you will hear almost same sound in both ears. 
---
Protect Your Online Privacy With Surfshark
[The VPN that we use here at Tech Arrival]
---
Audio Quality during the calls was also excellent; it was able to pick up the subject's voice even in a noisy environment. 
To wrap up this section, this is one of the best choices if you are looking for earbuds to listen to music and answer calls with noise cancellation & transparency mode. 
Battery Life & Case
On the consistent usage, we got 4-5 hours of battery life from the earbuds and 3-4 total charges from the case. It's not the best battery life we have seen on these types of earbuds, but it is on par with this price. 
The case is one of the things that we liked about this product. It can wirelessly charge and has a USB-C port (a feat Apple AirPods Pro recently achieved, pun intended!). It will also show the case's battery percentage and the individual charge on each earbud. 
The Final Verdict
If you are looking for a great pair of earbuds under $200, you just found them. It checks most boxes of excellent earbuds: Good Listening Experience, Lossless Audio & LDAC Support, USB-C and wireless Charging, Custom Equalizer, ENC, ANC, Transparency Mode, IPX6 Water Resistance, etc. 
TOZO Golden X1
If you are looking for a great pair of earbuds under $200, you just found them. It checks most boxes of excellent earbuds: Good Listening Experience, Lossless Audio & LDAC Support, USB-C and wireless Charging, Custom Equalizer, ENC, ANC, Transparency Mode, IPX6 Water Resistance, etc. 
Product Brand: TOZO
Pros
Balanced Sound Output
Excellent Noise Cancellation & Transparency Mode
Custom Ear Print Data
Excellent Charging Case
LDAC & Lossless Audio Support
Cons
No Automatic Ear Detection
Battery Life can be better