Are you looking for a reliable and fast loyalty rewards platform? We have just the right option for you.
With Tremendous, you can create and run customer loyalty programs on an international level. It is the best loyalty rewards platform you will find online.
You can use this platform to create loyalty programs and reward your recipients with a prepaid visa reward card, gift card, money, and more. They make it easier for businesses to buy, track, and manage digital rewards for their loyalty programs. The platform allows you to send rewards individually and in bulk.
If you want to know more about this amazing loyalty rewards platform, you should go through our Tremendous Review below. We have covered all the important details about the platform you should know.
Also read: How to Use Fiverr to Reduce Business Workload?
About Tremendous
Tremendous is a well-known Fintech company based in the US. It was founded in 2010 to help businesses to pay anyone in the world instantly and with ease.
This platform is trusted and used by thousands of businesses in the world. They use Tremendous to send millions of payments with international coverage. It offers the easiest way to distribute online rewards and incentives globally. 
With the help of this platform, you can instantly send rewards to your recipients in the form of a gift card, cash, Visa reward card, and more. Tremendous caters to both small and big companies and makes it easier for them to buy, manage, and track incentives at scale. One of the best things about this platform is that it allows you to send individual and bulk rewards. Tremendous also allows you to send rewards automatically by API Integration. 
This platform is associated with some of the top brands in the world. Different companies use different companies for specific causes such as customer loyalty, market research, employee rewards, health & wellness, referrals, and more.
Most businesses prefer Tremendous over any other loyalty rewards platform because it is free to use. Unlike other similar platforms, Tremendous doesn't charge any fees for using their platform. This is perhaps the only platform that allows cash disbursements. Not just that, but they also have the best international coverage. They have their business spread across 80+ countries.
---
Protect Your Online Privacy With Surfshark
[The VPN that we use here at Tech Arrival]
---
Another thing about Tremendous that is worth mentioning is that it has built the best API in the industry. The advanced dashboard allows your team to track the distribution of funds. With the help of this platform, you can eliminate the operational challenges associated with funding multiple payment vendors.
Services Offered By Tremendous
Now that you know what Tremendous is all about, let's focus on the services offered by the platform. It allows you to send both physical and digital gift cards all over the world. The details of their services are mentioned below.
1. Visa Prepaid Cards
Tremendous offers visa prepaid cards that are accepted everywhere. They offer both digital and plastic card options. But the best thing is you can customize the cards with your company's branding. With Tremendous, you can send both bulk and individual cards.

Digital 
The platform offers virtual visa cards that are accepted anywhere they accept Visa. You can avail of digital visa cards free of cost. Unlike other similar companies, Tremendous doesn't charge any fees for their virtual visa cards. If you want, you can also customize the cards based on your company's needs.
Direct Mail
You can also get physical visa cards that are sent through direct mail within 5 to 7 business days. But if you want the cards instantly, then you should get digital visa cards. Individually shipped cards are delivered on-demand. Just like the virtual visa cards, you can also customize the physical cards as per your requirement.
Bulk Shipment
If you feel the need to send a bulk shipment, it will be delivered within 2 to 4 business days. They deliver bulk shipments through FedEx to anywhere in the United States. The cards can be customized and are activated instantly.
Cardholders have access to a personal dashboard. They can use this dashboard to monitor and manage their accounts regularly. You can view pending and posted transactions. Apart from that, you can also use the dashboard to report lost or stolen cards. The good thing is that the dashboard is mobile-optimized. 
Tremendous allows you to customize your cards and add your logo. Not just that, but you can even add your brand colors to make rewards an extension of your brand identity. You can also restrict card usage by the merchant, merchant category codes, and other attributes.
2. Gift Cards
You can also send instant e-gift cards for dozens of popular retailers. Tremendous is associated with a large number of top brands. Some popular brands include Adidas, Apple, Amazon.com, American Eagle, babyGap, Barnes & Noble, Bath & Body Works, etc. You can select the brands as per your choice or the one that best fits your program needs.

The platform allows you to specify the gift cards your recipients get to choose amongst. If needed, you can limit the selection to a single retailer or allow recipients to choose among a wide range of brands available in their region.
Instant fulfillment
Digital gift cards enable your recipients to spend their funds in-store or online immediately.
---
Protect Your Online Privacy With Surfshark
[The VPN that we use here at Tech Arrival]
---
Flexible delivery
You get the chance to select the method that works best for your recipients. The different options include email, direct links, or SMS.
Wallet integrations
One of the advantages of the tremendous gift cards is that they automatically get synced with Android and Apple wallets. This makes in-store spending easy.
International coverage
The platform makes compensating recipients across the globe. It automatically tailors the gift cards sent to your recipients based on their respective locations.
3. Money
Tremendous also offers monetary incentives. You can disburse incentives and rewards in the form of PayPal and ACH transfers. With their service, you no longer have to rely on sending checks in the mail.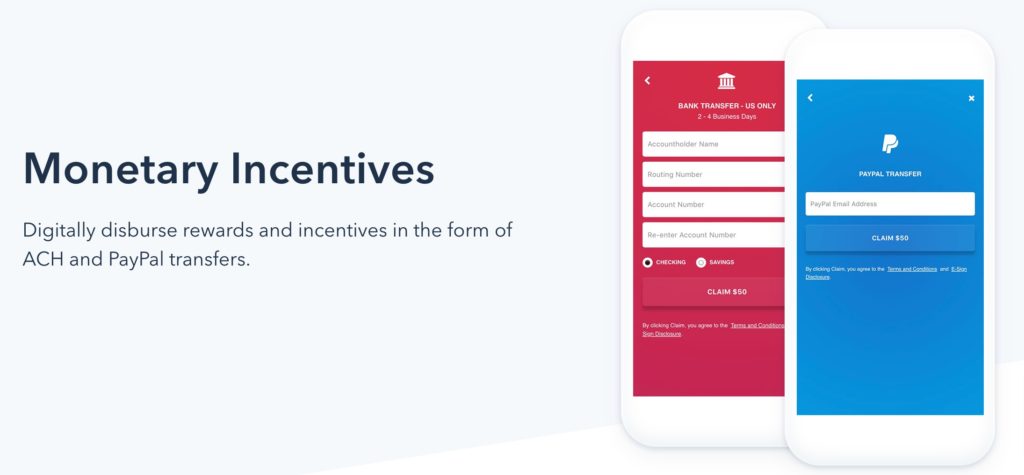 4. API
With Tremendous, delivering incentives and rewards to customers, survey participants, and employees becomes easier. You can take advantage of the Tremendous API to integrate flexible rewards into your application.
You can use your sandbox access token to get started immediately with your integration. All you need to do is register yourself through the Sandbox Tremendous dashboard to access sandbox API keys.
Tremendous sandbox requests are accessed through https://testflight.tremendous.com. You will need the sandbox access token for authorization.
It should be noted that sandbox rewards can only be emailed to users associated with your company. If you want to send rewards to the email address that are not linked with your company, they are rerouted to your API user's email address.
When you are ready with the production access, you can fill up the form available on the platform. They typically take one business day to process your request. 
Just so you know, Tremendous API uses HTTP response codes to indicate status and errors and standard HTTP verbs to communicate. It is served over HTTPS only to provide complete data privacy. 
When placing your request, you must include your access token in the Authorization header. GET requests can include the access token within the browser for testing purposes.
---
Protect Your Online Privacy With Surfshark
[The VPN that we use here at Tech Arrival]
---
Also read: Taking Advantage of Tech as a New Business Owner
Pricing
Tremendous is a free platform that doesn't charge any fees for its services. There is no setup or hidden fees included.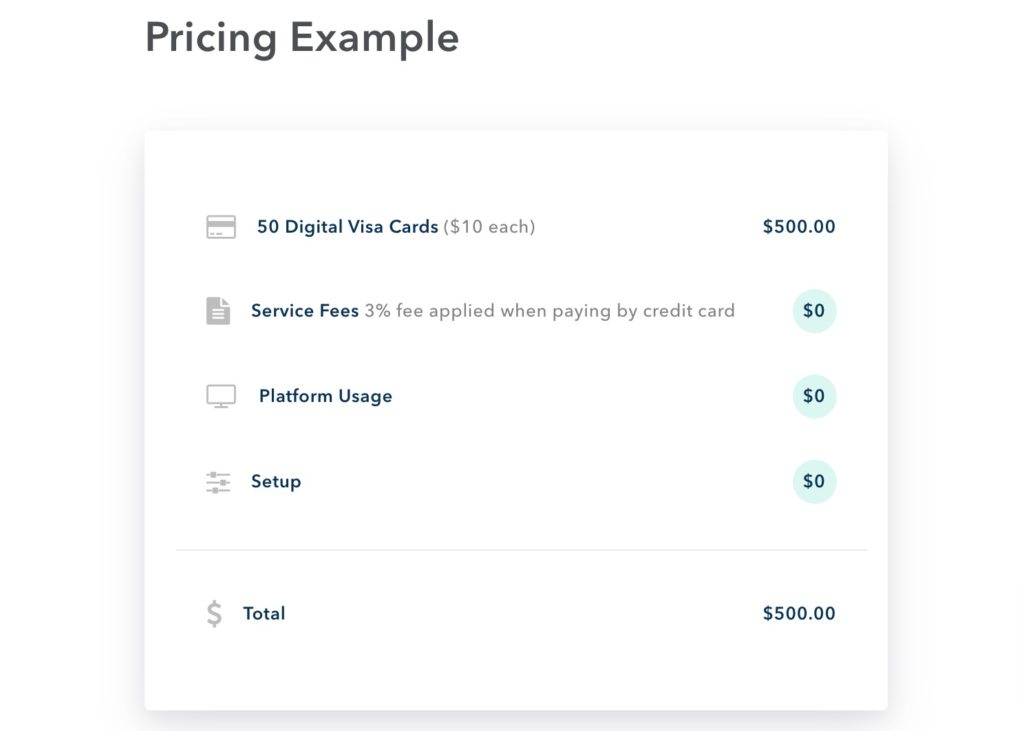 You can send visa prepaid cards and gift cards to your receipts free of cost. If you are sending digital cards, you don't have to spend a single penny. But in case you are sending physical cards, you will have to pay for the delivery charges.
Pros
Tremendous has a great selection of rewards that is unparalleled to the services offered by other similar platforms. 
It offers an excellent way for a business to send gifts.
It allows you to send both physical and virtual visas and gift cards. Besides that, you can also send bulk shipments.
It is free to use platform.
The Tremendous platform is user-friendly and has great features to offer.
This platform is used by thousands of businesses worldwide to send millions of payments in the form of gift cards.
Tremendous is associated with some of the best brands in the world.
Cons
You may find it a bit difficult to find the activation link to your account. However, the rest of the process happens very smoothly.
The recipient gift card links can be stolen if the email is compromised or in the wrong hands.
Tremendous doesn't have very fast or responsive customer service. You may find it difficult to contact them
Final Verdict
Tremendous is undoubtedly the best loyalty rewards platform. It comes with a user-friendly platform that allows for smooth operation. The best thing is they offer international coverage and that too free of cost. They have helped several businesses make their payments with ease. Try out this platform and send loyalty rewards to your customers, employees, and others hassle-free.